Are you ready to jump start your theme park vacation at the Embassy Suites Orlando on International Drive?
This budget-friendly hotel is located in the heart of all the action on Jamaican Court within walking distance of the ICON Park entertainment complex. Better known as the Orlando Eye.
THIS POST MAY CONTAIN AFFILIATE LINKS. PLEASE READ MY DISCLOSURE FOR MORE INFO. Which means if you click on certain links, I may receive a small commission at no additional charge to you.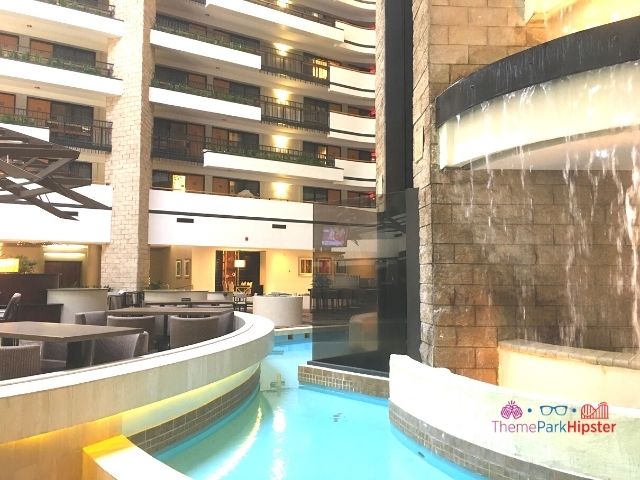 Ambiance of the Embassy Suites
This hotel is not only a good choice for families, it's also a nice option for anyone doing business in Orlando or for a company wanting to host a conference.
It's great for solo travelers who want to experience other things to do in Orlando besides Walt Disney World.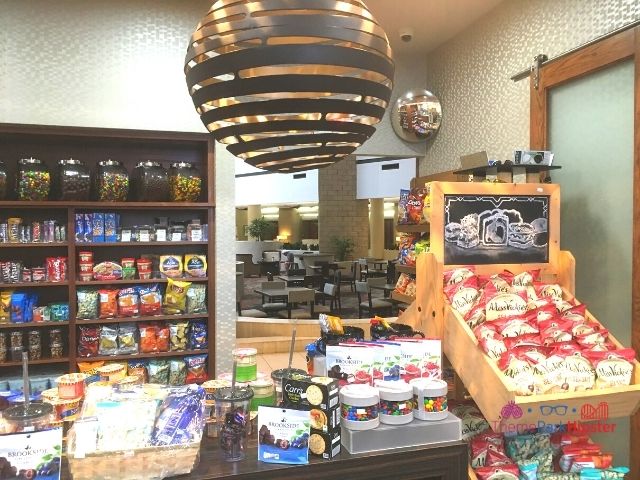 The hotel welcomes you with a classic modern design as you walk into the large atrium.
This type of design is followed into the all-suite rooms that offers a separate relaxing area from your main bedroom.
ORDER NOW to secure your Orlando theme park ticket reservation in the parks! GET MY TICKETS.
Embassy Suites Amenities
Besides the daily free made-to-order breakfast, free Wi-Fi and free happy hour with drinks and snacks, you can also enjoy the following amenities at this Orlando Embassy Suites:
246 smoke-free guestrooms
24-hour front desk
Business center
Car rentals on site
Childcare
Daily housekeeping
Fitness center
Free theme park shuttle
Garden
Outdoor and indoor pool
Restaurant and bar/lounge at The Cascades Lounge
Self parking
Free cribs/infant beds
Babysitting or childcare (surcharge)
Microwave
Refrigerator
Rollaway/extra beds (free)
Sofa bed
Embassy Suites Orlando International Drive Review
If you ever stayed at any Embassy Suites property before, then you already know what to expect. You will have a suite automatically with your stay.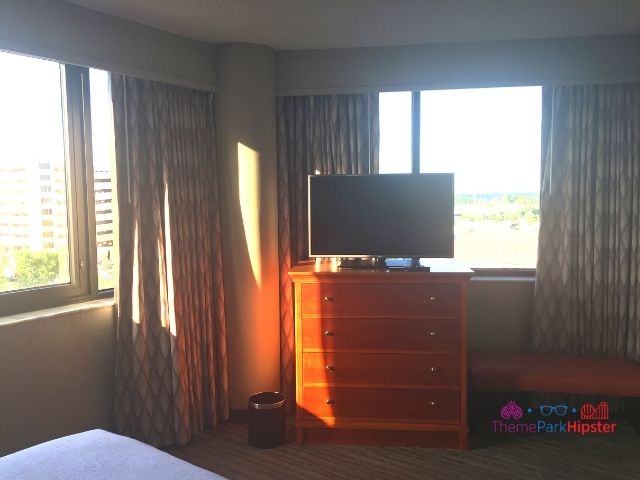 The rooms are usually separated by a "living room" and then you have your main bedroom towards the back.
The Rooms
The Embassy Suites Orlando on Jamaican Court was no different during my visit. My room of choice was the Premium Suite with a 1 King Bed located in the corner unit.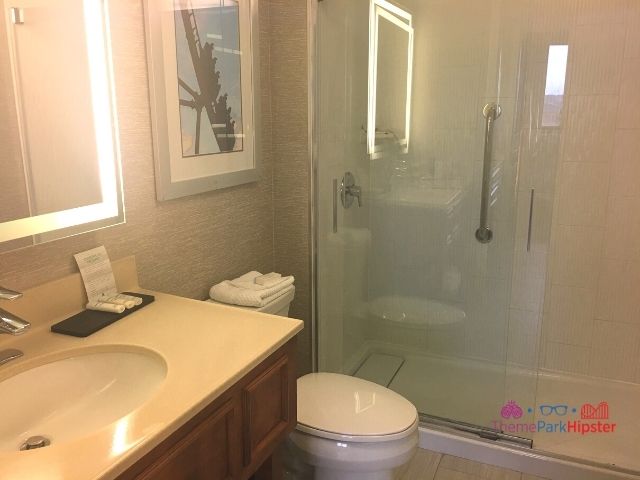 Having the corner room didn't feel more spacious, it did make my views more enticing from my room of International Drive.
Although there's a somewhat a "modern" look to the rooms, you can tell that they still are a bit outdated and in need of a touch up.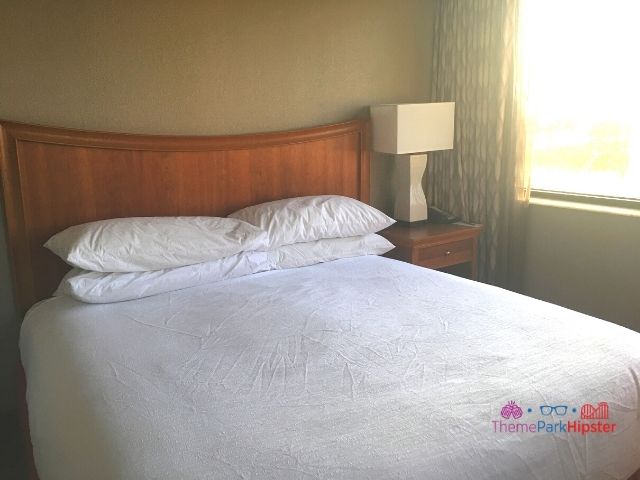 I did notice that the living room did have some areas of dust that probably was sitting there for a while, but the bathroom was clean.
Because of this, I didn't complain too much about the dust issue.
The comfort level of the bed was okay. Nothing too crazy to brag about as it did get the job done.
Save up to 50% on over 25 Things to Do in Orlando: Kennedy Space Center, LEGOLAND Florida, kids activities, airboat ride, WonderWorks & more TODAY!
Food and Drinks
One of the main perks of staying at an Embassy Suite is the free breakfast and evening reception AKA happy hour.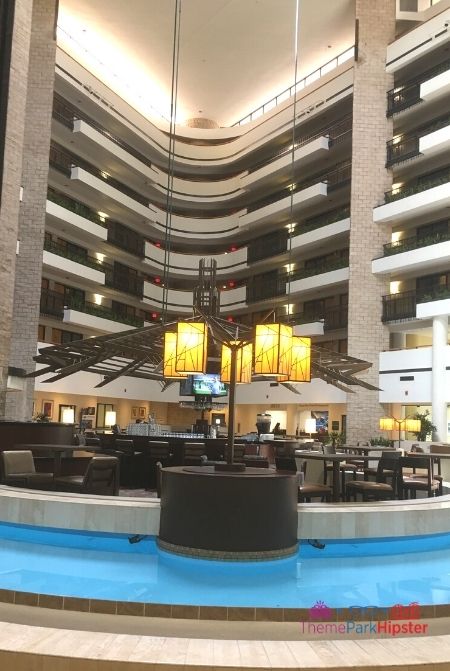 This location near the Orlando Eye, did not disappoint in that area. Although the food is included in your stay, it's actually not that bad.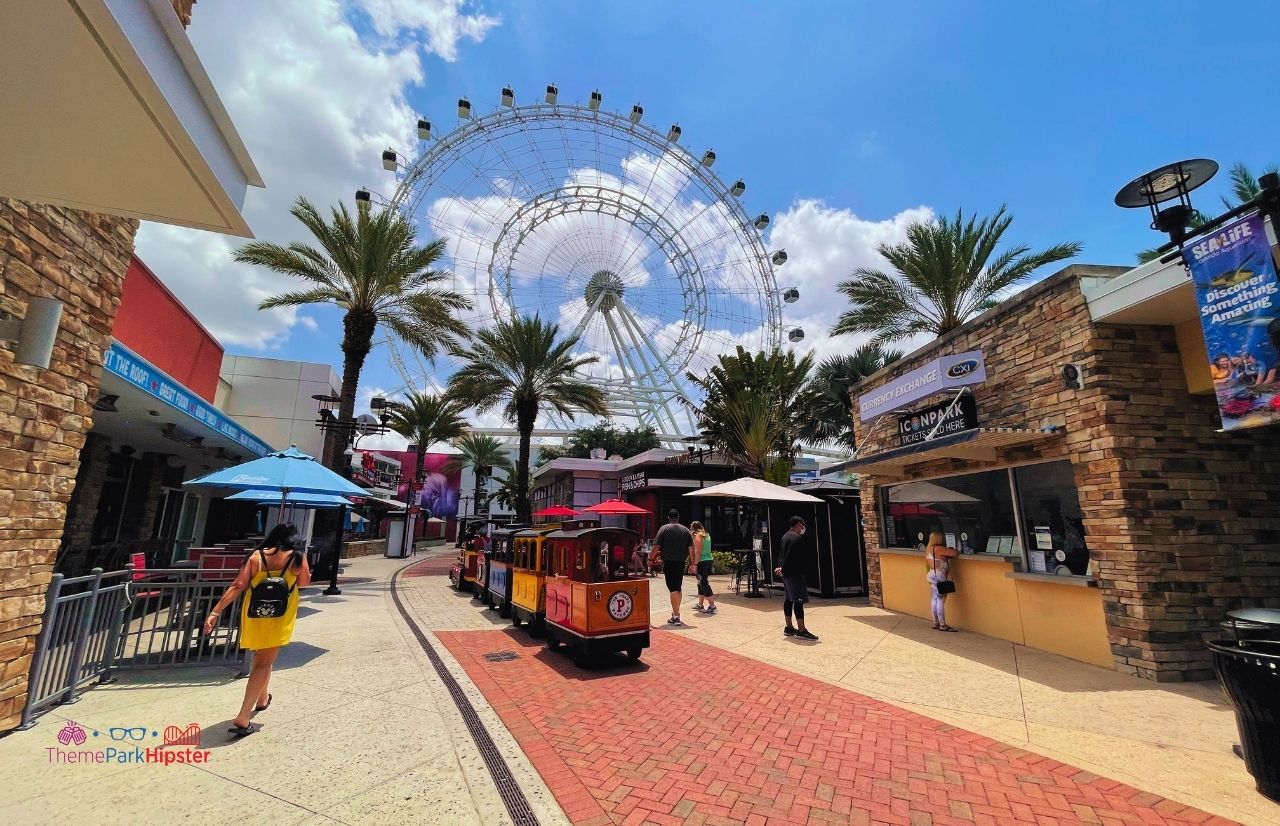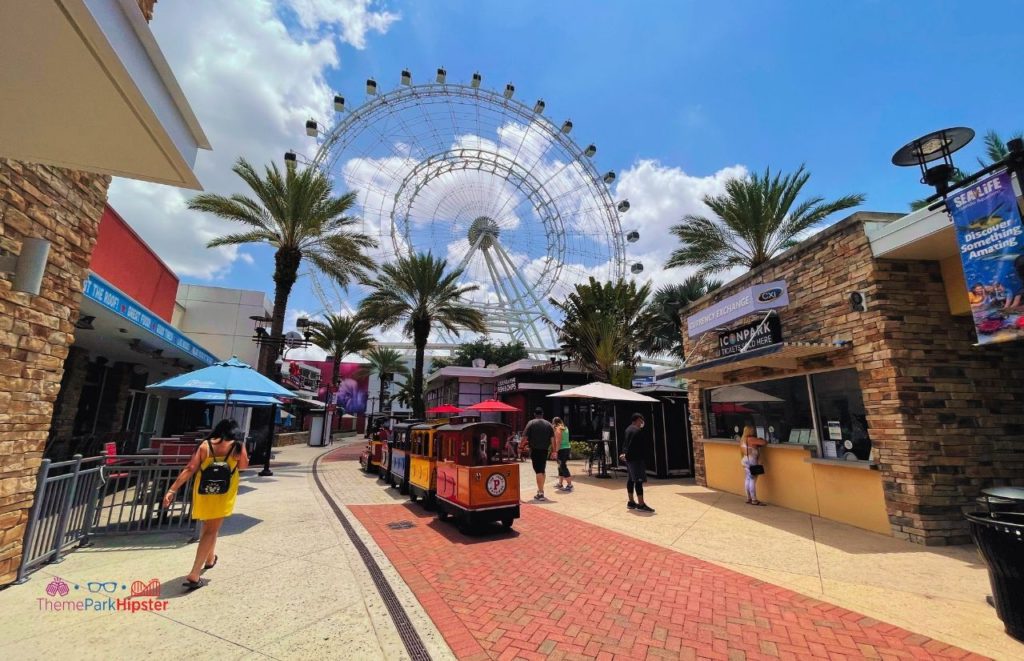 Many of the best items like your omelettes, waffles, etc. are made-to-order so they're always fresh. The food that is not made-to-order is usually restock quickly from the back.
My only complaint was for the evening reception. The staff serves free drinks (your basic cocktails, wine and beer) and snacks during this time. I felt a bit uncomfortable as each visit that I would go up for my drink or snack, I would be given a round of questions to make sure that I was a guest there. Something I noticed that other guests did not have to go through.
I didn't know how to feel about that which left a sour taste in my mouth for this Orlando hotel near the theme parks.
Recommended: Where to Stay in Orlando: Top 10 Hotels and Resorts for ALL Budgets
Other Accommodations
I did visit both the gym and the pool during my stay. The fitness center looked like it was the most up-to-date section of the hotel which I loved.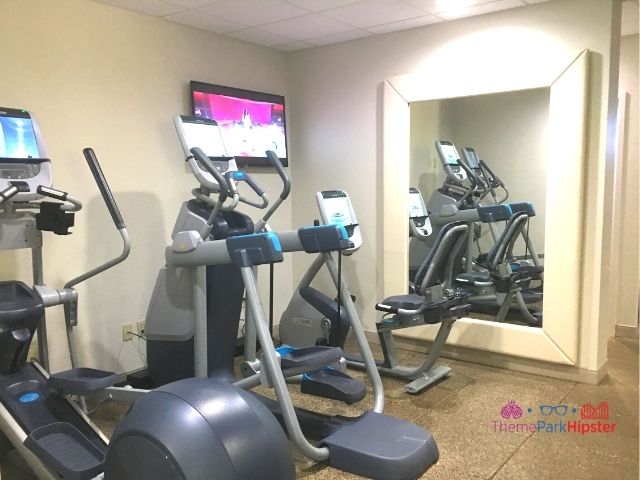 However, the pool area was in dire need of an upgrade. It looked as if it was straight up out of 1996.
Not a good look!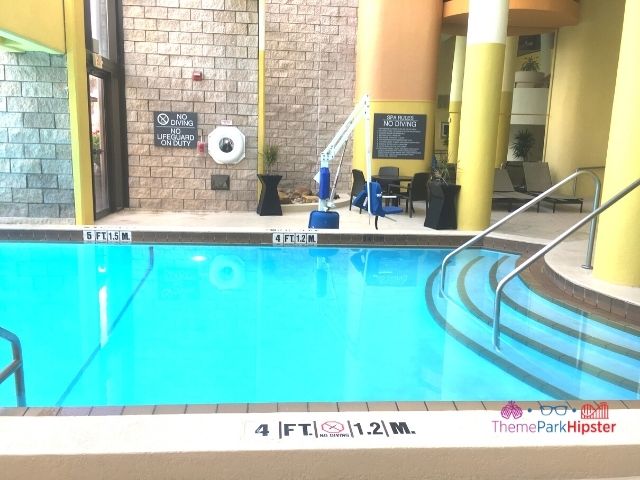 There was an on-site quick service area for food which I liked and a Business Center that was connected to this spot has everything you'll need if you're traveling to Orlando for business.
Recommended: (VIDEO) Holiday Inn Disney Springs: The Most Exciting Place to Stay in Orlando
What to Expect
Now that we have the basics out-of-the-way, let's go through a few of the most common questions about the Embassy Suites Orlando on International Drive near the I Drive 360.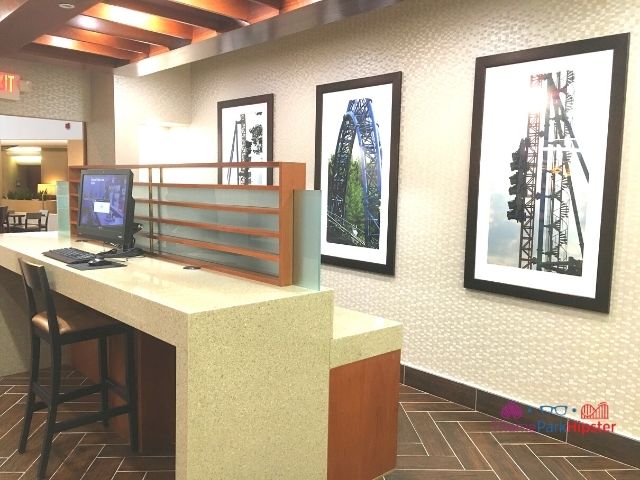 Where is the Embassy Suites Orlando on International Drive located?
This hotel is located next to the ICON Park Entertainment Complex with the address 8250 Jamaican Ct, Orlando, FL, 32819.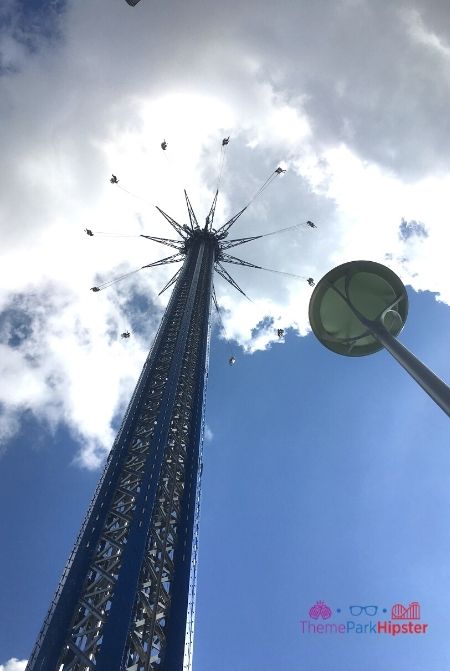 Does Embassy Suites in Orlando,Fl Transfer to Universal Studios?
Yes, this Orlando all-suite hotel offers free shuttles to the theme parks in the area such as Universal Orlando Resort, SeaWorld, and Walt Disney World Resort.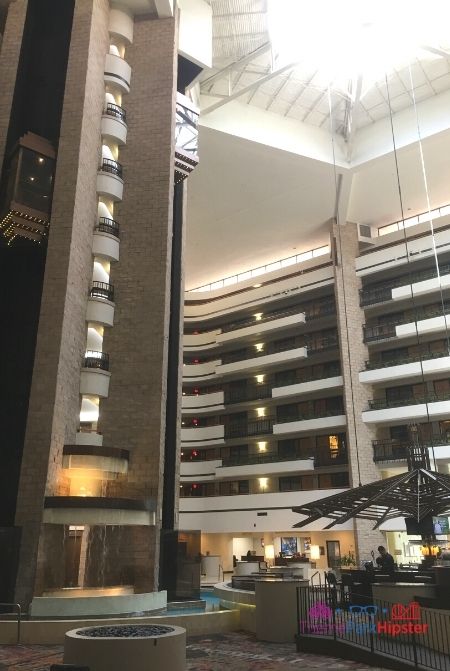 How Far is The Embassy Suites Orlando On Jamaican Court from the Orlando Theme Parks?
Recommended: What's the BEST Hibachi in Orlando? These Are the Top 10 Places YOU MUST VISIT
Is parking available at the Embassy Suite I Drive 360?
Self-parking is available and cost $18 per night with valet parking at $23 per night.
My Final Thoughts and Review of the Embassy Suites at ICON Park
Overall, I do recommend this hotel for adult travelers looking for an affordable stay near the Orlando parks that's spacious with the perks of free breakfast.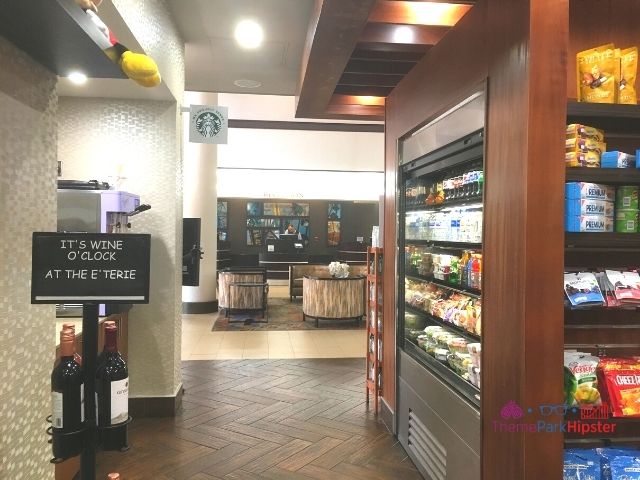 This resort is okay for solo travelers, but if it's your first time going to Disney alone, then I recommend that you stay on-site at Walt Disney World.
Even with my complaints, it wasn't the worst experience I've had at a hotel. Since my bathroom was clean and my bed was spotless, I do give it an okay to go if you're traveling to Orlando on a budget.
I hope this review of the Embassy Suites Orlando International Drive helps you on your vacation planning journey.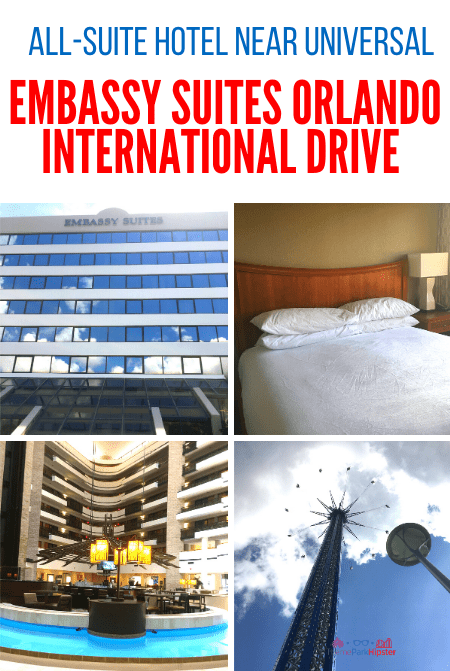 BOOK YOUR DISCOUNTED ROOM HERE TODAY!
Until next time, Happy Park Hopping Hipsters!
NikkyJ
Planning a trip soon? If so, read the Disney Vacation Planning Guide for your next dream trip!
(Original Article Date: December 3, 2020/Updated March 27, 2023)