Are you ready to conquer one of the nation's top flying roller coaster rides? Then the Manta SeaWorld Orlando experience is one that you must do!
Here you'll get to glide through what it will feel like to be a giant ray in the ultimate SeaWorld thrill ride.
So, it shouldn't come as a surprise to hear how much roller coaster enthusiasts love the twists, scares, drops, and speeds of Manta.
Let's go through everything that makes this Florida flying coaster amazing!
THIS POST MAY CONTAIN AFFILIATE LINKS. PLEASE READ MY DISCLOSURE FOR MORE INFO. Which means if you click on certain links, I may receive a small commission at no additional charge to you.
How Did The Manta Roller Coaster Start at SeaWorld Orlando?
Let's first go through a brief history of how Manta came to be at SeaWorld Orlando.
The aquatically themed ride was designed and manufactured by Bolliger & Mabillard. A Swiss company known for producing some the world's greatest attractions.
Bolliger & Mabillard brought the flying coaster system to SeaWorld, which was first used at Alton Towers for the ride, Air.
You can now experience multiple flying roller coasters around the world.
Flying Roller Coasters Around the World that Have Existed
Acrobat-Nagashima Spa Land
Batwing-Six Flags America
Crystal Wing-Happy Valley Beijing
L.Y.- Phantasialand
Galactica Formerly Air-Alton Towers
Harpy-Xishuangbanna Theme Park
Hero-Flamingo Land Resort
Hexenbesen-Erlebniswelt Seilbahnen Thale
Inertia Airplane Car-Kaeson Youth Park
Manta-Sea World Orlando
Nighthawk Formerly Stealth-Carowinds (California's Great America)
Sky Scrapper-World Joyland
Soarin' Eagle Formerly Flying Coaster-Luna Park, Coney Island (Elitch Gardens)
Stingray-Suzhou Giant Wheel Park
Super Flight-Playland
The Super Glider Formerly Flying Coaster-Skytropolis Funland (Genting Theme Park)
Superman: Ultimate Flight-Six Flags Great America
The Superman: Ultimate Flight-Six Flags Great Adventure
Superman: Ultimate Flight-Six Flags Over Georgia
Tatsu-Six Flags Magic Mountain
The Flying Dinosaur-Universal Studios Japan
Time Warp-Canada's Wonderland
Trombi-Särkänniemi
Volare-Wiener Prater
Volare-Wonderland Eurasia
Hipster Power Tip: A flying roller coasters allows riders to experience the attraction by lying face-down on their stomachs at the beginning of the ride. This gives the sense of flying.
History of the Manta Roller Coaster at SeaWorld Orlando
Before Manta opened, SeaWorld would go on the record to say that it would be their largest single investment in an attraction at that time.
When designing the theming of Manta, the goal was to give guests a simulated experience of how this type of stingray would glide majestically through the sea.
The highly anticipated attraction opened to the public on May 22, 2009 with the slogan, "Dive deep, fly high."
SeaWorld also wanted to put as much emphasis on the animals as on the ride.
This led to the floor-to-ceiling windows with views of over 300 rays and thousands of sea creatures from around the world.
Exploring the Queue of the SeaWorld Orlando Manta Roller Coaster
While waiting for Manta, be sure to explore the elaborate queue line which starts outside in a seaside-inspired village decorated with mosaics.
You'll be welcomed to view a one-of-a-kind aquarium exhibit complete with an extravagant ambiance of lights and majestic aquatic sounds.
The 360-degree floor-to-ceiling display allows you to see all of the fish and other sea creatures swimming above you.
Hipster Power Tip: If roller coasters are not your thing, don't worry. You'll be able to view portions of the Manta aquarium if you go to the left of the ride entrance.
Since Manta's main queue is inside, it's a perfect place to take a break from the Florida heat. Just being able to escape the hot sun is one of the perks of this aquatic queue.
Hipster Power Tip: The wait time for Manta is the highest in the morning since it's by the main gate. Try to ride it around mid-to-late afternoon when the crowd level goes down.
Plus, you get to see real stingrays up close as they glide past you. It's such a cool feature of this SeaWorld attraction.
Save up to 42% on SeaWorld Orlando Resort Tickets!
Uncovering the Layout of Manta at SeaWorld Orlando
If you're like me, then you want to know what you'll be getting yourself into when experiencing this unique Florida roller coaster.
Let's go through the ride layout of Manta:
Train goes up the 140-foot lift hill chain giving you a nice face-down view of SeaWorld Orlando as if you're flying
Once you're at the top you go through a nosedive down towards the right and a swoop upward as you feel the power of a Manta
You then go back up to the top in a slight U-turn to the left through a pretzel loop and into a counter-clockwise inline twist
After the twist, you soar into a 270-degree downward helix to the right
Then you go through another pretzel loop into the first corkscrew
The coaster train climbs the return track and dives towards the lagoon with a cool water affect
After exiting the turn, your train goes by a waterfall
You end Manta with a second inline twist
Once you go through the second twist, you enter the final turn into Manta's ride station
Watch the Complete Manta SeaWorld Orlando POV Video here on YouTube.
The One-of-a-kind Manta SeaWorld Orlando Train
This SeaWorld Orlando train was made more Manta-like, by shaping each car like a real ray. It even has, a wingspan of 12 feet!
Hipster Fun Fact: Bolliger & Mabillard also designed other roller coaster rides such as Valravn at Cedar Point.
When boarding the Manta train, you walk into the restraints with a combination of a shoulder harness, locking lap bar, and foot clasps.
Once the coaster is ready to go, you tilt from upright to a face-down position.
Recommended: Best SeaWorld Orlando Annual Pass Benefits You Must Know
Manta SeaWorld Orlando Ride Stats to Know
Before you embark on this aquatic-inspired coaster, you should know a few little details about Manta.
How fast does Manta at SeaWorld go?
SeaWorld's Manta stretches 3,359 feet with a max speed of 56 mph (miles per hour).
I don't want to scare you with all the intense facts since Manta is still one of the smoothest roller coasters in Florida.
Drop: 113 ft
Duration: 2:36
Manta Height: 140 ft
Number of Inversions: 4
Manta G-Force: 3.7
Length: 3,359 ft
Manta SeaWorld Orlando Speed: 56 mph (miles per hour)
Roller Coaster Type: Steel-flying coaster
Manta Orlando SeaWorld Roller Coaster Features:
Pretzel Loop
Inline Twist
Chain Lift Hill
Spray water affect
Large aquarium
How tall do you have to be to ride Manta at SeaWorld?
Remember that Manta SeaWorld Orlando height requirement is 54″ (inches).
Theme Park Hacks at Your Finger Tips. Plan your next vacation with the latest tips and tricks on the ThemeParkHipster App. Download Today!
Manta vs. Kraken: Which is Better?
As with many roller coaster and SeaWorld Orlando enthusiasts, there are quite a few debates as to whether a flying coaster is a good attribute to a theme park.
Personally, I enjoy Manta because it is such a unique attraction.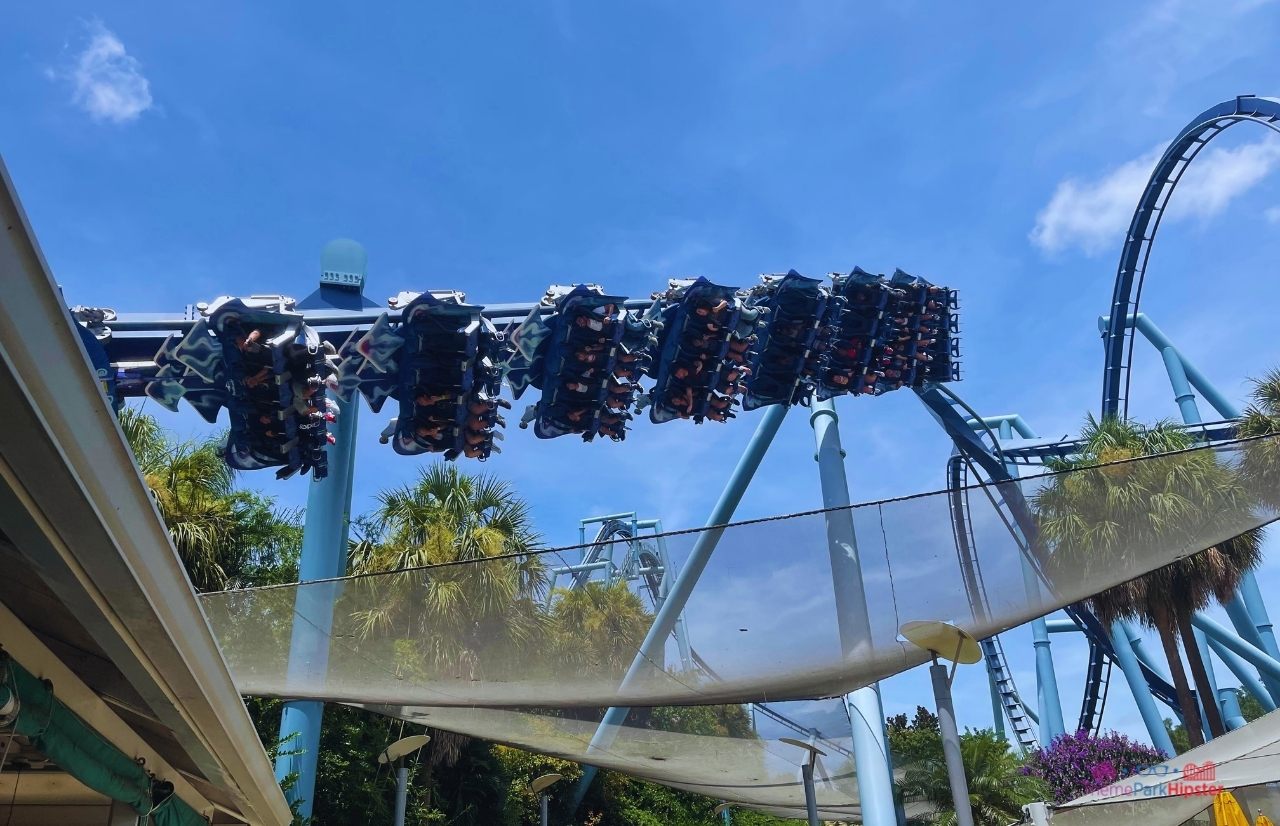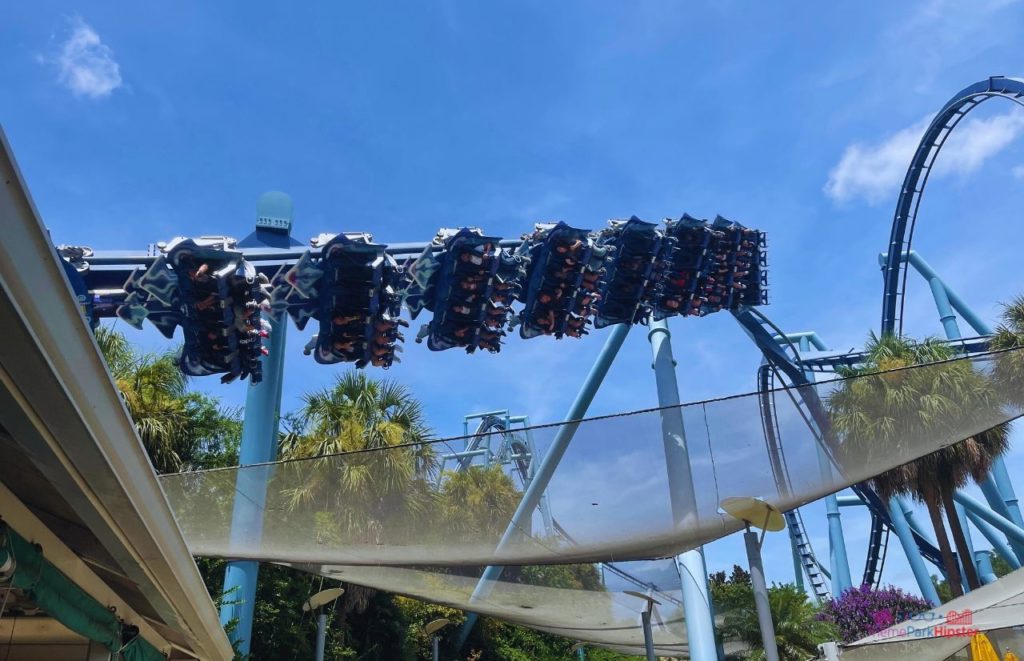 Whether you're a Manta flying coaster fan or a Kraken floorless coaster diehard, I thought it would be great to give you a comparison chart of the two roller coasters.
Get your Discounted (up to 42% off) SeaWorld Tickets with Groupon TODAY!
My Honest Manta SeaWorld Orlando Review
Although Manta is not the fastest roller coaster in Orlando, the additional ambiance and the power of the roller coaster immerses you as you dive through this incredible attraction.
You may love the sensation of facing the ground with all of your body pressing against the harnesses or you may hate it.
Something to note about Manta is that while on the ride, you will not be able to see what's coming ahead because of how you're positioned on the coaster.
It's good for total immersion of the ride, especially if you sit on the front row. Riding in the front row is also helpful if you are prone to motion sickness.
The front row is also the smoothest row of the train with the back row giving the most intense ride experience of Manta.
The ride was smooth to me, but there were a couple of moments where I could see getting lightheaded can be a concern. Something most riders may not enjoy.
I personally like Manta and I believe that it is the perfect attraction for SeaWorld and your next Orlando vacation.
Recommended: 15 First-Timer Tips for SeaWorld Spooktacular
What to Know Before You Go to SeaWorld Orlando
If you are wearing loose-fitting shoes, you should leave them at the loading platform.
Any other loose articles can be placed inside a locker located at the entrance of the ride to the left side.
What roller coasters are at SeaWorld?
Journey to Atlantis
Pipeline: The Surf Coaster (Coming Soon)
How tall do you have to be for SeaWorld rides?
Below are the current SeaWorld Orlando height requirements for the most popular rides:
Mako™ – Minimum 54 inches
Manta® – Minimum 54 inches
Kraken – Minimum 54 inches
Journey to Atlantis® – Minimum 42 inches (42 inches – 48 inches with a supervising companion)
Ice Breaker – Minimum 48 inches
What is SeaWorld address?
SeaWorld Orlando is located at 7007 Sea World Dr, Orlando, FL 32821. Right in heart of the Orlando tourist scene.
How much are SeaWorld Orlando tickets?
A One-day admission ticket to SeaWorld starts at $118.99.
Save up to 42% on SeaWorld Orlando Resort Tickets!
My Final Thoughts on Manta at SeaWorld Orlando
Having a steel-flying coaster is a welcomed ride to SeaWorld and the Orlando theme park environment.
I highly recommend riding it on your next visit to SeaWorld Orlando, but I wouldn't wait any longer than 40 minutes for it.
As you approach the attraction, be sure check out the stunning ambiance and spectacular aquatic oasis surrounding Manta.
When you get to the top of the ride, embrace the suspense and take in all the fabulous views surrounding SeaWorld Orlando.
Overall, if you love roller coasters, then you'll fall in love with Manta at SeaWorld Orlando.
It's a world-class attraction that will continue to thrill theme park enthusiasts for many years to come.
Have you ever experienced SeaWorld's Manta? If so, what was your favorite part of the ride? Let me know in the comments section below.
Be sure to check out the tour of this hotel near SeaWorld Orlando: Springhill Suites here!
Until next time, Happy Park Hopping Hipsters!
NikkyJ
UP NEXT: 18 Easy SeaWorld Orlando First Timers Tips here. If you're more of a video person, then you can watch the tips here.
(Original Article Date: April 21, 2019/Updated April 17, 2023)