Welcome adrenaline-seekers to another list of potentially stomach-dropping experiences! Today, we focus on (cue the drumroll please) the SEAWORLD Orlando roller coasters!
This is the place that brought high-thrill roller coasters and cute waddling penguins together. That's paradise right there folks!
For those of you who have been living under a rock and don't know what SeaWorld is, it's a theme park crossed with a marine zoo that is committed to protecting the biodiversity of the planet.
But just for the sake of this article, we are going to take penguins out of the equation. I know, I know, very sad.
However, we are going to be exploring the five different low-to-high thrilling roller coasters at SeaWorld Orlando.
We are pulling apart speed, height, intensity, and all those thrill factors so that YOU can pick your favorite.
Ready? Set! Buckle up!
The ride is starting!
THIS POST MAY CONTAIN AFFILIATE LINKS. PLEASE READ MY DISCLOSURE FOR MORE INFO. Which means if you click on certain links, I may receive a small commission at no additional charge to you.
6. Super Grover's Box Car Derby (28 mph)
If you're on the tamer side of things when it comes to roller coasters, then Super Grover's Box Car Derby is perfect for you!
You'll go on a Sesame Street filled adventure with your favorite superhero as you fly through tall hills, wide turns and fun dives on this family-friendly coaster!
Plus, the thing I like about this roller coaster at SeaWorld is that it's the perfect first steel roller coaster for both adults and kids.
The only thing you may want to keep in mind is that it is a bit bumpy which can cause a slight headache.
Super Grover's Box Car Derby Stats:
Height Restriction: 38 inches (guests between 38 inches tall and 41 inches tall must be accompanied by a supervising companion)
Box Car Derby Height: 31 feet
Max Speed: 28 mph (miles per hour)
Inversions: 0
Manufacturer: Zierer
Save up to 42% on SeaWorld Orlando Resort Tickets!
5. Journey to Atlantis
This is another 'not-really-a-roller-coaster' scenarios. But simply because of how entertaining it is, I have to include it in the list.
Humans have been fascinated by the lost city of Atlantis for centuries. The Journey to Atlantis is a hybrid water ride, roller coaster that shows you a different side of Atlantis– a dark side.
Your boat floats through the sunken city and you take in the sights right before the chase begins.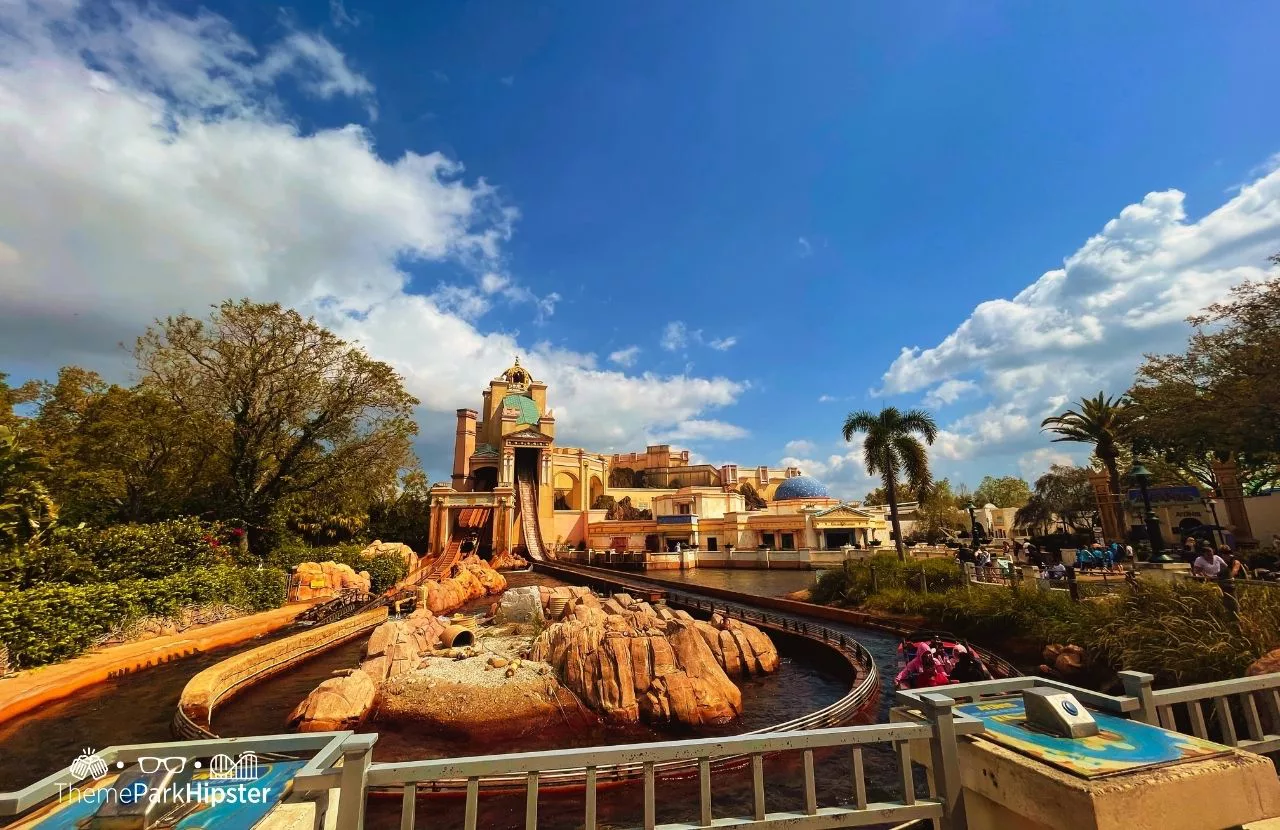 After zipping through twisting tunnels, you emerge from the castle and plunge into the water.
Save up to 50% on over 25 Things to Do in Orlando: Kennedy Space Center, LEGOLAND Florida, kids activities, airboat ride, WonderWorks & more TODAY!
4. Manta (56 mph)
Yep, I've brought the big guns out!
Manta is a high-thrill SeaWorld roller coaster that turns you upside-down during a nosedive from 140 feet. And that is just the beginning.
There are many, many more twists, turns, drops, and dives to come!
This is one of the most amazing (and kinda scary) rides you will ever be on. And the fact that it is a super-smooth ride makes it only more thrilling.
The Manta ride (as you can tell from the name) takes inspiration from the manta ray. It glides through the skies like a manta ray would glide through the ocean.
And I must say, those manta rays take some wild rides, considering how the Manta moves.
Oh did I mention the Manta also has waterfalls and lagoons? Can't have a marine-themed ride without a splash!
Manta' Stats:
Height Restriction: 54 inches
Manta's Height: 140 feet
Max Speed: 56 mph (miles per hour)
Inversions: 4
Manufacturer: Bolliger & Mabillard
Get Your Orlando Theme Park Tickets Today! CLICK HERE.
3. Ice Breaker (52 mph)
But enough about the oldies. What's new in SeaWorld Orlando?
Well, I'm glad you asked because SeaWorld Orlando has just opened its new ride called Icebreaker!
The Ice Breaker is not only SeaWorld's first multi-directional launch coaster, it is also Florida's steepest beyond vertical drop.
But the most exciting thing about the ride is that you NEVER know what's going to happen next.
Getting its name from the icy Arctic, Ice Breaker is SeaWorld's first launch coaster and Florida's steepest beyond vertical drop attraction at 93 feet tall with a 100 degree angle.
For such a family-friendly roller coaster, you can still expect the constant thrills and screams that will emerge from this SeaWorld Orlando ride.
Is the ride going to go backwards, forwards or even upside-down? You just never know.
Ice Breaker Roller Coaster Stats:
Height restriction: 48 inches
Ice Breaker's Height: 93 feet
Max speed: 52 miles per hour
Inversions: 0
Manufacturer: Premier Rides
2. Kraken (65 mph)
When we talk about huge extreme-thrill rides, there's only one ride that comes to mind– the Kraken.
Named after the legendary ship-swallowing sea monster, this ride is not any less formidable.
The Kraken is Orlando's only floorless roller coaster, immediately beating every other coaster on the thrill scale…at least, in the state of Florida.
It also held the title of the world's longest floorless rollercoaster for a while.
If you don't believe me, imagine your feet dangling while you whoosh at 65 mph 151 feet up in the sky.
Felt your stomach drop in anticipation? That's what I'm talking about. 
Kraken Roller Coaster Stats:
Height restriction: 54 inches
Kraken's Height: 151 feet
Max speed: 65 miles per hour
Inversions: 7
Manufacturer: Bolliger & Mabillard
Ready to plan your theme park trip? Watch the best vacation planning tips on YouTube. Get started here!
1. Mako (73 mph)
Now this one is the fastest roller coaster in SeaWorld Orlando.
Name it the queen of SeaWorld and give it the crown because no other ride can beat Mako's dips, hills and zero gravity thrills (and yes, that rhymed).
Mako is named after the fastest shark in the ocean, and it lives up to the name. It zooms over water at 73 mph for 4,760 feet.
And can you guess the height of the zero gravity drops? It's 200 feet.
Fun fact: when the Mako was first opened, it was the tallest, longest and fastest roller coaster in Orlando. Think of that when you've buckled up on the ride.
This monster of a coaster shimmies up a few hills and curves right on top if the Shark Wreck Reef in just a few minutes.
And if you don't scream throughout, you're a bigger adrenaline junkie than anyone else who reads this blog.
Mako Roller Coaster Stats:
Height restriction: 54 inches
Mako's Height: 200 feet
Max speed: 73 mph (miles per hour)
Inversions: 0
Manufacturer: Bolliger & Mabillard
Get your Discounted (up to 42% off) SeaWorld Tickets with Groupon TODAY!
Bonus SeaWorld Orlando Rides You CAN'T Miss
Although these aren't technically roller coasters at SeaWorld Orlando, I thought it'd be nice to talk about some of the other thrilling rides at the park.
Infinity Falls
Cool wet rides like Infinity Falls pair perfectly with the Floridian summer heat.
I daresay you will be glad your clothes get wet– not just because of the heat but because of the memories you made on the ride.
This roller coaster is more of a water ride, and a family-friendly one at that. It only scores 50% on the thrill scale. However, it is incredibly fun.
You get to hold on to a raft for dear life while the currents push you downriver. All around you there's lush greenery. It's almost like being in a jungle safari.
Except that jungle safaris don't have drops. And certainly don't have a 40 feet drop that gets you soaked to the bone!
Theme Park Hacks at Your Finger Tips. Plan your next vacation with the latest tips and tricks on the ThemeParkHipster App. Download Today!
Antarctica: Empire of the Penguin®
Okay, I'll admit it. I lied to you when I said I was taking penguins out of the equation. There's no way I'm going to let those cute, waddling birds get away!
This ride takes you straight to these penguin's home– the icy wasteland called Antarctica. So yes, this was a trackless, motion-based simulator experience turned exhibit…
But that should not make the experience any less exciting, or the lesson it teaches any less profound.
I'm sad to report that Empire of the Penguin, the ride adventure, hasn't returned.
It was one of my favorite attractions at SeaWorld and I just don't understand why the ride is closed but the exhibit is still open.
Empire of the Penguin was such an incredible addition to the park. Plus, it was a great break from the heat and thrilling roller coasters.
This ride, unlike many of the others we have discussed here, actually had a storyline. The story took you on a journey to the South Pole with Puck, a friendly penguin.
ORDER NOW to secure your Orlando theme park ticket reservation in the parks! GET MY TICKETS.
Pipeline: The Surf Coaster (Coming Soon in 2023)
So, what's Pipeline: The Surf Coaster? 
Well, it's an ultra-innovative new steel roller coaster. The idea is that you're "surfing," so you're almost completely standing up straight. 
Be sure to sign up for my email newsletter to know when this new attraction opens at SeaWorld!
Read Next: How to Find the BEST Vacation Home Rentals Near Disney World
4 Pro Tips for Visiting SeaWorld Orlando for the First Time
Now that we have all of the SeaWorld Orlando roller coasters ranked, let's go through a few tips to help you have a better visit!
1. Bring a poncho with you
Florida weather can be quite unpredictable, but one thing that remains the same in the summer months are the daily afternoon rain showers.
You can also use your poncho on the water rides at SeaWorld, but make sure you buy them from the Dollar Tree for just $1.00.
2. Make time for the shows and special events
SeaWorld does tons of shows everyday featuring different marine animals. These shows and events are often marked on the map or on boards.
Keep an eye out for them because you really really don't want to miss seeing cute animals perform mind-blowing tricks!
3. Plan your day…. Or at least, your midday to combat the sun
I have talked about this in many articles. But I am going to say it again. The sun in Florida is the worst.
Especially for theme park goers because you get sweaty, sticky and then you get on a thrill ride and you sweat some more.
To avoid that icky feeling, I would suggest visiting the aquariums during midday to escape the heat.
4. Prioritize your rides
While it may be tempting to get on every ride you see with a short line, DON'T.
By running after these 'shiny things', you will miss out on riding the roller coasters that matter.
So make a list of SeaWorld Orlando roller coasters you cannot (or will not) miss and make sure you hit them first!
Save up to 42% on SeaWorld Orlando Resort Tickets!
What to Know Before You Go to SeaWorld
Now that you know what the best roller coasters at SeaWorld Orlando are AND you have your top tips, let's go through a few of the most commonly asked questions.
How many roller coasters are there at SeaWorld Orlando?
SeaWorld Orlando has 6 roller coasters in total (if you count Journey to Atlantis). The Orlando theme park has a total of 19 rides and attractions.
What rides are closed at SeaWorld Orlando?
At the moment that this article was published, pandemic precautions were still being taken at SeaWorld Orlando.
Due to this (especially the social distancing regulations), some of the attractions are closed.
This includes Antarctica: Empire of the Penguin and the Wild Arctic Ride. However, the Arctic exhibits are still open for both and can be visited.
What is the fastest ride at SeaWorld Orlando?
Undoubtedly, the Mako is SeaWorld Orlando's fastest ride. It reaches speeds of up to 73 mph, beating its only other competitor– the Kraken by 65 mph.
What is the biggest SeaWorld?
Unfortunately, SeaWorld Orlando is not the biggest SeaWorld there is, although it does seem to be more popular. The biggest SeaWorld is actually the one at San Antonio.
Wrapping Up…
And there you have it! SeaWorld Orlando's biggest, longest, fastest and scariest rides (and some of the not-so-scary ones too!).
If you have any questions about any ride, just comment it down below and i will get back to you!
In the meantime, I hope this article was useful and gave you all the information about SeaWorld Orlando's roller coasters that you were looking for!
So… have YOU been on any of these rides? How was your experience?
Until next time, Happy Park Hopping Hipsters!
UP NEXT: SeaWorld Orlando Resort Ultimate Guide + Review
(Original Article Date: May 31, 2021/Updated April 17, 2023)