Before we delve into the 15 Best Alcoholic Drinks at Disney World we have to tell you a little secret… Mickey Mouse is trying to get you drunk!
Okay, okay… maybe that's a bit much. But it's the only explanation we could come up with as to why there are so many must-try cocktails at the most magical place on Earth.
Whether you're in the parks, at a hotel, or just chilling at Disney Springs – Disney's libation game knows no bounds.
In fact, Walt Disney World cocktails are so tantalizing that they've even garnered their own cult-like following.
THIS POST MAY CONTAIN AFFILIATE LINKS. PLEASE READ MY DISCLOSURE FOR MORE INFO. Which means if you click on certain links, I may receive a small commission at no additional charge to you.
Why Adults Love Disney World
Fans from all over the world partake in Walt Disney World drinking games, such as Drinking Around the World at Epcot and the Disney Monorail Pub Crawl.
Though this list is likely to whet your appetite – before you go knocking them back – we wish to remind you to drink responsibly!
After all, cocktails and concoctions of this level are meant to be an experience in of themselves. So, remember to always sip… and savor responsibly.
1. Pina CoLAVA (Disney's Polynesian Village Resort, Various)
This tropical tipple has got all the exotic charm of the Seven Seas Lagoon… and more!
Though I prefer to partake in a Pina CoLAVA whilst lazing beneath the thatched roof of the Tambu Lounge inside Disney's Polynesian Village Resort, you can pretty much request these tropical refreshers at almost any Walt Disney World Resort bar or lounge.
Generous swirls of rich raspberry put a sweet and whimsical spin on this classic Pina Colada, turning it into a true dessert cocktail.
Price $15.00
Enjoy with Pot Stickers
ORDER NOW to secure your Walt Disney World theme park ticket! GET MY TICKETS.
2. Kiwi Coconut Rita (Yak & Yeti Restaurant at Disney's Animal Kingdom Theme Park)
You know how much we love Disney's Animal Kingdom Theme Park! Here, you'll find just one more reason as to why!
The Kiwi Coconut Rita at Yak & Yeti Restaurant serves up an exceptional intermingling of Milagro silver tequila, Cointreau, fresh kiwi, sweet-and-sour mix, and Coco Real Cream of Coconut.
In my opinion, this cocktail fits the exotic and entrancing aesthetic of the Yak & Yeti perfectly – making it the ideal companion for a solo trip to this highly themed Table Service restaurant.
Price $12.50
Enjoy with Ahi Tuna Nacho
3. La Cava Avocado (La Cava del Tequila at Epcot)
Whether you love or loathe Tequila, you've got to give the La Cava Avocado at La Cava del Tequila a shot!
This cozy watering hole mixes up some of the most bougie drinks on property, including their absolute addicting house specialty, the La Cava Avocado.
Treat your tastebuds to a soothing combination of Tromba blanco tequila, melon liqueur, fresh avocado, lime juice, with a hibiscus salt rim.
I promise you, you won't be able to pass the Mexico Pavilion at Epcot again without daydreaming about this creamy and refreshing concoction.
Price $17
Enjoy with Chips and Salsa
4. Fuzzy Tauntaun (Oga's Cantina at Disney's Hollywood Studios)
Now, here is a drink that tastes as curious as its names. The Fuzy Tauntaun boasts Circoc Peach Vodka, Bols Peach Schnapps, Simply Orange with Tangerine, and pure cane sugar.
Tasty though these fruity ingredients may be, it is really the "Buzz Button Tingling" foam that gives this drink a Star Wars edge. Why?
Because this foam makes your tongue and lips tingle and go numb! We assure you – you won't find this on any other menu.
So, take advantage of your surroundings and indulge in this sensory experience!
Price $17
Enjoy with Batuu Bits
5. Apple Pie A La Mode (Chef Art Smith's Homecomin' at Disney Springs)
This "Southern Shine" restaurant presents some of the most thirst quenchingly tantalizing craft cocktails found throughout all 27,000 acres of Mickey's backyard.
But it is the Apple Pie a la Mode that sends our fall-lovin' cravings a-soarin'.
This harvest beverage is made up of Ole Smokey Apple Pie Moonshine, vanilla vodka, apple juice, cinnamon, simple syrup, and lemon.
Mouthwateringly crisp, this is one drink you'll find yourself missing when you head back home… especially during pumpkin season!
Better find a copycat recipe to tied you over till your next trip!
Price $12
Enjoy with Bunch of Puppies
6. Conjurita (AbracadaBar)
When is a drink not a drink? When it's a magic trick! This color changing drink showcases El Mayor Tequila, Cointreau, Simple Syrup, and Lime Juice.
Aside from the mystical act of changing from purple to pink, it is delicious.
This drink is so distinctly Disney that I couldn't keep it away from making its way onto our list of the 15 Best Alcoholic Drinks at Disney World!
Price $17
Enjoy with a hot slice from Pizza Window
7. Lavender Fog (Enchanted Rose at Disney's Grand Floridian Resort & Spa)
Gosh, even the name of the drinks at Enchanted Rose conjure wistful feelings of romance.
This Beauty and the Beast themed lounge brings elegance and opulence together in one beautiful fairytale package.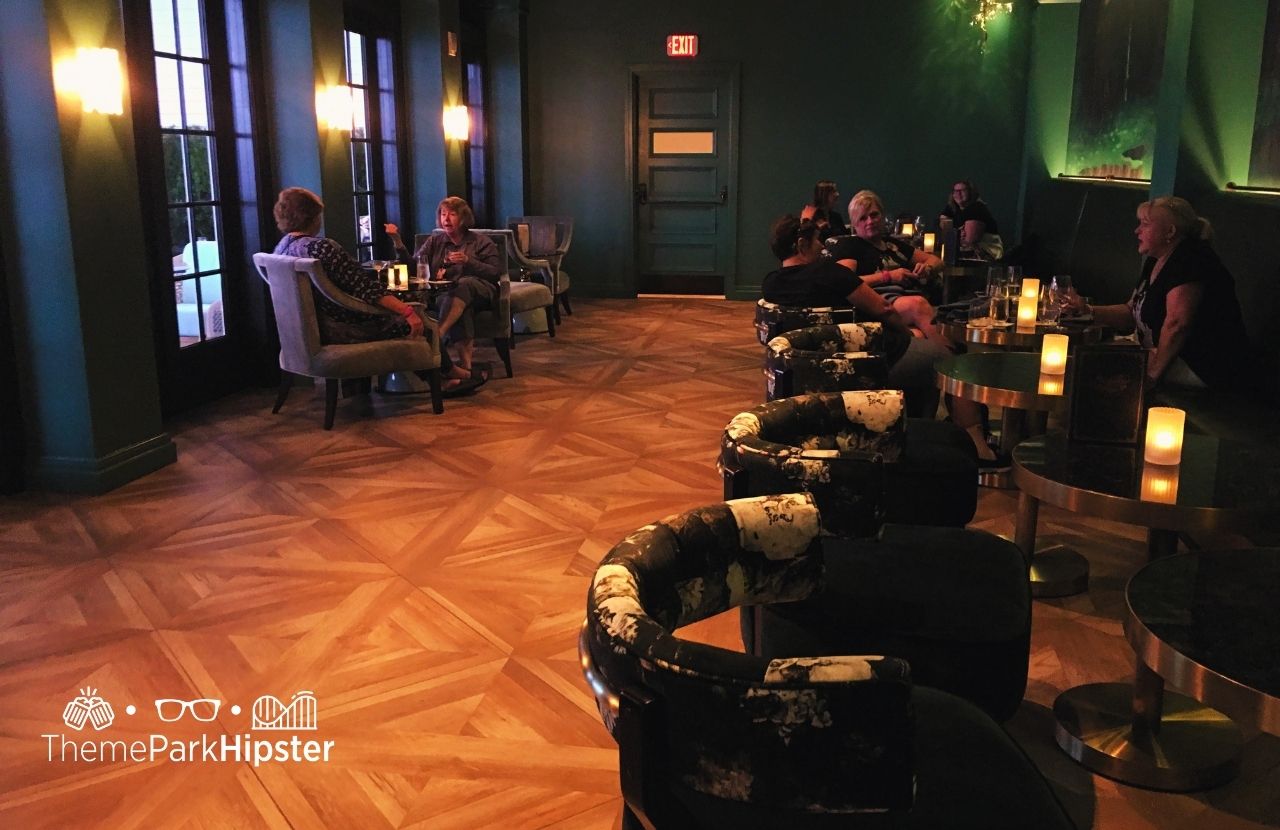 One of the most sumptuous cocktails you can order from Enchanted Rose's illustrious menu is none other than… The Lavender Fog.
This unique specialty blends Nolet's Silver Dry Gina, Rothman Crème de Violette, English Breakfast Tea, vanilla, and cream.
Here, you will find the tea prominently present while the gin in incredibly smooth. This flavorful drink is hearty yet silky, offering a one-of-a-kind libation to your list that fits perfectly with its host's theme.
Price $18
Enjoy with Artisanal Cheese Selection
8. Hippopotomai-Tai (Trader Sam's Grogg Grotto at Disney's Polynesian Village Resort)
Coruba Dark Rum, Bacardi Superior Rum, Bols Orange Curacao, Orgeat, Organic Agave Nectar, and fresh Lime Juice! Stop and reread that again.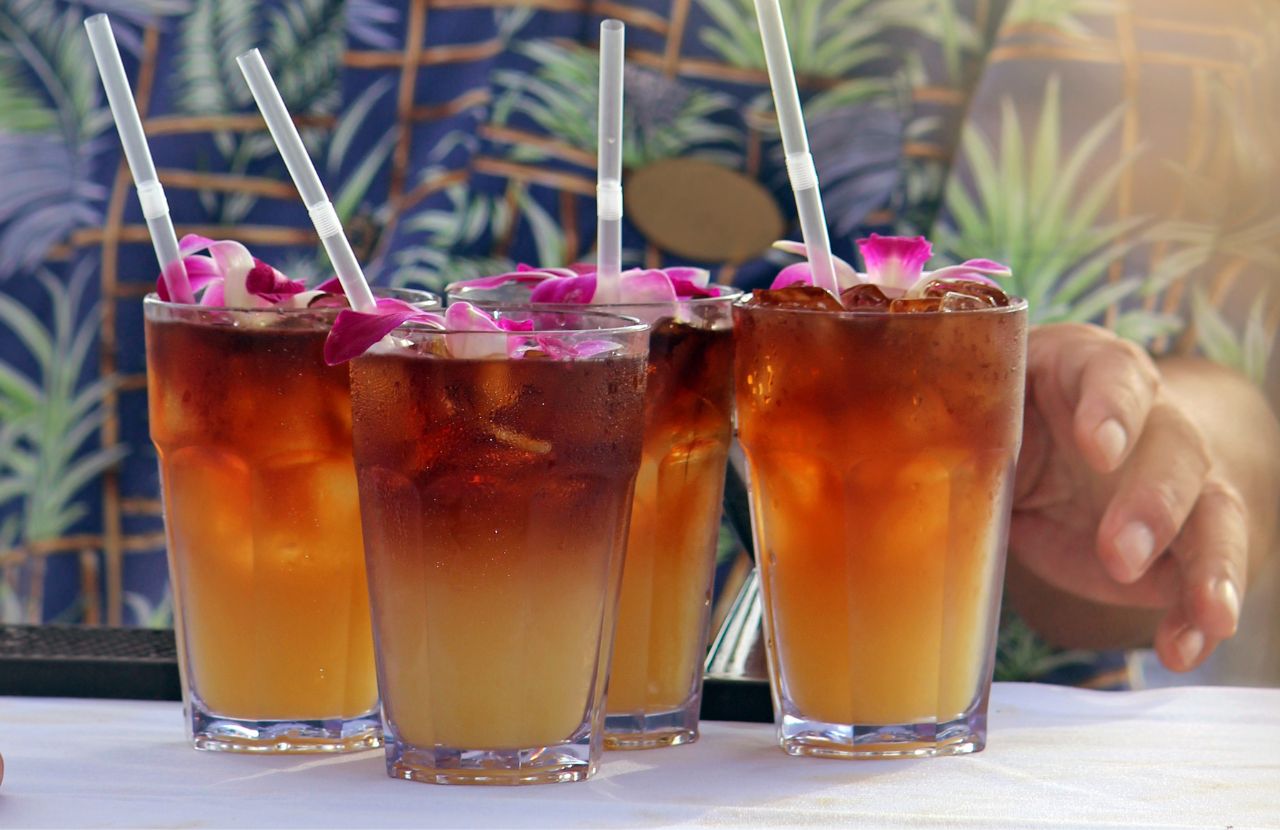 What else could you possibly ask for from a hidden tiki bars take on a classic Mai Tai? These island-inspired cocktails go down easy and are served in an endearing smiling cup!
Price $17
Enjoy with Kahuna Tuna Sushi Rolls
9. Safari Amber Lager (Disney's Animal Kingdom Theme Park)
We're a sucker for anything exclusively Disney – and the Safari Amber Lager is just that!
This smooth American Amber Red Ale offers a bready malt sweetness with a hint of pine and some surprising heady character.
And get this – it is brewed exclusively for the Animal Kingdom Theme Park at Walt Disney World! How cool is that?
10. El Diablo Margarita (La Cava del Tequila at Epcot)
Don't let the "El Diablo" part of this Margarita scare you away. While it does offer a spicy kick, it is much smoother than you may expect.
A beautiful blend of tequila, lime juice, agave, and a cucumber-jalapeño juice with a colorful hibiscus salt rim can be found with every glass.
Rumor has it – the experts at La Cava del Tequila have tamed this drink a bit by adding more lime, thus cutting the punch.
So, what is there to be afraid of? Give into the dark side!
Price $15
Enjoy with ANYTHING from Mexican offerings at Food & Wine!
11. Duck Duck Razz (The Boathouse at Disney Springs)
This naughty nautical cocktail really does come with its own miniature rubber ducky. Who could resist? Am I right?!
However, it's not just about that loveable mascot that makes this drink an instant classic. This brew puts berry front and center, making it a surprisingly strong drink.
Some have even said it is like drinking "a fermented blue Jolly Rancher!" YUM!
12. Lapu Lapu (Tambu Lounge at Disney's Polynesian Village Resort)
This drink may not be particularly unique to Walt Disney World, but that won't stop everyone from asking you "where did you get THAT?" when you're rocking one of these on property.
Head over to the Tambu Lounge at Disney Polynesian Village Resort and get your hands on a hollowed-out pineapple overflowing with Plantation Original Dark Rum, tropical fruit juices, and Gosling's 151.
If there is one drink on sight that can make your South Sea's dreams come true… you've just found it!
Price $19
Enjoy with Kaikane's Barbecued Pork Ribs
13. Hightower Rocks (Nomad Lounge at Disney's Animal Kingdom Theme Park)
It's pretty much impossible to talk about the 15 Best Alcoholic Drinks at Disney World without mentioning the Nomad Lounge.
But – shhh – don't let the cat out of the bag. This is an insiders hotspot and we want to keep it that way!
If you're all about feeling a bit lavish on your next trip, kick your feet up at Nomad Lounge.
Though every drink I've ever tried at the lounge was worthy of praise, the Hightower Rocks deserves special mention.
Why We Love this Disney Cocktail
14. Leaping Leprechaun (Rose & Crown at Epcot)
Between the fun name and chance of good luck, who wouldn't want to try the Leaping Leprechaun at Rose & Crown?
We all know this bar packs a proper pour and wide array of beer combinations.
But the Leaping Leprechaun is in a class of its own, integrating a playful sequence of Myers's Platinum Rum, Skyy Vodka, Jameson Irish Whiskey, Melon Liqueur, and Sweet-and-Sour topped with Sprite. Only thing missing is a pot of gold.
Price $18
Enjoy with Fish and Chips
15. Grand Marnier Orange Slush (Les Vins des Chefs de France at Epcot)
It's time to cool things down a bit with the Grand Marnier Orange Slush in France.
Served in a plastic martini glass, you'll uncover a healthy mixture of Grand Marnier, Rum, Grey Goose, and Orange Juice. Yum!
The flavor is sweet and strong – serving up an adult version of a dreamsicle slushie! This drink is certainly the belle of the ball around World Showcase and as you can see… for good reason.
What to Know Before Drinking at Disney World
Now that you know where to find the best drinks in Walt Disney World, let's go through some of the most commonly asked questions.
How much are cocktails at Walt Disney World?
Walt Disney World is home to hundreds of cocktails, frozen concoction, and lively libations. Pricing will vary throughout the park, but alcoholic beverages are between $12 – $20.
Do I need reservations to go Drinking Around the World?
Unless you are looking to enjoy a sit-down Table Service dining experience, there is no need to make reservations if you are simply looking to go Drinking Around the World.
How long does Drinking Around the World take?
When it comes to Drinking Around the World, you are going to need to pace yourself. In addition, you'll need to factor in meals, as well as travel time.
Is Magic Kingdom a dry park?
Not anymore! You can find plenty of alcoholic beverages at the following Magic Kingdom restaurants:
Be Our Guest
Cinderella's Royal Table
Jungle Navigation Co. LTD Skipper Canteen
Liberty Tree Tavern
Tony's Town Square Restaurant
The Plaza Restaurant
Crystal Palace
The Diamond Horseshoe
Final Thoughts on the Best Alcoholic Drinks at Disney World
And there you have it, the list of the 15 best cocktails at Disney World. I hope this helps you make a more informed decision on your next trip to Walt Disney World.
Be sure to share with us your favorite cocktails on property in the comments section below!
Until next time, Happy Hopping Hipsters!
About the Author
UP NEXT: What is the Best Disney World Park for Adults? (Complete Guide for Beginners)