Is the Walt Disney Dining Plan confusing to you as it is with most Disney guests? Let me help you unpack and learn everything you need to know in order to conquer the Dining Plan!
Let's first start by understanding what is the Disney Dining Plan:
The Disney Dining Plan is a prepaid meal plan for restaurants on the Walt Disney World Resort property. You can buy a pre-set amount of meals and snacks ahead of time for each traveling person, per night.
The amount of meals and snacks you receive in each plan depends on the type of plan you choose, and each type of meal or snack can be redeemed using a credit from your meal plan. It sounds like a lot, but meal plans can be very simple and a great money saver if you do things right.
Before we discuss the types of dining plans, there are a few terms you need to know.
THIS POST MAY CONTAIN AFFILIATE LINKS. PLEASE READ MY DISCLOSURE FOR MORE INFO.
Walt Disney Dining Plan Terms You Should Know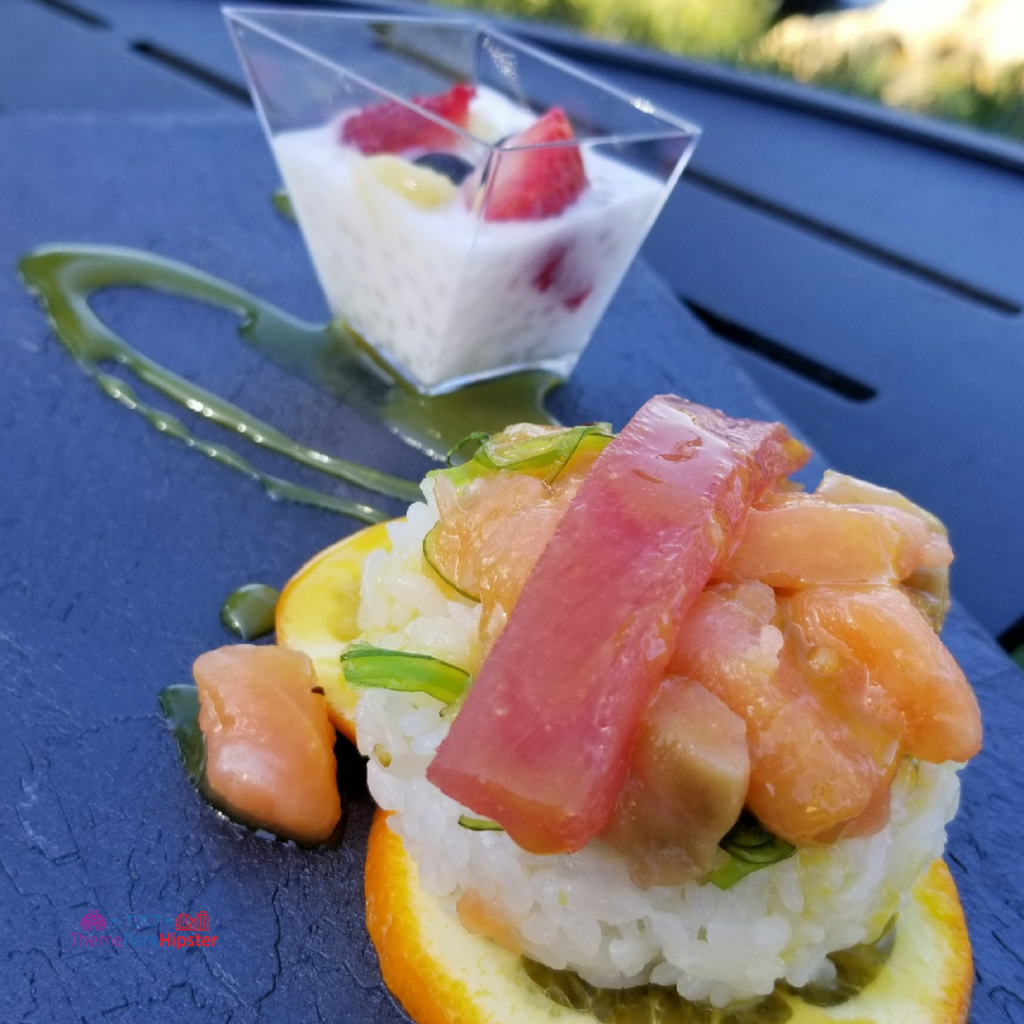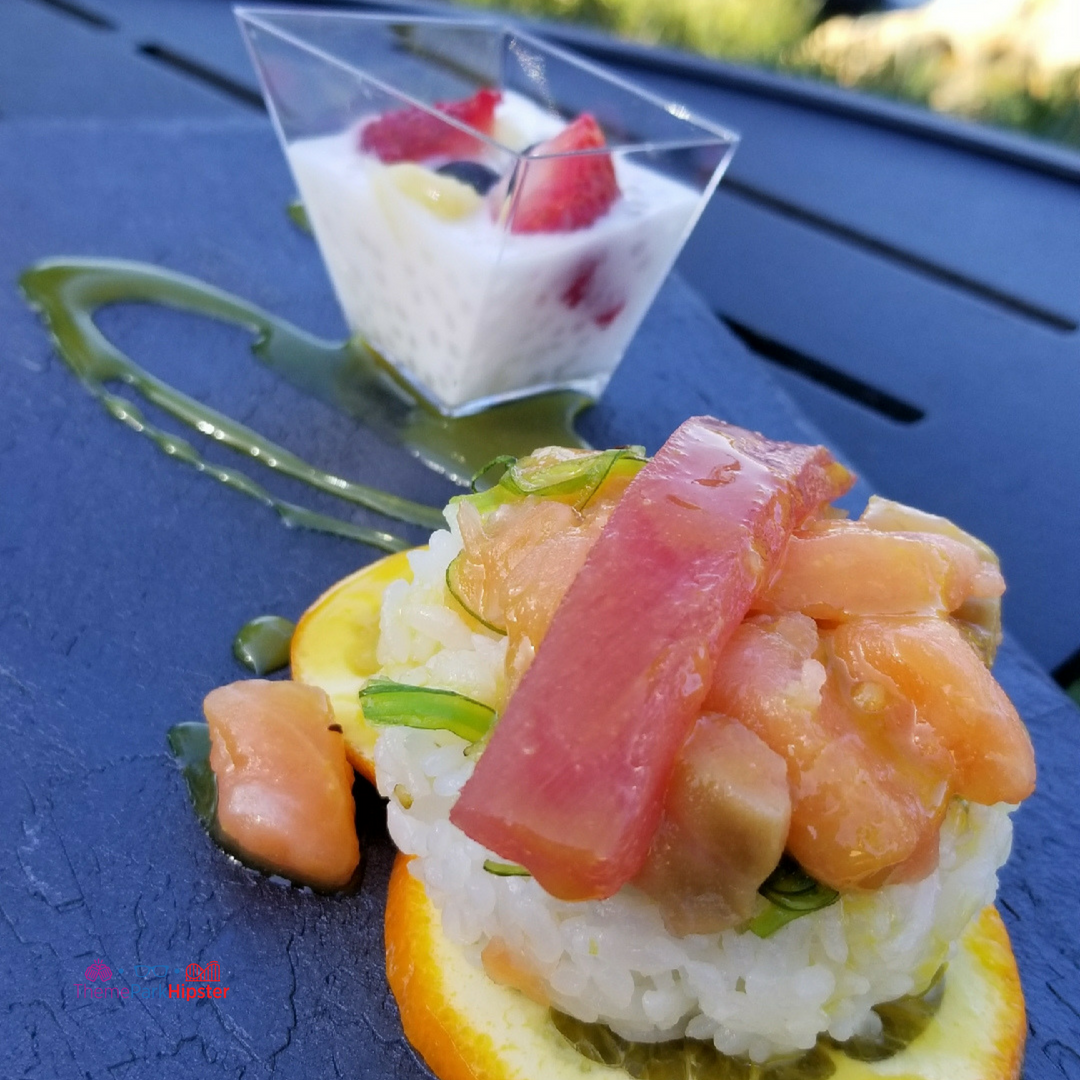 Counter Service/Quick Service
Any dining location where you have to walk up to a counter or window to order your food.
Table Service
Any dining location where you make reservations, have to check in with a Cast Member, or have to be shown to your table.
Walt Disney Dining Plan Snacks
Are found on most snack carts and quick service location. It's usually noted by the snack plan logo on the menu.
Disney Dining Plan Credits
Are sort of like tokens that Disney is using to keep track of your food. Meals can cost anywhere from 1 to 2 credits and may be used at any time during your stay.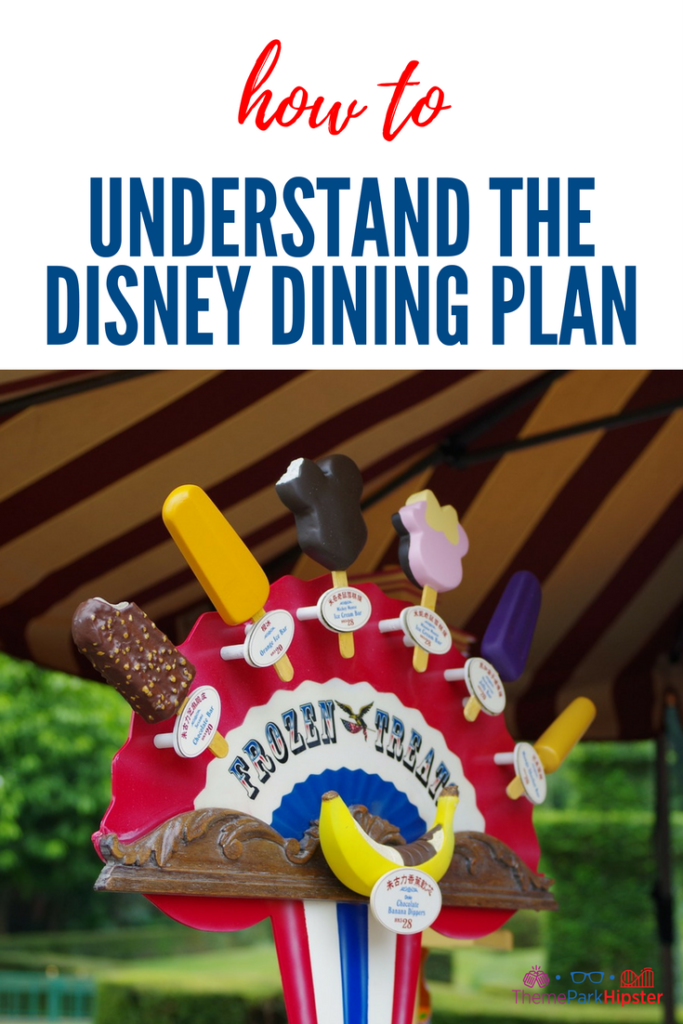 ---
What are the 2019 Disney Dining Plan Prices?
Disney has three tiers for the Dining Plan: Quick Service, Standard Service, and Deluxe Disney Dining Plan. Each of them come with a different level of service at different rates.
Disney Quick Service Dining Plan Cost
Includes two quick-service meals OR one complete combo meal, two snacks, and one refillable drink mug. The cost is $52.49 for adults and $23.78 for children.
Regular Dining Plan Cost
Includes one table service meal, quick service meal, two snacks, and one refillable mug. The cost is $75.49 for adults with a rate of $27.98 for children.
Disney Deluxe Dining Plan Cost
Includes three meals any combination of table service and quick service, two snacks one refillable mug. The cost is $116.24 for adults with a rate of $43.49 for children.
You can view a complete chart of the different dining plans and their prices for both children and adults below.
Disney Dining Plan Cost 2019 Chart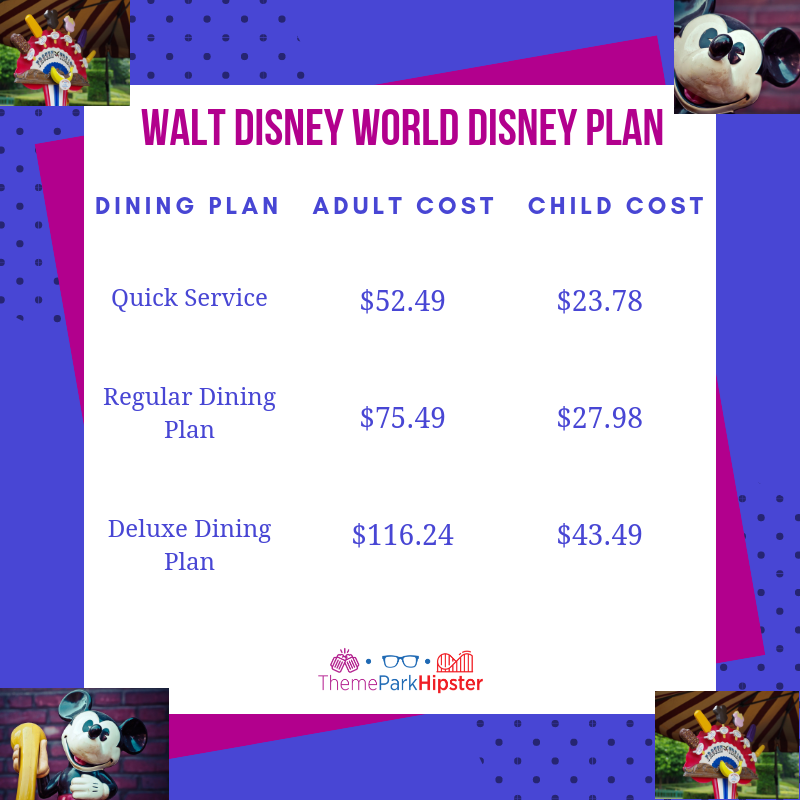 [alert alert_heading="Please Note" alert_text="While we try our best to stay up to date at Theme Park Hipster, prices may change at any time after we publish or update this article." alert_style="alert-warning"/]
---
How Does the Disney Dining Plan Work?
The Walt Disney Dining Plan provides you with a set number of credits to redeem for counter service, table service, signature dining, and snacks.
The credit can be stored on your MagicBand and receipt is provided after each redemption. This is kind of like when you are putting money on your gift card for the Epcot Food and Wine Festival. It shows how many credits remain after each transaction.
If you decide you and your friends and family will want more food, you can upgrade your Walt Disney Dining plan if you change your mind later.
Remember: The credits don't have a set dollar value and can be used at any time during your stay. That's when you have to go around and play with the system so that the dining plan works in your favor.
Who's Eligible for Disney Dining Plan?
Walt Disney World guests who purchase a vacation package with the room and ticket are eligible for the Disney Dining Plan.
Can You get the Disney Dining Plan without Staying on Property?
No.
Disney dining plans are only available a part of Magic Your Way Vacation Packages, which also includes a resort hotel stay and theme park tickets.
---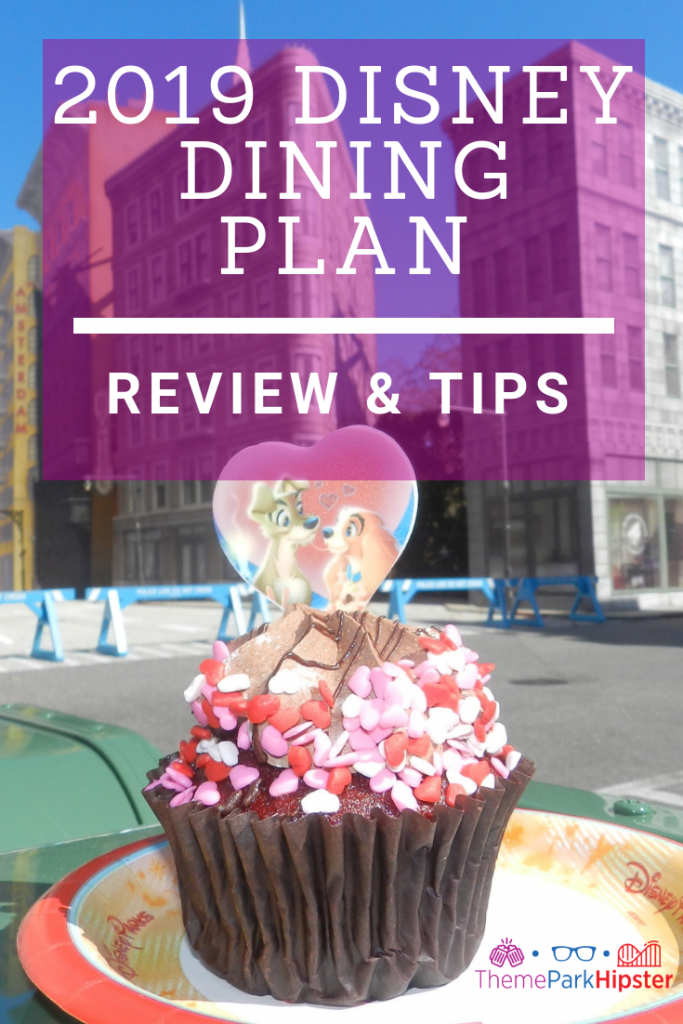 Is there tax on Walt Disney Dining Plan?
Prices and plans include taxes, but you pay for tips out-of-pocket.
Newest Disney Dining Plan Options
*Per Disney, alcohol is now added to Disney Dining Plans*
Magic Your Way® Vacation Packages
Guests of select Walt Disney World® Resort hotels with Magic Your Way Vacation Packages that include a Disney Dining Plan have several new beverage options available.
Walt Disney World Dining Plan Beverage Options
Guests under 21 can choose (1) non-alcoholic beverage (including specialty beverages where offered). Guests over 21 can choose either one (1) single serving non-alcoholic beverage (including specialty beverages where offered), or one (1) single serving mixed cocktail, beer, or wine (where offered) within their meal entitlement.
A single serving non-alcoholic beverage includes items such as:
Artisanal Milkshakes
Fresh Smoothies
Premium Hot chocolates
Soda, Coffee, or Tea
A single serving alcoholic beverage includes items such as:
Beer or Cider
Wine or Sangria
Mixed Drinks and Specialty Cocktails
Most beer, wine, and mixed drink beverages are included, though some exceptions apply. Guests must be age 21 and over and present valid ID to be served their one (1) alcoholic beverage. Alcoholic beverages may only be redeemed with a quick-service or table-service meal entitlement.
Read the best Disney Vacation Planning Guide for more ways to plan out your Walt Disney World Vacation.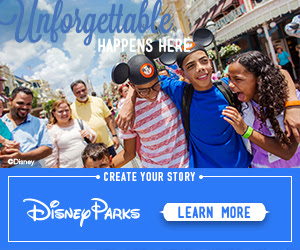 ---
How Much Does it Cost to Upgrade to Disney Dining Plan?
If you book a value resort, you will get the quick service dining plan for free. You can upgrade to the regular dining starting around $19* per adult and $3.49 per child per night. You can also upgrade to the Deluxe Dining Plan for $68.89 per adult and $15.09 per child per night.
*Prices subject change without notice.
Depending on how you booked your package, you might be able to upgrade or downgrade your dining plan. As with any Disney planning, you should make any changes as soon as possible prior to your trip. Because the prices and circumstances vary, it's best to discuss the details of your particular situation with an authorized Disney vacation planner or with Disney directly at 407-WDW-MAGIC.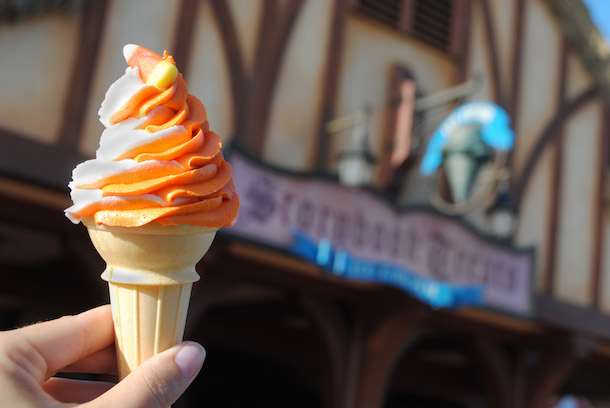 Can You get the Disney Dining Plan at the Swan and Dolphin Resort?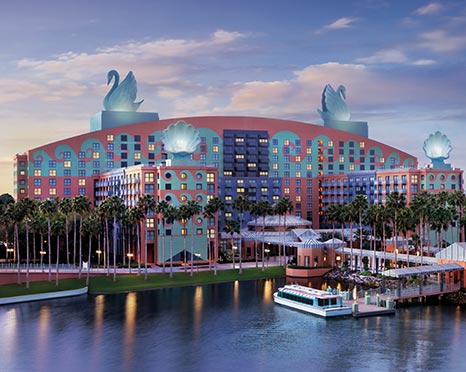 The Swan and Dolphin Resort does not offer all the perks the official Disney resorts offer. You can still enjoy the following Disney perks at the Swan and Dolphin Resort:
Early access to Disney FastPass+ planning
Extra Magic Hours
Complimentary Resort transportation
Free delivery of purchases made in the Disney parks
Character dining
Resort entertainment
Complimentary parking at the Disney theme parks
Can Disney Vacation Club Members Get on Disney Dining Plan?
Yes.
Even without the purchase of park tickets just as long as you are not staying on points you've redeemed.
Which Disney Resort Rooms are Excluded from FREE Dining?
Excludes the following room types and Disney Resort hotels:
Campsites
3-bedroom villas
Disney's Art of Animation Resort – The Little Mermaid Standard Rooms
Polynesian Villas & Bungalows – Bungalows
Copper Creek Villas at Disney's Wilderness Lodge
The Villas at Disney's Grand Floridian Resort & Spa
Bay Lake Tower at Disney's Contemporary Resort
Is FREE Disney Dining Plan Available for DVC Members?
Yes, but not to DVC members staying on points.
---
6 Super Easy Disney Dining Plan Tips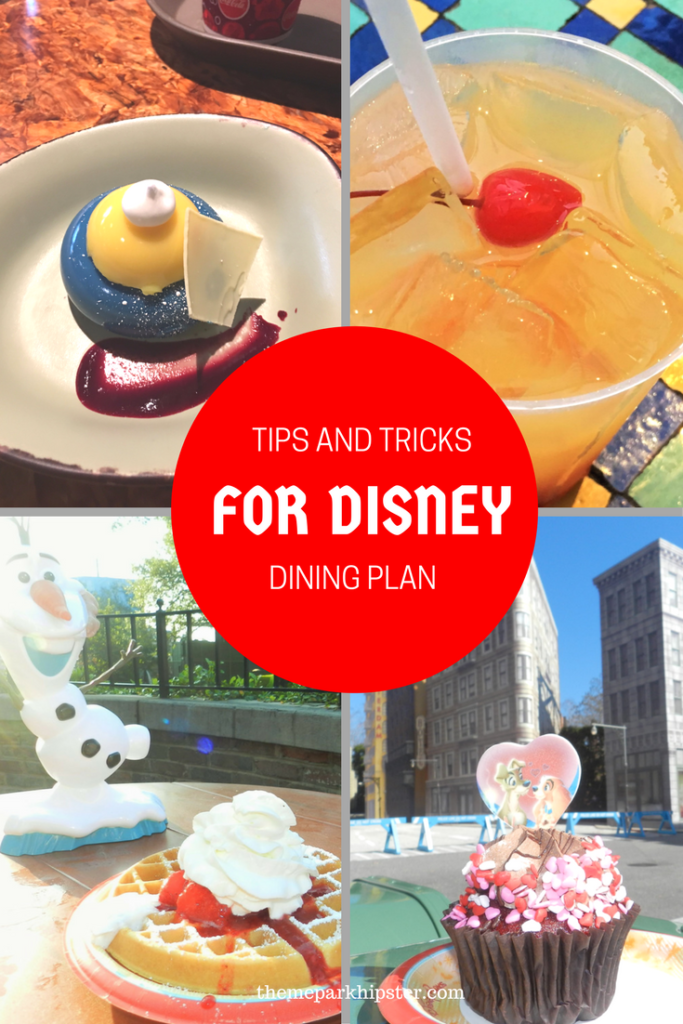 1 -- Determine where you want to eat.
That way you can maximize your credits and learn how to use them in a way that best suits you your vacation.
2 -- Book your dining reservations before arriving.
When you purchase the Disney Dining plan, try to be more reasonable with the reservations you make.
I say this because you will be at the park and things often change unexpectedly. You may end up not doing something on your agenda, and you will probably spend more time having counter and quick service rather than eating at an actual sit-down restaurant.
3 -- Remember how to use your credits.
Remember two table service credits may be used for one signature meal, dinner show, pizza delivery or room service meal at a Disney participating resort
4 -- Combine credits.
You can mix adult and child credits for entrées.
5 -- Great for special events.
I've learned that the Disney Dining Plan works best for events like the Epcot Food and Wine Festival. I say this because you can get a lot of the snacks without using as many credits. This is my favorite way of having the Disney Dining Plan.
6 -- Work with an authorized Walt Disney World vacation planner.
An official planner has the latest deals, tools, and resources directly from Disney. They're extremely knowledgeable on all things Disney dining!
---
Is the Disney Dining Plan Worth It?
Do you love or hate the Disney Dining Plan?
All of this information can be confusing and has caused great debates online questioning the need to purchase any one of the plans.
There are people who love and who hate the Disney Dining Plan. Some believe the Disney Dining Plan requires you to eat an extreme amount of food.
This can be wasteful if you're not a big eater.
A lot of people do feel forced to complete each meal and to make sure they're not losing money by using each credit. Others who have big appetites and who are big eaters love it and are able to fit all the meals into each vacation day.
For the savings to work out, you really have to map out each meal and compare pricing. In order for you to feel like you have budgeted correctly or at least have gotten your money's worth, you will want to look at some of the dining offers at each park or even at your hotel.
This may be a bit time-consuming, but it will work out in the end if you're trying to maximize your Disney Dining Plan.
Another common reason guests might not like the dining plans is that they may leave more questions than answers. The dining plans can be confusing to understand, and it can be more of a hassle when you're already trying to plan a big trip to Walt Disney World.
There is a dedicated website called the Disney Dining where they write multiple articles explaining this subject.
The Disney Dining Plan is a pricey add-on to any solo theme park hopper or a family vacation. Its price can be so high that it doesn't always make sense to add it unless you're using the credits strictly for lunch and dinner. The prices are over $60 per person per day for an adult.
You could honestly just create a dining plan of $30 per adult per day budget and save your money for other theme park items.
---

Final Thoughts About the Walt Disney Dining Plan
The dining plan is only available for guest staying at a Disney-owned and operated resort.
Disney will not let you purchase one deluxe while the other guests in your party purchase a regular one.
Everyone over the age of 9 must pay the adult rate regardless of how much they plan to eat.
Guest on the Disney Dining Plan receive a number of credits based on how many nights they plan on staying.
Your credits can be used through midnight on the day of check out.
Two credit meals are signature experience at the most expensive dinner shows, buffets, and restaurants like the Hoop Dee Doo Review, Cinderella's Royal Table, California Grill.
The Deluxe Dining Plan also includes an appetizer in addition to the entrée dessert and non-alcoholic beverage (alcoholic beverages will be included in the 2018 plan).
The snack credit can be used for most food items under $5.49. Simple snacks include pastries, ice cream bars, water bottles and soda.
My overall recommendation is to just budget for dining at Walt Disney World.
You can do this by setting a daily budget between $35-$50 per day per adult. If you have a larger family coming, possibly buy groceries. This will allow you to have food in your room and with the option of doing one meal inside the parks.
Do you love or hate the Walt Disney Dining Plan? Let me know in the comment section below!
---
Is the Disney Dining Plan worth it?
If you enjoyed this article, then you'll love these:
Want more theme park tips? Check out the theme park tips page. If you're thinking about going to Disney alone, then read the top 18 tips. Are you planning a Disney vacation soon? Read the Disney Vacation Planning Guide for your next dream trip!
Don't forget to discover the new magical and mysterious Disney adventure of Pandora – The World of Avatar at Animal Kingdom® Theme Park.
Until next time, Happy Park Hopping Hipsters!
NikkyJ