Ready to take on an international foodie adventure at Rose and Crown at EPCOT?
When it comes to dining at EPCOT you have plenty of options, from quick service and table service to the perpetual festivals that are always taking place at the park.
If you're looking for a nice place to sit down, have a bite to eat, and enjoy the view of World Showcase from a dedicated patio, then look no further than the Rose and Crown Dining Room in the United Kingdom pavilion at the park.
This is easily one of the hardest reservations to get at EPCOT, so if you want to dine here you're going to want to plan well in advance.
If you're still unsure about booking a table here, then let me convince you with our review of the Rose and Crown dining room.
THIS POST MAY CONTAIN AFFILIATE LINKS. PLEASE READ MY DISCLOSURE FOR MORE INFO. Which means if you click on certain links, I may receive a small commission at no additional charge to you.
What is The Rose and Crown Dining Room?
The Rose and Crown Dining Room is a traditional English-themed restaurant inside EPCOT's United Kingdom pavilion.
It also shares a space with the popular Rose and Crown Pub, where guests can buy a beer or mixed drink and take it with them around EPCOT.
The dining room however, is a table service restaurant offering the best in British cuisine like Fish and Chips, Bangers and Mash, and Sticky Toffee Pudding for dessert.
ORDER NOW to secure your Walt Disney World theme park ticket! GET MY TICKETS.
What is the vibe like inside Rose and Crown Dining Room at Epcot?
Inside the vibe is pretty chill. If you are seated closer to the bar area it can get a little rowdy, but you can request to sit elsewhere.
One of my favorite areas to sit is the dedicated patio outside right at the edge of World Showcase Lagoon.
These are some of the best tables in all of EPCOT for the views and warm Florida breezes.
Each of the servers inside the restaurant are from the United Kingdom, which helps to bring more authenticity to the location as well.
How do I get a reservation to Rose and Crown Dining Room?
Getting a reservation for the Rose and Crown Dining Room can be a bit of a challenge because the restaurant is fairly small.
The best way to reserve your table is through the My Disney Experience app. Here you can search by date and time to find a reservation.
The other way is to use the official Walt Disney World website to make reservations. The second way is a little harder because the website can be glitchy.
Either way you make your reservation though you'll end up with the same results of sitting inside the restaurant for a meal.
Is there bar seating inside the Rose and Crown Dining Room?
Most restaurants at EPCOT do not have bar seating, this one included. This is really only a thing at resort restaurants where there are lounges attached.
There is a bar at the restaurant, but it's a separate entrance. If you just want to grab a drink and keep touring around EPCOT be sure to enter the Rose and Crown Pub.
If you plan on eating inside the Rose and Crown Dining Room at Epcot, you can order drinks from the bar and your waitstaff will bring it to you.
What's on the Rose and Crown menu at Disney?
The menu at the Rose and Crown Dining Room is filled with British classics.
Rose and Crown's lunch and dinner menu are exactly the same, unlike some restaurants where the menus are completely different for the two different services.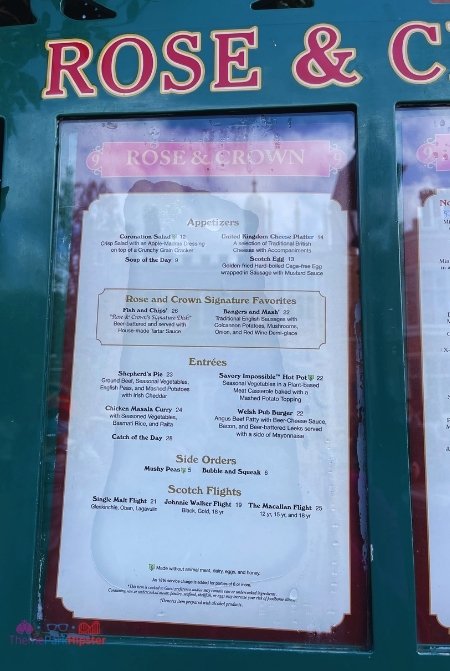 Here are a few of my favorites:
United Kingdom Cheese Platter
Scotch Egg
Fish and Chips
Shepard's Pie
Bangers and Mash
Welsh Pub Burger
Sticky Toffee Pudding
Get up to 76% off of the Orlando attractions with Groupon TODAY!
Lunch (my preferred dining time)
We like dining for a late lunch at the Rose and Crown Dining Room because that means we can try a few snacks around the park for a late dinner before watching the new fireworks show, Harmonious.
For lunch I always order the Scotch Egg appetizer and fish and chips for our entree.
Dinner
If you're doing at the Rose and Crown Dining Room for dinner, you'll be able to enjoy the same menu as lunch, but with the opportunity to watch Harmonious from your table if you time your reservation correctly.
For dinner I always get the United Kingdom Cheese Platter, especially if I'm dining with a friend so that we can share.
Then we always indulge in the Welsh Pub Burger, which is topped with beer cheese, bacon, and beer-battered leeks.
Does the Rose and Crown Dining Room take any discounts?
The Rose and Crown Dining room does offer discounts for Annual Passholders and Disney Visa Cardholders. Both discounts are 10 percent off your total bill, not including alcohol.
Ready to plan your theme park trip? Watch the best vacation planning tips on YouTube. Get started here!
3 Pro Tips for Dining at Epcot's Rose and Crown Restaurant
If you can't get a reservation at the Rose and Crown Dining Room, you can check with the hostess stand just outside the restaurant. There are often walk-up times available if you make your way to the U.K. Pavilion first thing when the park opens.
If you want to wait outside, you're likely going to have to wait. There is a very limited amount of tables outside on the patio, and they are prized seats. If you're willing to wait a while you can sit outside by request, but if you're really hungry just sit wherever the hostess takes you.
If you can't get a reservation but only wanted to get fish and chips and a beer, consider dining at the quick-service restaurant called the Yorkshire County Fish Shop. Here you can get just that and dine outside on the spacious patio, where tables are all up for grabs by guests.
My Final Thoughts of Rose and Crown Pub at Epcot
The Rose and Crown Dining Room is worth fighting for a reservation for. The restaurant has some of the best views in EPCOT and the food is fantastic!
For more theme park tips and tricks, follow ThemeParkHipster on YouTube.
Until next, Happy Park Hopping Hipsters!
If you enjoyed this article, then you'll love these:
About the Author
(Original Article Date: January 24, 2022/Updated by Editor on January 10, 2023)