Visiting Tiffins Restaurant at Disney is an adventure you must embark on while visiting Animal Kingdom.
Disney's Animal Kingdom is one of the most popular spots at the resort, with the location drawing in the attention of millions of Guests from across the world each year.
The experience at Animal Kingdom is immersive, exciting, and fun!
Sightseeing is not the only experience you'll enjoy here. While on a tour of the Animal Kingdom, it is important for you to relax and revel in the delcious food and great moments with your family or on your solo trip.
Fortunately for you, we have just the right place for you to dine and have the complete robust experience while at the Animal Kingdom, and that is Tiffins Restaurant.
THIS POST MAY CONTAIN AFFILIATE LINKS. PLEASE READ MY DISCLOSURE FOR MORE INFO. Which means if you click on certain links, I may receive a small commission at no additional charge to you.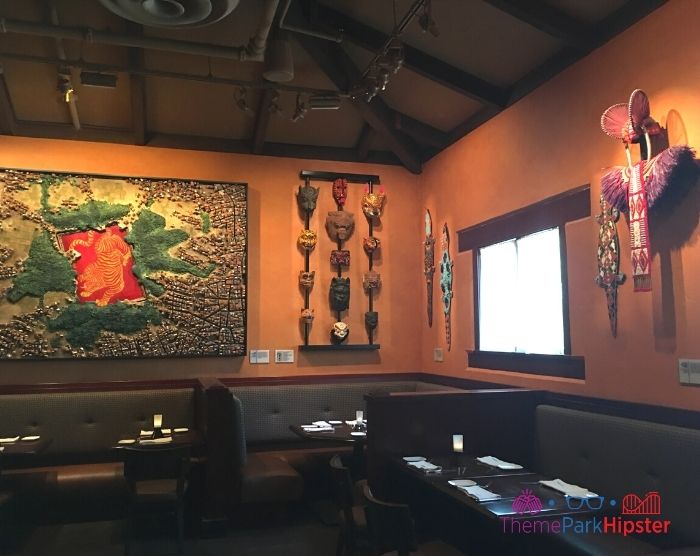 Tiffins Restaurant at Animal Kingdom
There is no doubt that Tiffins restaurant remains one of the top dining spots in the Walt Disney World Resort. This restaurant serves has some of the most diverse menu in the Animal Kingdom. Plus, the ambiance here is amazing.
At Tiffins restaurant, you are treated to great meals, an amazing atmosphere and an adventurous experience which is made possible by the vintage styled and global influences.
What does Tiffins mean?
And just in case you do not know, Tiffin is an English Indian word that refers to a mid-day meal, a light lunch, and that's exactly what you'll get here.
…and a little bit more.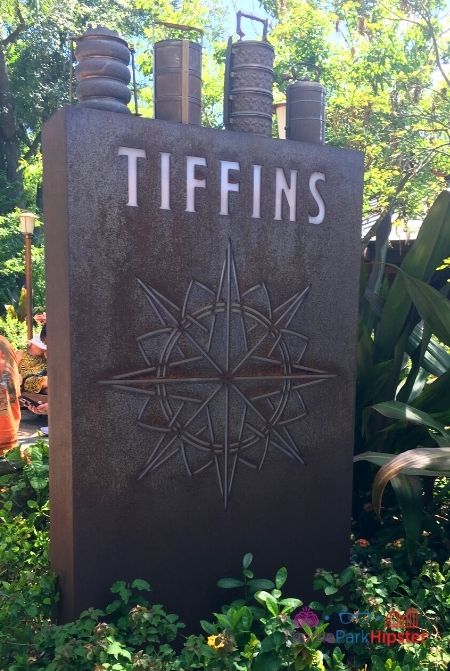 Is breakfast served at Tiffins?
Tiffins Restaurant doesn't serve breakfast. Rather, it serves both the lunch and dinner meals. Tiffins restaurant is available to people of all ages, as they serve meals for both kids and adults.
The restaurant starts serving lunch from around 11:30 a.m. everyday and they have a lot of signature drinks to complement their impressive menu.
ORDER NOW to secure your Orlando theme park ticket reservation in the parks! GET MY TICKETS.
Why is Tiffins Restaurant Highly Rated?
So, why is Tiffins better than many of the Animal Kingdom dining options around?
As you walk into this beautiful and amazing restaurant, you'll notice quickly the relaxing vibe with the detailed woodcarvings right outside and the warm colors that you will see placed throughout the restaurant.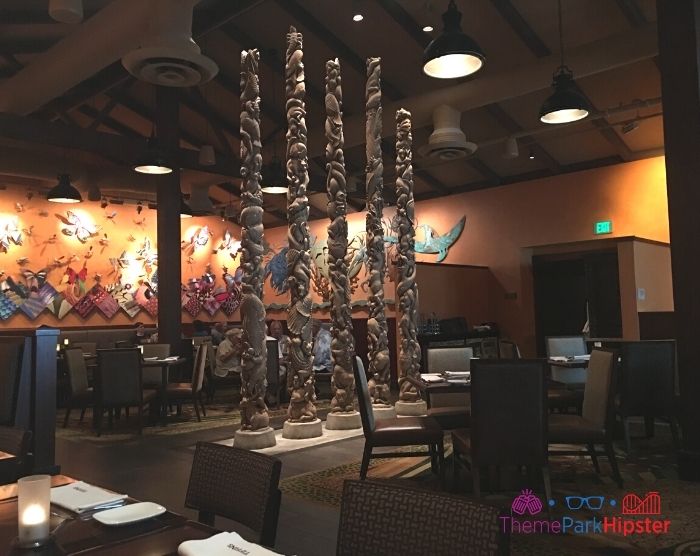 This is fine dining at its best, or as much as you can get all within a major thing park, Not only will you enjoy the amazing atmosphere, but you'll also be welcome to an international menu filled with deep flavors and exotic spices.
1. Impressive Menu
There is no denying the fact that a great Disney restaurant must find a way of complementing great meals with an outstanding theme bringing the two together. This is an area where Tiffins Restaurant highly excels.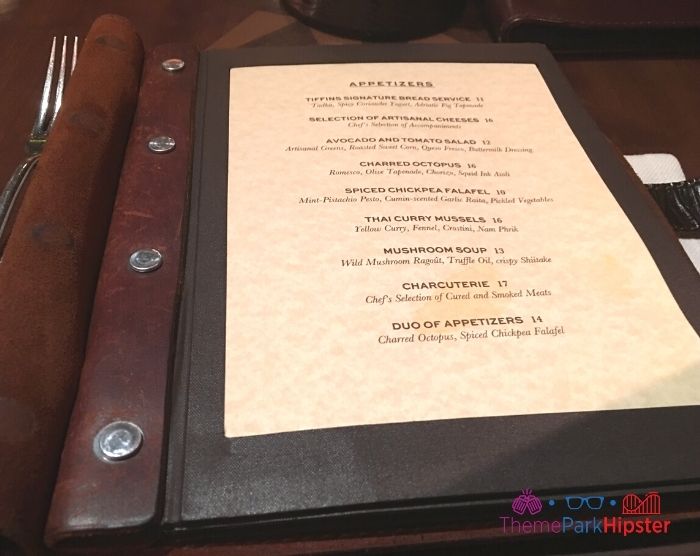 This restaurant mainly serves African, Asian and South American cuisines, but it has also developed a wide range of other impressive meals and cuisines from other continents including from Europe and also the North America.
This makes its menu one of the most diverse menus you can find in any Walt Disney World restaurant.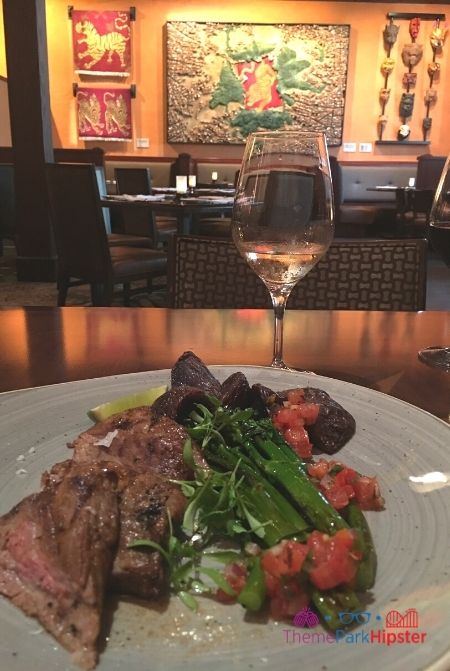 Once you're seated in your chair, you will open up a beautifully presented journal-inspired menu. As you go through it, your foodie adventure officially begins.
Tiffins Menu
Some of their signature meals include:
Pumpkin soup
Charred octopus
Thai curry mussels
Butter chicken
North African spiced tofu
Surf and turf
Lobster macaroni and cheese
South American chocolate ganache
The Lion King
Shrimp and Grits
Falafel with garlic yogurt
Lamu Libation
You can read the full menu here.
Have a DIFFERENT kind of Orlando vacation with a Resort home next to Disney World. Find Your Disney Resort Vacation Rental here!
2. Great Ambiance
In addition to a great menu list, another important factor that determines the ratings and success of a restaurant is the ambiance. There is no doubt that the quality of the ambiance in place would determine how fun and enjoyable such a location would be.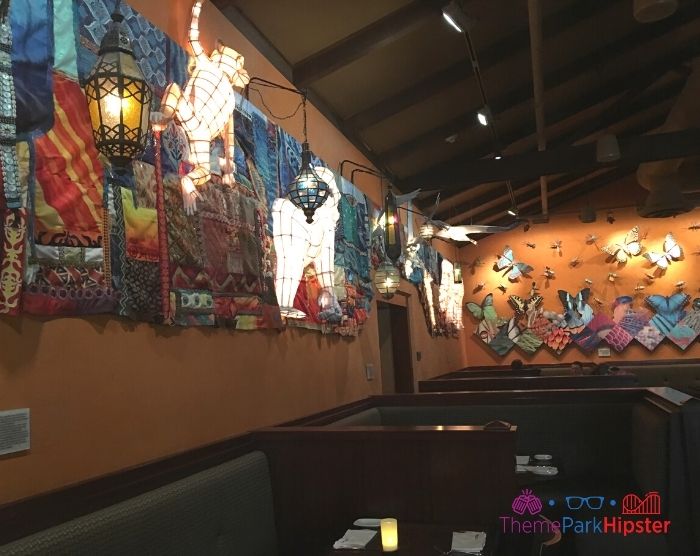 This is another aspect that works for Tiffins Restaurant as it boasts of a really great ambiance that would make dining there such an unforgettable experience for you.
For instance, there are three galleries in the restaurant which showcases a wide variety of art galleries from different areas of the world.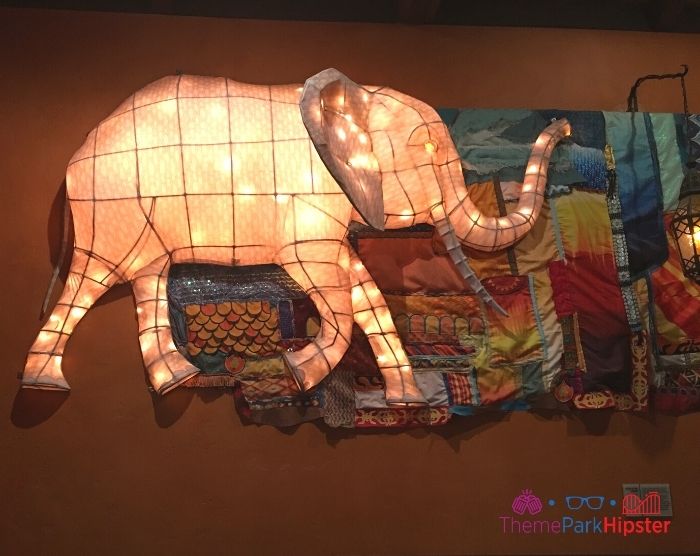 You'll also notice the delightful artwork and the mementos of the Disney Imagineers-inspired collections from all over the world in the three galleries.
The 3 Dining Rooms
Grand gallery: the main dining room and the largest that's themed around animals
Safari gallery: themed around all things Southern and Eastern Africa
Trek gallery: themed around Asia
3. Excellent Customer Service
Another area where the Tiffins Restaurant excels greatly is customer service from Cast Members. From the moment you step into the Tiffins Restaurant till the time you step out, you would be treated to a standard that is worthy of royalty.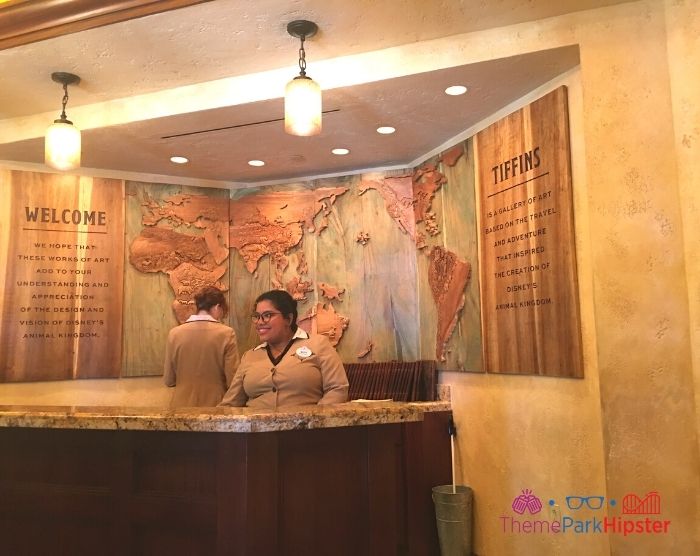 On my solo trip, the Cast Members welcomed me into this incredible dining location and went over the menu with me. My server answered every single question I had with no hesitation and gave me great recommendations to make my visit incredible.
Because of the customer service alone, I am a huge fan of this Disney restaurant.
Tiffins Review
Before you even get to enjoying your entrée, you will be served complimentary bread that has a little sweet hint to it. Instead of your typical olive oil mixture, this one has molasses, pomegranate, and olive oil for you to dip your bread in.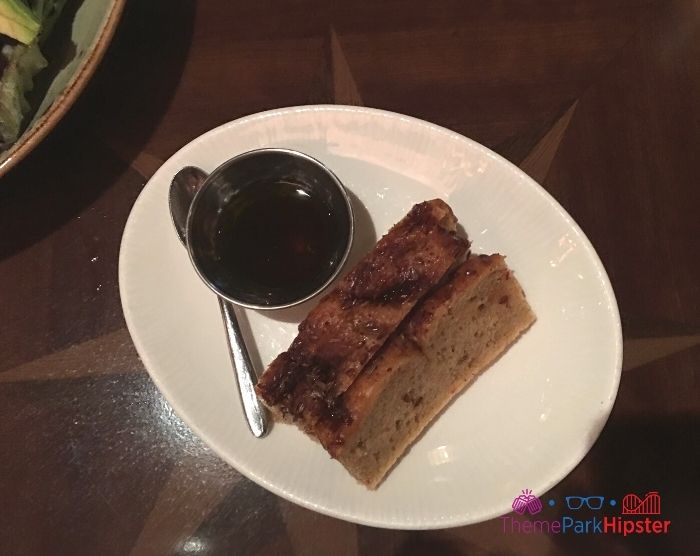 It is quite an adventure in itself, and it makes you so happy and delighted to be at Tiffins.
Avocado Tomato Salad
I decided to get the avocado tomato salad, which came with baby red, romaine grilled baby corn and buttermilk dressing. The salad was refreshing, but it did lack something to balance off the green leafy taste.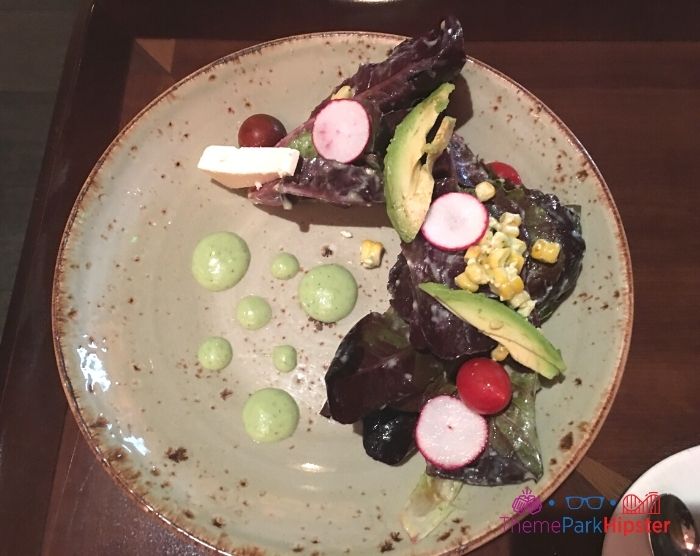 It was very noticeable and kind of bitter, since most green leafy vegetables are if they're not coated enough with your favorite dressing.
The salad didn't have enough dressing to balance it all and that was my primary complaint. I should have asked for a little bit of salt and pepper just to give it a little boost as well.
Wagyu Beef
The next thing that I did try for my main entrée was the Wagyu beef. It was delightfully delicious. The beef had a soft tender, juicy feel and flavorful taste to it.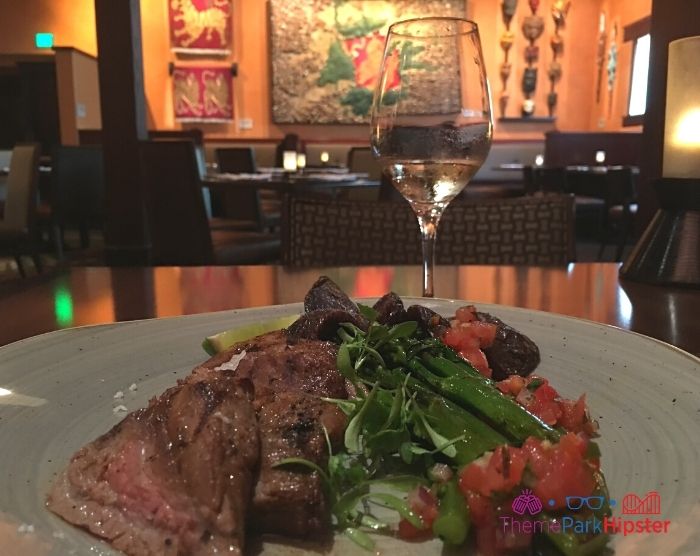 The Wagyu was so good that it made me forget about the salad experience. The Wagyu touched all the right notes.
It was seasoned to perfection, and it also came with purple potatoes, delicious salsa, and buttery broccoli to support the main showstopper, which was the Wagyu beef. And you know, me, I had to have some Argentina wine.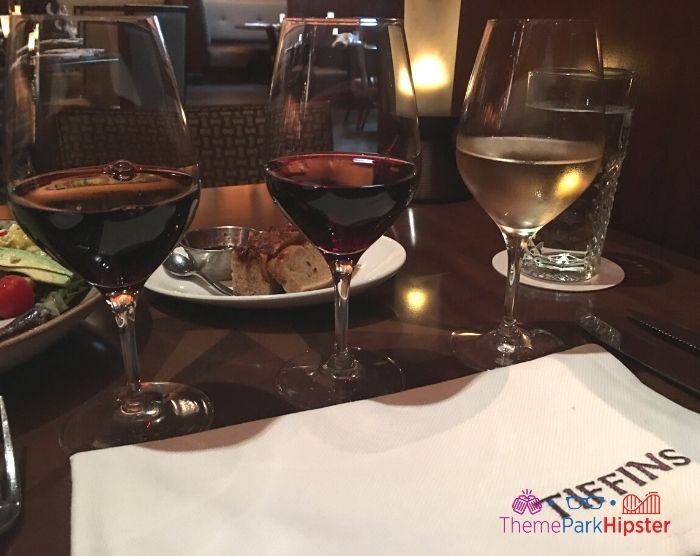 So I got the wine flight to compliment my meal.
Ready to start planning your next Disney World vacation? Listen to the latest podcast episode on Apple or on your non-Apple device now!
Where is Tiffins Restaurant in Animal Kingdom?
Tiffins is located at the heart of Animal Kingdom. Once you come face-to-face with the Tree of Life, take left turn and walk about a minute. You'll then come to the path that leads to Pandora – World of Avatar and make that left.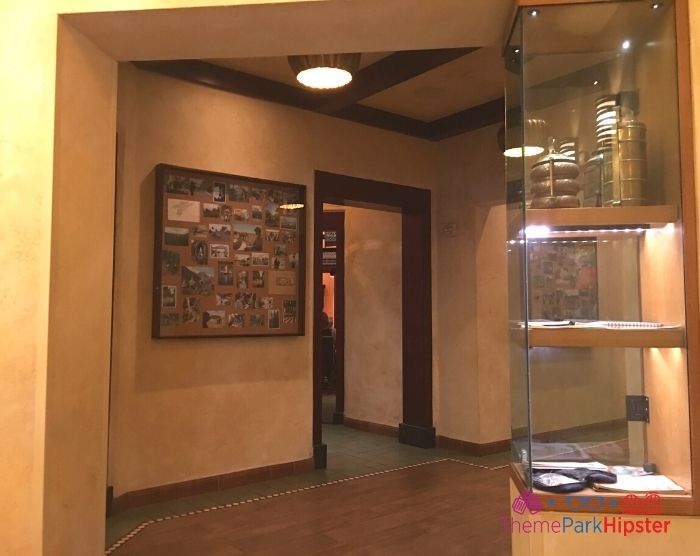 Tiffins will be immediately on your right-hand side. The exact address is 2901 Osceola Parkway, Orlando, FL 32830, United States.
Can You See Rivers of Light from Tiffins Restaurant?
Although there are a lot of perks for dining at Tiffins Restaurant, unfortunately the Rivers of Light is not a perk that you can view from the location.
The Rivers of Light is located in the Asia section of the park, which is towards the back. While Tiffins is located closer to the front.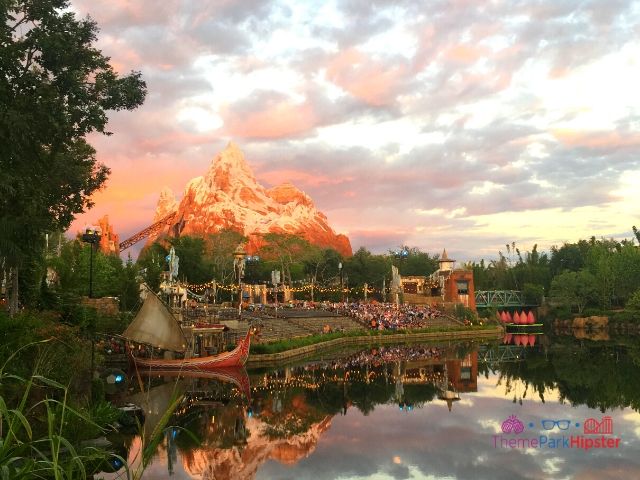 Can You View Animals in Tiffins Restaurant?
While Tiffins gives you the liberty to enjoy great meals, see great art galleries and enjoy an amazing ambiance, it doesn't offer you the chance to see animals from its premises.
If you wish to see the animals available at Animal Kingdom, the best thing for you to do is to enjoy the Safari ride or to discover the exploration trails inside the park.
What are the Prices of Meals at Tiffins Restaurant?
On average, the prices of food at Tiffins Restaurant is set between $12 and $65 depending on if you're only enjoying an appetizer or a full meal. You should also ask if the Prix Fixe Menu is available which will allow you to get an appetizer, entrée and dessert for one low cost (check availability).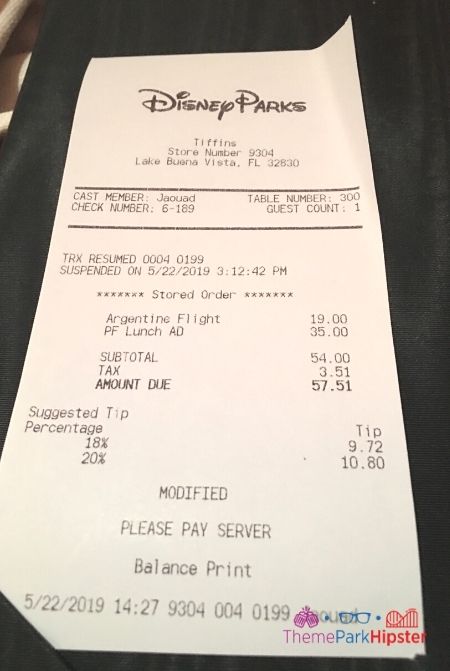 As you can see, this is the price that I ended up paying for my dinner, but you can expect to average about $45 to $50 per person.
Is Tiffins on Disney Dining Plan?
Yes it is. While planning your trip to the Disney World, you should consider the Disney Dining Plan. It allows you pay for your meals in advance while at Disney.
I do think having the Dining Plan reduces your stress on choosing what to eat and budget for while at Walt Disney World.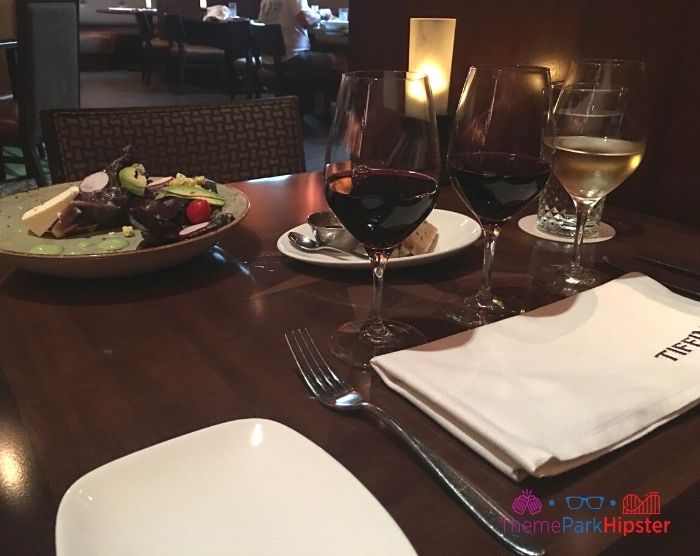 Although, not all restaurants are on the Disney Dining Plan, Tiffins is one of the restaurants on the plan. This means you can book your Disney food arrangements with them in advance.
If you expect to eat at Tiffins, this is a signature dining restaurant. So, you know, your dining credits will be signature dining credits.
Is There a Dress Code at Tiffins Restaurant?
A lot of the signature restaurants at the Disney World do have a special dress code request for Disney Guests. I can assure you that Tiffins is not one of the restaurants that have a dress code. You can visit this restaurant and have a good time in your theme park attire.
ORDER NOW to secure your ticket reservation in the parks! GET MY DISNEY TICKETS!
Final Thoughts
Tiffins is arguably one of the best restaurants in Disney as it provides you with such an amazing atmosphere to dine and relax while having some of the best collection of meals and drinks on offer anywhere on Disney World.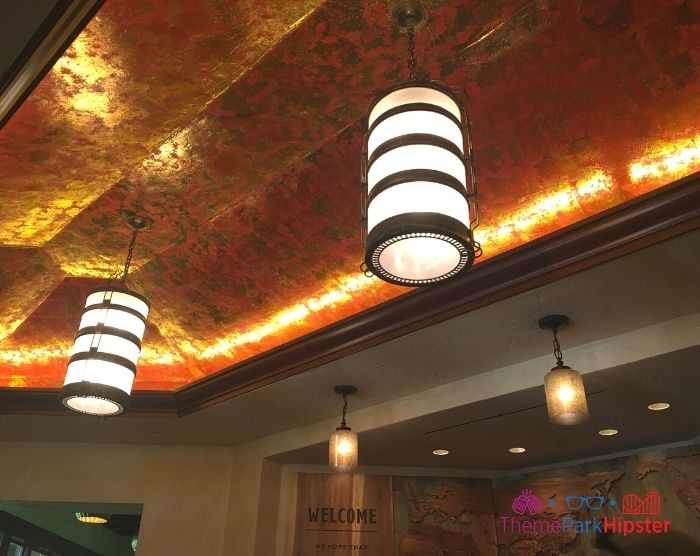 Overall, Tiffins at Animal Kingdom is definitely a place you want to try on your next solo adventure. The atmosphere, the message, the food, and the Disney magic makes this a top Orlando dining location.
Final Score for Tiffins at Animal Kingdom
Ambiance: 10
Food: 9
Prices: 7.5
Drinks: 9
Service: 10
I give this restaurant a 9.1 out of 10 on the ThemeParkHipster dining scale and I know you will definitely enjoy it too!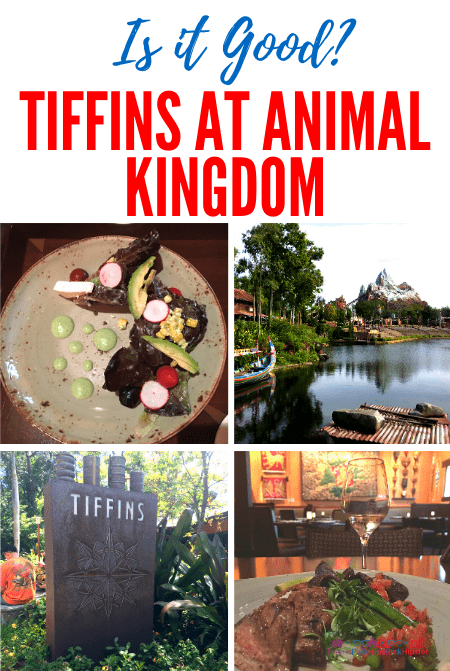 If you are planning on a trip to the Walt Disney World anytime soon, you should seriously consider visiting and dining at this restaurant as it would definitely be worth your while.
Until next time, Happy Park Hopping Hipsters!
NikkyJ
UP NEXT: 13 Pro Tips For Disney's Animal Kingdom to Make Your Day Easy