Are you trying to figure out if Be Our Guest restaurant at Disney World is worth a visit on your vacation?
In case you're wondering, it's absolutely worth fighting for a reservation to this magical place!
I have all the details you need to know about this unique dining spot at Disney's Magic Kingdom. From where to sit, what to order, and how to get those coveted reservations!
So, let's dive right in.
THIS POST MAY CONTAIN AFFILIATE LINKS. PLEASE READ MY DISCLOSURE FOR MORE INFO. Which means if you click on certain links, I may receive a small commission at no additional charge to you.
What is Be Our Guest Restaurant at Disney World?
Disney's Be Our Guest Restaurant is a table service restaurant that serves an infusion of both American and French cuisine.
In 2009, Disney made the announcement to expand Fantasyland and as part of the expansion, there would be a restaurant called Be Our Guest Restaurant that would be themed on the Beauty and the Beast film.
This Disney restaurant would go on to be opened on November 19, 2012 at a minor event. However, the grand opening came on December 6, 2012, less than 3 weeks after.
ORDER NOW to secure your Walt Disney World theme park ticket! GET MY TICKETS.
Where is Be Our Guest Restaurant in Disney?
The Be Our Guest Restaurant is located in the heart of the Magic Kingdom Park section of Fantasyland. It is right behind the famous carousel with large gargoyles standing guard outside of the Beast's Castle.
What does it feel like to eat at Be Our Guest Restaurant?
As mentioned earlier, the restaurant is themed on the Beauty and the Beast film so you can expect to see and experience an environment similar to that in the famous Disney franchise.
What you may not know is that your experience may be different depending on the dining room that you eat inside of Be Our Guest castle at Disney World.
Ready to start planning your next Disney World vacation? Listen to the latest podcast episode on Apple or on your non-Apple device now!
Be Our Guest Restaurant: West Wing
The West Wing, which is the smallest dining room, is made to recreate the desolate times of the Beauty and the Beast film when the Prince was still beastly.
This Disney dining room uses dark lighting to recreate the dreariness of the period when the curse had not been broken and in the background, ominous tunes are played.
Do you remember that wilting rose that was like the clock indicating how much time the Prince had left to fulfill the conditions for the spell to be broken? The Enchanted Rose?
Well, the Enchanted Rose is put on display in the West Wing dining room with its petals falling slowly and the events of the wilting of the rose are recreated using special effects.
At the point the last petal falls, you will hear a thunder sound from outside the room followed by a flash of light like lightning.
The lightning reveals a portrait of the prince before he became a beast and the portrait is flawed with claw marks like it was in the film. This portrait changes with the flash of lightning, from that of the Prince as human to the Prince as Beast.
On the other hand, the larger rooms have a livelier atmosphere.
Be Our Guest Restaurant: The Castle Galley AKA Rose Gallery
The Castle Gallery dining room is a breath of fresh air when compared to the West Wing dining room. The room is brightly-lit and music comes from a tall music box that will surely catch your attention.
This majestic music box stands around 7 feet tall and is made in the structure of Beauty and Beast dancing in the most beautiful library.
Also, the walls of the Rose Gallery is covered with exquisite tapestries showing the images of the most iconic scenes of the film.
Be Our Guest Restaurant: The Ballroom
Next up is the largest dining room of the 3 dining rooms, the Ballroom. The Ballroom is perhaps the most recognized of the 3 rooms as it showcases the moments when the curse on the Prince was lifted.
This room is brightly lit also and you will also see snow outside the room similar to the way it was in the film. The music played in the Ballroom is not ominous and the music is in sync with music from the Rose Gallery.
Also, in the Ballroom, there is this huge and beautiful chandelier with over 80 candles and 100 crystals that hangs at the center of the room adding more light to the room.
While you eat your dinner, you may see the Beast walking around the dining rooms to interact with the guests.
Ready to plan your theme park trip? Watch the best vacation planning tips on YouTube. Get started here!
What Type of Food is Served at Disney's Be Our Guest Restaurant?
At the start, Be Our Guest offered two types of services: over-the-counter lunch and table services for dinner. This went on until 25 February 2015 when lunch reservations became available for guests.
Dining at Be Our Guest Restaurant is usually in the Ballroom but you may request tables at the other dining rooms if you want a different scenery.
The Ballroom, being the largest dining room, holds many guests at once so it may not be the perfect fit if you desire an intimate lunch or dinner.
It may be a bit rowdy in the Ballroom compared to the other rooms (obviously due to its size and the number of people it holds), but this is usually not an issue for diners.
Lunch and Dinner Menu at Be Our Guest Restaurant
At Be Our Guest Restaurant, the menu is a prix fixe, 3-course menu that features French-inspired dishes.
This include entrees, appetizers, desserts, non-alcoholic drinks, champagne & wines, sparkling & wines, beer & cider, and the kids' create-your-own items.
First Step: You'll Choose One Appetizer
Captain Nemo Octopus: Seaweed Salad, Cucumber, Pickled Beets, Hearts of Palm, Tapioca Crackers, Beets Mousse, and Carrot-Ginger Silk
French Onion Soup: Toasted Crouton, Gruyère, and Provolone
Country Seasonal Salad: Toasted Walnuts, Fresh Fruit, and Seasonal Vinaigrette Dressing
Maine Lobster Bisque: Garnished with Crème Fraîche and Poached Lobster
Assorted Meats and Artisanal Cheese Selection
Second Step: You'll Choose One Entree
Herb-salted Pork Tenderloin: Crispy Pork Belly, Seasonal Vegetables-Two Ways, Pork Jus, and Candied Pecan
Vadouvan Spiced Vegetables: Sautéed Seasonal Vegetables, Crispy Corn Cake with Coconut-Vadouvan Jus and Pickled Mustard Seeds
Poulet Rouge Chicken: Savory Bread Pudding and Seasonal Vegetables with a Chicken Glace
Sustainable Market Fresh Fish: with Rock Shrimp, Leek Sauce, and Seasonal Vegetables
Center-cut Filet Mignon: Robuchon Yukon Potatoes, Seasonal Vegetables, and Mushrooms with a Red Wine Sauce
Third Step: You'll Enjoy Your Dessert
The dessert items also called "Dessert Trio" include 4 items Dark Chocolate Truffle, Lemon Jam Macaron, Chocolate Tart with Grey Stuff, and Vanilla Cake with Lemon Curd. ALL absolutely delicious!
Drink Menu at Be Our Guest Restaurant
At dinner, they offer 2 signature non-alcoholic drinks, an All-Natural Fruit Punch and an All-Natural Lemonade. For Beer & Cider, there are 7 options; for the Sparkling and Wines, there are 20 options and for the Champagne and Wines, there are 6 options.
Bottles cost approximately 3 times as much as a glass of the champagnes, sparkling and wines so depending on how much you want to drink, you know what to get.
How to Get Reservations at Disney World Be Our Guest Restaurant
A simple way to explain the state of reservation at Be Our Guest is to say that dinner reservations are the hardest to get with lunch reservations being easier.
The best way to get a reservation to Be Our Guest Restaurant is to have a MyDisney experience account, download the MyDisney Experience App, search for the restaurant and choose your time ASAP!
Is Belle at Be Our Guest Restaurant at Disney World?
While you can meet the infamous Beast lurking through the castle, Belle does not make an appearance in Be Our Guest restaurant. However, you can find her next door in the Enchanted Tales with Belle attraction.
7 Easy Tips for a Good Visit to Be Our Guest Restaurant
If you have allergies, speak with a chef or a member of the cast trained on special diets.
You may want to go for lunch on non-Extra Magic Hours days.
Some meals may contain uncooked ingredients and if you are sensitive to such, you should avoid them to avoid getting sick.
You may request for the Rose Gallery or the West Wing dining room if you want more intimacy with whoever you are dining with.
Making Advance Dining Reservations especially for dinner is essential to enjoying your visit.
You could get something special if you indicate on your reservation that you are celebrating something like a birthday or an anniversary.
In the West Wing dining room, try as much as possible to avoid the table closest to the rose because people will constantly come close.
Get your Mickey's Not-So-Scary Halloween Party Tickets TODAY!
Final Thoughts and Review on the Be Our Guest Restaurant at Disney World
I did get the Master's Cupcake which came with Chocolate Sponge Cake topped with Lumiere's special "Grey Stuff" and man-o-man was it absolutely DELICIOUS and the highlight of my dining experience!
Try the Grey Stuff…it's delicious!
Not only was the "grey stuff" mixed to perfection, the cake was moist and not too overbearing in the chocolate flavor.
I was so surprised at how much I enjoyed this dish as I thought it would be an overrated food item at this Disney park.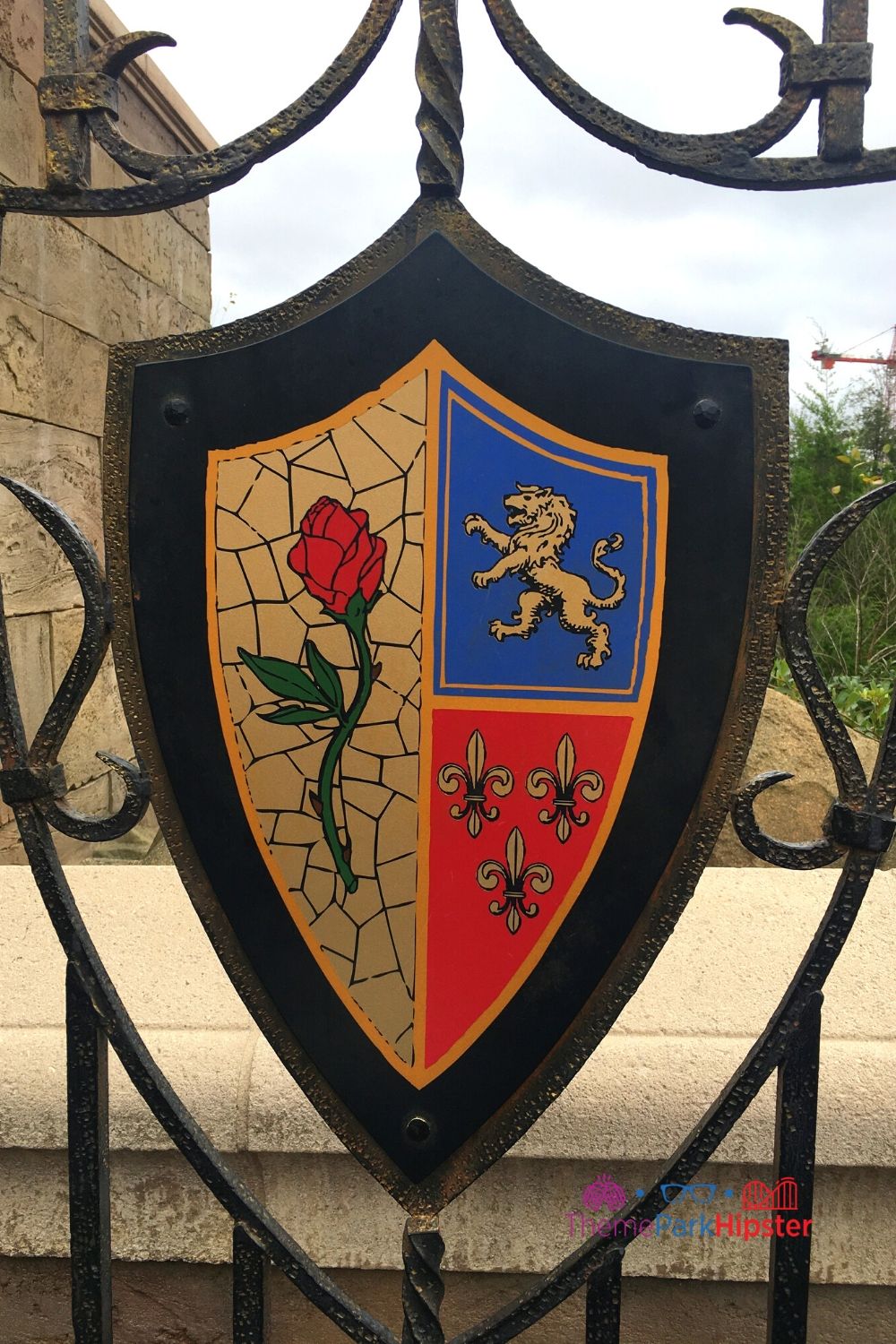 My meal was then topped off by a Peach Bellini which I had to do because it was my first time enjoying an adult beverage inside the Magic Kingdom. And what better place to do in than deep inside the Beast's castle.
Be Our Guest restaurant has a whole lot in store for the guests and the prospects of visiting are always exciting.
Going with no prejudice will help you realize and enjoy this place to the fullest. So for your trip to Fantasyland, add Be Our Guest restaurant on the list of places to be.
So, for your trip to Fantasyland, add Be Our Guest restaurant on the list of places to be.
Final Score for Be Our Guest Restaurant Breakfast at the Magic Kingdom
Ambiance: 8
Food: 8
Prices: 7.5
Drinks: 8
Service: 8
I give this restaurant a 7.9 out of 10 on the ThemeParkHipster dining scale.
Until next time, Happy Park Hopping Hipsters!
NikkyJ
UP NEXT: What's the Best Quick Service at Magic Kingdom? These 7 Will Help You Decide!