The year is starting off right and as mentioned in my resolution list, I am truly determined to complete each goal this time around.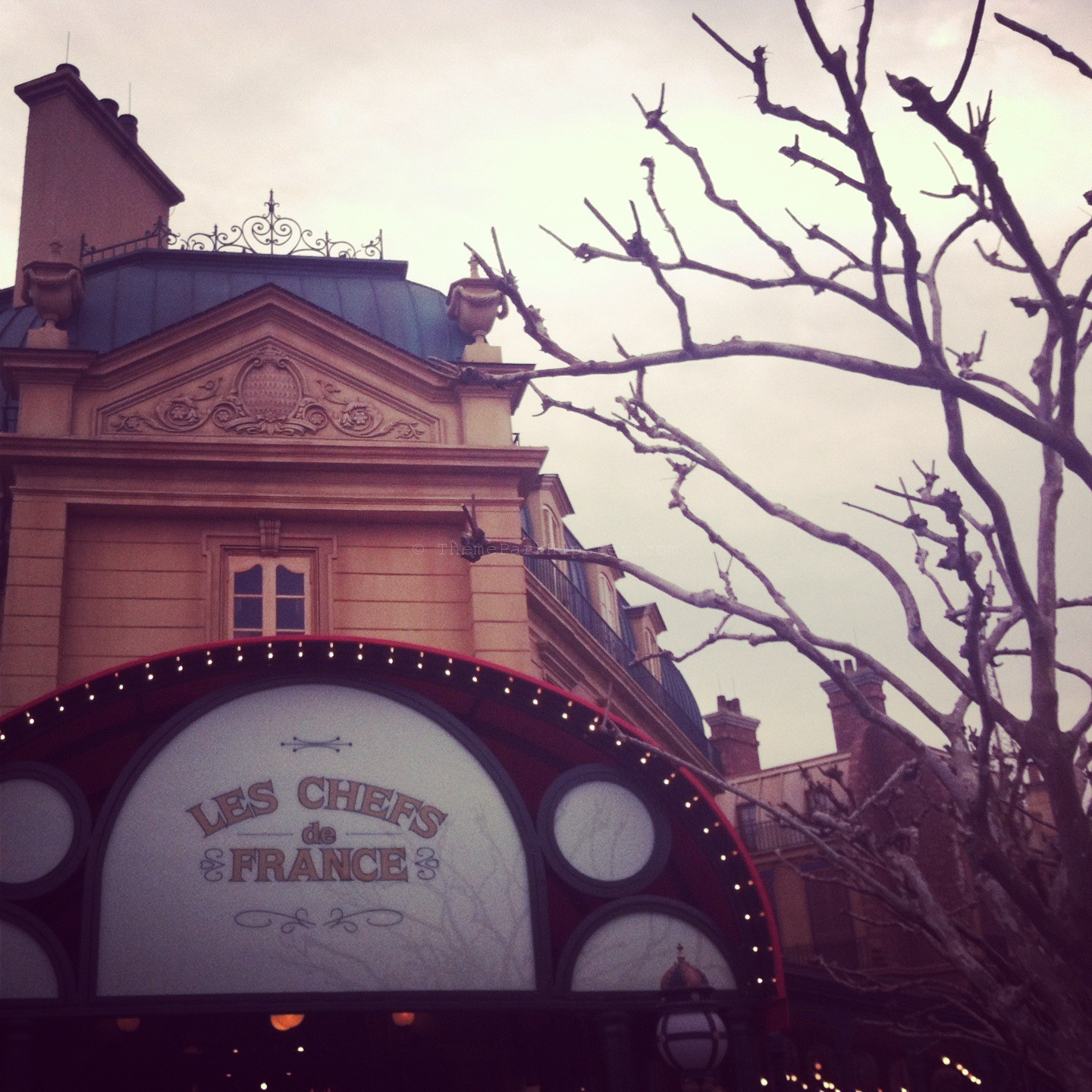 With that said I quickly started my conquest at Epcot and enjoyed a wonderful dining experience at Les Chef de France.  I was sat in the beautifully decorated sunroom next to the window that peered out unto the pedestrians on the Disney inspired French streets. The atmosphere was like a setting in movie at a quaint Parisian café.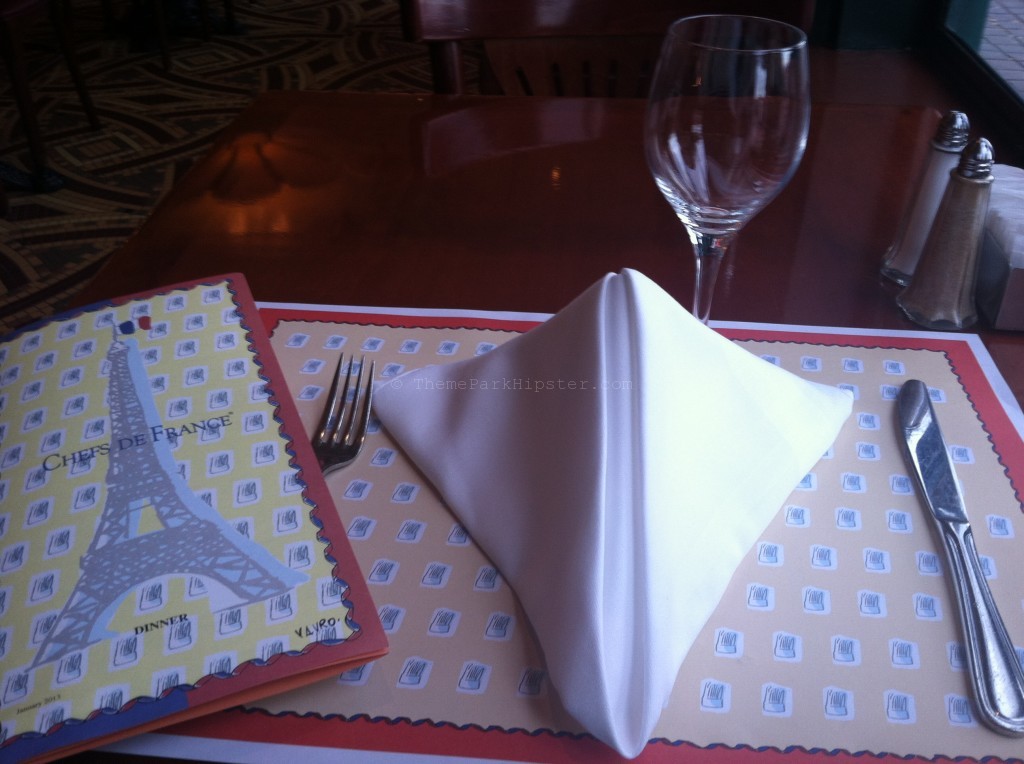 Coming in as someone with limited knowledge of this famous cuisine, my waitress, Christiana, guided me through the menu for both the delectable entrees and the extensive wine list. The meal started out with a warm baguette that went extremely well as a dipping instrument with my lobster bisque appetizer. The consistency of the bisque was lighter than what I've previously experienced, but the well-seasoned flavor along with the fluffy sweet chunks of the lobster balance this portion out.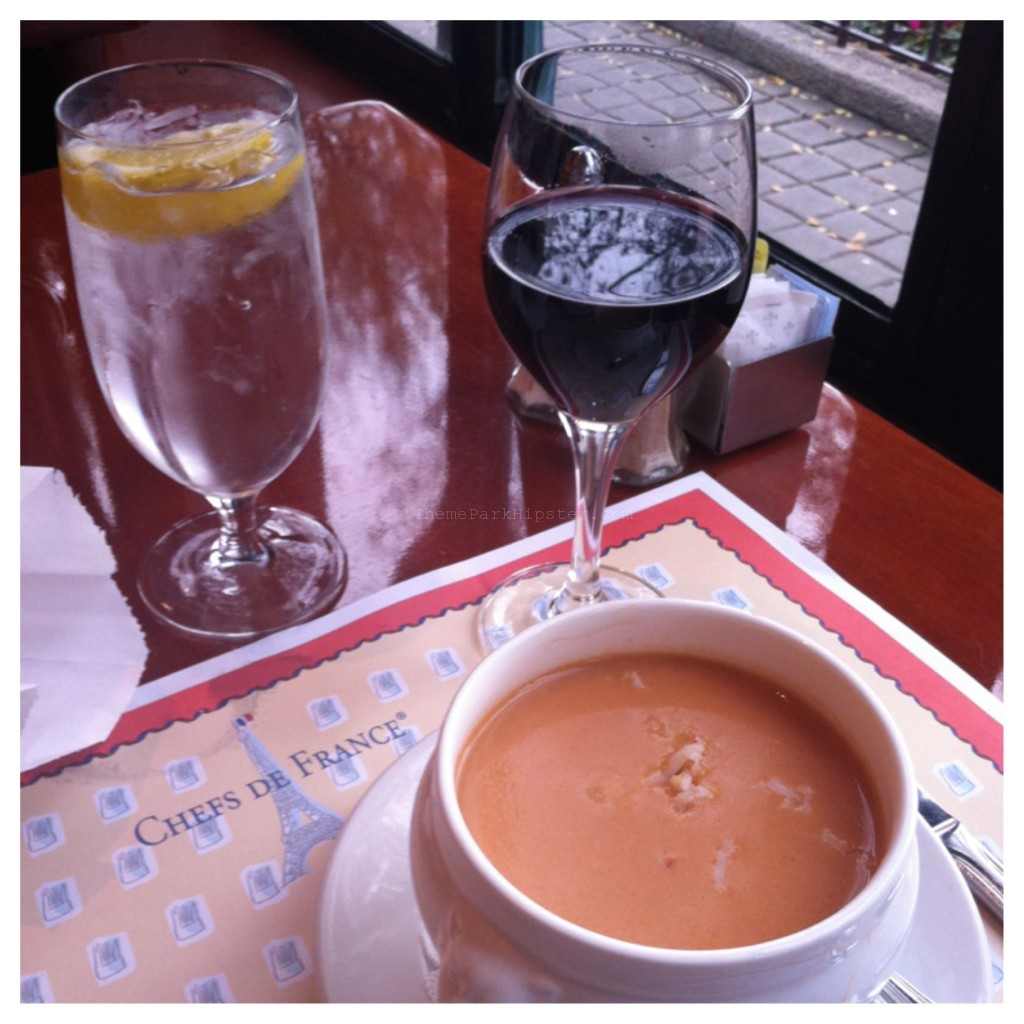 This was all enjoyed while drinking a nice glass of Cabernet Sauvignon. The red wine was priced on the lower end of the wine spectrum ($5.95 per glass); however, the taste was not disappointing at all. It was the Chef's selection Duboeuf which was a straightforward Cabernet with blackberry notes and a medium body. The wine was easy to drink and went well with my appetizer and entrée. It also made me feel pretty good afterwards 🙂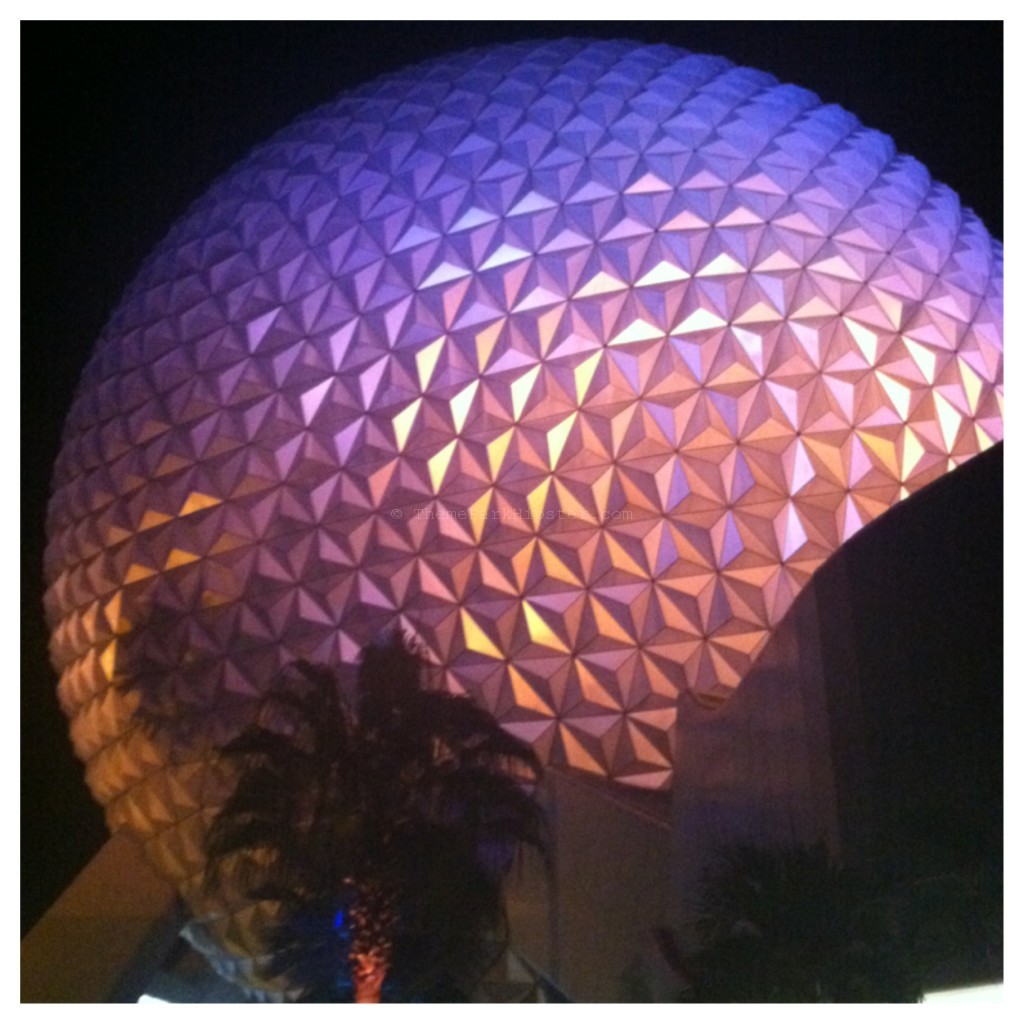 Up next was the star of the show…the entrée. I ordered the Beef Short Rib Pasta which was braised in Cabernet with pearl onions and mushrooms. I was prepared to use my knife aggressively to cut through the meat, but to my surprise the butter knife fell effortlessly through the beef cut which only meant that the tasting portion of the entrée was about to be awesome…and it was! Not only did I barely need my fork for this, the meat was seasoned to perfection with its juices exploding carrying the delicious flavor.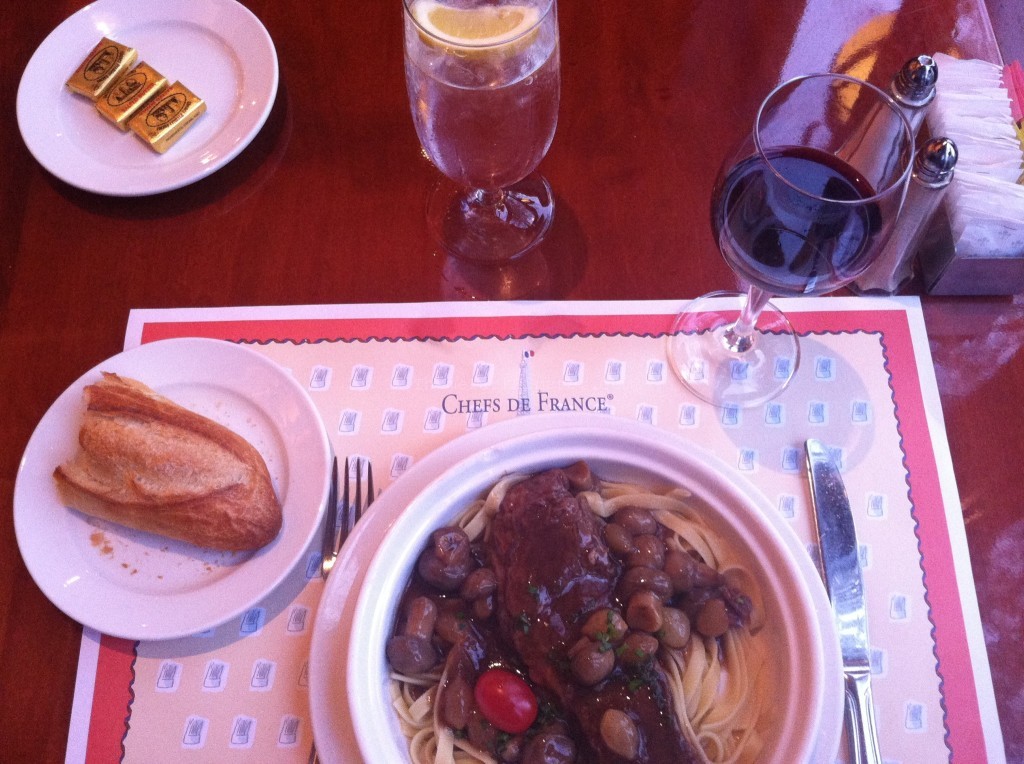 I usually don't like to carry to-go bags when I'm at the park, but on that evening there was no way I was going to allow my left overs to be trashed after my departure. My waitress bagged it up and I carried it happily around Epcot with me. As soon as I got home the smell reminded me of the wonderful experience I'd just enjoyed and I devoured the remaining portion before I went to bed-Don't worry about my calorie count, because I made up for it in the gym the next day 🙂
It was now time for the dessert finale. I didn't step too far outside of the box on this one. I ordered the chocolate mousse that was topped with whipped cream and a slice of pound cake. I did spice it up, Hipster style, with a glass of Grand Marnier. It was marvelous! The Grand Marnier with its smooth citrusy taste helped cut the sweetness of the mousse without taking away from its chocolaty flavor. Ordering the cognac straight was definitely a first and quite sporadic, but I will say it was great decision that topped off the whole dining experience.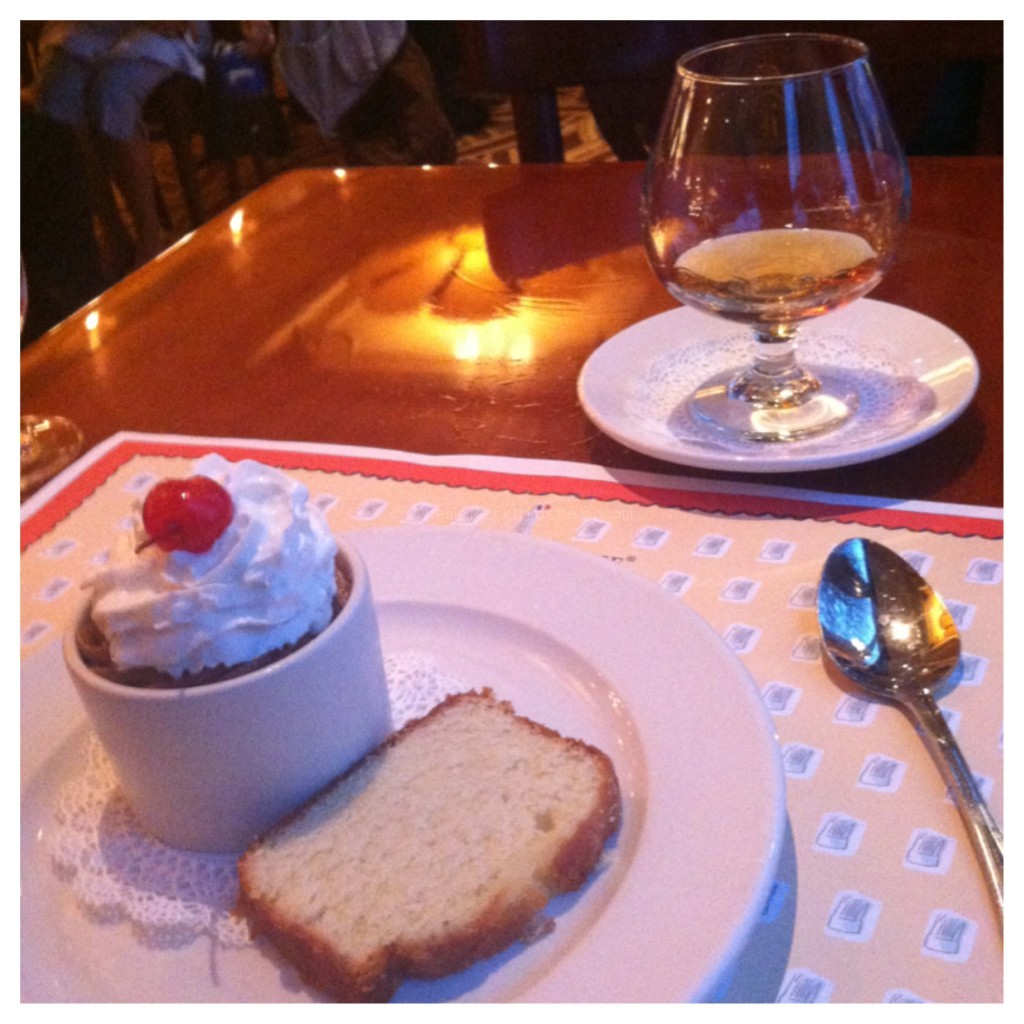 My overall experience at Chef de France was delightfully relaxing. I'm not sure if it lives up to any true French cuisine, but the Disney wait staff and chefs truly did a superior job bringing a few aspects of the culture to this terrific bistro.
Tips:
Reservations are highly recommended: This place books up quickly throughout the day, so make sure to call (407) 939-5277 or click here to make your reservation
Notify the reservationist of any special dining request: Walt Disney World is known to up the ante on guests celebrations
Park Admission is required
Pricing: $$ (Approximately $15 to $29.99 per adult)
Click here for complete menu
Get the Prix Fixe meal: You will come out cheaper and will be able to taste a variety of choices in one sitting ($39.99)
Prix Fixe 3 Course Menu
Appetizer
French onion soup topped with Gruyère cheese
Lobster Bisque
Selected greens salad with house vinaigrette dressing
Entrée
Beef short ribs braised in Cabernet with pasta, pearl onions and mushrooms
Half of an all-natural roasted chicken with rissole potatoes and broccoli
Broiled Salmon With Smashed Potatoes with Butter and Chives, served on a Tomato and Red Pepper Sauce
Macaroni baked with cream and Gruyère cheese
Dessert
*Your choice
Crème Brulee
Chocolate mousse
Fresh strawberry and cream cake with raspberry sauce and strawberry sorbet
Daily assortment of fresh sorbets, madeleine
Puff choux with vanilla ice cream and chocolate sauce
Bon Appétit Hipsters!
NikkyJ
For fun tweets and posts follow me on Twitter, Facebook, Pinterest, or Instagram!
Get the best price on your Walt Disney World Vacation Package… Guaranteed!
Disney Cruise on Your Horizon? Get a Quote Now!