The haunted season is upon us so you know what that means. We need to get all of our favorite Disney Halloween merchandise ready for our park visit!
This time of year, happens to be one of our favorites with the opportunity to enjoy the Disney World parks in the fall with fewer amounts of people.
We come out of our summer hibernation in Florida and bask in the fall décor both autumn and spooky in nature as it kicks off the holiday season.
Now that we're all ready for spookiest time of the year at Disney, let's go through some of the coolest Halloween gifts that you can grab not only for yourself, but also for that Disney fan in your life.
THIS POST MAY CONTAIN AFFILIATE LINKS. PLEASE READ MY DISCLOSURE FOR MORE INFO. Which means if you click on certain links, I may receive a small commission at no additional charge to you.
1. Mickey and Minnie Mouse Halloween Countdown Calendar
This is Disney Halloween goals! The Countdown Calendar is one of my favorite spooky pieces of this year.
Why We Love This Disney Halloween Merchandise
You get to count each day that leads to Halloween with this sparkly figurine that features Pumpkin Mickey, Witch Minnie, and Ghost.
Each Disney character is set to go in their seasonal outfit. Plus, the countdown calendar changes each year so this can become something new for you to collect.
Buy your Disney Halloween Countdown Calendar here on Amazon!
2. Minnie Mouse Sequin Mini Backpack by Loungefly
This colorful sequence Halloween look is so in style this year!
The Disney Halloween Parks Collection is definitely creating some incredible fall accessories to bring to the theme parks.
Why We Love This Disney Halloween Merchandise
The Loungefly Minnie Mouse mini backpack has a hint of a candy corn-colored design. Plus, it's lined with little Halloween-inspired Minnie Mouse heads.
It's super cute and perfect for the fall season!
Buy your Minnie Mouse Loungefly Bag here on shopDisney!
3. Minnie Mouse Candy Corn Ear Headband
Why We Love This Disney Halloween Merchandise
I love the quality of all the Loungefly merchandise so you won't go wrong with this Disney souvenir.
If this is not your style, then check out the other types of Minnie Halloween Ears below!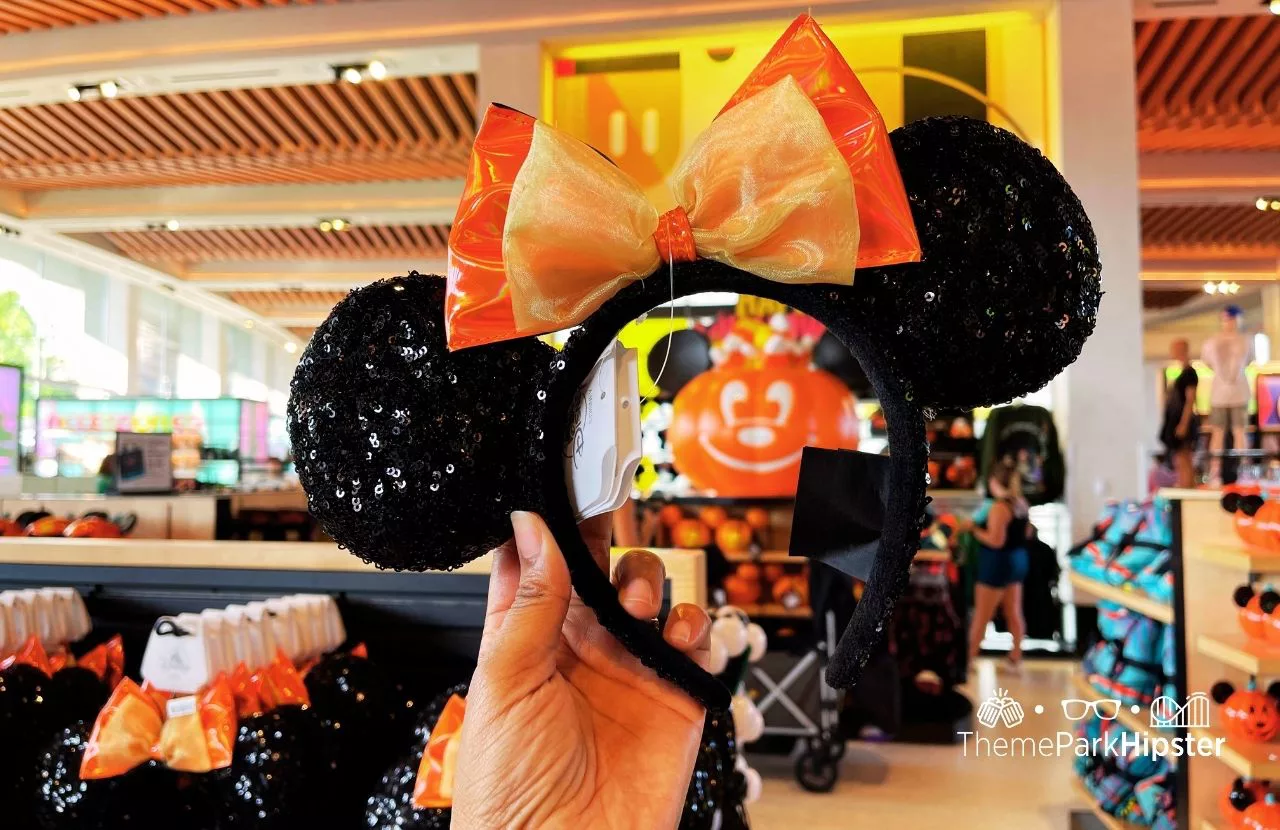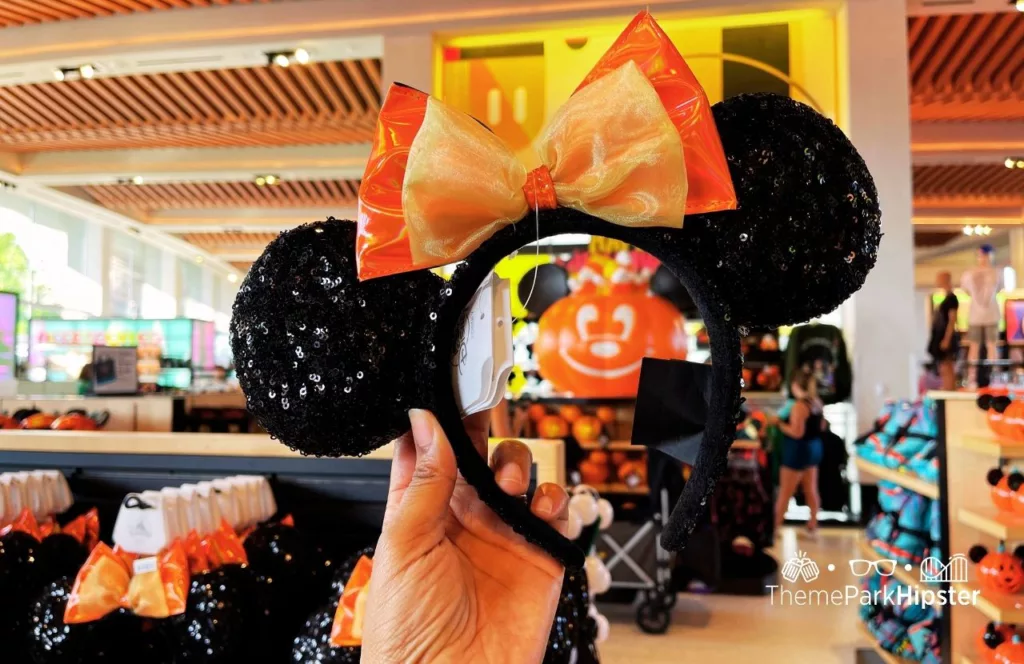 Buy your Minnie Mouse Halloween Ears here on Amazon!
4. Walt Disney World Halloween Spirit Jersey for Adults
This silver sparkle Disney Halloween Spirit Jersey comes with the Walt Disney World Resort logo and "D" icon in gold and a Mickey jack-o'-lantern.
Why We Love This Disney Halloween Merchandise
Spirit Jerseys are fan favorites of the parks and it's definitely a top Disney Halloween merchandise to grab this season.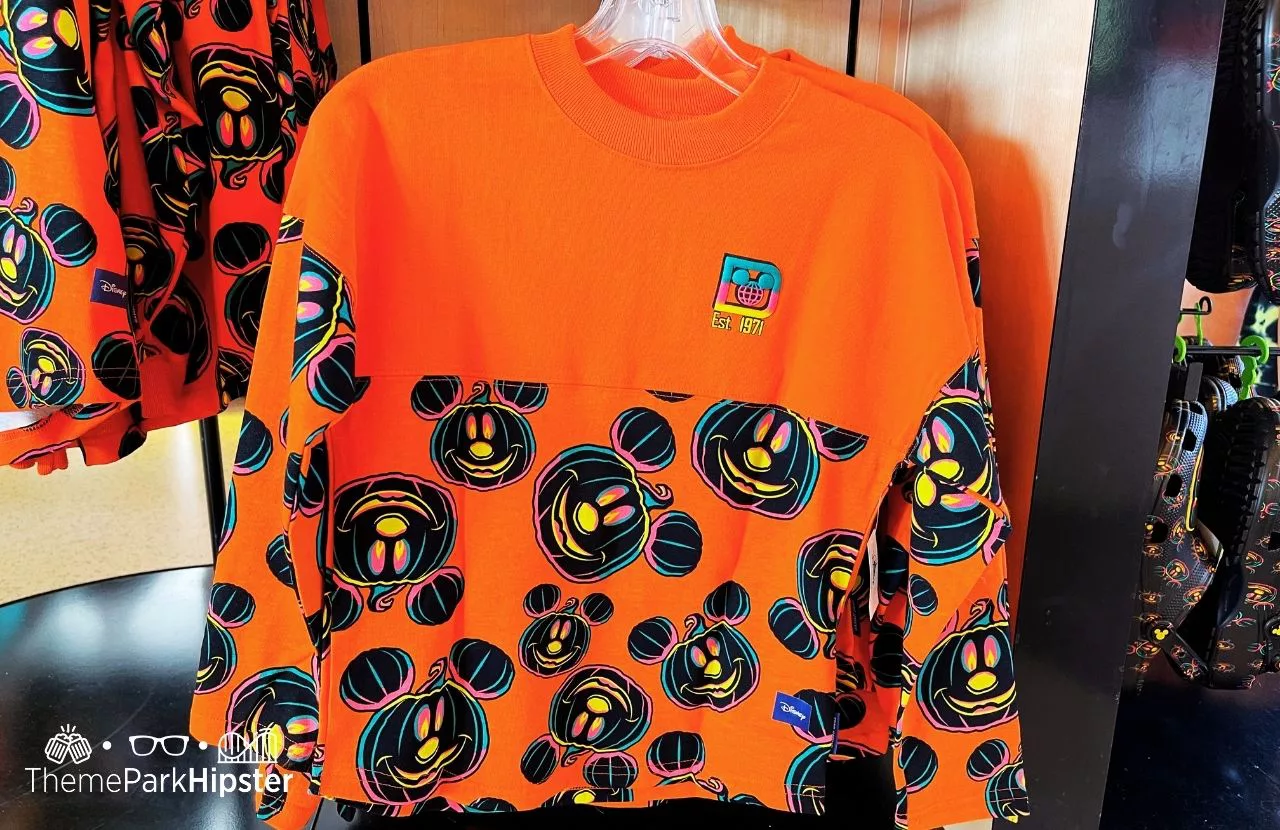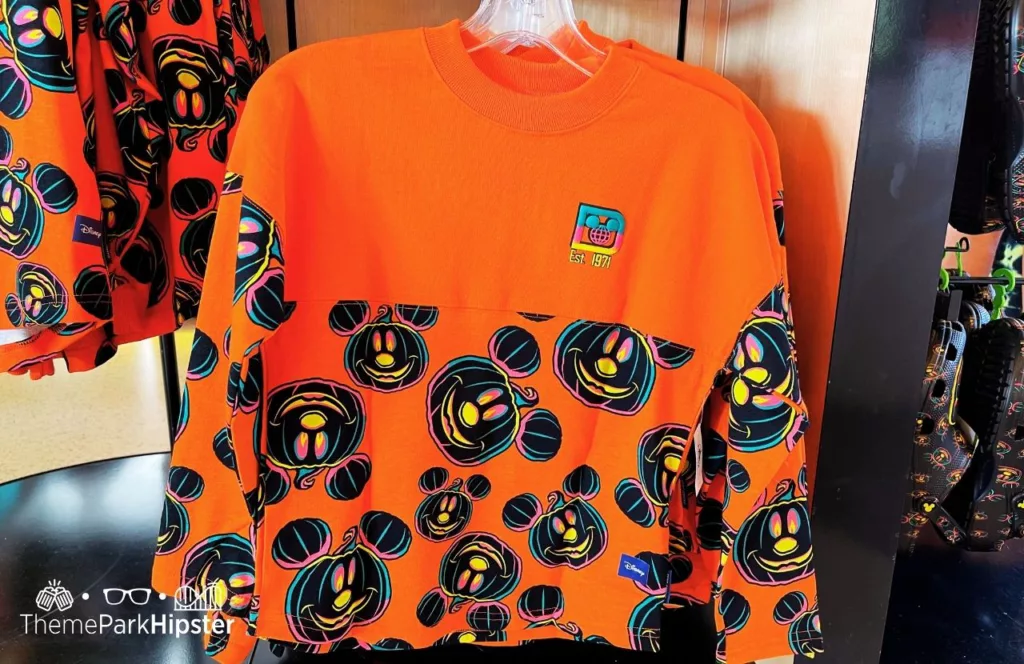 One of my absolute favorite Disney Halloween Spirit Jerseys was the Villain-inspired one.
It had the most notorious characters on it with an amazing and unique design!
Buy your Disney Halloween Spirit Jersey here!
5. Nightmare Before Christmas Merchandise
Whether you think this is a Christmas or Halloween movie, you'll be happy to take home some of the most fun Disney souvenirs from The Nightmare Before Christmas movie.
Why We Love This Disney Halloween Merchandise
There's not only a nostalgic factor associated with Jack Skellington, Sally and their friends, Disney truly gets creative with this film and will make you an avid collector of anything from this movie.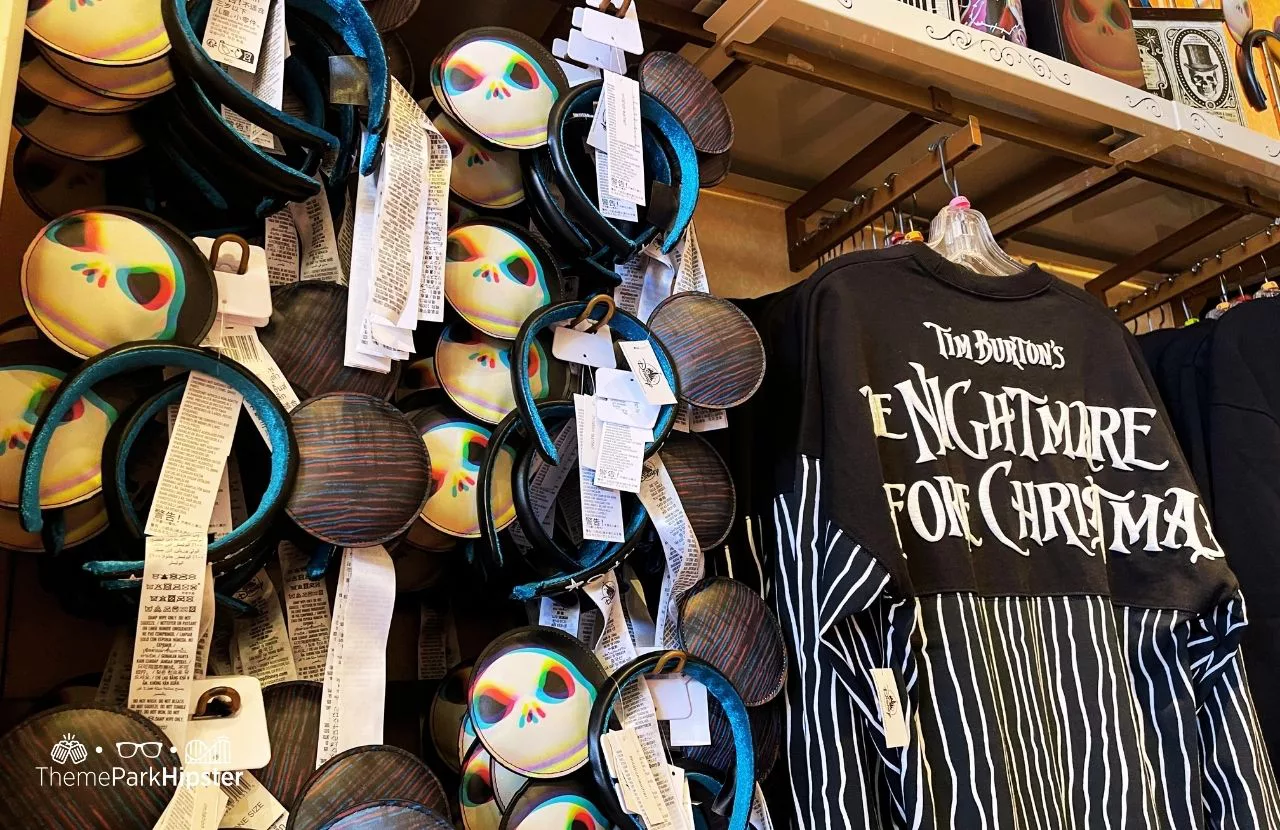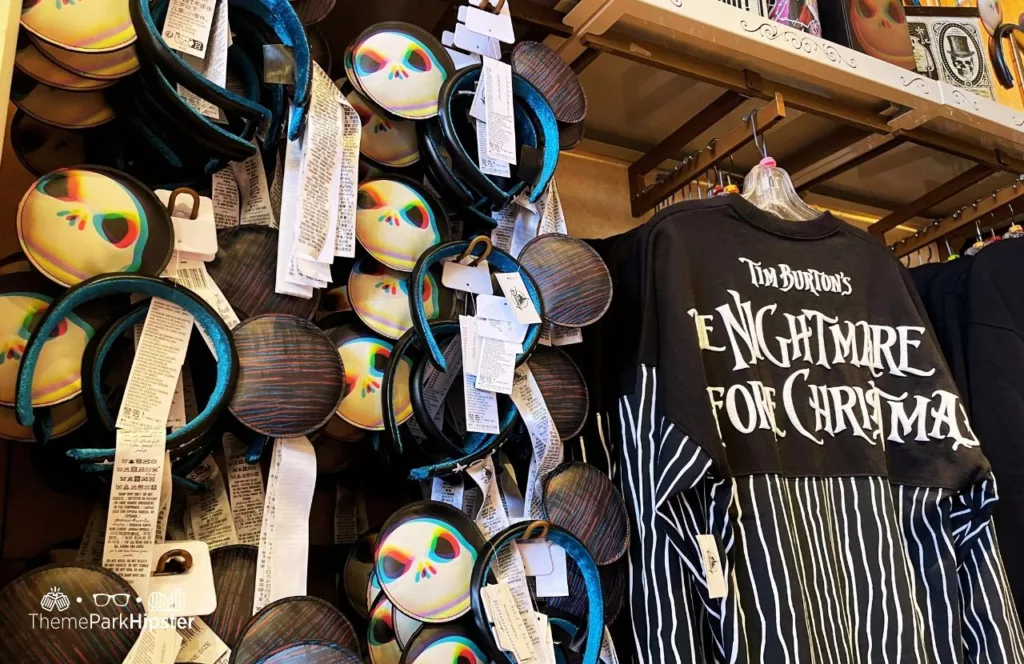 Get your Nightmare Before Christmas merchandise here!
6. Mickey and Minnie Mouse Cauldron Mug
Why We Love This Disney Halloween Merchandise
This fun piece of Disney World Halloween merchandise has both Mickey and Minnie "brewing up a terror-ific time" inside this cauldron-shaped mug.
Don't forget to check out other Disney Halloween mugs like the ones below.
Buy your Mickey and Minnie Mouse Halloween Cauldron Mug here!
7. Disney Hocus Pocus Bag by Loungefly
Why We Love This Disney Halloween Merchandise
Being a fan of the hit film, Hocus Pocus, I love the fact that you can always find so many options for Loungefly bags to celebrate the quirky, yet demented sisters.
Plus, you'll always get compliments on them from people who are big fans of the movie.
Be sure to check out more Disney Halloween Loungefly bags to help spruce up your spooky outfit.
Watch 31 of the BEST Disney Halloween movies here!
8. Mickey Mouse Pumpkin Votive Candle Holder
This is a great gift for anyone who's a fan of both Halloween and Disney!
This ghostly pumpkin candle holder is a hit each Halloween season at the Disney parks.
You can always find new versions of the Mickey Mouse Pumpkin votive candle holder around the Disney Parks each year!
Don't forget about the famous Poisoned Apple Votive Candle Holder – Snow White and the Seven Dwarfs
What to Expect with Your Poisoned Apple Candle Holder
Removable lid
Glittery "Just one bite" calligraphy
Buy your Poisoned Apple Votive Candle Holder here!
9. Mickey Mouse Halloween Candy Bowl
If you can't make it to the Disney parks this year for Halloween, then bring a piece of Disney back home for your own celebration.
With this special Disney Halloween merchandise, you'll be able to display all of your spooky treats in this cool Jack-o'-Lantern bowl!
What to Expect from this Halloween Candy Bowl:
Ceramic Halloween candy dish
Sculpted Jack-o'-Lantern with Mickey Mouse ears
"Trick or Treat" on back
Gloss finish
Contrast interior glaze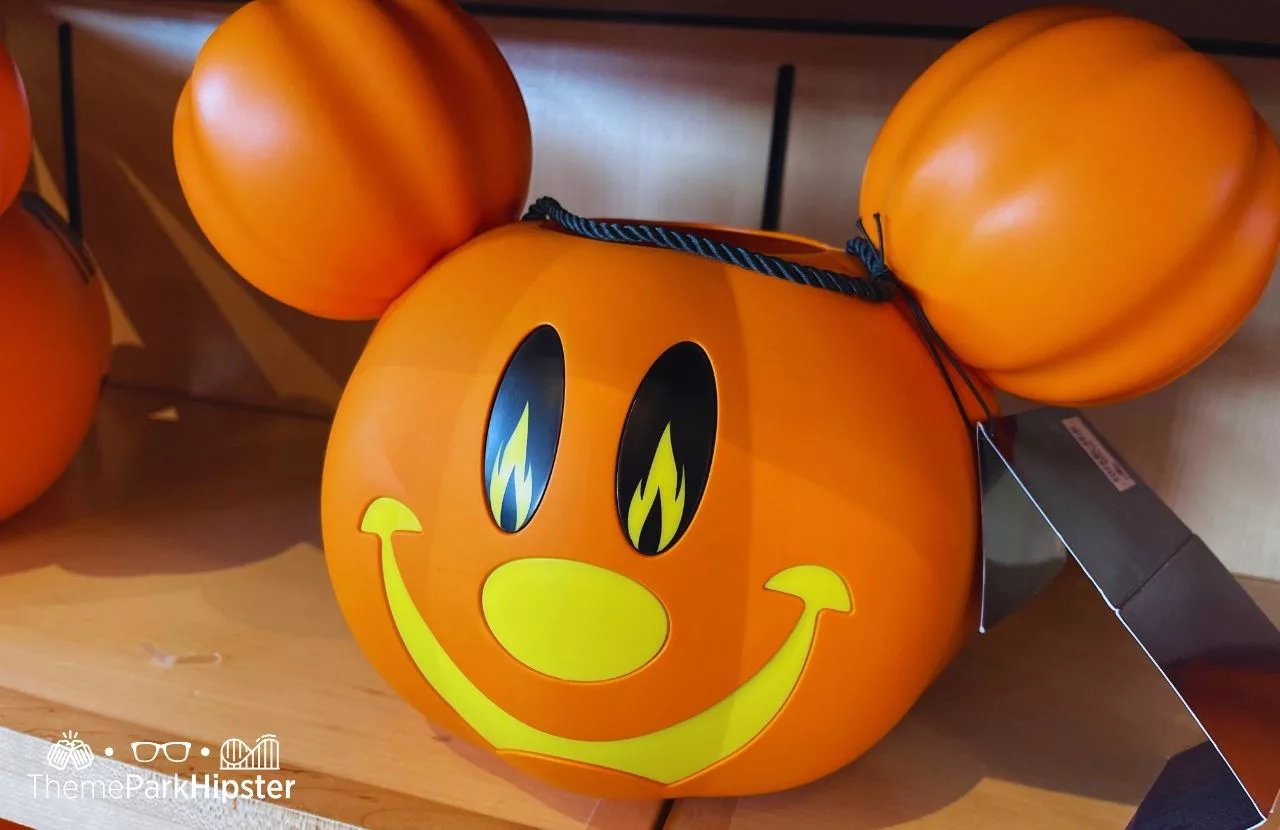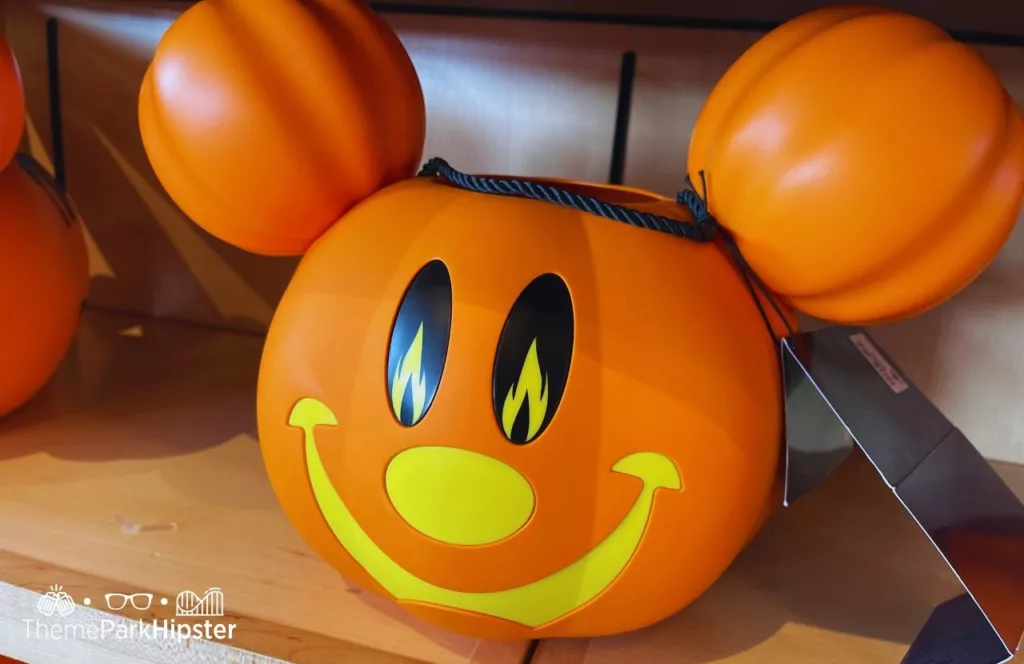 Get your own Disney inspired Jack-o'-Lantern Mickey Mouse bowl here!
10. The Hatbox Ghost Host A Ghost Spirit Jar
It's one of the most unique Disney Halloween gifts that a true fan of the Haunted Mansion will truly fall in love (or death) with…
Get all of your Disney Halloween merchandise over on ShopDisney.com!
What's included in the Hatbox Ghost Host Spirit Jar:
Lights, sound, and astral projection
Aged apothecary jar with unique-to-character label and The Haunted Mansion logo lid
Translucent green jar
Illuminated spirit character image within jar
Sound that is activated through motion sensor triggers Madame Leota to laugh
Corresponding "hatbox" antiqued charm with chain (hangs on jar for display)
Death Certificate of Verification
Collect all Host A Ghost Spirit Jars from The Haunted Mansion collection here on Amazon.
11. Haunted Mansion Hitchhiking Ghosts Doom Buggy Pet Bed
Imagine your furry "best friend" relaxing in the opulence of a spooky bed ready to put him or her in a restful state of bliss.
This Disney spirited pet bed has the famous Haunted Mansion wallpaper print.
It's design with a super soft mattress covered with the famous purple wall paper and the Hitch-Hiking Ghosts to help your little mate fall asleep quickly.
Just be sure to get this one before it sells out. If it's sold out online, you may be able to find it on the main store (Emporium Shop) in the Magic Kingdom on Main Street U.S.A.
Get your Haunted Mansion Pep Bed here on Amazon!
12. Disney Hollywood Tower Hotel Bellhop Hat
Bring home a signature accessory of the Hollywood Tower Hotel's ghostly bellhop with this infamous hat.
Why We Love This Disney Halloween Merchandise
If you're a fan of the the Tower of Terror ride at Hollywood Studios, then you recognize this famous hat!
Only a true Disney fan will appreciate this Halloween gift.
Get your Tower of Terror Bellhop Hat here on Amazon!
13. The Haunted Mansion "Hitch a Ride to the Afterlife" T-Shirt
Get the perfect Haunted Mansion shirt that features The Hitchhiking Ghosts in front of The Haunted Mansion at Walt Disney World.
If this shirt is sold out online, then consider the other Disney Haunted Mansion shirts below.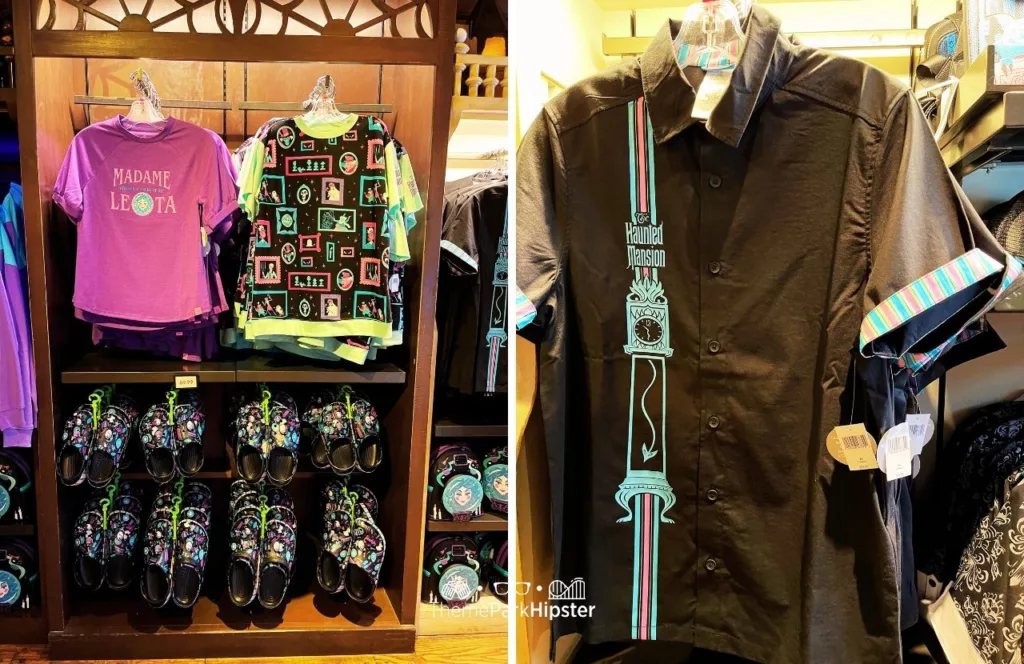 Do you know the names of the three hitchhiking ghosts?
The names of the three hitchhiking ghosts were given by fans and they are: Ezra, Gus and Phineas.
Get your Haunted Mansion hitchhiking ghosts shirt here!
Check Out More Spooky Disney Halloween Merchandise Below!
If you've made it this far in my Halloween guide, then you're truly a fan of the spooky Disney season.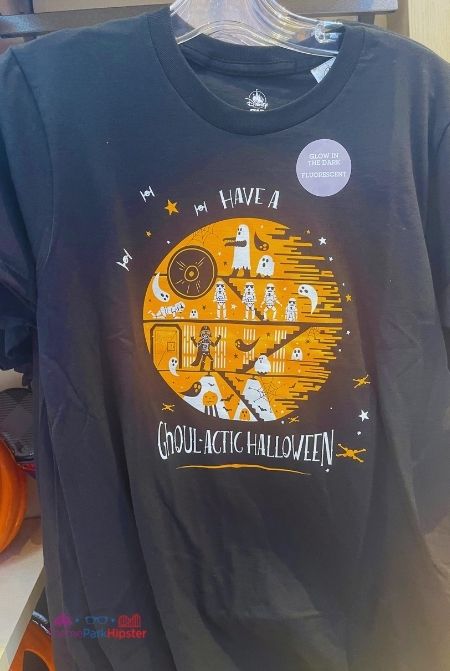 Here are a few more gift ideas for the haunt season to get you in the spirit and to give you a few ideas of the best things to buy.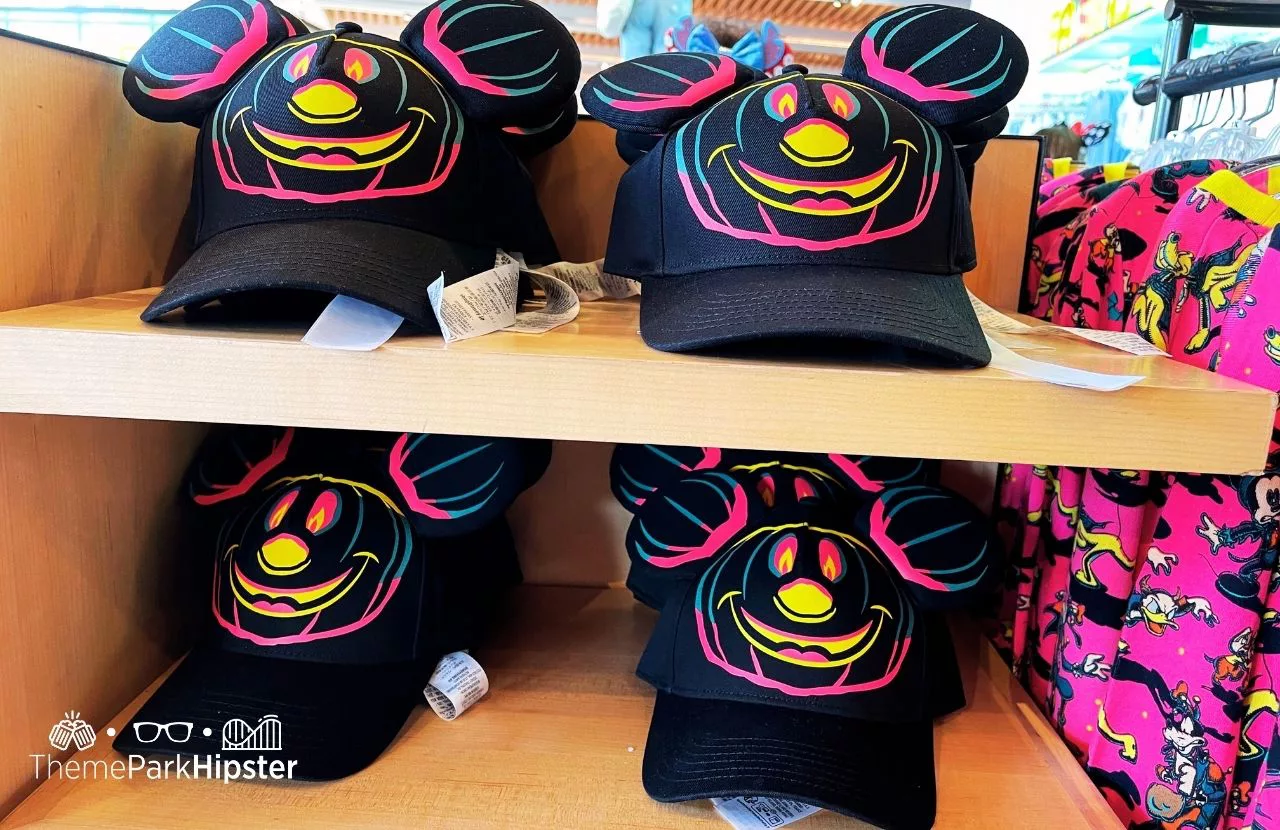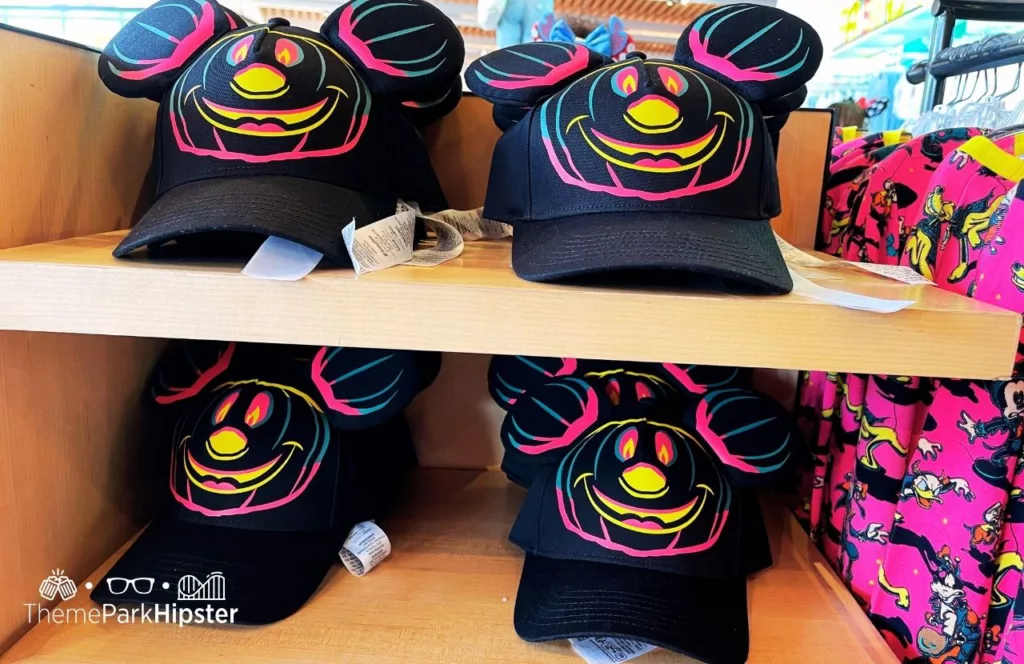 Get all of your Disney Halloween merchandise over on ShopDisney.com!
My Final Thoughts on the Best Disney World Halloween Merchandise
On my mission to find the best Disney Halloween treats for this year, I learned that it is more than just a simple Disney souvenir.
Many fans of both the spooky holiday and the Disney magic love the charm and nostalgia that both Halloween and the parks bring to them.
Their Disney Halloween Collection truly becomes a part of their family and they have no shame about it and I love it!
If you loved this article, then you'll love these:
Planning a trip soon? If so, read the Disney Vacation Planning Guide for your next dream trip!
Until next time, Happy Park Hopping Hipsters!
(Original Date August 21, 2014/Updated September 22, 2023)