Are you looking for the best Harry Potter souvenirs for the people in your life who are huge fans of the franchise?
For those, whether it be a first time visit or a hundredth, it is nothing short of being magical when you go to the Wizarding World of Harry Potter at Universal.
There is something hidden in every corner or in plain sight.
Familiar things from the Harry Potter books and films and experiences that will not only put you in the middle of your favorite stories but will leave you with truly jaw-dropping and inspiring memories that will make you go "I still don't know how they did that!"
Even returning from a recent visit, I have learned three new things about a place I thought I knew everything about.
The Wizarding World of Harry Potter is filled with so many unique items that would be perfect to bring back home to those who didn't have the chance to experience it.
Obviously, you gotta bring your friends with you next time and a special gift from the Harry's world just might convince them.
Today, I will be sharing ten of the best Harry Potter gifts you can bring home to someone from this magical place.
Hopefully, next time, they will come along to see the world for themselves!
THIS POST MAY CONTAIN AFFILIATE LINKS. PLEASE READ MY DISCLOSURE FOR MORE INFO. Which means if you click on certain links, I may receive a small commission at no additional charge to you.
1. A Wand from Ollivander's Shop
There is a saying in the Wizarding World, "The Wand Chooses the Wizard."
One of the core things that make the Harry Potter tales and ultimately, one of the pieces that brings down Voldemort, is a wand.
From the very beginning, a big moment in Sorcerer's Stone is when Harry's wand chooses him, which we later find out is a core twin to Voldemort's.
Why We Love This Harry Potter Gift for Fans
There are a wide variety of wands to choose from including original wands and wands from some of your favorite characters from the Wizarding World.
I personally own an original wand as well as Seraphina's and Professor Trelawney's. All the designs are unique and gorgeously crafted.
The best part is when you visit Universal, they interact with the props in The Wizarding World of Harry Potter, allowing you to cast spells at various locations.
Making it one of the best Harry Potter souvenirs!
While you can buy these for your loved ones, specific ones can be bought online as well.
It's even more particularly special when your wand chooses you during the Ollivander Wand experience.
Price for This Harry Potter Souvenir
Get your Harry Potter Wands here on Amazon TODAY!
2. Literally Anything from Weasleys' Wizard Wheezes
As most of us have read or seen from the Wizarding World, Ron Weasley's older twin brothers, Fred and George, dropped their education and opened up a very successful joke shop store in Diagon Alley.
Weasleys' Wizard Wheezes, colorful and whimsical, started off as an owl service business.
Their dream became a brick-and-mortar reality when Harry gave them his Triwizard Tournament winnings to fun the venture.
Now we can see the glory that is the Weasleys' dream for ourselves!
Why We Love These Harry Potter Souvenirs for Fans
As one enters, admittedly, like various areas of the Wizarding World, it is a WEE bit cramped.
But if you're willing to brave it, then you will find amazing details within this magical shop with the signature Fred and George touches.
You can find almost all the products mentioned in the Harry Potter books and films at Weasleys' Wizard Wheezes including:
Skiving Snack-boxes
Love Potions
Extendable Ears
They even sell "Muggle Magic Tools and Tricks." Not to mention, Defense Against the Dark Arts tools like the Peruvian Instant Darkness Powder.
These are definitely some of the best Harry Potter Gifts!
Any of the fun items sold in the shop would be a great gift as Weasleys' Wizard Wheezes is an extremely memorable part of the tales.
Price for This Harry Potter Gift
Merchandise including shirts and hats can be found online. The cheapest items can be found as low as $8 so you do not even have to break the bank.
Get up to 25% off of your Universal Studios Tickets with Groupon TODAY!
3. Postcards
You can never go wrong with something as simple as a postcard. But not many people can say they were sent one from the Wizarding World.
Thankfully, you are unable to send someone in the muggle world a howler.
Why We Love This Harry Potter Souvenir for Fans
The fun part of sending a postcard off is that you are doing it the wizarding way and that's via an owl.
In order to do this, you will have to go to the owl post in Hogsmeade. There you will find various writing tools and postage supplies, including stamps.
Get your Harry Potter Postcards on Amazon TODAY!
4. Time Turner Necklace
In the Wizarding World, you can find plenty of collectibles and memorabilia from the Harry Potter films. One of the most iconic pieces can be bought is Hermione's Time Turner.
If one recalls, Hermione used the time turner throughout the "Harry Potter and the Prisoner of Azkaban."
At one point, the Ministry of Magic used time turners and were used to solve time management problems. there were strict laws and procedures around the use of them.
Hermione was given permission to use one and used it to be able to take more classes. This allowed her to broaden her education at Hogwarts.
Why We Love This Harry Potter Souvenir for Fans
The entire stock of these Time Turners, which were located in the Department of Mysteries, were destroyed about three years after Hermione used her own during a scuffle.
The Time Turner ended up playing a vital role in Prisoner of Azkaban and you can own one yourself, as a bit of magic has been concocted so you can bring one home.
The detailed necklace features a mini hourglass, moving inner rings with inscriptions on it on a gold chain. It comes with a small bag to keep it safe as well. It is as precious as the wearer.
Price for This Harry Potter Gift
As a collectible, its cost is around $50 due to its intricate, antique gold styling. It can be bought here on Amazon.
5. Sweet Treats from Honeydukes
One of my personal favorite places to visit while I'm visiting Hogsmeade is Honeydukes.
Honeydukes, in the Wizarding World, is a majorly popular sweet shop with shelves filled to the brim the most drool inducing candies to ever grace a mouth.
On top of selling such delectable sweets, that the store was shoulder to shoulder during the holidays, the owners handmade their own fudge and chocolates.
The store also contained a secret passageway to the Hogwarts Castle and was featured on the Hogwarts train, which gave out the sweets to riders.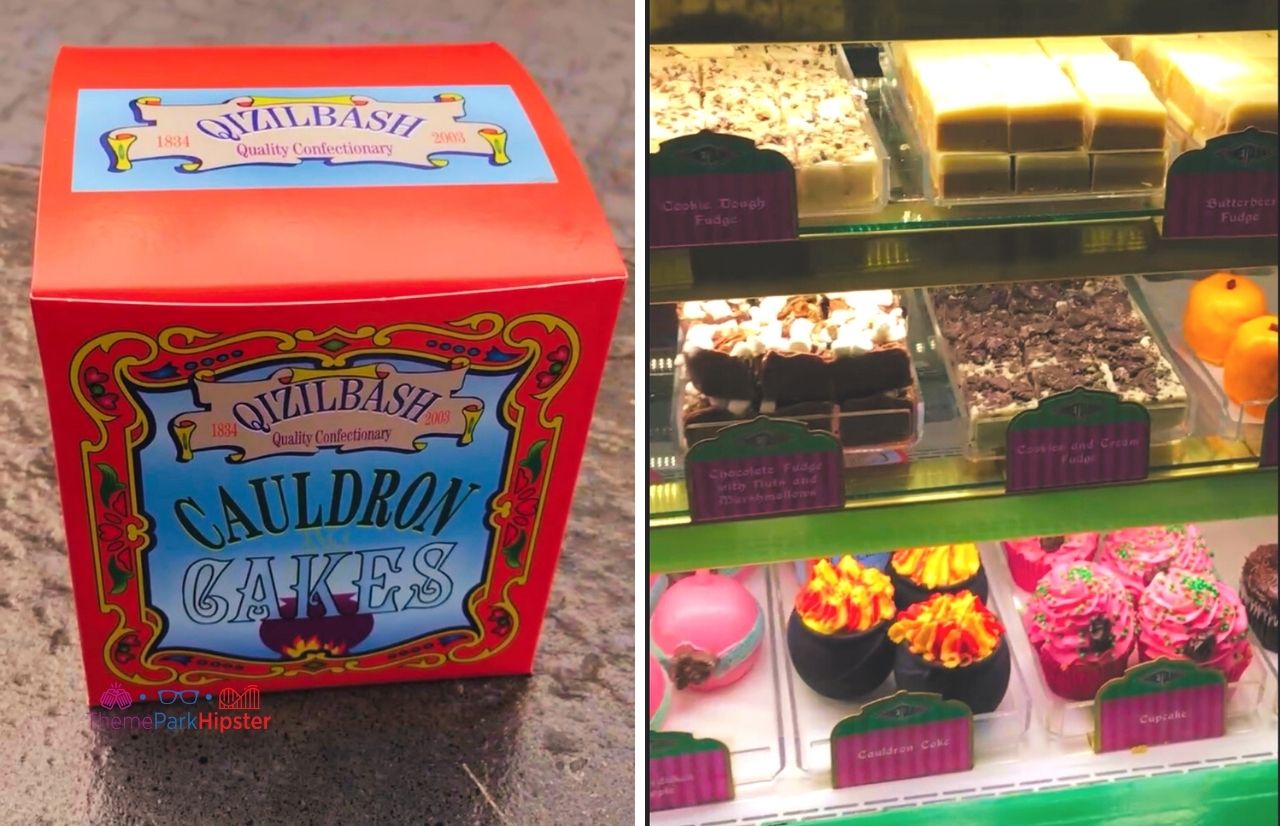 Why We Love These Harry Potter Souvenirs for Fans
As you enter the pink and light green pinstriped store, you truly get to experience the shelves of delicious wizarding world candies like:
Fudge Flies
Dark Chocolate Peppermint frogs
On top of this, you can try one of the owner's famous homemade fudges. These candies and sweets are not to be missed and are perfect treats to give as gifts!
6. Magical Cups and Drinks
Whether it's the Triwizard cup or a teacup, you can never go wrong with giving one as a gift. Mainly because one will always need one at some point!
The great part is that there is a plethora of designs to choose from to fit whatever you want for the person you are trying to give it to.
Why We Love These Harry Potter Souvenirs for Fans
It can be house based, creature based or even shop based. I personally have a latte mug from Honeydukes that is perfect for sipping tea from.
Another gift you could consider is specialty beverages that can only be found inside the Wizarding World of Harry Potter.
This includes Gillywater which you can mix in various potions or Pumpkin Juice.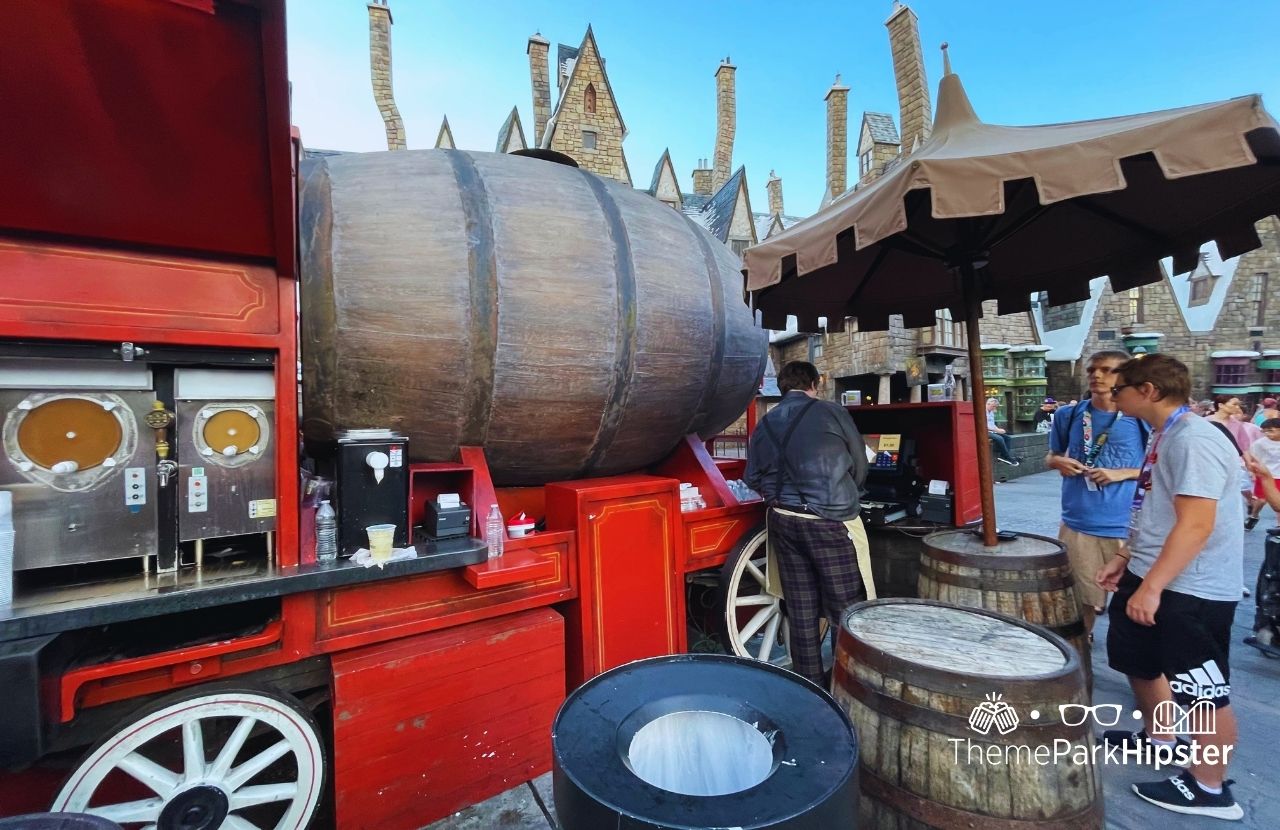 Sadly, they do not bottle butterbeer, but you can always remedy that by bringing home Butterbeer fudge from Honeydukes or checking out our recipe here.
Get your best Wizarding World of Harry Potter Souvenir cups from Amazon TODAY!
7. Gringotts Cash
The E ticket attraction, or big draw of Diagon Alley is "Harry Potter and Escape from Gringotts."
You can find a long line here due to the immersive and detailed queue, along with several stops due to pre-shows. Nonetheless, the attraction is worth trying.
And you can catch many guests standing outside of it, waiting for the great Dragon to breathe its fiery breath. But let's leave the details of the ride for another time.
Why We Love This Harry Potter Gift for Fans
Many guests wander right by the Gringotts Money Exchange in Diagon that's right next door.
It is a small venue where guests can exchange $10 or $20 American denominations for Gringotts bank notes.
How does the Gringotts Cash work in The Wizarding World of Harry Potter at Universal?
These bank notes can be used at some Wizarding World locations and some locations in Islands of Adventure and Universal Studios to buy food or merchandise.
It is important to note that you do not have to exchange money. It can be used as Harry Potter souvenirs, gifts or to purchase items.
Here you can interact with the goblin overseer who will assist with your exchange and answer any questions you may have.
Harry Potter World Souvenirs in Gringotts Money Exchange
While there is not a lot to buy inside the venue, as it's a money exchange, there are a few items you can grab.
And if you end up not using all of your bank notes, they can be exchanged back to American denominations at guest services.
The do however make a great gift that can only be found from the Wizarding World and can be used by the receiver during their own visit.
Get your Gringotts inspired Harry Potter souvenirs here on Amazon TODAY!
8. Hogwarts House Merchandise
As you travel through Diagon Alley and Hogsmeade, even outside of the Wizarding world and into the regular areas of the park, you will see one of two things.
You will see many guests wearing robs, which I commend them on their commitment to wearing in Florida heat and humidity, or they are wearing something that shows off their Hogwarts house pride.
For those who are not familiar with how Hogwarts works, first year students are sorted into one of four houses, and they are:
Gryffindor
Slytherin
Ravenclaw
Hufflepuff
Once sorted, that house will be your family and your home. Visitors are big fans of house pride when it comes to the Wizarding World.
Why We Love These Harry Potter Souvenirs for Fans
There are hats, scarves, cardigans, robes, shirts, tanks, pins, sweatpants and so much more!
If you want to keep it simple or be extra, there is a clothing item for you to buy for someone to rep their house in the muggle world.
Get your best Hogwarts House Harry Potter Souvenir on Amazon TODAY!
9. A Fantastic Beast
If you mosey on over to Diagon Alley, you can enter the Magical Menagerie and bring a fantastic beast home with you and for your friend!
The Magical Menagerie is a pet shop of sorts for the magic folks and its slightly chaotic.
You simply cannot miss this shop as it features brightly colored creatures that move and make noise to entice visitors to come in and shop for pets.
Just so you're aware, these are not real creatures or animals but plush toys.
Why We Love These Harry Potter Souvenirs for Fans
You can bring home a wide variety of creatures seen in the Harry Potter and Fantastic Beast films like Hermione's cat Crookshanks, Buckbeak, and even Sirius Black in dog form!
If you think taking care of a magical pet may be too much for the gift receiver, the shop sells a nice selection of novelty items for pets including collars and leashes.
Get your Harry Potter inspired creatures here on Amazon TODAY!
10. Journals
Finally, you can help your friend get into their schoolwork or write that amazing book with one of the Harry Potter themed journals.
There are a wide variety of journals one can choose from including one with House Crests, your favorite quotes, the Monster Book of Monsters and more!
But the most recent ones to catch my eye are the journals with schoolbook cover for a textbook.
The following textbooks are on the Harry Potter journal covers:
Hogwarts, A History
A History of Magic
There is also one for The Tales of Beedle the Bard and all the textbook journal covers are made to look slightly worn and aged as if used by Hogwarts Alum.
These are very adorable journals that any Harry Potter fan, especially younger ones, would really like!
Get your Harry Potter Journals here on Amazon TODAY!
My Final Thoughts on the Best Souvenirs from Harry Potter World at Universal
Visiting the Wizarding World, as you can see is evident from all the amazing shop and merchandise descriptions, is truly an unforgettable experience. Sadly, not many people can get out to it.
Souvenirs are special tokens that you bring to loved ones because you saw such a unique item and thought of that person specifically.
It is a memento of thoughtfulness and love for someone you care for.
All the item listed will be absolutely perfect Harry Potter gifts for someone who is in love with the Wizarding World and all the magical details that we have come to know and love!
All of this done in the hopes of one day bringing them back to the Wizarding World upon your return.
What items have you brought home with you from the Wizarding World? Share with us in our Facebook Group!
Until next time, Happy Park Hopping Hipsters!
About the Author
UP NEXT: Wizarding World of Harry Potter Guide: Tickets, Rides, Tips and More!
(Original Article Date: October 8, 2022/Updated on June 27, 2023 by Editor)