Are you looking from some of the BEST things to do at Epcot Flower and Garden Festival?
The Epcot International Flower and Garden Festival 2022 is a foodie's paradise and a florist's dream.
I have done the true festival excursion on multiple occasions and now I want to share with you my top 11 things you must do at Epcot International Flower Garden Festival.
There you will find me in the midst of the colorful garden creations, wonderful seminars, and the tantalizing cocktails from March 2nd to July 4th of 2022!
This is the festival's 28th year and I'm so excited to show you how to have the best day ever!
THIS POST MAY CONTAIN AFFILIATE LINKS. PLEASE READ MY DISCLOSURE FOR MORE INFO. Which means if you click on certain links, I may receive a small commission at no additional charge to you.
What do you do at Flower and Garden Festival?
Everything! But seriously, there are so many unique things to do at this annual Epcot Festival. We'll go through all the Epcot Flower and Garden Festival must do's to have an epic trip!
You will want to be at the gates before 9 a.m.
Hipster Power Tip: Start Early! Coming early to the Epcot Flower and Garden Festival will give you a chance to pace yourself by allowing you to enjoy the festival attractions in both Future World and World Showcase.
11 Things You MUST Do at Epcot Flower and Garden Festival
I'm so happy to share with you a few of my favorite things to do at the Epcot Flower and Garden Festival. Unfortunately, 2020 was quite a challenging year which has spilled over into 2021 and is still reflective in 2022.
Because of that, a few of my must do recommendations on this list are temporarily suspended. However, you can add them to your list for a future visit.
1. Explore the Topiaries and Gardens at Epcot
In between your favorite attractions, visit the World Nature, World Discovery, and World Celebration (former home to Future World) gardens and take lots of photos.
Walk around and check out the beautiful topiary displays created by the talented Disney staff.
Be sure to snap unique photos of the amazing garden creations of the Disney horticulturists.
2022 Epcot Flower and Garden Festival Topiaries
Goofy Topiary and Walt Disney World 50th Anniversary Celebration Cake – Main Entrance
Sorcerer Mickey Mouse, Brooms, Ostriches, Hippo and Gator – Entrance to World Showcase
Woody, Bo Peep and Her Sheep – near The Land Pavilion
Mickey Mouse, Minnie Mouse, Donald Duck, Daisy Duck, Huey, Dewey and Louie – Bridge to World Showcase
Pluto and Chip 'n' Dale – The American Adventure Pavilion
Buzz Lightyear – near Mission: SPACE
Figment – near Imagination!
The Three Caballeros (Jose, Donald and Panchito) – Mexico Pavilion
Anna and Elsa – Norway Pavilion
Troll – Norway Pavilion
Dragon – Japan Pavilion near Torii Gate
Pandas – China Pavilion
Simba and Friends (Rafiki, Simba, Mufasa and Sarabi) – Between Imagination! and The Land Pavilion
Pumbaa and Timon – Between Imagination! and The Land Pavilion
Snow White and the Seven Dwarfs – Germany Pavilion
Lady and the Tramp – Italy Pavilion
Beauty and the Beast – France Pavilion
Lumiere and Cogsworth – France Pavilion
Kermit the Frog and Miss Piggy – Germany Pavilion
Peter Pan, Captain Hook and Tick Tock Croc  – Between the United Kingdom and Canada Pavilions
Winnie the Pooh and Friends (Rabbit, Eeyore, Piglet and Tigger) – United Kingdom Pavilion
Tinker Bell's Fairy House Garden – United Kingdom Pavilion
Bambi and Friends – near Imagination!
2022 Epcot Gardens of the World Tour
Blossoms of Fragrance Presented by Scentsy – World Showcase Bridge
Outdoor Escapes Presented by OFF!® Repellents – World Discovery
Floating Gardens – World Nature
Festival Blooms – World Celebration
Bambi's Butterfly House – World Nature near Imagination!
The Honey Bee-stro Hosted by National Honey Board® – Rosewalk near Imagination!
Health Full Trail Presented by AdventHealth – Imagination! Walkway
Tropical Rainforest Garden – Mexico Pavilion
Extraordinary Orchids – Mexico Pavilion
Bold Bromeliads – World Nature by The Land Pavilion
China Zodiac Garden – China Pavilion
Bamboo Garden – China Pavilion
Alpine Miniature Garden – Germany Pavilion
Garden Italiano – Italy Pavilion
Kokedema Garden – Japan Pavilion
Bonsai Collection – Japan Pavilion
Spice Garden – Morocco Pavilion
France Bouquet Garden – France Pavilion
English Tea Garden Presented by Twinings® – United Kingdom
Shakespeare Garden – United Kingdom Pavilion
Prehistoric Garden – World Discovery near Mission: SPACE
Green Landing Family Play Zone – World Discovery
Hipster Power Tip: Grab a Passport! The passport is a pamphlet that allows you to personalize it with your name, country, date issued, and date of completion.
Your Passport also includes the locations of the topiaries, the outdoor kitchen offerings, merchandise options, and concert information.
2. Drink and Eat Your Way Around Epcot World Showcase
Don't hold back! Enjoy your must have drinks and food at Epcot Flower and Garden Festival.
Best Food and Drinks at Epcot Flower and Garden Festival 2022:
Potato Pancakes with House-made Apple Sauce – Bauernmarkt: Farmer's Market – Germany Pavilion
BLT Scone with Nueske's® Applewood Smoked Bacon, Sundried Tomato and Basil – Cider House – Located Near the United Kingdom Pavilion
Crispy Mojo Marinated Pork Belly, Avocado Cream, Corn Salsa, Salsa Verde and Plantain Chips and Grapefruit Tart – The Citrus Blossom – Near Port of Entry
Avocado Toast with Marinated Toybox Tomatoes on Toasted Ciabatta and Corned Beef Brisket Hash with House-made Potato Barrels, Onions, Peppers, Cheese Curds and a Soft-poached Egg with Tabasco® Hollandaise – EPCOT Sunshine Griddle – Near Test Track presented by Chevrolet®
La Vie en Rose Frozen Slushy: Vodka, Grey Goose L'Orange Vodka, St. Germain Liqueur, White and Red Cranberry Juice – Fleur de Lys – France Pavilion
Frushi: Strawberry, Pineapple and Cantaloupe wrapped in Sweet Rice and Pink Soy Wrap served with Whipped Cream, Drizzled Berry Sauce and Toasted Coconut – Hanami – Japan Pavilion
Arepa topped with Shrimp, Crushed Avocado Ají and Tomato Sauce – La Isla Fresca – Between Morocco and France
House-made Cheesy Crab Wontons and Kung Fu Punch: Smirnoff Vodka, Triple Sec, Mango, Orange Juice and Soda Water- Lotus House – China Pavilion
Spicy Chicken Gumbo with Andouille Sausage and BEN'S ORIGINAL™ Long Grain & Wild Rice – Magnolia Terrace – American Adventure Pavilion
Griddled Maple Pound Cake with Warm Peach Compote and Sweet Corn Gelato – Northern Bloom – Canada Pavilion
Spicy Hot Dog with Pineapple Chutney and Plantain Chips – Pineapple Promenade – Near Port of Entry
Vanilla, Rose Water and Pistachio Panna Cotta – Tangierine Café: Flavors of the Medina – Morocco Pavilion
House-made Italian Sausage and Peppers Poutine – Refreshment Port – Near Canada Pavilion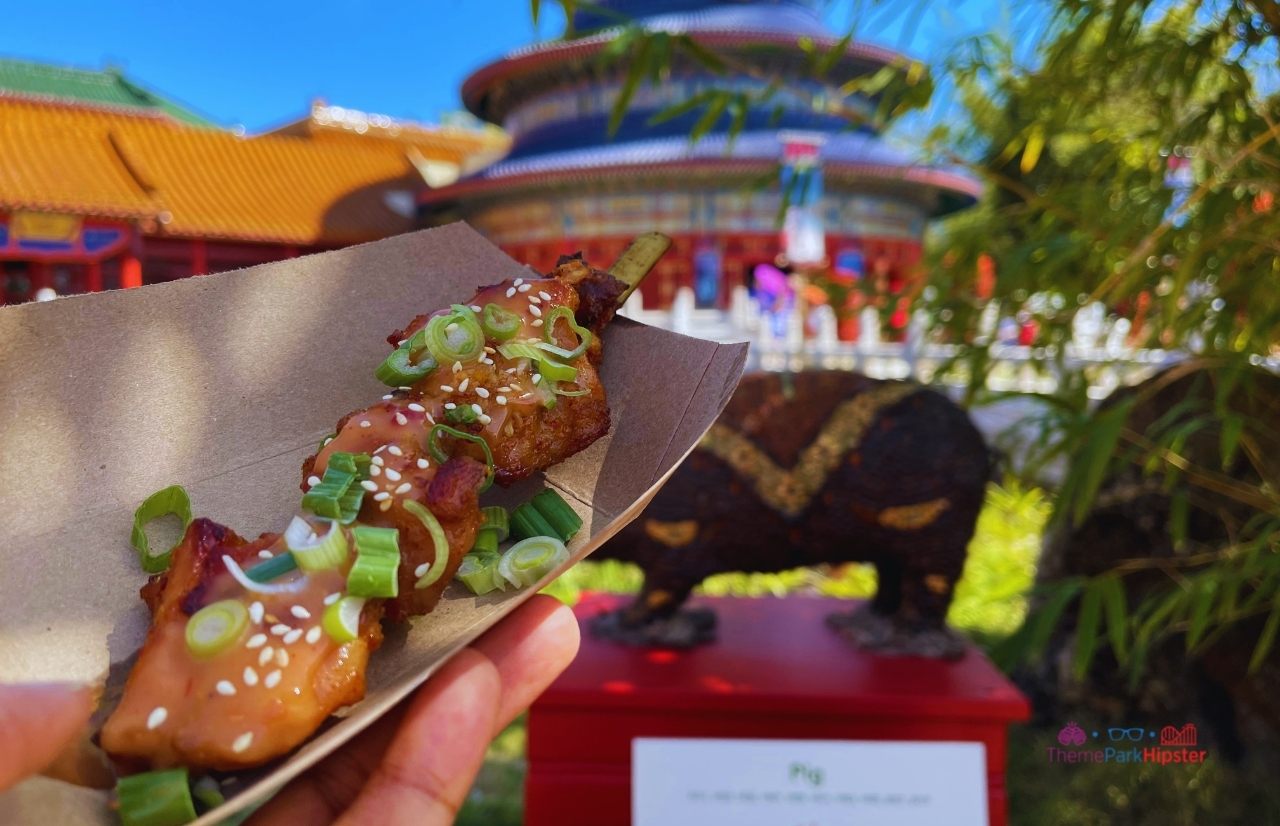 Let's go through my top 3 dishes from the Epcot Flower and Garden Festival over the years.
Now that you know what food you must try this year, let's see some of my favorites from the previous years.
Shrimp and Stone Ground Grits with Andouille Sausage, Sweet Corn, Tomatoes and Cilantro (Florida Fresh between Morocco and France)
Year after year, this scrumptious experience…yes, I said experience…was always a top winner for my Epcot Flower and Garden food pick.
Maybe it's the southern gal in me, but the spiciness of the Andouille sausage along with the sweetness of the shrimp and crunchy sensation of the fresh bell peppers brought about pure foodie ecstasy.
The dish also came out really hot in temperature, a southern must if grits are involved. However, once you're past the scolding temps, you're able to taste the love put into this snack.
Beef Brisket Burnt Ends Hash with White Cheddar Fondue and Pickled Jalapenos
Good ole America, the place where a jam-packed hearty meal is the norm…well at least in the south 😊
During the Flower and Garden Festival you will see the huge smoker sitting next to the American booth looking like a familiar summer day in the backyard with the family.
I was highly surprised at Disney's take on this classic American meal.
The brisket was tender to the fork and delightfully seasoned. It was also filled with juicy smoke-filled flavors that reminded me of those summertime cookouts of childhood.
The beef was also soft and appetizing enough to make my mother proud.
ORDER NOW to secure your Orlando theme park ticket reservation in the parks! GET MY TICKETS.
Pineapple Soft-serve Ice Cream with Parrot Bay Coconut Rum (Pineapple Promenade)
Most ThemeParkHipsters have probably thought,
"I wonder what a Dole Whip would taste like with a shot of rum?"
Well you're in for an early Christmas gift! Disney took that wish and made it come true.
The Parrot Bay Coconut Rum shot is the cherry on top of an already enjoyable Disney treat.
Caution is needed as you finish this delicacy, because a strong rum infused melted pineapple finish is waiting for you at the bottom of the cup. Cheers!
Read: The Complete Epcot Flower and Garden Festival MENU
3. Attend the Flower and Garden Festival Tours
There's no better way to enjoy the event than attending the amazing educational garden tours, which are mostly free or budget friendly.
A plus is that you will get to meet many of your favorite floral and topiary presenters in a much more relaxed environment compared to the Epcot Food and Wine Festival.
English Tea Garden Presented by Twinings of London® (Postponed)
In the United Kingdom pavilion, you can do a complimentary guided tour in the tea gardens called, The English Tea Garden tour.
According to Disney, you'll learn more about the artistry behind the growing and blending of herbs, which is vital for the creation of uniquely flavored brews.
The English Tea Garden tour lasts approximately 20 minutes.
Same-day registration is available in The Tea Caddy gift shop.
Advance registration is recommended, as each tour is limited to only 20 Guests.
Tours are held Monday through Thursday at 3:30 p.m. and 5:00 p.m., and Saturday and Sunday at 1:00 p.m., 3:30 p.m. and 5:00 p.m.
Royal Tea Garden Tour (Postponed)
There is another tour called the Royal Garden Tea Tour.
This tour begins at 9:30 a.m. in the United Kingdom Pavilion. This is an upgraded tour with tea and scones included for $20.00. This tour lasts 45 minutes.
You can book the Royal Garden Tea Tour by calling (407) 939-8687.
ORDER NOW to secure your Walt Disney World theme park ticket! GET MY TICKETS.
Behind the Seeds Tour
This is one of my favorite tours at Epcot which allows you to go on a guided tour with a Disney Cast Member through the greenhouse of the Living with the Land attraction.
This tour lasts an hour and is $25 for adults and $20 for kids. You can check the official schedule here on Disney's website.
Please Note: The Epcot tours mentioned above are temporarily suspended for 2022.
4. Get Epcot Flower and Garden Festival Merchandise
Before you grab your seat for the fireworks show, be sure to make any Epcot Flower and Garden Festival merchandise purchases.
This will ensure that you have a few nice souvenirs to take home.
Shop for Sale Items at shopDisney.com!
5. Do the Epcot Egg Hunt!
The Egg-stravaganza scavenger hunt has returned.
You can purchase the map for $7.99 at Disney Traders, Pin Central, and World Traveler shops (price subject to change).
The goal of this fun game is to find themed eggs around Epcot World Showcase. You then turn it back in for a unique Disney character egg to take home.
This special adventure goes on from mid-March 2022 to July 4, 2022.
Ready to start planning your next Disney World vacation? Listen to the latest podcast episode on Apple or on your non-Apple device now!
6. Go on the Best rides at Epcot
Disney's Epcot has some of the best theme park attractions in the world. Be sure to try my must do Epcot rides below!
Read: 17 Pro Tips for the Epcot International Flower and Garden Festival
7. Watch the Epcot Garden Rocks Concert Series
You'll be able to see some of you favorite musicians during the Epcot Flower and Garden concerts.
This is the perfect way to enjoy all of the festival food, drinks, and culinary adventures with a musical treat to end the day.
Don't feel bad if you're not able to go to the first show.
Most bands tend to change up the song lineup throughout the evening. I've found the second and third shows tend to be the best.
The band is usually warmed up and there's a much better energy from both the crowd and the artists.
8. Have A Sweet Finale with a View
Book your Epcot Garden Rock dining package for an evening dinner an hour before the fireworks show starts to Rose and Crown. Be sure to request a seat on the outside patio or near a window facing the World Showcase Lagoon.
This will allow you to have a guaranteed seat during an earlier show for the concert series with an amazing way to cap your night off with dinner and a show from the brand-new Harmonious fireworks display!
Here are a few things to know about the Garden Rocks Concert Series:
You are provided a 3-course meal or full buffet, depending on the location, with priority seating at one of 3 concerts held the same day.
The Garden Rocks Dining Package is available for the Friday through Monday Epcot Flower and Garden Festival concerts. Get all the details here!
Ready to plan your theme park trip? Watch the best vacation planning tips on YouTube. Get started here!
9. Do the Garden Graze Culinary Challenge!
You'll love this new Epcot adventure as you challenge yourself to dine around the Flower & Garden Festival hitting all the top dishes in your Festival Passport.
How does the Garden Graze work?
You first have to pick up a Festival Passport, then you collect a matching stamp for each notated menu item you purchase.
Once you've collected ALL 5 stamps, you bring your Festival Passport to the Pineapple Promenade for a complimentary gift.
You can do this Epcot foodie challenge anytime between March 2 and July 4, 2022.
Garden Graze Menu Items and Locations
Corn on the Cob from Flavor Full Kitchen on the walkway from the Imagination Pavilion
Coconut Tres Leches from La Isla Fresca between Morocco and France Pavilion
Potato Pancakes from Bauernmarkt: Farmer's Market in Germany Pavilion
Grilled Baby Vegetables from Trowel & Trellis near Disney Traders
Avocado Toast from Epcot Sunshine Griddle near Test Track
10. Go on an Adventure with the Spike's Pollen-Nation Exploration Tour
This is a fun scavenger hunt for everyone. All you have to do is pick up a map with stickers from Disney Traders or World Traders for $9.99.
You'll then follow Spike the Bee on his pollination trail, as he collects his nectar and pollinates the gardens all over Epcot.
Once you've found each Spike the Bee and match the stickers to his location on the map, you'll then return it to Disney Traders or World Traveler for a fun little surprise!
11. Grab Your Perfect Epcot Fireworks Spot
Because you've followed ThemeParkHipster's Epcot Flower and Garden Festival must do's and one-day itinerary, you now have plenty of time to find a nice spot for the Epcot fireworks show.
This show is one-of-kind experience and is the perfect way to end your day at Epcot International Flower and Garden Festival.
Recommended: Disney for Adults – The Epcot Guide
What to Know Before You Go the Epcot Flower and Garden Festival
Now that you know what to expect at the Disney Flower and Garden Festival concerts, let's go through some of your most commonly asked questions.
How much does Epcot cost?
A one-day REGULAR season Epcot ticket starts at $109* (prices do change depending on the season).
Ready to make your trip out to Walt Disney World Resort, then get your no obligation, FREE Quote by filling out the form with The Park Prodigy by Clicking HERE!
What are the Best Rides at Epcot for Lightning Lane Passes?
How many countries does Epcot have?
There are 11 (eleven) countries in the Epcot World Showcase for you to visit.
What are the countries in Epcot?
China
America (United States)
United Kingdom
Where are the best places to have a drink Epcot?
I will say that Tutto Gusto Wine Cellar in the Italy Pavilion and La Cava Del Tequila in the Mexico Pavilion are the absolute best places to chill and enjoy a drink on your solo Disney World trip.
That's if it's not too crowded.
Read more of the best drinks at Epcot here!
Final Thoughts on the Best Things to Do at Epcot Flower and Garden Festival
The annual Epcot Flower and Garden Festival is definitely a Walt Disney World must do in itself. I hope my suggestions help you have the most EPIC DAY EVER!
What's your Epcot Flower and Garden Festival food or drink that you must do? Let me know in the comment section below.
Until next time, Happy Park Hopping Hipsters!
NikkyJ
UP NEXT: What You Need to Know About Epcot's Yearly Festivals
(Original Article Written Spring 2015/Updated March 11, 2022)