Are you planning a trip out to the Epcot Festival of the Arts this year? If so, you may be wondering what in the heck is this Disney festival about and what should you do there?
The Epcot Festival of the Arts is Disney's way of combining the creativity of arts and food in only a way Disney can do from January 13th to 20th of 2023!
Although it began only a few years ago, the Festival of the Arts has become a huge part of the Disney Foodie Culture.
Now let's go through some of my favorite things to do at the Epcot Festival of the Arts that I know you'll love too!
THIS POST MAY CONTAIN AFFILIATE LINKS. PLEASE READ MY DISCLOSURE FOR MORE INFO. Which means if you click on certain links, I may receive a small commission at no additional charge to you.
1. Learn How to Draw
While you're at the Epcot Festival of the Arts, be sure to stop by the American Gardens Theatre to learn how to draw one of the most-beloved Disney characters from an actual animator.
The shows for this experience begin daily at 12:30 p.m. and 1:30 p.m.
ORDER NOW to secure your Walt Disney World theme park ticket! GET MY TICKETS.
2. Check Out the Sidewalk Art
One of my most favorite things to do at this Epcot Festival is watching an artist create a work of art only using chalk.
You can find them throughout Epcot as they bring some of the most famous Disney films to life.
You can check this out along the bridge to World Showcase Plaza.
Kid can create their own Chalk Art
Your whole family can now create a masterpiece made with chalk at the Epcot Festival of the Arts! Below are the details about this fun and exciting artist adventure:
Where: At the bridge to World Showcase Plaza
When: Daily from 11:00 a.m. to 5:00 p.m.
3. Watch a Broadway Show at Disney
Did you know that you can watch a Broadway Show at Walt Disney World? Well, kind of…
At the Epcot Festival of the Arts, you can enjoy classic Disney tunes sung by Broadway's most-famous actors right here in Central Florida. 
What time does Disney on Broadway at the Epcot Festival start?
You can catch this show on select days from January 13 to February 20, 2023 at 5:30 p.m., 6:45 p.m. and 8:00 p.m. in the American Gardens Theatre.
Disney Broadway Show Schedule:
Kara Lindsay (Newsies) and Kevin Massey (Tarzan)
January 13
January 15 through 16
January 19 through 20
Arielle Jacobs (Aladdin) and Adam Jacobs (Aladdin)
January 14
January 17 through 18
January 21 through 22
Patti Murin (Frozen) and Robert Creighton (The Little Mermaid)
January 23
January 25 through 26
January 29 through 30
February 2 through 3
Mandy Gonzalez (Aida) and L. Steven Taylor (The Lion King)
January 24
January 27 through 28
January 31 through February 1
February 4 through 5
Ashley Brown (Mary Poppins) and Michael James Scott (Aladdin)
February 6
February 8 through 9
February 12 through 13
February 16 through 17
Kissy Simmons (The Lion King) and Josh Strickland (Tarzan)
February 7
February 10 through 11
February 14 through 15
February 18 through 19
Special Performance – February 20, 2023
On February 20, you'll be super excited to know that there will be an extended finale featuring Ashley Brown, Josh Strickland, Kissy Simmons and Michael James Scott!
4. Pose in Your Favorite Painting
There are Artful Photo-Ops all over Epcot World Showcase where you can place yourself in some of the most famous paintings ever!
This is one of my favorite things to do at Epcot Festival of the Arts that I know you'll love too.
Here are the Artful Photo-Op locations for this year's Epcot Festival of the Arts:
An homage to Frida Kahlo : Mexico Pavilion
Birth of Venus – Sandro Botticelli: Italy Pavilion Courtyard
Café Terrace at Night and Sunflowers – Vincent van Gogh : Bridge to World Showcase
Luncheon of the Boating Party – Pierre-Auguste Renoir: International Gateway
Mona Lisa – Leonardo da Vinci: Between Italy Pavilion and Germany Pavilion
Peter Pan Storybook: Bridge to World Showcase
The Scream – Edvard Munch: Between Italy Pavilion and Germany Pavilion
Washington Crossing the Delaware – Emanuel Gottlieb Leutze : The American Adventure Pavilion
5. Contribute to a Masterful Art Piece
The Paint by Numbers Mural is by far one of the most popular things to do at this Epcot Festival. It's a fan-favorite and something EVERYONE can participate in.
How does the Epcot Paint by Numbers work?
All you have to do is head to the main booth, grab your mini portrait of the finished painting and you'll be given a number and a certain paint color.
Once you make it to the mural, you'll paint the numbers you were given until your paint runs out.
It's such a fun thing to do at the Epcot Festival of the Arts. Below are the details about this experience:
Where: Expression Section booth near World Nature 
When: Daily 11:00 AM to 5:00 PM
6. Meet the Artist
While shopping your heart out on Epcot's World Showcase, you'll be able to meet the artists of the paintings and artwork that you're looking to purchase.
This is what makes the Epcot Festival of the Art a fan-favorite. The artists are always so welcoming and ready to answer any of your questions that you may have about their pieces.
Available artwork from WonderGround Gallery artists include (final details pending):
Jerrod Maruyama – Little Orange World
Mcbiff – I'm Proud of You
Ann Shen – I Will Always Be With You
Ashley Taylor – My World
Available artwork from Disney artists include (final details pending):
David Buckley – A Day in the Park
Morgan Ditta – We've Got Music
John Nadeau – TIE Attack!
Brett Owens – New Classics – Mulan
Darren Wilson – Forever Princess
Joseph Yakovetic – Off to Neverland
7. Have Fun Shopping
Don't forget to pick up some of your favorite Festival of the Arts merchandise on your visit.
Each year, Epcot creates some of the most colorful merchandise that you can only find during this festival.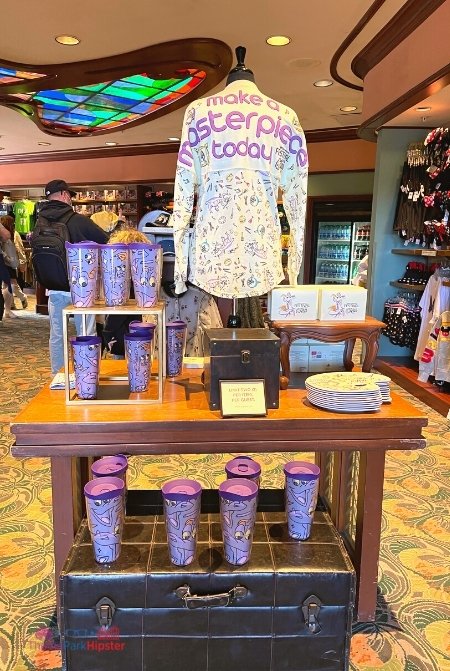 Figment, a classic Disney character, is prominent and the Disney merch is always a hit for this Disney event.
8. Check Out the Art Galleries
Of course it would be an art festival if you didn't check out the ARTWORK…
Luckily for you, Disney offers many art galleries for you to gaze upon in hopes of purchasing or possibly inspiring you to create your own piece of work.
Here are some of the featured Artist Galleries for this year (final details pending):
ACME Archives
Disney Fine Art by Collectors Editions
Disney Art Festival Market
James Coleman Studios
POP Gallery
Thomas Kinkade Studios
Wyland Galleries
Ready to plan your theme park trip? Watch the best vacation planning tips on YouTube. Get started here!
9. Go on a Scavenger Hunt with Figment
With Figment's Brush with the Masters, you'll go on an epic journey with this beloved Disney character to help you learn about art while cruising along the World Showcase.
How does Figment's Brush with the Masters work?
All you have to do is buy your map with it's stickers from Port of Entry, Creations Shop or World Traveler.
Next, you search for Figment who will be hidden in many of the most-known artistic works at each World Showcase pavilion.
Whenever you find Figment, add the correct sticker to the pavilion.
After you have found each Figment, you'll go back to Creations Shop, Port of Entry, or World Traveler for your prize!
Just know that the cost is $9.99, plus tax.
10. Do the Wonderful Walk of Colorful Cuisine
If you have done the Cookie Stroll during the Epcot Festival of the Holidays, then you'll be familiar with this foodie challenge.
On this Festival of the Arts adventure, you can eat your way around the world trying different colorful dishes.
How does the Wonderful Walk of Colorful Cuisine work?
First you will have to buy 5 delicious dishes from the designated locations
Then you will put the matching stamps inside your Festival Passport to match up with the location
Finally, you'll bring your completed Festival Passport to Deco Delights for a "free" colorful culinary prize
Featured foods on the Wonderful Walk of Colorful Cuisine:
Red Stamp: Blood Orange-Braised Beet Tartare with Mustard Vinaigrette, Pickled Clamshell Mushrooms and Golden Beets located at Gourmet Landscapes
Green Stamp: Deconstructed Key Lime Pie: Flexible Key Lime Curd, "Key Lime" Mousse, Graham Cracker Cake and Meringues located at The Deconstructed Dish
Yellow Stamp: Chorizo and Potato Empanada with Turmeric Aïoli and Annatto Aïoli located at Vibrante & Vívido: Encanto Cocina
Orange Stamp: Pan-Seared Scallops with Vanilla-Butternut Squash Purée, Brown Butter Cauliflower Purée and Lime Foam located at Moderne
Blue Stamp: Orange Mousse with Lemon Cake and Raspberry Meringues located at Deco Delights
Indigo Stamp: Almond Frangipane Cake layered with Raspberry Jam and Belgian Chocolate
Violet Stamp: Pop't Art: Sugar Cookie with Blueberry Filling located at Figment's Inspiration Station at the Odyssey: Art, Food and Little Sparks of Magic
Reward: The Artist Palette Cookie
Hipster Power Tip: You don't have to do the Wonderful Walk of Colorful Cuisine in one day. You can split up the challenge throughout your visits to the Festival of Arts. Just be sure to use the same Festival Passport and don't lose it.
11. Eat Your Way Around the World
Be sure to check out all of the most incredible Disney food at the Studio Booths throughout the Epcot Festival of the Arts.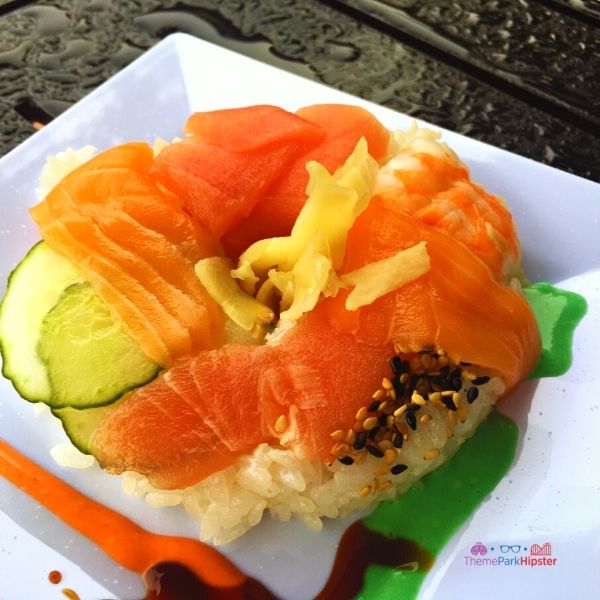 They have some of the most spectacular creations that are not only visually pleasing, but taste incredible.
You can check out the full Epcot Festival of the Arts menu here.
What to Know Before You Go Epcot Festival of the Arts
Before we end this foodie guide, let's go through a few things you should know before you make your way over to Disney's Epcot.
Epcot Festival of the Arts Details
Will take place throughout Epcot
Is open daily from January 13, 2022 to February 20, 2023
The Food Studios open from 9 a.m. to 9:00 p.m.
Epcot admission and reservation required
Alcohol will only be served to Guests 21 and older
How much does Epcot cost?
A one-day REGULAR season Epcot ticket starts at $109* (prices do fluctuate based on the season).
What are the Best Rides at Epcot for Adults?
Read the full guide to doing Epcot the grown-up way!
How many countries does Epcot have?
There are 11 (eleven) countries in Epcot.
What are the countries in Epcot?
Where are the best places to have a drink Epcot?
Like everywhere in the park and I mean that. Nothing else needs to follow…
I will say that Tutto Gusto Wine Cellar in the Italy Pavilion and La Cava Del Tequila in the Mexico Pavilion are the absolute best places to chill and enjoy a drink. If it's not too crowded.
What are the best drinks at Epcot?
Although it's ALWAYS hard to narrow down my list, these are my top 5 must have alcoholic beverages for Epcot:
Avocado Margarita from La Cava del Tequila in Mexico
Mediterranean Journey for Spice Road Table in Morocco
Leaping Leprechaun from Rose & Crown Pub in United Kingdom
Apple Ice Wine from the Trading Post in Canada
Sangria from La Cava del Tequila in Mexico
Recommended: 21 Best Drinks at Epcot You MUST TRY
Wrapping Up…
As you can see, there's so much to do at this Disney festival. Whether you're a foodie lover or an artistic person, you'll be surprised to see all that is offered just for you.
Remember that this event will run from January 13, 2023 through February 22, 2023 with the Food Studios being available from park opening to park closing.
A theme park reservation and valid EPCOT admission is also required to attend this event.
What's your favorite Epcot festival? Let us know in the comments section below.
Until next time, Happy Park Hopping Hipsters!
NikkyJ
(Original Article Date: June 28, 2020/Updated January 4, 2023)