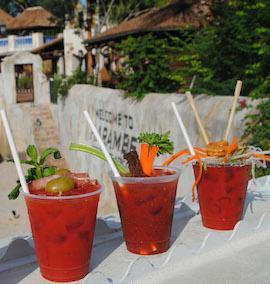 New Bloody Mary Drinks at Dawa Bar in Disney's Animal Kingdom Park Dawa Bar is now serving new Bloody Mary offerings inspired by Discovery Island, Asia and Africa. The following drinks are available for $9.50 each:
Dawa Bloody Mary – Classic Bloody Mary with a strong horse radish finish. Garnished with truffle blue cheese olives and prosciutto ham.
Discovery Island Bloody Mary – Classic mix with lemon juice and olive brine. Garnished with tomato, mozzarella, and a fresh basil skewer. The drink is light and refreshing.
Asian Bloody Mary – Cocktail made with spicy kimchee-sriracha salad purée and garnished with Asian salad and grilled shrimp. If you love a spicy Bloody Mary, this is the one for you.
African Bloody Mary – A classic blend with the addition of berbere spice. Garnished with fresh vegetables and house made beef jerky.