Tutto Gusto Wine Cellar is by far one of Epcot's most hidden secrets!
While everyone is off running to be the first in line at La Cava del Tequila, you'll find me sneaking off to the Italy Pavilion to grab my own personal seat inside this amazing place.
Don't be fooled by the glitz and glam happening all around you in the gorgeous Italian pavilion.
You may just miss out on some of the most remarkable food and cocktails available at Epcot.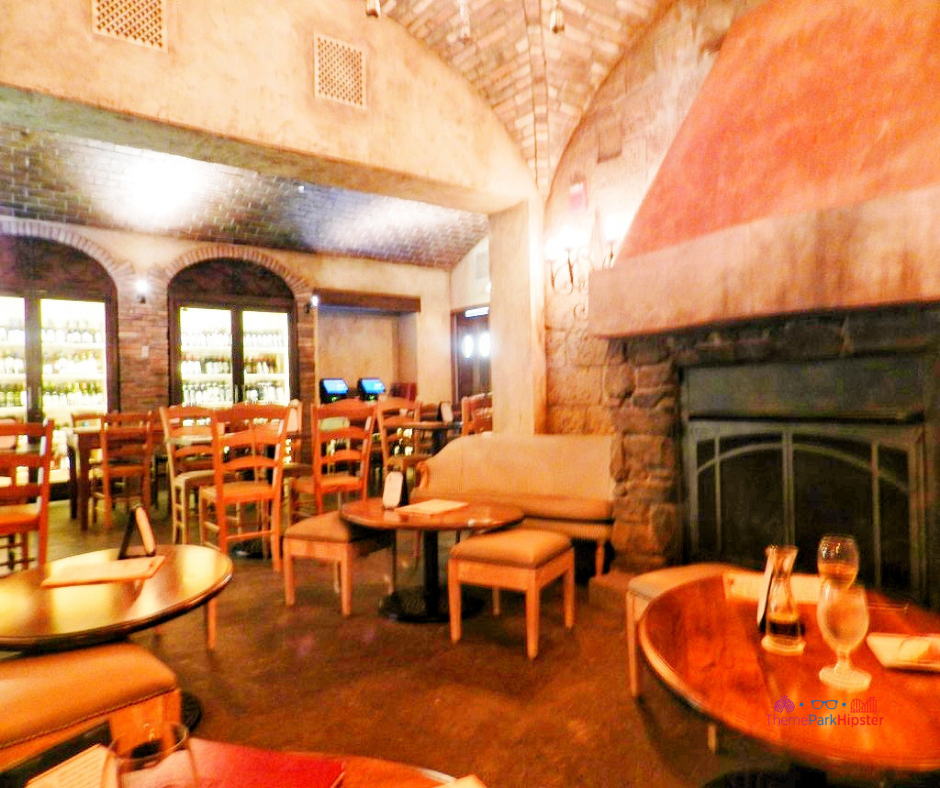 THIS POST MAY CONTAIN AFFILIATE LINKS. PLEASE READ MY DISCLOSURE FOR MORE INFO. Thank you!
What to Expect at Tutto Gusto in Disney World
Let's breakdown some of the things you can look forward to at Tutto Gusto in Epcot.
Atmosphere: Lounge
Disney Dining Plan Accepted: No
Food Selection: Italian Style
Location: In the Italy Pavilion at Epcot World Showcase
Mealtime: Lunch and Dinner
Reservations: Are not required
Tutto Gusto Hours: 11:30 a.m. to 9:00 p.m.
Tutto Gusto Wine Cellar Orlando Summary and Review
As mentioned earlier, Tutto Gusto is my go-to-spot in Epcot.
And because I love you all so much, I wanted to give you one of my little secret things to do inside of Epcot.
My friends and I have debated on whether or not to talk about this place to the public, since our once hidden spot, La Cava del Tequila in Mexico, is not so hidden anymore.
I've changed my mind about keeping this secret because I want you to enjoy Epcot just as much as I do.
If you're taking a solo trip, then Tutto Gusto is a must do place!
Not only is it intimate and quiet, it's a nice break from the hustle and bustle of the Epcot park. For solo traveling, this is definitely the spot you want to visit and have a nice glass of Pinot Noir.
ORDER NOW to secure your ticket reservation in the parks! GET MY DISNEY TICKETS!
Italy is slowly becoming my favorite Pavilion in the World Showcase.
Why?
Let's start off by talking about the extensive wine selection (over 200+) at the Tutto Gusto Wine Cellar.
I felt intimidated by the huge collection, but was quickly guided by my waitress to a nice red wine, Feudo Arancio Cantodoro Red Blend- Sicilia.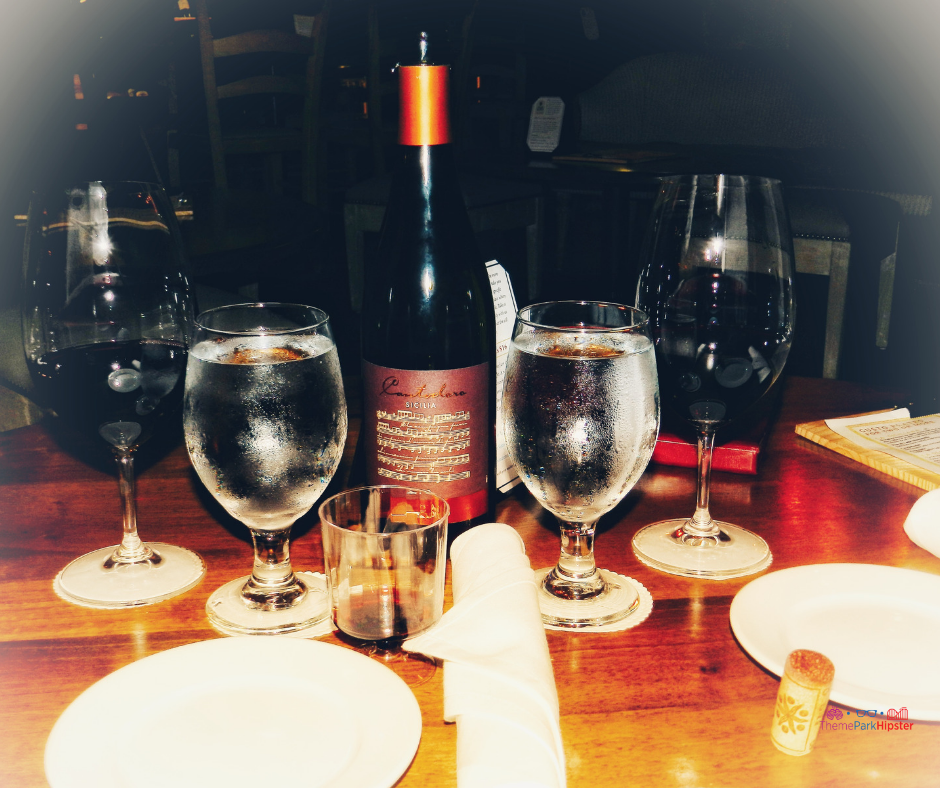 It was a perfect blend of Nero d'Avola and Cabernet Sauvignon that did not break the bank and was a perfect pairing with the risotto.
Feudo Arancio Cantodoro was also a bold fruit-driven red wine with lots of delightful black cherry notes.
I also tried the prosciutto, salami and cheese selection which were top-notch and a pleasant delicacy to have.
I finished my adventure with a deliciously, sweet cream-filled cannoli, which sent me right to heaven.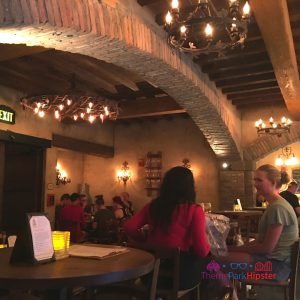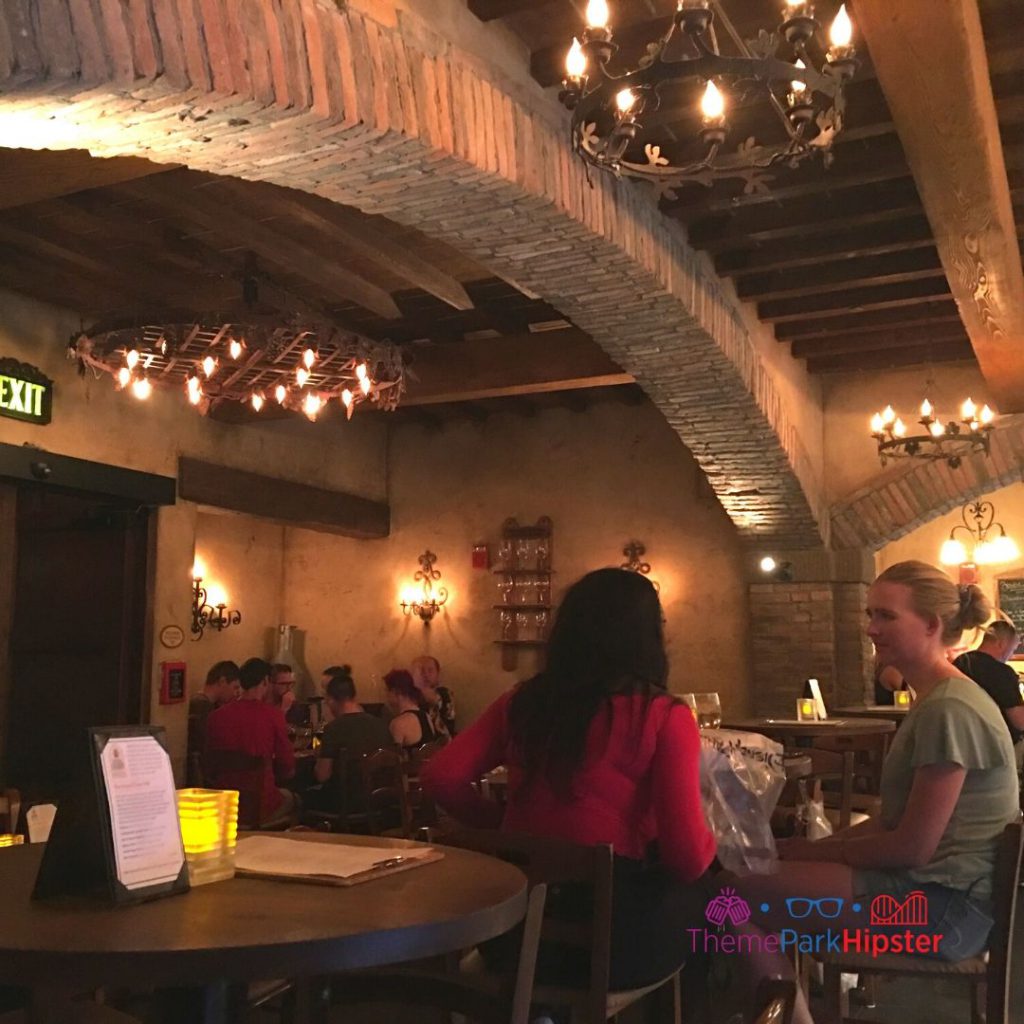 Inside this Italian lounge are charming couches and intimate tables and chairs all surrounding a fireplace.
This is meant to transport you deep inside one of Italy's most famous wine-tasting cellars.
And it definitely takes you there!
One of the only downsides for Tutto Gusto is the price. As you go through the menu below, you'll see that this place is quite pricey.
Although I love my solo trips, I'd love having someone (maybe you) join me on another visit so that we can split the cost.
Tutto Gusto Wine Cellar Menu
The Tutto Gusto menu is a pleasant surprise to the offerings inside Epcot's World Showcase. Check out the current items available at the cozy Italian wine cellar.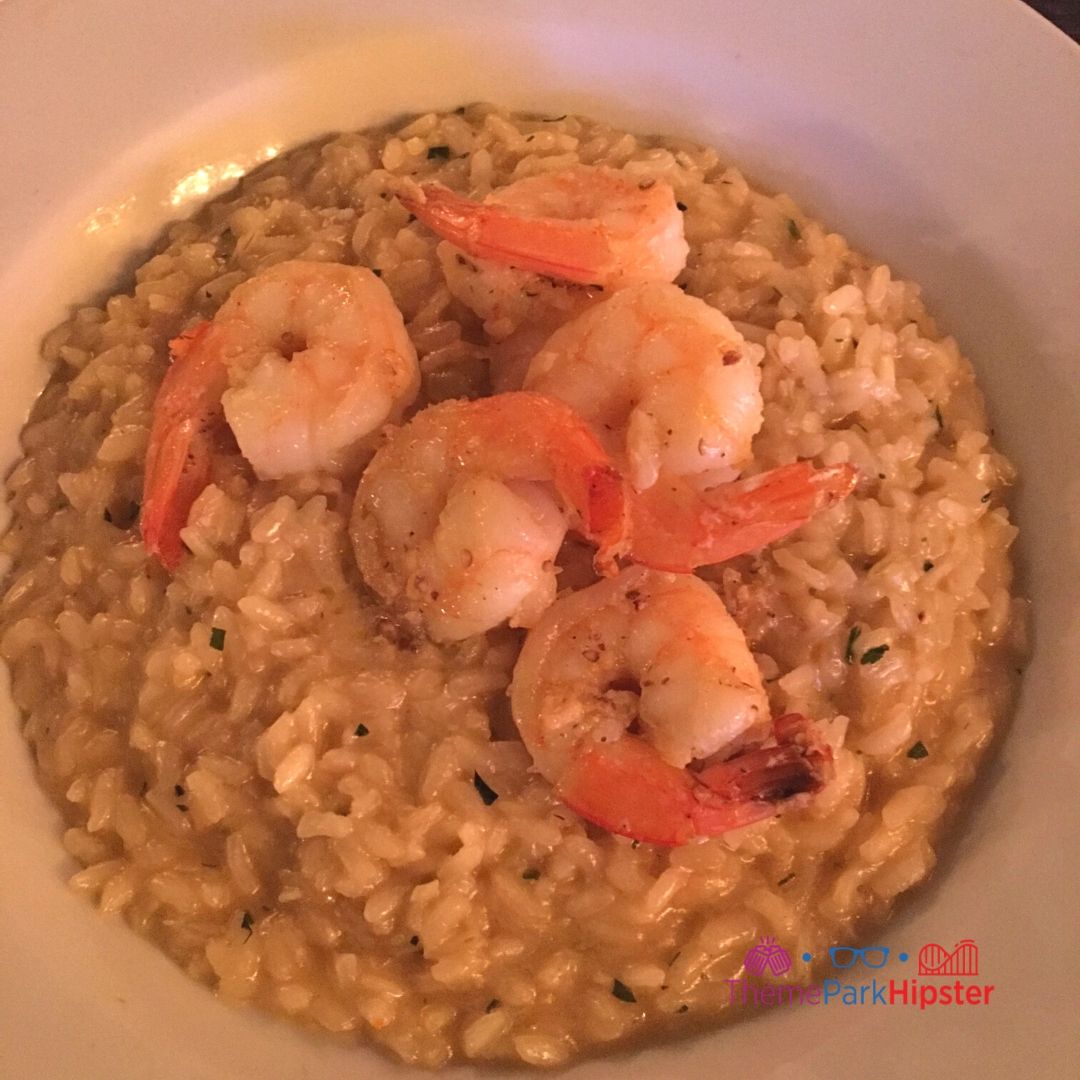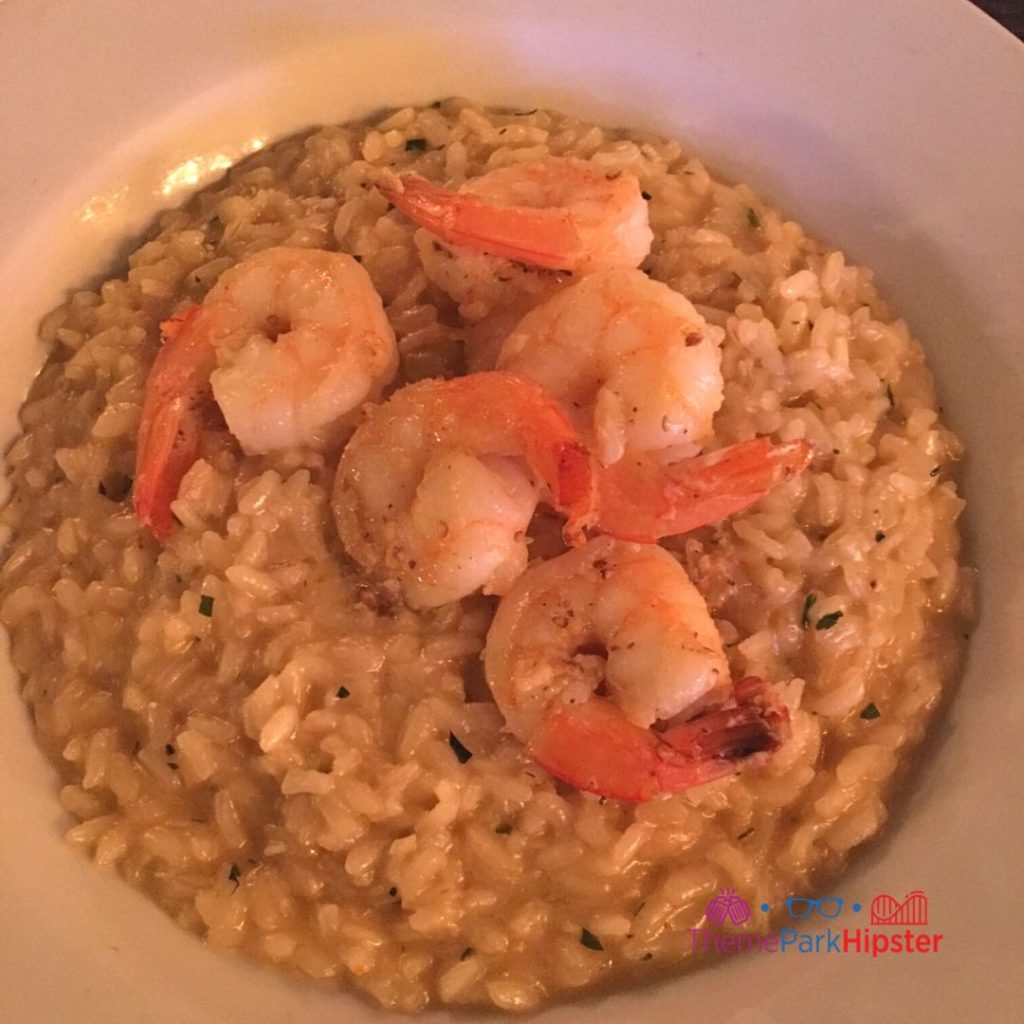 Gusto Plate – La Siciliana (for two or more)
Fior di Latte Mozzarella – pasta filata, hand crafted, made from cow's milk
Cacciatorini – black pepper, wine marinated, beef & pork cured sausages
Caponata – Sicilian eggplant agrodolce salad
Gusto Plate – La Serenissima (for two or more)
Asiago – semi-soft, butter scented
Asparagi Bianchi – white asparagus, lemon, olive oil, parmesan
Insalata di Mare – shrimp, squid, octopus, lemon, e.v.o.o.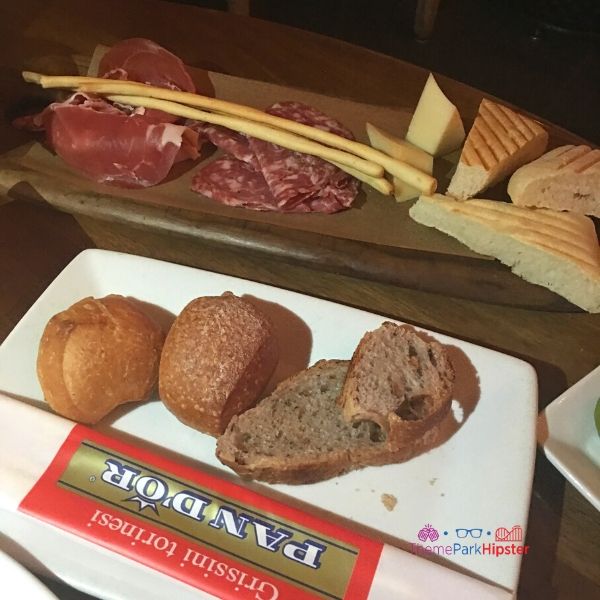 Gusto Plate – L'Alpina (for two or more)
Fontina Valdostana – semi-firm, alpine cow's milk cheese
La Tur – creamy blend of cow, sheep & goat's milk
Gorgonzola Cremificato – profoundly sweet, blue-veined cheese
Gusto Plate – La Maiala (for two or more)
Prosciutto di Parma Emilia Romagna – aged dry cured ham
Finocchiona Toscana – fennel & pepper flavored salame
Salametto Veneto – small, dried, spiced pork sausages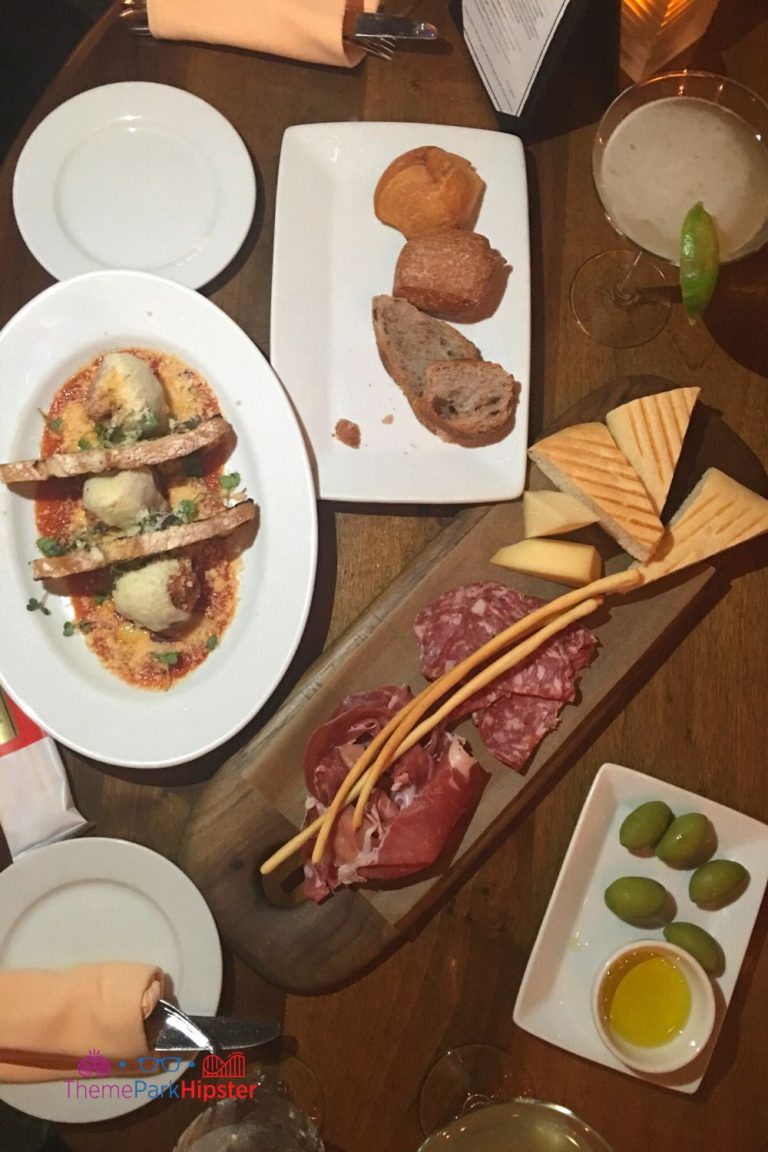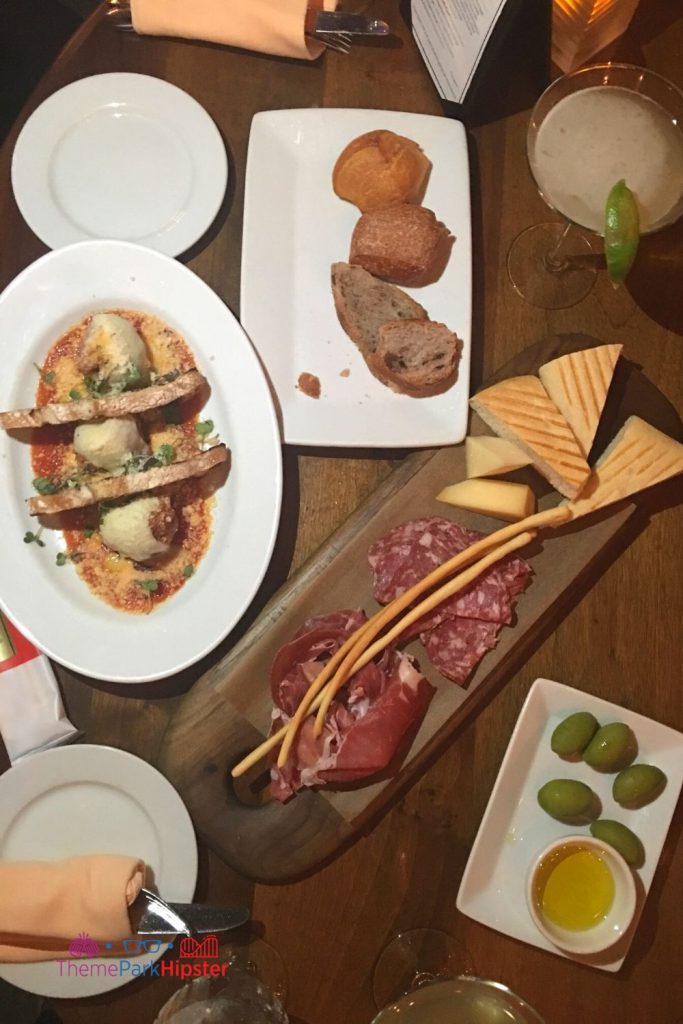 Gusto Plate – La Campagnola (for two or more)
Carciofi Olive oil-marinated artichokes
Olive di Cerignola marinated Cerignola olives, citrus zest, herbs
Bruschetta di Capri Tomatoes, basil, extra virgin olive oil
Ready to start planning your next Disney World vacation? Listen to the latest podcast episode on Apple or on your non-Apple device now!
Pasta
Lasagna – beef, veal, and pork ragù alla bolognese, béchamel, parmesan $27.00
Spaghetti – beef, veal, and pork meatballs, pomodoro sauce $22.00
Tagliatelle Campagnole – arugula and basil pesto, spinach, burrata cheese $27.00
Tortellini Panne e Prosciutto – cheese tortellini, prosciutto, peas, parmesan creamy sauce $28.00
Gnocchi Sorrentina – potato dumplings, roasted tomatoes, pomodoro sauce, burrata cheese $26.00
Involtini di Melazane – eggplant, ricotta, mushroom, pomodoro sauce $26.00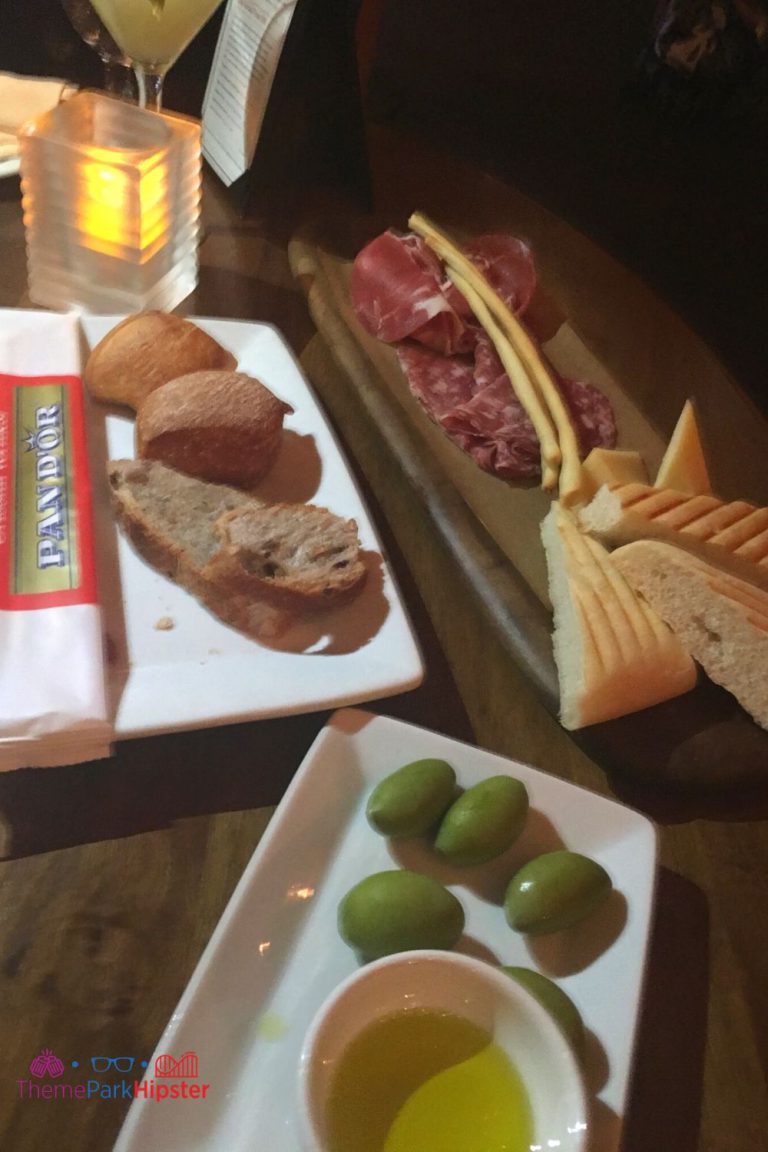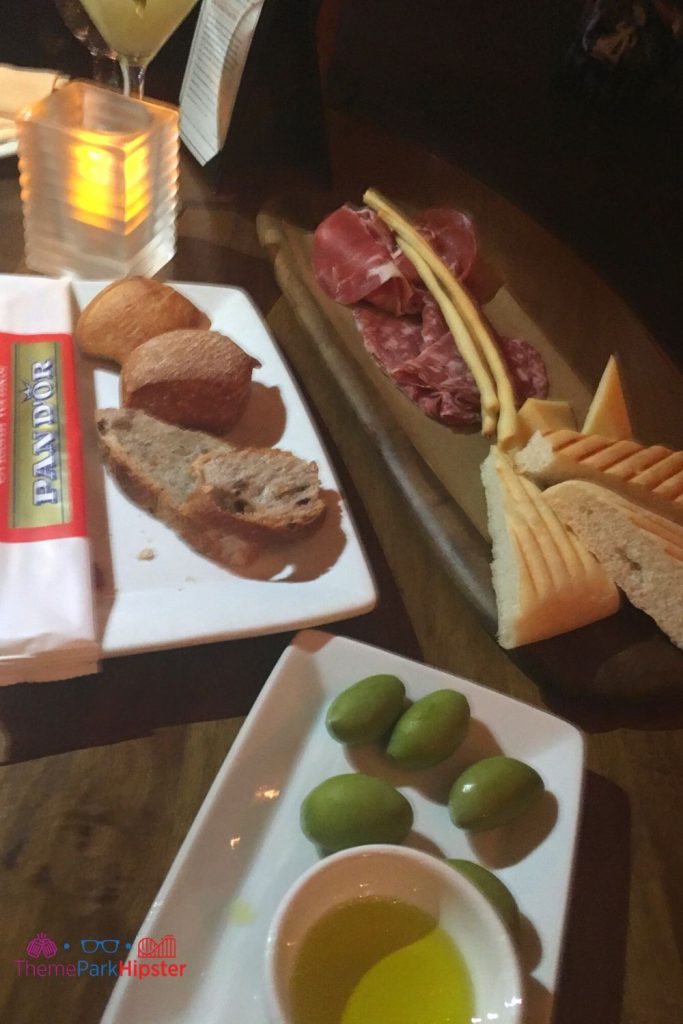 Carne e Pesce
Bistecca – 12 oz. grilled NY strip steak, crispy rosemary potatoes, caramelized cipollini onions, herb butter $36.00
Carpaccio di Manzo – charred wagyu beef, arugula, parmesan cheese, lemon dressing $20.00
Meatballs Parmigiana – pane di casa, tomato, mozzarella cheese $16.00
Petto di Pollo – grilled chicken breast, fettuccine pasta, parmesan cream $30.00
Salmone – grilled salmon filet, oven roasted winter vegetables, citrus butter sauce $31.00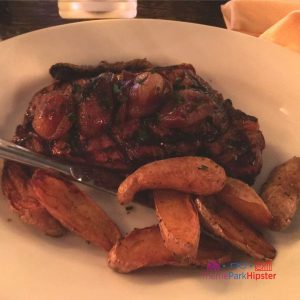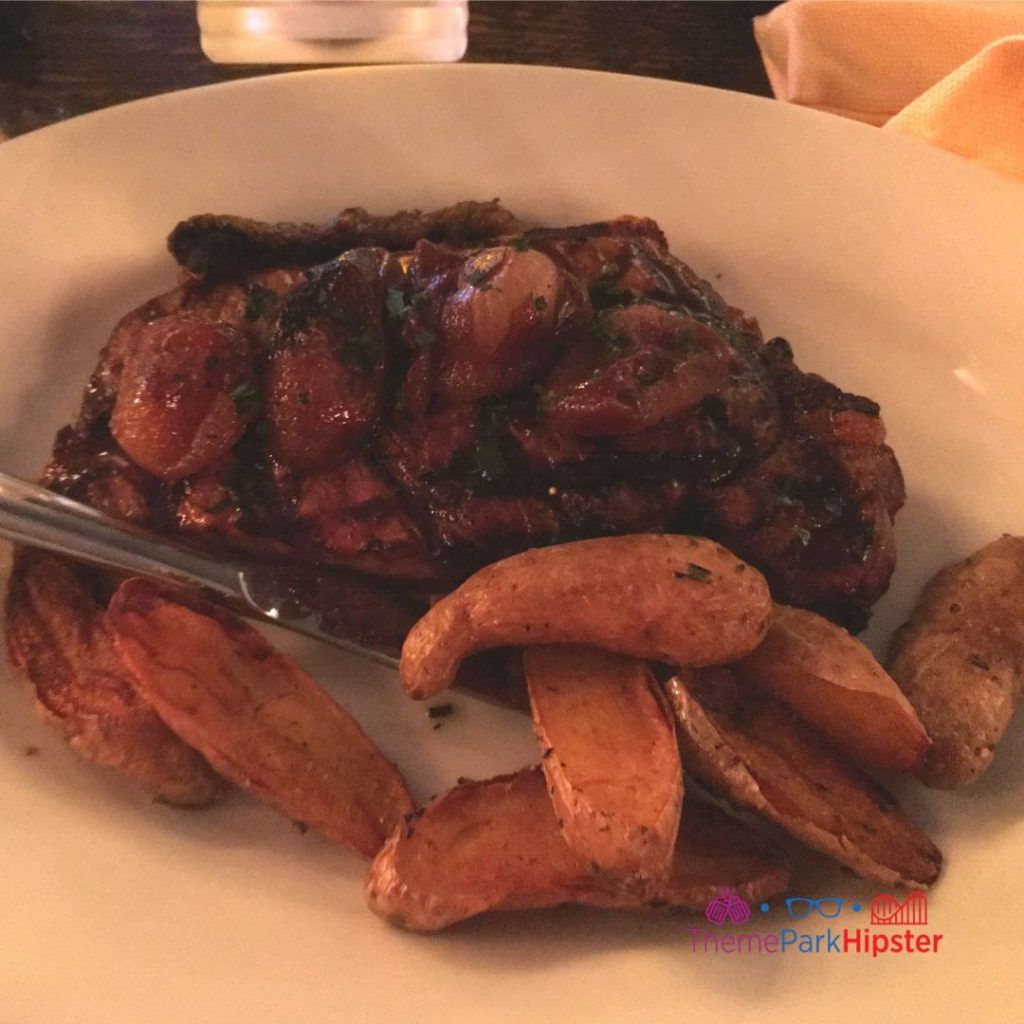 Gusto Specialties
Meatballs Parmigiana – Pane di casa, tomato, mozzarella cheese $16.00
Fettuccine – Egg pasta, grilled Chicken breast, Parmesan Cheese $30.00
Involtini di Melanzane – Eggplant, Ricotta, Mushroom, pomodoro sauce $26.00
Panini (12.00 per two choices or 16.00 per three choices)
Prosciutto di Parma Panini – served with Caesar salad wedge. Order by per two choices or per three choices
Fior di Latte Mozzarella & Pomodoro – served with Caesar salad wedge. Order per two choices or per three choices
Carciofi & Fontina – served with Caesar salad wedge. Order per two choices or per three choices
Gorgonzola Cremificato – served with Caesar salad wedge. Order per two choices or per three choices
Fontina & Salametto – served with Caesar salad wedge. Order per two choices or per three choices
Dolci (Dessert shooters)
Mocha Tiramisu $4.00
Chocolate Caramel $4.00
Vanilla Panna Cotta $4.00
Nutella Chocolate Cake $4.00
Cannoli $4.00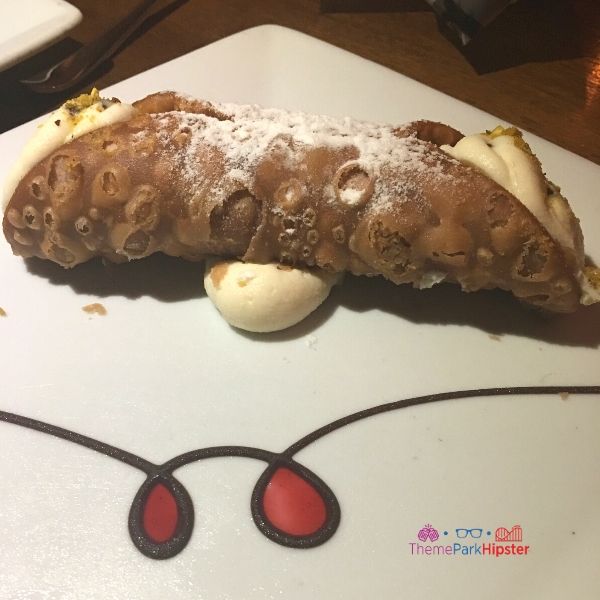 Tutto Gusto Disney Menu Specialty Drinks
Americano– Campari, sweet Vermouth, club soda with an orange twist $13.00
Bellini– White peach and raspberry puree, Prosecco $12.00
Bruschetta Martini– Organic crop tomato vodka, Martini Rossi Dry Vermouth $14.00
Carpano Punt E Mes– with a slice of orange $11.00
Cynar & Soda– with a slice of orange $11.00
Espresso Coffee Martini– Vanilla vodka, coffee liqueur, Italian espresso $14.00
Frizzante– Campari, mandarin juice, Prosecco $14.00
Italian Margherita– Patron Silver, Caravella Limoncello, fresh lime juice $14.00
Italian Martini– Citron vodka, Limoncello, triple sec, lemon juice, sour mix $14.00
Martini Your Way-$11.00 to $14.00
Pomegranate Cosmopolitan– Citrus Vodka, Triple Sec liqueur, pomegranate juice $14.00
Rossini– Strawberry puree, Prosecco $14.00
Special Italian Sangria– A refreshing blend of Italian wine and fresh fruit $9.00
Spritz– White wine and a splash of sparkling mineral water with a lemon twist $9.00
Hipster Power Tip: Get the Italian Margherita…you'll thank me later!
*Prices and menu items subject to change.
5 Pro Tips for Tutto Gusto at Epcot
Ask for secret menu items – There are alternative options the Cast Members will tell you about that are not on the menu such as, additional meat and cheese selections.
You can order items from the full-service restaurant, Tutto Italia.
Remember that the sharing boards can be customized to fit your needs.
Take note of the full-service bar that offers amazing cocktails, just in case you're not into wine.
Go prior to the lunch or dinner rush to get the perfect seat. Tutto Gusto only seats 96 people.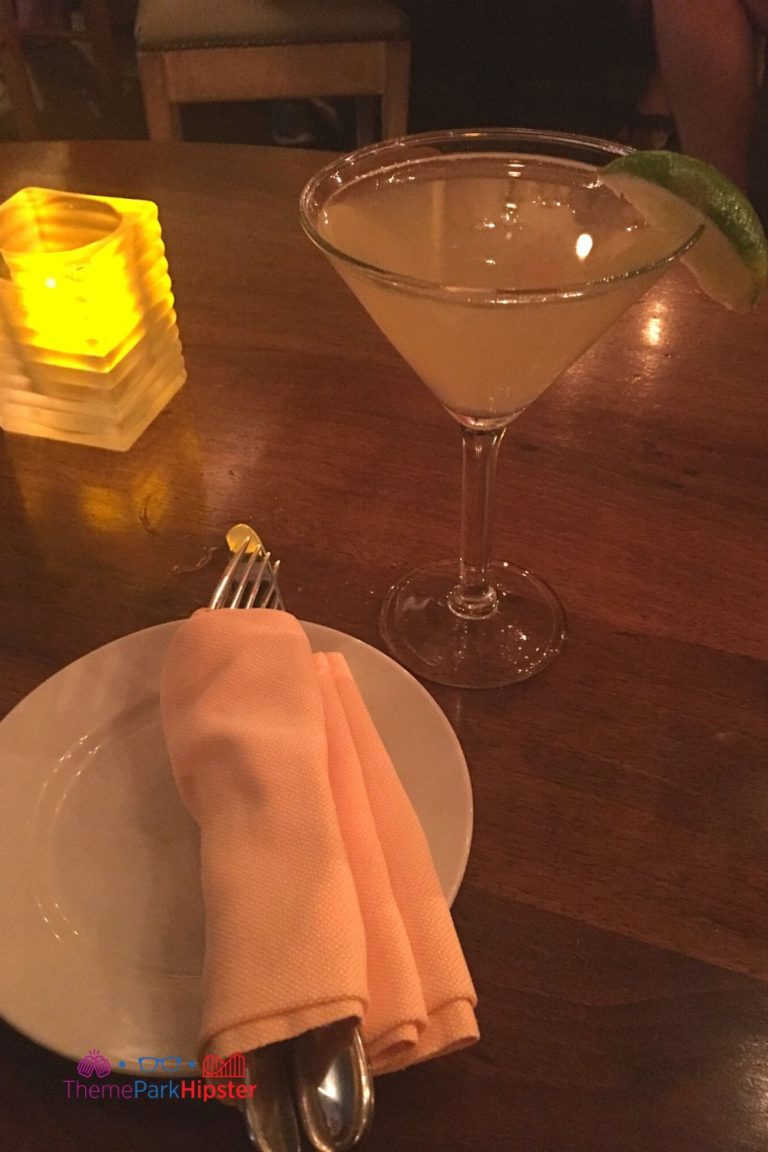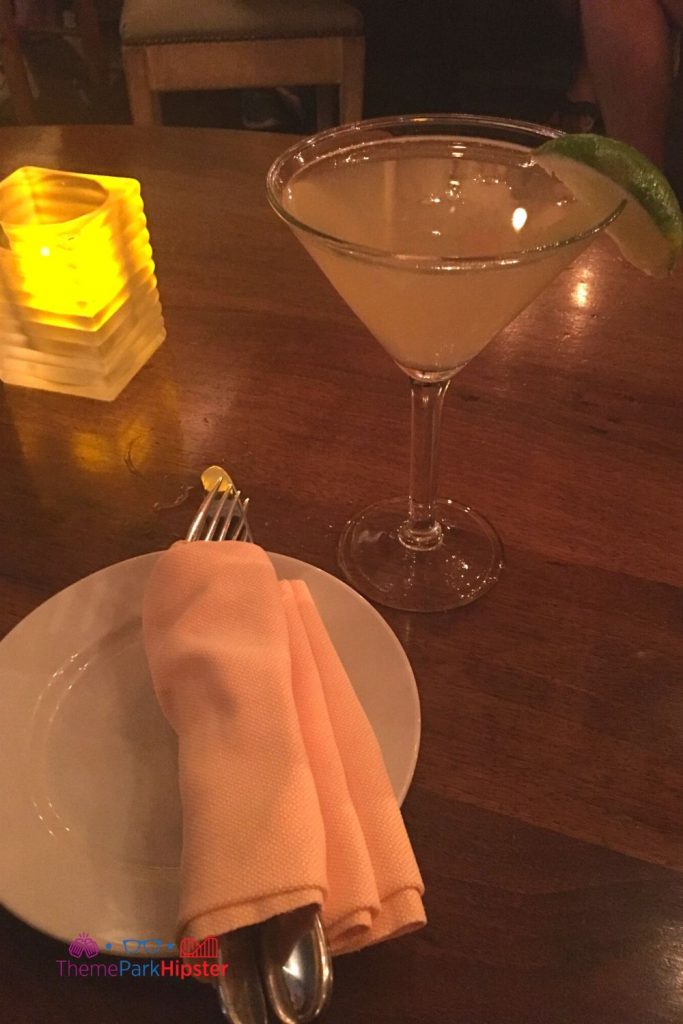 What to Know Before You Go
Now that you know what to expect from Tutto Gusto, let's on over a few questions that you may have for your upcoming Disney trip.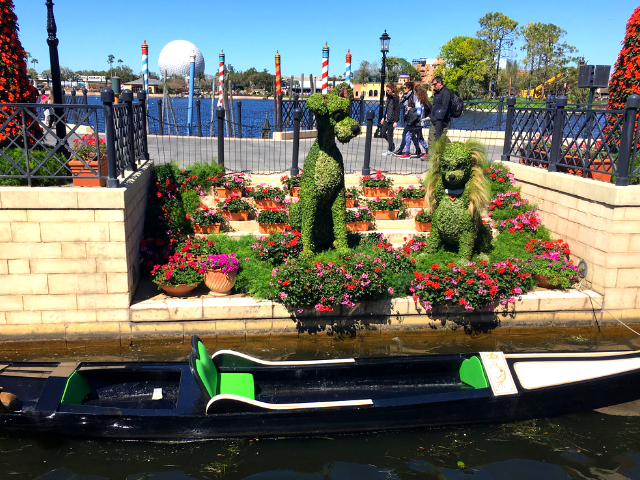 How much does Epcot cost?
A one-day REGULAR season Epcot ticket starts at $109* (prices do fluctuate based on the season).
What are the Best Rides at Epcot for Adults
Soarin Around the World
Living with the Land
Spaceship Earth
Test Track
Mission Space
Frozen Ever After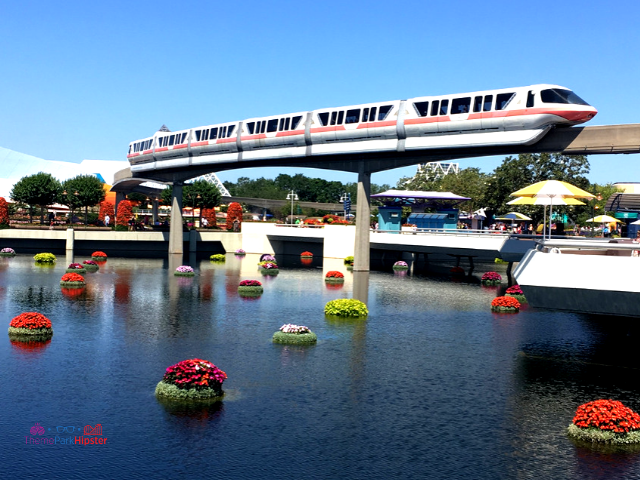 How many countries does Epcot have?
There are 11 (eleven) countries in Epcot.
What are the countries in Epcot?
Mexico
Norway
China
Germany
Italy
America (United States)
Japan
Morocco
France
United Kingdom
Canada
Where are the best places to have a drink Epcot?
Like everywhere in the park and I mean that.
Nothing else needs to follow…
I will say that La Cava Del Tequila in the Mexico Pavilion is one of the absolute best places to chill and enjoy a drink. If it's not too crowded.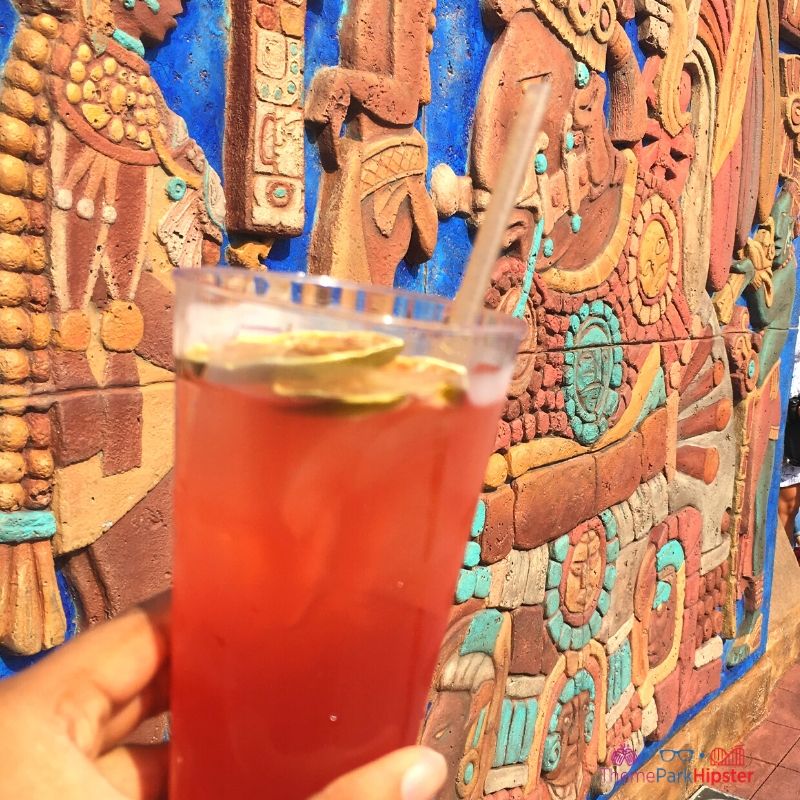 Have Your Drinking Around the World at Epcot Passport Handy
Don't get overwhelmed trying to plan your perfect route around World Showcase. You already have enough to worry about for your Disney vacation.
Get your Drinking Around the World Passport to help you keep track of your progress of the best drinks in Epcot.
Grab your own copy below!
---
What are the best drinks at Epcot?
My top 5 must have alcoholic beverages are:
Avocado Margarita from La Cava del Tequila in Mexico
Mediterranean Journey for Spice Road Table in Morocco
Leaping Leprechaun from Rose & Crown Pub in United Kingdom
Apple Ice Wine from the Trading Post in Canada
Tokyo Sunset from Kabuki Cafe in Japan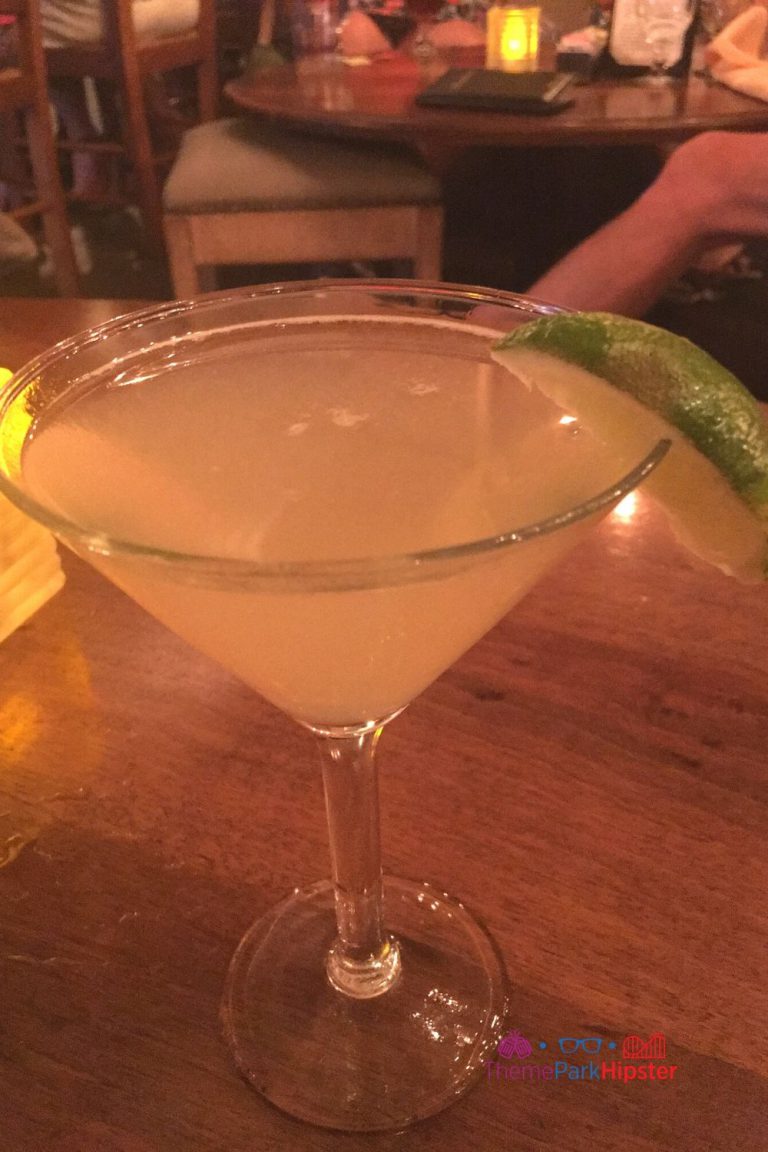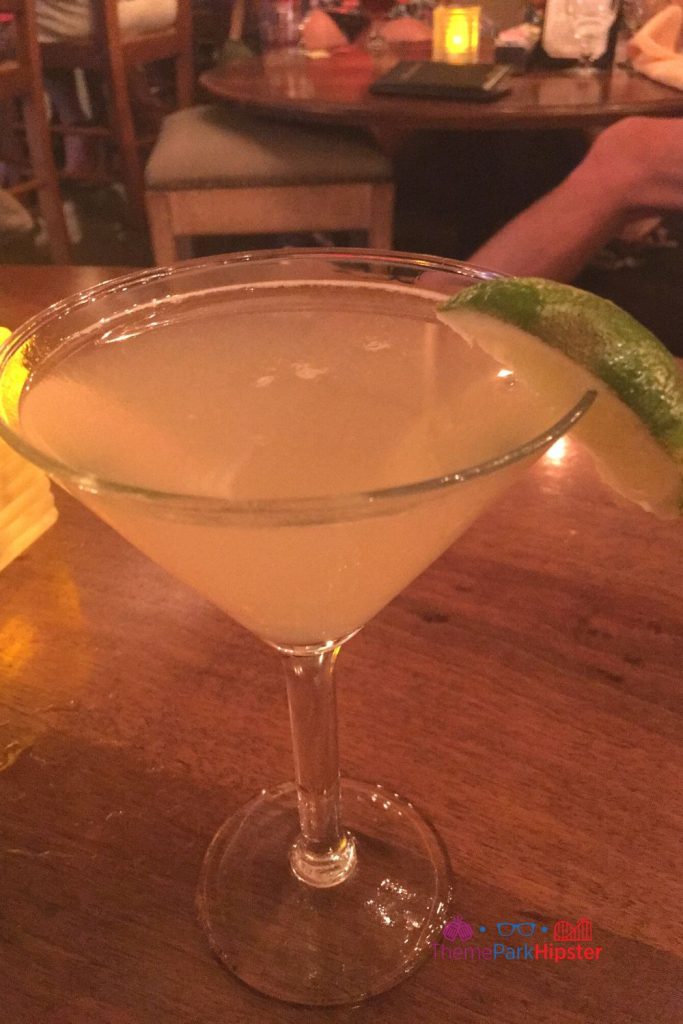 You can read more of the best drinks at Epcot here!
Final Thoughts on Tutto Gusto
The intimate atmosphere, the nice romantic over-sized fire place, and the cozy vibe are all of my main reasons you must experience Tutto Gusto on your next adult Epcot trip.
The small plate pairings were as expected for any type of establishment like this. However, the Disney magic always take simple adventures to another level!
Overall, I was able to enjoy the stylish atmosphere that helped eased the rest of my day at Epcot and hopefully it will ease yours too.
There you have it…
You now know all about my little favorite hidden gem at Epcot. Shhh, don't tell anyone, it will be our secret!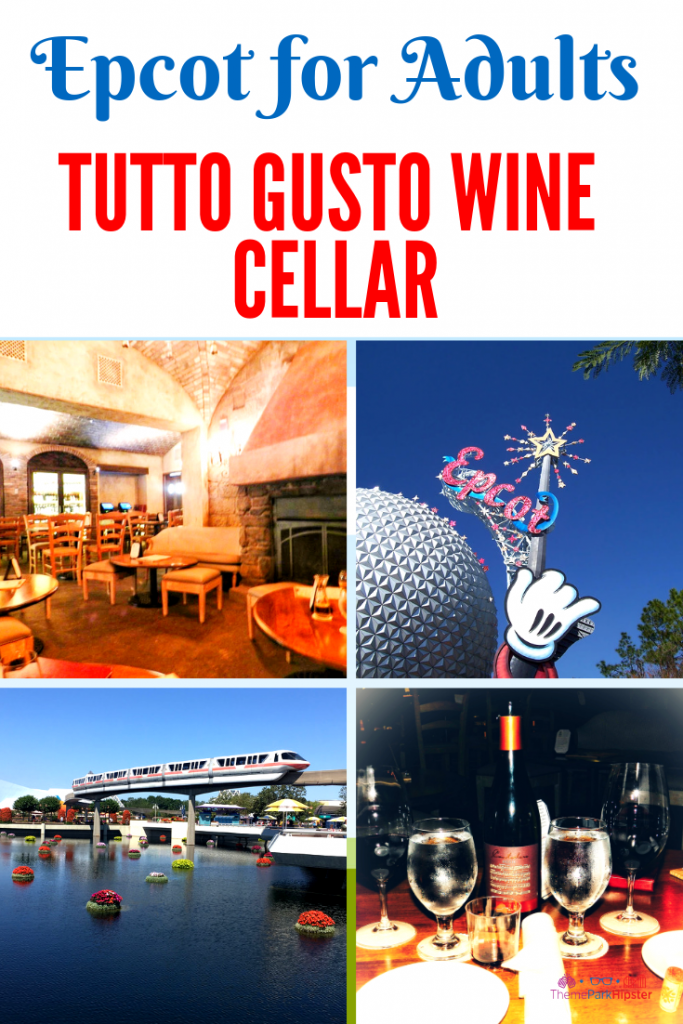 Have you ever been? If so, let me know in the comment section below.
---
If you enjoyed this article, then you'll love these:
Until next time, Happy Park Hopping Hipsters!
NikkyJ
(Original Article Written in Fall 2012/Updated February 28, 2020)