Have you ever dined in a mixture of Mediterranean cuisine at Spice Road Table in Epcot?
One thing that goes well with fun rides, family time, and play, is good food. At Walt Disney World, there are tons of awesome restaurants you can choose from.
In this guide, we will be giving a detailed review of the Spice Road Table.
It is one of the popular restaurants in the theme park and we know you are always on the lookout for better experiences whenever you visit Walt Disney World.
If you are ever hungry while at Walt Disney World, all you need is Spice Road Table.
THIS POST MAY CONTAIN AFFILIATE LINKS. PLEASE READ MY DISCLOSURE FOR MORE INFO. Which means if you click on certain links, I may receive a small commission at no additional charge to you.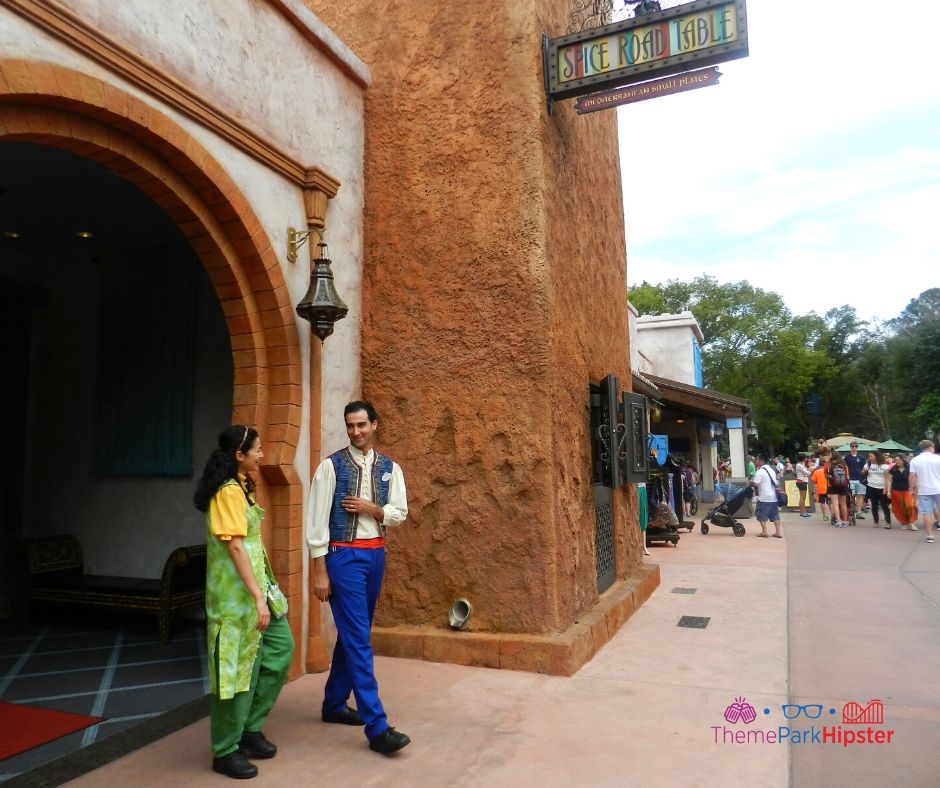 Spice Road Table: A Theme Park Favorite
The Spice Road Table brings a new flavor to Epcot. Its wonderful waterfront views and spacious eating area for both outdoor and indoor dining make it one of my favorite Epcot restaurants.
If you have never visited this restaurant, the initial warmness and welcoming feeling you get on your first visit will keep you coming back.
The Cast Members are so friendly and love sharing information about their country to you.
Just ask…
…I promise they will be happy to have a conversation with you. Especially if your on your solo Epcot trip.
It is located at the Moroccan Pavilion in World Showcase and is a reasonably priced outlet.
The Opening
The opening of Spice Road Table ties in with the increase number of options the theme park has begun to see in recent years.
Without much options added to the existing lineup for years, the park is using these new expansions to add a new lease of life to the park.
Which make us Disney fans very happy!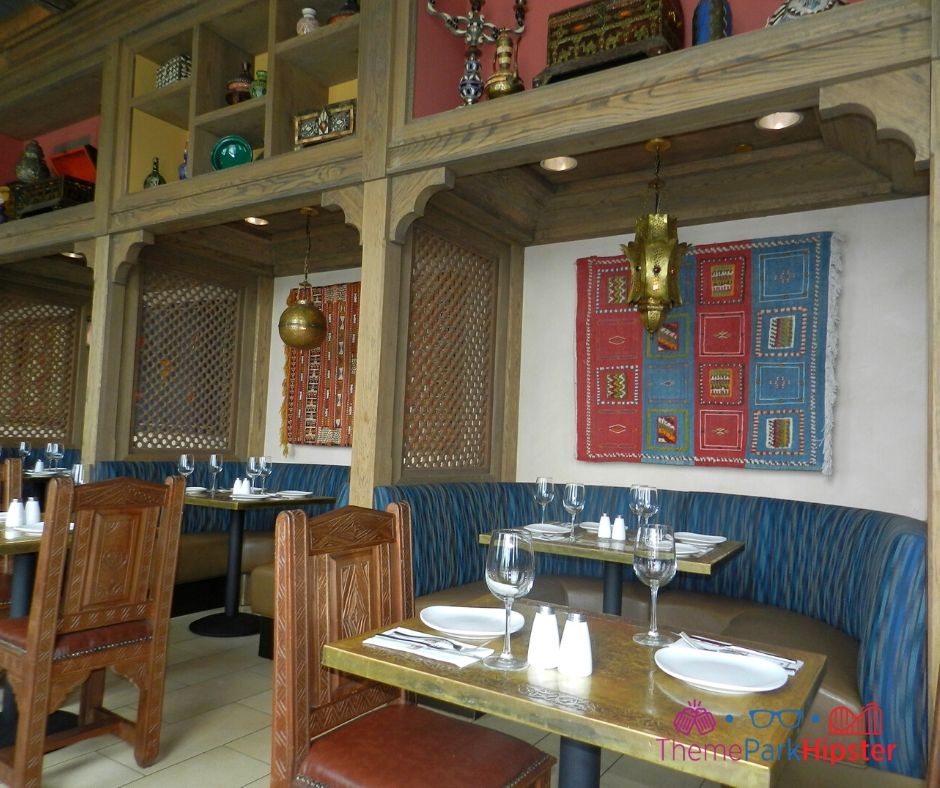 The restaurant is superbly decorated with expert finishings and it is well suited for both solo travelers and family.
Since opening in 2014, the restaurant has slowly become a spot for Epcot Guests to visit when they want fun wholesome meals. Vegetarians can also take advantage of their special non-meat meals.
Have a DIFFERENT kind of Orlando vacation with a Resort home next to Disney World. Find Your Disney Resort Vacation Rental here!
Does the Spice Road table accept Disney Dining Plan and Tables in Wonderland?
Currently, Spice Road Table DOES accept both Tables in Wonderland or Disney Dining Plans, so that's a plus for your trip.
Spice Road Table Environment
Love looking at beautiful areas, architecture, and a decent view? Then you will get your money's worth at Spice Road Table.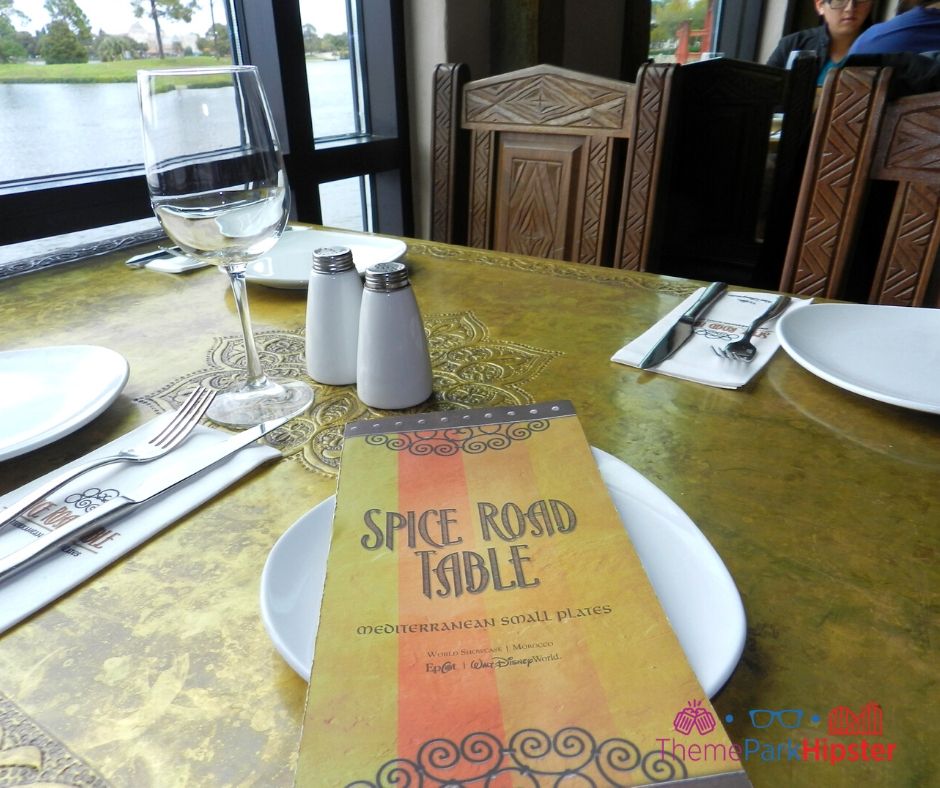 If you dining indoors near the window, you will have the pleasure of looking at the beautiful park lagoon through beautifully crafted wide windows.
Beautiful chandeliers and well patterned walls give diners a good feeling while eating. Outdoor diners are not left out as they are treated to a relaxed environment with a refreshing breeze from the lagoon.
You'll notice the metal cut lanterns above the outdoor patio creates a serene and pleasant outdoor eating experience if you decide to eat outside.
The Decor
Spice Road Table uses a unique blend of cultures to properly decorate inside the restaurant. You will find artifacts, prints, and replicas of relics from Africa, Asia, and Europe.
These are used in an agreeable way throughout the restaurant decor. The seamless blend gives the restaurant an identity that stands out.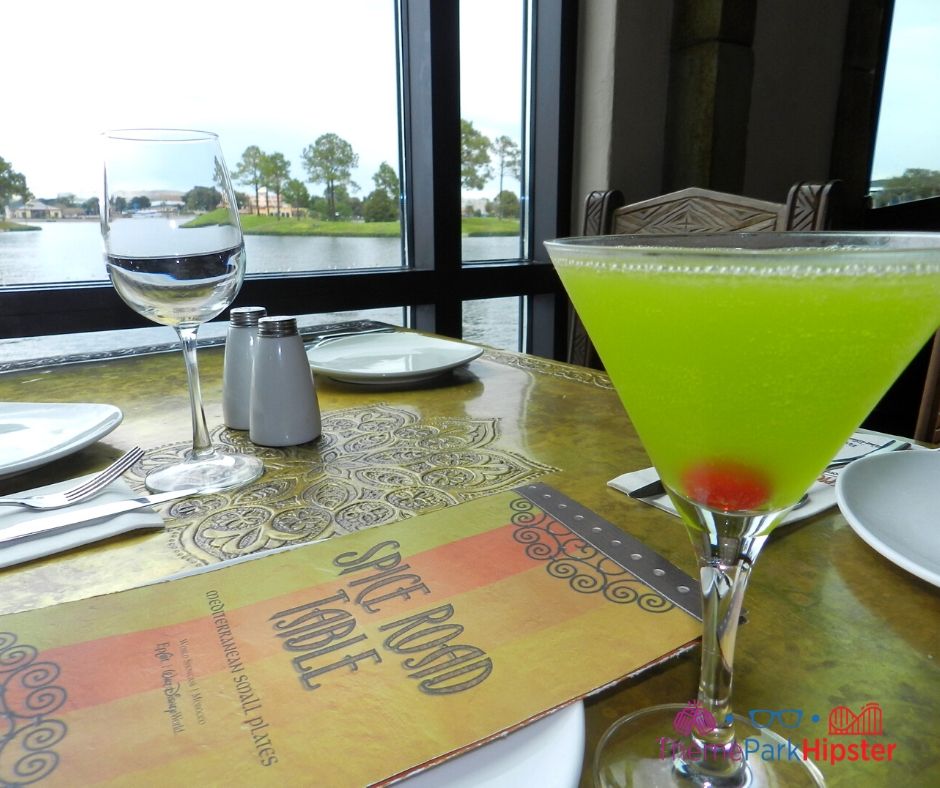 You can take advantage of the cozy eating booths that can seat a large number of people to have a fun dining experience. Or you can sit quietly in front of the over-sized windows if you are alone or on a Disney date.
All these come together to create one of the best dining experiences at the theme park.
Can you see epcot forever from Spice Road Table?
Absolutely! At Spice Road Table, you'll have an incredible view the spectacular Epcot fireworks show.
Plus, it's perfect when accompanied with great food and outstanding drinks.
Ready to start planning your next Disney World vacation? Listen to the latest podcast episode on Apple or on your non-Apple device now!
The Eating Arrangements – Spice Road Table Menu Options
Eating at Spice Road Table can be overwhelming at first because there are so many dining options available.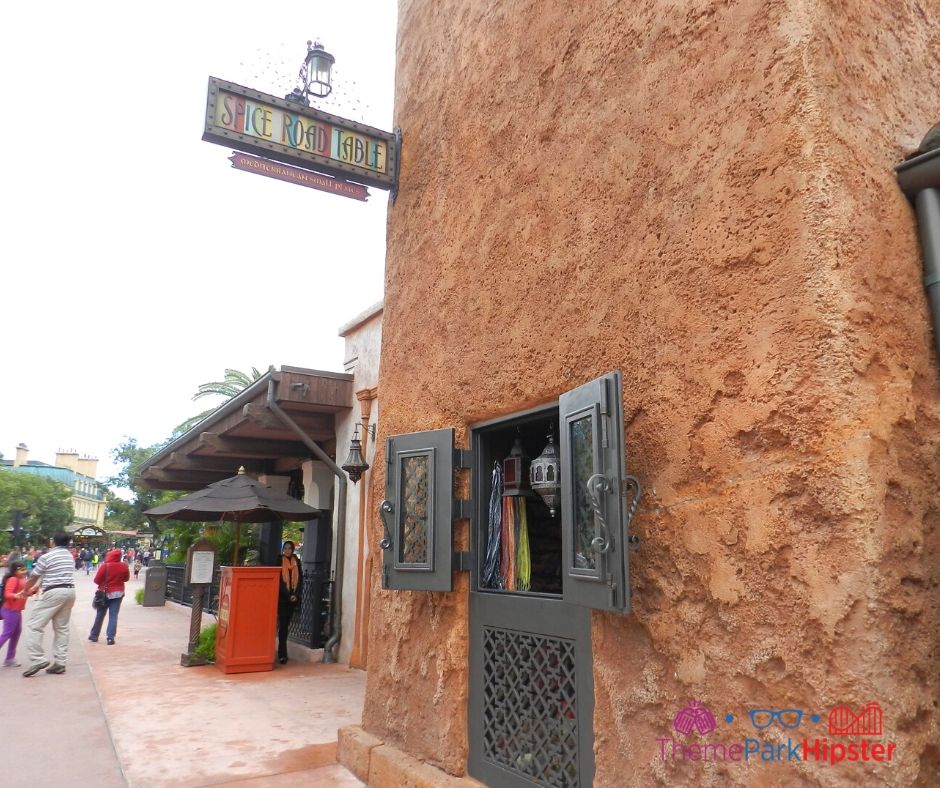 The menu tries to incorporate various cuisines and drinks from around the world to give diners a feeling of experiencing the Mediterranean area through food.
The three paged food and drink menu leaves a lot for visitors to pick from and some favorites such as Moroccan Lamb Sausage, Spicy Garlic Shrimp and Fried Calamari all make the menu.
We will now break down the menu into the different sections and treat them independently.
Small Plates Menu
The small plates menu at Spice Road Table has some popular dishes like Humus Fries on its menu.
Since the restaurant is a Tapas styled one, most diners are encouraged to order various small plates that go well together and will give the diner's a wider variety of tastes.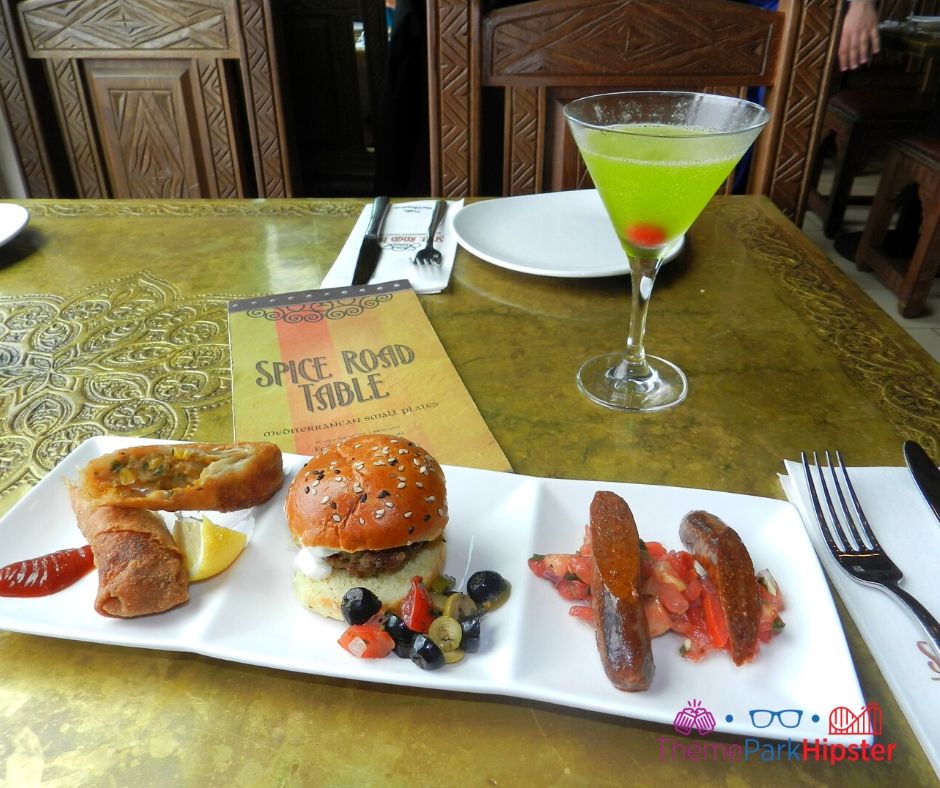 This may be a sharp change of pace from regular park restaurants that offer a clear distinction between their Breakfast, Lunch, and Dinner options.
Therefore, I encourage you to eat a combination of meals from the small plates menu.
Cast Members also recommend the best combinations, so if you are stuck while trying to pick something for the family, you can ask for help.
Some of the dishes in this section of the menu include:
Rice-Stuffed Grape Leaves
Hummus and Imported Olives
Fresh Tuna Salad
Brie Fondue
Spicy Garlic Shrimp
Moroccan Lamb Sausage
Hummus Fries
Fried Calamari
Harissa Chicken Roll
Fresh Fish Croquettes
Spice Road Table is also able to deliver on well cooked dishes if the small plates are not that appetizing to you.
Entrees Menu
I understand that the entrees will make or break your dining experience anywhere, so it is always best to seek advice when choosing them.
The entree menu has a range of options for you to choose from. When ordering, it is best to try to look at the menu prior to your visit so you'll have an idea of what you want to try.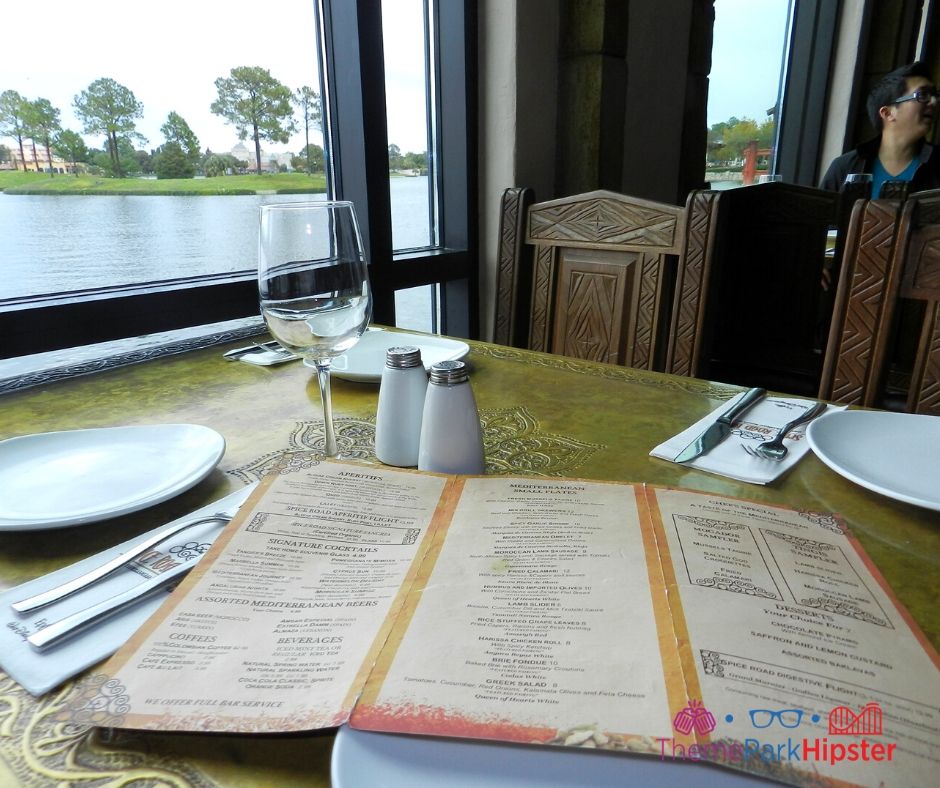 You can also choose your entrees with help from the Cast Members as they will guide you on the best meal combos.
Some of the dishes in this section of the menu include:
Mediterranean Vegetable Platter
Lamb Sliders
NY Strip Steak
Mix Grill Skewers
All-Natural Roasted Chicken
Yellowfin Tuna
Coriander-crusted Rack of Lamb
If you're like me and you want to have a taste of both worlds, you could order more than one entree and small plate to please your palate. The food is reasonably priced (for Disney) so you do not need to worry about cost.
Drinks Menu
Ahh…my favorite part of the menu, the drinks!
Drinks are the life of any meal. They tie it all together and make it all worth your while. Spice Road Table has a variety of delicious cocktails available for consumption.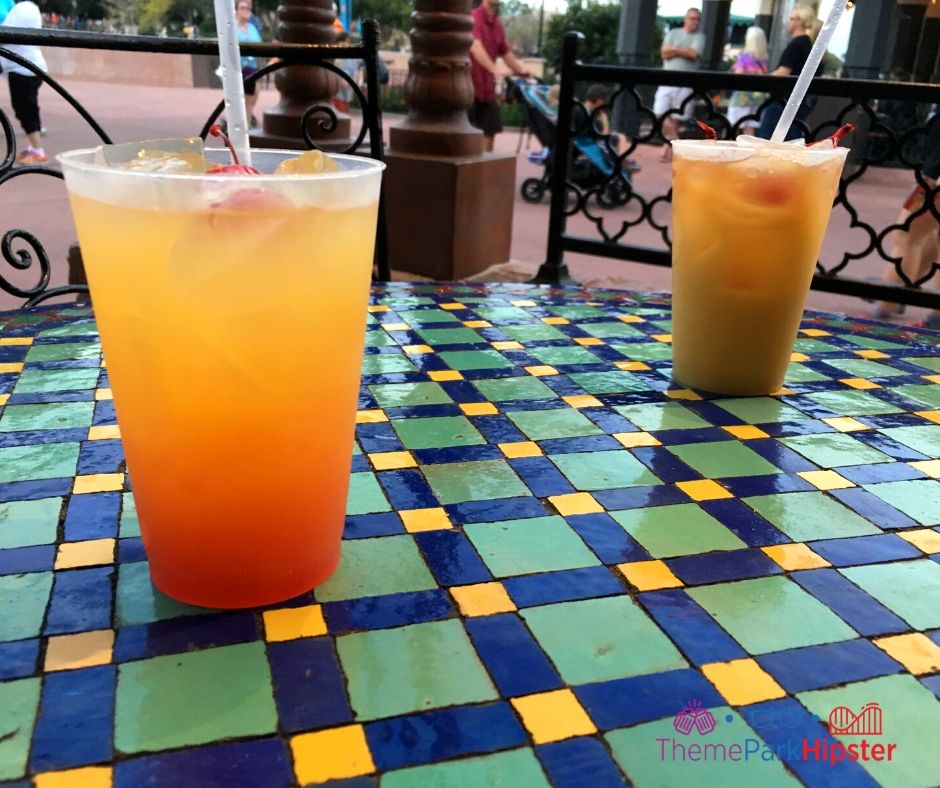 The drink menu is classified into categories such as cocktails, beer, wine and beverages.
Some of the cocktails are custom made and can only be enjoyed at Spice Road Table. So, I suggest that you try out those drinks and let me know what you think.
Some of the cocktails in this section of the menu include:
Cyprus Sun
Marbella Summer
Tangier's Breeze
Andalusian Nights
Pomegranate Mimosa
Cyprus Sun
Spice Road Signature Sangria
These drinks can be ordered as part of a meal or as stand alone by walking up to the bar on your Epcot drinking around the world tour.
If you want a better experience, you should order drinks at different intervals while at the restaurant. For example, you could order one drink while you wait for your order and get another with your meal itself.
There is no hard and fast rule to enjoying yourself while you are at Spice Road Table.
Dessert Menu
Desserts crown your meal and serve as the closing chapter to your dining experience. True the name, Spice Road Table offers a variety of sweet courses for visitors to enjoy.
Although I must note that the dessert section of the menu does not host as many options as all the other parts. The menu here is streamlined and offers guests a narrow field of vision to fulfill your stomach desires.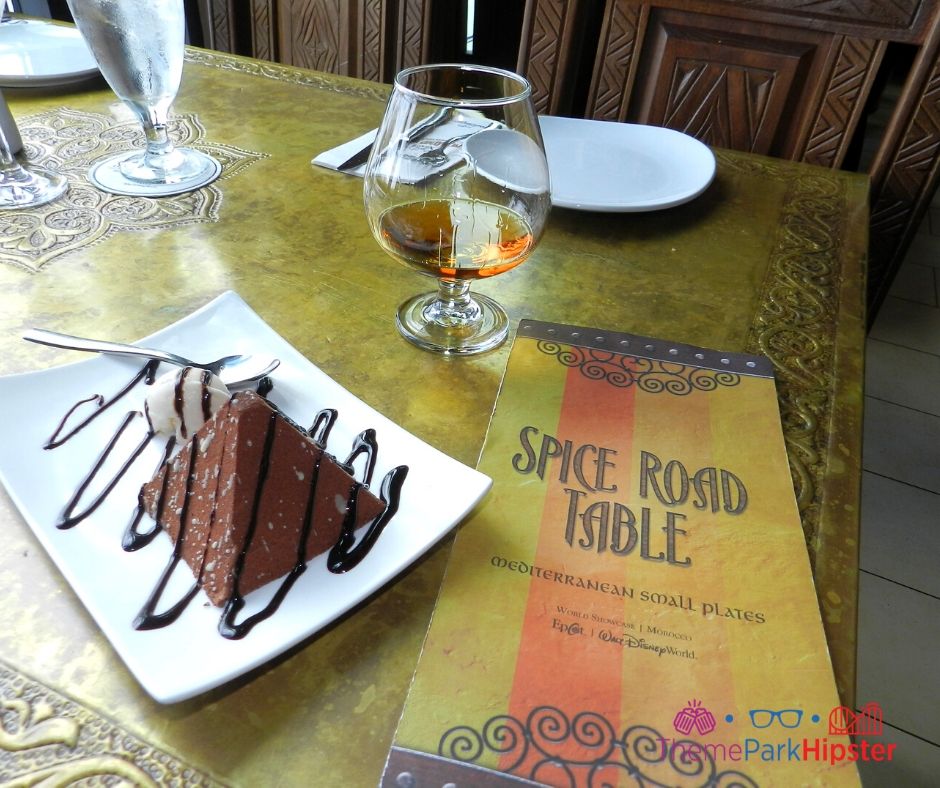 Some of the desserts in this section of the menu include:
Chocolate Pyramid
Assorted Blakavas
Pistachios and Saffron Custard
Get the full menu here.
Join the Conversation on the Solo Disney Traveler Community on Facebook!
7 Pro Tips for Your Trip
Now that you know what to expect on your Epcot dining adventure, let's go over a few tips to make your trip easier.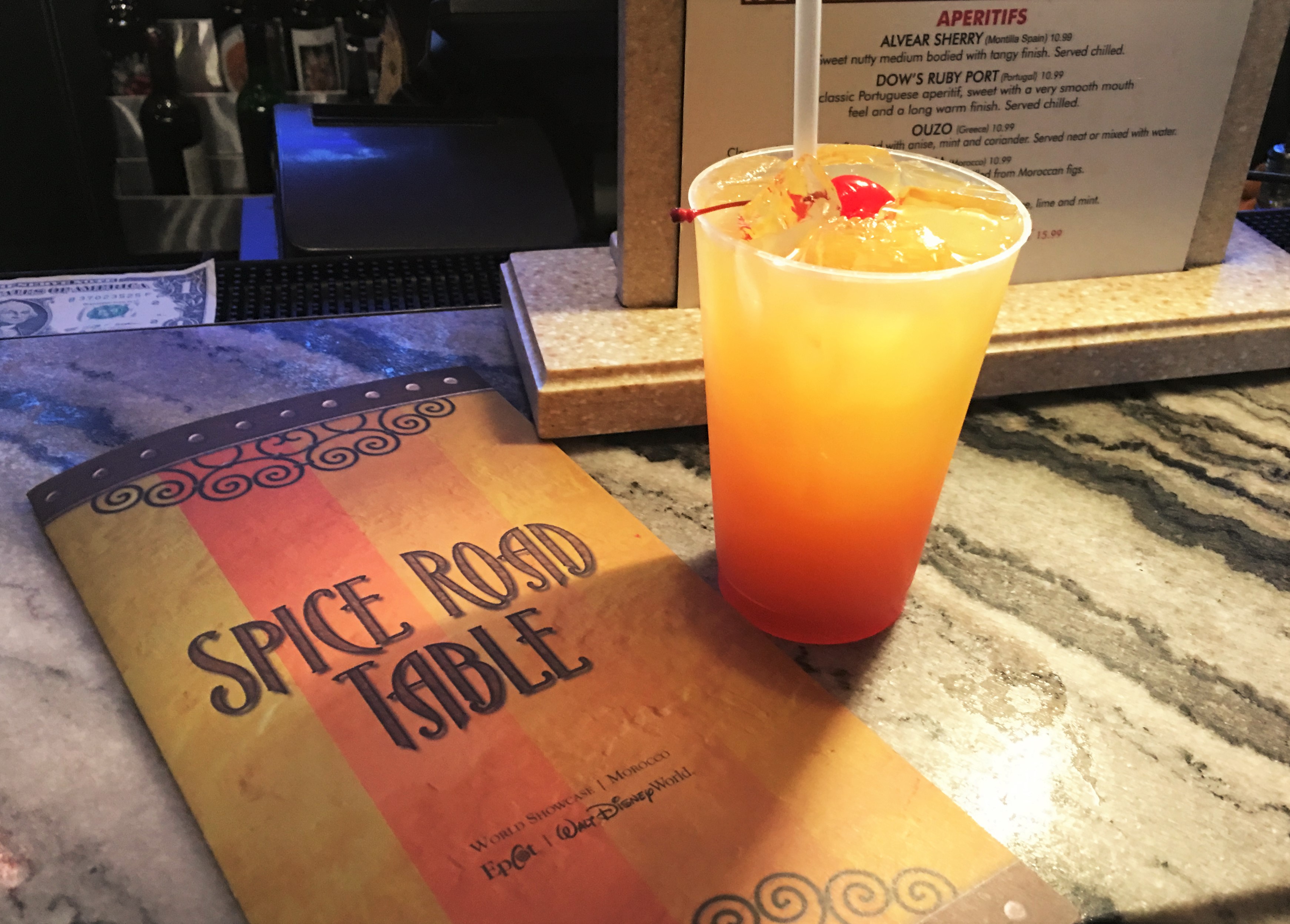 Let the Cast Members know if you have any allergies or any other dining requests.
If you want to watch the Epcot fireworks show, try to book a reservation about 45-minutes to an 1-hr prior to the show starting.
Ask Cast Members if you can be seated near the window or in a seat with the best World Showcase Lagoon view. Wait if you have to. It will be worth it.
Book your dining reservation ahead of time.
Remember that you could get something special if you indicate on your reservation that you are celebrating something like a birthday or an anniversary. Be sure to wear your free Disney birthday pin.
Also remember that Tables in Wonderland and the Disney Dining Plan are both accepted.
Have fun and enjoy yourself on your Epcot trip!
Final Thoughts and Review
My experience has always been superb at this Epcot restaurant. That's why I ALWAYS recommend it for any Disney Guest. Especially solo travelers.
If you're on the fence about what to get, then ask your waiter to recommend a combination of things to try.
On my trip I tried the Three Lamb Sliders which was juicy, packed with intoxicating spices and perfectly seasoned.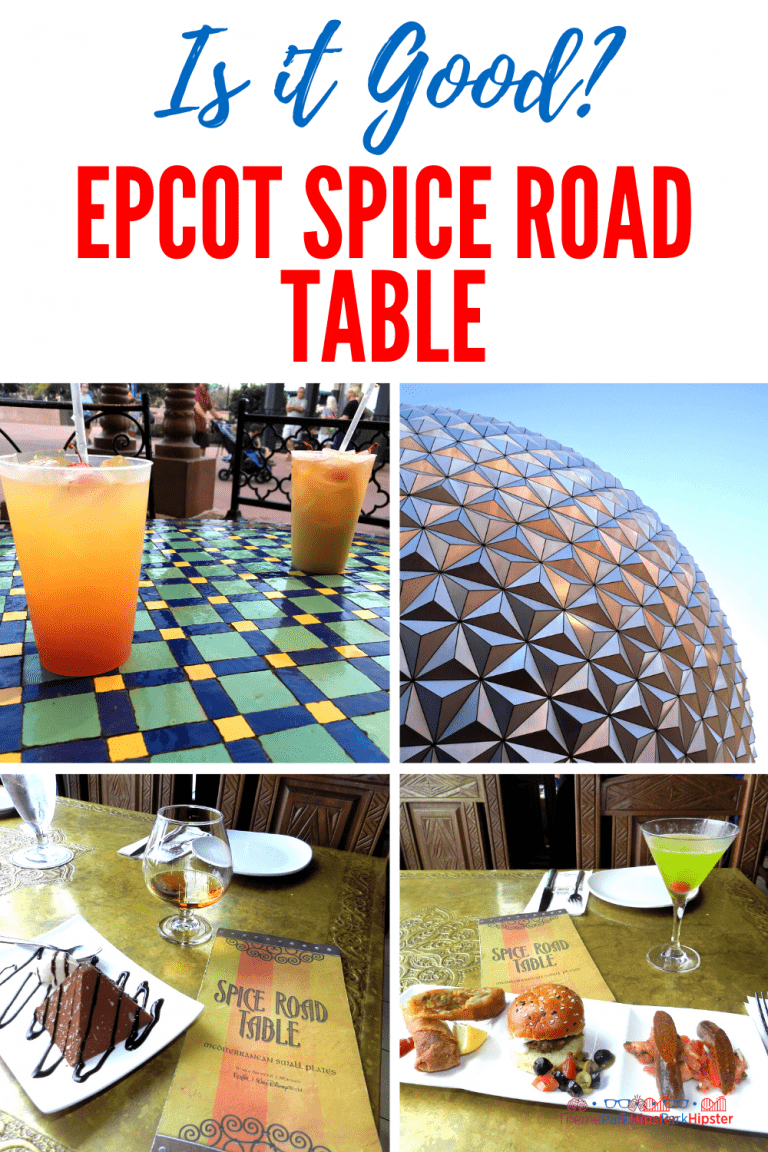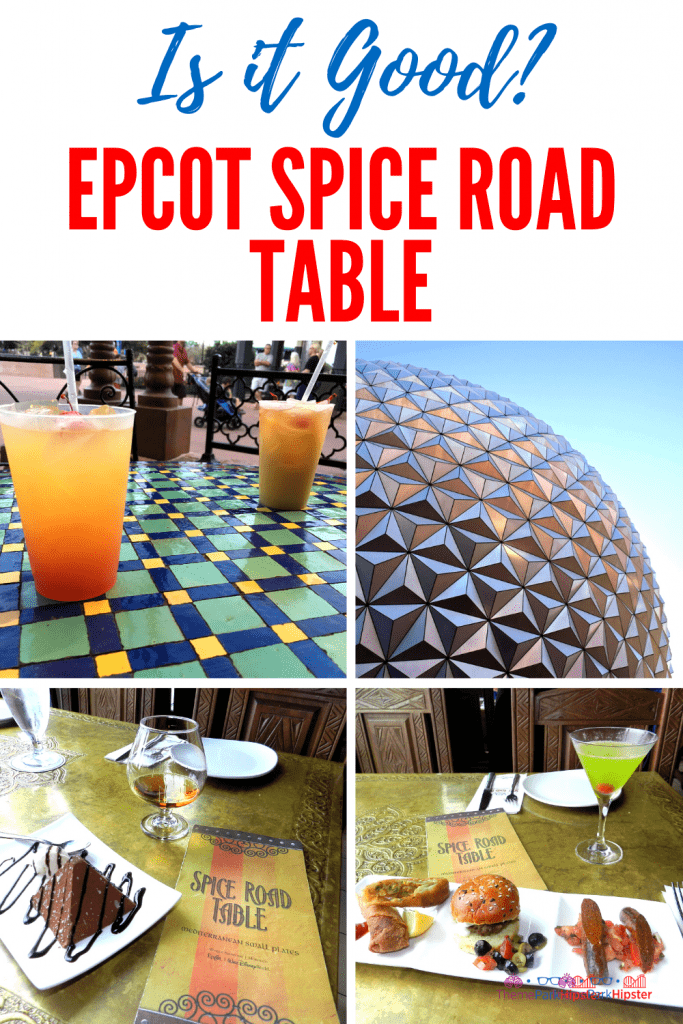 It was a special birthday that day for me and I remember sitting there delightfully pleased with the Moroccan Lamb Sausage that was served with fresh tomatoes, red onions, and a cilantro salad.
Plus, I was excited to dig graciously into the velvety Chocolate Pyramid mousse cake.
Looking over the lagoon with a glass of cognac and at peace for where I was in life, definitely capped off my trip to the Spice Road Table.
Final Score for Spice Road Table at Epcot
Ambiance: 10
Food: 9
Prices: 8.5
Drinks: 10
Service: 10
I give this restaurant a 9.5 out of 10 on the ThemeParkHipster dining scale and I know you will definitely enjoy it too!
I hope that this guide will help you have a splendid time on your trip as much as I did on mine. Which dish are you excited to try? Let us know in the comments section below.
Until next time, Happy Park Hopping Hipsters!
UP NEXT: Everything You Need To Know About Regal Eagle Smokehouse Craft Beer And Barbecue At Epcot