Full Travel Guide to the Wizarding World of Harry Potter Hogsmeade at Universal Orlando: Tips for Muggles
Are you planning on making a trip to the Wizarding World of Harry Potter soon?
If so, you're in the right place!
Universal Orlando Creative has done a spectacular job of bringing the novels of J.K. Rowling to life.
As you approach the "Please Respect the Spells Limits" Hogsmeade sign, you'll feel like you have officially made it home.
On this guide, I will give you everything you need to know to make the most of your day in The Wizarding World of Harry Potter World such as:
Hogsmeade General Information
Wizarding World of Harry Potter Tickets
Hogsmeade Rides and Attractions Available
Dining Options
Wizarding World of Harry Potter Hogsmeade Shops
Hogsmeade Tips
Your Very Own Complete Itinerary
So, let's get started!
THIS POST MAY CONTAIN AFFILIATE LINKS. PLEASE READ MY DISCLOSURE FOR MORE INFO.
What to Know Before You Go to The Wizarding World of Harry Potter Hogsmeade
Before you immerse yourself into the streets of Hogsmeade, you should know a few basic things.
Which Park is Harry Potter World Located in Orlando?
Harry Potter World in Orlando (and yes I did use that term…this is a Muggles' guide ), is divided into two sections:
What is the Difference between Hogsmeade vs. Diagon Alley?
Diagon Alley focuses on the Wizard's experience: shopping, dining, and socializing in the secret London location.
Hogsmeade focuses on the experience of the Hogwarts: students living and learning inside the castle. Plus, their experiences exploring the little village of Hogsmeade.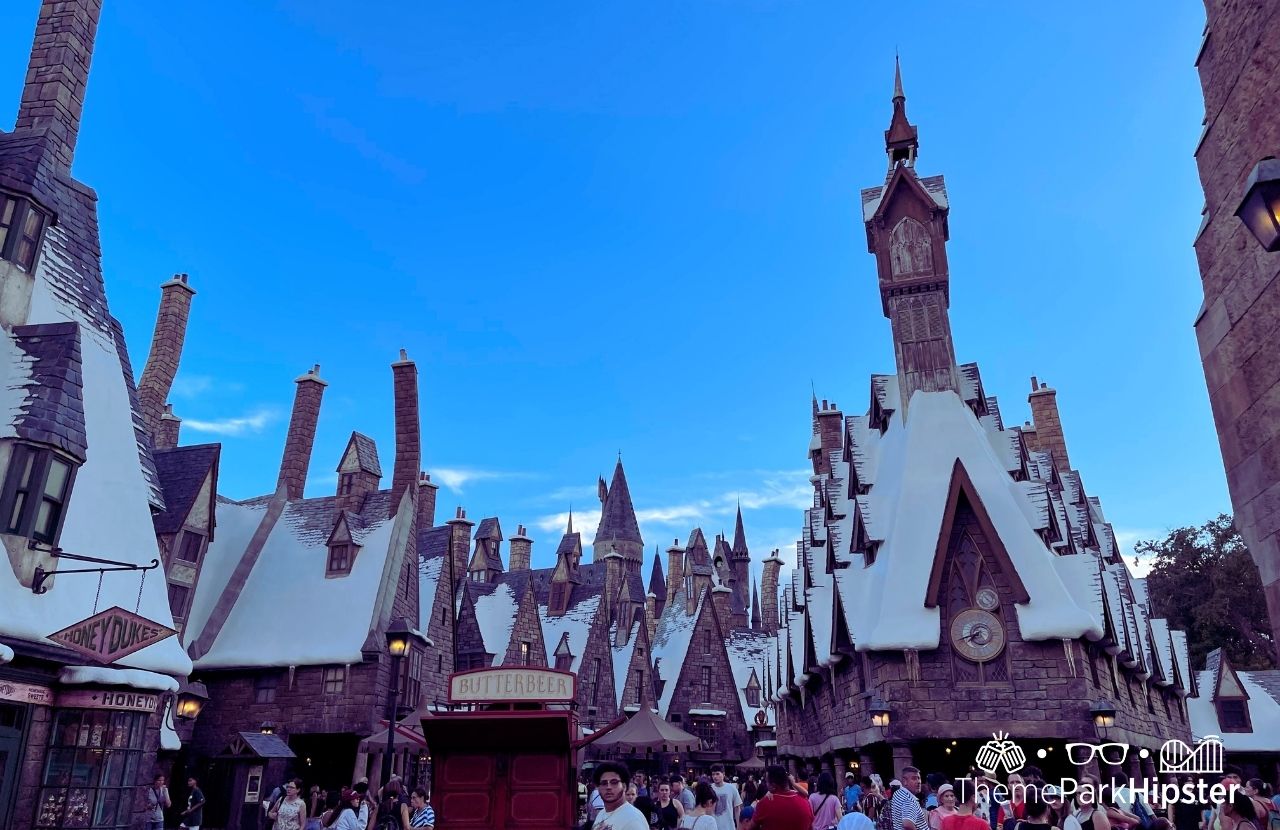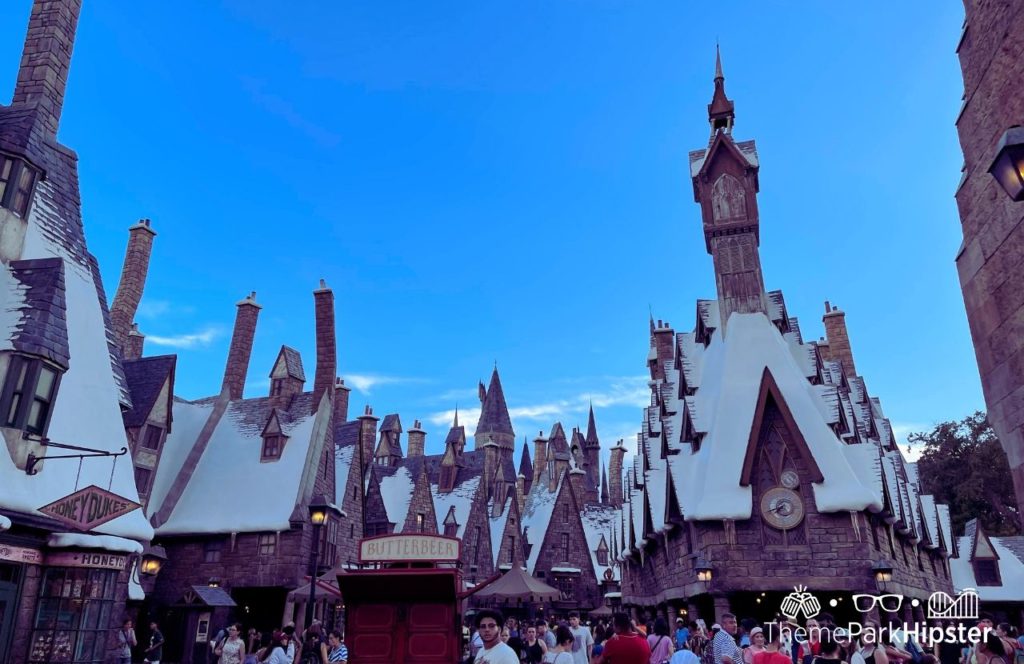 ORDER NOW to secure your Orlando theme park ticket reservation in the parks! GET MY TICKETS.
Does Universal Studios Hollywood have Hogsmeade or Diagon Alley?
Universal Studios Hollywood currently does not have a Diagon Alley section. You can still experience the Hogsmeade adventure in the California theme park!
What is the Hogsmeade Universal Address?
The Wizarding World of Harry Potter – Hogsmeade is located on the Universal Orlando Resort property and the address is 6000 Universal Blvd, Orlando, FL 32819.
What are the Hogsmeade Hours?
Since Hogsmeade is inside Islands of Adventure it will have the same hours of the park with the exception of days when hotel guests or Annual Passholders can get in an hour earlier.
It is opened 365 days a year with hours from 9 a.m. to 6 p.m. in the regular season and 9 a.m. to 10 p.m. during the peak season.
Do keep in mind that the hours do change based on how busy the park will be.
What's the Hogsmeade Phone Number?
You can reach guest services at Universal Orlando Resort by calling (407) 224-4233.
Check out my latest theme park adventures on Instagram TODAY!
How Much are Tickets to the Wizarding World of Harry Potter?
Tickets for the Wizarding World of Harry Potter start at $109 per day.
Just know that the prices do vary based on the day and how long you will be visiting Universal Orlando Resort.
There are a few discount options to choose from when buying a ticket for any of the Universal Orlando theme parks.
Plus, Universal is good about offering deals for Florida and Georgia residents.
Did you know that you can get discounted Universal Orlando Resort tickets from Groupon? You can find them here.
Is there a separate ticket for Harry Potter world?
You do not need a separate ticket for Hogsmeade at Universal since it is included in your theme park admission.
So, if you want to visit Hogsmeade, you will need a ticket to Islands of Adventure since that portion of the Wizarding World of Harry Potter is located there.
Hipster Power Tip: You will need a 2-park, same day ticket if you want to visit both areas in The Wizarding World of Harry: Diagon Alley (at Universal Studios) and Hogsmeade (at Islands of Adventure).
The Wizarding World of Harry Potter: Hogsmeade Rides and Attractions
Now that I've given you the basic information on this magical land, let's take a look at all the rides and attractions you can enjoy inside Hogsmeade.
Hagrid's Magical Creatures Motorbike Adventure
You'll be able to fly with Hagrid into the magical Forbidden Forest near the grounds of Hogwarts™ on this new ride at Islands of Adventure.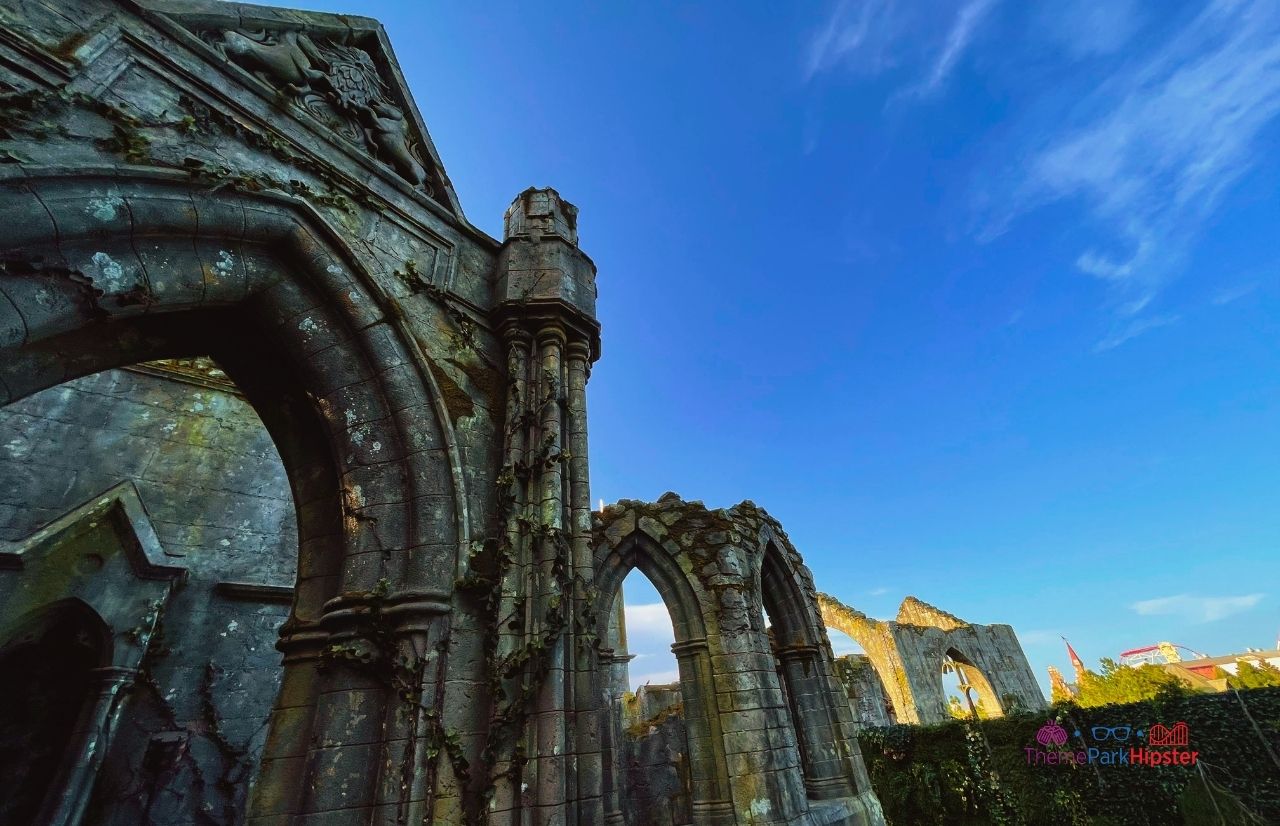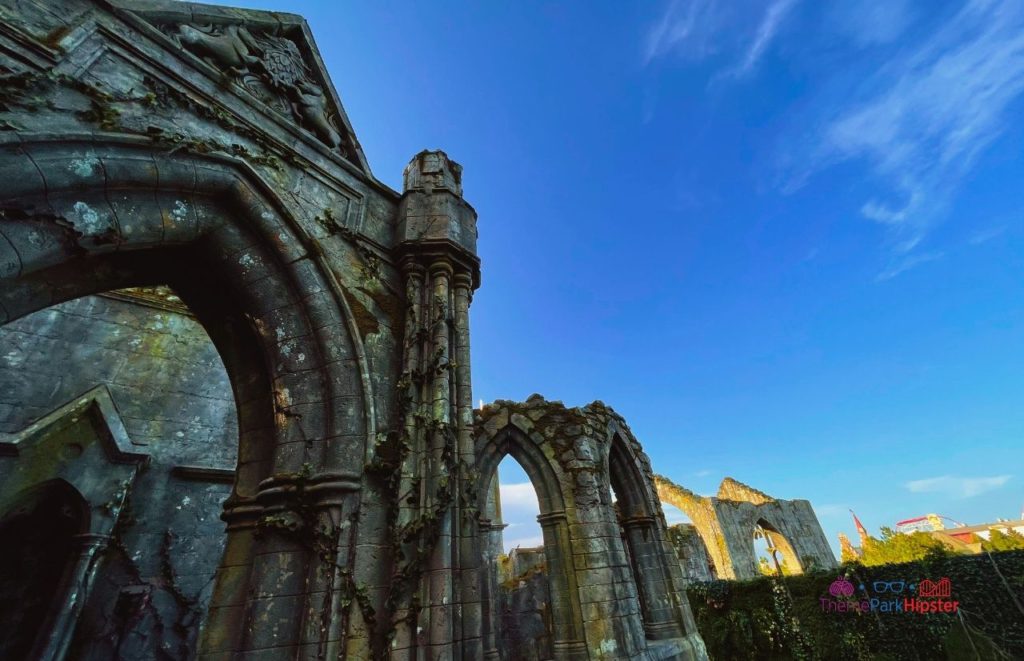 As you make your way over to Hagrid's Motorbike Adventure, be prepared to see what it's like to be one of Hagrid's students as you board the famous motorbike.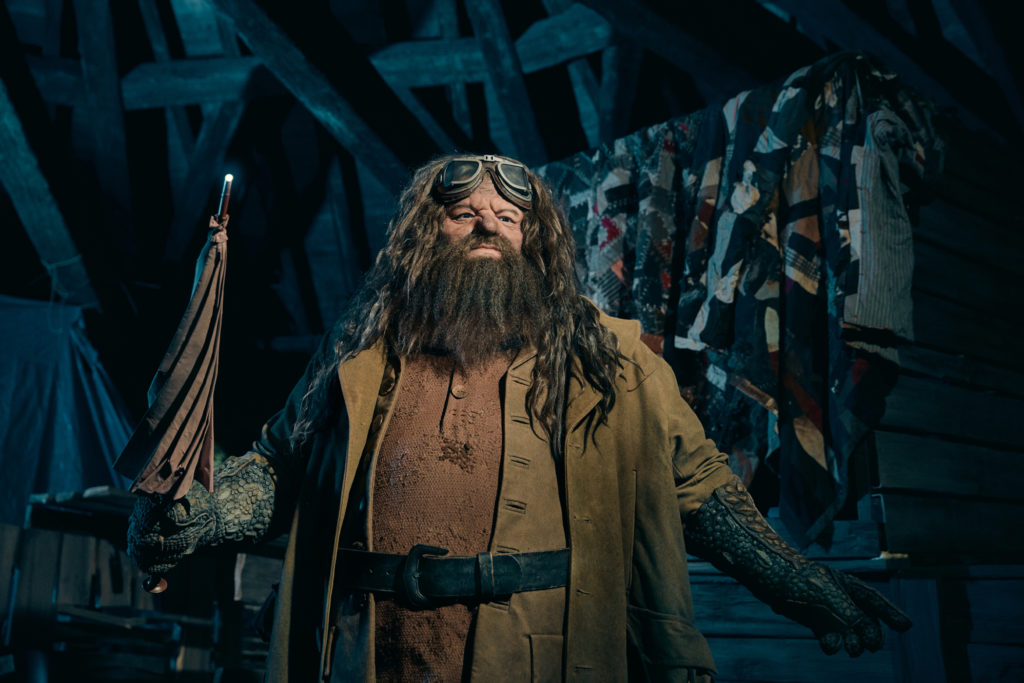 Recommended: 1 Day in Orlando Itinerary: What Should I Do That's NOT Theme Parks?
Flight of the Hippogriff
Join Rubeus Hagrid, the care of magical creatures instructor, for a lesson on how to approach a Hippogriff.
While you're on this family-friendly roller coaster next to Hogwarts, don't forget to bow as you approach the Hippogriff.
Harry Potter and the Forbidden Journey
After you board your "broom," you'll soar throughout the castle grounds following Harry Potter™ on an epic and magical adventure.
Can you walk though Hogwarts at Universal?
Hipster Power Tip: Be sure to take advantage of the Child Swap Program. This program works by allowing one member of your party to wait in a designated area along with any children who are unable or unwilling to participate.
Hogwarts Express and Hogsmeade Station
If you have a Park-to-Park admission ticket, you can board the Hogwarts Express at Hogsmeade™ Station in Universal's Islands of Adventure.
From there you'll travel to King's Cross Station in London at Universal Studios Florida where you'll make your way over to Diagon Alley.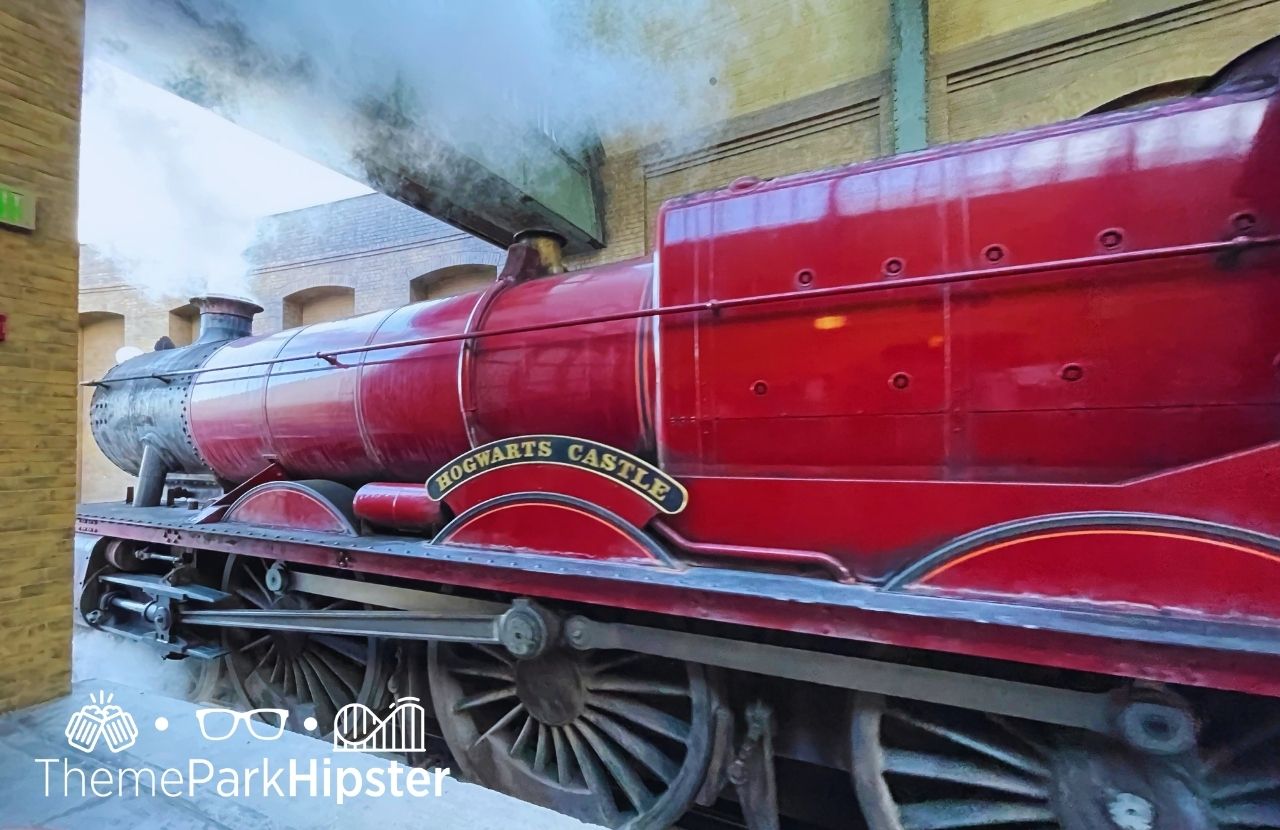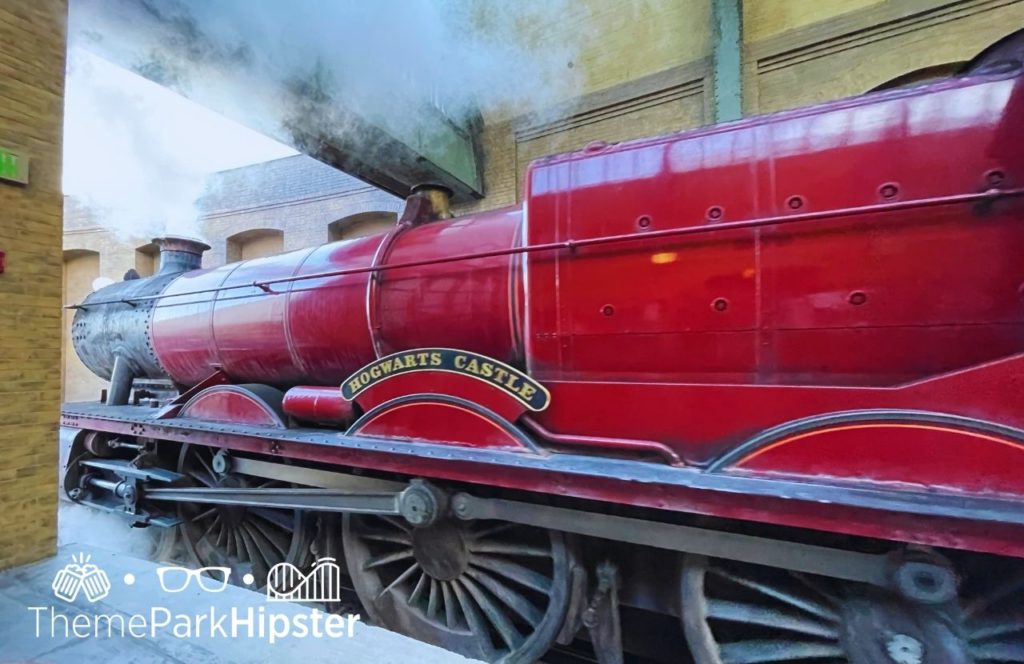 On the Hogwarts Express, you'll get to see what it's like to travel as wizard on this one-of-a-kind train ride.
Recommended: Where to Stay in Orlando: Top 10 Hotels and Resorts for ALL Budgets
The Wizarding World of Harry Potter: Hogsmeade Shows
Now it's time to check out all of the amazing entertainment that you can experience over in Hogsmeade at Islands of Adventure.
Dark Arts at Hogwarts Castle
If you're a Harry Potter fan, then you'll be excited to hear about the eerie, yet magnificent Dark Arts Show that's featured over Hogwarts Castle in Islands of Adventure each fall!
You will be able to enjoy the new Dark Arts at Hogwarts Castle on select nights in September and October as a part of the Halloween festivities at Universal.
While you're in Hogsmeade you'll witness a spine-chilling atmosphere complete with ominous green light and fog throughout the village.
You'll even see Death Eaters roaming about Hogsmeade village. So cool!
And if you're a fan of the Potter series, then you know this is a sign that Death Eaters have arrived!
According to Universal, the Death Eaters will eerily roam throughout Hogsmeade, lurking amongst guests – practicing the Dark Arts with complete disregard of wizarding laws. Then, "Dark Arts at Hogwarts Castle" will illuminate a darker side of the wizarding world as sinister creatures and villains – such as Dementors, Aragog, Mountain Trolls, Thestrals and more – cloak the castle through a mesmerizing display of light, music and special effects.
Hogwarts Frog Choir
Ever heard frogs singing? Well, naturally Hogsmeade has a choir of frogs!
They are a student-led group at Hogwarts and go by the name, you guessed it, the Hogwarts Frog Choir.
Tri-wizard Tournament
Don't forget to watch out for the Triwizard Spirit Rally.
Each of the three elite schools– Beauxbatons, Dumstrang and Hogwarts showcase their support for their champions through dance!
Are you planning a Universal Orlando vacation soon? Get the Universal Vacation Planning Guide for your next dream trip!
The Wizarding World of Harry Potter: Hogsmeade Shops
Walking through the shops of Hogsmeade Village can be more magical than getting on the rides.
I sometimes call the shops in this area of Islands of Adventure an attraction in themselves.
Not only will you be treated to the BEST Harry Potter merchandise in the world, you'll also get some fun little surprises hidden within each shop.
Dervish and Banges
In this little Hogmeade Village shop, you'll be able to purchase an array of Potter-themed trinkets such as:
Brooms (the Nimbus Two Thousand and One and the Firebolt)
Golden Snitches
Hogwarts™ uniforms and clothing
Omnioculars
Quaffles,
Quidditch™ t-shirts
Sneakoscopes
Spectrespecs
Filch's Emporium of Confiscated Goods
Go deep below the Hogwarts Castle to explore all of the confiscated student items Argus Filch has collected over the years.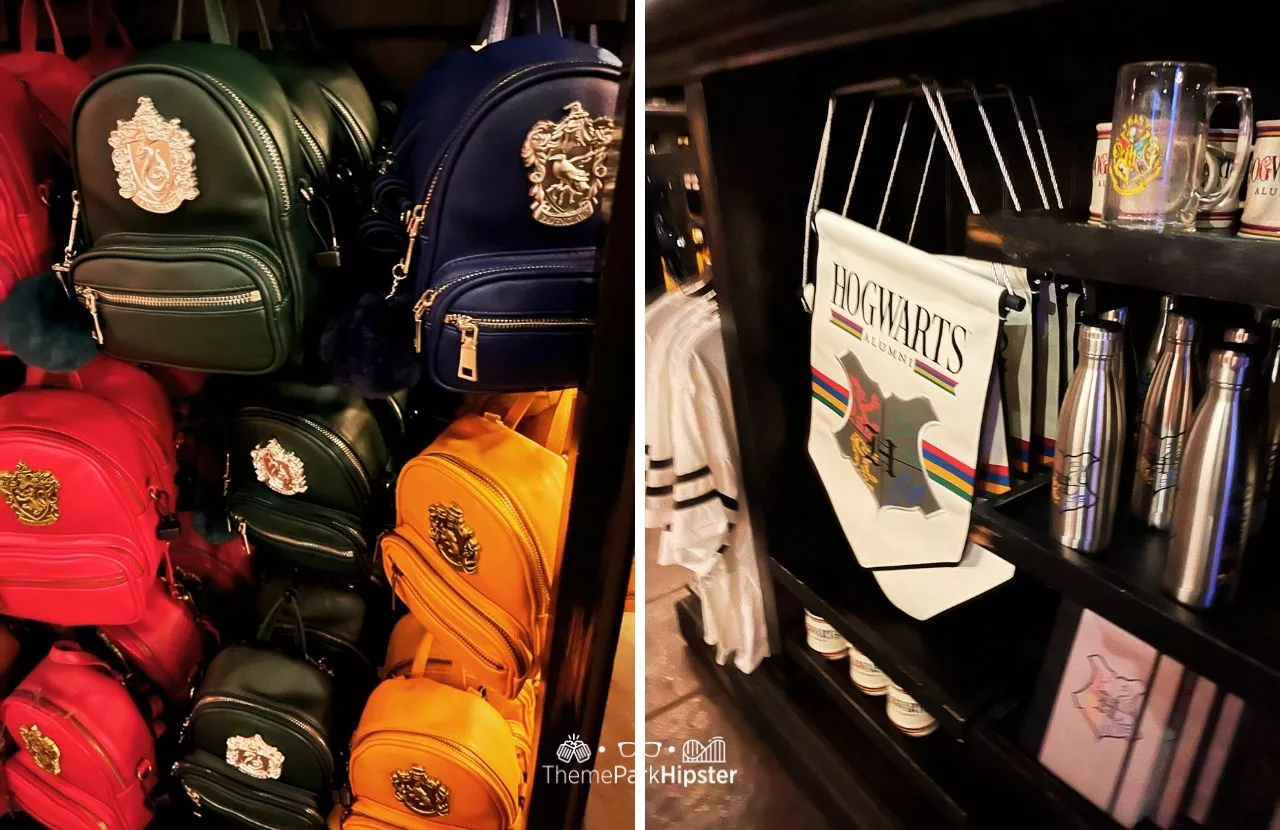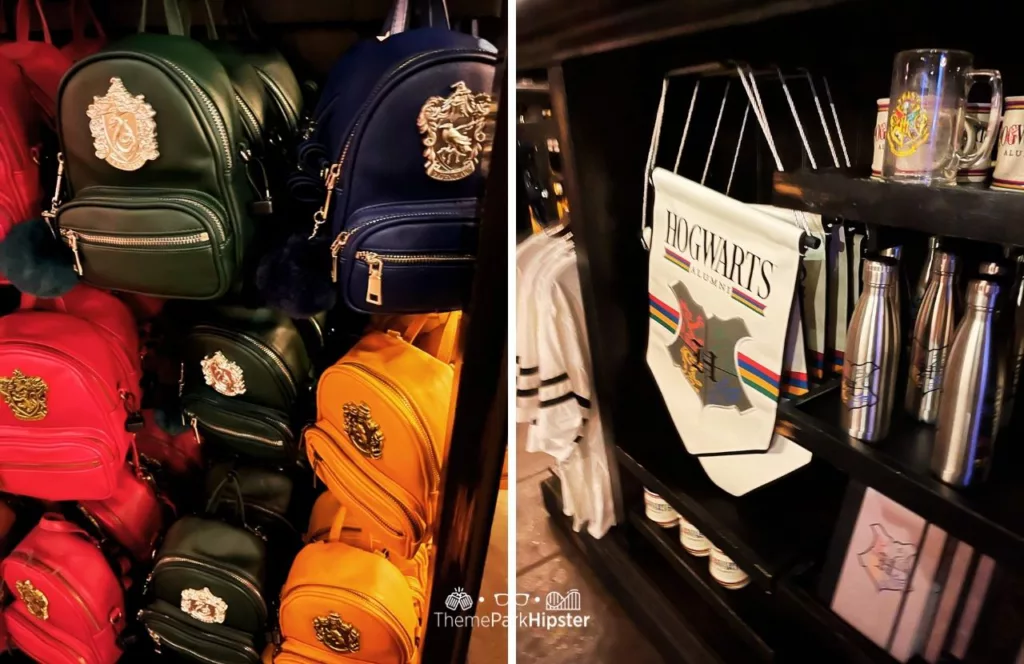 Honeydukes
Take a walk through of this fabulous Hogsmeade candy shop filled with:
Acid Pops
Bertie Bott's Every Flavour Beans™
Cauldron Cakes
Chocolate Frogs™ complete with wizard trading cards
Exploding Bonbons
Fizzing Whizzbees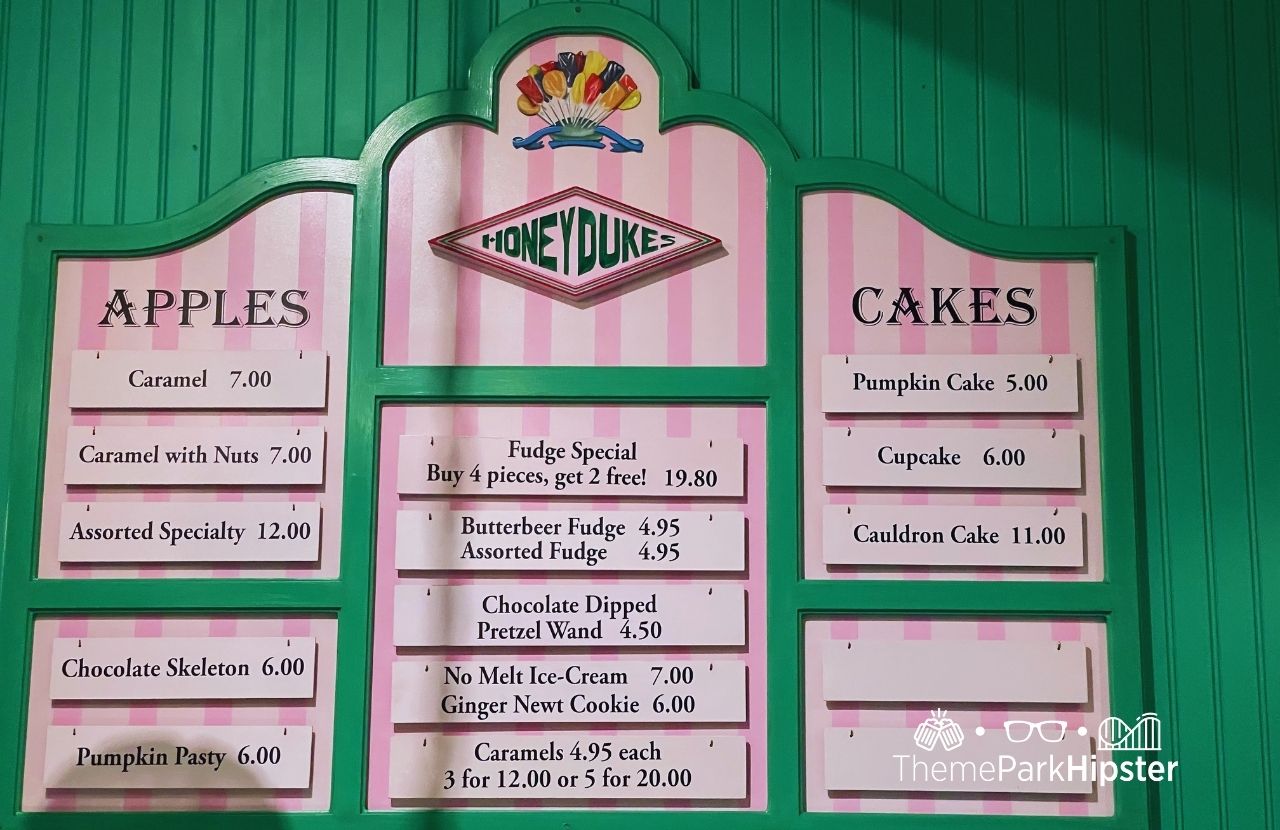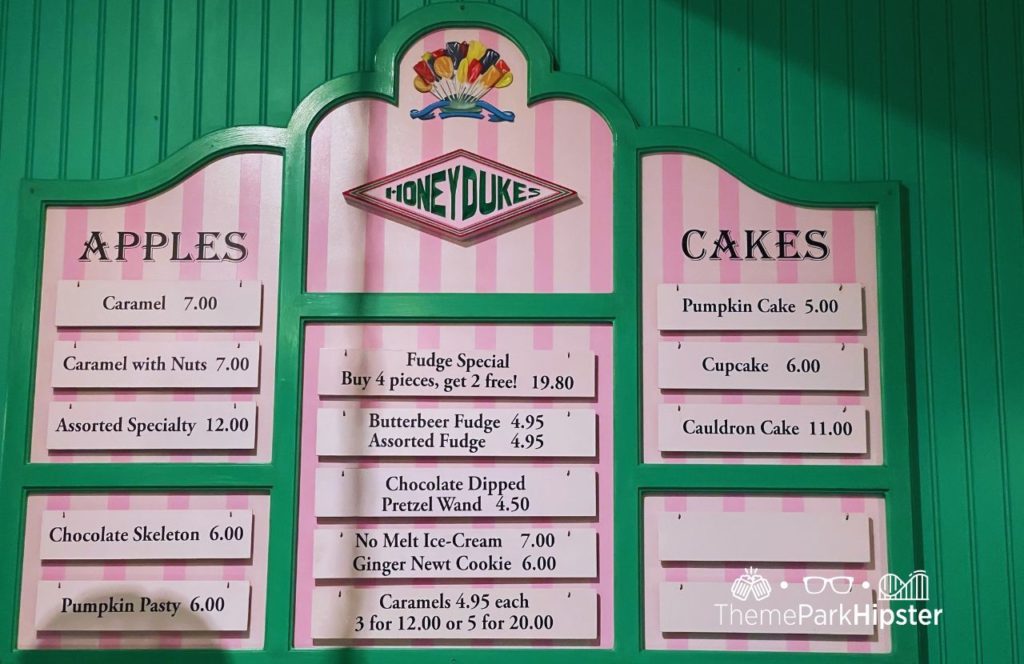 Ollivanders
Among the stacks of wands on the walls is your opportunity to get an official Wizarding of Harry Potter wand.
Here you can buy your wand directly from Ollivanders™ wand shop.
You'll also be able to select from many of the famous or infamous Harry Potter™ inspired character wand replicas.
Hipster Power Tip: The Hogsmeade Village shops are really small, so try to come later towards the end of the day when crowds are lower. You'll be able to shop peacefully and discover all the little details of each shop.
Owl Post
This quaint shop is located adjacent to Dervish and Banges.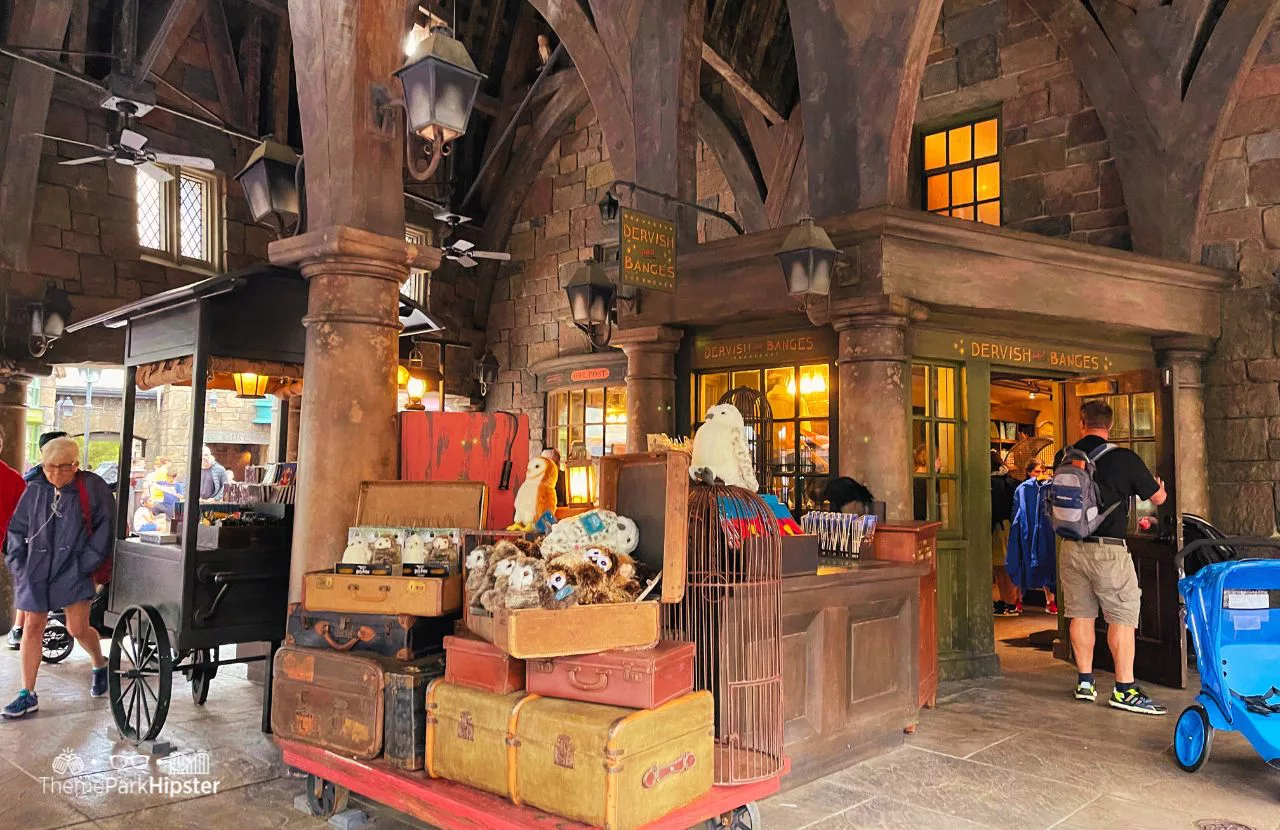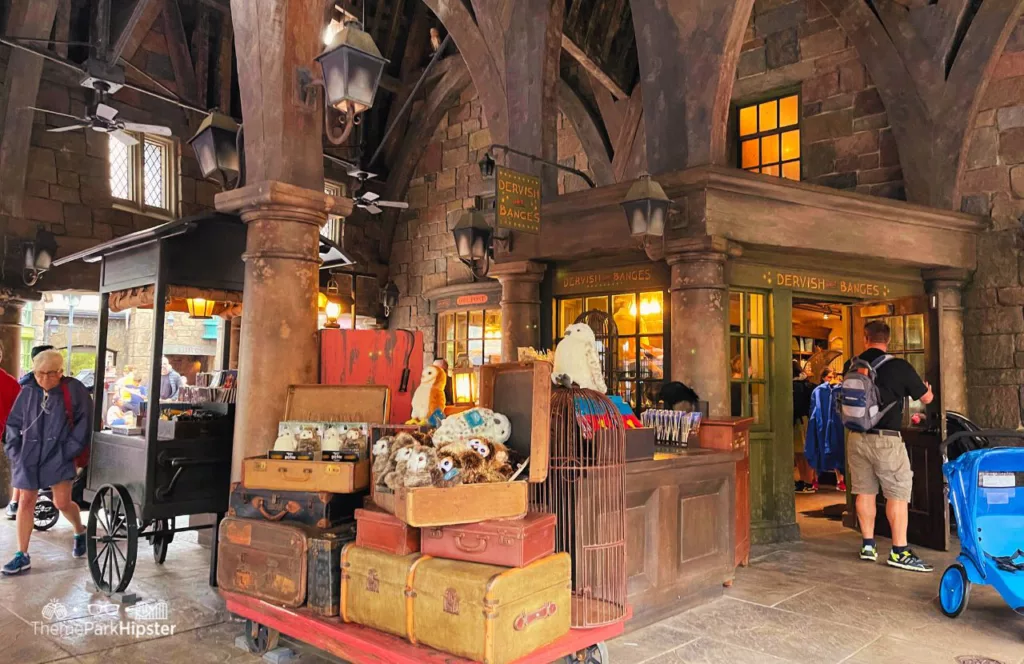 Here you can purchase stationery items such as:
Ink
Owl-related toys and gifts
Quills
Seals
The Wizarding World of Harry Potter™ stamps
Plus, you're also able to mail physical letters finalized with a special Hogsmeade™ postmark. So cool!!!
Recommended: The Solo Theme Park Traveler's Guide
The Wizarding World of Harry Potter: Hogsmeade Food and Drinks
Eating in Hogsmeade is just a magical as described in the Potter books.
If you do not know, the food in the Wizarding World is exotic in nature with whimsical names to accompany them.
Let's good through all the food options for you inside Hogsmeade Village.
Hog's Head
This grubby sanctuary is located adjacent to the Three Broomsticks™ in Hogsmeade™.
Here you can not only get Butterbeer™ and Pumpkin Juice™, you'll be able to partake in some adult libations as well.
I've spent too many days to count in this pub drinking with other wizards.
Three Broomsticks
This Potter-inspired tavern is the best place to go to in Hogsmeade™ for delicious British fare.
The Three Broomsticks menu includes:
The Great Feast Platter
Fish and Chips
Shepherd's Pie
Beef Pasties
Turkey Legs
Fresh Vegetables
Pumpkin Juice
Butterbeer
Hipster Power Tip: You can find additional Potter-inspired beverages around Hogsmeade Village at the outside carts.
7 Easy Wizarding World of Harry Potter Hogsmeade Tips
I've put together a list of 7 beginners tips to help you enjoy the Wizarding World of Harry Potter Hogsmeade in the best way possible.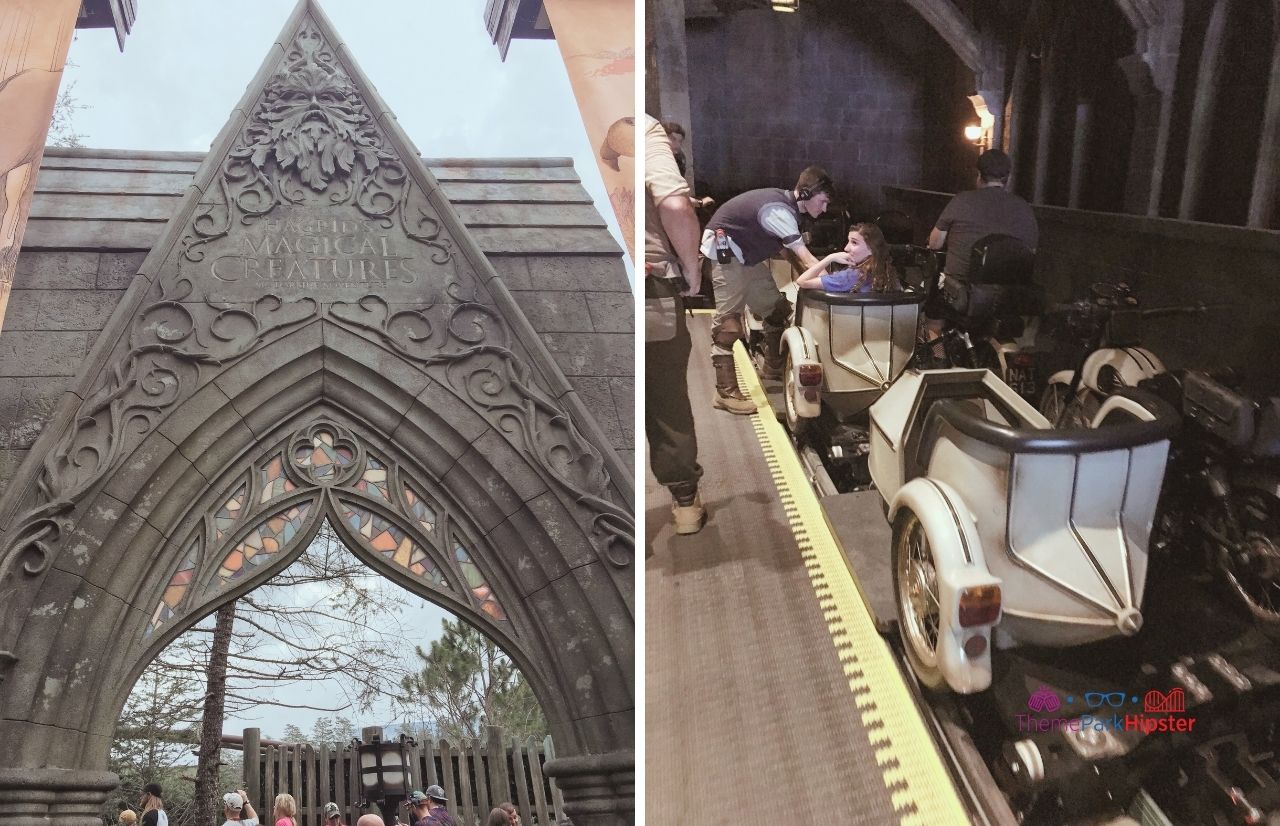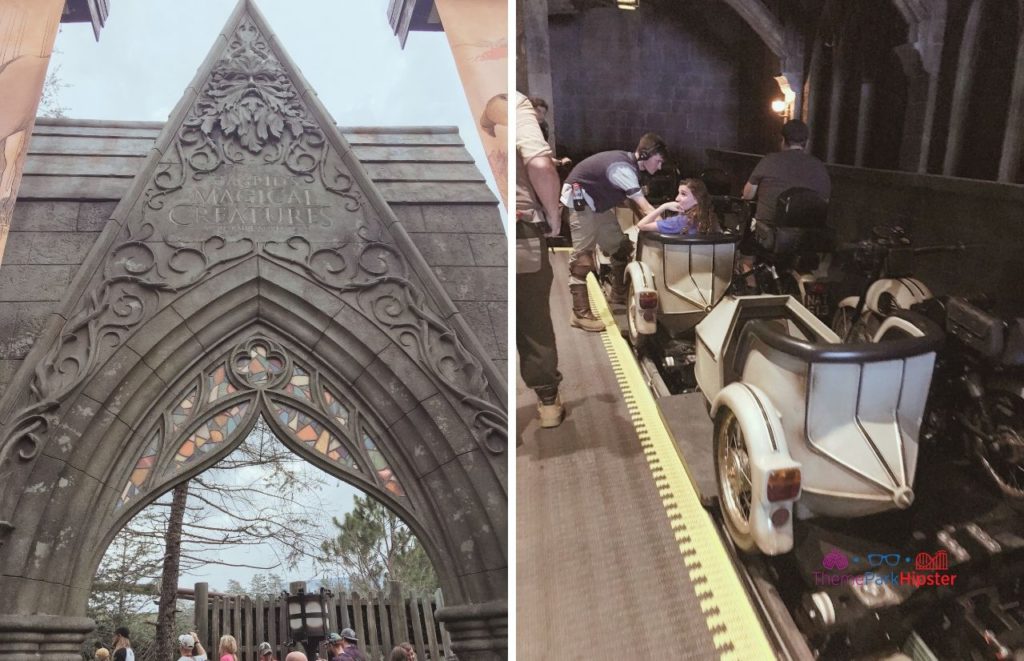 These tips can be useful on your solo trip or a trip with friends and family.
1. Plan Your Day
Any vacation goes much smoother when it's planned out…especially if it's for a Florida theme park.
The only way to survive the Wizarding World of Harry Potter is the come up with the perfect game plan.
For example, going during the weekday instead of the weekend can make a difference in having to deal with a massive crowd or a quiet day.
Staying onsite is another way to plan the perfect day by taking advantage of the Express Pass. The Express Pass allows you to skip the regular lines an unlimited number of times at participating rides and attractions each day that your pass is valid.
2. Start Early
I give this tip out a lot, but it's one of the most important if you want to maximize your time in Hogsmeade.
If the park opens at 9 a.m., then try to be at the Islands of Adventure gate by 8:15 a.m.
I know this may sound ridiculous, but arriving early will make your Hogsmeade experience much more magical and exciting!
Remember I mentioned that it's always good to come back later in the evening and browse the various shops.
3. Go to the Hogwarts Castle and Ride Forbidden Journey
Once arriving at Hogsmeade Village, quickly walk up to the legendary Hogwarts Express conductor for your magical picture then head back to the Forbidden Journey attraction.
The Forbidden Journey ride is located inside of the Hogwarts castle.
Also, the wait time for this attraction is usually one of the longest in Islands of Adventure.
For this reason, it is best to get there early and take advantage of the short line.
If you are not into riding thrilling attractions, then you can walk through the highly themed queue and explore the castle.
4. Visit Ollivanders
This interactive wand experience is for both the young and old.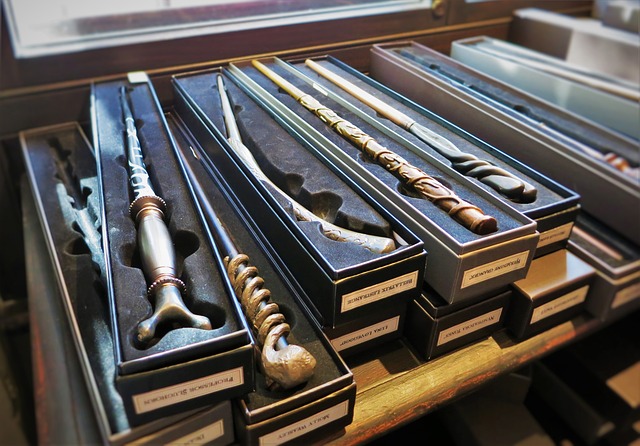 We all have a child living inside us and Ollivander will make sure to unleash it when he gives a mystical presentation inside his shop.
Hipster Power Tip: Stand in the front of the presentation. This will likely increase your chance of being chosen by Ollivander for a wand.
You will also want to make this attraction number three on your list, after Hagrid's Magical Creatures Motorbike Adventure.
If you walk up to a long line, just remember it looks more vicious than it really is. The line usually goes by quickly with groups of about 15 guests for each performance.
Ready to plan your theme park trip? Watch the best vacation planning tips on YouTube. Get started here!
5. Eat at the Three Broomsticks
I truly enjoy eating at the Three Broomsticks whenever I'm visiting Hogsmeade Village in Islands of Adventure.
My theme park budget is usually thrown out the window as I engage myself straight into the Potter universe.
If you do plan to eat here, then come before the lunch rush or in the late afternoon.
It's much quieter allowing you to really enjoy the unique restaurant theme. The Three Broomsticks serves breakfast, lunch, and dinner.
The breakfast here is also must-do if you want to try a traditional English meal.
6. Have a Butterbeer at Hogsmeade
Frozen butterbeer on a hot Florida day is a cool way to enjoy Hogsmeade. However, a warm cup of butterbeer is my favorite version of this delicious beverage.
Unfortunately, Florida is just way too hot on most days to revel in warm Butterbeer.
If you're not a fan of root beer but want to still try a rendition of it, then I suggest the warm version of butterbeer.
How is Butterbeer served?
Cold Butterbeer
Frozen Butterbeer
Hot Butterbeer
Potted Cream Butterbeer
Butterbeer Fudge
Soft Serve Butterbeer Ice-Cream
Vegan Butterbeer
Where to find Butterbeer in Islands of Adventure?
You can find a Butterbeer offering of some sort inside the Hogsmeade section of Islands of Adventure at:
Three Broomsticks
Hog's Head pub
Honeydukes
The Butterbeer street carts
Hipster Power Tip: Be sure to take your cup outside to the back of the Three Broomsticks, slip slowly, and enjoy the magnificent view of Hogwarts.
7. Look up, look down, look everywhere!
I love finding new things to do and explore in the Wizarding World of Harry Potter.
For first timers you may be overwhelmed with every incredible detail going on.
So, here are a few cool things to look for:
The sounds of Moaning Myrtle in the restroom
Shadow of a house elf quickly walking upstairs in the Three Broomsticks
On the Forbidden Journey, check the cabinet left of the Fat Lady for props used in the film
Find bottles of Skele-Gro in Filch's Emporium
Ready to start planning your next Universal Orlando vacation? Listen to the latest podcast episode on Apple or on your non-Apple device now!
Your Personal Hogsmeade Universal Orlando 1-Day Itinerary
Arrive to Islands of Adventure early or Universal Studios Diagon Alley to explore then take Hogwarts Express over to Hogsmeade
Walk through the Hogsmeade gates
Jump on Harry Potter and the Forbidden Journey
Stop by Ollivanders for your wand
Ride Flight of the Hippogriff
Eat at the Three Broomsticks
Have a Butterbeer
Explore the shops inside Hogsmeade Village
Enjoy the Hogsmeade entertainment such as the Frog Choir and the Triwizard Spirit Rally
Repeat your favorite activities
Watch the nighttime Dark Arts show over the castle (during the fall)
Check out my latest theme park adventures on Instagram TODAY!
My Final Thoughts on Hogsmeade at The Wizarding World of Harry Potter
You will have an AMAZING time!
There's so much to see and do inside Hogsmeade at Universal, so don't worry if you don't get to it all at once.
Whatever you don't do in that day can be the inspiration for your next visit!
These are just a few fun ways to explore the Wizarding World of Harry Potter.
Until next time, Happy Park Hopping Hipsters!
If you enjoyed this article, then you'll love these:
Are you planning a Universal Orlando vacation soon? Get the Universal Vacation Planning Guide for your next dream trip!
NikkyJ
(Original article date October 29, 2017/Last Updated June 20, 2023)