Are you looking for the best places to get your Wizarding World of Harry Potter photos?
Today, I am here to help out my fellow Instagram girlies and fellows.
Recently, I had a conversation with a friend who hadn't been to Universal Orlando Resort in several years.
We were discussing The Wizarding World of Harry Potter and the best places to take cute photos, so here I am today!
As a Universal Orlando Annual Passholder (UOAP), I am going to treat you to some of my favorite places to get those magical shots in the most picturesque areas around both Universal Orlando theme parks.
THIS POST MAY CONTAIN AFFILIATE LINKS. PLEASE READ MY DISCLOSURE FOR MORE INFO. Which means if you click on certain links, I may receive a small commission at no additional charge to you.
1. Outdoor Seating Behind The Three Broomsticks Restaurant
Located in Hogsmeade, you can get a filling breakfast inside the famous Three Broomsticks restaurant, replicated exactly from the Harry Potter films!
I tend to dine in the outdoor seating behind the restaurant for several reason.
To start, to get some fresh air as the inside of the restaurant is a bit dark.
Secondly, you get amazing views of VelociCoaster passing by and a spectacular view of Hogwarts Castle in the distance.
Why I Love This Wizarding World of Harry Potter Photo Spot
This is my preferred spot rather than the Hogwarts Bridge between Jurassic Park and The Wizarding World of Harry Potter.
The Hogwarts Bridge gets very cluttered with traffic, although you can get the full castle. I don't like blocking the flow of traffic or risking people getting in my shots.
This location is usually quiet, not busy and you can use angles to get excellent photos of the castle in the background.
Get up to 25% off of your Universal Studios Tickets with Groupon TODAY!
2. Diagon Alley Dragon
Upon entering Diagon Alley, you will usually find the main alley crowded due to guests trying to get a video of the dragon breathing fire atop of Gringotts Bank.
The area located at the end of the main alley.
While I don't take photos here often for this reason, if you time it right, you can get a shot with the dragon breathing fire or just of the dragon looming in the background.
Why I Love This Wizarding World of Harry Potter Photo Spot
I like it because, let's be honest, the dragon escape from Gringotts was an iconic scene from Deathly Hallows Part 1.
And it's meant to be an epic and fun photo shot.
If you can use Early Entry or wait until close to closing time, you can manage to get a sweet shot.
However, if you're going for a night shot, research the best exposure for your phone type or use night mode.
3. Florean Fortescue's Ice Cream Parlour
Located in Diagon Alley on the corner at the end of the main alley, heading towards Gringotts Bank, you will find the place where my favorite Wizarding World snack lives.
Florean Fortescue's Ice Cream Parlour is pinkish in color and perfect for those who want a vibrant background.
Why I Love This Wizarding World of Harry Potter Photo Spot
I like to use the sign and windows as backdrops and if you can time it right, you can get an adorable walking shot coming out of the shop door, but it requires patience.
Not to mention, the ice cream itself can be a cute shot with my favorite flavors being the Butterbeer, Earl Grey and Lavender.
Grabbing a few pics in front of the shop with the ice cream will guarantee cute pics for the gram!
4. Honeydukes and Sugarplum's Sweet Shop
I am sort of cheating by combining these next two but both are candy shops so I figured I would give you options at both Diagon Alley and Hogsmeade.
Photos at Honeydukes
Honeydukes has an amazingly adorable color combination in Hogsmeade located at Islands of Adventure.
Inside and out you will find a pink and light green color pattern with shelves of unique chocolates, candies and homemade treats and merchandise.
I love posing with some of the candies and displays, especially the spiraling staircase towards the back of the shop.
Why I Love This Wizarding World of Harry Potter Photo Spot
You can also get some fun shots with the exterior of the shop if you are looking for a vintage feel.
Photos at Sugarplum's Sweet Shop
Sugarplum's Sweet Shop is located in Diagon Alley near the ice cream shop.
Its storefront is entirely pink which gives you a shockingly vibrant background but i simply adore the window display.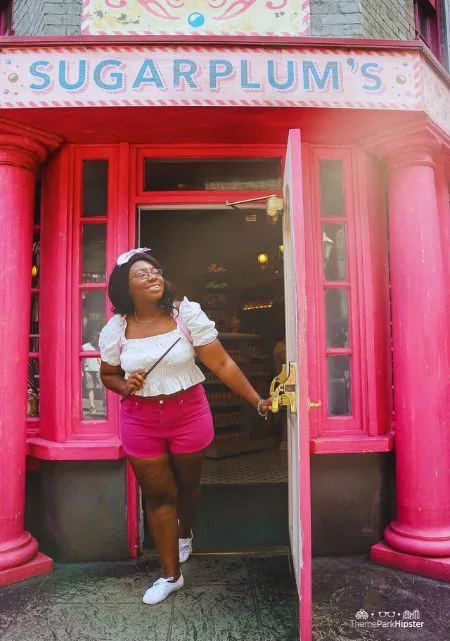 Why I Love This Wizarding World of Harry Potter Photo Spot
Plus, it features tons of the candies from inside the shop and if framed right, provides an awesome background to help display your Wizarding World themed outfit!
Jazz the photos from Sugarplum's up with some candy from the shop itself.
5. The Knight Bus
Outside of the King's Cross London train station in Universal Orlando, next to the "hidden" entrance to Diagon Alley, you will find the famous purple Knight Bus parked opposite.
Here you can actually have a meet-and-greet with a friend of the Conductor Stan Shunpike and shrunken head companion.
This alone allows for fun photo-ops and even video moments as the duo is simply quirky and hilarious.
Why I Love This Wizarding World of Harry Potter Photo Spot
I like this spot because of the ability for angles!
One spot allows you to get the London Fountain and Knight Bus in the background.
Or you can head to the back of the bus and step inside a bit to give a photo appearing as though you are stepping on or off the bus.
If you time it right, the sun will hit you and give you a very lovely glow. However, it may blind you so just be ready to suffer briefly to get the shot!
Recommended: The Solo Theme Park Traveler's Guide
6. Under the Umbrella
A cool area that's great to get that perfect Harry Potter inspired photo is under the umbrella in Diagon Alley.
If you picked up your wand from Ollivanders, then you'll be able to command the rain to fall around the umbrella.
You'll need a partner for this. First you get you under the umbrella, then you get your partner to wave the wand for the water.
Once the water comes down, have your partner get a quick shot of you. This will be an epic shot for Instagram and for your own memories.
7. Hogwarts Express Train
Last but certainly not least, did you even visit the Wizarding World of Harry Potter if you didn't get a photo with the iconic Hogwarts Express Train.
As a bonus, I'll be giving you options at both Hogsmeade and Diagon Alley.
The first spot is near the Hogsmeade entrance leaving The Lost Continent Land.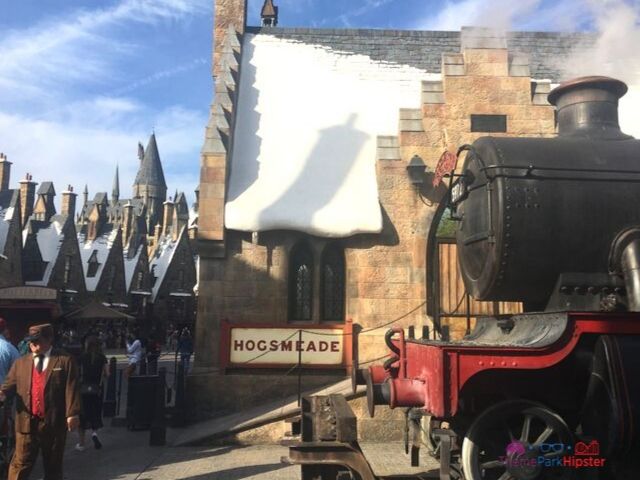 Here, The Hogwarts Express Train is parked as soon as you cross through the archway to your right.
Why I Love This Wizarding World of Harry Potter Photo Spot
If you're lucky, you can get a photo with the train conductor and have a quick chat.
The Hogsmeade train sign is on the left hand side of the train for an additional photo op.
If you want a full scale photo, as you are boarding the train on either Diagon Alley or Hogsmeade side, you can get a quick shot in front of the train before it whisks its next passengers away.
One you can grab while exiting so you don't have to rush too fast.
However, the other is in the way of the flow of traffic for the queue, so if you don't mind letting a few people go ahead, you can get that shot.
Are you planning a Universal Orlando vacation soon? Get the Universal Vacation Planning Guide for your next dream trip!
My Final Thoughts on Getting the Best Wizarding World of Harry Potter Photos
There are even more hidden gems inside Diagon Alley and Hogsmeade that are truly perfect photo-ops for your Wizarding World inspired photos.
That's if you want to get creative!
It's all about thinking outside the box and thinking Magical and Whimsical thoughts.
Either way, these are just a few of my secret favorite photo spots in throughout the Wizarding World of Harry Potter!
Share your favorite Wizarding World of Harry Potter photos with us in our Facebook Group or by tagging us on Instagram.
Until next time, Happy Park Hopping Hipsters!