Please note that this guide was originally written on July 7, 2014 with the Diagon Alley grand opening date of July 8, 2014 right around the corner. I wanted to give this post an update on how to survive any Wizarding World of Harry Potter celebration. Whether it be a new land or new attraction. Enjoy!
So, you've decided to brave the Florida heat and stand uncomfortably close to other Potterheads during a Wizarding World of Harry Potter Diagon Alley grand opening celebration.
Well, don't worry about it!
You are not alone.
I am right there alongside of you plotting ways to get as close to the front of the line as I possibly can for any Harry Potter World opening day.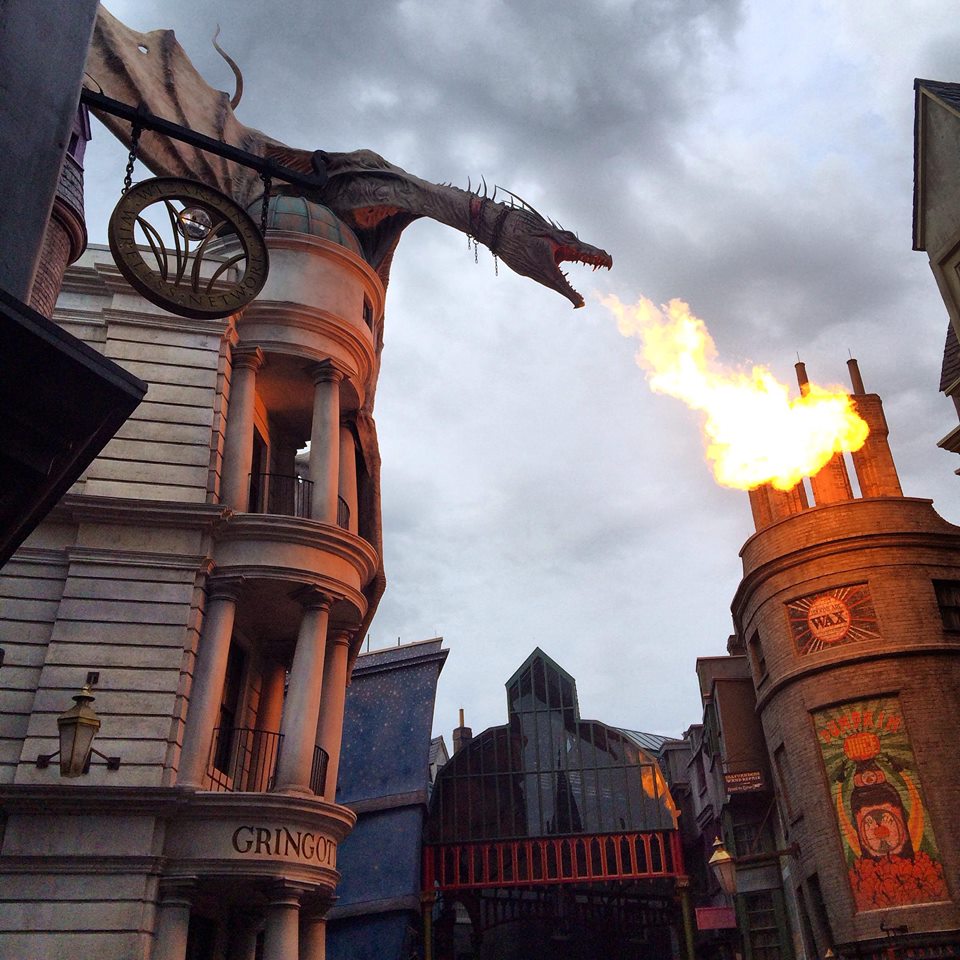 THIS POST MAY CONTAIN AFFILIATE LINKS. PLEASE READ MY DISCLOSURE FOR MORE INFO. Thank you!
The recent opening of Hagrid's Magical Creatures Motorbike Adventure has so many Muggles wondering what kind of theme park magic makes someone wait in line for 10 hours!
Potter Watch for Diagon Alley Grand Opening Day
Believe it or not, the #PotterWatch phenomenon started back in 2010 with the Wizarding World of Harry Potter Hogsmeade soft opening days.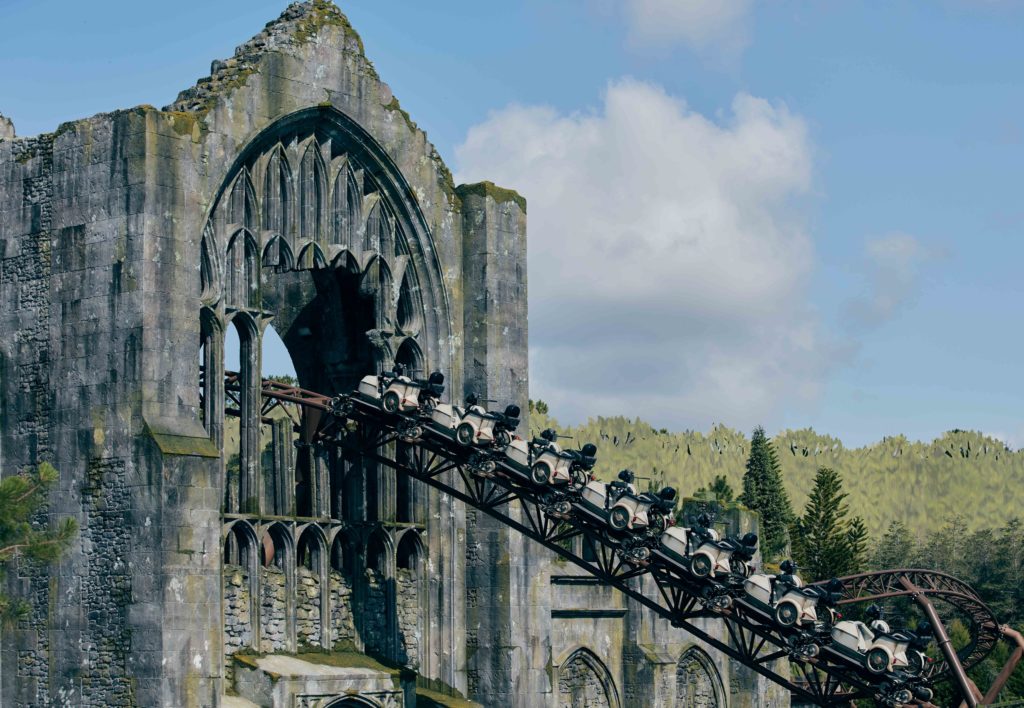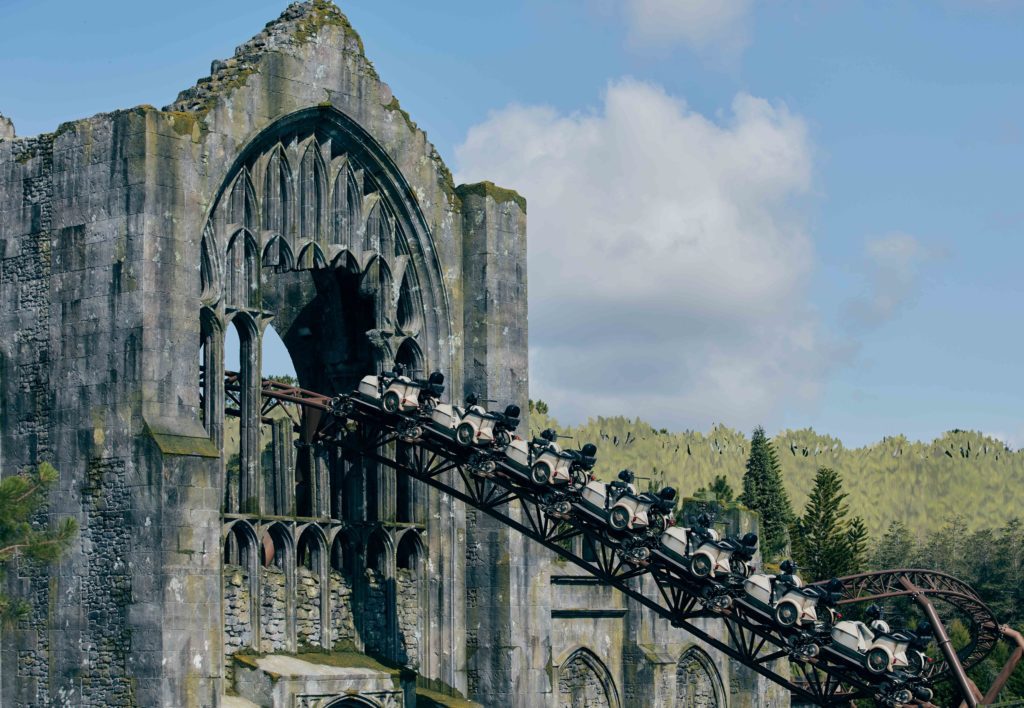 It never changed since then and was once again in full effect for both Diagon Alley and Hagrid's Magical Creatures Motorbike Adventure.
I'm pretty sure you've all seen pics floating around the internet of fans experiencing these adventures for the first.
Learn how to find your perfect vacation home rental in Orlando by Clicking HERE!
I've been adulting (as my friends would call it) for the past month, so I have not been able to release my ThemeParkHipster side as much as I'd like.
However, that always changes with each new Wizarding World of Harry Potter addition!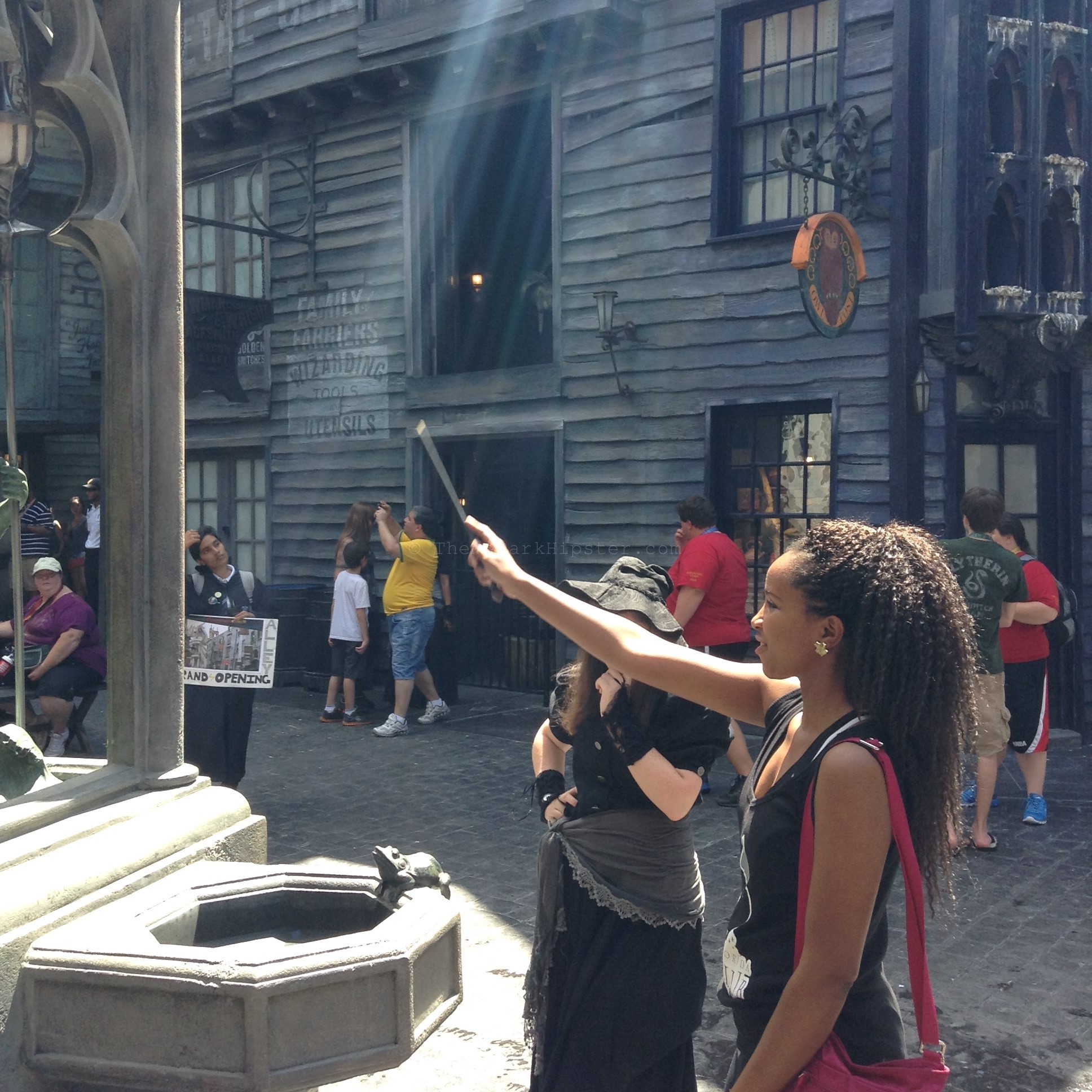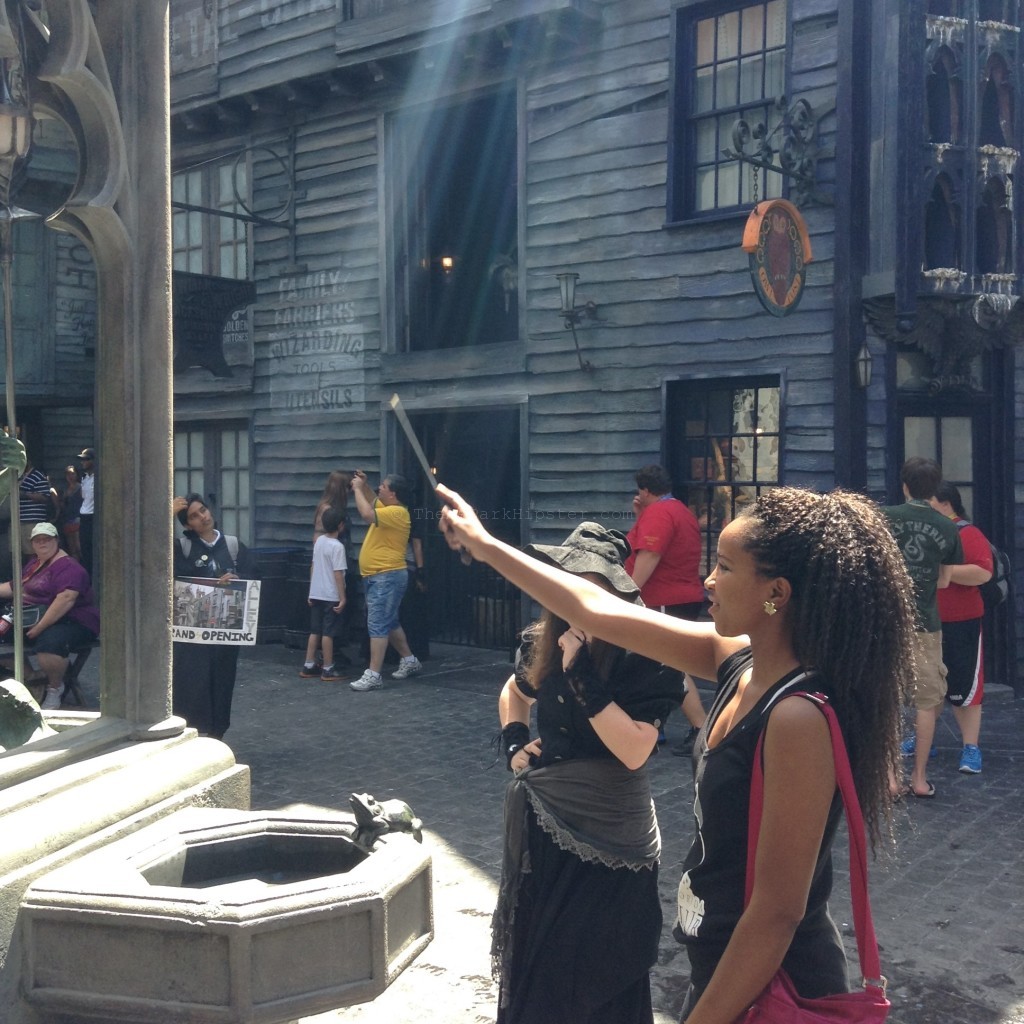 I'm here to quickly guide you on what to do, where to go, and what time to be at Universal Orlando for any Harry Potter World grand opening day.
Although we are focusing on Diagon Alley today, these tips can work for Potter celebration at Universal.
7 Tips to Conquer a Diagon Alley Grand Opening Day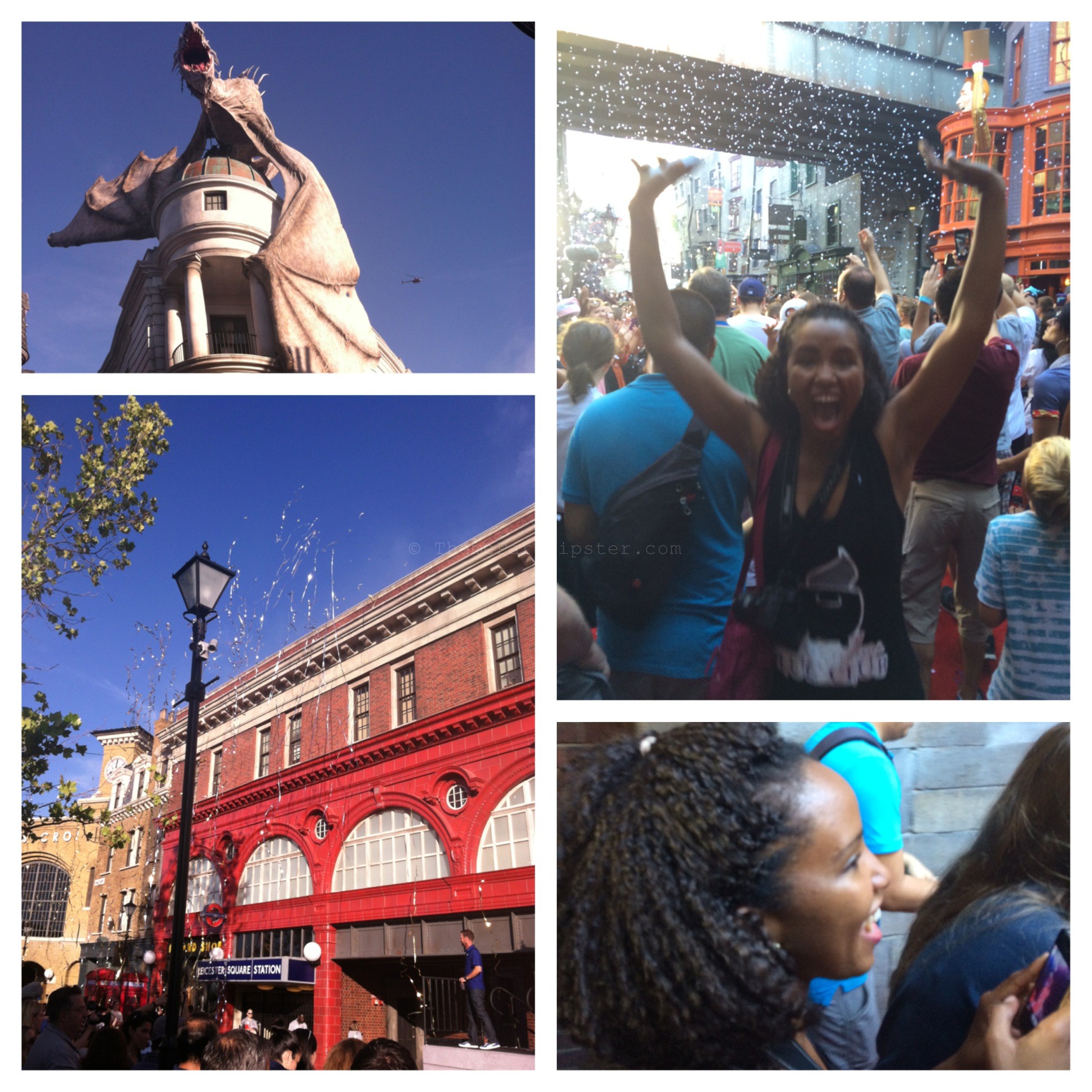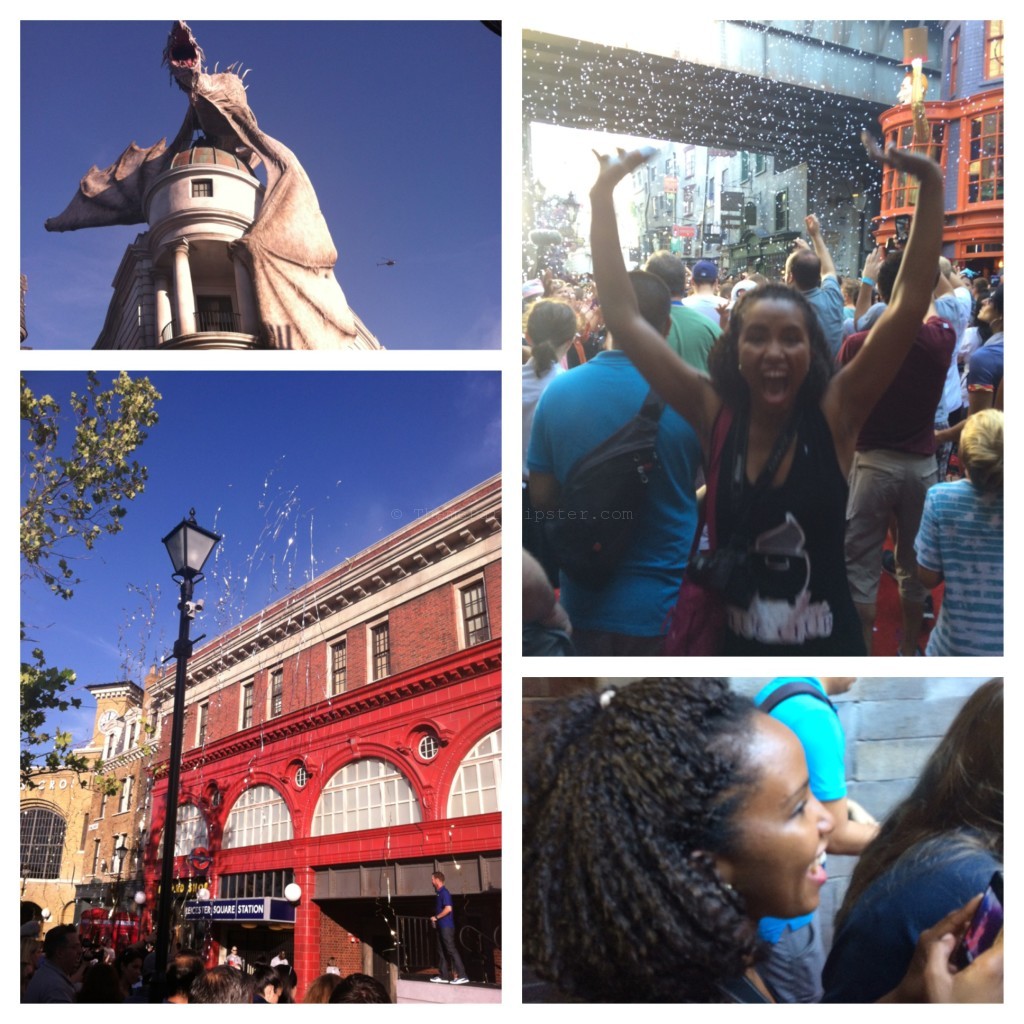 1 – Get There Early
No I mean really get there early.
Like an "I have a flight at 5 a.m. and need to be at the airport by 3:30 a.m. early."
It is usually rumored that Universal will not open the parking garage until 5:30 a.m. the mornings of any grand opening, but just wait by the parking gate as early as possible.
Hipster Power Tip: Consider staying onsite at any of the Universal Orlando Resort properties. This will allow you to skip the whole parking lot situation.
2- Prepare for a Huge Crowd
Any new attraction that has a grand opening event at Universal Orlando usually brings in a huge crowd.
Diagon Alley Tips (Complete Guide & Secrets of Diagon Alley)
But, anything Harry Potter related increases this to an unimaginable level!
If you're a big fan of the J.K. Rowling series, then waiting in line with other die-hard wizards and witches will make the time more of a magical undertaking instead of a dreadful task.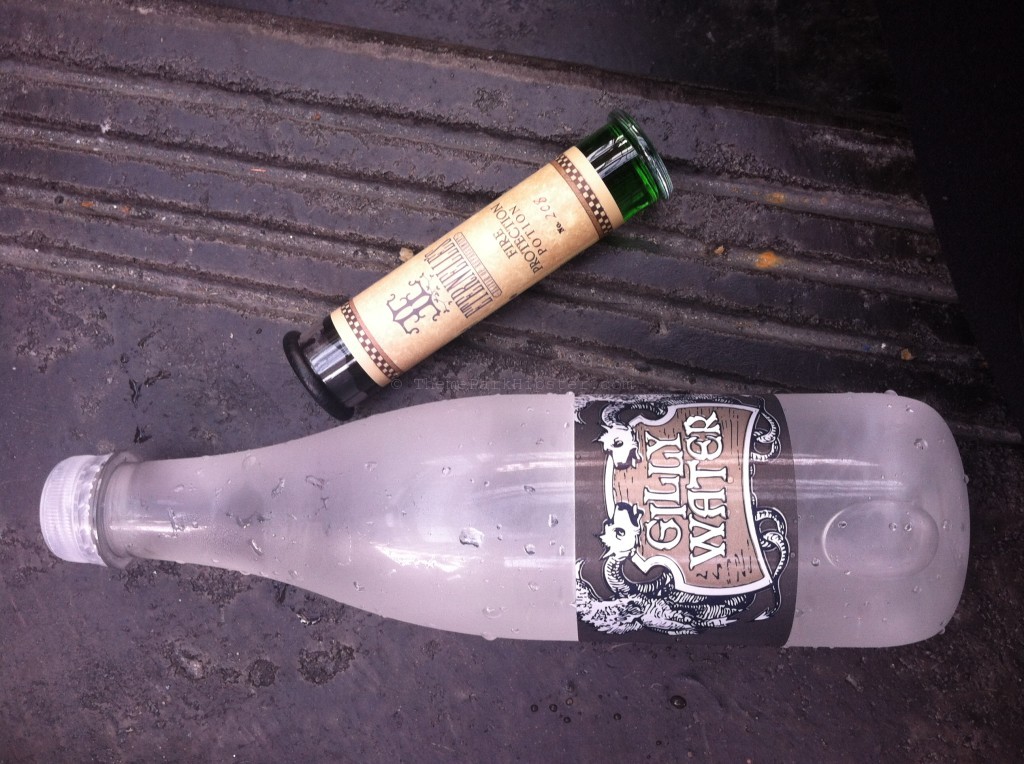 3 – Bring Lots of Water
What more can I say?
I'm trying to think of the best words to explain just how important it is to make this tip your number one priority.
The heat and humidity that you experience in Florida is like no other state in America.
Be sure to stay hydrated and splurge on one of those mist fans they sell in the parks to keep you cool.
If you choose to wear your robes (no judging here), then try to wear some lighter clothing underneath.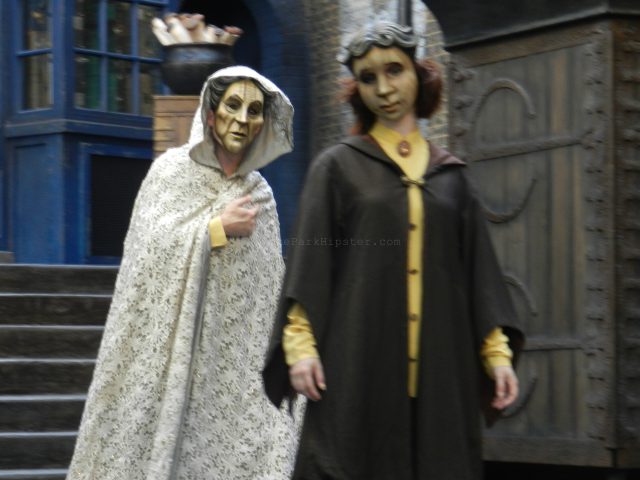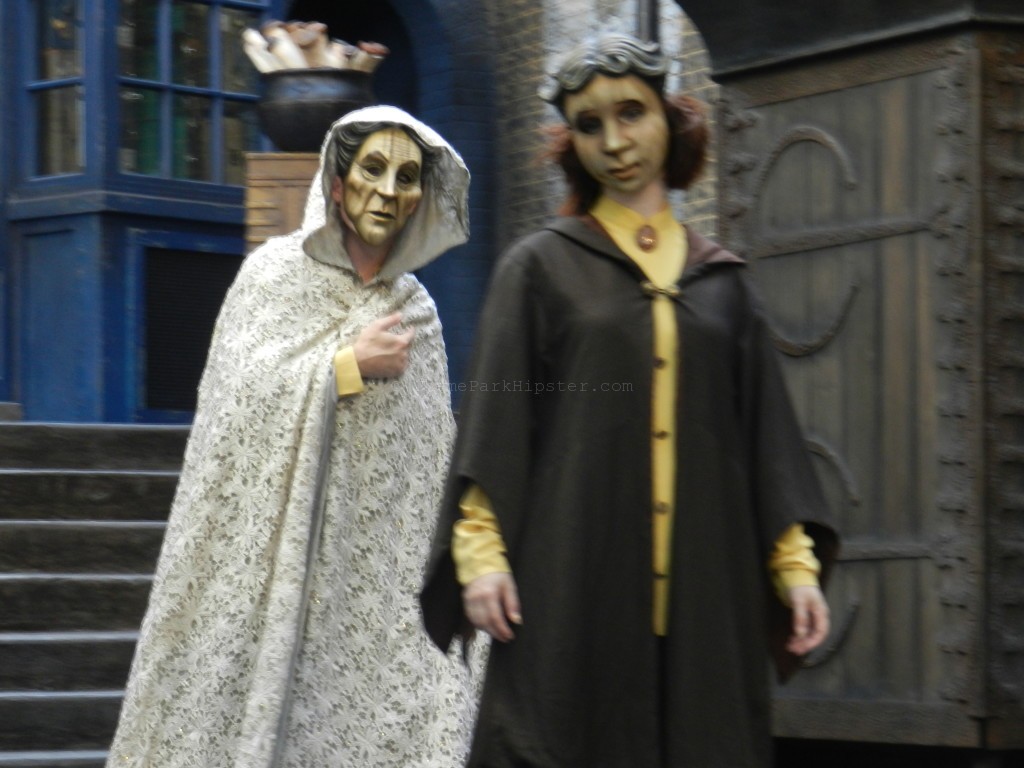 4 – Bring Distractions
Don't forget to bring books, a good podcast, magazines, Cards Against Muggles, iPhones, iPads, friends, or just conversation with fellow fans.
You will be waiting in line for HOURS and you will want to surround yourself with fun and crazy people, I mean distractions, to keep you busy.
5 – Don't Forget the Camera
This is a no brainer!
If possible, I recommend that you bring your "real" camera to capture this once in a lifetime event.
A cell phone is good, especially if it has good picture taking quality, but I still recommend one with great zoom capabilities and high resolution.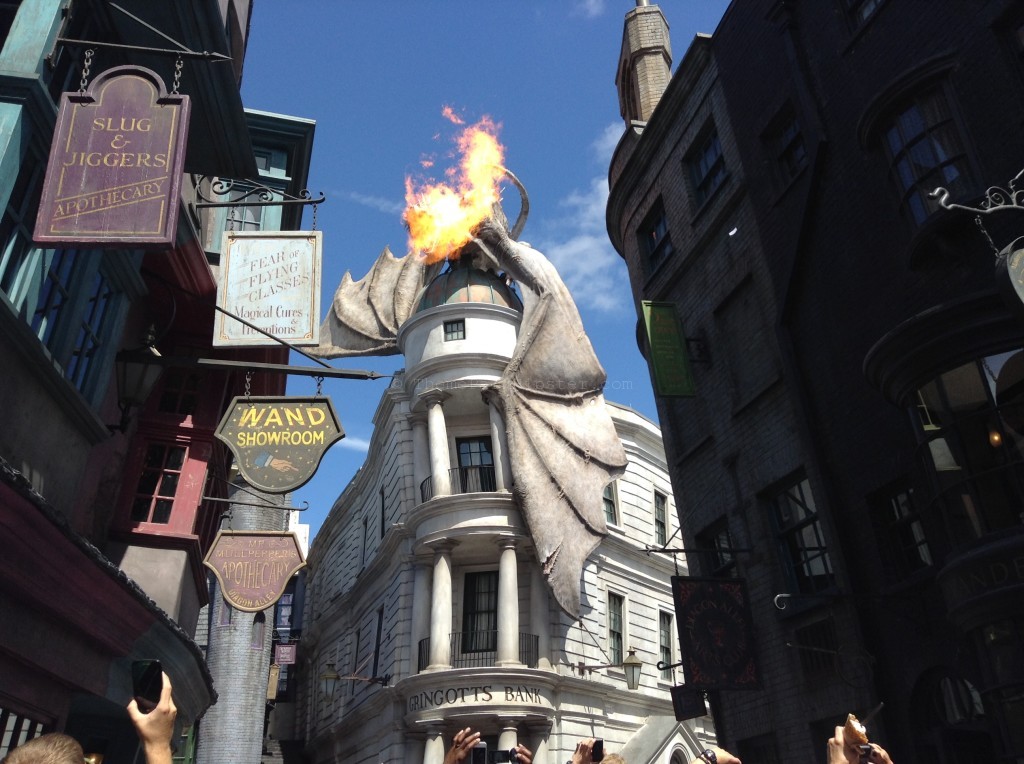 6 – Prepare to Wait
There's absolutely no getting around the extremely long wait in the queues for almost every attraction and shop in Diagon Alley.
As mentioned before, there will ALWAYS be record-breaking crowds for these events that never really die down until late September. Assuming, the grand openings take place in the summer.
Remember to be patient and try to savor each moment of the event.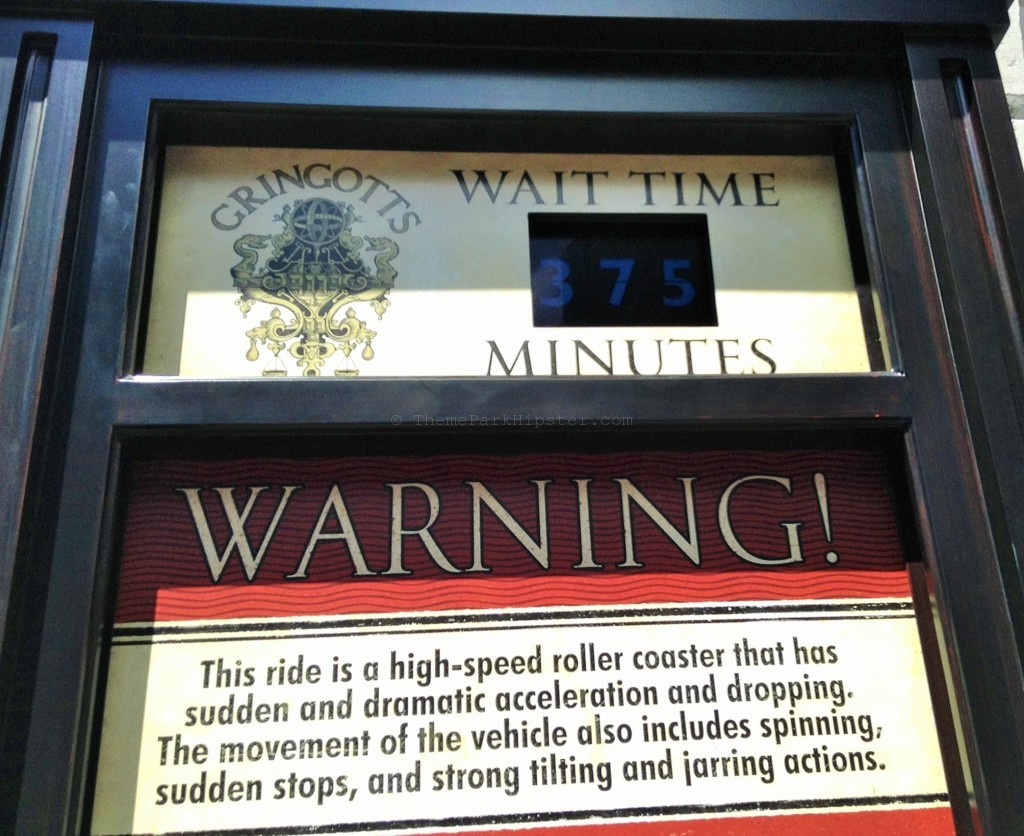 7 – Have Fun!
This event will what you make it.
Universal Studios is known for pulling out pretty amazing surprises during grand opening celebrations.
Yes it will be hot.
It will be muggy.
Yes you may be so close to strangers that it will make you second guess your decision.
But, in the end you will have made wonderful memories!
Final Thoughts on Surviving any Diagon Alley Grand Opening Day
There's really no set guideline to preparing for a grand opening for anything related to the Harry Potter series.
However, there are ways of enjoying yourself no matter what the situation may bring.
I hope you Hipsters enjoy yourselves on any Wizarding World of Harry Potter opening day!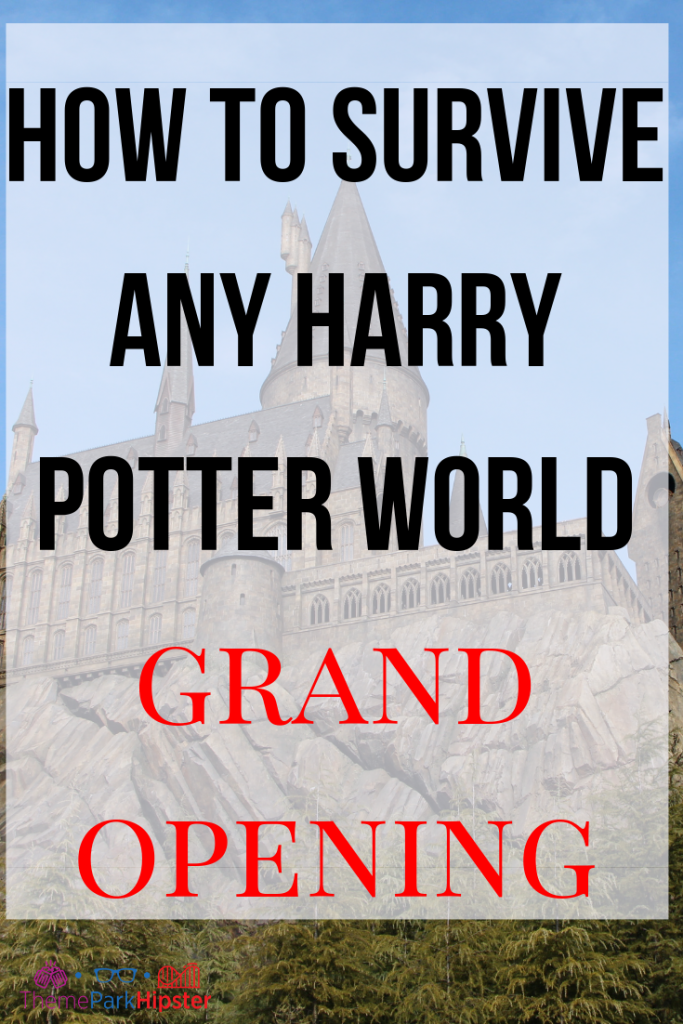 ---
If you enjoyed this Universal Studios Itinerary Guide, then you'll love these:
Read the Universal Orlando Vacation Planning Guide for your next dream trip!
Until next time, Happy Park Hopping Hipsters!
NikkyJ