We do not need magic to transform our world. We carry all of the power we need inside ourselves already.
~ J.K. Rowling
This quote is the latest dose of Theme Park Therapy inspiration.
The magic in the world of Harry Potter inspired me to seek a writing career I never thought was possible. Reading the books of J.K. Rowling and the vividness of her imagination, helped me to do what I do today. Like blogging, writing, and creating content for others to enjoy.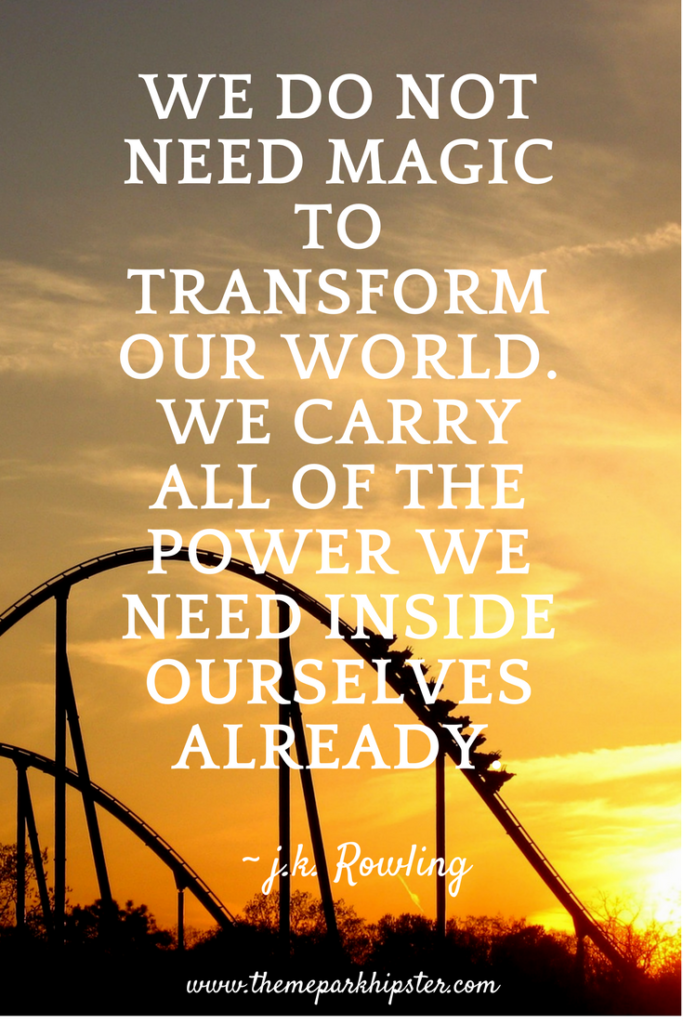 The magic that we think is magic always stems from someone's idea inside of them. When you see all of the great inventions, stories, movies and theme parks that have come, it's because it started from the power within someone's mind.
It's a mindset that most great thinkers have to explore possibilities and to think outside the box they're sometimes forced to live in.
We have the tools to create our own magic because we live in an age of magic. Innovators such as Walt Disney, Steve Jobs, Nikola Tesla, Benjamin Banneker, and J.K. Rowling all contributed to technology and entertainment harnessing this magic inside of them.
So what makes me and you different?
Really the only thing that makes us different is what we decide to do with the time we're given.
Will we settle for the life that has so-called been thrust upon us OR will we create our own path and go away from the mark like these great innovators and thinkers did?
I definitely want to create my own path and I hope that you would also want to create yours through whatever passion, desire, purpose, or destiny you have upon your life.
A great teacher once said:
Our thoughts become actions. Our actions become habits. Our habits form our character. Our character determines our destiny.

~ John Paul Jackson
All of this correlates with what you do with that power inside of you. Will you go on a path to create a destiny filled with poverty or one of drought?
I challenge you to go out and harness that power inside of you. It's time for you to walk into your destiny and transform the world around you.
Until next time, Happy Park Hopping Hipsters!
NikkyJ