The time of year that most of us has anticipated is upon us. Halloween Season. And nothing's more important than the Halloween Horror Nights Icons.
With the arrival of this most coveted season that ushers in the brisk weather and rosy red and golden leaves, brings us Halloween Horror Nights (HHN) at Universal Orlando Resort.
Originally beginning as Fright Nights in 1991, with only 1 house and running for 2 nights in October to quickly growing into a two-month long event with 10 houses, 5 scare zones and fabulous entertainment, food and merchandise.
THIS POST MAY CONTAIN AFFILIATE LINKS. PLEASE READ MY DISCLOSURE FOR MORE INFO. Which means if you click on certain links, I may receive a small commission at no additional charge to you.
Why is Halloween Horror Nights So Special?
What really sets Halloween Horror Nights apart from the rest is its ability to create fantastical stories that strike fear into the hearts of its guests.
Not only the creativity, but its ability to weave these tales together along with the talented hands of the Universal Creative Team.
This team has brought these nightmares to life for over 30 years now.
30 Years of Fear: The Year the HHN Icons House Made Its Debut
Speaking of 30 years, 2020 was supposed to be the 30th anniversary year celebration for Halloween Horror Nights, but we know what happened…
Anniversary years are known to be big, grand and generally returns a special something that fans love and adore.
Sadly, it was pushed back to 2021 and fans were ready to return to be frightened and see familiar faces of Horror Nights past.
One of the key things that makes Halloween Horror Nights stand out, is its Icons. They are the masters and mistresses of horror. They hold the key to unlocking and bringing your darkest and deepest nightmares to life.
In 2021 Universal brought some of these icons back, along with its originator, Jack, in their very own dedicated house, HHN Icons Captured, to decide who is the evilest of all.
In honor of HHN 30 being the first time in the event's 30+ year run that these Icons have been brought together, I thought it would be a grand idea to list our top 7 Halloween Horror Nights Icons.
If I were you, I wouldn't read this list in the dark or alone, so maybe share with a friend…
HHN Icons: Honorable Mentions
Before we dive into the official list, it's clear an event so iconic deserves to have some as honorable mentions for the Halloween Horror Nights Icons.
Terra Queen
She was featured in the Terra Guard Run scarezone at Universal's Islands of Adventures and she was in a show where she watched over as unsuspecting viewers became victims.
Terra Queen commanded the black guards and creatures of Terra Cruentus , which was the central location for the theme of Halloween Horror Nights that year.
She was extra cool as she traveled the land on her motorcycle.
The True Evil Queen
She was no Queen Elizabeth II. She was unforgiving and cruel on top of not being able to speak, only making such hissing, growling and roaring sounds that sent chills up and down your spine.
Thankfully, like any well-prepared queen, she had an interpreter.
Her death did not end her reign as she returned for the Gorewood Forest scare zone, so expect to see the return of blood rituals which I'm sure she will oversee.
For those who don't know, Gorewood Forest is where Terra Queen sent those who disobeyed her, so it will be quite an interesting scare zone.
Eddie Schmidt
Where do I begin with Eddie?
He has a complicated history and would be considered one of the icons that should've been but was lost due to events of the United States at the time. Let's backtrack a bit and then I will explain further.
Jack's Brother???
The original Icon, Jack the Clown, had a brother. Eddie was born in the same sanitarium as Jack in the early 1800s.
Just like his brother, he had some unfortunate scars that he covered up with makeup.
He got them from a prank gone wrong by some teens who set his haunted house on fire. Unlike his brother however, he was really into 1980s slasher films…. like REALLY into them.
So being the businessman he is, he created a game show type event called "RUN" where guests had to escape torture devices without going mad.
Eventually it reopened with his brother's help as an assassin business. We love to see it.
While featured in several Halloween Horror Nights, he was never the HHN icon he was supposed to be in the event's 11th year with Jack.
He was meant to be the icon that year and be featured in the RUN house but due to the nature of his story and the September 2001 tragedy, he was quickly shelved.
In the 2021 event, he was in two scare zones, 30 years 30 Fears and Lights Camera Hacktion: Eddie's Revenge.
7 Best Halloween Horror Nights Icons RANKED
Two very worthy honorable mentions have been introduced and I can't wait to see them this year in all their glory!
But now it is time to begin our main list of the top 7 Halloween Horror Nights Icons list.
These characters were chosen for their story, significance in the event's history and votes from the readers! Let's see if your favorites made the cut!
Check out my latest theme park adventures on Instagram TODAY!
7. Lady Luck
Since the dawn of time, Lady Luck has been around. This is because Lady Luck is actually a shapeshifting succubus.
Don't Be Deceived…
So, while she may seem like a gorgeous and stunning beauty, when she reveals her true form, she is a hideous monster. Just like someone's mother-in-law, I'm sure.
Lady Luck either causes trouble for those who gamble with her and lose or chooses the wrong choice between the two that she gives them.
And yet, there was only one person who has gambled with her and survive, and his name is Floyd Mercer.
He was a prisoner who hung himself a year before the Shadybrook Sanitorium, where Jack and Eddie once stayed.
Floyd witnessed a friend gamble with her and win only later to be murdered by her and her minions, which were past victims turned into monsters.
He escaped by faking being insane. Once she found out where he was, he hung himself.
Her lore really allows her to be everywhere when you least expect it while collecting to roman and Greek culture in her story.
She has only been featured two more times since then at the event and was featured two more times in the previous year's 30 years 30 Fears scare zone and HHN Icons Captured house.
6. The Director
Also known as The Director, he was the King of Orlando's film scene and Halloween Horror Nights icon for the 13th year. He would have his own house and a show that year.
The Director was featured again in 2 other years and brought back for the 16th year, along with several other icons. He, of course, will be back for this year as well. It's only right.
You Become the Star…or victim…
Now Mr. Ravinski is into a specific kind of film: Snuff. He loves torturing and killing his victims and has zero remorse.
His sadistic and cruel nature truly allowed him to get more into his "art."
Law enforcement beg to differ. In short, the creeper vibes are here.
His serial killer tendencies started at the tender age of 8 when he would shoot at animals with a BB weapon while he also started his film career around this time.
He happened to capture human suffering on film. His film debut disgusted people so much that he was cast out of his home country in eastern Europe.
But Universal decided to give this budding film director a shot and hired him to film his next flick at Islands of Adventure, where each island would have its own film as part of his whole project.
His debut was part of a big trial and error section when Universal expanded the event to Islands of Adventure and the idea was truly innovative and interesting.
It is very interesting that Universal decided to return again somewhat back to their studio roots and tie it in with a foreign snuff film director.
Fans really love how he gets under your skin and enjoys what he does, no matter how questionable and demented it may be.
It is assumed that he will be amongst the icons to visit the event this year.
5. Chance
What is a performer without their assistance, right? Let's meet this enchanting lady and Jack the Clown's right-hand lady, Chance.
Some people like to compare her to Harley Quinn of the DC Universe, which I can see.
But she's quite unique and dark to herself. Introduced in Halloween Horror Nights in Jack's Carnival of Carnage in 2007 as his assistant and she was immediately beloved and accepted by fans.
It wasn't long before people clamored for her to standalone as an icon.
Don't Be Fooled. The Girl is Crazy!
She is maniac in her behavior and very happy to go about her murder sprees with jack. She is very unpredictable in where you don't know when she will go from bubbly to maniacal.
Chance, while not a trained professional, is quite the knife thrower. Safe to say, she will get a kick out of making you uncomfortable and torturing you.
Eventually, you get tired of being in the shadows and Universal heeded the call.
She became the icon of Halloween Horror Nights 26 with her own house and scare zone, which overall, was loved by fans.
4. The Usher
One of the things that myself and other Halloween Horror Nights fans appreciate about The Usher is the tie in to Universal's movie studio history.
It was so innovative and creative with how they brought in the origins to create such an intriguing and cool character.
Let's meet Julian Browning, who has been featured in 3 Halloween Horror Nights including scare zones and houses. This "young" man debuted as the icon for the year's 19th year.
Young Julian worked at the Universal Palace Theater that became a movie house to playhouse in the 1920s.
If you could imagine, Julian was a HUGE fan of film and movies, becoming a horror film expert.
But more importantly, he was VERY big on enforcing rules and did not condone rude customers.
Follow the Rules If You Know What's Best for You…
Julian's story was one of the theater's first events that turned it into a house of evil.
He got into a fight with a rude patron during a re-release of "Phantom of the Opera" who stole his flashlight and through it at the screen, which tore it.
Sadly, he got caught in a sandbag rope and was strangled when he went to retrieve it.
So, it makes complete sense that he haunts the theater with classic movie monsters to silence rude patrons for good.
While not seemingly menacing, his lore and his evil truly gives him the ability to be so entrancing.
It's very clear fans truly appreciate the nod to the park's origins and his ability to control movie monsters, which Universal Studios is known for.
Julian returned to 30 years 30 fears and HHN Icons Captured in 2021. As always, please remain seated in the theater and follow all the rules.
3. Bloody Mary
This is one of the most well-known urban legends and we must commend Universal on taking it and giving it a brand-new origin story unique to its character.
Here is another icon with a fascinating backstory and lore. But what helps it stand out is how it was introduced slowly to fans in the Universal's Horror Nights 2008 marketing that was absolute perfection.
Note that I WILL NOT be saying her name three times.
So Bloody Mary is the perfect icon because she is very terrifying. She has a similar look to Dr. Craine.
Her torn, dragging white dress and dark raven hair gives off "The Ring" vibes that takes me back to the early 2000s, but not in a cheesy way.
In a way, she gives off "Joker" vibes too with her scars (I want to know how she got them).
The most menacing part of her look is her blank, literally dead, eyes and to complete her look, red lipstick created from fresh blood of course!
What makes her story so fascinating is how she was teased.
On a crisp July 1st day in 2008, Dr. Agana invited guests to read some diary entries on the Halloween Horror Nights site that began in 1958.
As we read on, we find that she was a psychiatrist who unconventional methods were not accepted by NAHM (National Association of Mental Health.)
Every week, pages were added as she gained more and more cases. It was also mentioned that she inherited belongings from her deceased grandmother.
And she continued to use her methods on patients, which led to two of them being sent to asylums with the third dying and let's just say she was not feeling negative in any way about the death.
The Madness Starts!
We slowly see her descent into madness, similar to Dr. Crane as her writings become more unhinged and sloppier.
After murdering a NAHM doctor with her bare hands and on August 27th it is revealed who she became.
Her story ties into a story regarding the death of a missing Carey, Ohio teacher who we eventually discover that she is the daughter of.
The story returns to present day, at the time 2008 where a paranormal investigation group named Legendary Truth investigate her tale on the anniversary of the death. These investigators disappeared.
Contrary to popular belief, you can summon her but she can also pop in whenever she likes and strangle you, so you know, there's that.
She was a seriously successful icon and very marketable. Her lore is ridiculously deep and fascinating and overall, truly a jewel in the Halloween Horror Nights crown.
From the buildup to the introduction, you can't keep her in that mirror. And she always comes back with a vengeance!
2. The Caretaker
This renowned doctor has been featured in eight (8) Halloween Horror Nights events and debuted as the second icon of the event during the Islands of Fear year.
His presence very much so gives "silent but deadly" with his sunken face, tattered clothing and his signature weapon bestowed upon him by Fear, a pair of shears.
The Caretaker's obsession with saving lives turned deadly once he began his experiments who started with dead patients…then moved on to the living.
Let's hear Dr. Albert Craine.
Dr. Craine is a popular surgeon turned caretaker of Shady Oaks Cemetery.
In his quest to help save lives, his wild relatives and assistants, would dig up bodies for experiments in order to figure out the consistencies and science of the soul.
Get your Halloween Horror Nights ticket TODAY!
In short, this is what happens when you try to play God.
His experiments quickly turned to living patients as he lured the homeless to become unfortunate victims.
He would commit brutal acts without numbing aids, leaving notes and recordings of his findings as he slowly descended into complete madness.
Did I forget to mention cannibalism was involved occasionally? Yeah….
The caretaker's tale with his innocent beginnings in attempts to save lives and mankind as he turns insane with his gruesome experiments truly dives into the human psyche and how far on can be pushed.
As the second icon with such a terrible and dark backstory, he was worthy of his upcoming features in HHN Icons Captured and 30 Years 30 Fears. Just don't be the little piggy that's all alone.
1. Jack the Clown
You know how Mickey Mouse runs Disney World?
Well Jack the Clown is truly the king of Halloween Horror Nights Icons. He is the definition of "He walked so they could all run."
It was no question he would be number on, simply out of respect alone. Besides the director, he was one of the only icons to appear in three of the four Universal parks.
What Happened to Jack?
As mentioned before, he was born in a sanitarium and became a carnival performer after escaping an abusive family life.
But he was also wanted for child abduction and the disappearances of children from several states in the southern US.
He was not innocent at all, but a cold-blooded murderer.
Jack eventually looked for help from a doctor who took out several circus freaks in an accident and was a wanted man too.
This demented clown eventually ended up being taken out by the doctor.
Years later, a BBC camera crew was documenting American Dark Rides and while exploring the interior, they discovered a music box and when cranked, out popped Jack's rotting body.
Later in the investigation, the crew was discovered brutally murdered.
ORDER NOW to secure your Universal Studios theme park ticket! GET MY TICKETS.
The Legendary Tales of Jack the Clown at Halloween Horror Nights
Legend sprung up and states that whoever releases him from his music box tomb by cranking the handle will be rewarded.
Jack seeks vengeance against the doctor. Over the years, he has returned as he hunted for revenge. A total of 10 times, the most of any icon.
His tale has spawned Eddie and Chance, both which are beloved by guests. It's truly intriguing to see how Universal has crafted the absolute true terror icon.
A simple concept with a clown, helped launch a loyal fandom of one of the most visited haunt events in the country.
Jack continues to be unleashed on Halloween Horror Nights guests and we welcome it.
Out of all the icons he has the deepest lore which interweaves perfectly through all the years that he has been introduced.
Ready to plan your theme park trip? Watch the best vacation planning tips on YouTube. Get started here!
The Chilling Conclusion to This Halloween Horror Nights Icon List
I have to let you know how tough it was to make this list. The Icon years of Halloween Horror Nights truly set the bar for what makes this haunt one of the best in the country.
These Icons set the mood and theme for their years.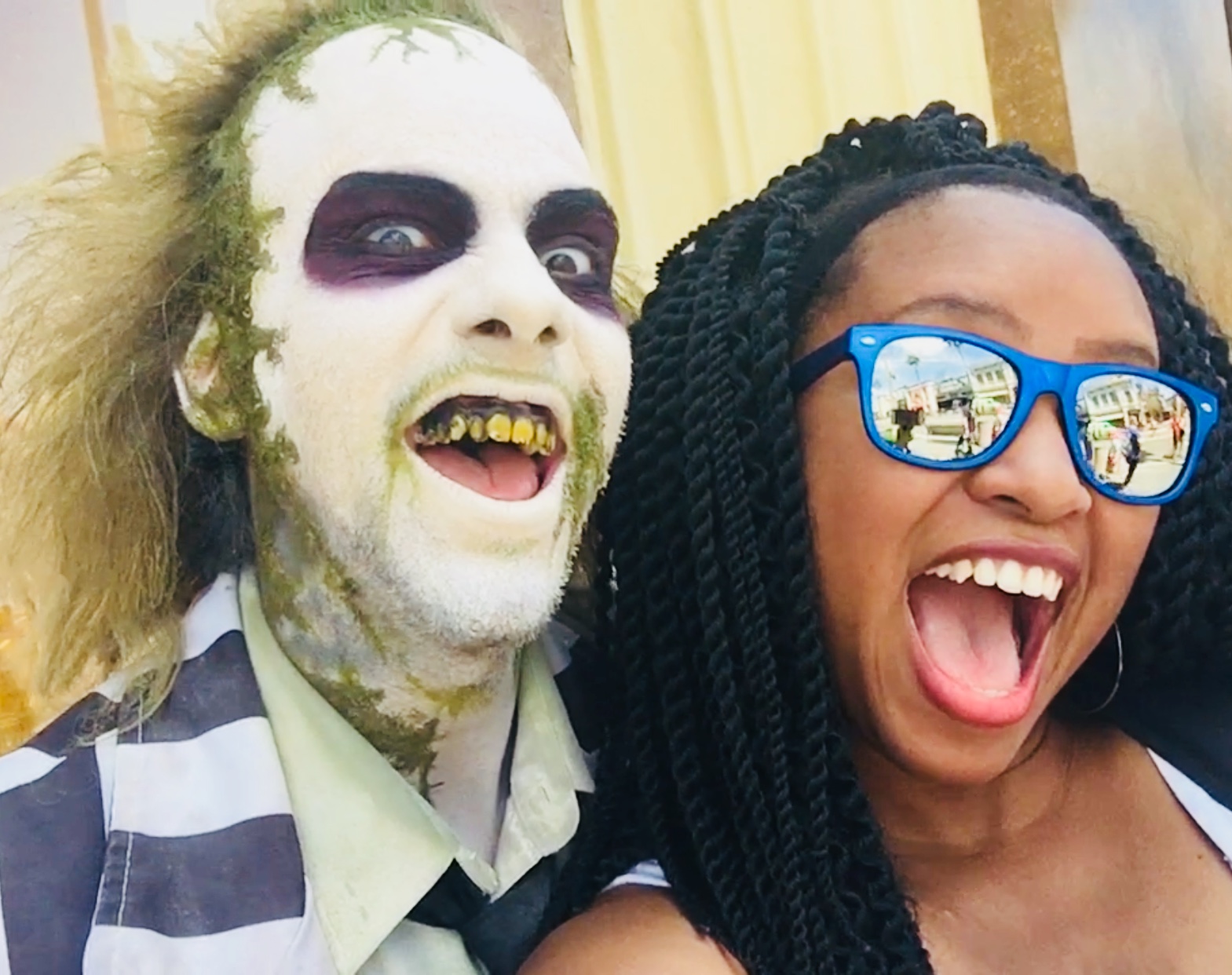 Not only that, but they eerily enchanted visitors and fans alike with their amazingly and beautifully crafted tales.
The lore really dives to the core of what people into horror love about it and bring it to life in such a unique way.
The storytelling is what brings us back year after year and you may notice that there are still Icons that aren't on this list, but that doesn't mean their tales are not worth telling or sharing.
I would encourage you dive into the chaos and brilliance of these icons and their stories.
Did one of your favorite Halloween Horror Nights Icons make our list? Would you like to see Universal create a brand-new icon? Share with us in our Facebook Group!
If you enjoyed this article, then you'll love these:
Happy Haunt Season Hipsters!
(Original Article Date: August 20, 2021/Updated by Editor on July 18, 2023)