Question of the Week: Where to Find Halloween Horror Nights Tickets at a Discount?
Are you looking for cheap Halloween Horror Nights tickets?
Look no further!
I have the best recommendations for you.
I can totally understand the pressure of preparing for Halloween Horror Nights (HHN).
Plus, all the anxiety of wanting to find the best discounts you can get because this event is so much fun!
Today I will give you the top 10 ways to get the best deals for HHN!
THIS POST MAY CONTAIN AFFILIATE LINKS. PLEASE READ MY DISCLOSURE FOR MORE INFO. Which means if you click on certain links, I may receive a small commission at no additional charge to you.
What to Know Before Getting Your Halloween Horror Nights Tickets
Before I take you through the best ways to find discount Halloween Horror Nights tickets, you should know that the Universal Orlando Resort has three parks:
There are also multiple hotels to choose from onsite and ones that are near the park.
It's important to know that Halloween Horror Nights takes place inside the Universal Studios theme park and not Islands of Adventure.
How much are Halloween Horror Nights tickets?
The cost of admission for Halloween Horror Nights starts at $79.99, but I like to save money so I use sites like Groupon to find cheap tickets. We'll talk more about this later in the guide.
Recommended: 35 Scary and Fun Things to Do in Florida for Halloween
Where to buy cheap Halloween Horror Nights tickets?
Now that you know it's possible to do Halloween Horror Nights on a budget, let's go through where you can find your discounted Universal Studios tickets below.
1. Groupon
Wow! Groupon has finally given us the option to purchase tickets for Halloween Horror Nights directly from their website.
This is great news, as it allows us to save a lot of money on our tickets. Up to 43% off!
Why I love shopping from Groupon…
I used Groupon this year to get my HHN tickets and it was super easy! Once I purchased my tickets, I was able to scan the voucher on my phone at the gate for HHN.
This means that I was able to skip the ticket booth!
More ways to use Groupon 🙂
Looking for a way to enjoy more of the area attractions besides the Universal Orlando Resort theme park?
Groupon has got you covered!
With discounts on tickets to Fun Spot, Kennedy Space Center, and The Wheel at ICON Park, you can have a great day out without breaking the bank.
I absolutely love Groupon for finding great deals on different tours, restaurants, and activities to do in Central Florida.
If you know anything about Groupon, then you know that the offers don't last long, so take advantage of the deals ASAP!
Get your discounted HHN Tickets on Groupon TODAY!
2. The Park Prodigy
The Park Prodigy helps you not only grab the best theme park deals, they also help you plan a full out vacation to Universal Orlando Resort and a trip to most theme parks you're interested in.
The team at The Park Prodigy also specialize in Disneyland travel planning and Universal Studios Hollywood, just in case you want that epic Halloween trip across America!
Mike is the owner who is very hands-on with everyone who uses his agency to book Universal Studios tickets.
So, if you're only planning for a one day visit to one of the Universal Orlando parks or if you're planning on making a full vacation, then I suggest purchasing your Halloween Horror Nights tickets from The Park Prodigy.
Get YOUR Halloween Horror Nights Tickets with The Park Prodigy TODAY!
3. Undercover Tourist
The Undercover Tourist is one of the most popular theme park ticket sellers so you've probably heard of them.
I've used them in the past for my Universal Studios Hollywood trip and their website was easy-to-use and they responded quickly to all my questions on Twitter.
Since 2000, Undercover Tourist has been providing authentic attraction tickets at discounted prices as well as insider planning tips and excellent customer service.
Get Your HHN Tickets with Undercover Tourist TODAY!
4. Search Your Local News/Radio Stations' Websites
If you're looking for some great travel deals, be sure to check out your local news or radio stations.
Many of them have websites with a fantastic travel section that has deals on theme park events all over the country.
Also look out for any contests that the stations may have as that was how I was able to experience my first time at the event for HHN 15!
It was the most amazing time and as you can see, I became a major fan of Halloween Horror Nights at Universal Studios.
Hipster Power Tip: Be sure to check out one the biggest theme park ticket sellers for your discount HHN tickets over on AttractionTickets.com!
5. Local Groceries Stores
If you're looking to save some money on theme park tickets, be sure to check out some of the chain grocery stores in the South – like Publix and Costco.
They offer discounted tickets for places like Universal Studios and special events like Halloween Horror Nights in Orlando.
Hipster Power Tip: If you're looking for a vacation that offers something different than the traditional theme park experience, consider booking your trip through Orlando Vacation Home Rental companies like Top Villas. They offer discounted tickets to Universal Studios and Halloween Horror Nights, so you can save big!
6. AAA or Professional Organization
If you're part of a professional organization or travel club, always make sure to check if they offer any Universal Studios or Halloween Horror Nights discounts!
You can check on their website or visit your local AAA office to secure your spot!
7. Buy Directly from Universal Orlando's Website
When it comes to Halloween Horror Nights, Universal offers discounts on the tickets when they're purchased in advanced and online.
If you have an Annual Pass, be sure to take advantage of your Halloween Horror Nights Passholder discount.
Many of their deals are unpredictable and can happen at any time. That's not the best news if you're a planner!
Ready to plan your theme park trip? Watch the best vacation planning tips on YouTube. Get started here!
8. Use an Authorized Halloween Horror Nights Vacation Planner (THEY'RE FREE!)
There are a lot of travel agencies that are authorized to help you plan your theme park vacation. I personally use The Park Prodigy as my go-to source for theme park planning.
If you're looking for help arranging your travel to Halloween Horror Nights, a travel agent can be a great resource.
They often know about the different discounts and deals available right away before anyone else does.
They know the time frames that are best for you to book AND they're also really good when it comes to planning a customizable Orlando vacation.
Through the authorized vacation sellers, you'll be able to get a significant discount on your Universal Studios Resort Orlando vacation package.
Your theme park tickets will also get discounted in the whole package price.
9. Hotel Concierge
If you're in town for a business conference and want to enjoy some free time, then connecting with your hotel or resort concierge can get you a last minute ticket to one of the Universal Orlando theme parks and HHN for a possible discount.
So always check with your resort staff to see if they have any special ticket deals going on during your trip.
10. Watch a Presentation
Now I know this is a controversial way to get tickets to Halloween Horror Nights.
If you stay at a vacation villa, they may offer a presentation for you to view for possibly purchasing a timeshare with their organization.
After you complete the presentation, you're sometimes offered free tickets to Universal Studios Florida or their special events like Halloween Horror Nights.
Be aware that these sales pitches are intense, but if you're able to stay strong, you'll be able to claim your free ticket.
What to Know Before You Go to Halloween Horror Nights
Now that you know where to find the best tickets for HHN, let's go through a few of the most commonly asked questions.
When do Halloween Horror Nights Tickets Go on Sale?
Your Universal Orlando HHN tickets are on sale now! You can get them from any of the ticket sellers that I mentioned in this guide.
Watch: New to Halloween Horror Nights? Don't Go Without Knowing These 15 Tips!
Are Halloween Horror Nights tickets refundable?
HHN is a great event that happens rain or shine, unfortunately no refunds or rain checks are given.
Can you buy Halloween Horror Nights Tickets at the gate?
You can buy HHN tickets at the gate; however, you may be at risk for coming in on a sold out night.
You'll also risk not being able to take advantage of the discounts that are offered when you purchase your tickets to Halloween Horror Nights online.
Get your FREE Universal Halloween Horror Nights Vacation Package quote TODAY!
Is Halloween Horror Nights a separate ticket?
Halloween Horror Nights is a separately ticketed event that takes place on select nights starting at 6:30 p.m.
So you don't need a park ticket to Universal Studios for Halloween Horror Nights unless you want to do Stay and Scream.
This year's event features several terrifying attractions, including an array of haunted houses and scare zones!
Ready to start planning your next Universal Orlando vacation? Listen to the latest podcast episode on Apple or on your non-Apple device now!
My Final Thoughts on Finding Cheap Tickets for Halloween Horror Nights
As you can see, Universal Orlando Resort is home to Halloween Horror Nights, which offers a variety of events and attractions that are sure to please even the most hardcore horror fan.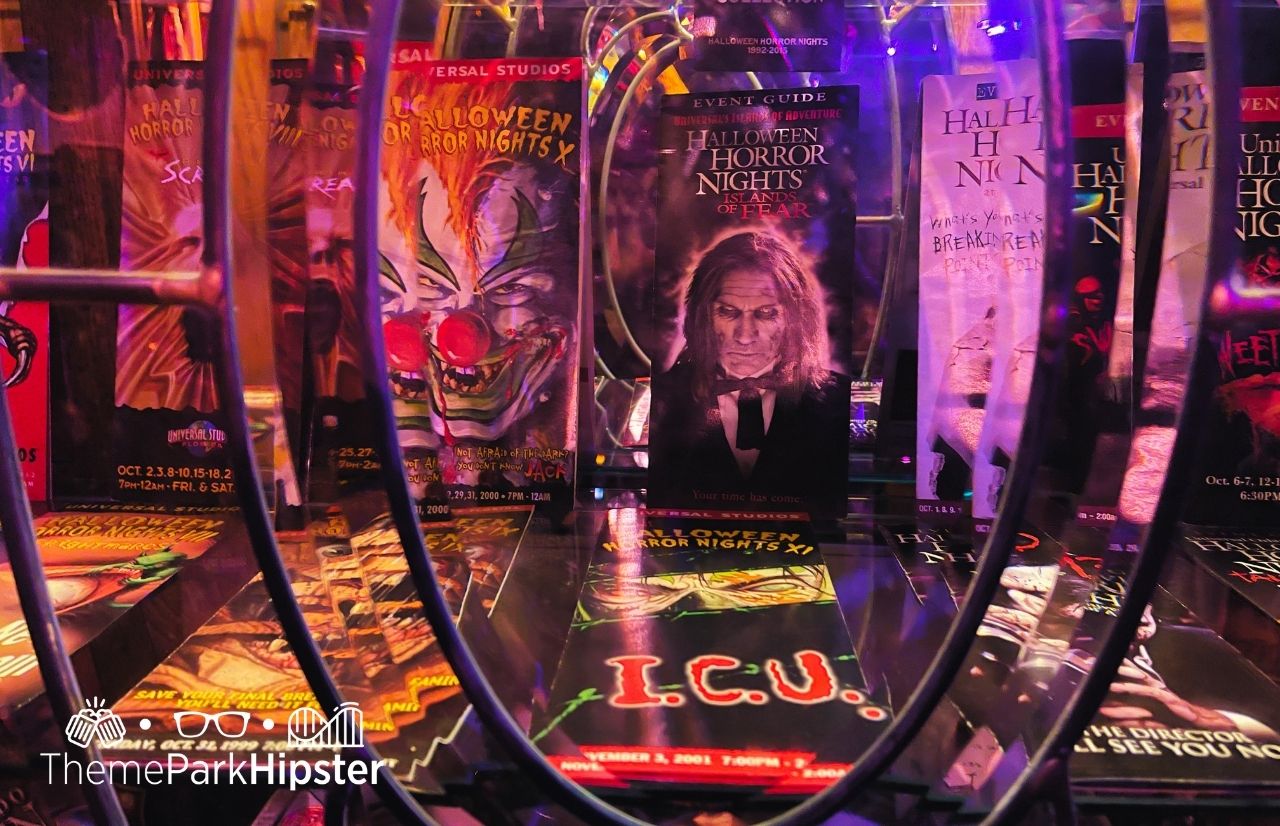 Remember to look around the web for discounts on your upcoming Universal Orlando Resort Halloween Vacation!
With Halloween Horror Nights, you'll have plenty of opportunities to enjoy spooky fun during the season.
If you have any additional suggestions, be sure to leave them in the comment box below. Don't forget to check out my YouTube channel for more Halloween Horror Nights tips.
If you enjoy this article, then you'll love these:
Until next time, Happy Park Hopping Hipsters!
Recommended: How to Get a FREE DAY on Your Next Universal Orlando Trip TODAY!
(Original Article Date: August 18, 2022/Updated on September 18, 2023)