Are you looking for the best things to do this Halloween at Universal Orlando?
It is the spookiest time of the year, and one place that does Halloween right is Universal Orlando.
Through the parks and resort, you can enjoy a whole host of ghoulish antics and thrilling events. There is no doubt it's the ultimate destination in Florida to enjoy this frightful season.
For those wanting to get in on the action, you've come to the right place!
If you want to make the most of Universal's Halloween season, you simply can't miss these ten creepy and kooky things in 2023.
So let's jump right in!
THIS POST MAY CONTAIN AFFILIATE LINKS. PLEASE READ MY DISCLOSURE FOR MORE INFO. Which means if you click on certain links, I may receive a small commission at no additional charge to you.
1. Halloween at Hogwarts
As the home of witchcraft and wizardry, Hogwarts goes big for Halloween.
Located in Universal's Islands of Adventure, say goodbye to the charm of the Hogsmeade you know by day.
Because once darkness falls, Hogwarts is taken over by Dementors and Death Eaters!
Why We Love This as The Things You Can't Miss at Halloween at Universal
On select nights throughout the fall, The Hogwarts Castle becomes the centerpiece of all the action.
It features the mesmerizing Dark Arts at Hogwarts Castle projection show, where the sinister forces of the wizarding world come to life.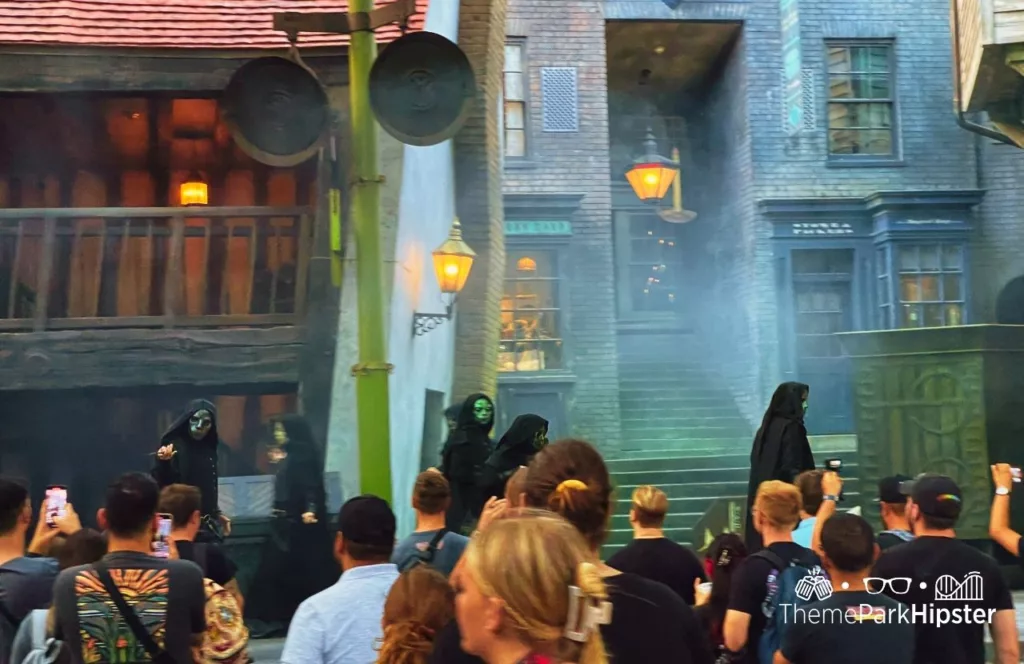 Plus, throughout the evening, you can explore the cobblestone streets of Hogsmeade.
Interact with magical characters rarely seen and enjoy exclusive entertainment like the Frog Choir's eerie tunes while sipping on a cup of Pumpkin Juice. 
Get your discounted HHN Tickets on Groupon TODAY!
2. Hangout at the Spooky Lounge
Experience the chillingly charming Spooky Swizzle Lounge at Cabana Bay Beach Resort and
The Spooky Sunset Lounge at Universal's Endless Summer Resort – Dockside Inn and Suites during Halloween time at Universal.
These bewitching lounges offer a unique blend of Halloween-themed decor and creative cocktails that'll send shivers down your spine.
Why We Love This as The Things You Can't Miss at Halloween at Universal
You can sip on spooky concoctions while immersed in the eerie ambiance, complete with haunting tunes and eerie lighting.
It's the perfect place to unwind and soak in the Halloween spirit after a thrilling day at the parks. Plus, it's an awesome spot to get some frightfully good pictures!
It's a great way to join fellow ThemeParkHipsters in celebrating the season!
The Spooky Lounges add an extra layer of wicked enchantment to your Halloween time at Universal Orlando Resort.
3. Halloween Horror Nights
Universal's Halloween Horror Nights is the crown jewel of Halloween events in Orlando, setting the bar high for terrifyingly immersive experiences.
Every year, this acclaimed event transforms the theme park into a macabre masterpiece featuring haunted houses, scare zones and spine-tingling shows that leave visitors screaming for more.
Why We Love This as The Things You Can't Miss at Halloween at Universal
The haunted houses are the star attraction, taking you through iconic horror movies and original nightmares, delivering jump scares and unsettling encounters at every turn.
Meanwhile, the scare zones blur the line between fantasy and reality as menacing characters lurk in the shadows as you explore the park.
Add in pulse-pounding live shows, and you've got a serious night of fright!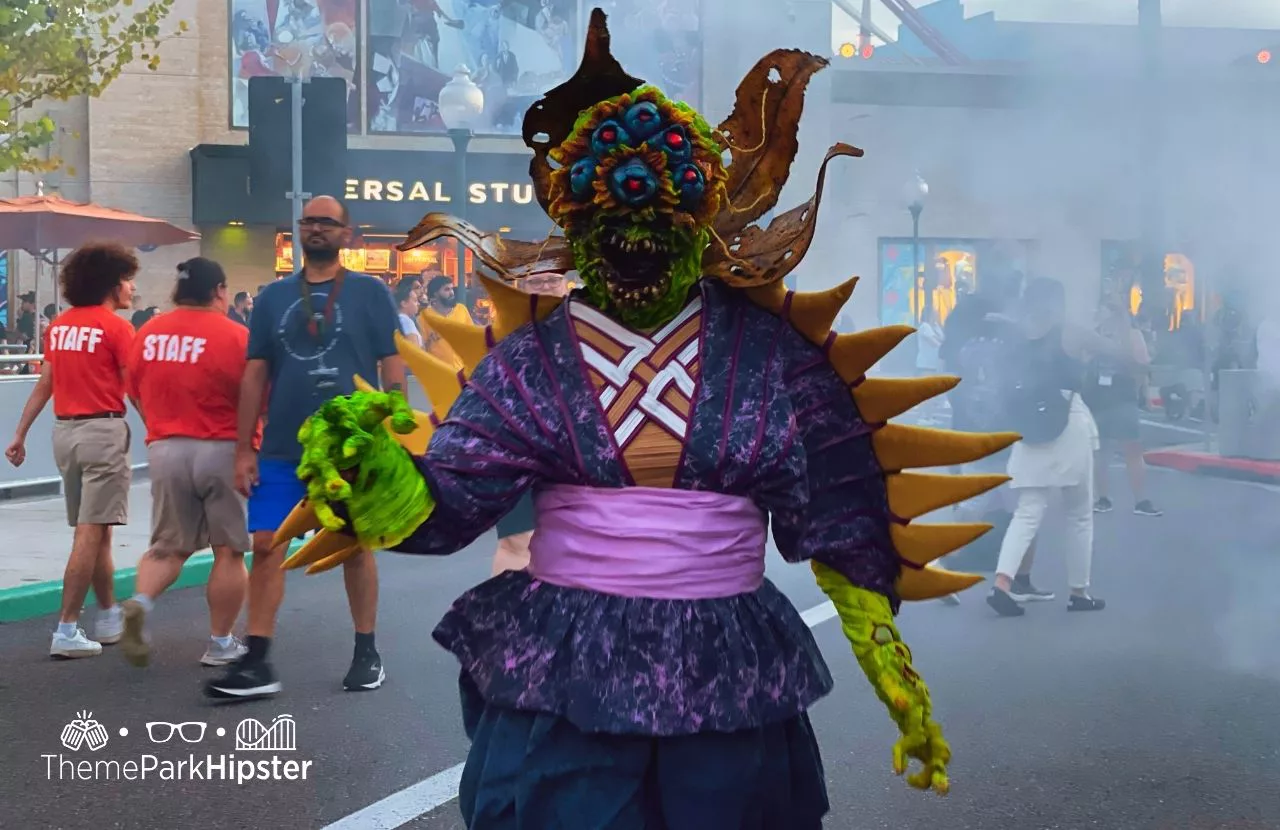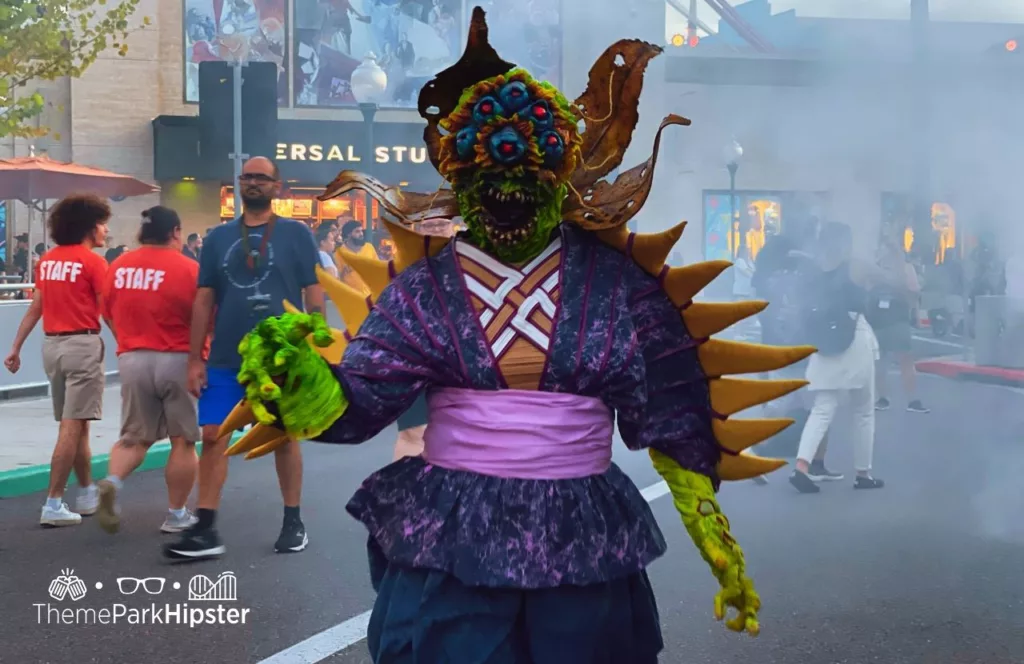 For those who crave thrills and chills, it's the ultimate destination during the Halloween season, earning its reputation as the top Halloween event in Orlando.
Brace yourself for a night of screams and unforgettable terror!
Get YOUR Halloween Horror Nights Tickets with The Park Prodigy TODAY!
4. Visit Chucky's Twisted Playground in Cabana Bay Beach Resort
Venture into the nightmarish realm of Chucky's Twisted Playground.
Cabana Bay Beach Resort is where this eerie pop-up experience brings to life the malevolent doll from the iconic Child's Play franchise.
Why We Love This as The Things You Can't Miss at Halloween at Universal
Guests are immersed in a spine-tingling atmosphere with sinister carnival games, eerie prizes and creepy surprises around every corner.
It's a wickedly entertaining addition to the Halloween season at Universal Orlando, adding a playful yet sinister twist to your visit alongside great photo opportunities and an encounter with Chucky himself, who's always up for a sinister selfie.
So, if you're ready for some twisted fun and a dose of creepy nostalgia, make sure to stop by Chucky's Twisted Playground.
Recommended: 35 Scary and Fun Things to Do in Florida for Halloween
5. Try Specialty Halloween-Themed Cocktails at ALL Eight Universal Orlando Resort Hotels
Elevate your Halloween celebration at Universal Orlando Resort by embarking on a tantalizing journey through ALL eight resort hotels, where bewitching concoctions await.
Why We Love This as The Things You Can't Miss at Halloween at Universal
These specialty Halloween-themed cocktails are crafted to perfection, offering a taste of the season's spooky charm. It's a flavorfully haunted adventure for the taste buds!
From eerie elixirs to ghostly garnishes, these drinks capture the essence of Halloween and add a spirited twist to your Universal Orlando Resort experience.
Must Try HHN Specialty Halloween Cocktails:
Ghoul Juice: Myer's Dark Rum, cherry brandy, simple syrup, mango nectar, lime juice, Dale Degroff's Pimento Bitters and Peychaud's bitters.
Electric Death: New Amsterdam Gin, blue curaçao, lime juice, vanilla bean, simple syrup, pineapple juice and Dale Degroff's Pimento Bitters.
Tinseltown Torment: Old Forester Bourbon and cherry brandy with orange and cranberry juices adorned with chocolate and cherry syrups and orange bitters.
Get your Halloween Horror Nights ticket TODAY!
6. Go on a Universal Monster Photo Hunt
Go resort hopping and be on the lookout for your favorite Universal Monsters lurking in the shadows.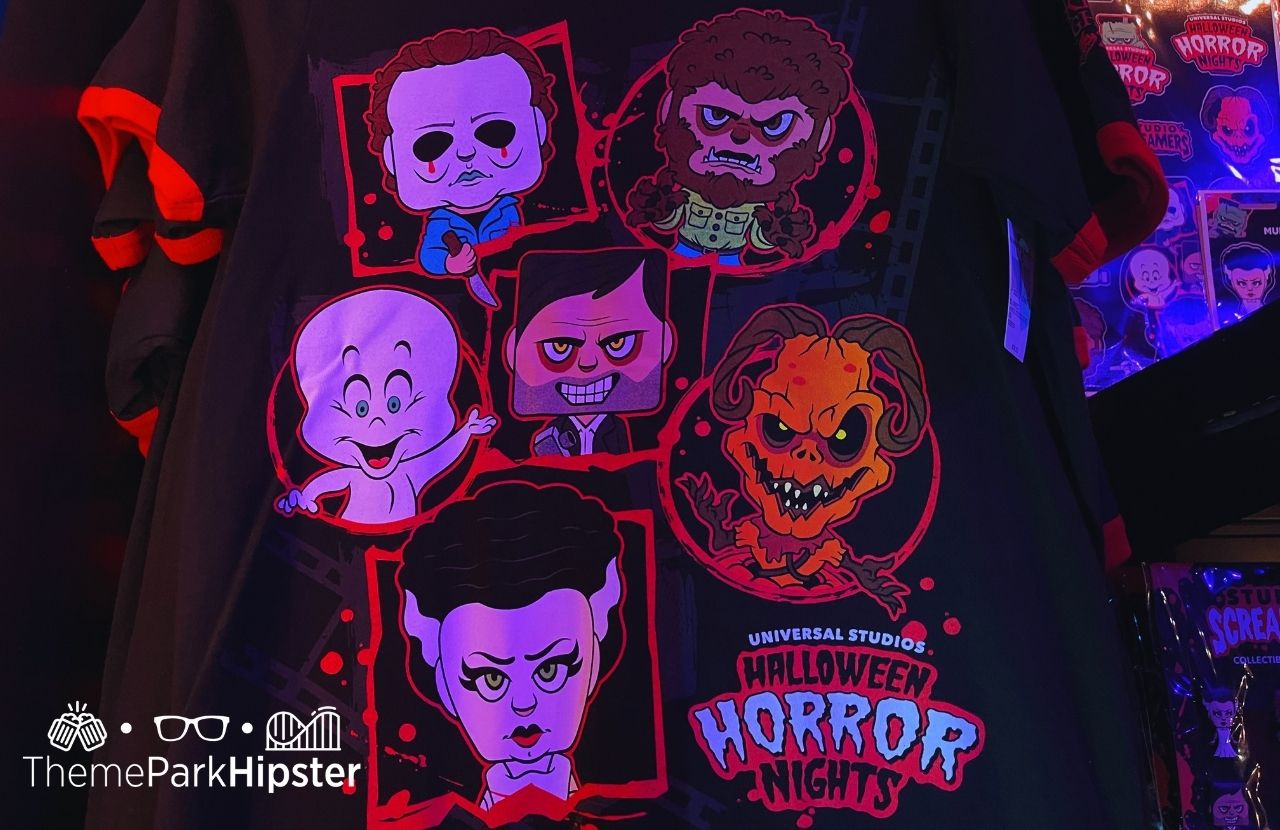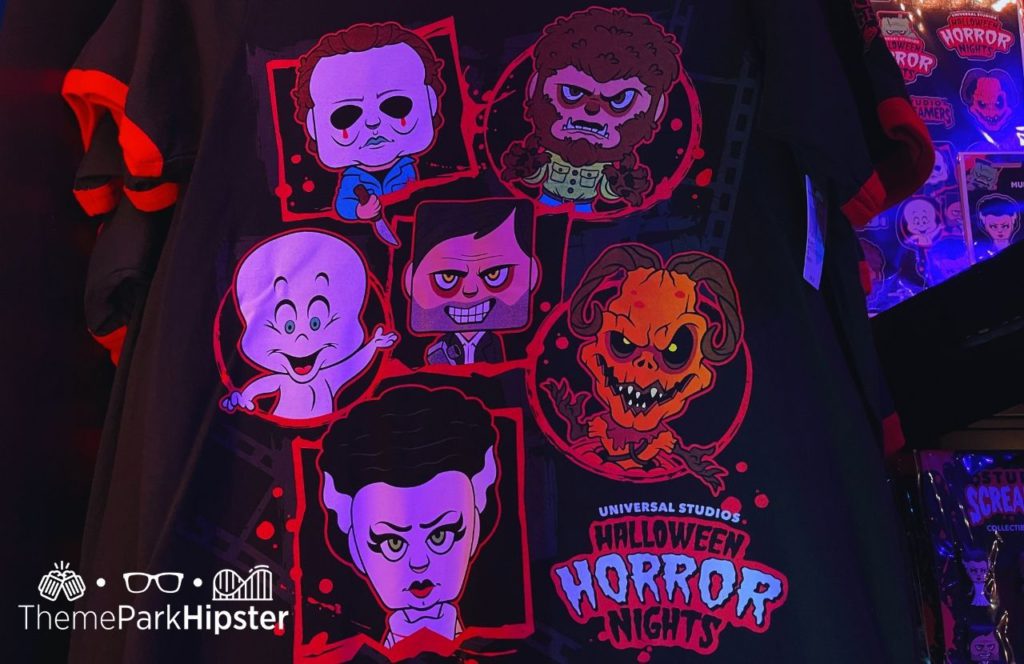 Snap photos with Dracula, the Mummy, Frankenstein's Monster and more across seven Universal hotels lobbies.
It will add an extra layer of fun to your visit during Halloween at Universal Orlando with these incredibly spooky photo-ops!
7. Create Your Own Spooky Food Festival at Halloween Horror Nights
Whilst Halloween Horror Nights is an event primarily about the frights and scares in store, make sure you don't forget about the food.
The twisted creations at Halloween Horror Nights are some of the best drinks, snacks, and light bites that Universal Orlando has to offer throughout the year.
Take advantage of these delicious, Halloween-themed offerings by creating your own spooky food festival and sampling as many as you can. The event has exclusive snacks and beverages that you cannot grab at any other time.
Here are a few favorites to try on your Halloween at Universal foodie tour:
Indulge in a Rotting Pumpkin, a mouth-watering pumpkin spice crème brûlée available from TODAY Café
Devour a Mummy Cheesecake Pop, a yummy Oreo snack at 57 Scare.
Then switch to something savory like the Bloody Campground Poutine from Yeti or the Cheddar Jalapeño Hellfire Club found at Stellar Bar.
Wash it down with a spellbinding cocktail such as Electric Death, Ghoul Juice or Tinseltown Torment.
Creating your own food festival at the event is a spooky twist on exploring the culinary delights the event has to offer.
Get your FREE Universal Halloween Horror Nights Vacation Package quote TODAY!
8. Explore the Halloween Tribute Store
For the most immersive shopping experience of the season, make sure you stop by the Halloween Horror Nights Tribute Store.
This immersive emporium is a macabre masterpiece, paying homage to the season of frights in the most spectacular way.
A visit to the Halloween Tribute Store during Halloween time at Universal Orlando allows you to delve into the Halloween spirit and grab some frightful souvenirs. 
Why We Love This as The Things You Can't Miss at Halloween at Universal
As you step inside, you'll find yourself amidst a labyrinth of themed rooms, each meticulously crafted as a tribute to iconic horror films and Universal monsters.
It's a journey through cinematic history with lovingly detailed decor that brings classic horror to life.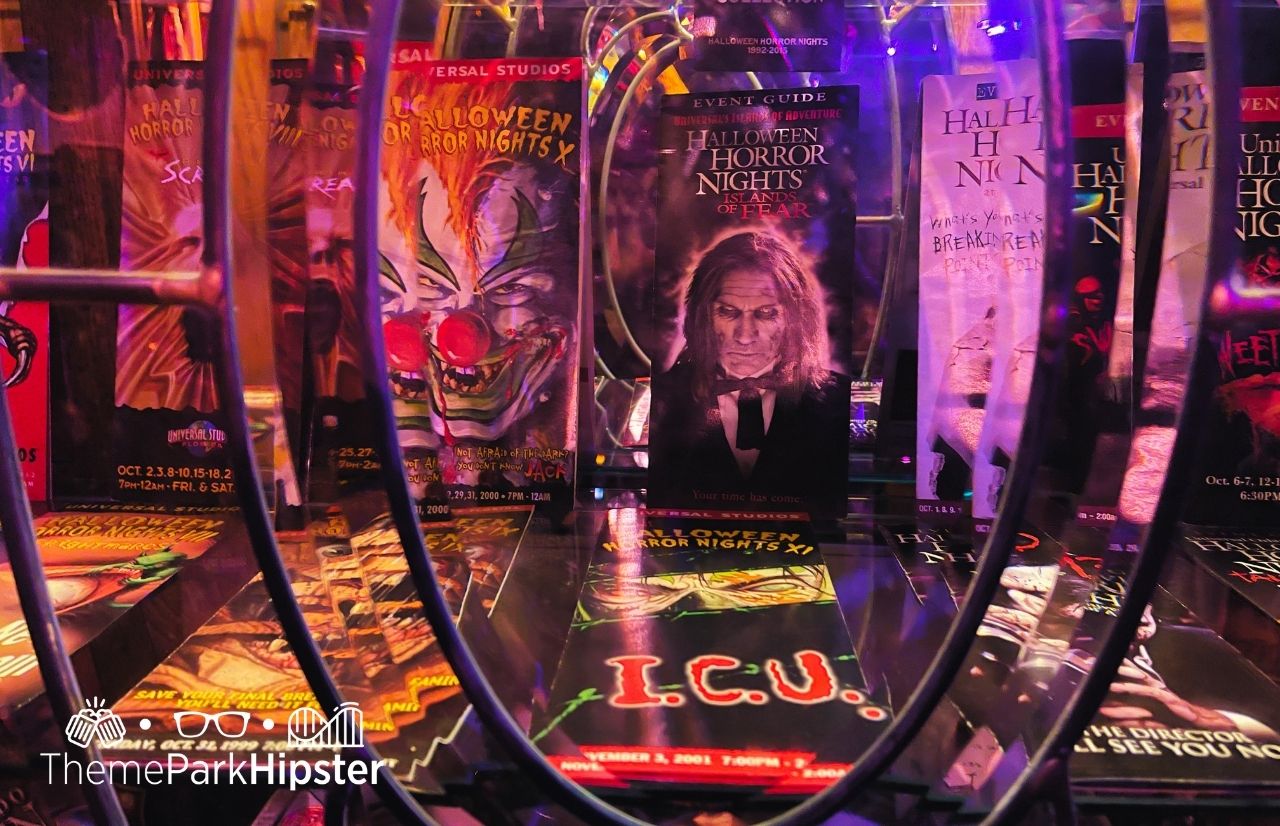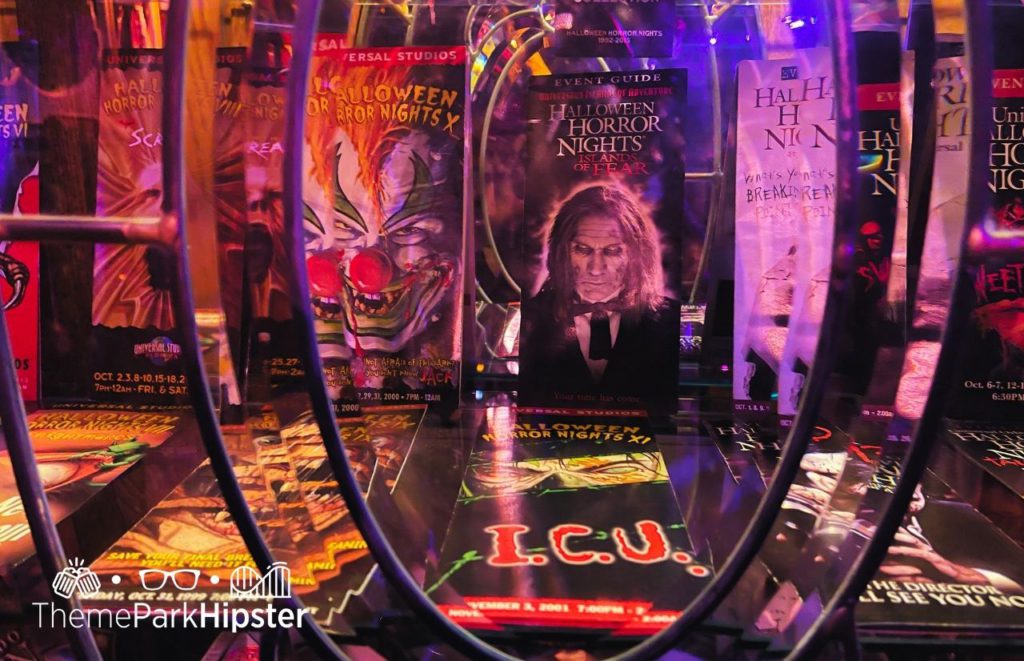 Don't miss the eerily enchanting Beetlejuice room, it is a fan-favorite haunt!
Beyond its haunting aesthetics, the Tribute Store offers an array of exclusive merchandise, from collectibles to clothing, allowing you to commemorate your visit with unique Halloween treasures.
And, of course, there's a tasty selection of delectable treats and themed snacks that will bewitch your taste buds.
From themed candies to specialty drinks, it's a culinary adventure into the heart of Halloween.
The Halloween Tribute Store at Universal Orlando is an essential stop for any Halloween enthusiast.
It's not just a store, it's a portal into the thrilling world of Universal monsters and classic horror cinema, making it a must-visit during Halloween time at Universal Orlando.
WATCH NEXT: 13 Weird (but true) Halloween Horror Nights Secrets 🎃 (History of HHN)
9. Party it Up in the Dead Coconut Lounge
Get ready to party like the undead at Universal Orlando's Dead Coconut Lounge!
This electrifying hotspot is where the after-dark action truly comes alive during Halloween Horror Nights.
Located at Universal's CityWalk, it's the ultimate destination for those seeking a pulse-pounding nightlife experience.
Why We Love This as The Things You Can't Miss at Halloween at Universal
Dance the night away to heart-pounding beats spun by top DJs, all while enjoying a spine-tingling atmosphere that perfectly complements the Halloween season.
The Dead Coconut Lounge is where horror fans and thrill-seekers unite, sipping on fiendishly crafted cocktails or grooving to the rhythm of the night.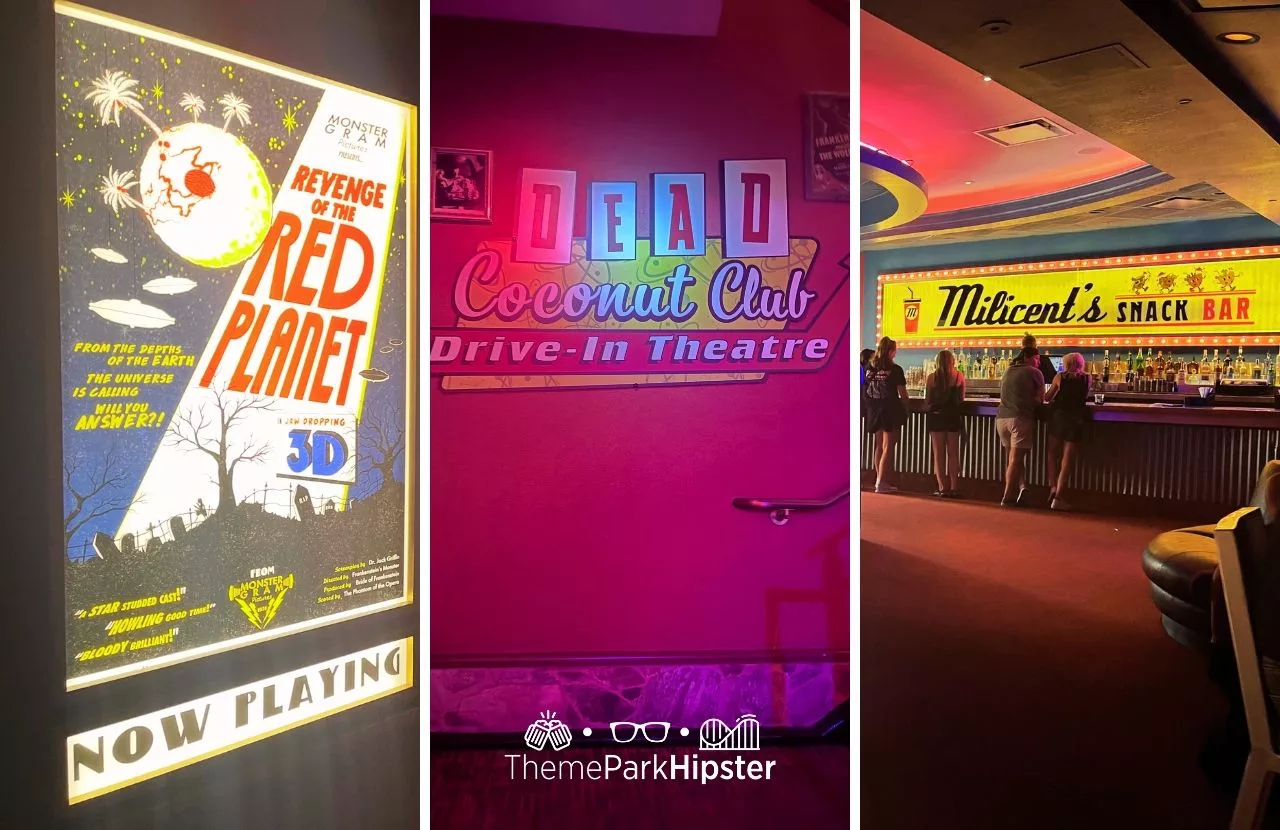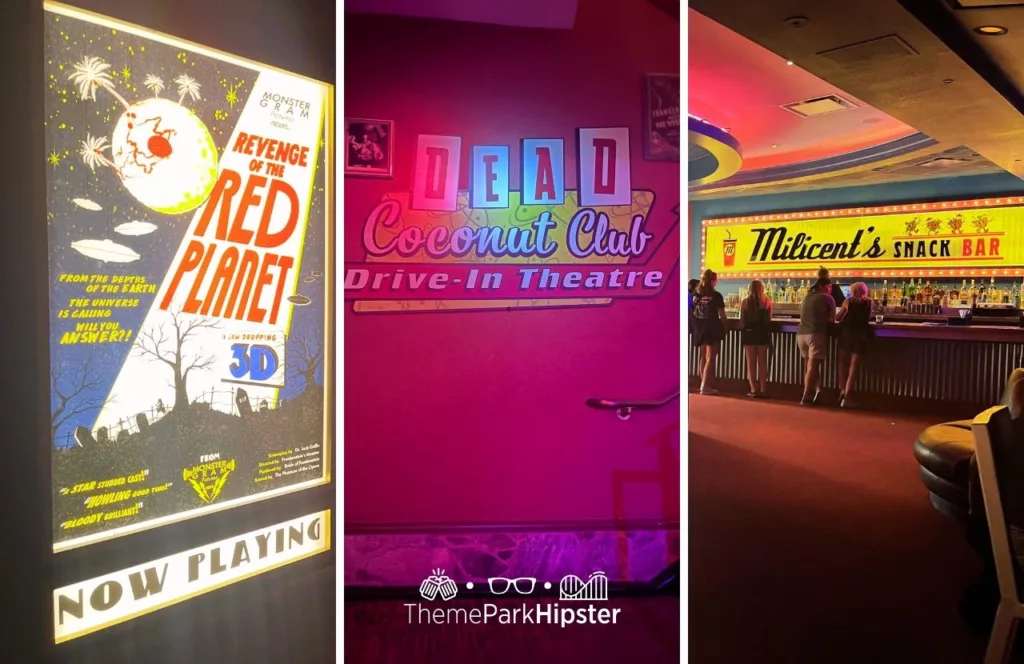 This is the place for unforgettable post-scare entertainment!
Dangerously Delicious Drinks You Can't Miss:
Asteroid Attack: Old Forester Bourbon with lemon juice, agave while a Malbec floater tops it off with blackberry and mint syrup
The Ooze: New Amsterdam Gin, vanilla bean, kiwi and honeydew syrups, lime juice and tonic water
Plasma Punch: Bacardi Light Rum, dragon fruit, pear syrup, lime juice and Bitter Truth Violette, topped with an orchid that's edible
Are you planning a Universal Orlando vacation soon? Get the Universal Vacation Planning Guide for your next dream trip!
10. Unmasking the Horror Tour
This is the PERFECT way to do Halloween at Universal Orlando Resort!
If you're too scared of the actual houses, or you love the little details of each house, then the Unmasking the Horror Tour is for you.
What is the Halloween Horror Nights Unmasking the Horror Tour?
This HHN Lights-On Tour is a behind-the-scenes up close and personal tour where you can see ALL the haunted houses offered by Universal Orlando Resort.
In a way that you wouldn't be able to during the nighttime event (as you would probably be screaming your head off).
Here you get the option to go through 3 or 6 of the houses at Halloween Horror Nights. It's one of the best things to do for Halloween at Universal.
Honorable Mention: Scarecrow Hunt (Postponed for 2023)
For family-friendly Halloween fun at Universal Orlando, the Scarecrow Hunt allows visitors of all ages to explore the park while searching for charmingly spooky scarecrows.
These creatively themed scarecrows are hidden throughout Universal Studios Florida, offering an engaging and entertaining activity for the whole family.
All without the frights of many Universal Halloween experiences!
It's the perfect blend of seasonal charm and adventure that has become a beloved Halloween tradition at Universal Orlando.
Check out my latest theme park adventures on Instagram TODAY!
My Final Thoughts on Halloween at Universal Orlando Resort
The best things to do at Halloween at Universal Studios are a spine-tingling blend of immersive haunted houses, eerie photo hunts, enchanting tribute stores, culinary adventures and electrifying nightlife.
It's a celebration of the season where thrilling scares meet magical memories, making a visit to Universal Orlando an unmissable Halloween experience for all.
Until next time, Happy Park Hopping Hipsters!