The Universal Studios Halloween Horror Nights food menu is finally here! 
With more than 75 chilling items to choose from, you'll take a haunted trek through all the different cuisines offered which will highlight the unique ways the ghoulish flavors are brought together.
If you're like me, then you're excited to taste and experience the incredible food the Team Members at Universal have conjured together.
Just know that Halloween Horror Nights (HHN) will run from now through October 31, 2022!
This gives you plenty of time to make your solo trip out to Universal Studios.
If you're a fan of HHN, then you'll notice that many of the food and drink items are representing the best aspects of the houses and mazes from this year. So, be sure to make a list of all of your must-eat items before your trip!
Now let's check out this year's BEST options on the Halloween Horror Nights food menu options that includes a variety of gluten-free, vegetarian and vegan options.
THIS POST MAY CONTAIN AFFILIATE LINKS. PLEASE READ MY DISCLOSURE FOR MORE INFO. Which means if you click on certain links, I may receive a small commission at no additional charge to you.
1. Major Sweets Ice Cream Sandwich (inspired by "Sweet Revenge" scare zone)
This Halloween treat features candy-corn sugar cookies filled with sweet corn ice cream (vegetarian) making it one of the best things to eat at Halloween Horror Nights.
Get your discounted HHN Tickets on Groupon TODAY!
2. Maggot Covered Cheese Dog (inspired by "Bugs: Eaten Alive" original haunted house)
You'll love the Korean-style hot dog with fresh mozzarella, rolled in puffed rice, topped with gochujang drizzle and black sesame seeds.
This is definitely some of the best food at Halloween Horror Nights that you MUST try!
3. Save Your Tears Signature Cocktail (inspired by "The Weeknd: After Hours Nightmare" haunted house)
This signature HHN cocktail mixes bourbon, peach brandy, single-pressed lemon juice, agave nectar and bitters. It's then topped with peach bursting boba and served in a souvenir cup.
You will want to try this drink as you get the courage to go through all of the houses and mazes at HHN 31!
4. Lil' Boo's Spicy Pumpkin Bun (inspired by "Horrors of Halloween" scare zone)
This steamed bun is filled with spicy butternut squash and is influenced by the beloved Halloween Horror Nights character (vegetarian).
Ready to plan your theme park trip? Watch the best vacation planning tips on YouTube. Get started here!
5. Garlic Philly Cheese "Stake"
Enjoy the savory tender shaved beef served on a black hoagie slider roll with caramelized onions, peppers, sautéed mushrooms, muenster cheese sauce and roasted garlic aioli.
6. Burning Skull
Be sure to try this HHN drink that includes tequila, lime juice, simple syrup, mango nectar, pineapple juice, smoked chili bitters, jalapeno and basil concentrate, shaken and served in a light-up molded skull cup.
When to Buy Flights tool, Get the Lowest Fare at CheapAir.com!
7. Día de los Muertos Themed Items
This new location at Halloween Horror Nights offers tantalizing dishes inspired by Latin flavors such as:
Tamales Día de los Muertos (gluten-free) – pork tamales topped with red mole sauce and cotija cheese
Roasted Sweet Potato & Mushroom Street Tacos (vegan and gluten-free) – roasted sweet potato and mushroom tacos topped with onions, vegan crumbled cheese and cilantro; also served with birria consommé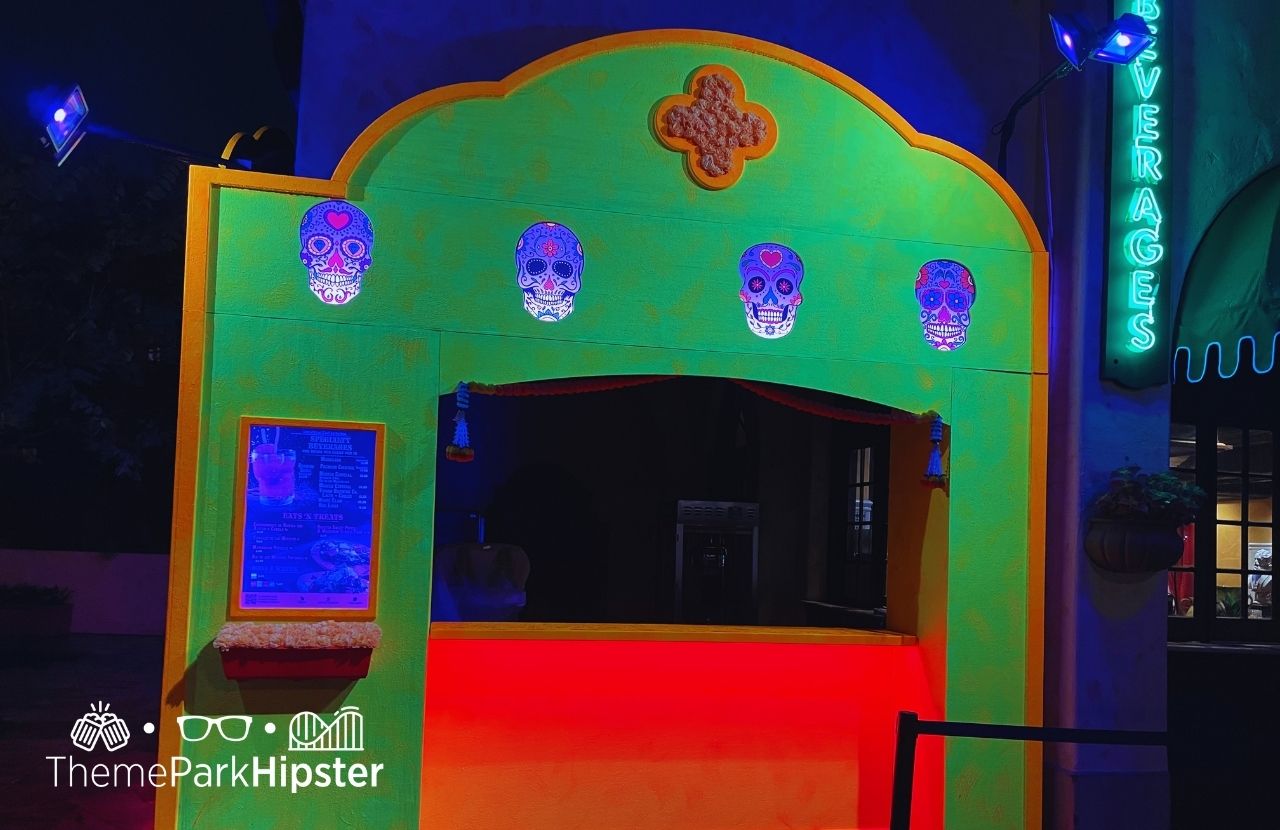 8. Fried Zombie Brains
Don't let the bloody display fool you! This is a unique HHN foodie experience that includes fried cauliflower florets tossed in spicy gochujang sauce and garnished with toasted sesame seeds and scallions (vegan).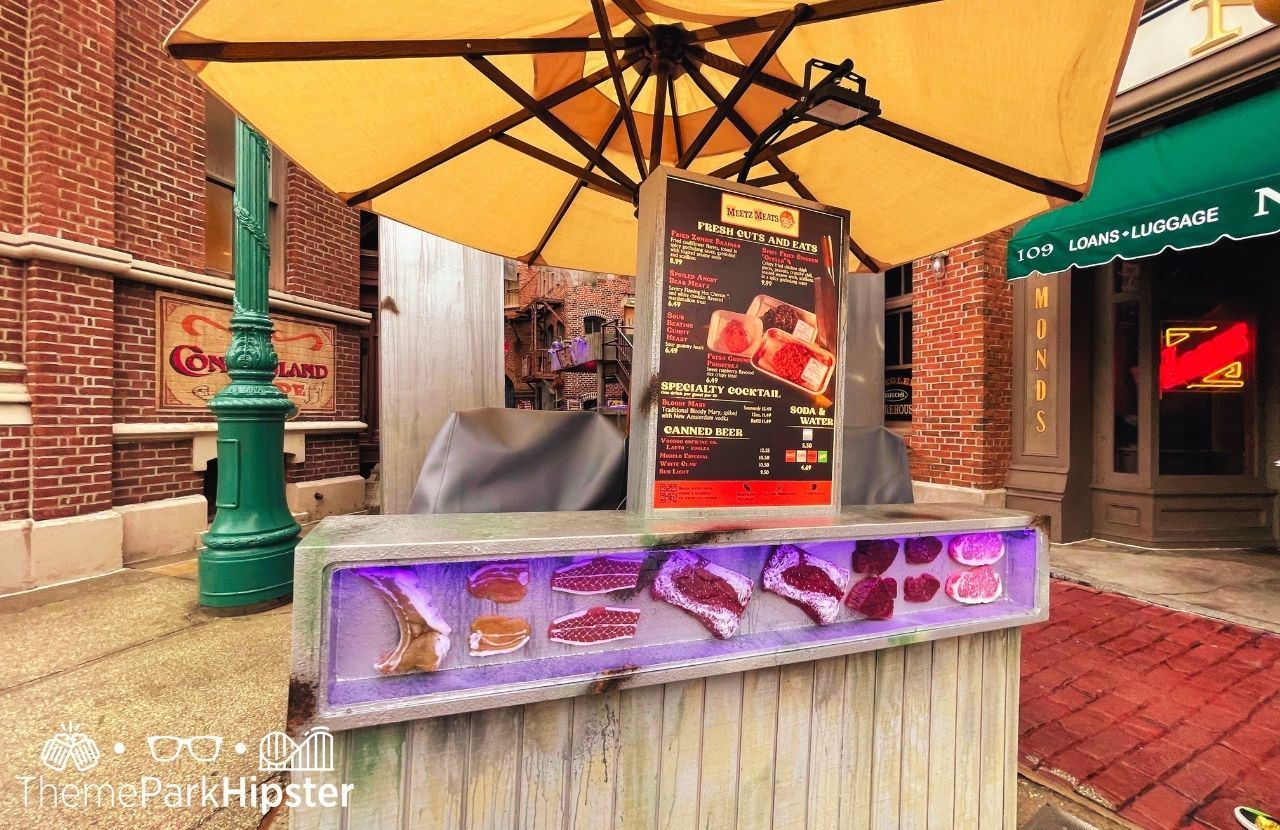 9. Petrified Rat Tails
What's better than funnel fries with creamy crab dip, sliced scallions and seasoned with herbs and spices. Sounds too weird for you?
Just try it on your Halloween Horror Nights adventure!
10. Tombstone Red Velvet Cake Pop
Ever thought about having a taste of the afterlife?
At HHN, you'll be able to do just that with a red velvet cake pop coated in buttercream on a bed of crushed chocolate cookie crumbs and garnished with white chocolate bones (vegetarian).
11. Pizza Skull
This may be the winner for HHN 31. This unique Pizza Skull comes with Pepperoni and cheese stuffed skulls served with a refreshing marinara dipping sauce.
Get your Halloween Horror Nights ticket TODAY!
12. Pizza Fries
If you didn't know, then you should be aware that this is an HHN classic treat and fan-favorite!
The delicious fries are loaded with sausage, pepperoni, marinara sauce and tons of cheese.
If you have a restricted diet, then you'll be happy to know that there are Vegan Pizza Fries available this year that are topped with marinara sauce, vegan cheese, vegan pepperoni and vegan sausage crumbles.
13. S'mores Fries
As if Pizza Fries weren't enough to quench your savory desires, you'll be able to finish your meal with a sweet treat, the S'mores Fries.
They include sweet potato fries drizzled with melted chocolate, graham cracker crumbs and marshmallows.
14. Traditional Twisted Taters (vegan, vegetarian and gluten-free options):
We ALL LOOOOVE the Twisted Taters at Universal Studios!
This HHN classic come with fried spiraled ribbon potato thinly sliced and skewered with season salt, garlic parmesan, sour cream & chives, or ghost pepper seasoning options. 
Below are the Halloween Horror Nights Twisted Taters for you to enjoy this year:
Blood 'n Guts Twisted Tater – smothered with chili and roasted red pepper queso
Fiery Twisted Tater with Queso (vegetarian) – complete with white cheese sauce and sprinkled with flamin' hot crunchy cheese puffs, and ghost pepper seasoning
15. Black Magic Milkshake (Toothsome Chocolate Emporium)
If you're not quite ready to take on the horrors of HHN, you'll be happy to know that you can enjoy some of these dishes outside of Universal Studios over in CityWalk.
The Black Magic Milkshake (gluten-free) is one of the newest HHN treats available at The Toothsome Chocolate Emporium & Savory Feast Kitchen. 
It features pumpkin dulce de leche ice cream with a hazelnut-and-tombstone-sprinkled rim and topped with a cauldron filled with gummy "severed body parts" over whipped flames.
16. Dead Coconut Club
For Halloween Horror Nights this year, the Red Coconut Club will transform to the Dead Coconut Club with a new ghastly theme and menu paying homage to the classic Universal Monsters.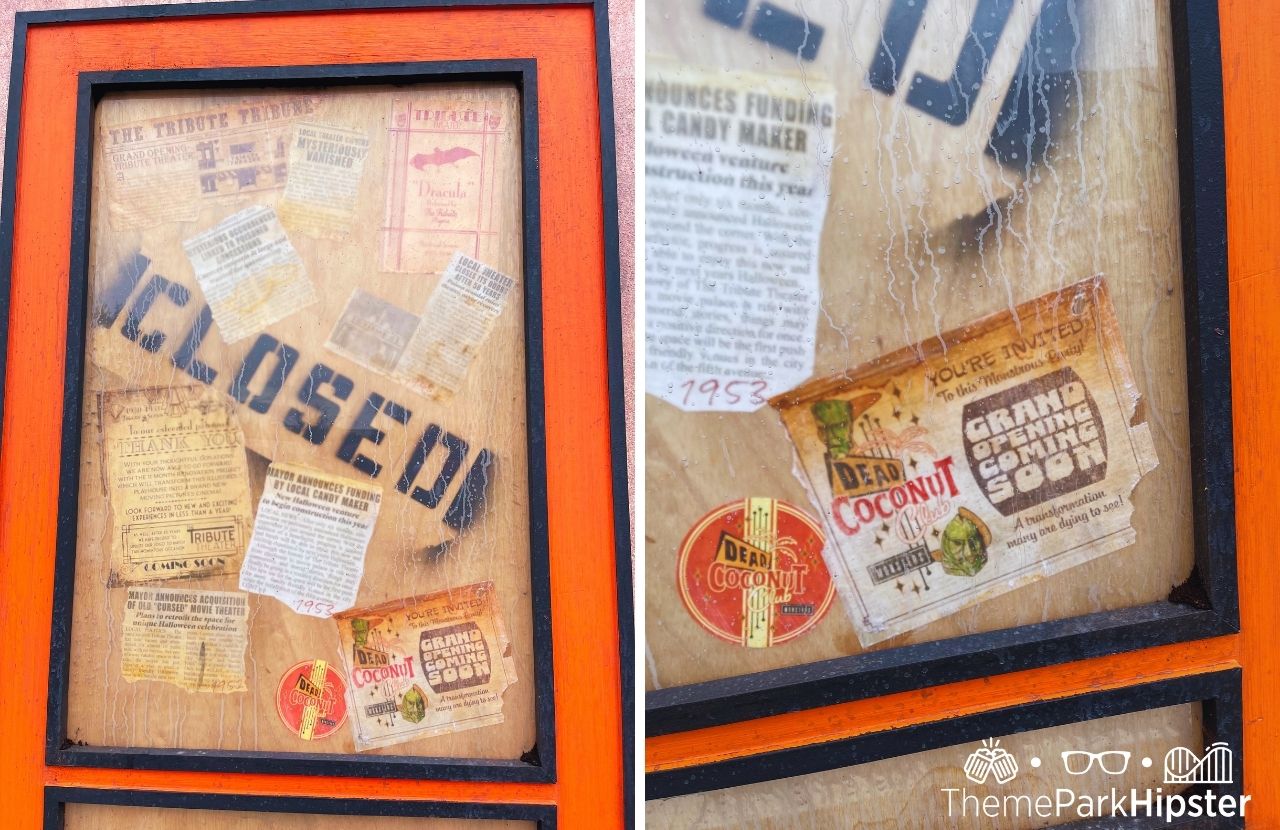 17. Universal Monster Drinks
The Universal Orlando hotel guests will also be able toast to the fog with Universal Monsters-themed drinks that include:
The Mummy: vodka, blueberry-flavored energy drink, blue Caribbean liqueur, simple syrup, and lemon juice
The Wolf Man: whiskey, black raspberry-flavored liquor, and pineapple juice
Dracula: tequila and Bloody Mary mix garnished with olives and celery
Over at the Sunset Lounge in Universal's Endless Summer Resort-Dockside Inn and Suites, you'll be able to enjoy the festive Halloween decor with a touch of the tropics!
What to Know Before You Go to Halloween Horror Nights
Before you may make your way out to the event this year, I would like to answer some of the most commonly asked questions.
How Much are Halloween Horror Nights Tickets?
Halloween Horror Nights Single-Night Ticket starts at $73.99.
What time is Halloween Horror Nights?
The Halloween Horror Nights hours start at 6:30 p.m. with closing times varying each night.
What are the Halloween Horror Nights 2022 Houses?
Ten total houses with six original ones this year to terrify you and engulf you in the disturbing stories:
Spirits of the Coven: You walk into an unsettling 1920s speakeasy only to find out that YOU are the main ingredient in witch's brew.
Bugs: Eaten Alive: You're about to face an infestation of the grossest kind!
Fiesta de Chupacabras: The fear of the mythical, fanged creature is no longer a figment of your imagination. It is real, and it can find you if you're not careful.
Hellblock Horror: After touring the facility, it was clear that these monsters were in for a long stay. Don't wait around to see their reactions when they're released!
Dead Man's Pier: Winter's Wake – Bravely endure a petrifying winter thunderstorm in a seaside village ruled by an undead fisherman. You'll feel the exhilaration of the storm as you try to escape the madness leftover.
Descendants of Destruction: If you're looking for a dark and dangerous underworld to explore, then the subway system is definitely the place for you! These bloodthirsty mutants live in a post-apocalyptic world and are just waiting to attack any unsuspecting traveler.
The Weeknd: After Hours Nightmare – This fall, at Halloween Horror Nights, select tracks from The Weeknd's "After Hours" album will be reimagined as a horror movie soundtrack.
Halloween: Michael Myers is coming back to haunt Halloween Horror Nights this fall! Universal Orlando Resort will be hosting a terrifying haunted house based on the classic 1978 slasher film, and you don't want to miss it.
Universal Monsters: Legends Collide – This a haunted house that will have guests joining The Wolf Man, Dracula, and The Mummy in an epic battle this HHN 31 season.
The Horrors of Blumhouse: HHN will bring to life Blumhouse's spine-chilling films, The Black Phone, and horror-comedy Freaky.
What are the 2022 HHN Scarezones?
If you think you can avoid the scares by avoiding the HHN houses, then you're WRONG! Throughout the park are five all-new scare zones: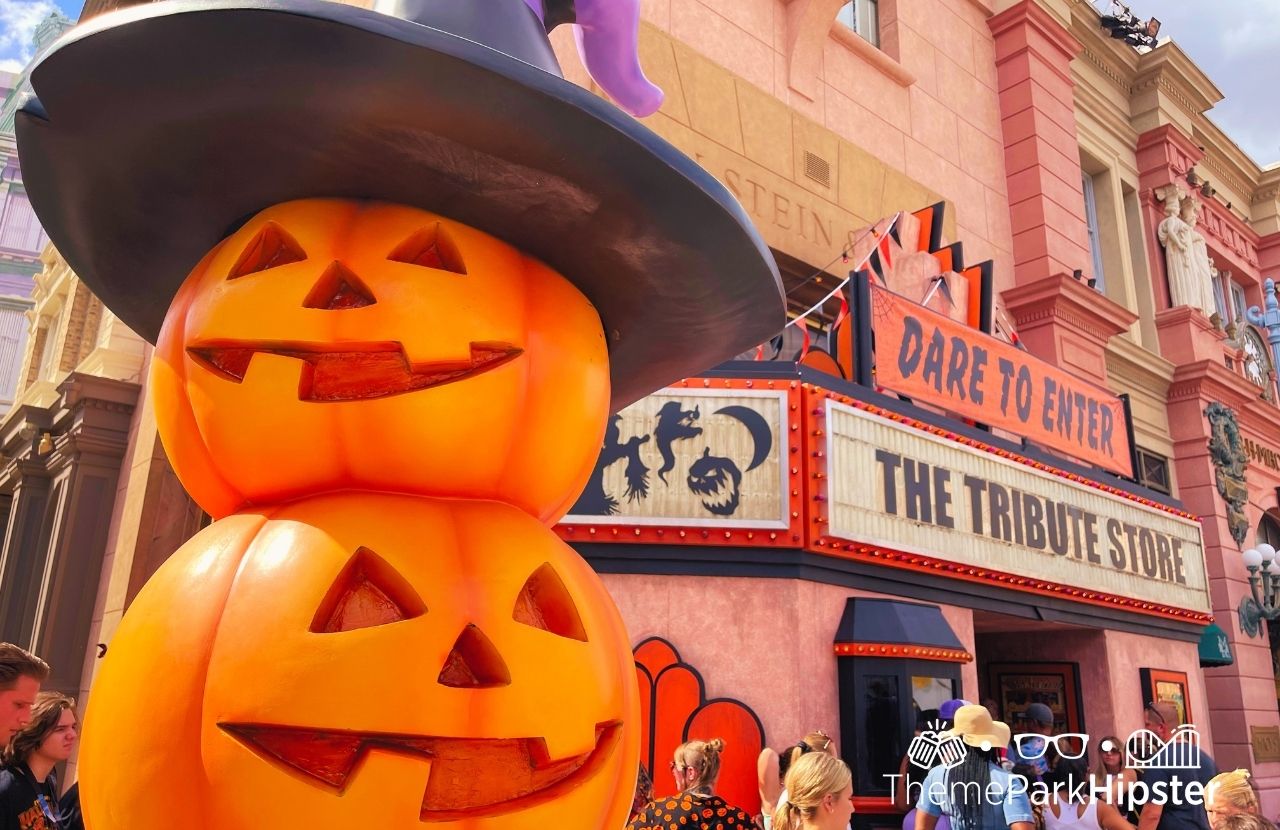 Horrors of Halloween: Come face-to-face with The Pumpkin Lord
Scarecrow: Cursed Soil – Demented scarecrows do everything they can to make sure they have enough souls to harvest
Sweet Revenge: This 1950s parade has went terribly wrong and now you're an unexpected victim of the torturous trick-or-treaters
Graveyard: Deady Unrest – Don't be afraid to walk through the unnerving cemetery in the heart of Halloween Horror Nights
Conjure the Dark: Avoid the evil sorceress at ALL cost in this sinister HHN scare zone
Ready to start planning your next Universal Orlando vacation? Listen to the latest podcast episode on Apple or on your non-Apple device now!
Are Kids allowed at Halloween Horror Nights?
According to Universal, this event may be too intense for young children. Adult discretion is strongly advised. There are no child ticket prices available for this event.
Get Your Universal Orlando Resort Tickets Today! CLICK HERE.
What are the Best Days to Go to Halloween Horror Nights?
Visit Universal HHN Sunday through Thursday to take advantage of the cheaper days (especially for Florida residents or Universal Annual Passholders) and the smaller crowd.
You'll also want to avoid weekends and any holidays when choosing the best days to visit Universal Orlando.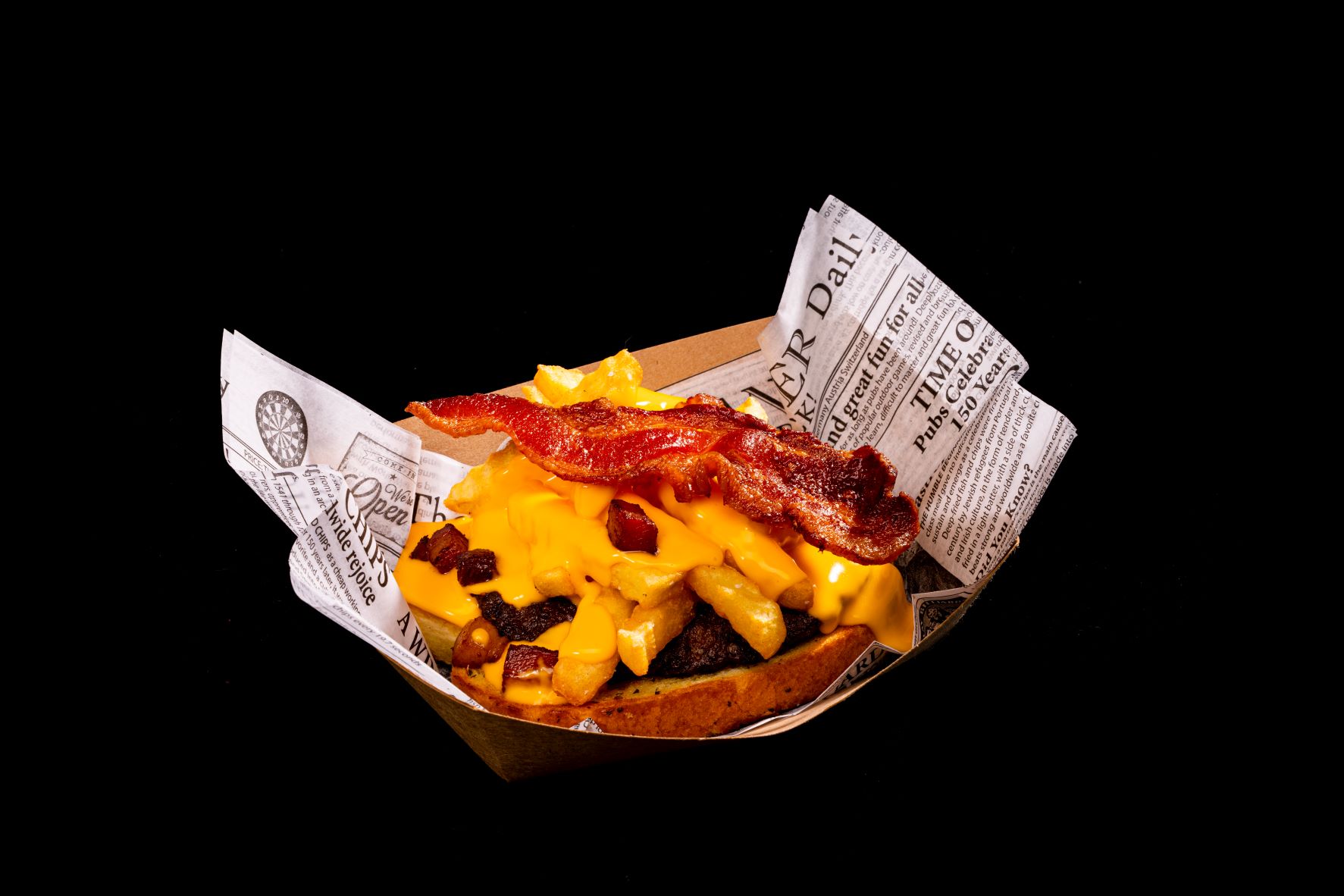 Get the rest of your HHN questions answered here!
Final Thoughts on the Halloween Horror Nights Food and Drinks
As you can see, this year's Halloween Horror Nights Orlando food menu is going to have some heavy hitters! 
You're really going to have a great time, so try not to stress too much if you find yourself spending too much time at the food booths instead of in the houses.
There's always something going on in the park that will bring great delight to your heart.
I'd like to know which dish are you most excited to try out this year. Please let me know in the comment section below.
Until next time, Happy Park Hopping Hipsters!
NikkyJ
UP NEXT: Top 10 Ways to Find Cheap Halloween Horror Nights Tickets