We're going beyond the theme parks today as you follow me and my family on one of our annual summer trips! Our trip consisted of a six-day tour on the coastline of California from San Francisco all the way down to Los Angeles, California.
The itinerary I created for my family allowed us to hit some popular spots and also some unknown areas. We had an absolute blast! I am definitely a Cali girl at heart!
This California vacation catered to our family needs. You can take this itinerary and adjust it based on what works for you.
Six Day California Itinerary
Day One: Explore San Francisco. Enjoy nightlife later in the evening.
Day Two: Do a wine tour for the first half of the day and relax later in the day.
Day Three: Drive the Pacific Coast Highway road trip to LA. Leave San Francisco at 730 a.m. and arrive in Los Angeles by 8 p.m.
Day Four: Have a Tourist Day. Explore Los Angeles area and do a food tour.
Day Five: Visit Universal Studios Hollywood for the first half of the day, then relax at the hotel.
Day Six: Drive around the coastal towns of Los Angeles, such as Santa Monica, and depart later that evening.
---
Here's our perfect California vacation. Watch and Enjoy!
[youtube https://www.youtube.com/watch?v=WQKH9L9VFR4]
California Travel Guide Video Time Markers
DAY 1
Dallas, Texas layover 0:01
The Donatello Hotel San Francisco, CA 0:28
Tacorea Burrito Place San Francisco, CA 0:40
Apple Flagship Store San Francisco, CA 0:45
CoCo Bang Korean Restaurant San Francisco, CA 1:08
DAY 2
Golden Gate Bridge San Francisco, CA 1:20
Sonoma County Wine Tour with Green Dream Tours 1:55
Larson Family Winery Sonoma County, CA 1:59
Nicholson Ranch Winery Sonoma County, CA 2:53
Napa Valley, CA 4:20
Jameson Ranch Winery Napa Valley, CA 4:30
Chinatown San Francisco, CA 4:53
Tony's Pizzeria San Francisco, CA 5:15
DAY 3
Pacific Coast Highway Road Trip: San Francisco to Los Angeles 5:24
Monterey, CA 5:42
Big Sur, CA 7:06
Vista Point 7:23
Loews Hollywood Hotel
DAY 4
Hollywood, CA 12:39
Roscoe's Chicken and Waffles Hollywood, CA 7:57
Chinese Theater Hollywood, CA 8:18
Staples Center Los Angeles, CA 8:31
Beverly Hills, CA 8:35
PINK'S Hotdogs Hollywood, CA 8:46
DAY 5
Universal Studios Hollywood, CA 9:10
Wizarding World of Harry Potter 9:32
Jinya Ramen Express Hollywood, CA 11:56
DAY 6
Randy's Donuts Inglewood, CA 12:11
Santa Monica Pier Santa Monica, CA 12:20
Departure
---
Flights and Reservations
Before you go
E-ticket: The confirmation email can be used as an E-ticket, if it's attached. Remember to bring your itinerary and government-issued photo ID for airport check-in and security.
Contact the airline to confirm: specific seat assignments, special meals, frequent flyer point awards, special assistance requests.
Check into flight early on mobile app or online.
Review flight details: itinerary number, flight number, confirmation number, etc.
Make sure your reservations (hotels, flights, tours, etc.) are booked AND confirmed.
---
San Francisco
Top Places to Eat at in San Francisco
San Francisco Bars and Coffee Shops
Things to Do in San Francisco
| | |
| --- | --- |
| 16th Avenue Tiled Steps | Alamo Square (Painted Ladies Homes) |
| Alcatraz | Alvord Street Bridge |
| Aquatic Park | AT&T Park |
| Avital Tours- Food Tour | Baker Beach |
| BART (Bay Area Rapid Transit) | Bayview and Hunter's Point |
| Bison Paddock | Broadway |
| Cable Cars | Chinatown |
| Civic Center and City Hall | Coit Tower |
| Columbarium | Conservatory of Flowers |
| Crissy Field | Deloris Park (Can bring own wine) |
| Dolores Park | Downtown & Financial District |
| Ferry Building | Filbert Street Steps |
| Fisherman's Wharf | Fort Point |
| Ghirardelli Square | Golden Gate Bridge |
| Golden Gate Park | Grand View Park |
| Haight-Ashbury | Hardly Strictly Bluegrass |
| Hays Valley | Hop on Hop off Bus Tour- City Tour |
| How Weird Street Faire | Japan Town |
| Japanese Tea Garden | Japantown |
| Lake Merced | Land's End |
| Legion of Honor | Lombard Street |
| Lombard Street (Curvy Street) | Market Street |
| Mission San Francisco de Asís (a.k.a. Mission Dolores) | Mount Davidson |
| North Beach | Ocean Beach |
| Palace of Fine Arts | Pier 39 |
| POPOS (Privately Owned Public Open Spaces) and Rooftop Gardens | Presidio |
| San Francisco-Oakland Bay Bridge | Shakespeare Garden |
| St. Francis Wood | Steep Sidewalks |
| Stern Grove | Strawberry Hill |
| Sunset District | Sutro Tower |
| Telegraph Hill Parrots | The Adorable Houses of San Francisco |
| The Castro | The Mission |
| The Night Life | The People of San Francisco |
| The Saloon (Oldest Bar in the City) and Tadich Grill (Oldest Restaurant in San Francisco and California) | The Tenderloin |
| Tours | Transamerica Pyramid |
| Treasure Island | Union Square |
| VC Morris Gift Shop (a.k.a. the Xanadu Gallery) | Wave Organ |
| World Famous Sea Lions | Yerba Buena Gardens |
| Yerba Buena Island | |
---
13 Lucky Pacific Coast Highway Tips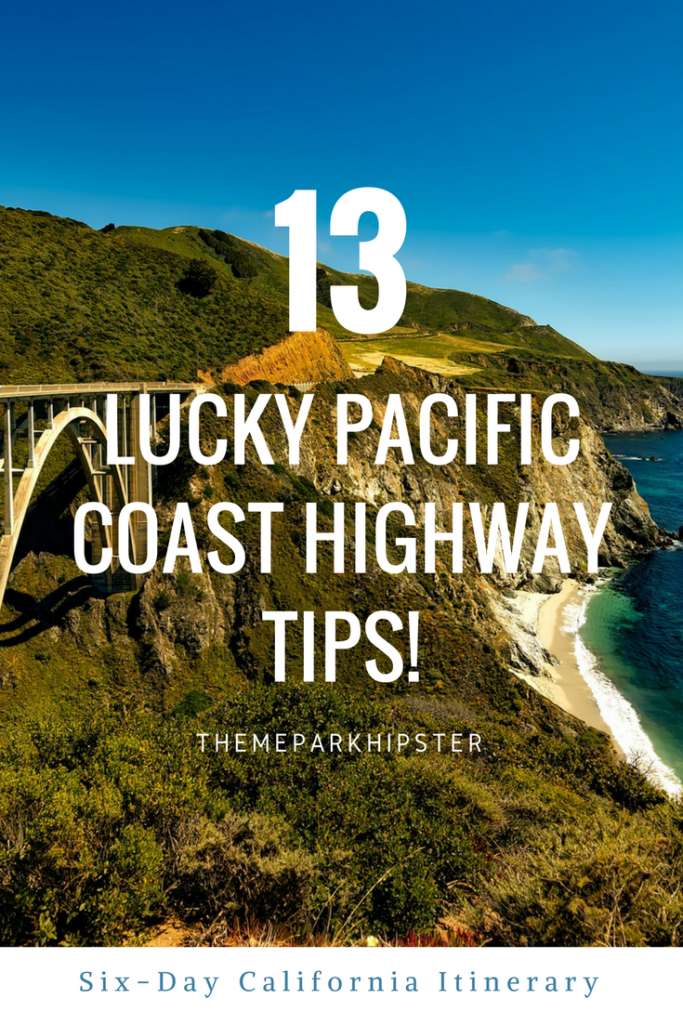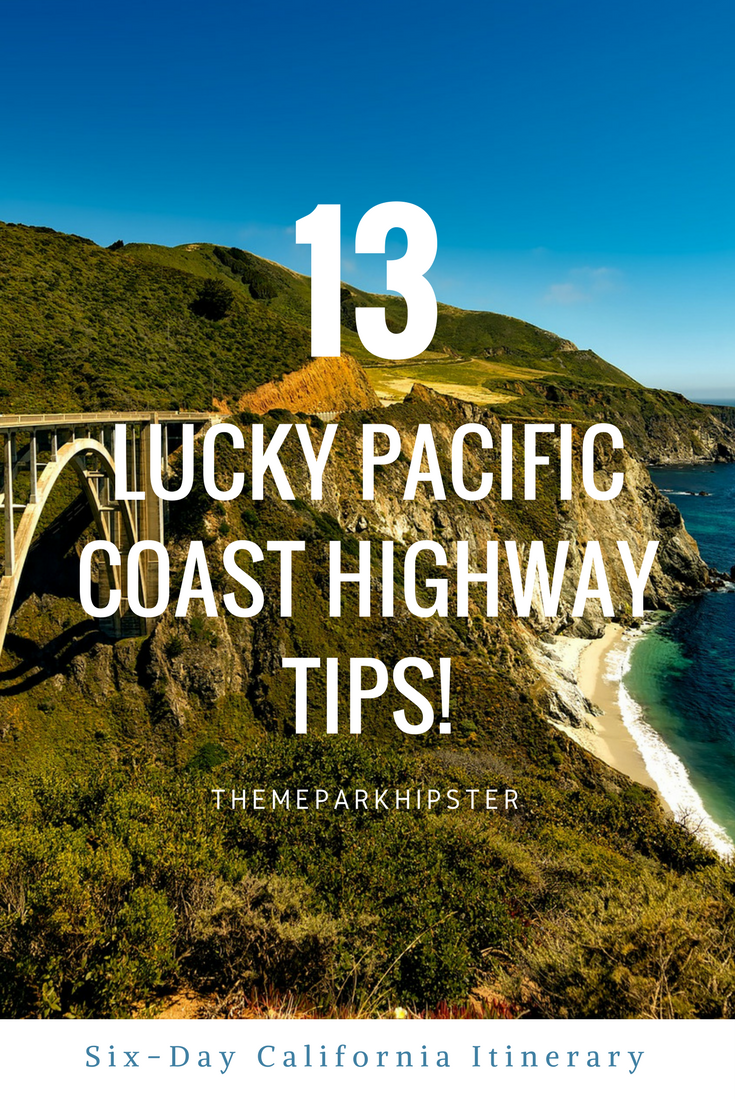 Be prepared for the high elevation.

If you're prone to car sickness bring Dramamine. Use Dramamine only if you're NOT driving. It can cause drowsiness.

Verify the one-way car rental guidelines.

Drive a comfortable and RELIABLE car.

Rent a convertible.

Have a full tank of gas.

Pick your music playlist or line up your podcasts before you go.

Have snacks and water.

Take a restroom break as often as you can.

Have camera and phone fully charged.

Stay highly alert while driving. Take turns driving if you're traveling with someone.

Take your time exploring the beautiful Pacific Coast Highway.

Have fun!
---
Los Angeles, California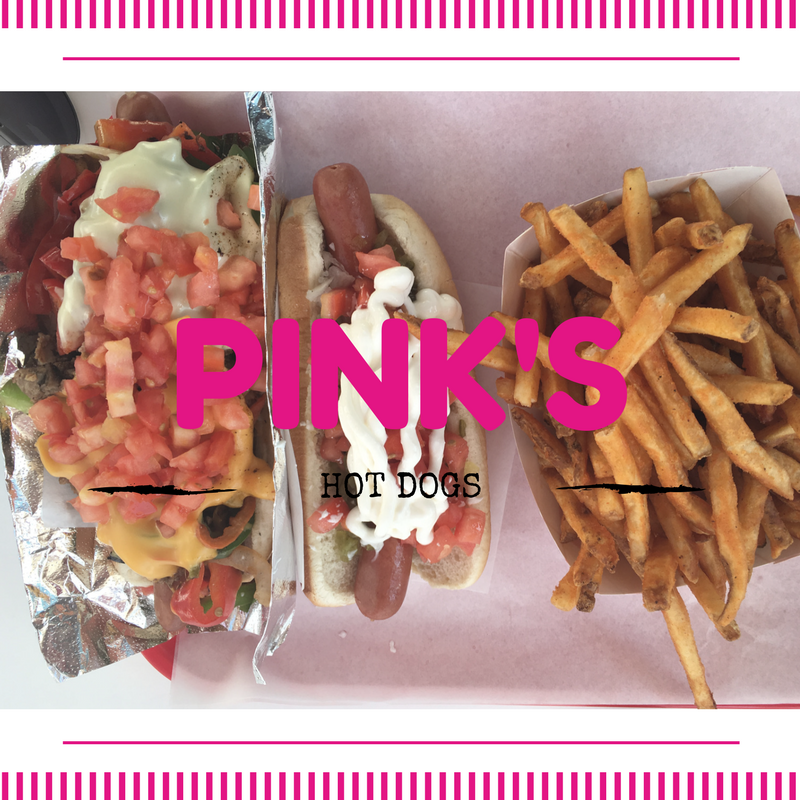 Top Places to Eat at in Los Angeles
Coffee Shops, Bars and Lounges in Los Angeles
Things to Do in Los Angeles
| | |
| --- | --- |
| Beverly Hills | Disneyland |
| Free Museum Days | Griffith Observatory |
| Guitar Center Sunset (Rock and Roll Fame) | Knott's Berry Farm |
| La Brea Tar Pits | Runyon Canyon |
| Santa Monica Pier | Six Flags Magic Mountain |
| The Comedy Store | Universal Studios Hollywood |
| Venice Beach | Disney California Adventure |
I hope you guys enjoyed watching our California vacation. Let me know if you have ever done an epic Cali Trip.
Until next time, Happy Park Hopping Hipsters!
NikkyJ