Halloween Horror Nights 2012 Survival Guide and Tips
I am such a scaredy-cat that I wonder why I place myself in paid situations to be frightened.
I started going to Universal Orlando Halloween Horror Nights (HHN) back in 2005 and I became addicted to the fun, excitement, and detail that Universal puts into this event. 
THIS POST MAY CONTAIN AFFILIATE LINKS. PLEASE READ MY DISCLOSURE FOR MORE INFO. Thank you!
I am going to share with you my Halloween Horror Nights survival guide for 2012.
7 Beginner Tips for Halloween Horror Nights 22
1 – Get there early
I cannot express this enough.
Unless you're spending your cell phone money on an Express Pass, I would suggest that you get to Universal Studios at least an hour early before the start of the event.
If you're lucky enough, you may be able to get into the park prior to the specified time and you can knock out two to three houses within thirty to sixty minutes.
Do you think you can splurge on an Express Pass? If so, then get it! It will make your night much more enjoyable and it will also make your night feel less rushed.
2 – The more the merrier
Going to Halloween Horror Nights 2012 as a group increases the excitement of the night, but going with your significant other is just as fun.
3 – Know if kids allowed
Per Universal, this event may be too intense for young children. Adult discretion is strongly advised. There are no child ticket prices available for this event.
4 – Style, Comfort, or Both?
Personally, I choose comfort over style, but I 'm trying to get better at combining the two.
What I do strongly recommend is wearing comfortable sneakers for all of the standing, walking, and running you will be doing…
…trust me, you will thank me later.
5 – Have a game plan
Route your path around the park in advance by retrieving the park map. Save the opportunity for riding the permanent attractions for another visit, or towards the end of the night once you have done the seasonal attractions.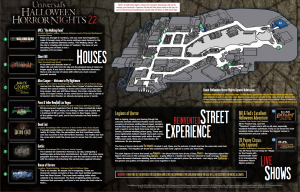 6 – Attend on off peak nights
Visit Universal Halloween Horror Nights Sunday through Thursday to take advantage of the cheaper days (esp. for Florida residents or Annual Passholders) and the smaller crowd.
7 – Have Fun!
You're really going to have a great time, so try not to stress too much and enjoy the delightfully, ghoulish frights of Universal's Halloween Horror Nights!
I hope this Halloween Horror Nights Survival Guide helped you prepare for this year's event. Remember that it is one of ThemeParkHipster's favorite fall Florida event.
For more information on the houses, shows, pricing, policies, and times please visit the official Halloween Horror Nights 22 website.
Be sure to leave your own stories and comments below and let me know some of your favorite tips when going to HHN.

Also let me know what your favorite Halloween Horror Nights maze and scarezone is of all time.
Send me a picture of your experiences. You can do this by tagging me on Twitter or Instagram!
Grab Your Free Universal Orlando Guide Below
For more information on the houses, shows, pricing, policies, and times please visit the official Halloween Horror Nights website.
Until next time, Happy Park Hopping Hipsters!
NikkyJ