Throughout my theme park adventures, I have been known to love the Halloween season here in central Florida. When my friends come for a brief fall stay they want to know what is better, Halloween Horror Nights or Howl-O-Scream?
Since I've visited both events on multiple occasions, I thought it'll be great to give you a breakdown on what to expect from event spirited theme park journey.
THIS POST MAY CONTAIN AFFILIATE LINKS. PLEASE READ MY DISCLOSURE FOR MORE INFO. Thank you!
What to Know Before You Start Your Halloween Adventure
Before we get into this ultimate SMACKDOWN, lets go through a few things you should know before make your way out to each event.
What are the Busch Gardens Howl-O-Scream Dates 2022?
The 2022 Busch Gardens Howl-O-Scream dates are select dates from September 9th to October 31st.
Get up to 63% off of your Busch Gardens Howl-O-Scream tickets with Groupon TODAY!
What are the Halloween Horror Nights Dates 2022?
The 2022 Halloween Horror Nights dates are also select nights from September 2nd through October 31st.
As you can see, both Howl-O-Scream and Halloween Horror Nights (HHN) are not taking place every evening with HHN taking place Wednesdays through Sunday and Howl-O-Scream taking place Thursdays through Sundays.
What's Busch Gardens Tampa Address?
The address for Busch Gardens is 10165 N McKinley Drive Tampa, FL 33612.
What's Halloween Horror Nights Address?
The address for Universal Studios Florida is 6000 Universal Blvd, Orlando, FL 32819.
What should I pack for Halloween Horror Nights and Busch Gardens Howl-O-Scream?
Breathable Clothing
Sun Protection
Small Umbrella or Poncho
Water
Hand Sanitizer
Phone
Get the full Theme Park packing checklist here!
When is the best time to visit Howl-O-Scream and Halloween Horror Nights?
The best time to attend Howl-O-Scream is during the first few opening weeks of the event.
Read the full Howl-O-Scream guide here!
What time is Halloween Horror Nights?
The Halloween Horror Nights hours start at 6:30 p.m. with closing times varying each night.
What are Busch Gardens Howl-O-Scream Tampa hours?
Busch Gardens usually opens at 10:00 a.m. and closes at 6:00 p.m. while Howl-O-Scream starts at 7:30 p.m. each night.
Get YOUR Halloween Horror Nights Tickets with The Park Prodigy TODAY!
Halloween Horror Nights vs. Howl-O-Scream
Now that we have some of the basics covered, let's go through the difference between Howl-O-Scream vs Halloween Horror Nights.
Hopefully, at the end of this article you'll be able to figure out which one is best for you.
Crowd Level
It's no secret that Halloween Horror Nights lines can get ridiculously long. It is the most popular Halloween event in Central Florida.
Busch Gardens Howl-O-Scream can also have busy nights. Especially the nights leading up to Halloween, but they hardly ever surpass a busy night in compared to Halloween Horror Nights.
For this, a lower crowd level makes for a more intimate and scary setting at Howl-O-Scream.
Winner: Howl-O-Scream
Originality of Storylines
When Halloween Horror Nights first started, the houses were original concepts with very little outside brands to interfere. That has changed within the past decade of the event.
For this reason, Halloween Horror Nights has lost a bit of its originality since it has to please the partnerships it deals with each year.
Even with all of this limited creativity, when you combine the Universal Creative Team unique storylines for their original houses and the unnerving concepts of the intellectual properties, they still dominate the Halloween event game.
Howl-O-Scream has gotten better every year with their storytelling in the mazes, but they still can't compete with Halloween Horror Nights in this category.
After all, Universal Studios was originally created as a working studio with legit writers, producers, directors and other creatives.
Winner: Halloween Horror Nights
Quality of Horror
The production quality of the overall event at Halloween Horror Nights is phenomenal. Of course, they have a much bigger budget to work with, but Busch Garden is not too far off.
2022 Halloween Horror Nights Houses
Spirits of the Coven: You walk into an unsettling 1920s speakeasy only to find out that YOU are the main ingredient in witch's brew.
Bugs: Eaten Alive: You're about to face an infestation of the grossest kind!
Fiesta de Chupacabras: The fear of the mythical, fanged creature is no longer a figment of your imagination. It is real, and it can find you if you're not careful.
Hellblock Horror: After touring the facility, it was clear that these monsters were in for a long stay. Don't wait around to see their reactions when they're released!
Dead Man's Pier: Winter's Wake – Bravely endure a petrifying winter thunderstorm in a seaside village ruled by an undead fisherman.
Descendants of Destruction: These bloodthirsty mutants live in a post-apocalyptic world and are just waiting to attack any unsuspecting traveler.
The Weeknd: After Hours Nightmare – Select tracks from The Weeknd's "After Hours" album will be reimagined as a horror movie soundtrack.
Halloween: Michael Myers is coming back to haunt Halloween Horror Nights this fall!
Universal Monsters: Legends Collide – This a haunted house that will have guests joining The Wolf Man, Dracula, and The Mummy in an epic battle.
The Horrors of Blumhouse: HHN will bring to life Blumhouse's spine-chilling films, The Black Phone, and horror-comedy Freaky.
2022 Halloween Horror Nights Scare Zones
Horrors of Halloween: Come face-to-face with The Pumpkin Lord
Scarecrow: Cursed Soil – Demented scarecrows do everything they can to make sure they have enough souls to harvest
Sweet Revenge: This 1950s parade has went terribly wrong and now you're an unexpected victim of the torturous trick-or-treaters
Graveyard: Deadly Unrest – Don't be afraid to walk through the unnerving cemetery in the heart of Halloween Horror Nights
Conjure the Dark: Avoid the evil sorceress at ALL cost in this sinister HHN scare zone
2022 Howl-O-Scream Houses
Stranglewood Estate: Evil darkness now fills this once lively home sitting eerily in town…
Witch of the Woods: Don't get caught up in this deep, dark forest…
The Forgotten: The underground realm of vampires are waiting on you…
Death Water Bayou: Blood Moon – The Final Phase: You'll want to avoid the deep depths of this bayou…
The Residence: Home for the Holidays: Don't let the suburban façade deceive you…
Read Next: SMACKDOWN: 7 Best Halloween Horror Nights Icons EVER!!!
2022 Howl-O-Scream Scare Zones
RAVENS MILL (NEW!): Your worst nightmare is hidden within the foliage of the corn field of Raven's Mill.
BEYOND THE VEIL (NEW!): Tucked deeply in the path of Nairobi is an evil presence taking form in the dark forest. Be sure to look out for fairies and orcs on your nighttime stroll.
VOODOO: Ravenous werewolves and witch doctors await you here…
SKELETON CREW: Avoid these undead pirates who will be rising from their watery grave to take your soul…
IN THE SHADOWS: Stay alert as you pass through ghosts and other horrifying legends in this eerie Howl-O-Scream scare zone…
THE SHORTCUT: Don't take the shortcut through the cemetery…
THE JUNKYARD: You don't want to become one of the scrap parts of the junkyard…do you?
HIDDEN SCARE ZONE & ROAMING HORDES: Keep a look out for unexpected popups of demented creatures through hidden scares zones as you make your way through Busch Gardens' Howl-O-Scream.
Since Busch Gardens budget may be smaller to work with for the props, they are able to have scareactors compensate for that lack of budget.
Winner: Halloween Horror Nights
Ability to Scare…more screams please!
Both Howl-O-Scream and Halloween Horror Nights approaches their scare factors differently.
At Halloween Horror Nights you get a full out Hollywood type of production with a foreboding atmosphere of fear.
Over at Howl-O-Scream, there's a constant need for the scareactors to frighten you with no end in sight.
These frights are usually more jump scare related than the legendary eerie type of feel known at Universal Studios.
Many theme park visitors like the jump scares as a way of having that constant adrenaline flow throughout the night.
Howl-O-Scream definitely comes through for this type of fear, but based on your own preference of scare tactics, HHN may be more down your ally.
Winner: Howl-O-Scream
Affordability: What does it cost to go to Halloween Horror Nights or Howl-O-Scream?
As you can probably tell, in order for Universal to pull off such an epic creation and to have the many Intellectual Property partnerships, their budget is much higher than Busch Gardens.
This can be a reason as to why the ticket prices are much higher at Halloween Horror Nights.
We also can't forget that it is dubbed as the "World's Premier Halloween Event," which can add a few more dollar signs to your night.
Watch: New to Halloween Horror Nights? Don't Go Without Knowing These 15 Tips!
Halloween Horror Nights Tickets Single-Night Price
Tickets for Halloween Horror Nights start at $73.99.
Busch Gardens Howl-O-Scream Tickets 2019
Howl-O-Scream Tickets for a Single-Night starts at $44.99
The Howl-O-Scream Unlimited Admission Tickets start at $124.99 with admission to all nights – this is the best value for you
Winner: Howl-O-Scream
Entertainment
With Bill and Ted no longer at Halloween Horror Nights, that infamous pop culture show absence is definitely noticeable. Even with the addition of the incredible nighttime shows, the entertainment has suffered.
What has saved Halloween Horror Nights in this category was the new Halloween Marathon of Mayhem show.
The fantastic lagoon show featured legendary moments inspired by some of the Halloween classic images.
Complete with giant water screens highlighting iconic horror scenes, accented with more than 100 fountains, awesome special effects, pounding electro music, lasers and more!
Recommended: 35 Scary and Fun Things to Do in Florida for Halloween
Ghoulish! A Halloween Tale
This year Halloween Horror Nights will debut Ghoulish! A Halloween Tale. The brand new show takes place on their lagoon and follows the Grim Reaper on his sinister dealings about what happens afterlife.
Halloween Nightmare Fuel Wildfire
The HHN show is a sequel to last year's fan-favorite "Halloween Nightmare Fuel" show features the world-famous performance group, The Fuel Girls.
Halloween Nightmare Fuel Wildfire highlights a new Dreamer in the depths of a new nightmare set to an intense metal, rock and electronica score..
Busch Gardens has improved their entertainment options in a major way!
Fiends does similar pop culture bashing like Bill and Ted with Dr. Frankenstein and his assistant Igor as the main characters.
This show is definitely a Howl-O-Scream classic or should I say the naughty nurses are a classic for this Tampa experience.
Busch Gardens has also added the following Halloween inspired shows below:
50/50: Choose Your Fate (NEW): You will NEVER win with this demented game show host because no matter what you choose, you ALWAYS lose!
The Rolling Bones: Be sure to catch a "live" performance of this boney band performing classic rock songs in the Dragon Fire Grill!
Cirque X-Scream: Get captivated by aerial performances and incredible stunts during the Cirque X-Scream this year at Busch Gardens Howl-O-Scream in Tampa.
Even with two additional shows at Busch Gardens, HHN night shows are world class and for this, I have to give this category to Universal Orlando.
Winner: Halloween Horror Nights
Theming
Since the early years of Halloween Horror Nights, theming has become a very serious asset to the event.
So much so, that many Halloween experiences around the country have to have this in order to compete with Universal.
Howl-O-Scream has a general theme each year, but unfortunately it is lost once you enter the park.
Since Howl-O-Scream keeps many of the same houses each year, it's hard for the mazes to reflect the theme of the new year.
Halloween Horror Nights changes its haunted houses every year, so the creative team at Universal always keep a cohesive theme to the event.
This carries over through its mazes, its scare zones, it entertainment, and little things like dining.
Winner: Halloween Horror Nights
Fun Level with Crowd Atmosphere
As I write this section, I don't want you to think that you won't have fun at both parks, but the Universal Studios Halloween Horror Nights crowd is much more "tamed."
Perhaps the presence of the Orlando Police Department plays role or perhaps the content is made for a more mature audience.
Many of the visitors to HHN are coming from all over the world just for this event.
At Howl-O-Scream it's a more relax environment, with the expectation of just pure, unadulterated fun.
You'll find more locals attending this event. Plus, you'll get way more jump scares that keeps you on your toes throughout the night.
Winner: Howl-O-Scream
Final Thoughts on Choosing Halloween Horror Nights or Howl-O-Scream
As you can see, there is something for you at either event. I recommend visiting both during the Halloween season so that you can make you own decision on which event is better.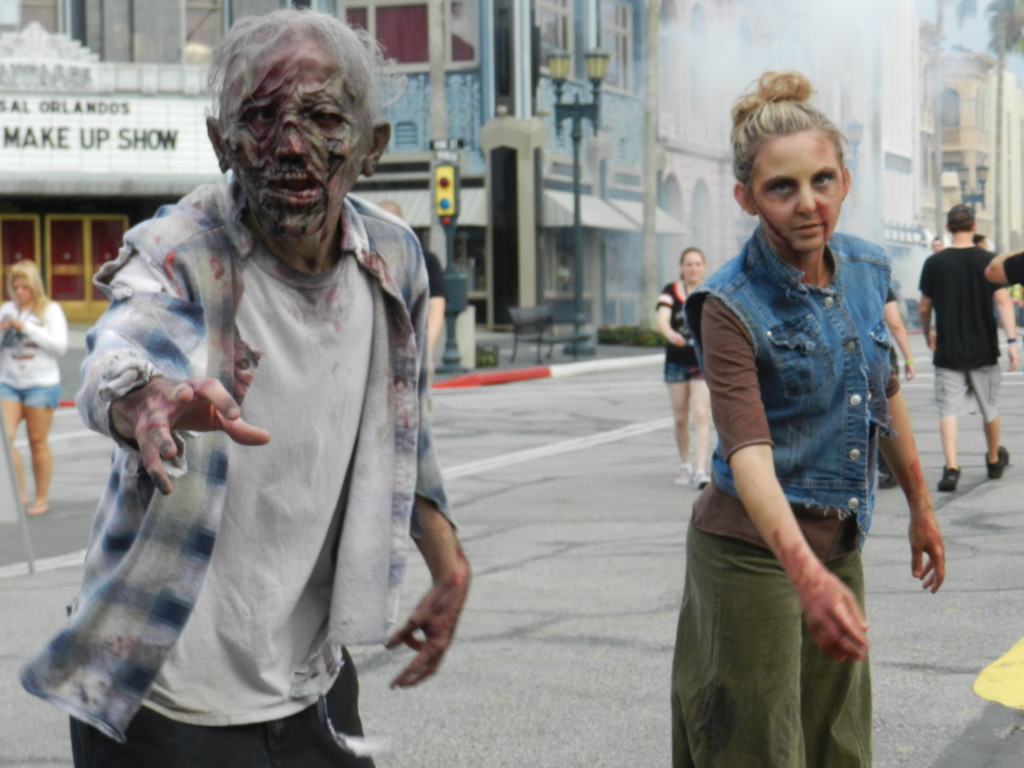 Both Halloween Horror Nights and Howl-O-Scream have scare zones, fun entertainment, lots of haunts, and intense mazes for you to enjoy.
Now, I want to hear from you. Which do you think is better, Halloween Horror Nights or Howl-O-Scream? Let me know in the comments section below!
If you enjoyed this article, then you'll love these:
Until next time, Happy Park Hopping Hipsters!
NikkyJ
(Original date October 10, 2014 /Updated August 25, 2022)