You may be wondering, what are the best Universal Orlando Restaurants for Solo Travelers?
One of the most important things when I research a theme park that I plan on visiting is the dining options.
Some people do this due to dietary restrictions but me personally, I just want to make sure I get the good food when I go, haha!
And I will certainly give credit when credit is due, Universal Orlando Resort does a fantastic job at serving up a great variety of fares to try during your visit.
Whether you are staying at one of their resorts, exploring CityWalk or grabbing a bite in Islands of Adventure or Universal Studios, you will always find a great entree to sink your teeth into.
But for solo travelers, which ones end up working the best for us?
Today, we will be answering that very question for you!
These restaurants will be rated on the following:
Theme
Food and drink
location
Price
Let's dive into these delicious, mouthwatering options!
THIS POST MAY CONTAIN AFFILIATE LINKS. PLEASE READ MY DISCLOSURE FOR MORE INFO. Which means if you click on certain links, I may receive a small commission at no additional charge to you.
1. Confisco Grille (Islands of Adventure)
This restaurant was a recent find for me (and I'm glad I found it).
You would be surprised how many of us walk by this full-service restaurant as we venture towards the Incredible Hulk Roller coaster, Hagrid's Magical Creatures Motorbike Adventure, or VelociCoaster from the spectacularly themed Port of Entry.
If you are familiar with Disney's "Adventurers Club" of years ago, this location has similar vibes but with Universal flair.
Vibe of this Universal Orlando Restaurant
The theme of the restaurant plays the landing place for the founders of the establishment AKA Confisco Grille.
Here you will find a wide variety of intriguing items that have been collected by them during their travels. Or stolen. I guess it depends on who you ask, haha!
Based on my most recent visit, the vibes are similar to the celebrated Mythos but far more casual which is awesome for solo travelers.
You can visit this spot from 11 a.m. to 9 p.m. Monday through Thursday and Saturday, 11 a.m. to 8 p.m. on Friday and 11 a.m. to 10 p.m. on Sunday.
If you are a Universal Annual Passholder, you get a specialty menu.
The restaurant serves up appetizers, entrees and desserts that have an exotic, global inspired feel.
Top Dishes on the Menu at Confisco Grill:
Loaded Nachos : Crisp tortilla chips with beef and bean chili, cheddar-jack cheese, tomato-red onion salsa, shaved jalapeño, cilantro lime crema, and house-made guacamole
Thai Summer Rolls: Mixed Greens, marinated tofu, shredded carrots, cellophane noodles served with peanut sauce and sweet chili sauce
Ahi Tuna Nachos: Sesame seared ahi tuna, diced avocado, edamame, Napa cabbage, jalapeño, micro cilantro, wonton chips, scallions, sweet soy and wasabi aioli drizzles
Sticky Ribs: Philippine-inspired smoked pork ribs tossed in a sweet and sour sauce, with goat cheese polenta, and toasted sesame seeds
Penne a la Vodka: Kalamata olives, pepperoncini and Italian sausage tossed in a light tomato, vodka cream sauce
Pork Belly Banh-Mi Sandwich: Roasted pork belly, pickled carrots and daikon radish, cucumber, chile aioli, French baguette
Jalapeño Margarita: Patron Tequila, Gran Gala, house-made jalapeño lime juice mix
Islander: Malibu coconut rum, banana liqueur, peach schnapps, pineapple juice, raspberries
Get Your Universal Orlando Resort Tickets Today! CLICK HERE.
2. Mythos Restaurant (Islands of Adventure)
Mythos is one of the most popular, well known and most award-winning restaurants on Universal Orlando Property.
Located in Islands of Adventure and not far from Confisco Grille, specifically in the Lost Continent section of the park, this restaurant takes mythology to new levels via your taste buds.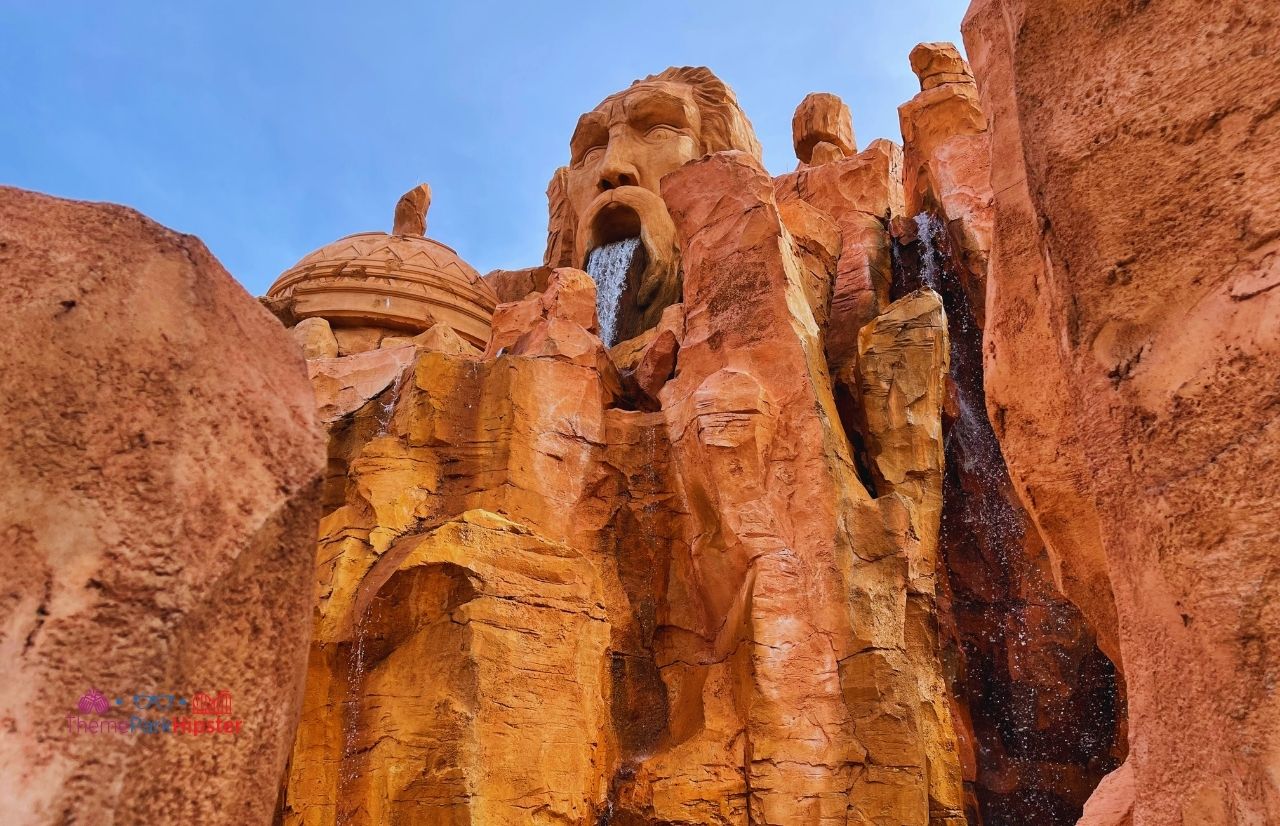 Vibe of this Universal Orlando Restaurant
Guests are transported to a magical and mystical grotto that features glorious rock carvings that look similar to the gods of familiar lore and spectacular, cascading waterfalls.
Making it one of the best Universal Orlando Resort restaurants for solo travelers.
I am pointing this out specifically for the Instagram peeps who are like me and know that the camera eats before we do, haha!
If the weather is nice, request outdoor seating so you can have awesome views of the water and lands.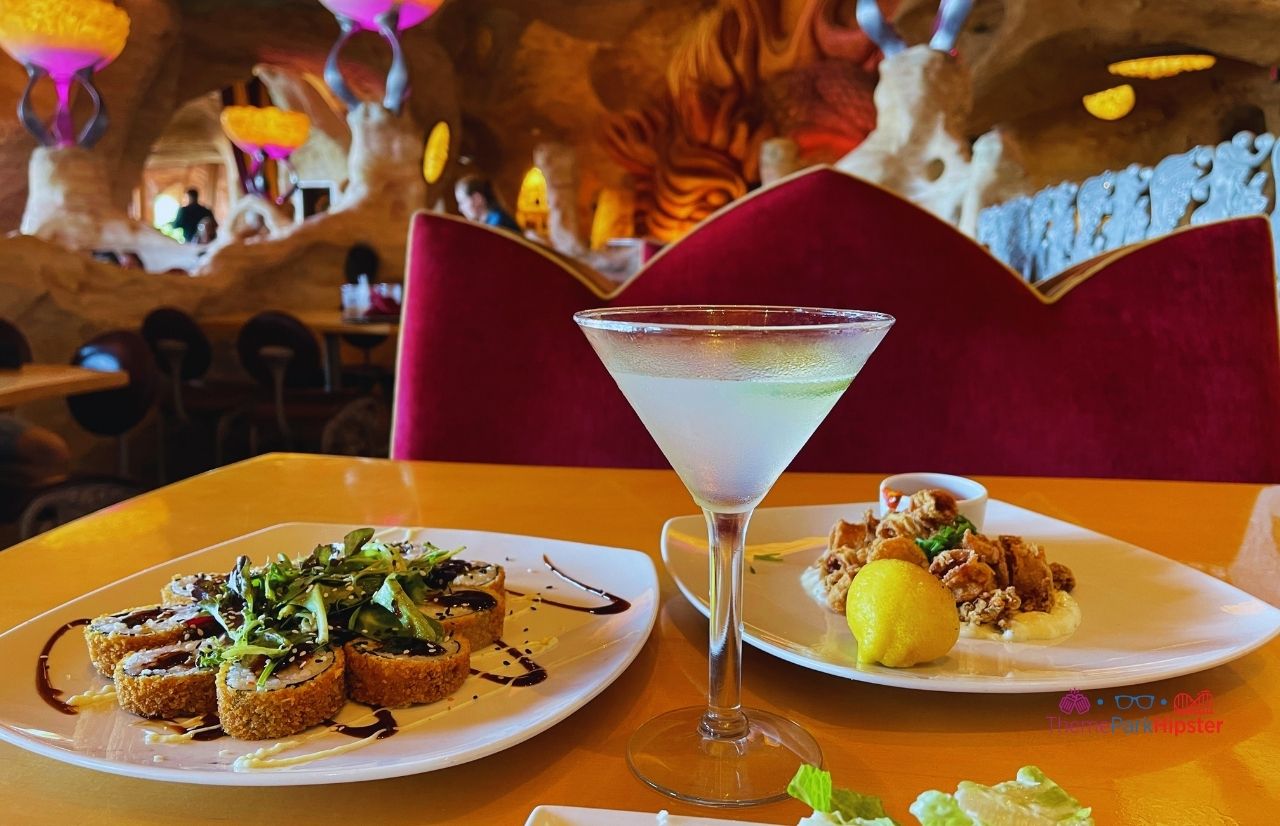 The elegant and upscale dining menu boasts a combination of Asian, Mediterranean and familiar American cuisine.
Do you need a reservation for Mythos at Universal's Islands of Adventure?
Because this is a very popular dining establishment, it is highly recommended that you make a reservation. Dining hours are similar to Confisco Grille.
Top Dishes on the Menu at Mythos:
Grilled Lamb Meatballs: Grilled spiced lamb, rosemary infused polenta, Kalamata olives and sweet chili marinara, mint chimichurri
Semolina Crusted Calamari: Tender calamari flash fried, served with Spanish chorizo aioli, marinara and charred lemon
Shrimp Sushi Katsu Roll: Flash fried panko crust, sweet soy, wasabi aioli
Heart of Romaine Caesar: crisp romaine, roasted plum tomato, charred pita, house-made Caesar dressing, shaved Parmesan (you can add grilled chicken or shrimp)
Beef Loin Medallions: Yukon potato puree, satuéed haricot vert, watermelon radish, watercress, red wine reduction
Souvlaki Couscous Bowl: Za'atar spiced couscous, fresh cucumbers, marinated artichoke, kalamata olives, spiced chickpeas, feta cheese, tzatziki, tahini dressing
Pad Thai: Rice noodles, mixed vegetables, chicken and shrimp tossed in a mild sweet and sour peanut sauce
Mythos Signature Lamb Burger: Hand-packed ground lamb, grilled onion, shredded lettuce, fresh tomato, feta-olive aioli, served with French fries
Chocolate Banana Gooey Cake: Warm flourless chocolate cake drizzled with caramel sauce, topped with peanut butter ice cream, and candied bananas
Cucumber Martini
3. Three Broomsticks (Islands of Adventure)
Nothing will give you the full Wizarding World of Harry Potter experience like trying out the food and drinks that the students and locals dine in when they are in Hogsmeade.
It's one of the lands inside of Islands of Adventure.
Those familiar with Harry Potter lore recognizes the location as the popular inn and pub that was frequented.
Vibe of this Universal Orlando Restaurant
The recreation was so well done and was later used for Harry Potter and the Half Blood Prince film. This restaurant is known for its "Great Feast Platter," perfect for families or big groups to invest in.
The Three Broomsticks also has a breakfast menu too, which is served only until 10:30 a.m. daily before switching to Lunch.
The menus certainly do not stray away from the authenticity of an English breakfast so expect that along with Harry Potter inspired fare. Here is what you can expect…
Top Dishes on the Menu at The Three Broomsticks:
Traditional English Breakfast: Fresh scrambled eggs, sausage links, black pudding, English bacon, baked beans, grilled tomato, sautéed mushrooms and breakfast potatoes.
Fish and Chips: Fresh north Atlantic cod battered & fried with chips and tartar sauce
Beef Pasties with Garden Salad: Flakey pastry pies filled with ground beef, vegetables & potatoes served with a side salad & choice of dressing
Rotisserie Smoked Chicken: Served with corn on the cob and roasted potatoes
Spareribs Platter: Served with corn on the cob and roasted potatoes
Butterbeer™: A non-alcoholic sweet drink reminiscent of shortbread and butterscotch
The Butterbeer™ Ice Cream
4. Lombard's Seafood Grille (Universal Studios Florida)
Taking the Hogwarts Express over to Universal Studios, we will dock our ship at Lombard's Seafood Grille for a spell.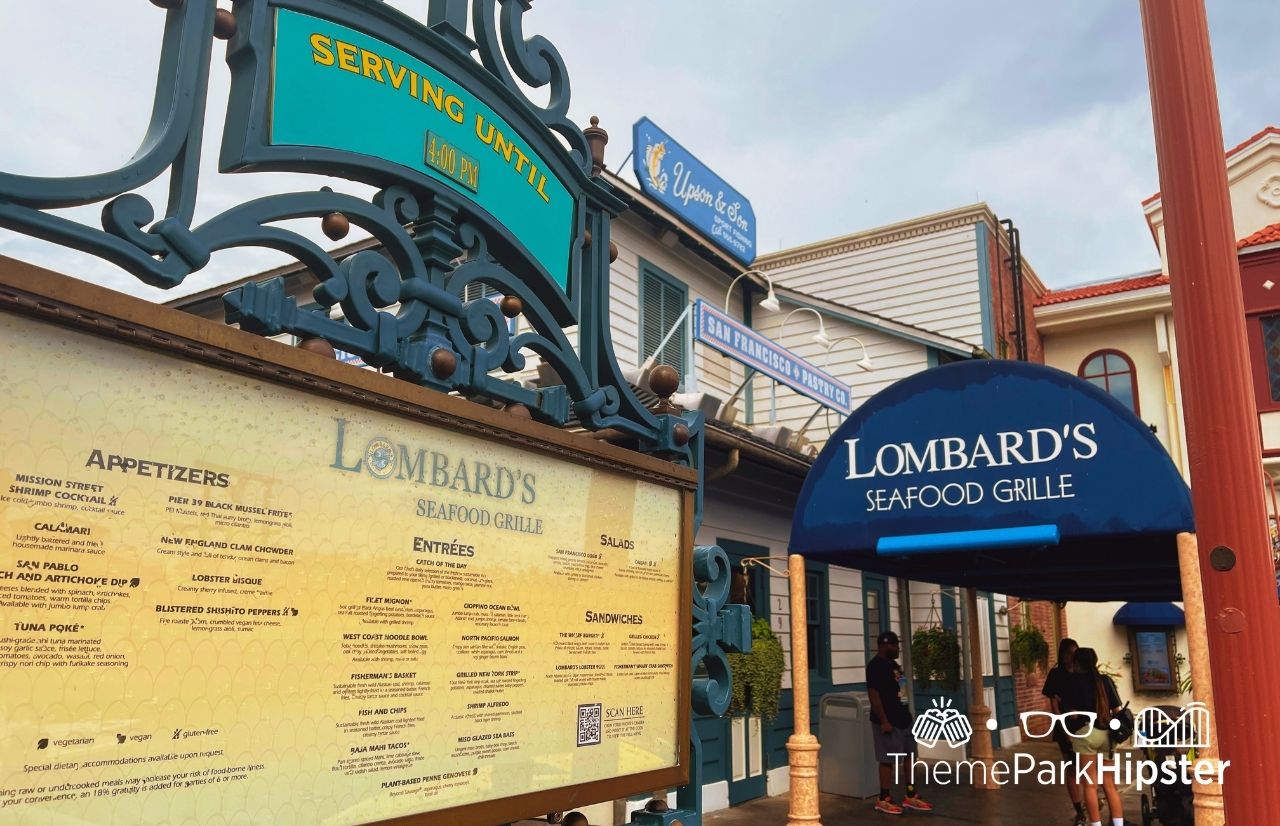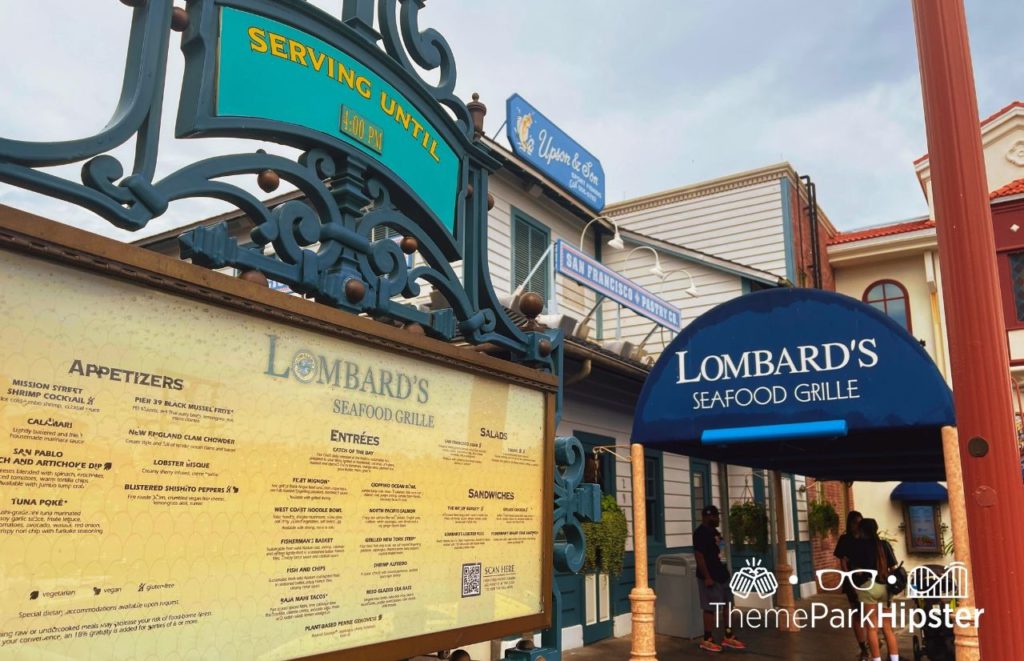 Located in the San Francisco section of the park, this waterfront flagship restaurant has been a staple since opening day!
Making it best Universal Orlando Resort restaurants for solo travelers.
Vibe of this Universal Orlando Restaurant
The interior is a replica of buildings from the actual Fisherman Wharf of San Francisco.
However, the inspired vibes are of the 1880s scientific laboratory of Louis Lombard, a Marine Biologist, who was created for the restaurant.
The true gem of this restaurant is its centerpiece, a large saltwater aquarium.
Do you need a reservation for Lombard's Seafood Grille at Universal Studios?
This is another on the list that is recommended that you book a reservation for. However, if you are a guest of one of Universal's Preferred or Premier Hotels, you get priority seating.
But the restaurant is open from 11:30 a.m. to close so it serves up lunch and dinner with options for turf if you are not in the mood for the surf.
Top Dishes on the Menu at Lombard's Seafood Grille:
Tuna Poké: Sushi-grade ahi tuna marinated in soy garlic sauce, frisée lettuce, scallions, tomatoes, avocado, wasabi, red onion, cucumber, crispy nori chip with furikake seasoning
Classic French Onion Soup: Sautéed onions in beef broth, baked with a Parmesan crouton and topped with Swiss cheese
Roasted Garlic Edamame: Steamed edamame tossed with roasted garlic sea salt, topped with black and white sesame seeds
Catch of the Day: Chef's selection of the freshest sustainable fish, prepared to your liking (grilled or blackened), lemon parmesan orzo with sweety drop peppers, Romanesco, snow peas, and charred corn. Served with roasted garlic beurre blanc and micro marigolds (Sea Bass | Swordfish | Mahi Mahi | Salmon)
Filet Mignon: 6oz grilled Black Angus beef tenderloin, roasted parsnip and rainbow carrots, garlic broccolini, crushed parmesan fingerling potatoes, bordelaise sauce
Fisherman's Basket: Sustainable fresh wild Alaskan cod, shrimp, calamari and oysters lightly fried in a seasoned batter, french fries, creamy tartar sauce and cocktail sauce
Fish and Chips: Sustainable fresh wild Alaskan cod lightly fried in seasoned batter, crispy French fries, creamy tartar sauce
Lombard's Lobster Roll: North Atlantic lobster, dijon mayonnaise, shredded lettuce, toast split soft roll, served with housemade seasoned potato chips
Miso Ramen Bowl: Rice noodles, miso broth, Romanesco, julienned carrot, and snap peas topped with cilantro, scallions and sambal
Get up to 25% off of your Universal Studios Tickets with Groupon TODAY!
5. Finnegan's Bar & Grill (Universal Studios Florida)
Continuing on to the New York section of Universal Studios Florida, we move on to a full-service restaurant full of character.
Full of Irish inspired flair, food and amazing drinks, you will get a good bang for your buck at this place!
For the purpose of this article, we will focus solely on the grill part of the restaurant.
Vibe of this Universal Orlando Restaurant
This is another one that it is recommended that you have a reservation for and even occasionally have live entertainment to enjoy while you dine.
This place is particularly popular during seasonal events such as Halloween Horror Nights.
To help you with locating it, since the place has more than one entrance, you can enter on Delancey street, where live performance acts take place, or right across from Revenge of the Mummy.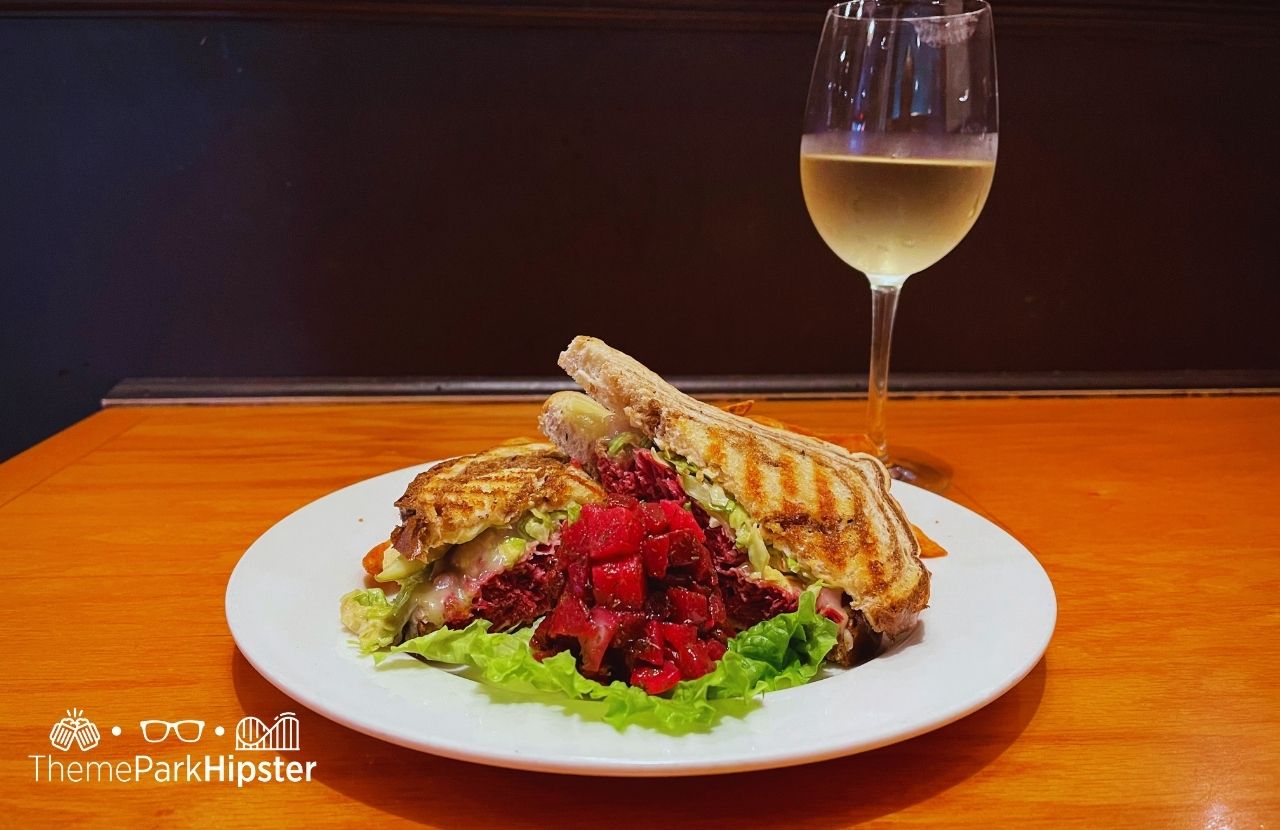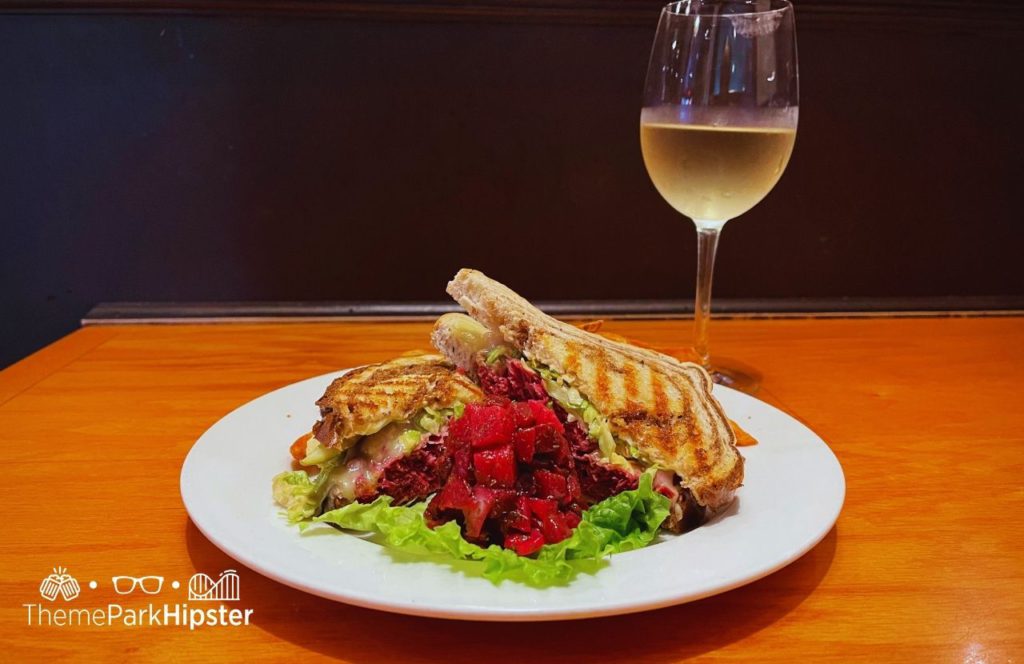 Making it best Universal Orlando Resort restaurants for solo travelers.
Top Dishes on the Menu at Finnegan's Bar & Grill:
Finnegan's Potato & Onion Webb: Thinly sliced potatoes and onions, hand dipped in beer batter, crisply fried golden brown and served with malt vinegar
Scotch Eggs: Hard-boiled eggs wrapped in pork sausage, dusted with bread crumbs, and fried. Served with apple beet salad and mustard sauce
Irish Loaded Chips: Seasoned wedge fries topped with corned beef, Leicester cheese, caramelized onions, and Killarney gravy
Guinness Warm 3-Cheese Dip: Served with freshly baked soft pretzel bread and tangy mustard sauce
Pistachio Crusted Salmon Salad: Fillet of salmon served on a bed of baby greens, roasted root vegetables, tomatoes, onions, and havarti dill cheese, with homemade mustard ale vinaigrette
Homemade Misty Isle Potato & Leek Soup: Rich, creamy soup, made fresh in Finn's kitchen daily
Irish Fish & Chips: North Atlantic fresh cod fish in ale batter with wedge fries. Served with a side of malt vinegar and tartar sauce
Bangers & Mash: Country pork and beef sausage with homemade roasted garlic mashed potatoes and root-cellar vegetables
Corned Beef Sandwich: Fresh baked pretzel roll with warm corned beef, topped with sauteed onions, Swiss cheese, lettuce, tomato, and pickle
6. VIVO Italian Kitchen (CityWalk)
Let's now head over to Universal's CityWalk, where we'll be starting with VIVO Italian Kitchen.
As you can imagine, every meal is authentic to the culture of Italy and bursting with flavor.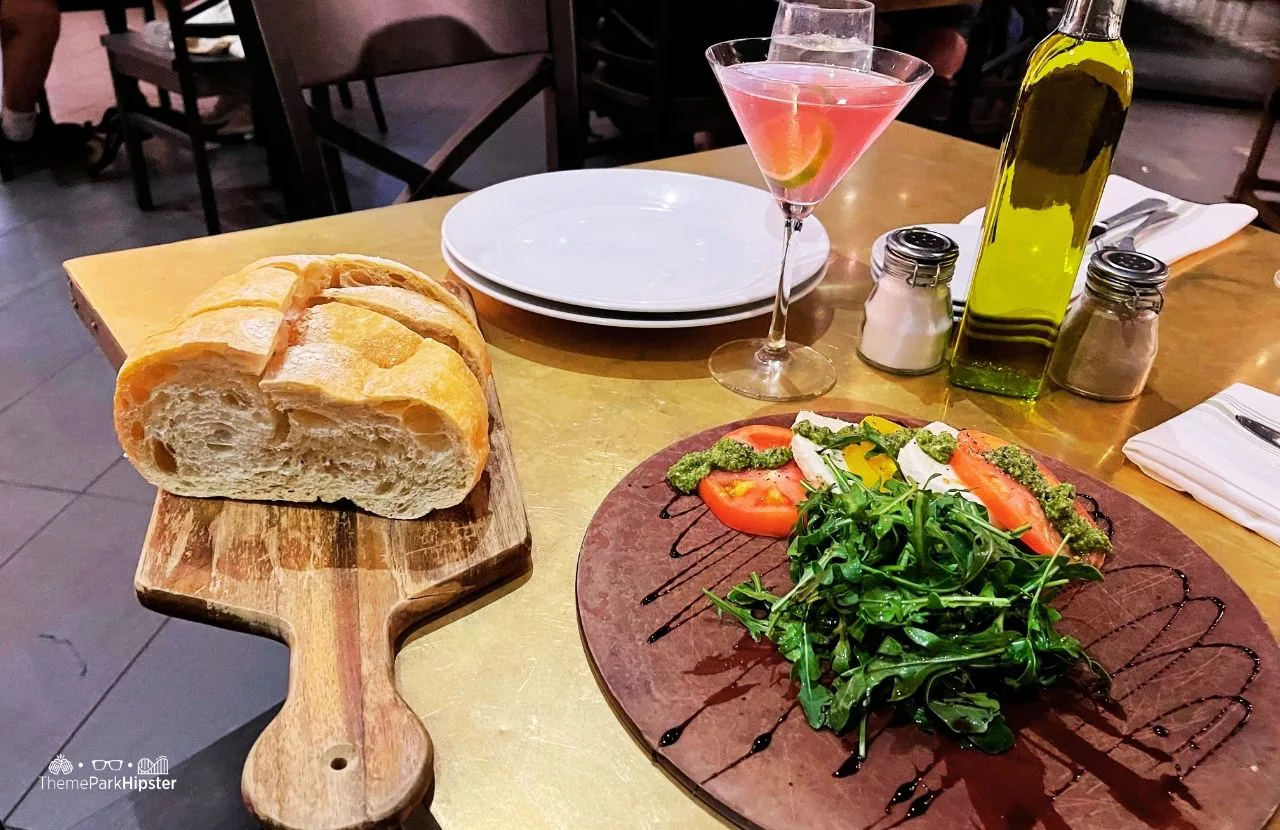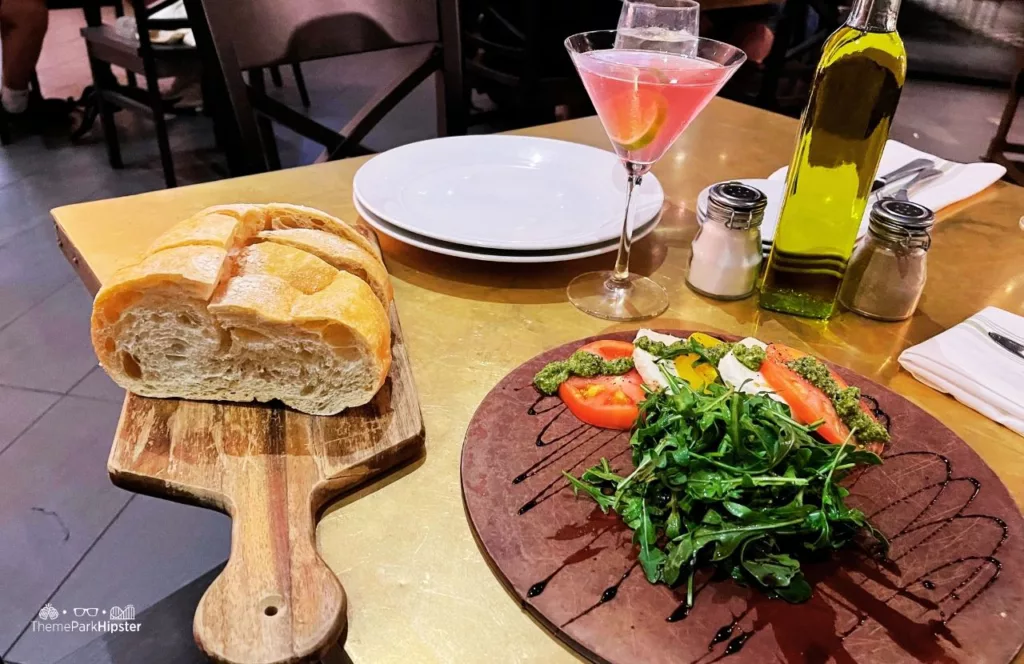 It is where family meets modern and sleek, and the food is made right in front of you to help your anticipation of dining on true decadence.
Recommended: The Solo Theme Park Traveler's Guide
Do you need a reservation for VIVO Italian Kitchen at Universal?
This is a quiet, contemporary restaurant located in CityWalk and reservations are highly recommended. Here are the best offerings for VIVO Italian Kitchen below.
Top Dishes on the Menu at VIVO Italian Kitchen:
Antipasto: Salami, calabrese, prosciutto, fresh mozzarella, imported parmesan, grilled zucchini, caponata, olive tapenade, gorgonzola, provolone, roasted peppers, with crostini
Beef Carpaccio: Shaved raw beef, arugula, grana padano cheese, capers, lemon, mustard, olive oil
Quattro Formaggi: (Vegetarian) Mozzarella, fontina, Italico, ricotta, sage
Classic Caprese: Marinated tomatoes, fresh mozzarella, basil, basalmic, sea salt
Black Truffle Buratta: Served with speck, arugula, roasted tomatoes, fresh artichoke, lemon thyme vinaigrette
Linguine and Clams: Seasonal clams, red chili flakes, garlic, white wine
Shrimp Fra Diavolo: Jumbo prawns and squid ink pasta tossed in Vivo's house made tomato sauce with Calabrian chili peppersand fresh basil
Black Truffle Risotto: Milanese risotto with king trumpet mushrooms, English peas, black truffle burrata and truffle oil
Cannoli: Sweet ricotta filling, chocolate chips, pistachios, Luxado cherries
7. Antojito's Authentic Mexican Food (CityWalk)
Last on our list is Antojito's, a lively, colorful and vibrant full-service restaurant, serves up excellent Mexican fare that you MUST try.
The atmosphere is a festive celebration of Mexican tradition and the culture. Making it best Universal Orlando Resort restaurants for solo travelers.
The theme is also bright and exciting, just like the amazing entertainment! But in the meantime, let's look at the offerings!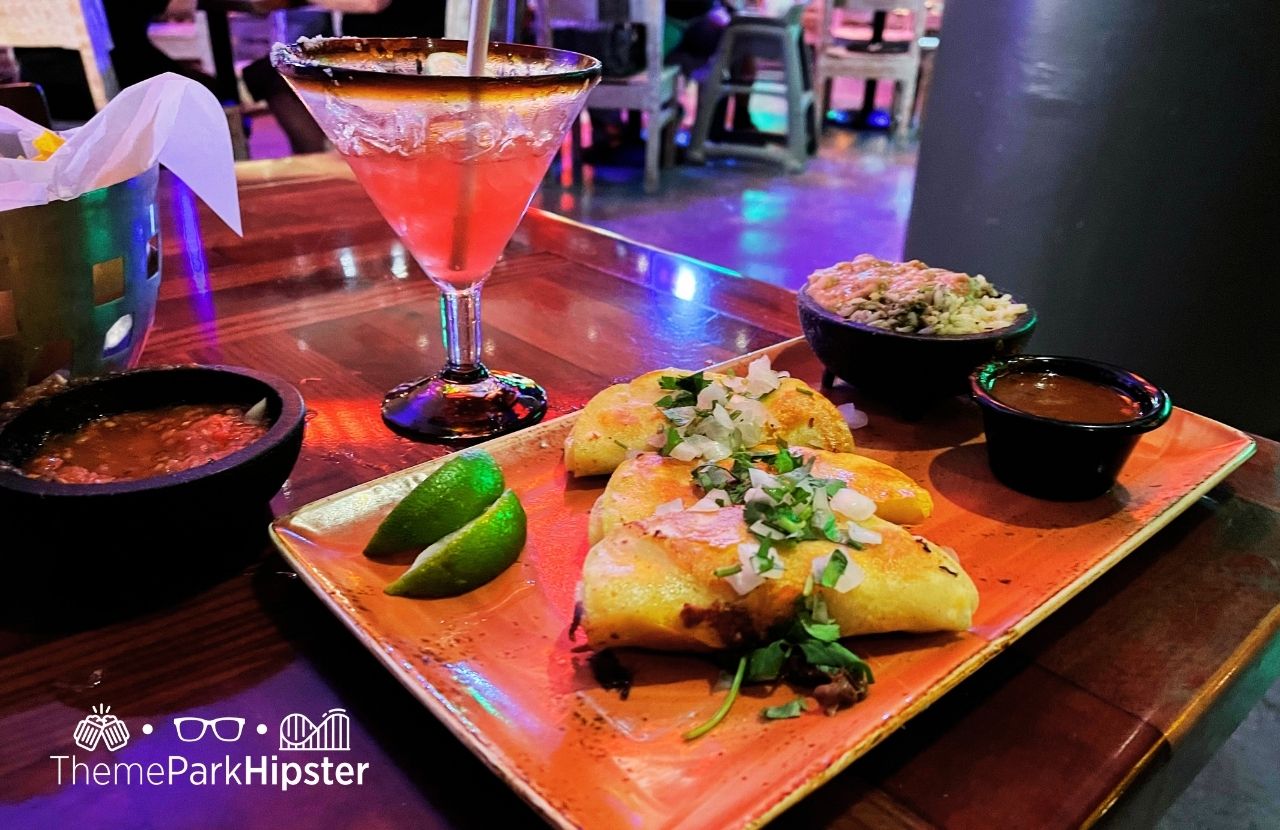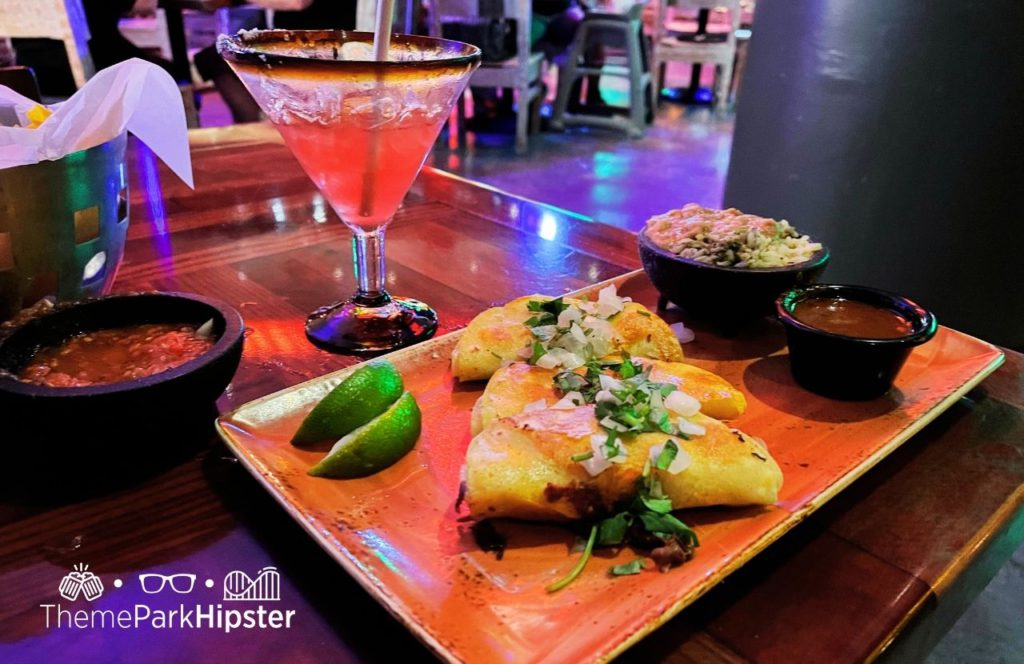 Top Dishes on the Menu at Antojito's Authentic Mexican Food:
Tableside Guacamole: Avocado, tomato, garlic, red onion, green olives, cilantro, tortilla chips
Taquitos Jaliscos: Crispy corn tortillas, chicken tinga, menonita cheese, lime crema, queso fresco, cilantro. Served with habanero and chile de árbol salsa
Esquites: Roasted corn, jalapeño mayonnaise, cotija cheese, ancho spice, cilantro, tortilla chips
Mar y Tierra: Mole braised short rib and grilled shrimp garnished with pickled red onions paired with a tamale topped with chorizo and queso sauce served with cilantro rice
Al Pastor: Roasted pork, pineapple tomatillo salsa, pineapple, onion, cilantro
Pineapple Fire and Ice: Dulce Vida pineapple jalapeño tequila, agave nectar, fresh lime, pineapple ice pop
Ready to plan your theme park trip? Watch the best vacation planning tips on YouTube. Get started here!
My Final Thoughts on the Best Universal Orlando Restaurants for Solo Travelers
Universal Orlando Resort is bustling with well themed, well stocked and deliciously flavorful restaurants.
Some are hidden gems, and some are popular in their own right, whether via the locals or through the Universal team themselves.
These are just a few of the best Universal Orlando Restaurants for Solo Travelers that the resort has to offer! Did your favorite make the list? Share your thoughts in our Facebook Group!
UP NEXT: Top 10 Fun Things to Do at Universal Orlando for Adults
(Original Article Date: July 6, 2022/Updated by Editor on June 28, 2023)