Are you ready to learn about the demented history of Jack the Clown at Halloween Horror Nights?
In our history as humans, fear has been a big part of our evolution and growth.
We use fear to survive and protect ourselves.
As centuries have passed, one of the things that people have listed as a fear is clowns.
On the surface, they are comics with great talent in costume, bringing joy and laughter to everyone.
Clowns derive from vaudeville events from the golden age of Hollywood and early days of theater.
7.8% of Americans have Coulrophobia, or a fear of clowns, according to a Chapman University Survey.
It is a common phobia that Universal Orlando embraced and crafted a truly sinister and evil icon to draw the curious and fear lovers in.
His name is Jack and today, I will be telling his story at the campfire.
I will go over his backstory and his history with Halloween Horror Nights.
So, enter the fog and read on if you dare.
THIS POST MAY CONTAIN AFFILIATE LINKS. PLEASE READ MY DISCLOSURE FOR MORE INFO. Which means if you click on certain links, I may receive a small commission at no additional charge to you.
The Story of Jack Schmidt AKA Jack the Clown
It is said of Jack,
"Every day was Halloween for Jack Schmidt…

You know that old Halloween story about putting razor blades in apples? Well that wasn't urban legend. That was Jack."
Who is Jack the Clown?
Jack Schmdit, along with his brother Eddie, was born in the Shady Brook Rest Home and Sanitorium in the 1800s.
He would later go on to join Dr. Oddfellow's Carnival of Thrills.
Jack Schmidt ran away from his extremely abusive and poor family to join the circus, and quite literally.
Unfortunately, he did leave behind his brother as a consequence.
Get your discounted HHN Tickets on Groupon TODAY!
Becoming Jack the Clown
As a carnival performer, he loved entertaining, especially children, with fun pranks and fake falls. However, everything was not as it seemed with Jack.
In truth, he was a wicked and twisted murderer. Furthermore, he was wanted for the abduction and disappearances of several young children throughout the south.
The pattern eventually led to the traveling circus. Years later on Halloween 1939, the authorities were closing in on Jack, slowly but surely.
Jack the Clown finally admitted his horrid secret to Dr. Oddfellow in the hopes that he would protect him.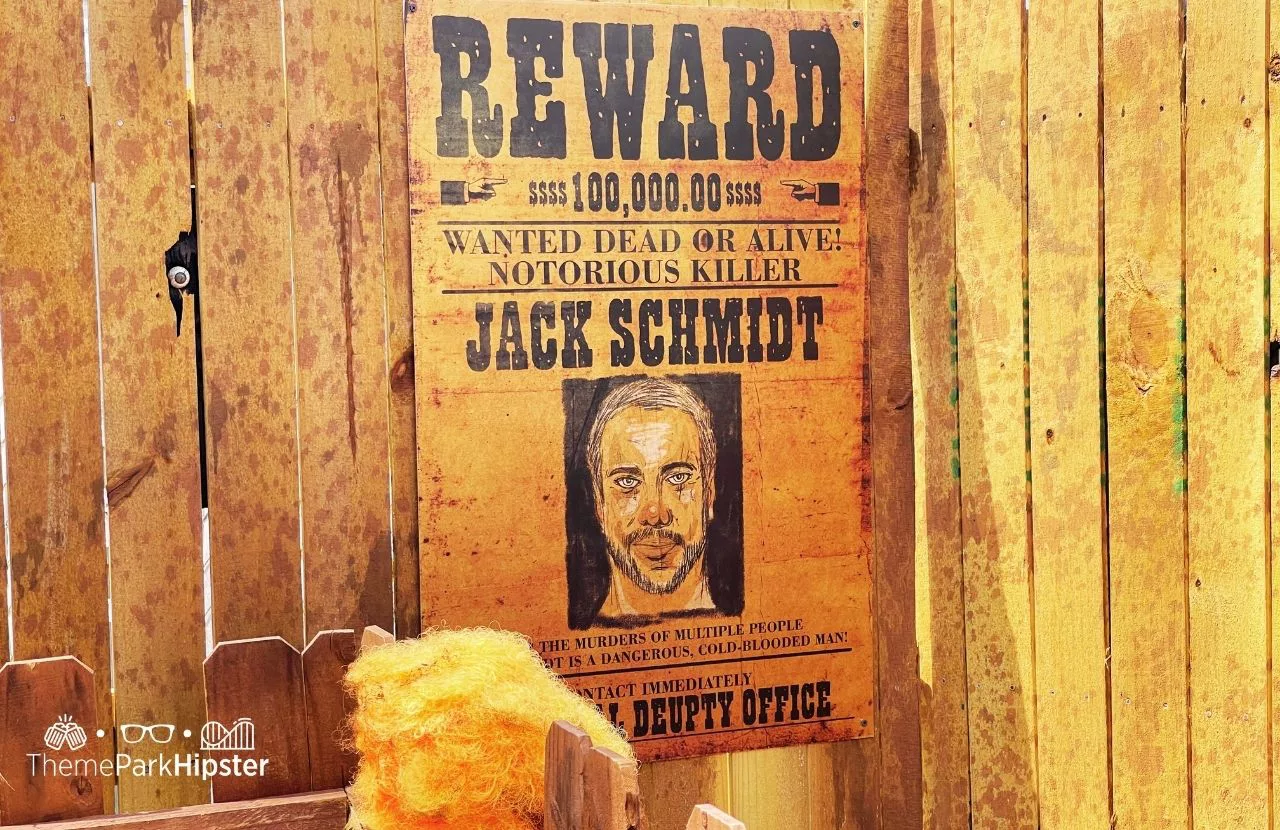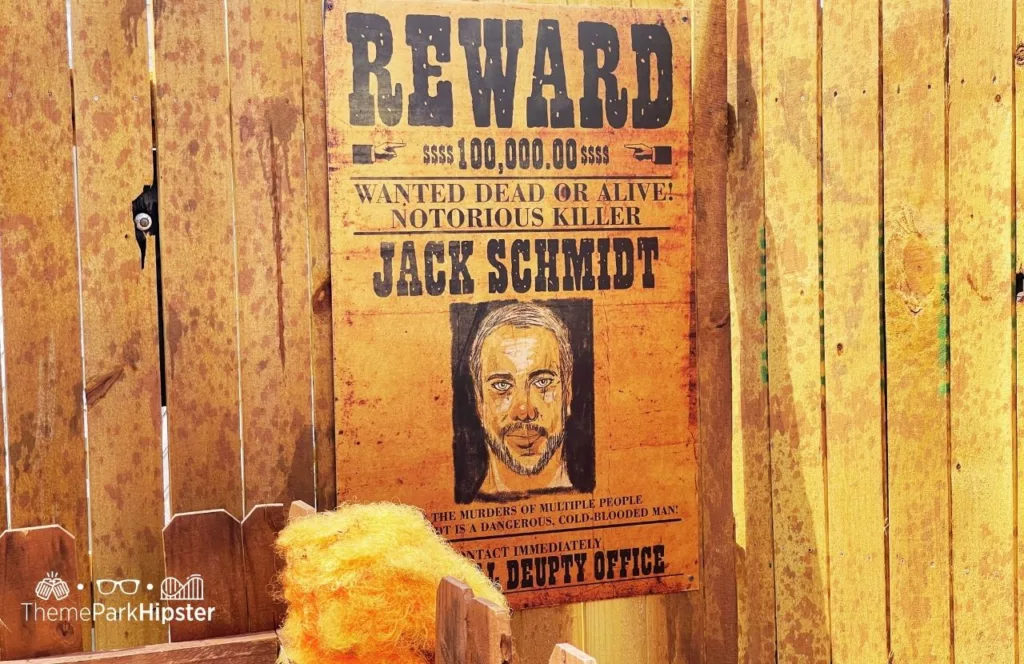 In fact, the opposite occurred as Oddfellow chastised him for bringing the authorities onto the carnival.
Dr. Oddfellow versus Jack the Clown
As it turns out, Oddfellow was wanted by authorities as well for "Accidental" deaths in a freak accident at the circus years prior, in which he was under a different name.
He demanded that Jack show him where he had hidden the bodies of the children and revealed 13 bodies in total hidden in 3 tiny trunks hidden in amongst hid belongings.
In response, Oddfellow had Jack killed to protect himself.
He didn't go without a fight, leaving a scar on Oddfellow's face, spilling blood onto Jack.
Jack's body and his victims were put on display as part of an exhibit, with his corpse placed in a jack-in-the-box container to be hidden away forever shortly after.
Oddfellow sold the carnival years later and it was split up. Decades would pass and no one would ever recall Jack.
The blood spilled on Jack from Oddfellow gad triggered a magical transformation on his corpse, giving it dark magic and immortality.
He would ultimately become an eternal terror after being chosen as a herald by the demon, Adaru.
Jack the Clown's Poem of Terror…
His story continues through various scenarios as the Halloween Horror Nights event went on throughout the years but at its core, these were Jack's beginnings.
And so he is immortalized by this terrifying poem:
His background obscured in the mists of time, Odd indeed that grew into a gourmand of crime.

With an insatiable taste for the bizarre and insane, a wicked sense of humor, a heart full of disdain, for all he encounters who end up the same: Twisted, depraved and never leave the same as they came.

Play this card and you might wish you had not, for you enter his world and unless you forgot, the warnings were there for all to see. His victims are many and no one goes free.
For a no obligation, FREE Universal Vacation Quote, you can fill out the form with The Park Prodigy by Clicking HERE!
History of Jack the Clown at Halloween Horror Nights
Jack the Clown made his debut as the first icon with a detailed backstory at Halloween Horror Nights 10 back in 2000.
He was crafted by Michael Aiello, Senior Director of Creative Development and James Keaton, the very first Jack Performer for the event.
Aiello stated that "In every survey they did, clowns were the number one fear for visitors who responded.

The Art & Design team at the time took that thought and the rest they say is history. But nobody knew Jack would become what Jack is now."
Art and design had the great task ahead of them.
They had to create a scary clown that was different from what we were familiar with in the film industry. He still had to be terrifying and evoke true fear.
"Physicality was all about that makeup, wig, and the nails," says James Keaton. "The sculpts started real ornate with big cheekbones and chin and these sharp nails. I always carefully place my hands as I think of them as his killing tools."
The base look was there with the angular face sculpting matched with the unique coloring of his face paint and wild hair.
To complete the look, a set of demonic eyes peered out through the paint while grotesque teeth filled an unnerving grin.
Keaton goes on to say that the teeth helped with the speech but the iconic laugh was all him.
The HHN Jack the Clown character has opened the door for more lore, icons, shows, characters and ultimately helping make the event one of the most premiere in the country.
He helped expand to Universal Hollywood, Japan and Singapore with the event too.
As years passed, fans grew to love him and so his backstory expanded and grew.
It opened the door for the icons we have come to love today like The Director, Chance and now, Dr. Oddfellow.
Watch: New to Halloween Horror Nights? Don't Go Without Knowing These 15 Tips!
What does the future hold for Jack the Clown at Halloween Horror Nights?
He recently returned for the 30th year and has been with the event for 20 of them.
It seems that no matter what the future holds, Jack will have a solid place within it, as the honorable first Icon of Fear.
Now it's your turn, let me know who your favorite Halloween Horror Nights Icon is in the comments section below.
Until next time, Happy Park Hopping Hipsters!