Are you ready to take on the best thrill rides at Disney World?
When I chat with people about why they enjoy Walt Disney World, it's often said that they enjoy how there are plenty of ride options that are able to accommodate them.
The resort's ability to be accessible and comfortable easily allows them to stand out.
However, they have hit some debate recently regarding a brand-new coaster on this list in regard to accommodations.
In recent years, Walt Disney World Resort has strived to push out more family-friendly thrill roller coasters that will be enjoyable for all types of families.
Today, I will be touching base on Walt Disney World's 5 Best Thrill Rides at the resort.
I will discuss the following for each.
Brief History
Story/Theme
Why the Disney Ride is Great
Stats
Finally, I won't be giving away most of the rides' backstories as it may spoil the attraction for you.
THIS POST MAY CONTAIN AFFILIATE LINKS. PLEASE READ MY DISCLOSURE FOR MORE INFO. Which means if you click on certain links, I may receive a small commission at no additional charge to you.
1. Expedition Everest (Animal Kingdom)
Among those of its peers, Expedition Everest by far has one of the best credits to its history, conception, production and overall experience.
Tucked towards the back of Animal Kingdom in the Asia section of the land is this intimidating coaster.
You can see the peak of its mountain from almost anywhere and the closer the get, the more curious one becomes.
There is a section near the entrance where visitors can catch riders dropping from Everest, running away from the Yeti who calls it home.
Making it one of the best thrill rides at Disney World.
History of Expedition Everest at Disney World
For those growing up like me in the early 2000s, your first sight of this steel Vekoma coaster was probably on a Walt Disney World special on the Travel Network.
The ride was announced in 2003 during the park's 5th anniversary. To compare, the park itself is 25 years old as of this post.
What makes Expedition Everest particularly special throughout the theme park world is its father, Disney Imagineer Joe Rohde.
He was determined to bring true authenticity to the attraction at Animal Kingdom, and so, himself and a team of Imagineers went on a research trip to the Everest area.
Many of the details you see throughout the queue are artifacts brought back from that journey.
The Construction of Expedition Everest at Disney's Animal Kingdom
Construction started in March 2003 and in total, it took 3 years to complete, opening in 2006.
Upon its debut, it became the tallest Walt Disney World attraction, beating out Tower of Terror at Disney's Hollywood Studios.
Disney Secret: It took over 38 miles of Rebar, 5k tons of steel and 10k tons of concrete to bring the Expedition Everest mountain to life!
The mountain itself is not a replica of Mount Everest but rather a "Forbidden Mountain."
It was also the second Disney park coaster globally to go backwards but the first to have a track switch between going forwards and backwards.
And at the time, the infamous Yeti within was the largest and most complicated audio animatronic ever built.
Since 2006, the Yeti has been in "B mode" due to its movements damaging the structure that it is built within.
In order to fix the Yeti, it would require a long shutdown of the attraction due to having to dismantle a lot of the mountain's structure.
Rohde has stated that he will fix the Yeti someday.
Storyline of This Disney World Thrill Ride
The locals of the small village of Serka Zong in Nepal believe that the nearby Himalayas should not be explored but rather instead, respected.
They believe it is protected by spirit guards, amplified by the fact that all around the village is artwork and shrines depicting one such creature, the fearful Yeti.
Many explorers have gone up to discover the truth of whether this creature exists and have returned with scary evidence such as animal prints and footage of an ape like animal.
This evidence can be seen in the ride's queue line.
Despite this and warnings from locals, a new business in town has not been deterred.
Hoping to restore ecotourism to the town, owners Bob and Norbu created "Himalayan Escapes" taking tourists on a train ride through the Himalayas up to Everest.
They repurposed an old tea plantation as a base and tea trains to take the guests up the mountain.
At first, it seems like a straightforward idea, until the duo decides to take a shortcut through the direct path of Everest rather than go around.
Why We Love This Thrill Ride at Disney World
This Disney roller coaster quickly gained popularity as a Disney Mountain due to its intricately detailed storytelling, its cultural influences, its thrill factor and through its promotion on specials on Travel Network.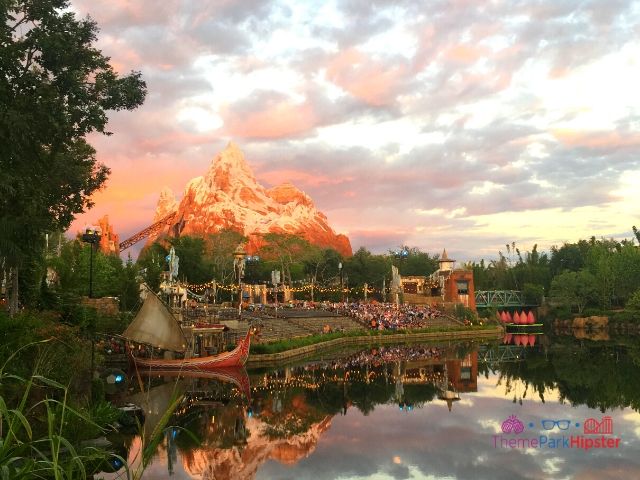 All of these reasons as well as excellent photo-ops throughout and in front make it special!
Ride Stats for Expedition Everest at Animal Kingdom
Lift system: Chain life hill
Top Height of Expedition Everest: 199.5 ft
Expedition Everest Top Drop Height: 80 ft
Speed: 50 miles per hour (MPH)
Length: 3,884.5 ft
Time: 2 minutes and 50 seconds
3 G Forces
Ready to plan your theme park trip? Watch the best vacation planning tips on YouTube. Get started here!
2. The Twilight Zone Tower of Terror (Hollywood Studios)
The recently declared icon of Disney's Hollywood Studios is the Twilight Zone Tower of Terror attraction.
It is one of the first things you see entering the park and as you turn from Hollywood Boulevard onto Sunset Boulevard.
The looming, mysterious tower beckons you to take those daring steps further and further down the end. Will you be checking in?
Fair warning, you may risk checking in for… an extended stay.
This attraction grew so popular that it incurred several different versions at Toyko Disneyland, Disneyland Paris and formerly Disney California Adventure, which has since become Guardians of the Galaxy: Mission Breakout in 2017.
History of Tower of Terror at Disney World
The concept of a free fall coaster was developed for Disneyland Paris' Frontierland.
It was to be part roller coaster/ part free fall , shooting guests up a straight shaft. It was scrapped and brought to life at Hollywood Studios instead.
A few ideas was offered for this attraction at studios as it needed an E-ticket at the time.
This included one based on Stephen King novels, a Vincent price ghost tour and an awards show honoring classic movie monsters such as Godzilla hosted by Eddie Murphy and Elvira for some strange reason.
At one point, it was considered to be a real hotel but due to the screams from rides, it would not due well for hotel guests who wanted quiet during their stays obviously.
The Twilight Zone Tower of Terror is Born
At last, Imagineers settled on Rod Serling's "Twilight Zone" show. Disney obtained the rights and transformed the idea into a 1930s hotel.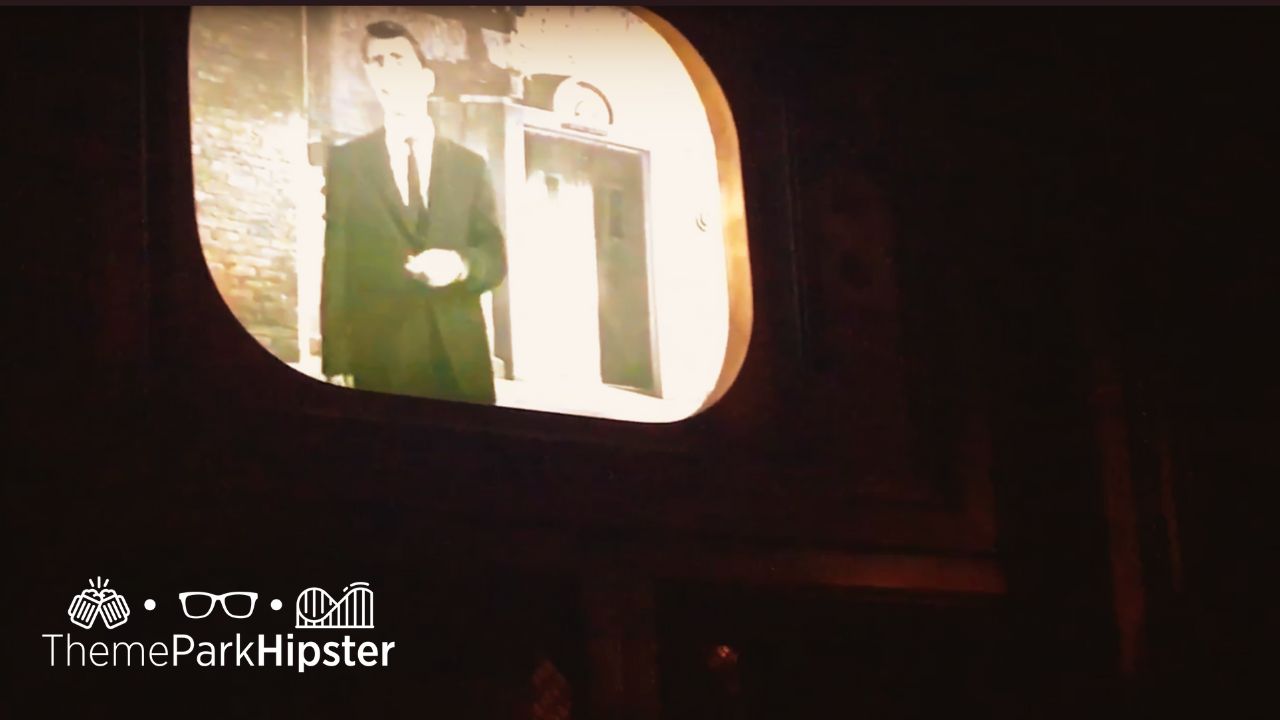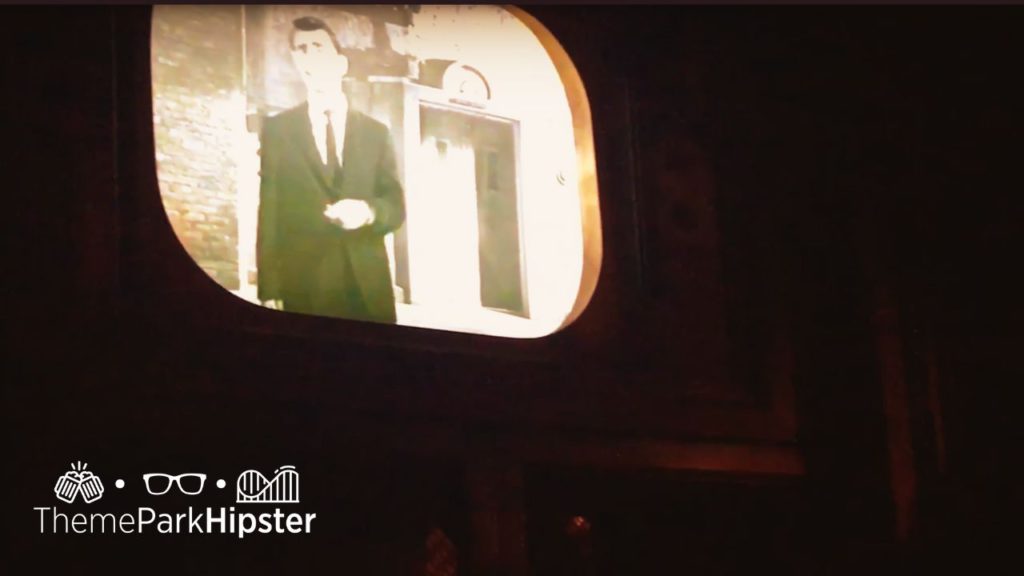 Otis Elevator Company assisted in building the ride system itself as it had to be built from scratch.
For the pre-show, it was important that Rod Serling was involved as it was his show. At the time, Serling had passed.
Disney and Serling's widow auditioned actors to recreate his voice and settled on Mark Silverman, who would also provide the voice in the first season finale of the 2019 revival of the show.
The interior and exterior took inspiration from the Biltmore Hotel and Mission Inn, incorporating a Spanish Colonial Revival architectural style.
This was to help it blend in with EPCOT's Morocco Pavilion. With a delay from its original July 4, 1994 opening, Twilight Zone Tower of Terror would open 18 days later on July 22, 1994.
Storyline of This Disney World Thrill Ride
On Halloween night in 1930, a storm is approaching Hollywood, but that isn't stopping starlets from checking in.
Our focus then turns to four guests who are checking in:
The famous Hollywood couple
A young child actress and her nanny
The bellhop who is assisting them in taking their bags to their rooms.
They all board the elevator to head to their rooms and relax.
A bolt of lightning from the storm strikes the hotel's tower and plunges all five people into the fifth dimension, or Twilight Zone, making them disappear.
This mystery along with other factors, caused the most popular hotel in Hollywood to shutter its doors.
For years, it stood at the end of Hollywood Boulevard, wasting away and becoming dilapidated.
As you enter the hotel, you see overgrown gardens and a dusty lobby, with items seemingly left in place from that very night untouched.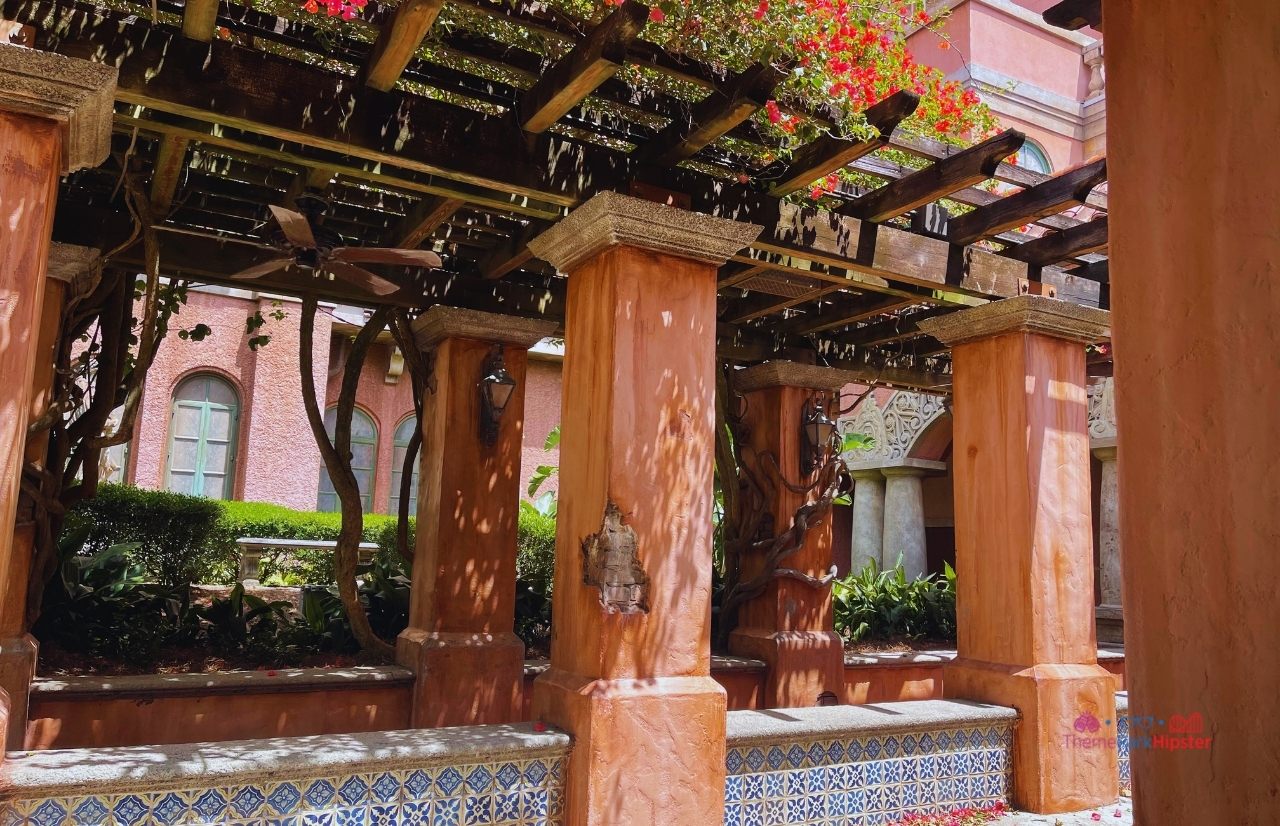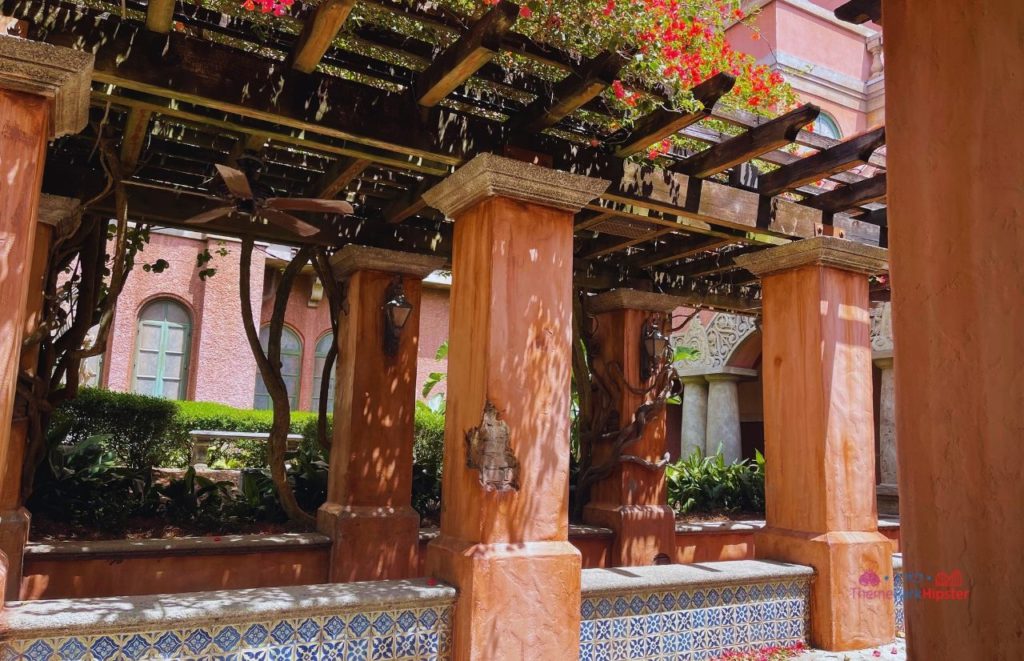 Entering the library, Rod Serling retells the tale and tells you that you will now be entering the fifth dimension, but instead through the hotel's service elevator in the basement as the main one is not operating.
Why We Love This Thrill Ride at Disney World
Tower of Terror is creepy, unique and actually kind of scary for most.
Despite it having controlled drops, the vibe while approaching and visually seeing and hearing guests experience the drops is enough to sell the ride on its own!
Not to mention, it has an underrated 1990s film that adds more to its backstory.
But in my opinion, it's the Cast Members that help add to the mystic of the backstory and attraction.
Making it one of the best thrill rides at Disney World.
Ride Stats for Tower of Terror at Hollywood Studios
Top Height of Tower of Terror: 199 ft
Tower of Terror Drop: 130 ft
Speed of Tower of Terror: 39 MPH
1.3 G forces
Length: 3 Minutes and 34 seconds
Lightning Lane Available
3. TRON Lightcycle/Run (Magic Kingdom)
This next roller coaster on the list is the latest to Walt Disney World, only just a few weeks old as of this post!
As I mentioned previously, it had become the topic of controversy and debate over the past several years.
Nonetheless, it is extremely popular, breathing new life into Tomorrowland, which we feel is desperately needed.
Let's dive into why and its history.
History of TRON Lightcycle/Run at Disney World
The Magic Kingdom version is actually the second one globally to exist with the first being located at Shanghai Disneyland.
Due to its success and popularity, it was announced at D23 Expo in 2017 amongst several projects to be coming soon. Unfortunately, many of these projects didn't make it.
Not to mention, due to the pandemic, the original projected opening for it, beginning of the Walt Disney World 50th Anniversary, was pushed back.
It would not open until 5 years later and at the end of the anniversary's run.
TRON Lightcycle/Run is essentially an exact copy of Shanghai Disneyland's version, except it is located north of Space Mountain.
Disney had to re-track the Railroad in order to complete construction, closing that attraction for several years. The Railroad would later return in January 2023.
Storyline of This Disney World Thrill Ride
Taking riders inside and outside of the attraction, TRON is tailored as a motorbike styled vehicle, enhancing the individual riders experience.
And of course, to match the TRON theme, the motorbikes are designed to look similar to the vehicles from the film.
When it comes to this attraction, it doesn't exactly have a storyline.
Instead, I will share some quick tips!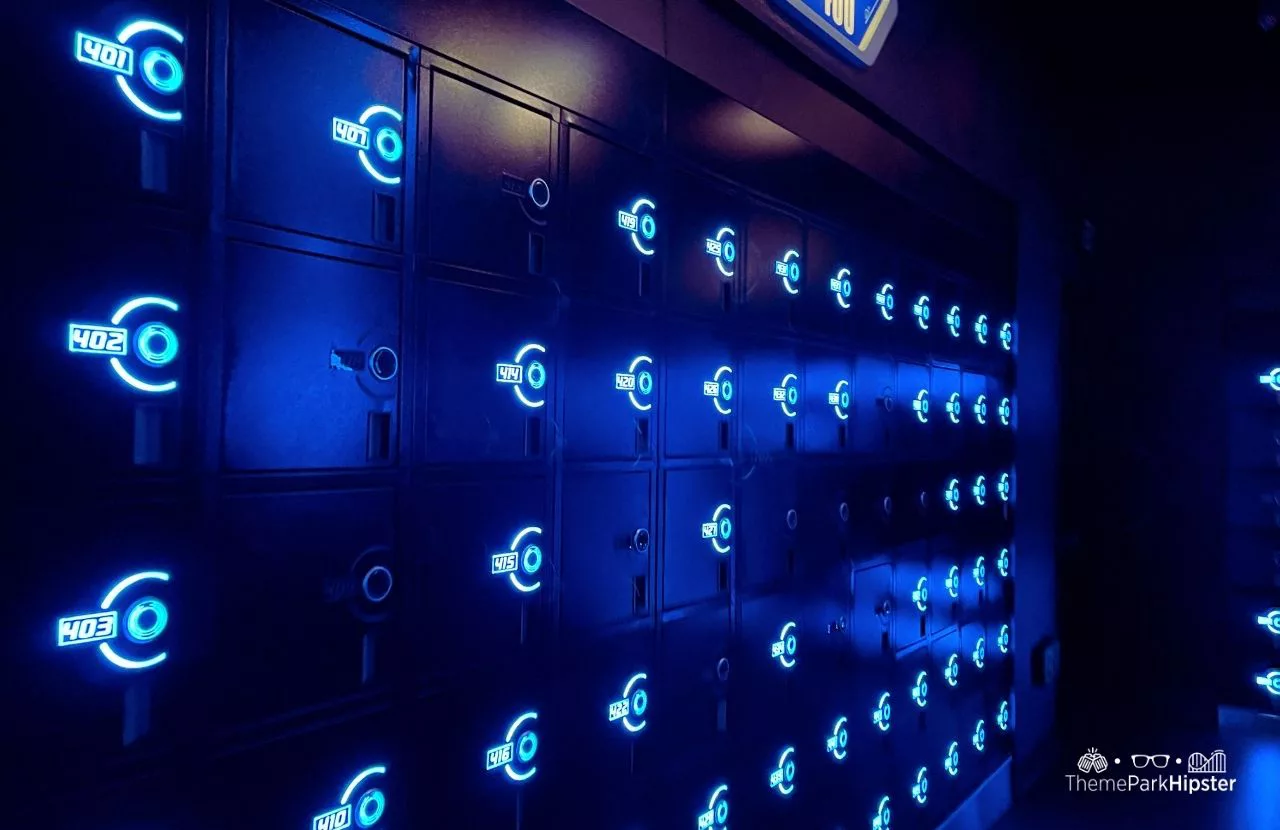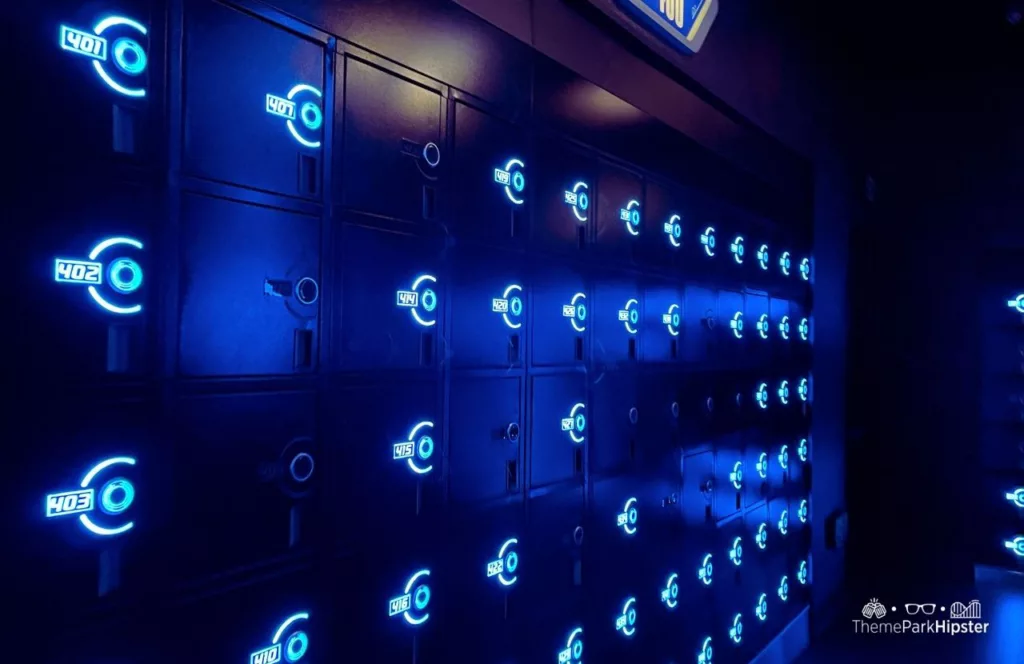 6 Beginner Tips for Riding TRON Lightcycle/Run
To start, you are required to use the lockers for the attraction to stow your belongings.
Have your Magicband or app ready as this will get you in your locker.
The attraction used the Virtual Queue System which does boarding group drops at 7 a.m. and 1 p.m.
Lightning Lane and Disability Access Service is available for the ride.
Once your boarding group is called, you have a certain amount of time to make it or you may be denied.
You cannot enter the area without a boarding group or lightning lane.
Disney TRON Ride Weight and Height Restrictions
And finally, the cause of debate, the seating. Guests have had some issues with boarding due to being unable to fit properly in the vehicle.
There is a test seat in front of the ride and while some Guests have the option of riding using the modified seat, there is only a small amount of those seats leading to Guests waiting for an additional 30 minutes or longer.
The current height restriction for TRON Lightcycle/Run at Disney is 48 inches. You can get all the Disney height restrictions here.
Ride Stats for TRON Lightcycle/Run at the Magic Kingdom
Lift/Launch System: LIM Launch
TRON Ride Height: 78 ft
Speed of TRON Ride: 59 MPH
4 G Forces
TRON Length: 3,169 FT
Time: 2 Minutes
ORDER NOW to secure your Walt Disney World theme park ticket! GET MY TICKETS.
4. Test Track (EPCOT)
This next attraction is an absolute classic for EPCOT.
Test Track is a high speed attraction that puts you in a car that you have built virtually. It then allows you to test it against Chevrolet standards (the sponsor of this ride).
It is easily a must-do ride at EPCOT for thrill seekers, along side the last coaster mentioned on this list.
For the sake of the article, I will briefly go over both versions of the attraction's history.
History of Test Track at Disney World
Test Track replaced "World of Motion" due to the fact that General Motors, the sponsor at the time, wanted Disney to build a new ride there.
Instead of focusing on all transportation, it would narrow it to vehicles.
Imagineers made a trip to the facility as part of their research and construction began on the new ride shortly after around 1995-1996, but not without several delays.
It was originally scheduled to open in May 1997 but would not open until March 1998 due to the delays in construction and it being prone to breaking down too much prior to opening.
And even after opening, it still experienced breakdowns often but was popular nonetheless, becoming one of the first rides to gain FastPass+ to improve its capacity.
In 2012, it was announced that the ride would get a refurbishment, with the sponsor being changed to Chevrolet, under General Motors, instead of just GM itself.
It closed briefly in April 2012, reopening with the new theme and story in December of 2012.
Storyline of This Disney World Thrill Ride
You enter the pre-show area where you are invited to design you own new car inside the Chevrolet Design Center.
Once completed, you scan the design in your Magicband and board the Simcars, six passenger vehicles to see which designs stand up against Chevrolet's standards on the virtual driving course.
Your car also goes up against the five other designs linked to the Simcar.
The vehicles on Test Track at EPCOT are judged based on the following:
Capability
Efficiency
Power
Responsiveness
At the end of each test, the results are revealed and as you exit, you enter a showroom featuring current and future Chevrolet products.
Why We Love This Thrill Ride at Disney World
What I love especially is the ability to give me control of my own experience.
You are able to get creative and ride your own vehicle with your own ride experience.
Not to mention, the design of the track and attraction through virtual style adds to the thrill experience.
Making it one of the best thrill rides at Disney World.
The ability to be creative and the types of thrills added, besides the speed factor are what allows this attraction to stand out!
Plus, it's the fastest ride on Walt Disney World Property!
Ride Stats for Test Track at EPCOT
Test Track Speed: 64 MPH
Length: Approximately 5 Minutes
Lightning Lane and Single Rider Available
Facility of Test Track: 150,000 Square Foot
5. Guardians of the Galaxy: Cosmic Rewind (EPCOT)
The Guardians of the Galaxy ride is the second youngest on the list, debuting at EPCOT as part of the Walt Disney World 50th Anniversary Celebration in May 2022.
This attraction's opening was also delayed due to the pandemic, originally scheduled to open in 2021.
It is Disney's first backwards launch coaster and EPCOT's first roller coaster period.
Guardians of the Galaxy: Cosmic Rewind replaced Ellen's Energy Adventure, hosted by Ellen Degeneres.
Since it opened, it has been a major success and big draw for the park as its being transformed!
History of Guardians of the Galaxy: Cosmic Rewind at Disney World
A new show building had to be created for the attraction, which consisted on 960 truckloads of concrete to achieve, when it first began its construction in August 2017.
Despite the pandemic delay, it stayed on a decent schedule including filming for the attraction in October 2021 with the Guardians of the Galaxy cast, Chris Pratt, Zoe Saldana, Dave Bautista and Glenn Close reprising their roles.
Also starring as an original character is Terry Crews, who has become a fan favorite.
Storyline of This Disney World Thrill Ride
The building itself is presented as "Wonders of Xandar," EPCOT's first other world pavilion, a tie in to World Showcase.
As you enter, you will see artifacts and exhibits depicting the world of Xandar, along with its culture and history.
You walk through a Galaxarium, similar to a Plantarium, which explains how Xandarians are learning more about Terrans, or Citizens of Earth.
Nova Prime Irani Rael of Nova Corps, played by Glenn Close, explains how both planets were birthed during the big bang and goes on to show how they reached earth to share their history and culture to Terrans.
They did this through jump-holes, which allowed them to create shortcuts to destinations.
With the use of the cosmic generator, Terrans will be transported on a Nova ship to demonstrate its capabilities.
Trouble Starts…
Terry Crews, playing Centurian Tal Marik, explains the safety rules and shortly after, the Cosmic Generator is stolen and the ship loses power.
This causes Nova Prime to seek out the Guardians of the Galaxy for assistance.
Once they arrive, they discover a celestial named Eson has taken the Cosmic Generator due to it being unhappy with Terrans.
Eson intends to send Terra, or Earth, through a jump-point in time to erase their existence.
Rocket Racoon suggest that he can control the escape shuttles the Terrans have been sent to in order to follow Eson through jump-holes and meetup with them, since its the only way to track Eson with the Cosmic Generator.
Why We Love This Thrill Ride at Disney World
The experience of being able to go on this thrill coaster backwards combined with the ability to jam to 5 classic tunes makes this ride unique and an absolute blast!
Making it one of the best thrill rides at Disney World.
Guests can randomly experience the ride with the following songs.
Songs on Guardians of the Galaxy Ride at EPCOT
Disco Inferno by The Tramps
September by Earth, Wind and Fire
I Ran by A Flock of Seagulls
Everybody Wants to Rule The World by Tears for Fears
Conga by Miami Sound Machine
One Way or Another by Blondie
Ride Stats for Guardians of the Galaxy at EPCOT
Lift/Launch system: LSM Launch
Guardians of the Galaxy Speed: 60 MPH
2 G Forces
Guardians of the Galaxy Length: 5,577 ft
Time: 3 Minutes and 20 seconds
Lightning Lane Available
Recommended: Ultimate Florida Packing List: What to Pack for Your EPIC Trip!
My Final Thoughts on the Best Thrill Rides at Disney World
As Walt Disney World goes beyond its 50 years and the company celebrates its 100th, it's clear that despite setbacks, Disney is determined to continue to bring unique, enjoyable experiences for everyone who visits their parks.
Coming up next will be Tiana's Bayou Adventure to Magic Kingdom, continuing to elevate and revamp their stories and tales with fantastical technology, theme and so much more!
Hopefully a bit more thrill is in the resort's future!
Did your favorite Disney thrill ride make the list? Share yours with us in our Facebook Group!
Until next time, Happy Park Hopping Hipsters!