Have you ever had the chance to experience Grinchmas at Universal Orlando Resort? If you haven't, then you're missing out on one of Orlando's fun holiday festivities.
Islands of Adventure Seuss Landing is completely decorated with yuletide magic in celebration of Dr. Seuss's classic book, How the Grinch Stole Christmas that was published over 50 years ago.
THIS POST MAY CONTAIN AFFILIATE LINKS. PLEASE READ MY DISCLOSURE FOR MORE INFO.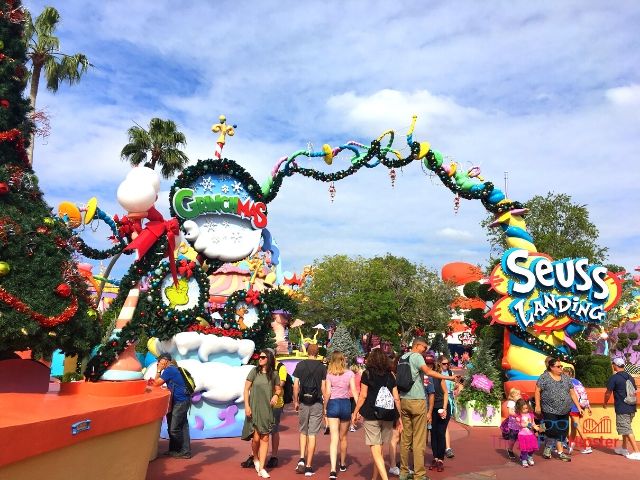 How The Grinch Stole Christmas!
This Dr. Seuss story is about a revenge-seeking Grinch who lives on the outskirts of Who-ville. Since he is detested by the citizens of this town, he plans on destroying Christmas for all the Whos living in Who-ville.
This legendary story would go on to produce multiple films in 1966, 2000, and 2018. Plus, an annual event that takes place inside Islands of Adventure and Universal Studios Hollywood theme park.
You can get your copy of the book How the Grinch Stole Christmas on Amazon here.
History of Grinchmas
Over the years, Grinchmas has transformed Islands of Adventure into a wintery holiday since December of 2000. The Seuss-inspired holiday would go on to have tree lighting ceremonies, seasonal treats, and other festival happenings.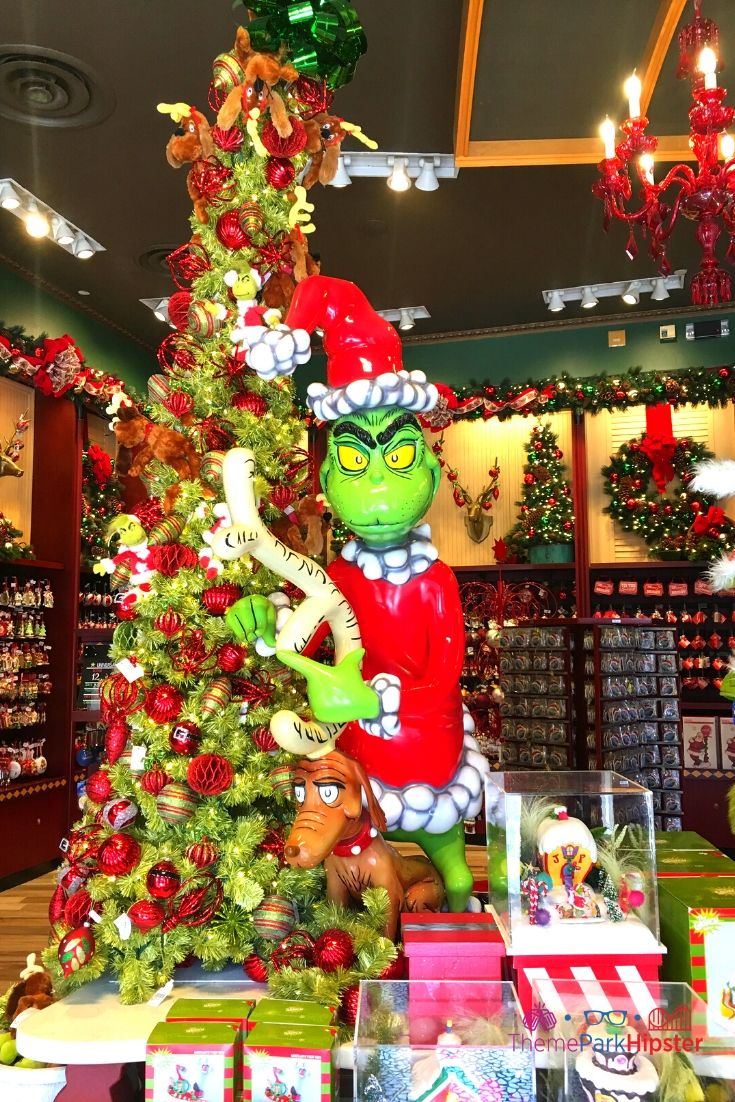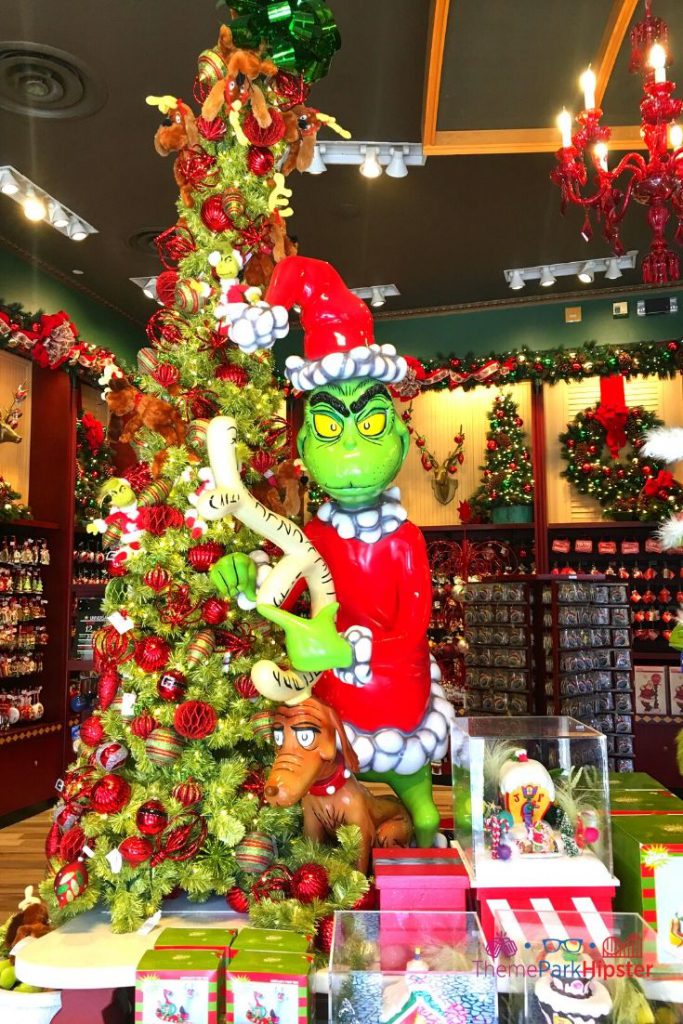 This event would open as a tie in to the hit film starring Jim Carrey that featured Cindy Lou Who, Max, the Grinch, and Martha May.
Grinchmas was thought to have been brought on as Universal's own interpretation of Christmas in order to compete with the likes of Disney.
Universal would do this by transforming Seuss Landing into Who-ville complete with the Grinch's Lair.
The Grinch's Lair
The lair was built to look like the Grinch's home from the 2000 film and once guests ended their walkthrough, they'd be greeted by the infamous man himself.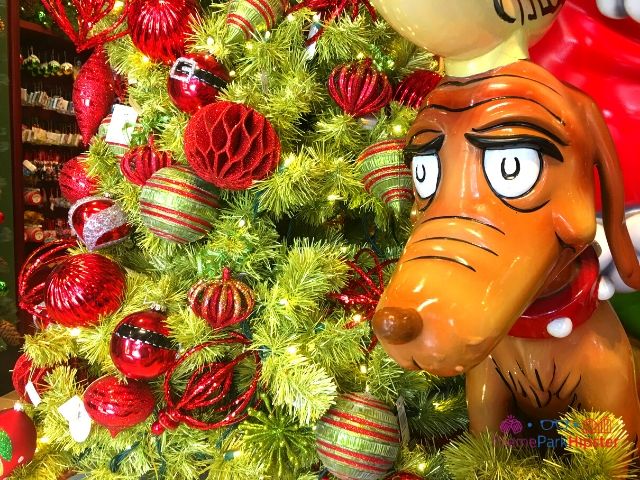 Throughout the dark queue, guest would see all kind of trinkets known to the Grinch plus a few interactive elements within the queue.
Unfortunately, The Grinch's Lair would close to make way for the High in the Sky Seuss Trolley.
Prior to the current home of Grinchmas Who-liday Spectacular on the Universal Orlando soundstage, the Grinchmas show would take place on a small stage between Circus McGurkus Café Stoo-pendous and the All You Can Read bookstore complete with a tree lighting ceremony towards the end of the day.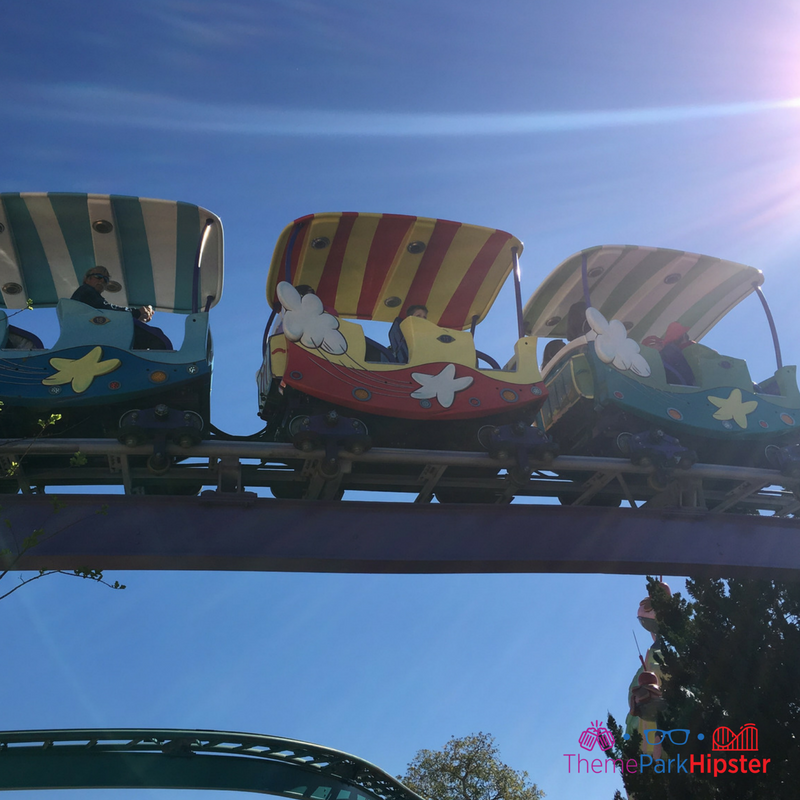 You can rent or buy the 2000 film, How the Grinch Stole Christmas, here on Amazon.
Preparing for Grinchmas at Universal
Before we get into all the fun activities of this Who-ville holiday, let's go over a few questions that you may have about the event.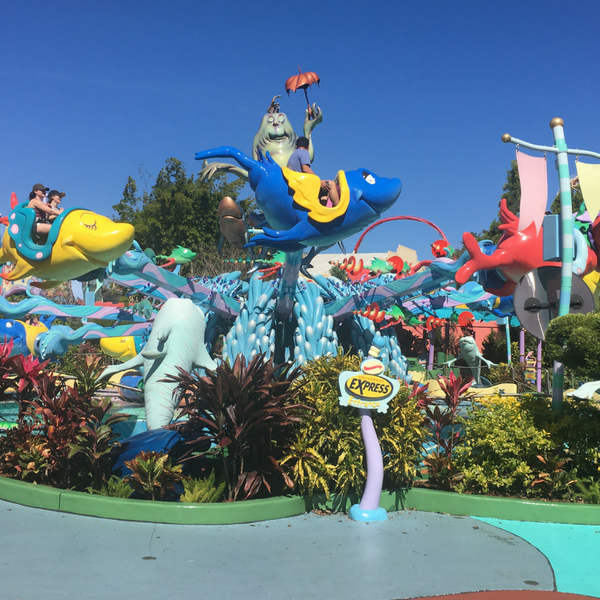 When Does Grinchmas Start and End for 2020?
This year, Grinchmas is "technically" not going on; however, you can see the Grinch and the characters of Whoville roaming Islands of Adventure in the Spirit of the Season.
What is Grinchmas Who-liday Spectacular?
The Grinchmas Who-liday Spectacular is a special holiday showing of the classic tale How The Grinch Stole Christmas (temporarily suspended this year).
It features music recorded by Mannheim Steamroller and a score composed by Chip Davis.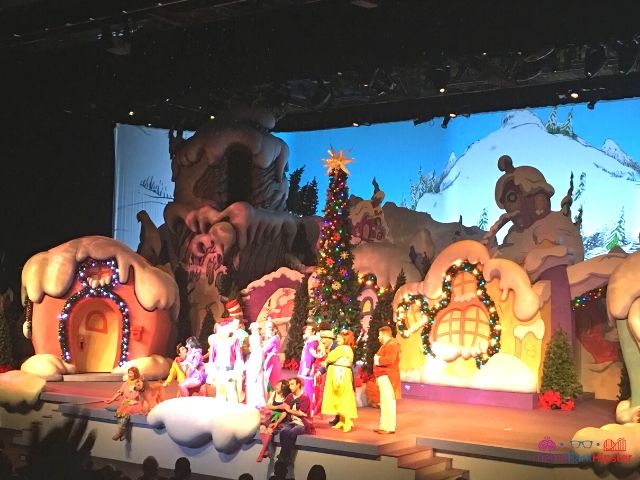 This Grinchmas show takes place inside one of the sound stages on property that's right between both Islands of Adventure and Universal Studios Florida.
You definitely have to watch this touching Grinchmas show during your visit to Islands of Adventure once it returns.
How much are Grinchmas tickets?
Grinchmas at Islands of Adventure is FREE and is included with your park admission.
So, once you pay to get into Islands of Adventure you won't have to worry about having to pay a separate price for this holiday adventure.
Check out the ticket breakdown for Universal Orlando Resort here!
Grinchmas at Universal's Islands of Adventure
Not only can you enjoy the incredible show of Grinchmas Who-liday Spectacular, you can dine with the Grinch himself for breakfast.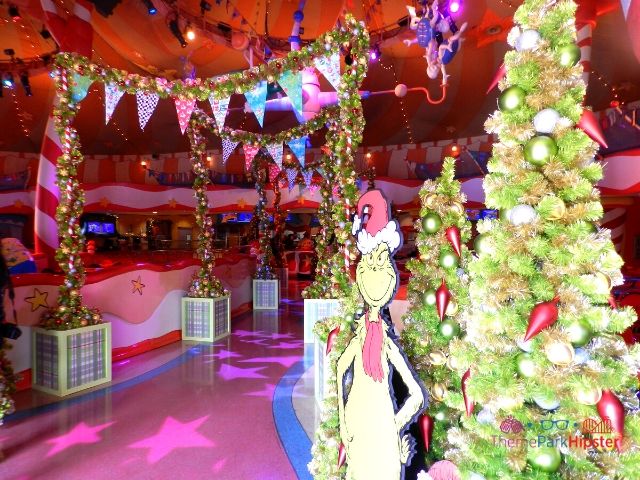 Grinchmas Character Breakfast (Temporarily Suspended)
Breakfast with the Grinch and other Seuss Landing characters is a separately-ticketed experience on select dates at Circus McGurkus Cafe Stoo-pendous and you must have already paid for park admission to participate.
This holiday breakfast is quite interactive.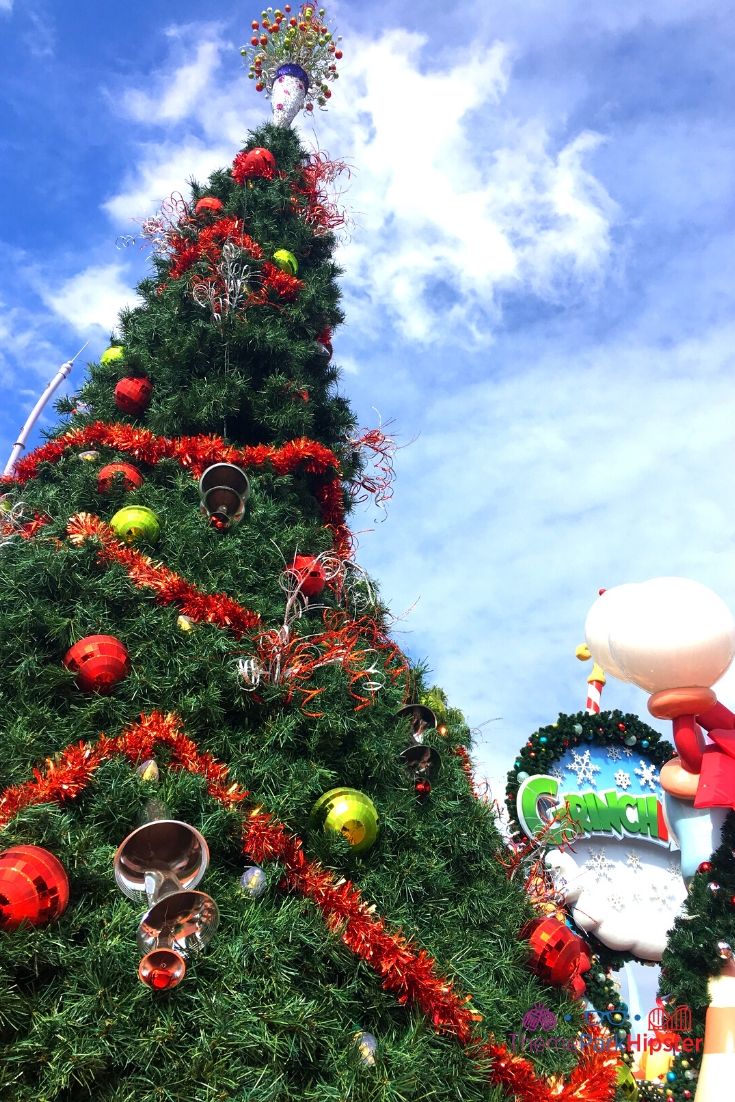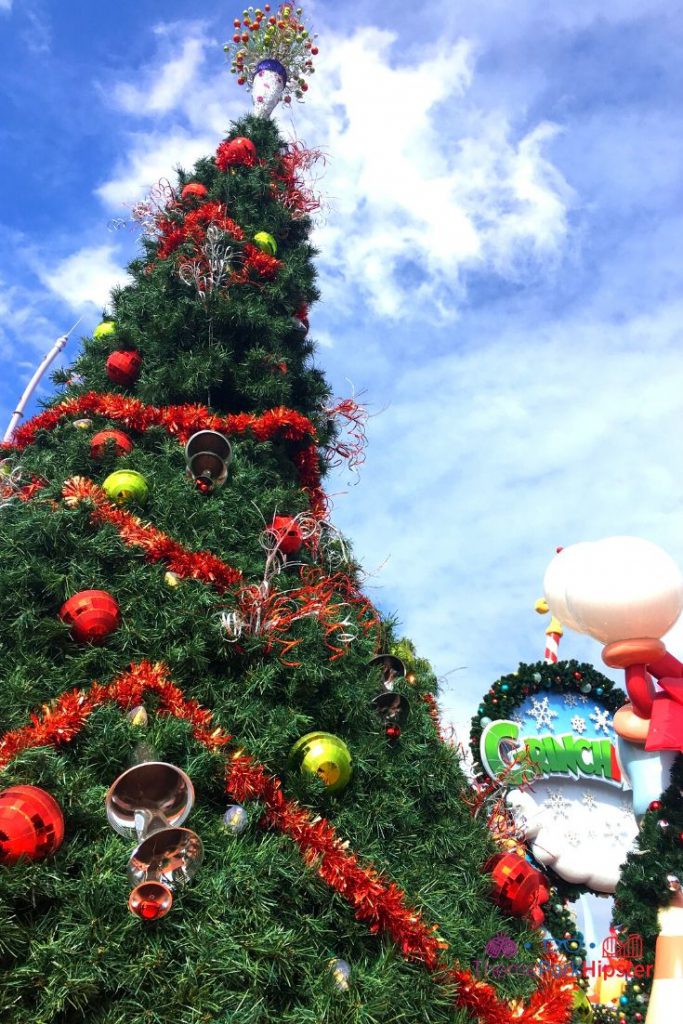 The characters at Universal Orlando always have great improvisational skills, but during this character meet-and-greet, there's little bit more of the Who-ville Christmas magic.
Grinchmas Breakfast Menu (Event Temporarily Suspended)
The Continental: Fresh seasonal fruit, all-natural Greek yogurt, blueberry muffin and a croissant.
All American Breakfast: Scrambled eggs, bacon, sausage, and potato stars or grits and a croissant.
Green Eggs and Ham Breakfast: Green eggs, ham, and cheese on a freshly baked bun with fresh seasonal fruit and potato stars or grits.
The Combo: Three jumbo buttermilk pancakes, scrambled eggs, with bacon, sausage, and potato stars or grits and a croissant.
Pancake Breakfast: Three jumbo buttermilk pancakes with bacon, sausage, and potato stars or grits and a croissant.
You can book your character breakfast reservation here.
Atmosphere in Seuss Landing
The holiday spirit is felt all across Seuss Landing. All of the Whos come out to partake in the Christmas festivities with you!
Plus, their interactions are top-notch which is something that I truly enjoy during Grinchmas.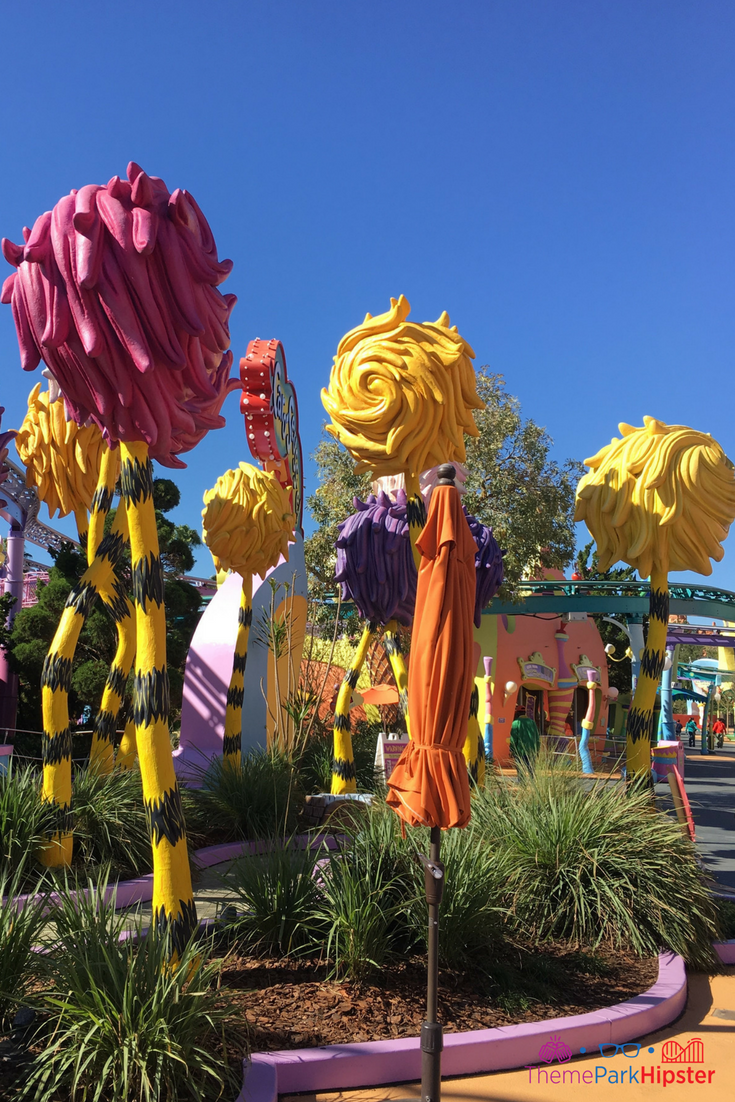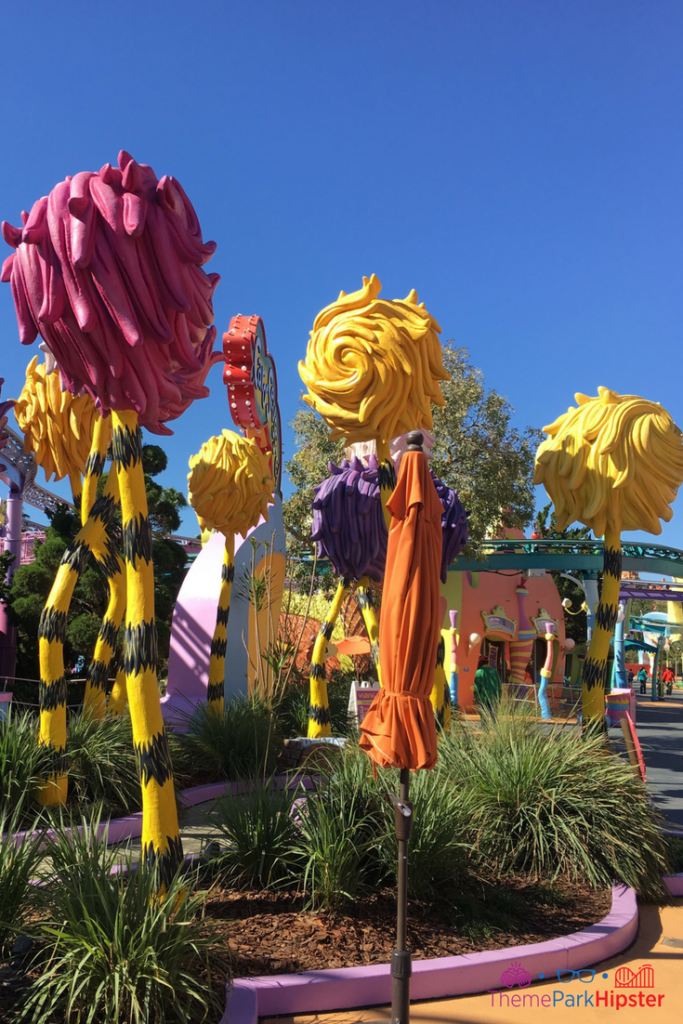 You'll not only be engulfed in the holiday décor, you'll see a particular Who sleeping on benches, Whos singing holiday carols, and Whos ready to tell you some of the many wonderful Christmas stories.
It's so magical!
8 Tips for Grinchmas Who-liday Spectacular
Before we end this Who-liday guide, let's go through some tips to help you make the most of your time during Grinchmas.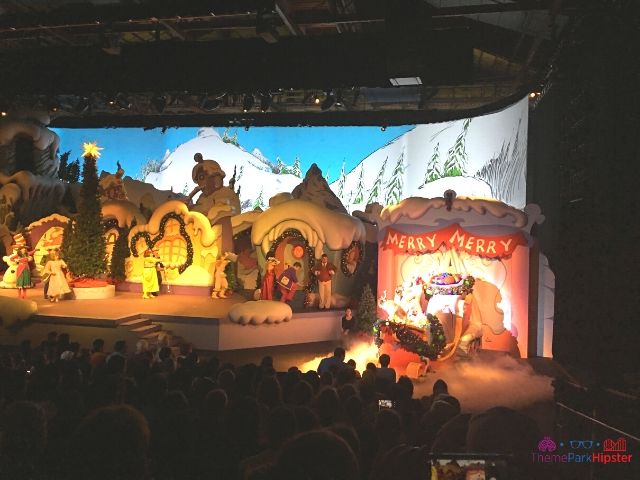 Be aware that there are no restrooms inside the soundstage (the nearest one will be back inside of Seuss Landing so you want to go before you get in line)
Make sure to get a photo with the Grinch during your visit inside the All You Can Read bookstore (check park map upon your arrival for the times)
Don't miss the fun decorations outside the show building while waiting in queue line
Experience the Grinchmas Breakfast
Get in line for the Grinchmas Who-liday Spectacular about 30 minutes prior to the show
Look out for Max's dog house as Max is played by a real dog
One of the best seats in the house is the upper middle area near the right side of the stage (here you'll get a good view of key props and scenes)
Please note that it is bleacher-style seating inside the soundstage where the Grinchmas show takes place
Ready to plan your theme park trip? Watch the best vacation planning tips on YouTube. Get started here!
What to Know Before You Go to Islands of Adventure
Islands of Adventure is located in the Universal Orlando Resort and is just a quick ten minute walk from Universal Studios or a short ride on the Hogwarts Express.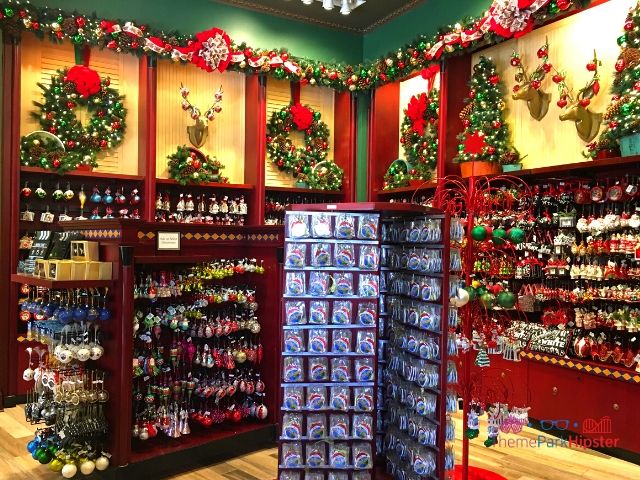 What time does Islands of Adventure open?
Universal's Islands of Adventure is opened 365 days a year from 9 a.m to 6 p.m. in the regular season.
Hours may change based on the busyness of the park.
ORDER NOW to secure your theme park ticket reservation in the parks! GET MY TICKETS.
How much does it cost to go to Islands of Adventure in Florida?
The cost of admission starts at $110*, but I like discounts so I use Undercover Tourist to find cheap Islands of Adventure tickets.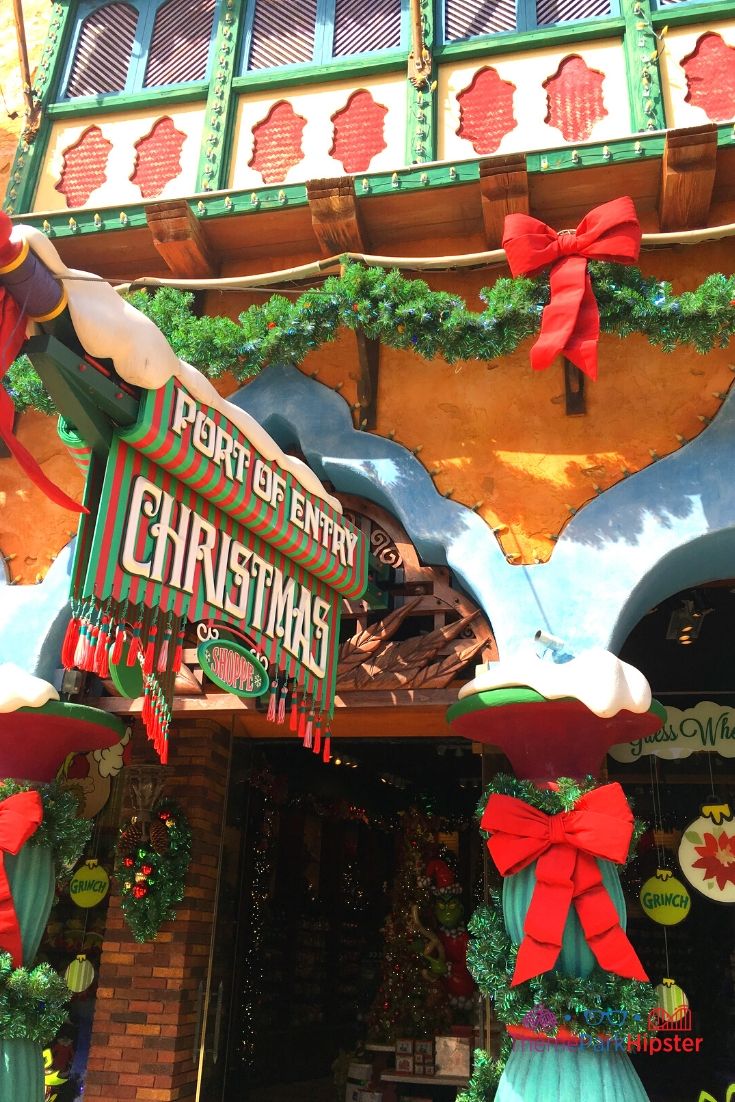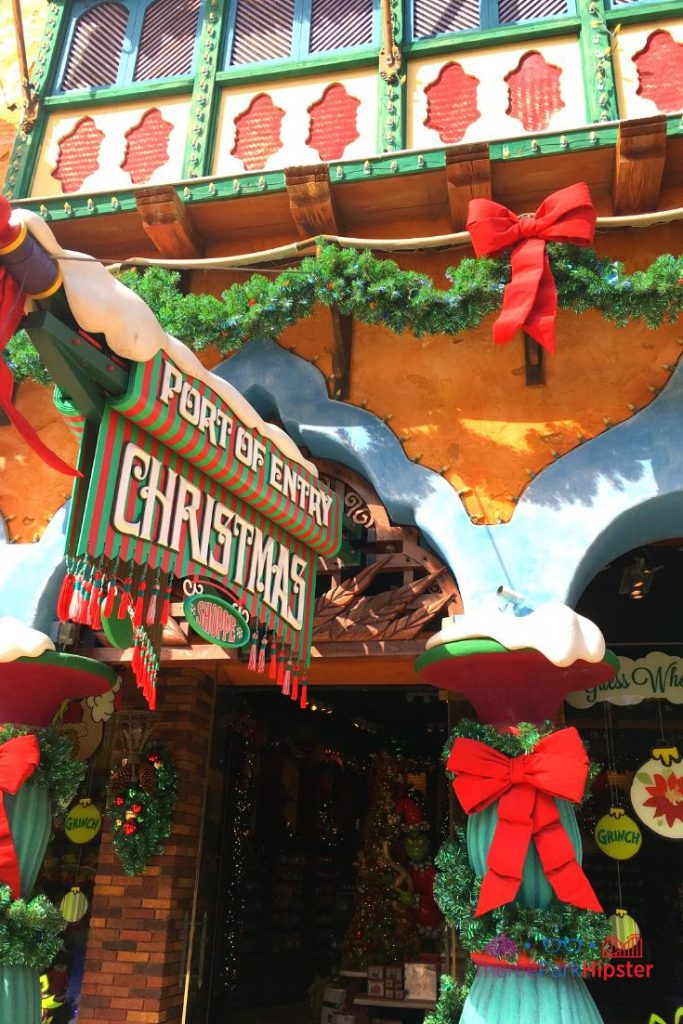 Please keep in mind that the cost for tickets to Islands of Adventure vary based on the season and are subject to change at anytime.
What rides to do first at Islands of Adventure?
Join the Wizards on Harry Potter and the Forbidden Journey
Experience The Amazing Adventure of Spider-Man
Take a Dive on Doctor Doom's Fearfall
Discover Skull Island: Reign of Kong
Go on an Adventure Inside Poseidon's Fury
Hipster Power Tip: If you find a ride or an experience that you're on the fence about on day one, wait until your second day to try it out.
What is the best time to go to Islands of Adventure?
The best times to visit Islands of Adventure are:
January
February
April
November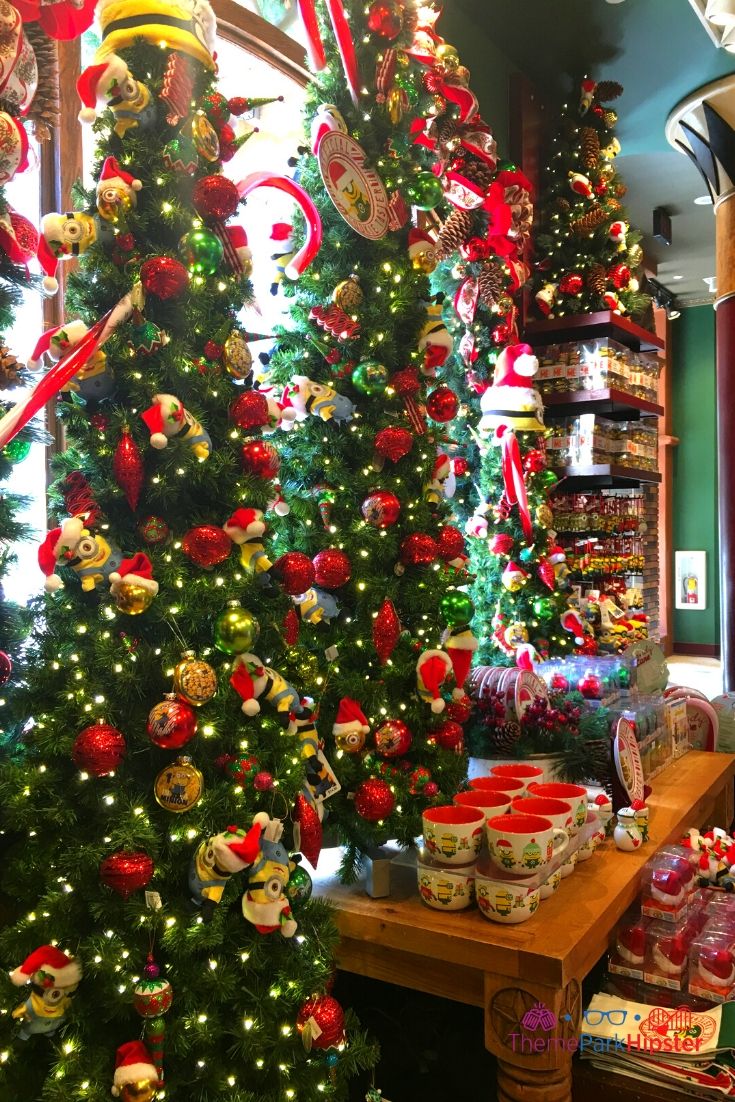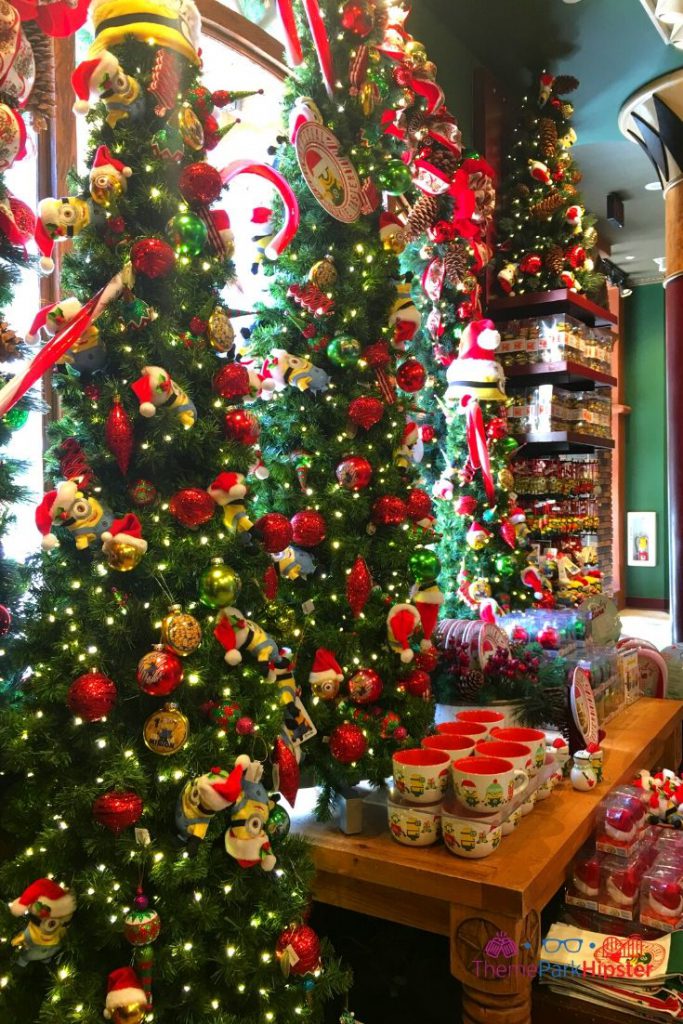 These months are closely followed by March, May, September, and October as still pretty decent visiting times.
Get the full Islands of Adventure Crowd Calendar here!
Final Thoughts
Overall, you're going to have a fun day experiencing Grinchmas at Universal. It's a great addition to Islands of Adventure during the holidays and it's a perfect memory for you to create on your next trip to the parks.
This is a staple of holiday time at the Universal parks and a holiday traditional you must start.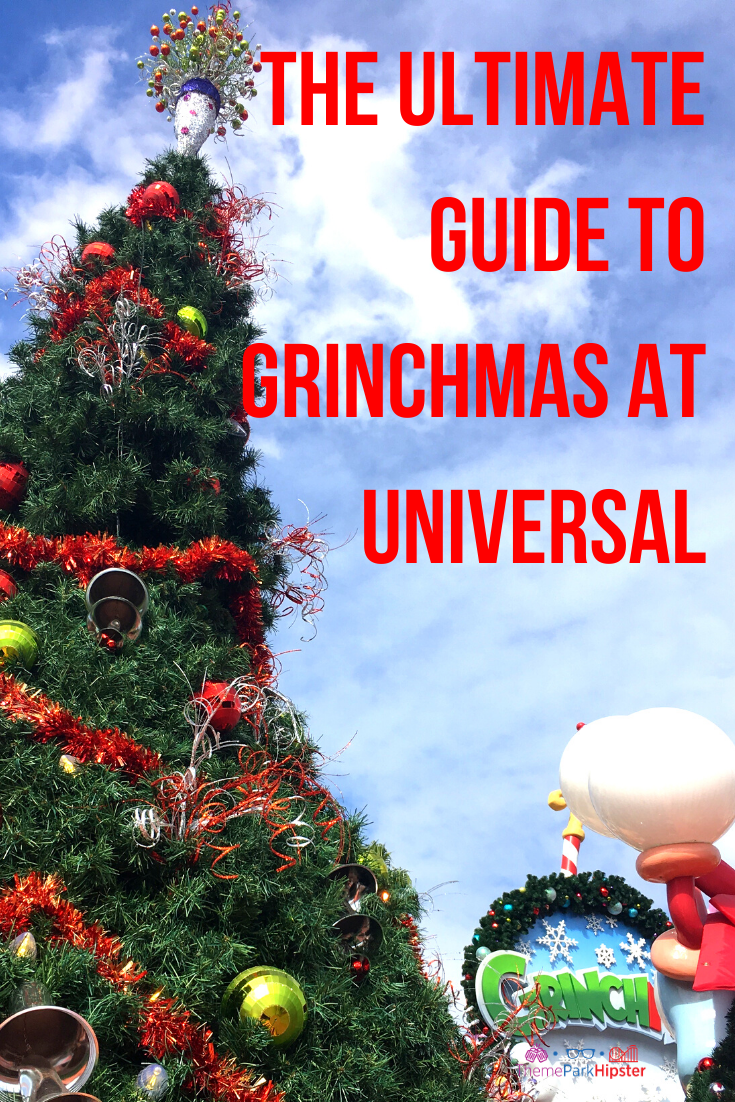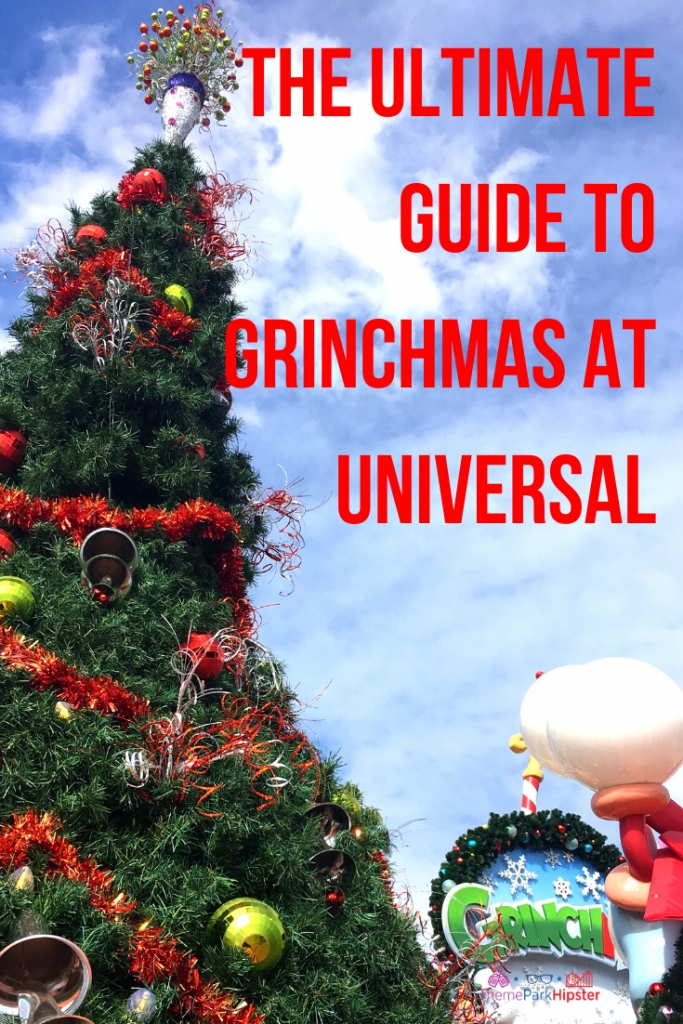 If you enjoy this article, then you'll love these holiday-inspired tips:
Have a Merry, Merry Grinchmas Hipsters!
NikkyJ
(Original Date: August 25, 2014/Updated November 23, 2020)