Are you ready to try some of the BEST Epcot Festival of the Arts food?
If there is one thing solo travelers will love, it's Epcot's festivals. They are happening almost all the time during the year and it's one of the best places to visit the Disney parks solo and experience new things, especially food!
Epcot festivals kick off with the Festival of the Arts, where art forms of all varieties are celebrated. Artists come to showcase their pieces and do signings.
There are also fun artistic styles and photo-ops in place all over the parks. Plus, yummy themed food is out for all Guests to try!
There is so much to do, see and experience at Epcot Festival of the Arts. This year I had a chance to try out some of the festival's food booths and all they had to offer.
I enjoyed quite a few eats and beverages around the festival and I'm excited to share them with you and some from the past.
THIS POST MAY CONTAIN AFFILIATE LINKS. PLEASE READ MY DISCLOSURE FOR MORE INFO. Which means if you click on certain links, I may receive a small commission at no additional charge to you.
I will be breaking the festival food and beverages down as follows:
What To Expect At Epcot International Festival Of The Arts
Top Dishes You Must Try
Runner Up Dishes
Top Tips For Your Trip
What to Expect at Festival of the Arts
Epcot's Festival of the Arts is a fairly new addition to the festival circuit at the park. The festival began in 2017 and was originally only on weekends.
Like all the other festival, it features booths that showcases fabulous, gorgeous and unique art pieces that can be purchased and sometimes even signed by the artist.
ORDER NOW to secure your Orlando theme park ticket reservation in the parks! GET MY TICKETS.
5 Top Epcot Festival of the Arts Food You Must Try (From Over the Years to Today)
1. Orange Cream Shake (Citrus Blossom Booth)
My first stop was at the Citrus Blossom stand. I decided to start in Canada Pavilion and go around for this visit.
I stopped at this stand and I simply had to pick up this adorable Orange Bird sipper that comes with the Orange Cream Shake. For $15, you get quite a bit too!
I didn't finish it until I reached Morocco Pavilion.
This sipper was very popular when it first debuted and now it's back and much easier for fans to obtain. The drink was not thick at all and extremely refreshing.
The hints of citrus weren't overwhelming, but perfect for a Florida day. This sipper is to size as you can see with the photo above.
Overall, I do feel you will get a good bang for your buck here. A super yummy citrus treat, even when you aren't in the mood for ice cream!
Ready to plan your theme park trip? Watch the best vacation planning tips on YouTube. Get started here!
2. Passion Fruit Mousse (Vibrante and Vivido)
Next , I stopped at one that wasn't actually on my to-do-list. I took a trip to Vibrante and Vivido to try the Passion Fruit Mousse and boy was I pleasantly surprised!
So surprised that I went back later to get more! This scrumptious treat is laid upon a crisp sugar cookie!
What I loved about it is how immaculate the flavors worked together. It was very light and unexpected with its bountiful flavors.
They were indeed vibrant in my mouth. It's not overwhelming in its sweetness and won't give you much of a sugar high. It was also topped with a masquerade mask sugar treat.
The Passion Fruit Mousse was a wonderful treat that I hope they bring back for the Flower and Garden Festival.
This booth is new this year and is all about bold, South American flavors! Throughout the line you will see Mary Blair inspiration. The booth can be found between France and Morocco Pavilion.
3. Sushi Donu (Goshiki)
An anticipated one on my list was Goshiki food booth located in Japan Pavilion. The Epcot Japan Pavilion is known to have delicious treats during festivals and this one was no exception.
I was looking forward to trying the Sushi Donut, cousin of the popular "Frushi," which is a crowd favorite during the Epcot Flower and Garden Festival.
This donut featured salmon, shrimp, tuna, cucumber and sesame seed. My friend mentioned that the plate was decorated with Siracusa and eel sauce , along with wasabi.
Unfortunately, I didn't realize the middle was ginger so I got some of that flavor too. It was as very filling and after putting a little bit of soy sauce on it, the flavor truly came alive!
4. Pink Snow (Goshiki)
I also decided to try the Pink Snow beverage. I loved how refreshing this drink was with its mix of sake, cranberry juice, peach schnapps complete with adorable snowflake confetti.
Fair warning, she packs a punch after a while, so tread carefully with this one if your tolerance isn't high.
Overall, it is always a good idea to stop at the Japan Pavilion and try any food there! It never misses.
Personally, I loved the mixture of the sushi donut as all the ingredients meshed so well together. Not one overwhelmed the other and it was perfect to share with other fellow travelers.
Portion size was excellent and will have you wanting more.
5. Mediterranean Flatbread (Mosaic Canteen)
Next I stopped at Morocco Pavilion to try out the absolutely scrumptious Mediterranean Flatbread featured at the booth!
I was looking extremely forward to trying this because this pavilion is one of my favorite and most recommended places to dine when visiting Epcot.
The Mediterranean Flatbread was priced at a super affordable rate of $5.75, probably because Disney knew people would come back for seconds!
It is blended with Za'tar pesto, perfectly cooked artichokes, ripe roasted peppers and sun dried tomatoes complete with fennel cream.
I will say that I did question the combination of the fennel cream and roasted peppers, but my goodness this dish was heaven in my mouth.
The flavors were out of this world and perfectly representative of the Moroccan culture and dishes you would find.
This is why it's important to try new things and why festivals like this are a great way to try it out. Even if I didn't like the dish, it wouldn't have been a total loss since it was $5.75.
Runner-up Food at the Epcot Festival of the Arts
While I didn't get to try a lot of the dishes I planned to try due to long wait times, I did get to try a few that I didn't expect to be as yummy as they were such as the Passion Fruit Mousse!
And yet, with all the yummy food I consumed, there were a few that didn't make the cut for the top dishes list.
Tomato Soup (Pop Eats)
Let's start with The Pop Eats kiosk located in World Showcase plaza. It was perfect timing since it was a bit cold that day.
I tried the Tomato Soup With Grilled Cheese for $5 and the Tomato Soup With French Onion And Bacon Grilled Cheese for $5.25.
Both were small and yummy, but essentially it's just a mini grilled cheese sandwich. If it wasn't cold that day, I probably would've skipped this to be honest.
Rainbow Sherbert Glitter Dream Ale (Pop Eats)
I was really intrigued by the #rainbowsherbertglitterdreamale which featured a 6-ounce for $4.50 and a 12-ounce for $8.50. The Cast Member convinced us to get the 12oz and it was absolutely delicious!
It even has edible glitter in the drink which is perfect for Instagram. It packs a punch so it shouldn't be taken lightly.
I would recommend getting the 6-ounce rather than the 12-ounce because after a while there's an odd aftertaste. I'm assuming this taste comes from the glitter that is quite unpleasant.
The drink is delectable and still worth trying at least once!
Remy's Ratatouille and Artist Palette Jumbo Chocolate Chip Cookie (Festival Favorites)
The final runner up dishes come from Festival Favorites located in World Showplace. Sadly, I was a bit disappointed in the Remy's Ratatouille and Artist Palette Jumbo Chocolate Chip Cookie.
The Ratatouille was reasonable at $5 and the cookie at $5.50.
Genuinely, my friends and I all agreed that the flavors really weren't popping like the other dishes we had tried that day.
I would say it's a sweet and fun treat for a child or if you want something for Instagram, but not worth the price you pay to be honest.
Ready to start planning your next Disney World vacation? Listen to the latest podcast episode on Apple or on your non-Apple device now!
5 Easy Festival of the Arts Tips for Your Trip
It's very easy to get lost and a bit confused when it comes to the Epcot festivals. With that being said, here are some ways you can prepare and keep your wallet safe!
1. Research
Look into what booths are available, what they are serving and prices prior to arrival. This way you know exactly what you want to try and aren't wandering aimlessly.
You will also know their locations so you can plan your day a lot easier.
2. Use a Gift Card
Some people want to be surprised and that's totally okay too! What's not okay is overspending!
So, the best way to explore the food booths at any Epcot festival is to put yourself on a budget.
A great way to do this is to put a certain amount on a Disney gift card. This way you won't hurt you debit/credit card and can keep tabs on your spending.
I usually do about $140, but it truly depends on yourself and your spending habit.
Recommended: Get More Disney Food Reviews and Tips here!
3. Know Where to Start
I feel it's a lot easier to start backwards and work your way around. Everyone tends to start in Mexico and work their way around.
Starting near Canada, you won't find as many crowds and you won't get full as quickly. You'll also hit quite a few of the popular booths a lot faster this way.
4. Start Early
Arrive a little earlier before the park opens. I faced many long lines for the popular food booths and ultimately missed out because of this.
By researching, you'll know exactly where you want to go and can head straight to it. Beating the crowds a bit.
Also, splitting your food booth time in half helps you to not get a food "baby."
5. Pace Yourself
I know you're dying to try all the delicious food and beverages at the festival, but don't rush yourself or stuff your face. It's not healthy or safe for you.
Take your time and savor your food. There is plenty of time to stroll, take in the sights and then grab your next small meal!
Have a DIFFERENT kind of Orlando vacation with a Resort home next to Disney World. Find Your Disney Resort Vacation Rental here!
My Final Thoughts on the Best Food at Epcot Festival of the Arts
Bringing this article to a close, because I'm sure all my lovely readers are drooling at the mouth by now and dying to try some of these scrumptious meals.
While I tried quite a few dishes, I am happy to report a good chunk of them were winners in my book, to the point where I went back for seconds.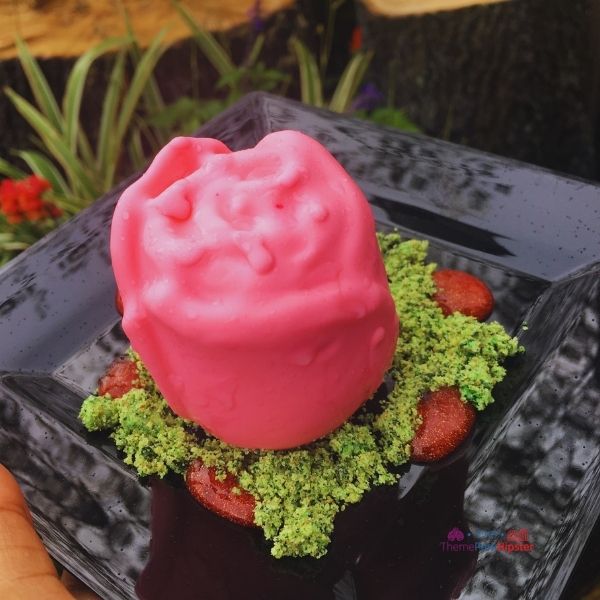 Reading this only goes to show that the Epcot International Food and Wine Festival isn't the only one with remarkable and tasty food and beverages to try.
Each one has something unique and special to bring to the table, especially Epcot Festival Of The Arts!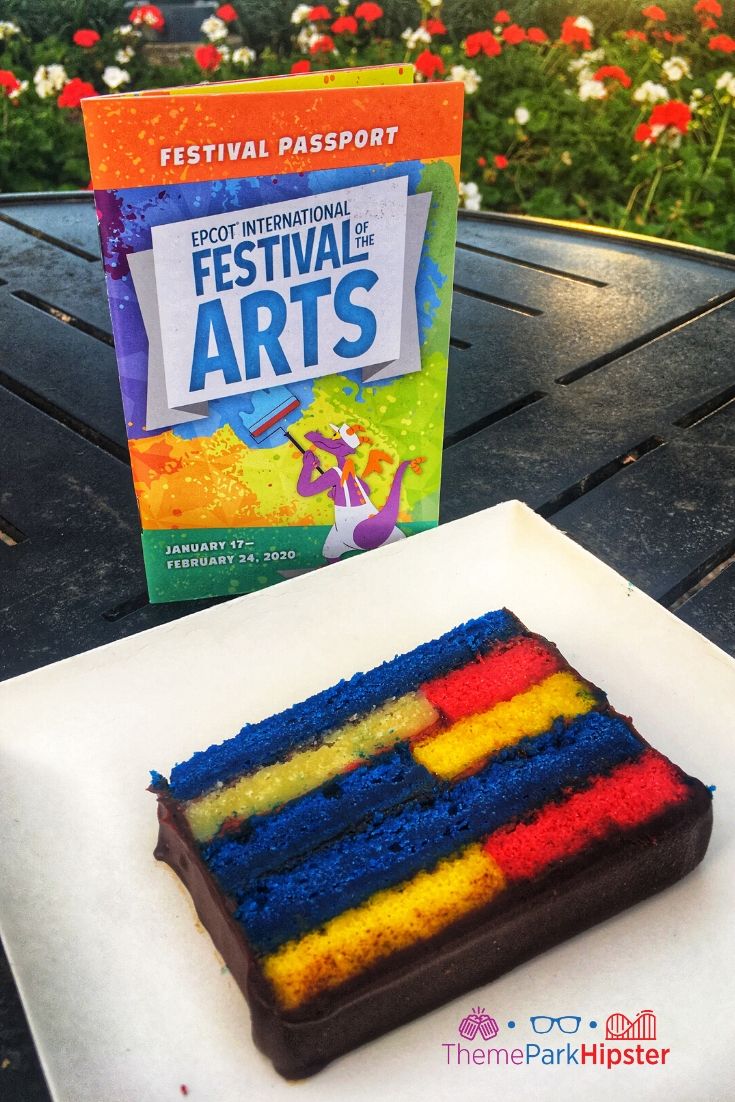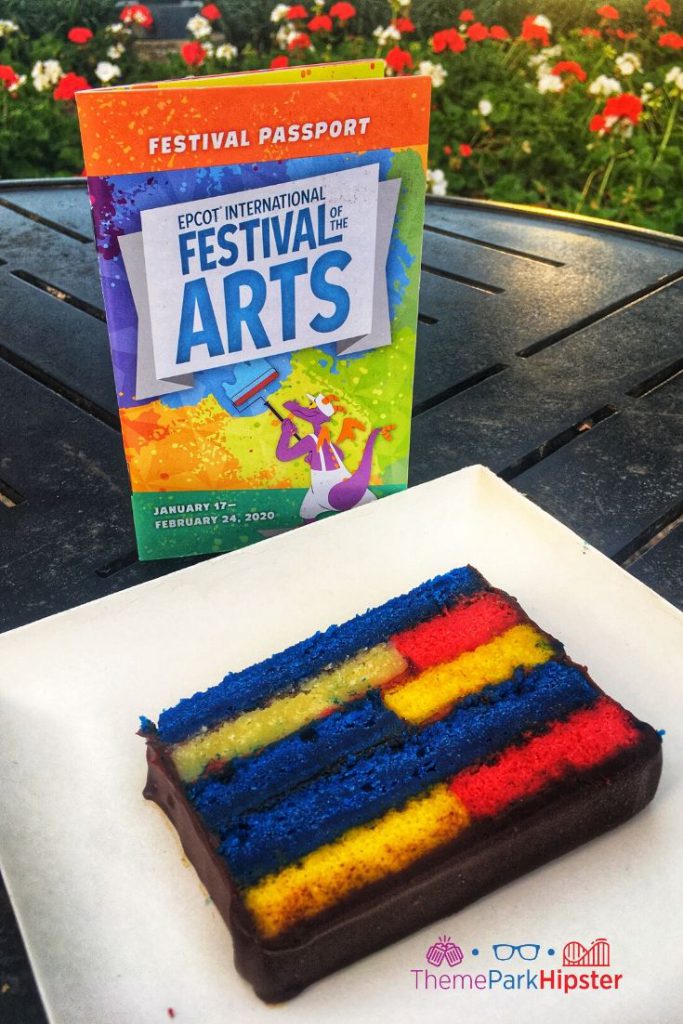 From the Mediterranean Flatbread to the Orange Cream Shake, there is always something that is worth trying.
I cannot wait to see what this festival brings to the table in the future, especially in 2023 for its 6th anniversary.
Let us know in the comments what dish or beverage you've tried at Festival of The Arts!
About the Author
UP NEXT: Should You Go to Epcot International Festival of the Arts This Year?
(Original Article Date: January 24, 2021/Updated by Editor on January 4, 2023)