Did you know that using a Busch Gardens Tampa Crowd Calendar can help you avoid the busy days at this park, allowing you to skip the long wait times?
Busch Gardens is one of the top-rated amusement parks in the entire country, and it is located in Tampa, Florida.
The park offers plenty of roller coasters and attractions, as well as some of the most fun you'll ever have!
Many flock to this exotic thrill park to experience some of the best rides, animal exhibits, and beautiful nature included inside this Florida theme park.
This popularity can lead to frustration, especially if you don't pick the best days to visit Busch Gardens Tampa.
THIS POST MAY CONTAIN AFFILIATE LINKS. PLEASE READ MY DISCLOSURE FOR MORE INFO. Which means if you click on certain links, I may receive a small commission at no additional charge to you.
The Importance of Choosing the Best Days to Go to Busch Gardens Tampa
As previously mentioned, Busch Gardens Tampa offers a variety of things to do that appeal to visitors of all ages.
So, when choosing the best day to visit Busch Gardens Tampa, there are many things to consider.
First, you'll need to think about the weather. Is it going to be too hot? Too cold? Is it going to rain?
Because the park is located in Tampa, Florida you can expect that it will be extremely hot from May until late September.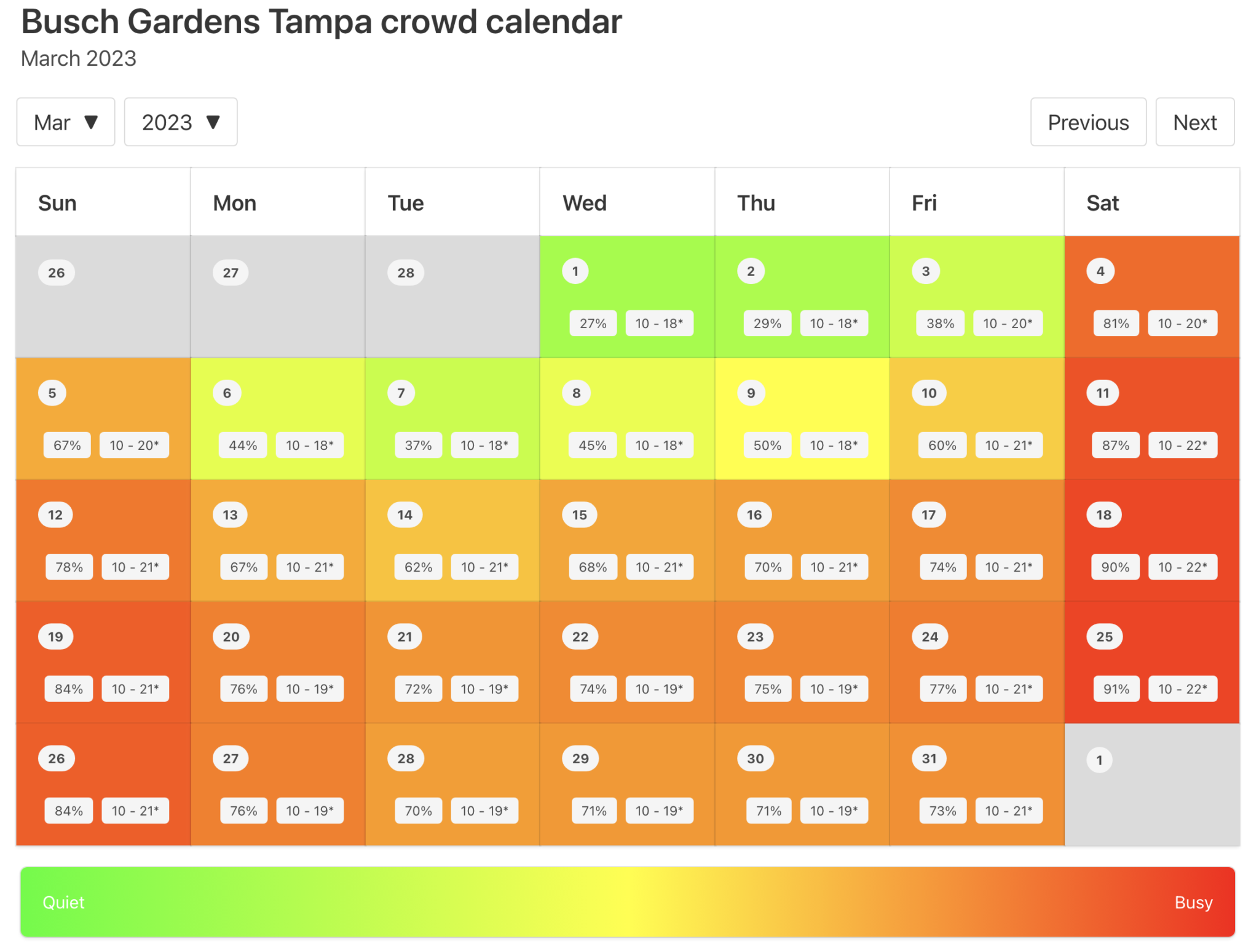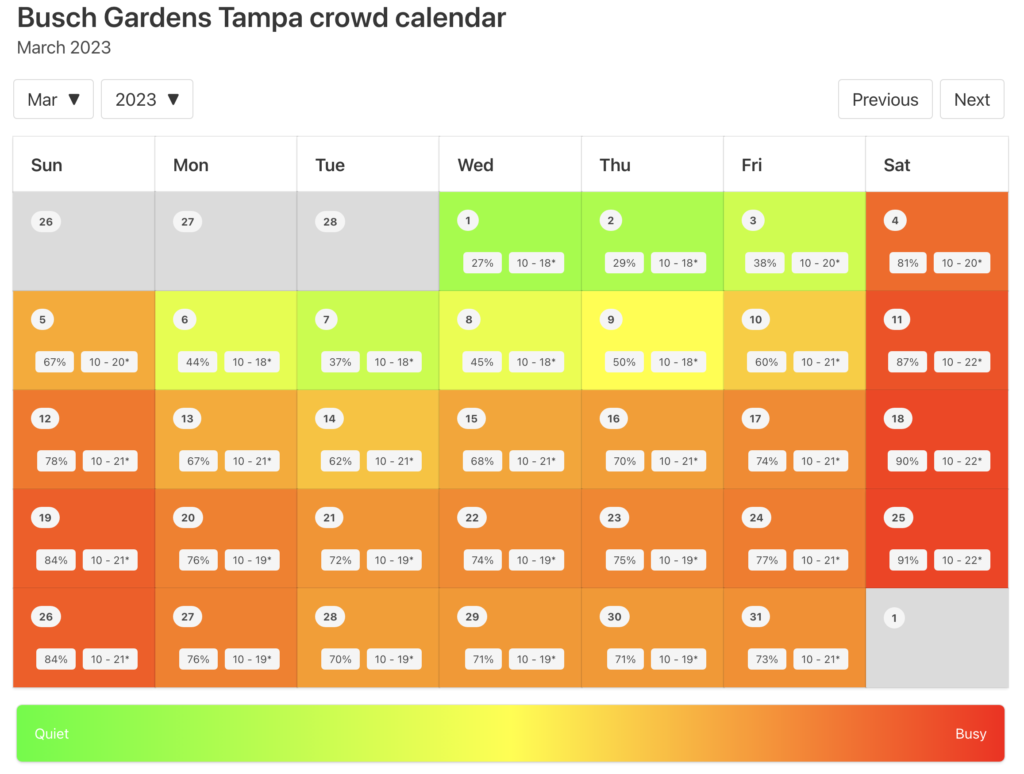 Get up to 35% off of your Busch Gardens Tampa Tickets with Groupon TODAY!
What is a Busch Gardens Tampa Crowd Calendar?
The Busch Gardens Tampa Crowd Calendar gives you a prediction on what the park is like on each day of the week.
This calendar is vital for anyone who wants to visit Busch Gardens at the best times possible.
Mainly because it helps you figure out what days have the heaviest crowd level based on the data from previous years.
With popular roller coasters such as Montu, SheiKra, and Tigris (along with some other rides), wait times can reach an hour long during the summer season.
It's important to know how to use this theme park tool when picking your best dates for Busch Gardens.
How Does the Busch Gardens Tampa Crowd Calendar Work?
The Busch Gardens Tampa Crowd Calendar works by giving you the exact days you should select and what each day will be like (crowd-wise).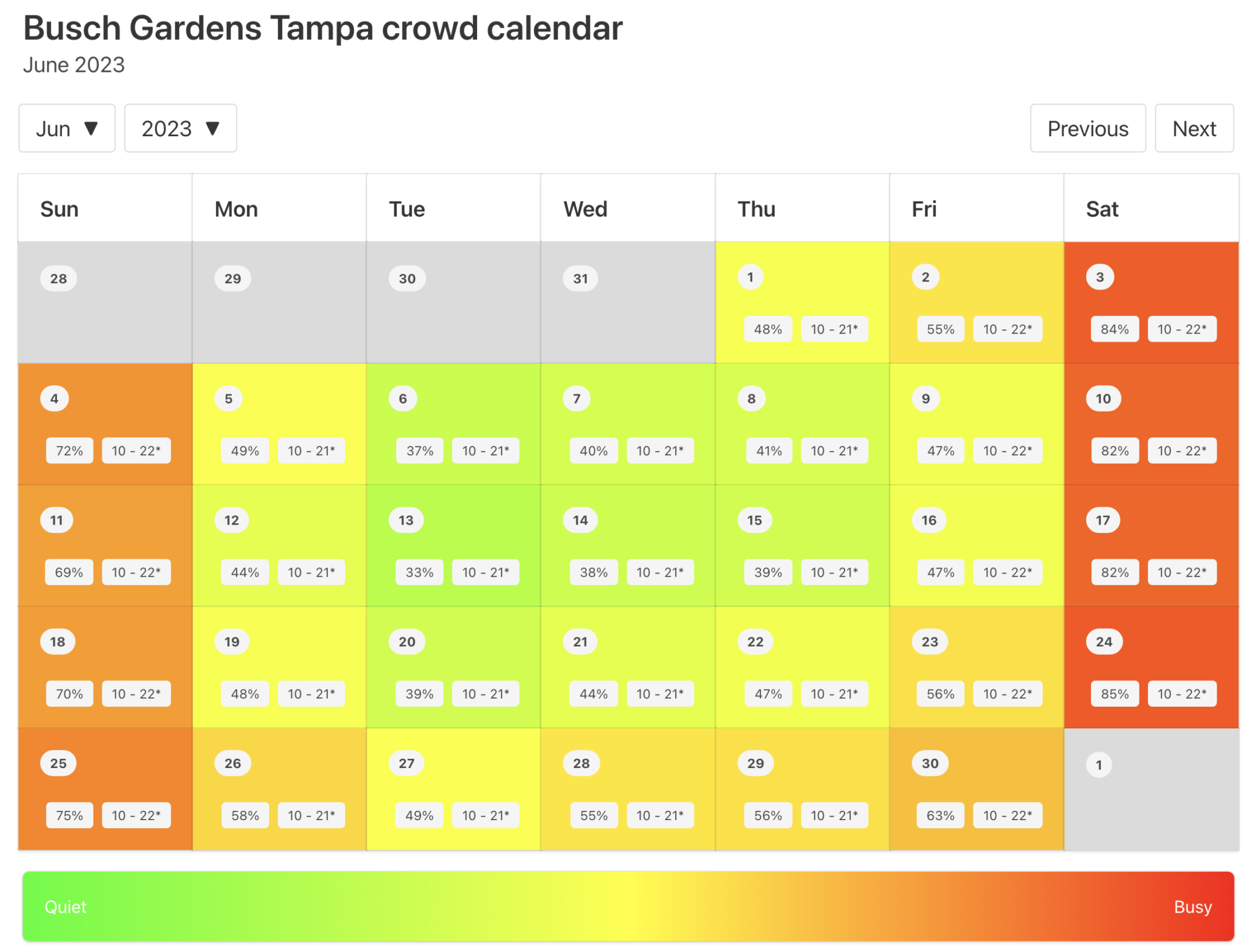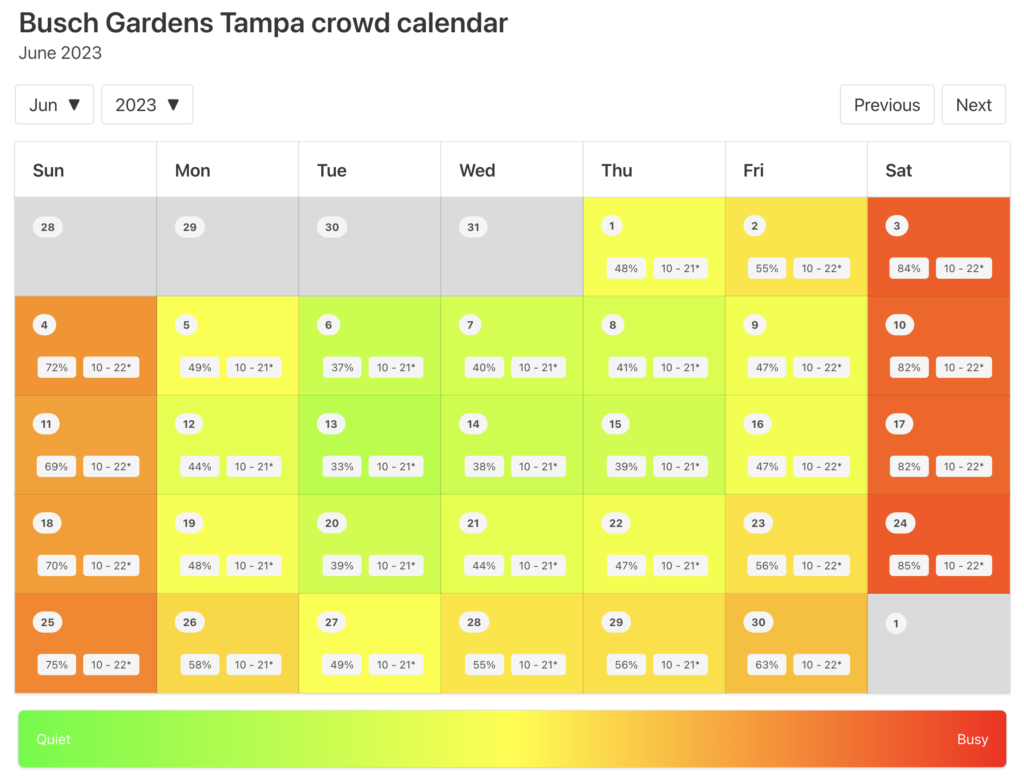 It does this by showing how busy the park will be in regards to theme park attendance.
The Busch Gardens busy days are categorized as: heavy, light, or moderate and will be color coordinated on the Crowd Calendar with:
Red indicating high crowd levels
Yellow indicating moderate crowd levels
Green indicating low crowd levels
Once you have this information, you can then figure out which day, which week, and which month will work best for you when choosing to visit Busch Gardens Tampa.
Get Your Busch Gardens Tampa Bay Tickets Today! CLICK HERE.
Is the Busch Gardens Tampa Crowd Calendar 100% Accurate?
Sorry, the Busch Gardens Tampa Crowd Calendar is not 100% accurate, but it's a great place to start when deciding the best day to visit the park.
According to Queue Times, the crowd level is predicted and all predictions are provided as a guide with you using your own judgement.
Ready to plan your theme park trip? Watch the best vacation planning tips on YouTube. Get started here!
Where Can I Find the Best Busch Gardens Tampa Crowd Calendar?
At the time of writing this article, you can find the most accurate Busch Gardens Tampa Crowd Calendar over at Queue Times.
The owner of this website started Queue Times in the summer of 2014 after he was frustrated from spending a LONG day at a theme park waiting in ridiculous lines for most of his trip.
What is the Best Day of the Week to Go to Busch Gardens?
The best time to visit Busch Gardens Tampa is during the week, and in the morning. With the best days being on Tuesdays or Wednesdays.
What is the Best Month to Visit Busch Gardens Tampa?
The best month to visit Busch Gardens Tampa is February. This is the time before the spring and summer season kicks into full gear.
This month is closely followed by September (if you want to beat the crowd) and October if you want to have a low crowd level along with the Halloween festivities.
Recommended: Top 10 Best Free Things to Do in St. Petersburg, Florida TODAY!
7 Best Tips to Avoid the Crowds at Busch Gardens Tampa
Now that we have the basics covered, let's go through a few of the top tips when it comes to planning out your trip.
1. Check the Crowd Calendar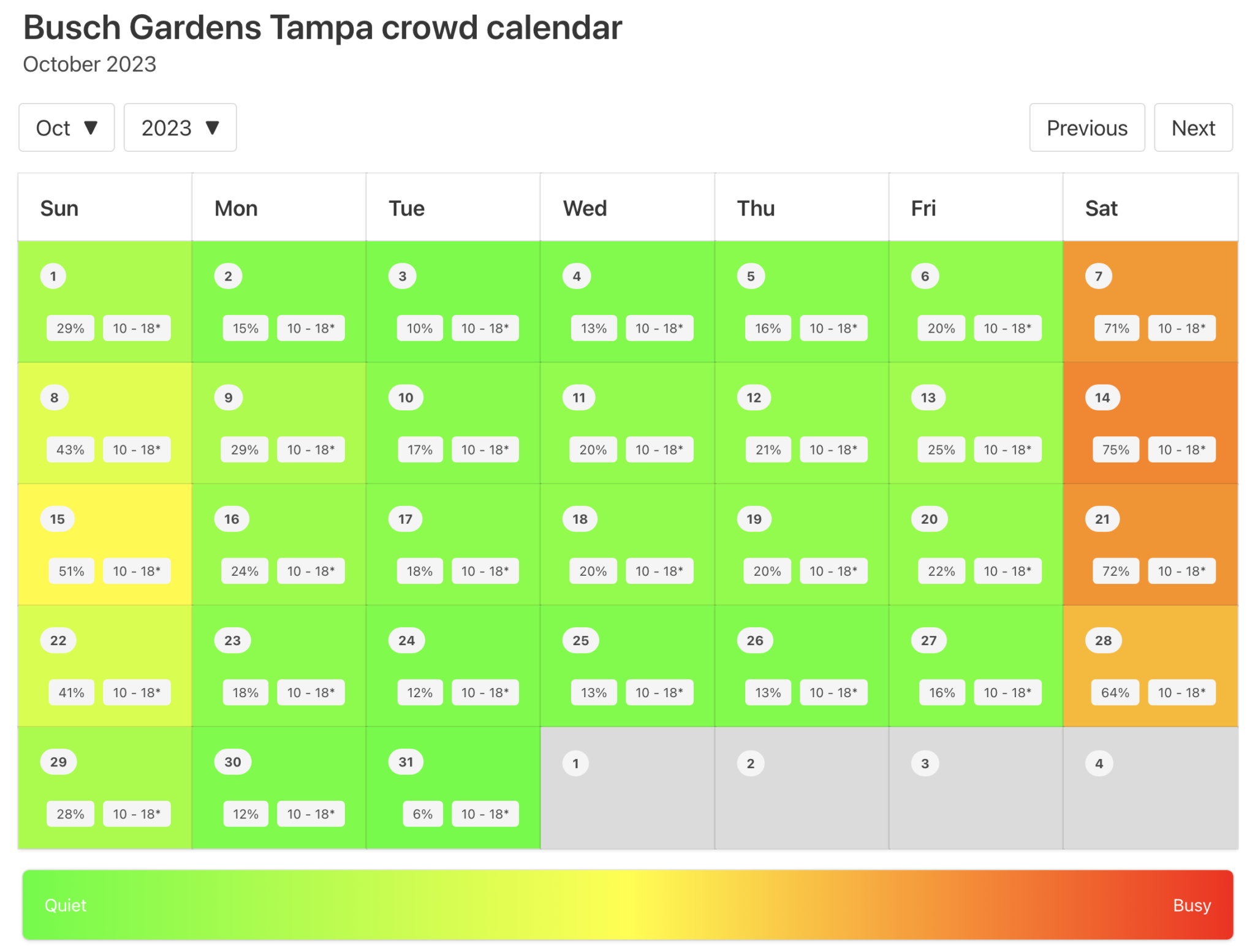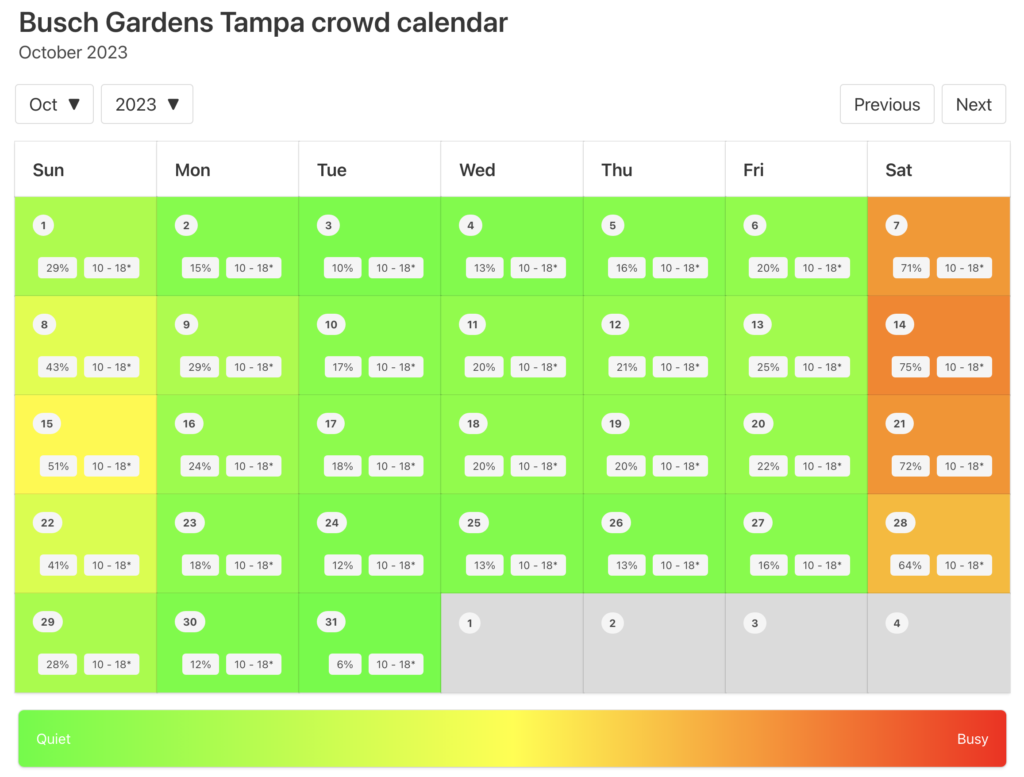 It's also a good way to see if you should purchase a Quick Queue Pass in order to skip the lines on your trip.
2. Check the Weather and for Special Events
Once you know you will want to visit Busch Gardens, be sure to double check the weather and if there are any school breaks locally. Both can play a major part in how many people are at the park.
You'll also want to think about the holidays and special events happening at the park such as 4th of July weekend, Memorial Day Weekend, Spring Break, Christmas Break, Labor Day Weekend, and Thanksgiving Weekend.
Recommended: 25 Fun and Free Things to Do in Tampa, Florida TODAY!
3. Go in the Morning
If you want to get the most out of your Busch Gardens day, then you'll want to go first thing in the morning.
Not only will this allow you to enjoy all of the rides and attractions, you'll also be able to leave once the weather gets intolerable..
Hipster Power Tip: Busch Gardens Tampa peak hours are between 11 a.m. and 4 p.m., so try to go on off peak hours if you can.
4. Look at the Busch Gardens Quick Queue Calendar
This is one of my favorite tips when trying to figure out if it's going to be a busy day at Busch Gardens Tampa.
When the park thinks that it's going to be a large crowd, the price for the Quick Queue Pass increases significantly than when a lower crowd is expected.
Join the Conversation on the Solo Theme Park Traveler's Community on Facebook!
5. Splurge on a Busch Gardens Tampa Quick Queue Pass…if you can
With the tip I gave you above, now you'll know if you should purchase the Quick Queue Pass.
If you're going on an extremely busy day and you have the extra budget for it, then I say get it.
The average wait times at Busch Gardens Tampa on the busy days can be over an hour. So, if this is your only visit, you'll want to have this pass to skip the lines.
6. Ride During Lunchtime
Since most families stop to eat during the peak lunch hours, this is your chance to circle back to that ride that may have had a higher wait time earlier during the day such as Iron Gwazi.
7. Have a Game Plan for Busch Gardens
I recommend coming up with an itinerary for Busch Gardens Tampa that will help you see as much as possible in just one day.
Busch Gardens Tampa Day One Itinerary:
Plan to arrive prior to the gates opening.
Check out the famous Florida gators in Morocco.
Enjoy a stroll on the Edge of Africa or in the Myombe Reserve to relax.
Take the Skyride over to the middle area of the park.
Conquer Tigris!
Have lunch at Zambia Smokehouse.
Ride Stanley Falls.
Conquer the Congo River Rapids
Ride Kumba.
Experience the Sand Serpent Roller Coaster.
Grab a delicious pretzel and beer at Twisted Tails Pretzels.
Catch up on any park shows that you want to watch.
Wrapping Up…
As you can see, there are many things to think about when planning your visit.
By using the Busch Gardens Tampa crowd calendar, you can make sure your trip goes well from start-to-finish.
What's your best tip for avoiding huge crowds at Busch Gardens Tampa? Let us know in the comments section below.
Until next time, Happy Park Hopping Hipsters!
NikkyJ
UP NEXT: Top 10 Ways to Find Cheap Busch Gardens Tampa Tickets
(Original Article Date: May 21, 2022/Updated on January 31, 2023)