The Skyride at Busch Gardens Tampa Bay is a cable-car that runs across the park. Allowing you to get stunning views of the Florida theme park from 50 feet up in the sky.
This gives you the opportunity to take in the glorious skyline without being worried about the next stomach-lurching drop.
You must be thinking 'Well, hold on. Aren't the stomach-lurching drops the reason people go to theme parks?'
I didn't mention the animals now, did I?
You get amazing views of these cute cuddly creatures and the not so cuddly ones (all animals are cute) from the top. I'm talking rhinos, tigers, gazelles, lions and even (wait for it) giraffes and elephants.
This makes me want to pack my bag and get over there right now!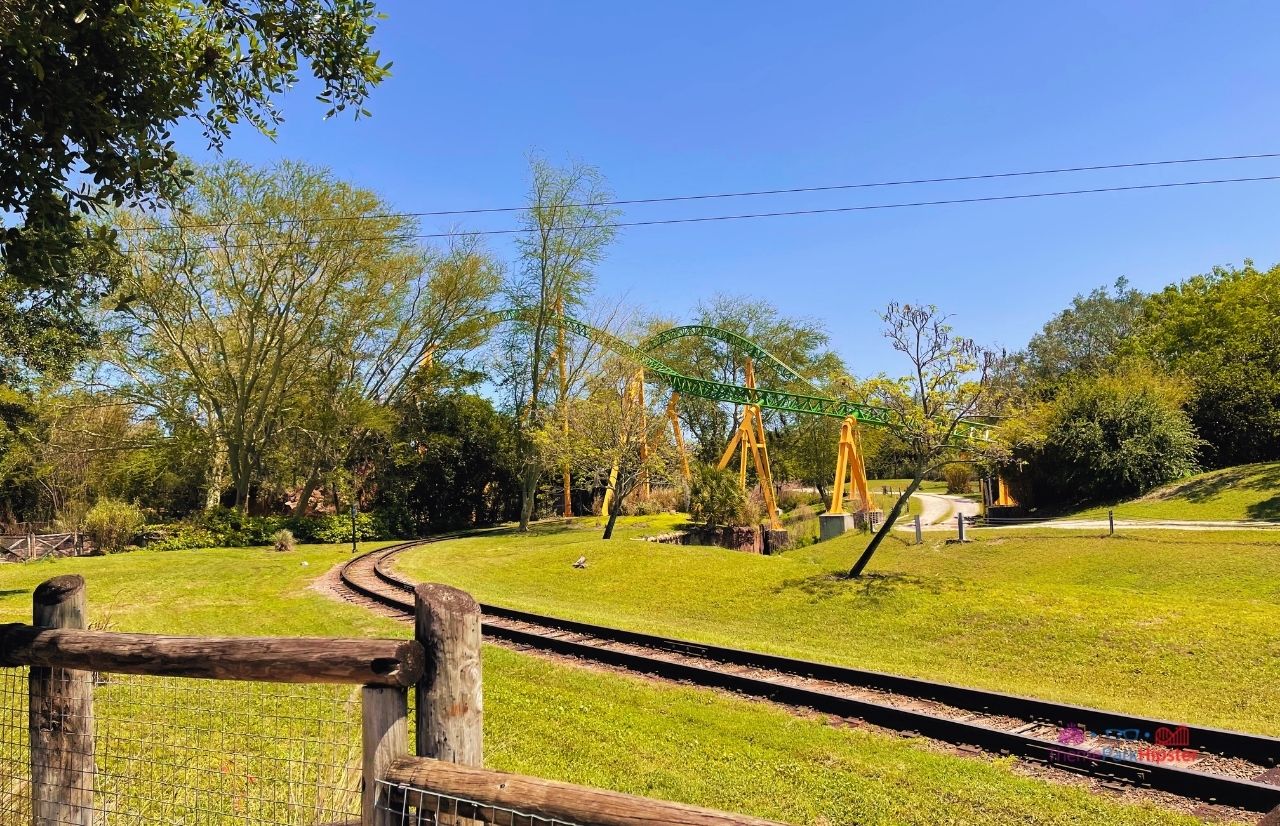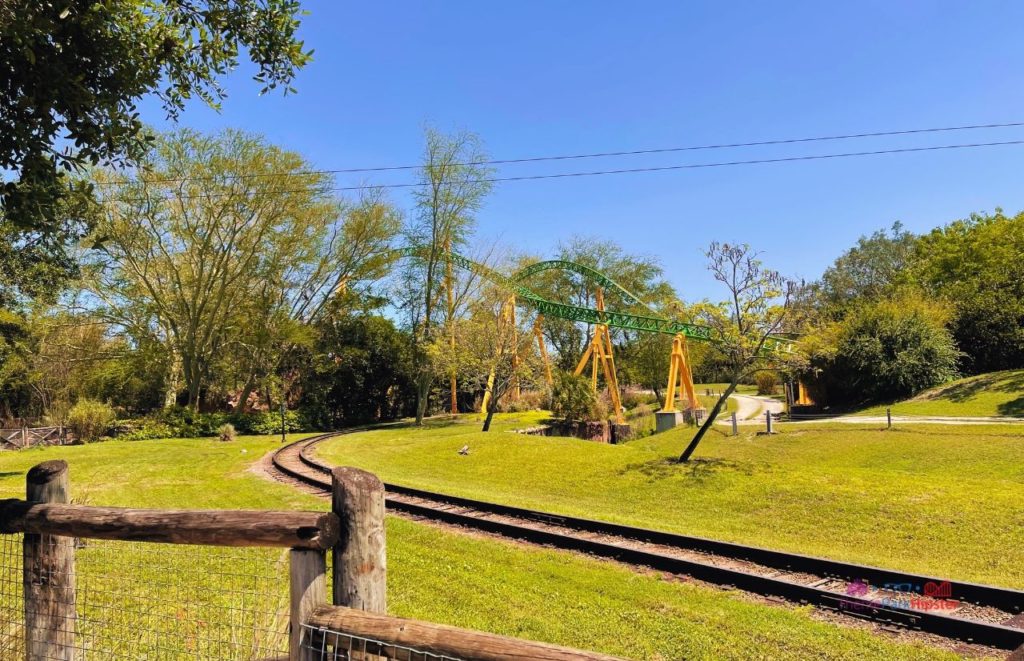 THIS POST MAY CONTAIN AFFILIATE LINKS. PLEASE READ MY DISCLOSURE FOR MORE INFO. Which means if you click on certain links, I may receive a small commission at no additional charge to you.
Is the Skyride open at Busch Gardens?
At the moment, unfortunately, The Skyride is closed. However, you'll be happy to know that it will reopen in the summer of 2022.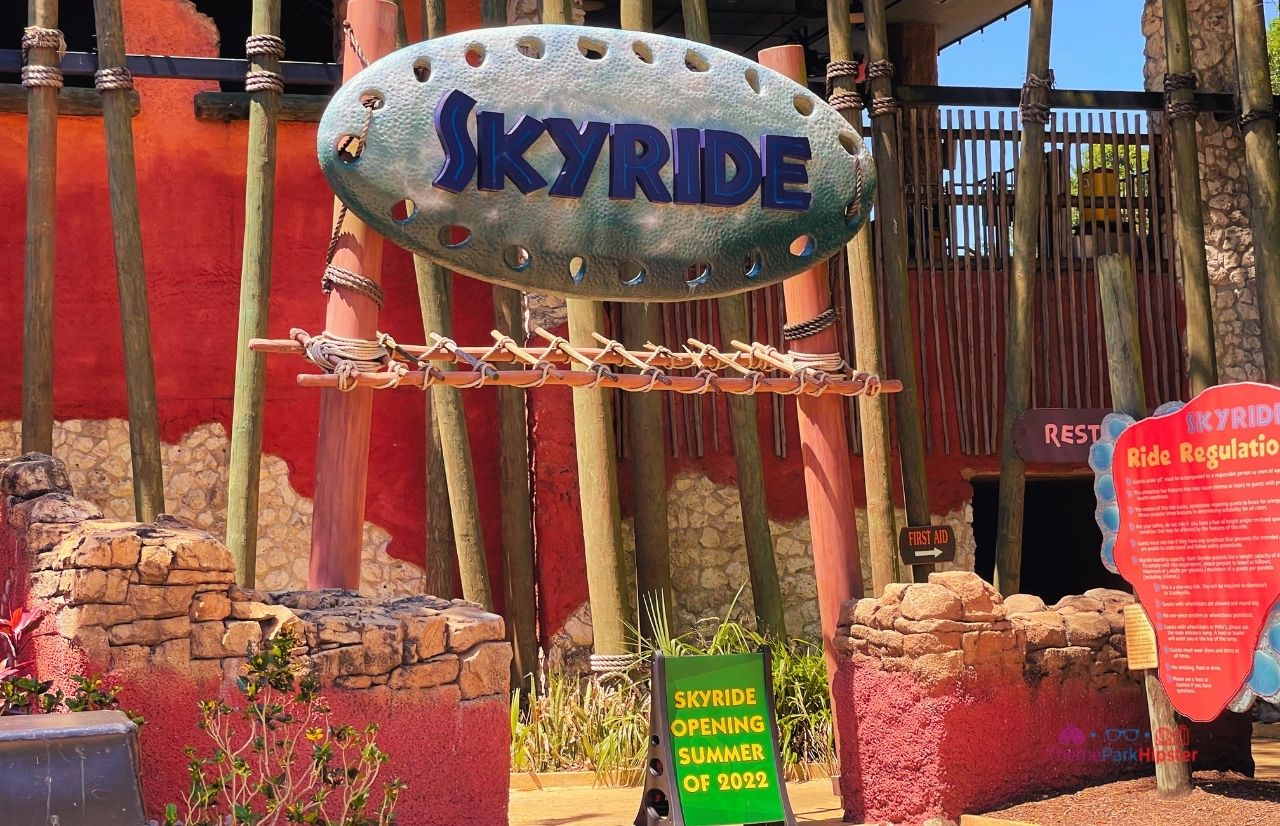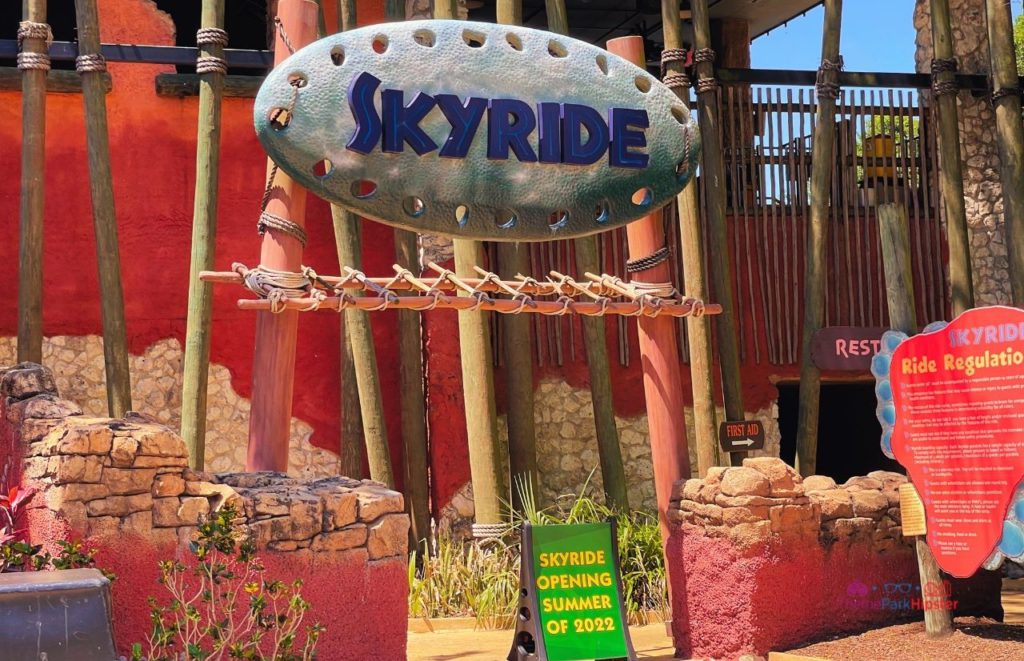 Making Memories on the Skyride at Busch Gardens Tampa Bay
The fun doesn't end when you enter the gates of Busch Gardens!
If making memories and taking them home with you is your goal for the day, you'll want to take some photos up there. The sheer amount of beautiful photograph opportunities is astounding.
Scenic, close-ups, skyline photos, zoomed-in photos of animals or aesthetic cable-car shots– you can have it all!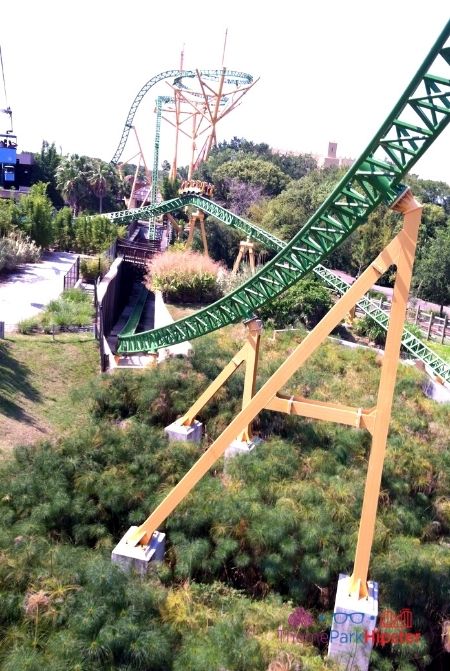 Oh, and I almost forgot! You can get across the park in a few minutes without walking for miles (figuratively) on your aching feet.
Are you even more excited for the Skyride now?
Well, let me give you all the insider knowledge you need to enjoy every aspect of the Skyride so you come home with no regrets and a very full camera roll!
ORDER NOW to secure your Orlando theme park ticket reservation in the parks! GET MY TICKETS.
History of the Skyride at Busch Gardens Tampa Bay
Fun Fact: The Skyride was actually made in Europe. To be exact, it was assembled by the longest-established industrial group in the ye quaint old country of Switzerland.
The maker of this fine cable ride is the– Von Roll (yes, like the Swiss roll and the rolls on roller coasters).
I love a good punny name as much as the next person, but what really sets these guys apart from the rest is that they have been making sky rides since 1952. That is a whopping 68 years of expertise on cable car building.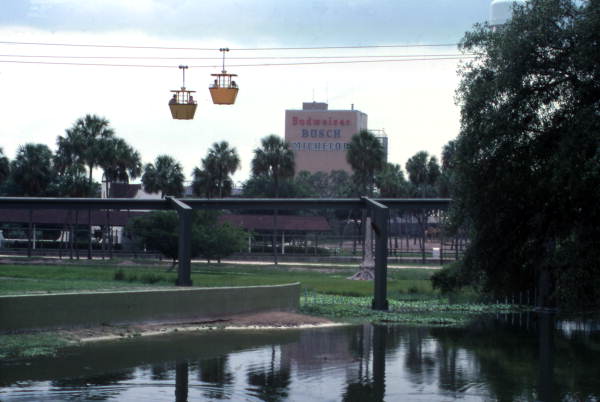 The Skyride at Busch Gardens Tampa is one of the park's oldest features, dating back to 1974. And it has been used by hundreds of thousands of visitors ever since.
The only time it was ever shut down was in 2010 when the new Cheetah Hunt was being constructed. It opened up again a year later when the addition to the scenery had been completed.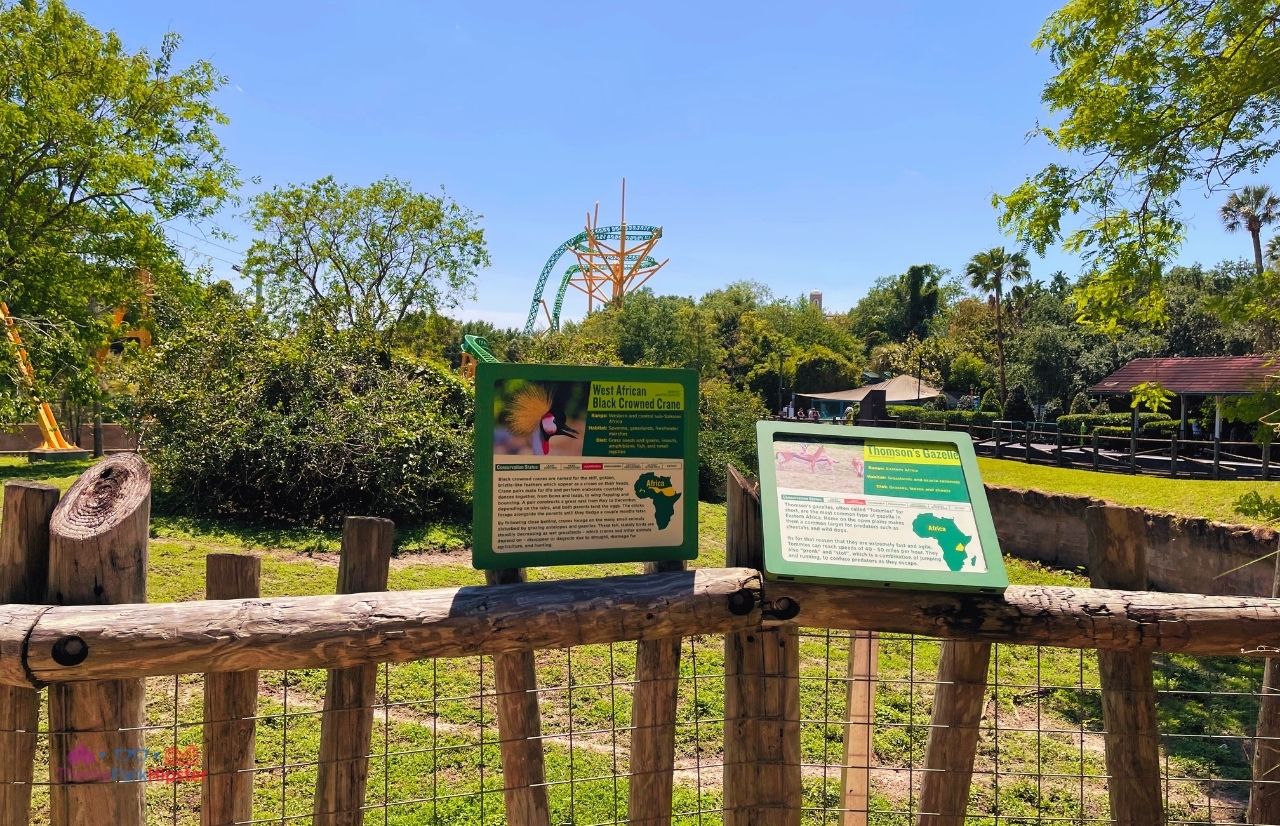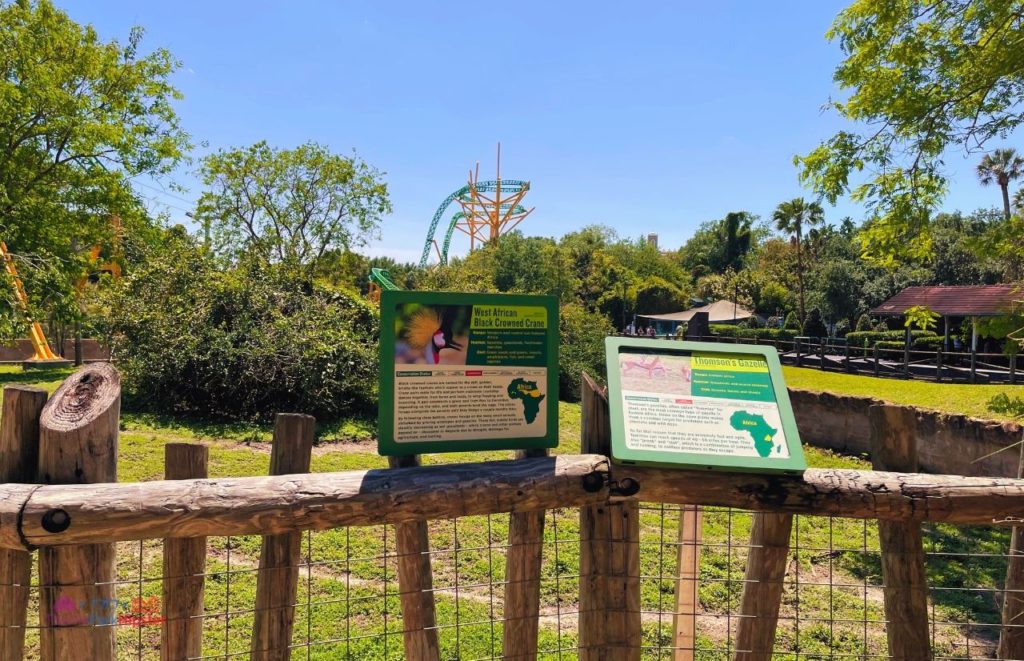 The Skyride is closed due to the global pandemic restrictions and pressures, but the park assures us that it will open up this summer (2022).
What to expect on the Skyride at Busch Gardens Tampa Bay
If you are doing the Skyride right, by the end of the six-minute ride, you are going to feel like all your worries have just melted away. You will be breathing in the cool breeze and drinking in the stunning scenery. It will be like a dream.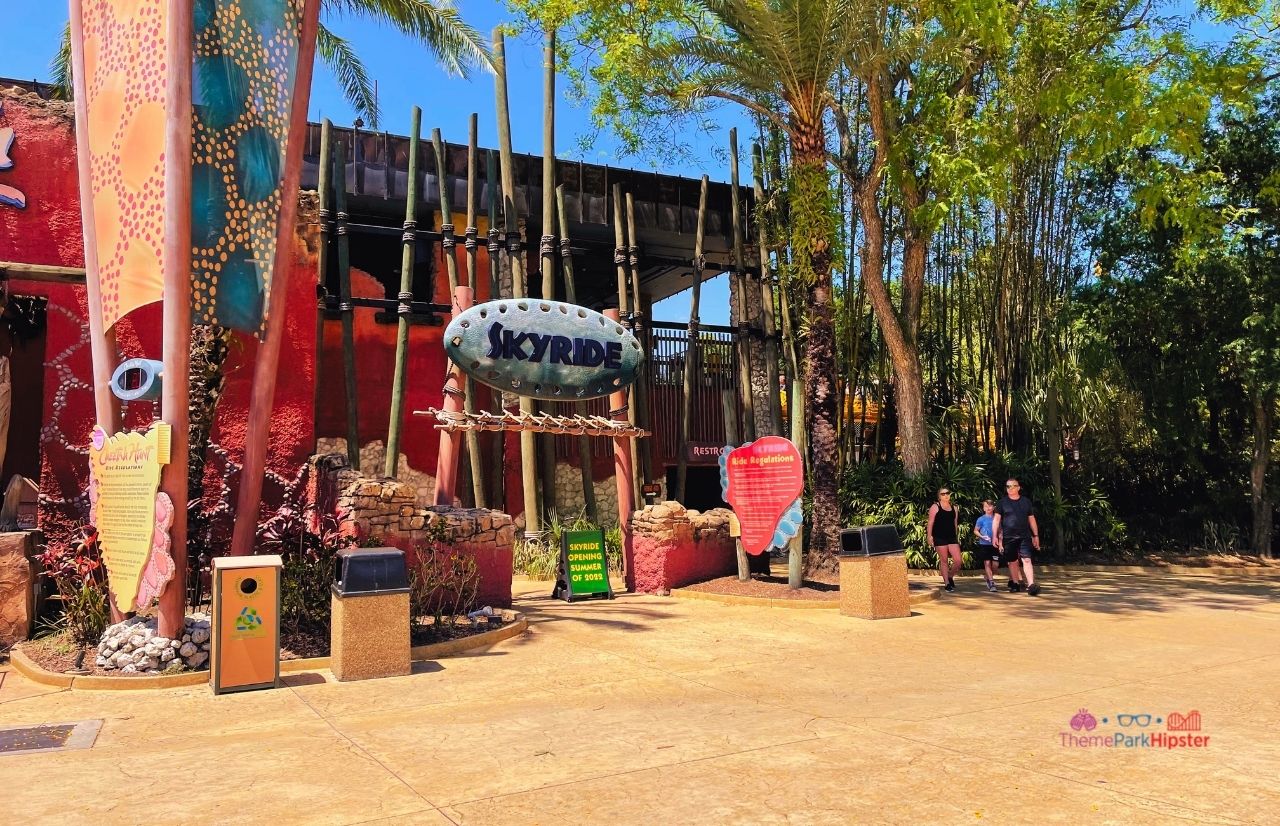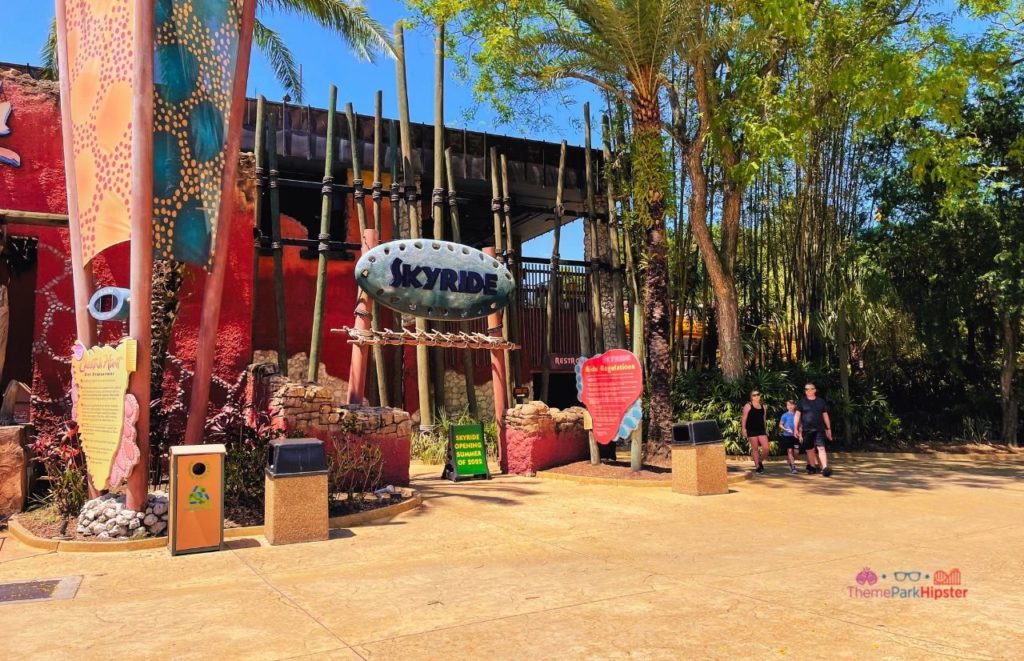 Let me tell you what's going to happen in the course of that dream.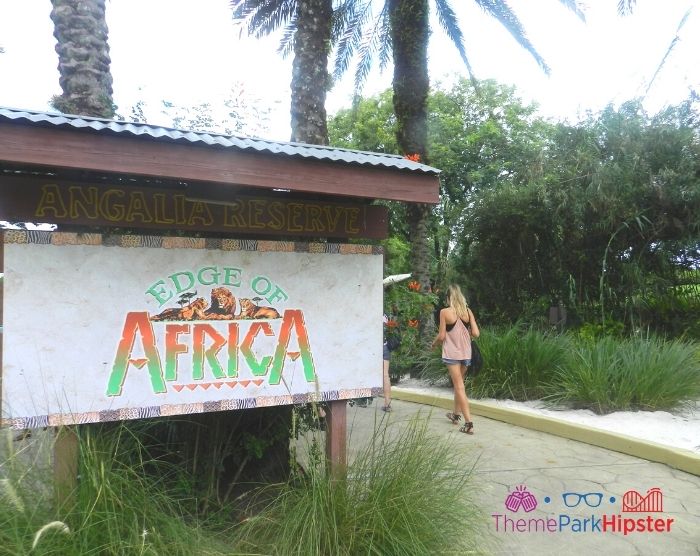 The Skyride connects the Edge of Africa section of the park with the Congo/Stanleyville section which is on the other side of the park. As the ride goes both ways, you can move from one side of the park to the other very easily.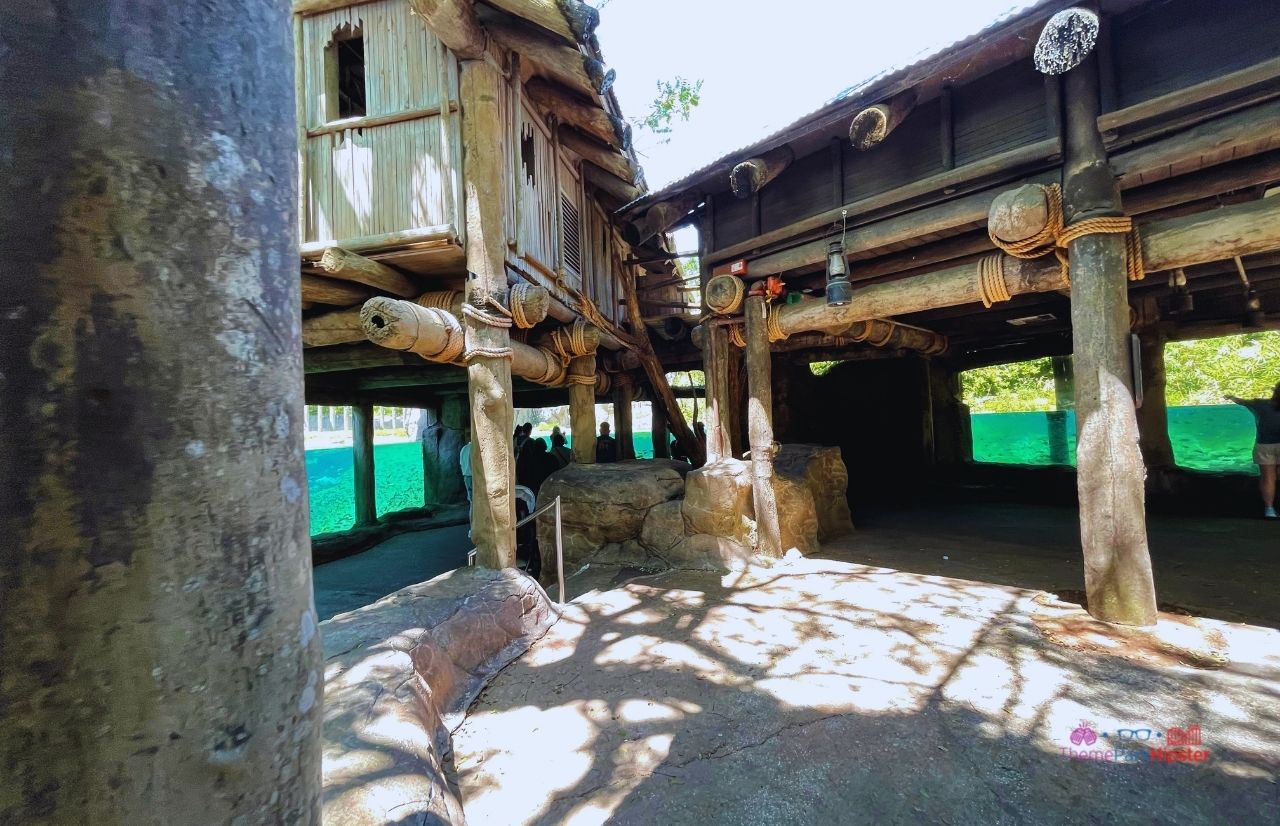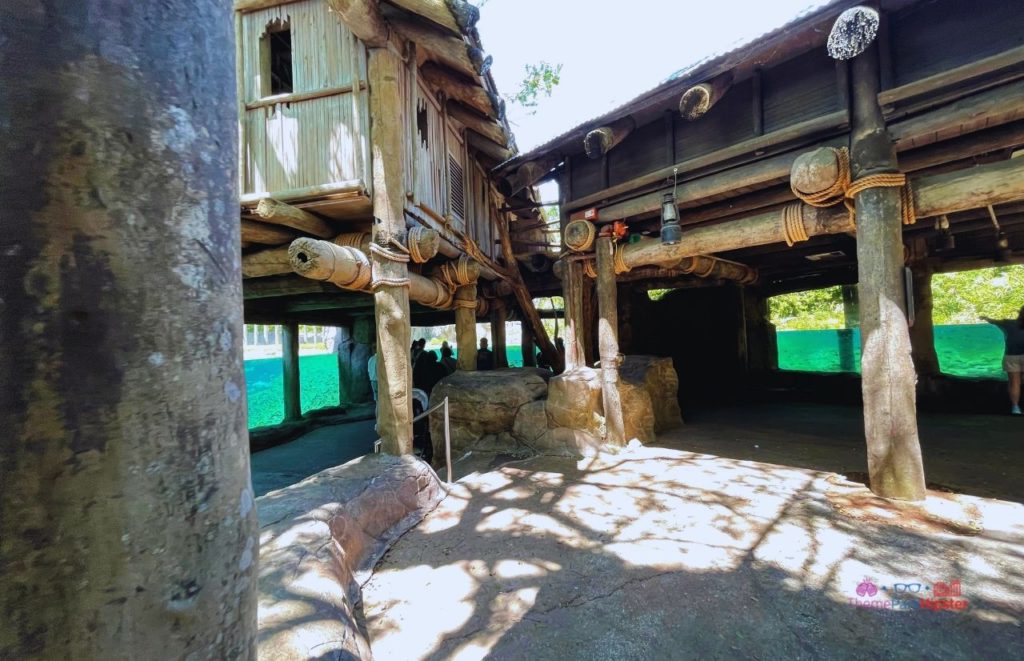 For the purposes of this article, however, I'm going to take you from the Edge of Africa section to the Congo/Stanleyville section.
Starting Your Journey
You can go to Cheetah Hunt station to begin your journey. Just look for the huge Skyride sign nearby and you'll know exactly where to go!
After following the direction and a bit of wandering you will come to the loading platform.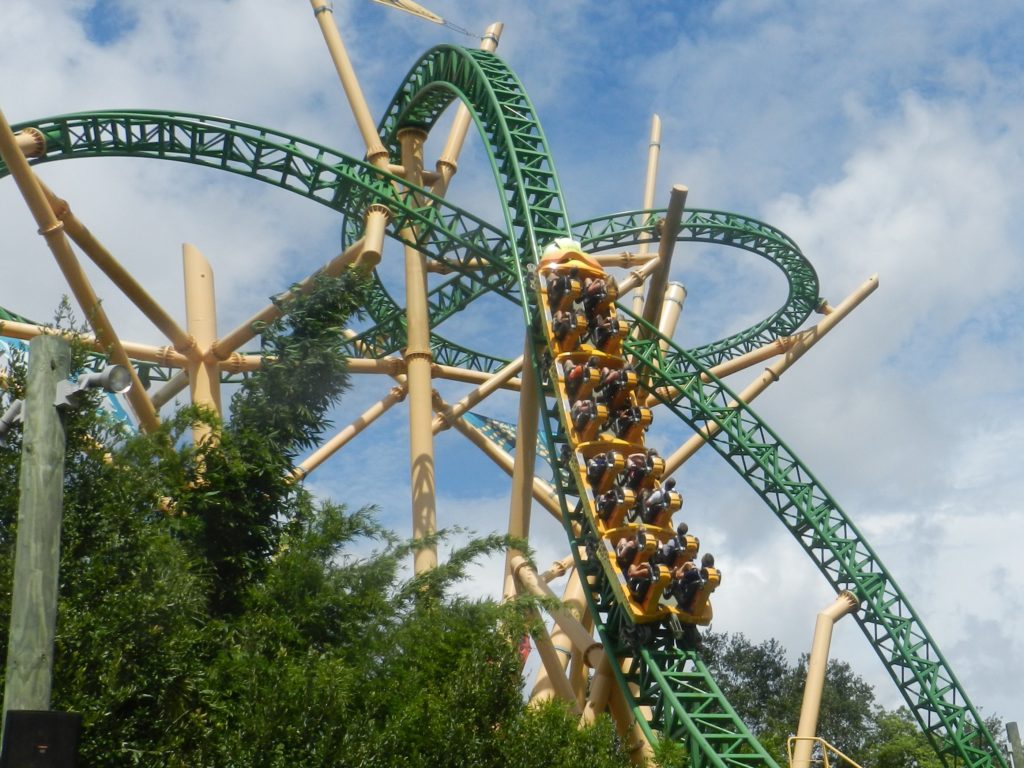 Each cabin can hold up to three adults. If you have children, there can be four people in the cabin– two adults and two children. 
Once the door is shut, you are off! Get ready to see the large variety of animals who call Busch Gardens home on one side.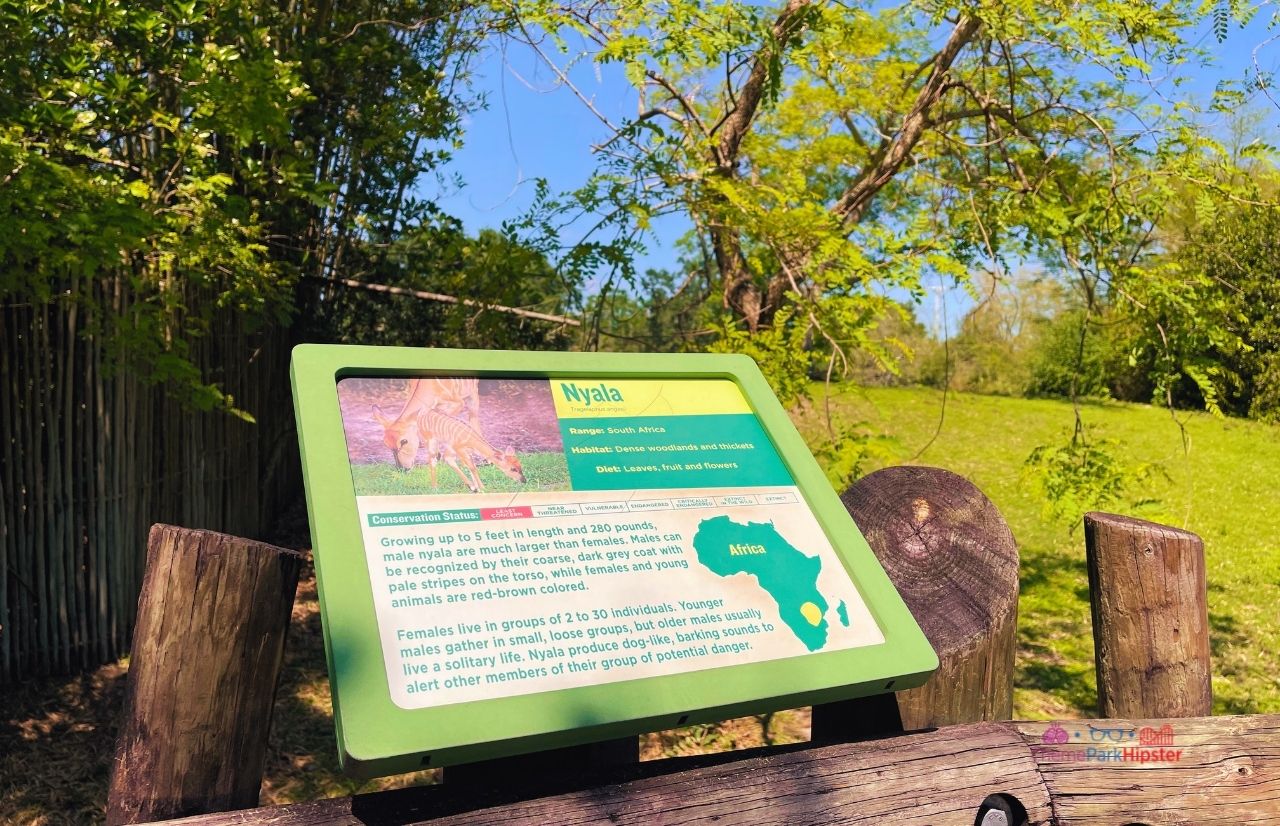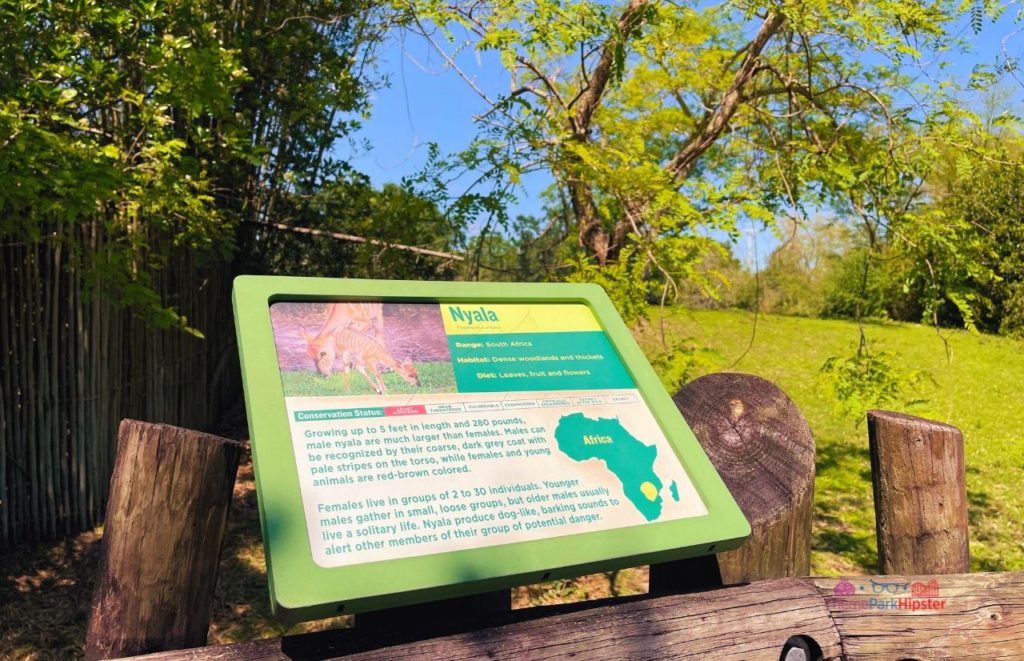 On the other side, the sky is dotted with looming rides. You can see SheiKra and the classic Scorpion from your vantage point.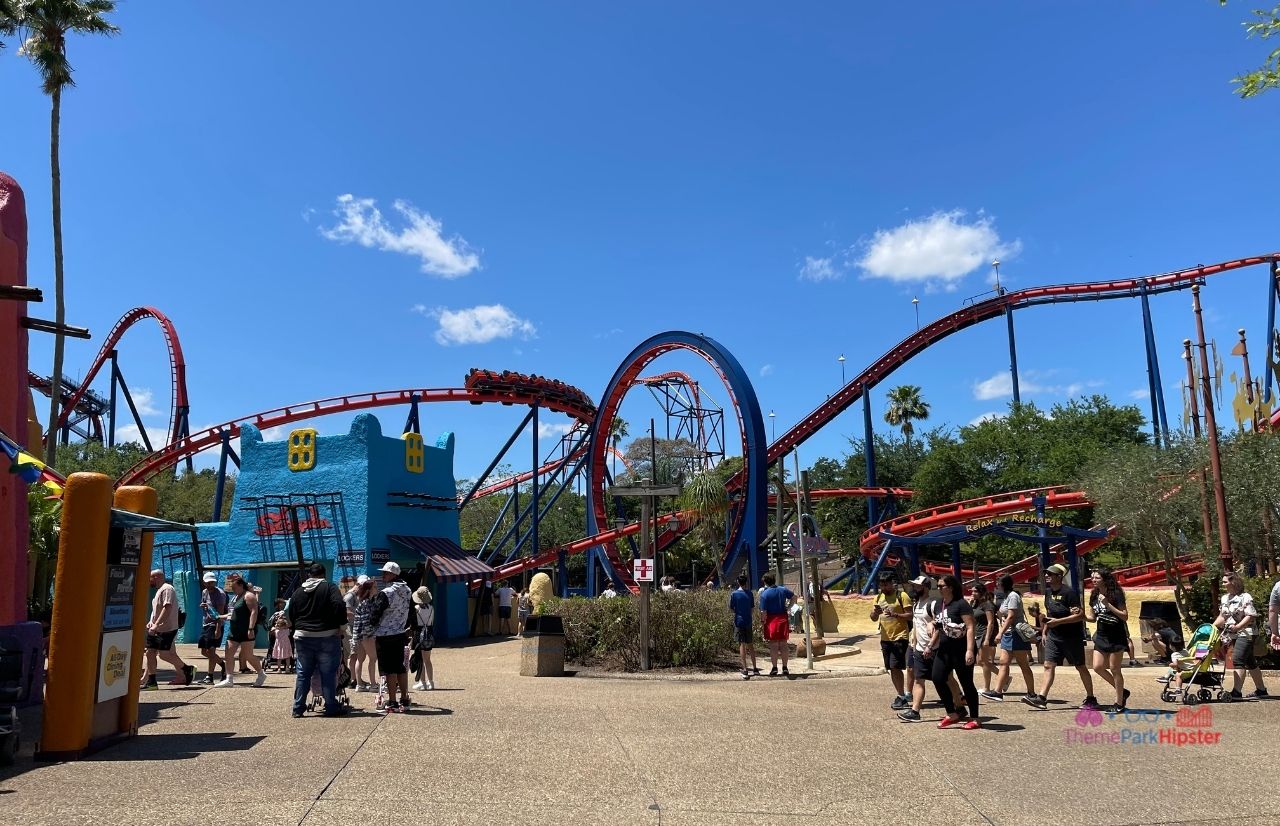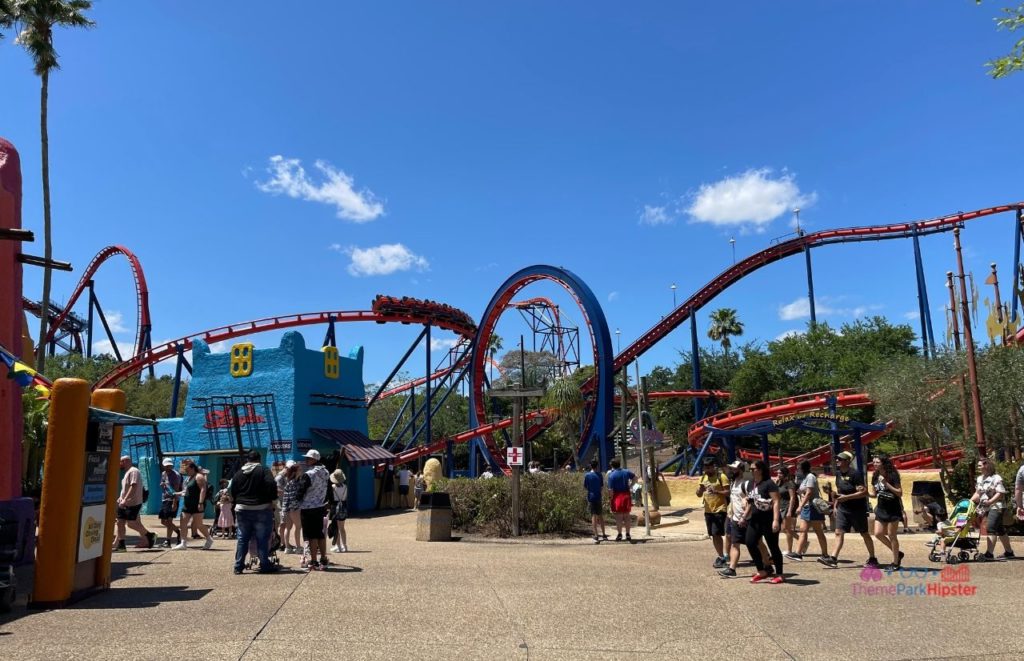 Halfway through the ride, you will come to a stop so that the Team Members can check if the cabin has enough momentum to make the ninety-degree turn that is about to come. That takes just a couple of seconds and then you will be off again.
This time you will take a turn into the sands of Egypt. All around you, you will see the Falcon's Fury and the formidable Kumba. Finally, you will come to a stop at the back end of the park.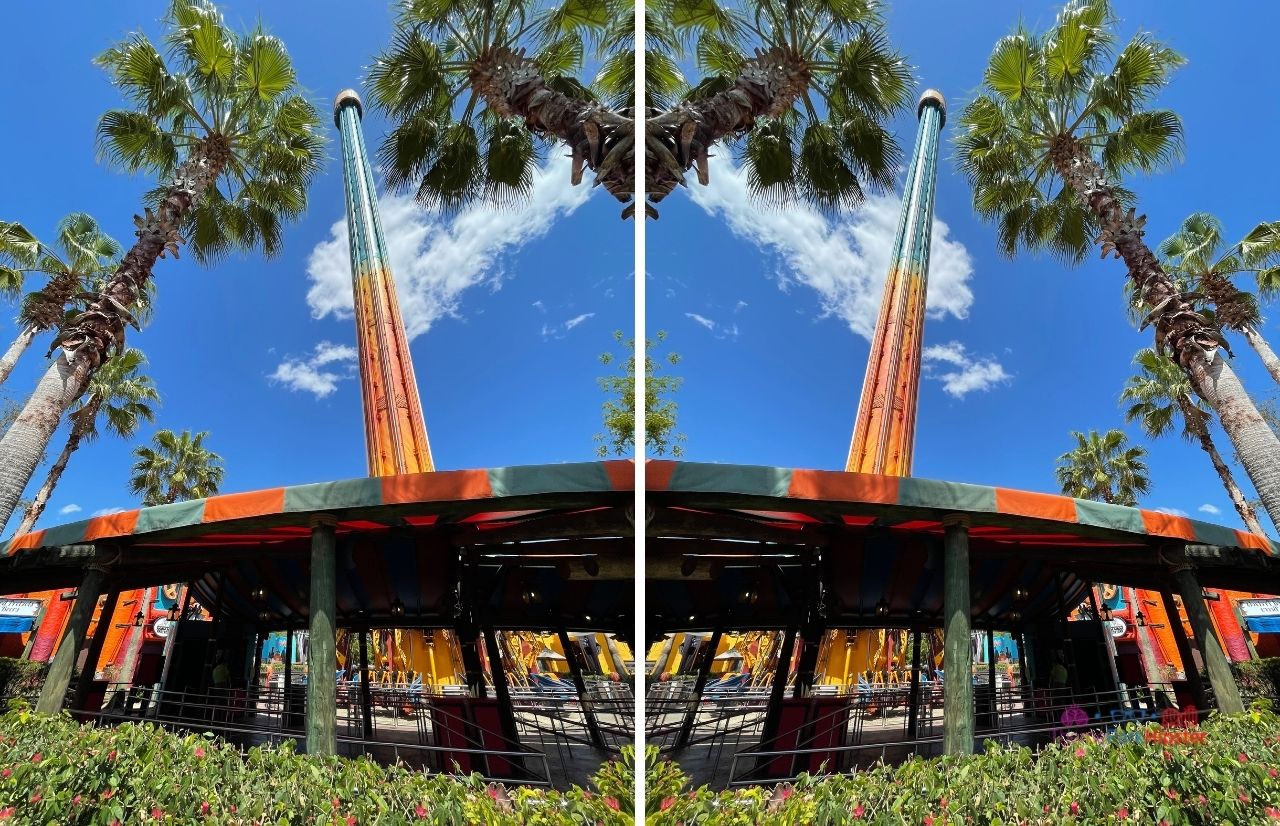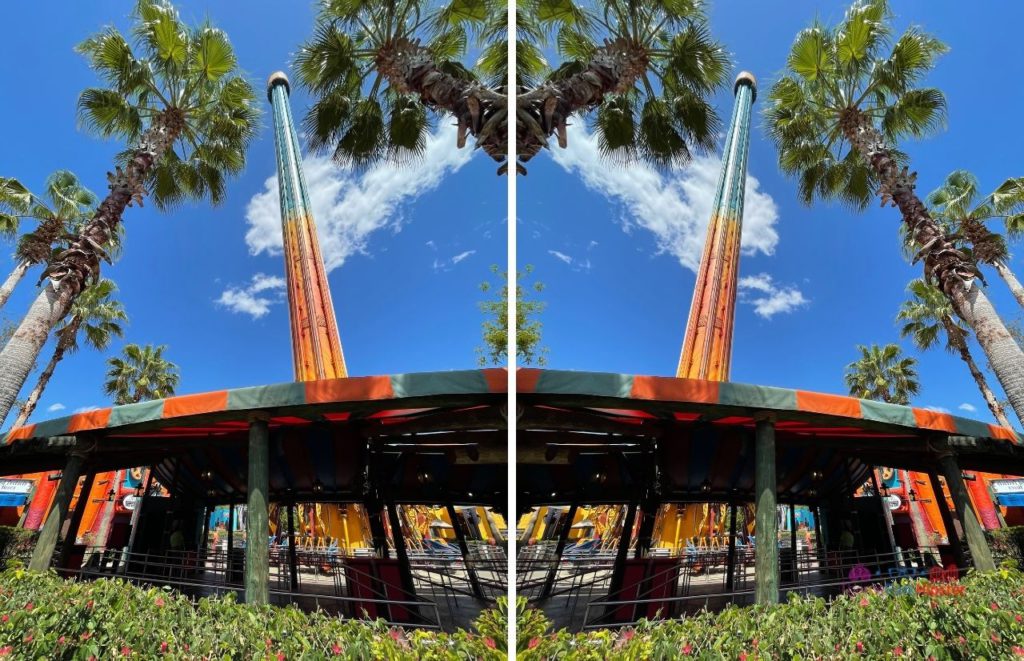 Overall, the ride is quite slow and relaxing, perfect for a hot afternoon or early evening when your feet start hurting from all the standing and walking.
Read: 5 Fun Things to Do in Tampa with CityPASS
5 Top Tips for the Skyride at Busch Gardens Tampa
Now that you know what to expect on this gondola ride at Busch Gardens, let's go over a few tips to make the most out of your trip!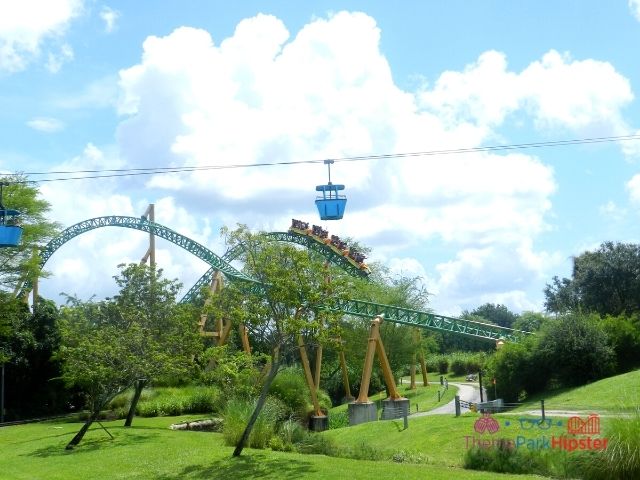 1. Bring a great camera
You can bet your money that no matter the weather, the views from the Skyride at Busch Gardens Tampa Bay are going to be amazing. While you might not want to bring your best camera out and lug it around, a smaller compact version would be perfect!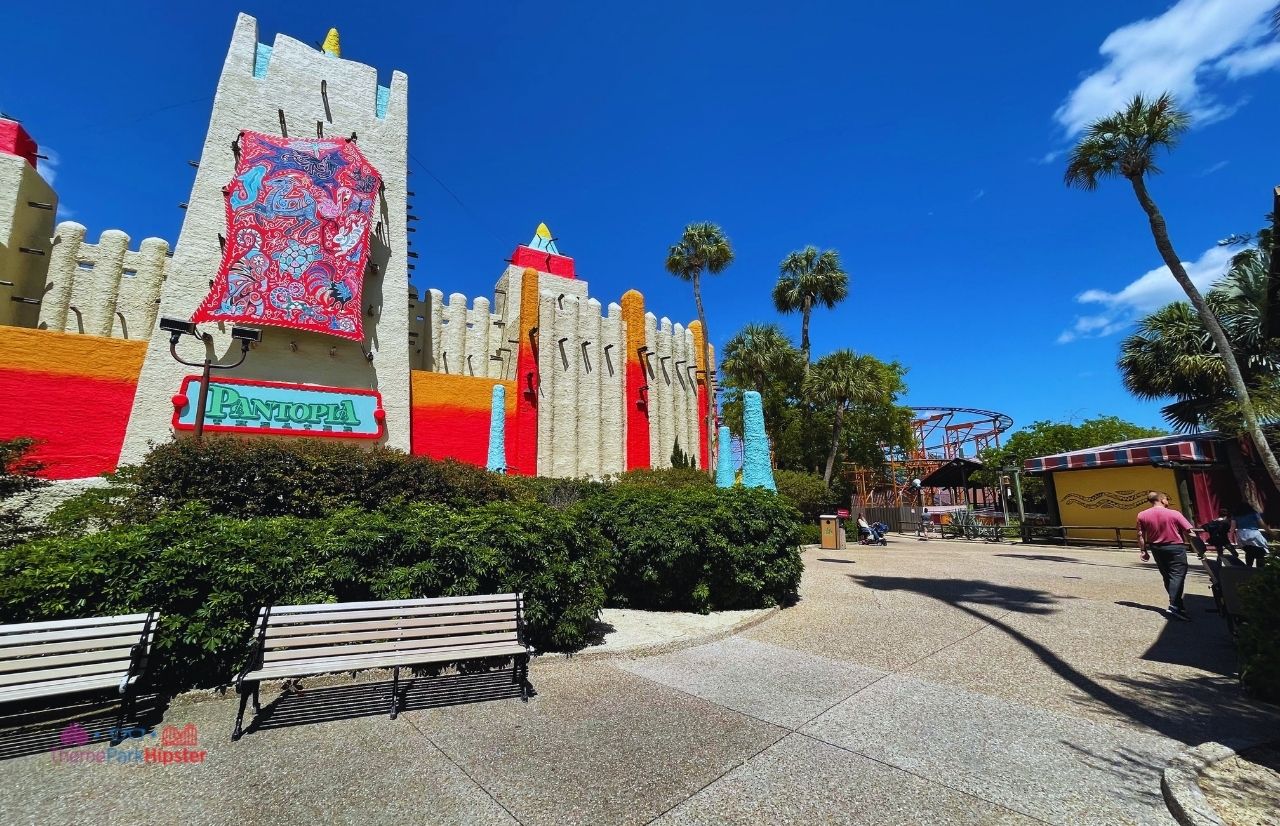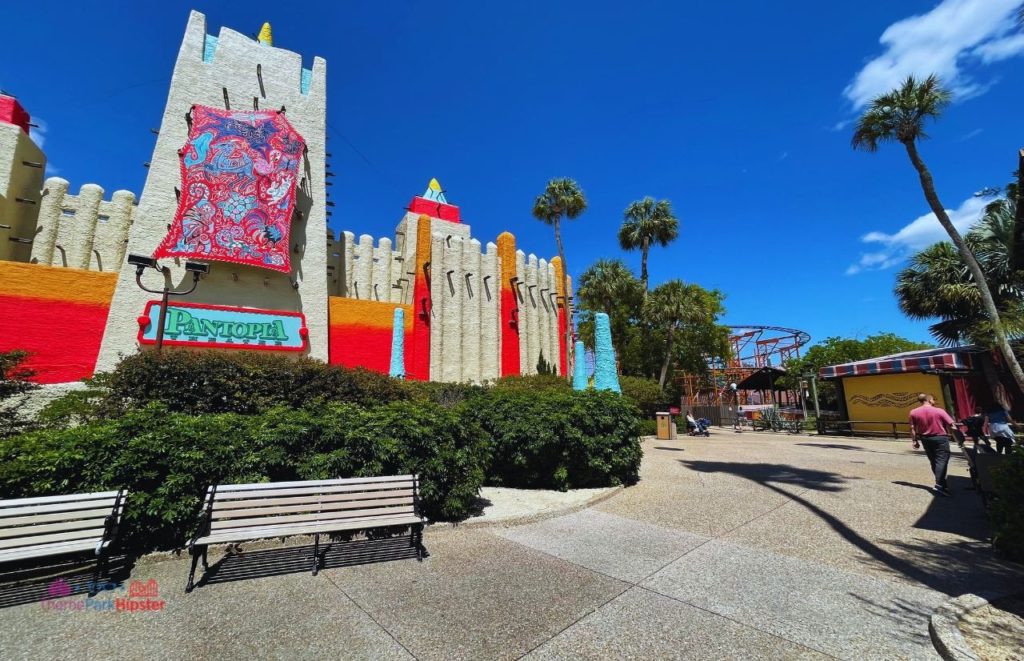 Conversely, if your phone has a good camera (I know the newer iPhones should work just a well but you may not be able to zoom in too much without images pixelating.
Either way, this is a great way to capture memories and get those aesthetic shots for the gram!
2. Choose your companions wisely
A journey is only as fun as the people you're traveling with. Ever heard of that?
Probably not because I just made it up (not really). But seriously, you need to choose your cabin companions wisely.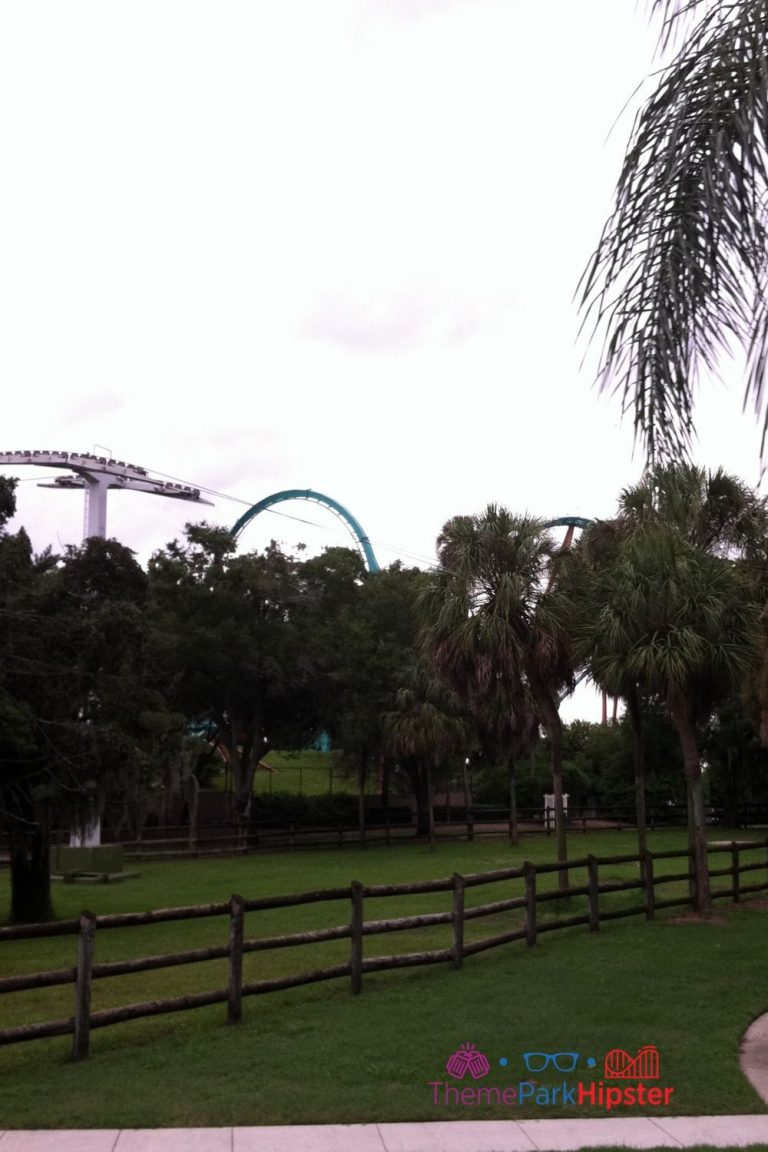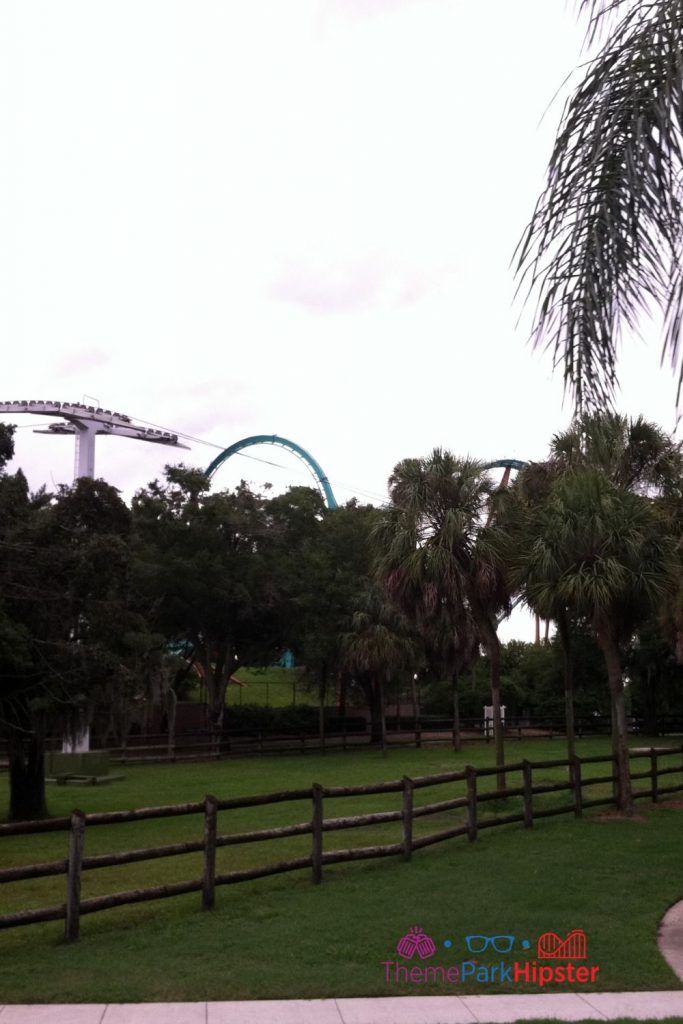 If you get in with a family and kids, you may not have the relaxing experience you wanted. Same goes for really chatty people unless that is what you would genuinely prefer.
Or just get yourself in a vehicle alone like we advocate for solo travelers here on this site!
3. Plan out your day
If there was a Theme Park Bible, then the Genesis chapter would have 'Plan your day' written over and over again for five pages.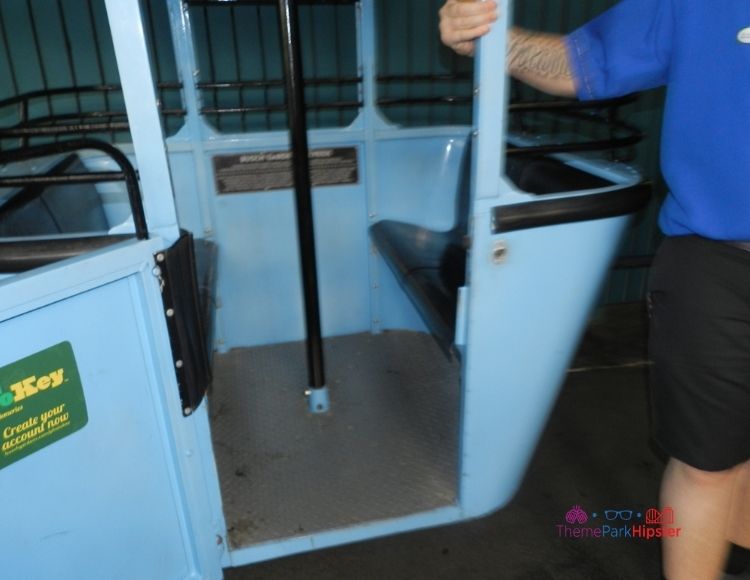 Having a plan is so important when it comes to theme parks because there is just so much to see. There are so many rides you need to be on, and oftentimes you have very limited time for this.
Hipster Power Tip: Enter the park early and take the Skyride right to the back of the park where you can ride on all the popular attractions but not wait as long.
4. Don't wear loose clothing
Ladies, if its a windy day and you are sitting in an enclosed space wearing a flimsy skirt of some sort. Well, let me tell you, that six minutes ride is going to seem much much longer than it actually is.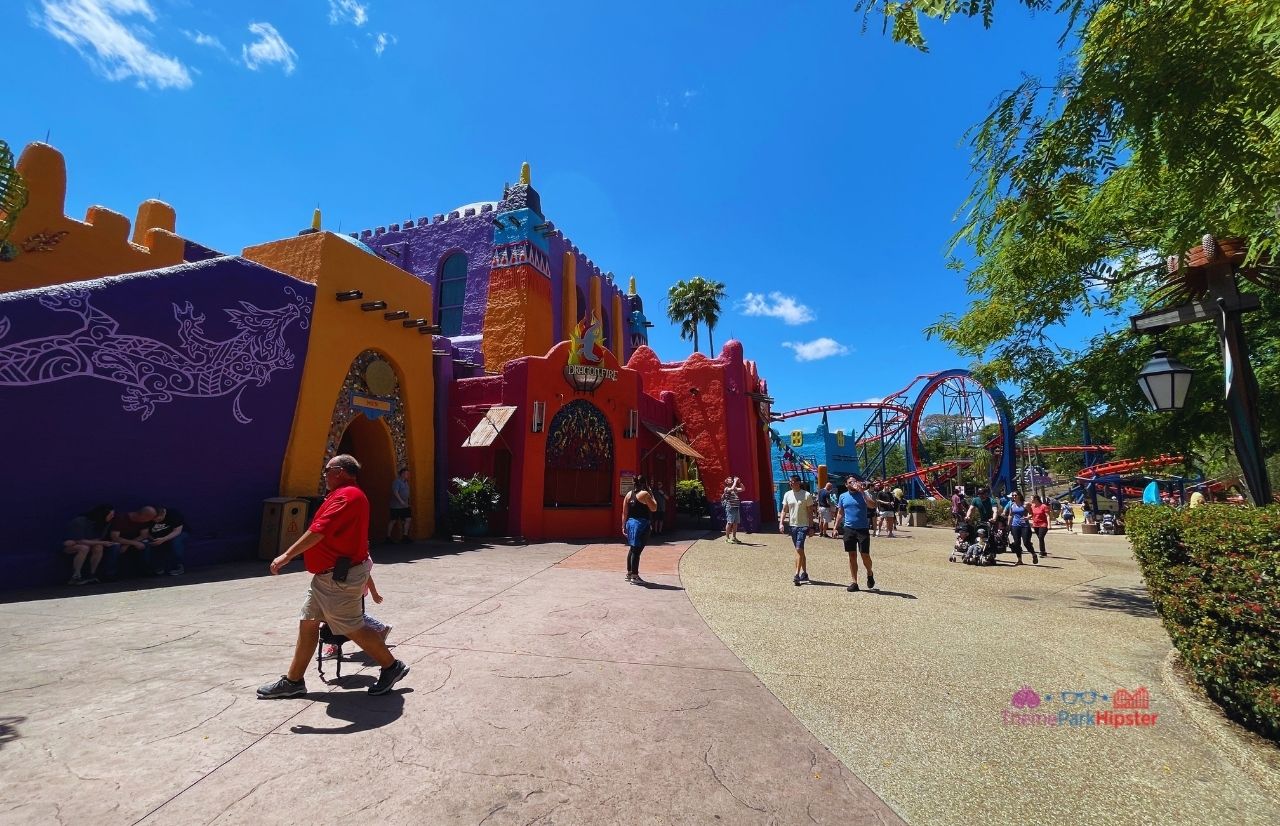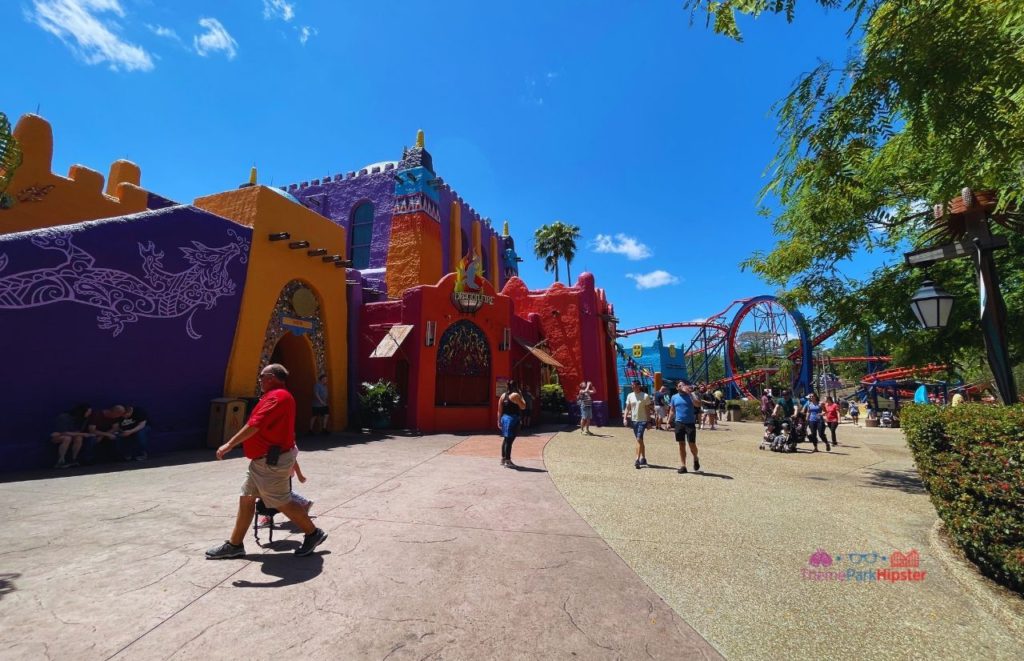 You should never wear loose items of clothing (like scarves, skirts, scarves that double as a blouse) to a theme park.
This is because you will be moving at very high speeds quite a few feet above the ground. It can uncomfortable and embarrassing real quick.
Get up to 35% off of your Busch Gardens Tampa Tickets with Groupon TODAY!
5. Read the rules
All rides have certain rules and regulations around them and Skyride is no exception. While most of the rules are quite generic and common sense, some differ. And that's where you want to pay attention.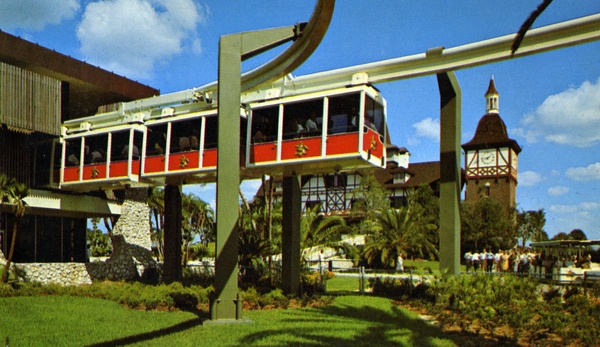 For example, the Skyride only allows you onboard if you are 56 inches. Children are only allowed onto the ride if supervised by an adult.
Ready to plan your theme park trip? Watch the best vacation planning tips on YouTube. Get started here!
What to Know Before You Go to Busch Gardens Tampa Bay
Now that you know a bit more about the Skyride, let's go through some of the most common questions.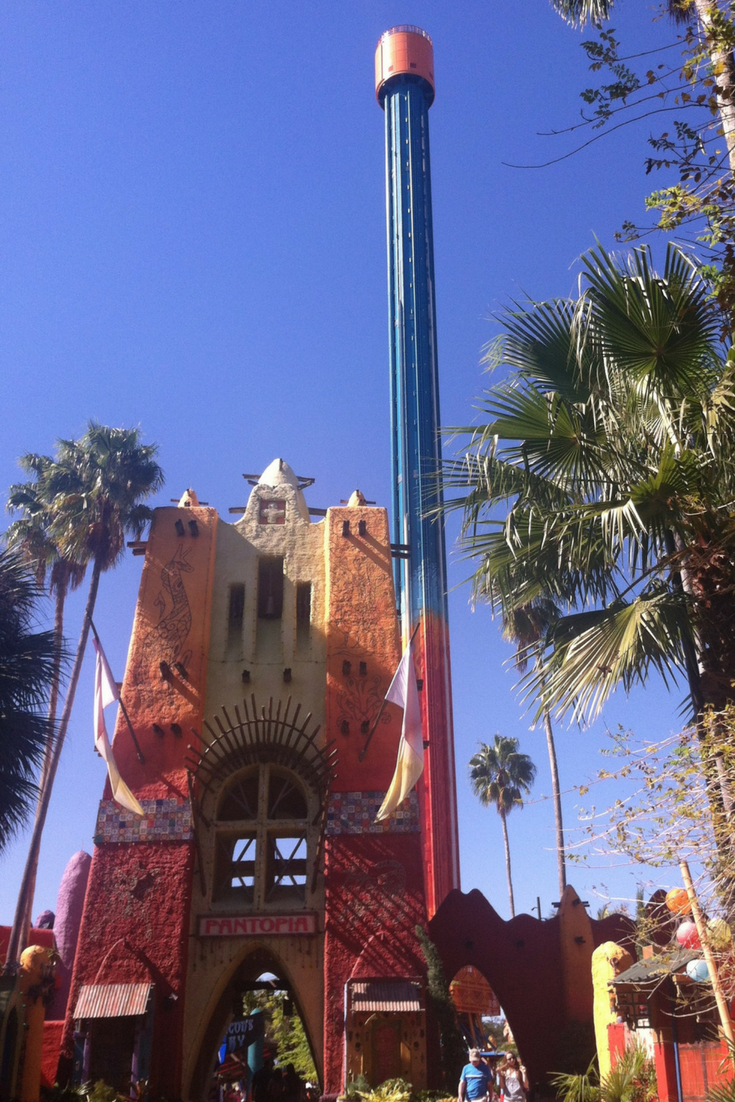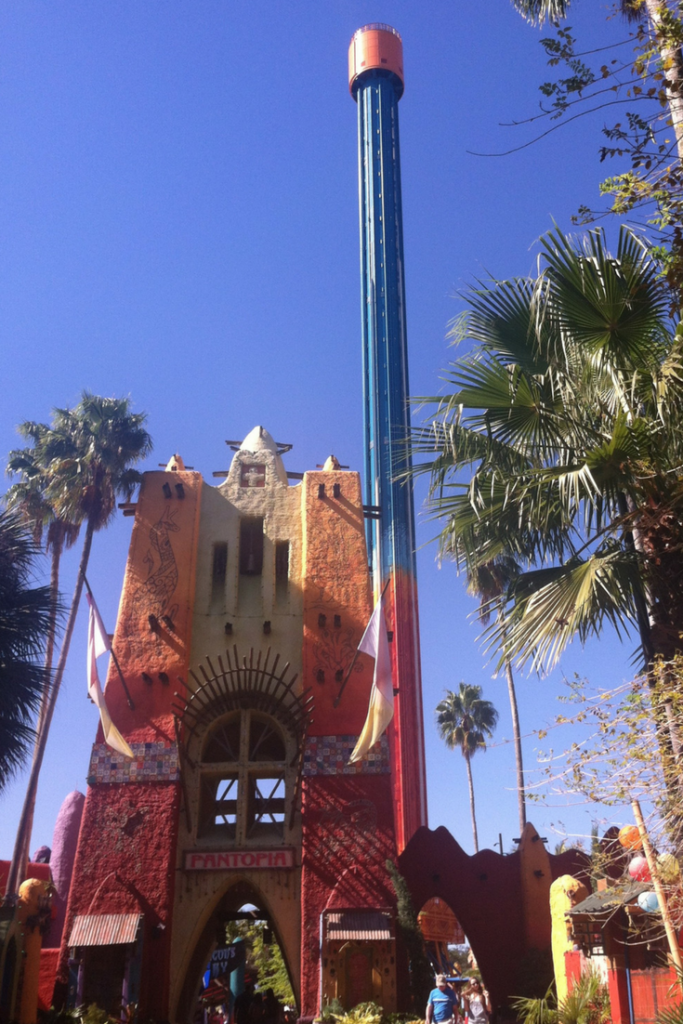 What is the oldest ride at Busch Gardens Tampa?
You guessed it! The oldest ride in Busch Gardens Tampa is the Skyride which was opened to the public in 1974.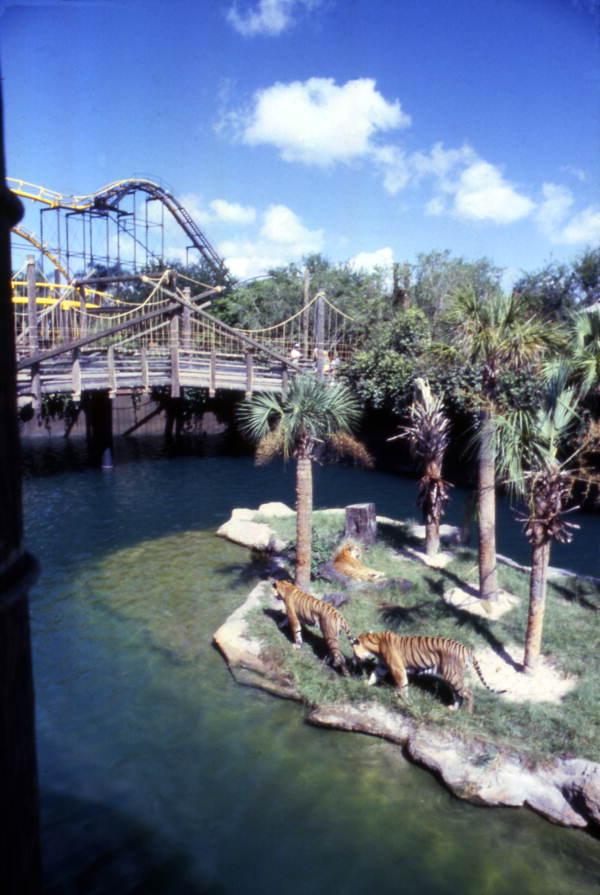 However, some people don't consider it an actual "ride" and prefer to say that the Python, which was built in 1976, was the oldest ride in Busch Gardens.
How long will the Skyride at Busch Gardens Tampa take?
The Skyride takes 6 minutes to transport you from the front of the park to the back (or from the Egypt region to the Congo/Stanleyville section).
At what speed does the Skyride at Busch Gardens move?
The Skyride is not meant to be a fast thrilling ride and so it is much slower than the other rides around it. The average speed at which the Skyride moves about 3 miles per hour.
Is Busch Gardens Tampa a zoo?
Yes! In fact, it is one of North America's largest zoos. Talk about having the full package!
Get up to 35% off of your Busch Gardens Tampa Tickets with Groupon TODAY!
Final Thoughts
And with that, this guide comes to an end. I hope you found this informational. If you have any more questions about the Skyride or Busch Gardens, don't forget to comment it down below!
Remember the ideal time to go on this ride is when you have been standing in queues for too long and your feet hurt or if you have been on too many roller coasters and your tummy feels queasy.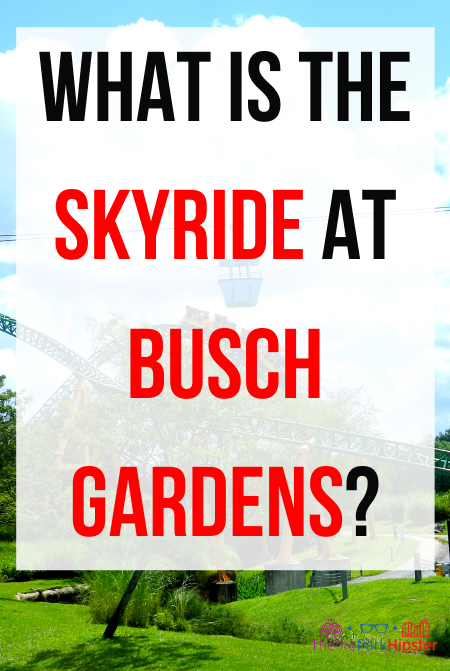 Take my word for it, those six minutes on the Skyride Busch Gardens Tampa really relax you like nothing else.
Until next time, Happy Park Hopping Hipsters!
UP NEXT: What is the Quick Queue at Busch Gardens? (HOW TO SKIP THE LINES)
(Original Article Date: December 24, 2020/Updated on May 15, 2022)