Cedar Point, also known to theme park enthusiasts as the Holy Grail of Amusement Parks, the ultimate thrill seeker's paradise, and literally the World's Best Amusement Park!
I was able to complete this theme park bucket list item, along with OutDoorsy Diva.
It surpassed my expectations of just how innovative the engineers are when it comes to the latest thrill ride technology.
I was extremely siked about conquering each thrilling adventure Cedar Point had to offer and I know you will be to on your trip!
THIS POST MAY CONTAIN AFFILIATE LINKS. PLEASE READ MY DISCLOSURE FOR MORE INFO. Which means if you click on certain links, I may receive a small commission at no additional charge to you.
Arriving at Cedar Point
I arrived in Sandusky, Ohio on a brisk autumn morning with one goal in mind…
…to CONQUER as many electrifying rides and attractions as possible!
After all, I needed to experience all Cedar Point had to offer in order to give you a wonderful reason to visit this astounding park.
It's a phenomenal place for not only beginner amusement park goers, but also for park veterans old and young. There are museums in the park, beach activities, and a water park too!
There is definitely something for everyone at one of the best theme parks in the world!
So it is with great pleasure that I give you the BEST tips on how to make the most out of your first time trip to Cedar Point.
Ready to plan your theme park trip? Watch the best vacation planning tips on YouTube. Get started here!
What's New for Cedar Point (2021 Safety Protocols)
Before we get into the tips, let's go through a few things you should know be fore you go this year.
According to Cedar Point, "Face coverings are not required outdoors unless it is not possible to maintain 6' of social distancing. Face coverings should completely cover the nose and mouth, and not have exhalation valves or vents, which allows virus particles to escape."
More Changes Happening for 2021 (According to Cedar Point):
Reservations will be required for Cedar Point and Cedar Point Shores Waterpark. Both Season Passholders and Single Day Ticketholders will need reservations.
Temperature checks for guests have been discontinued.
The health screen questionnaire will be conducted by associates at all entrance gates and will not be through the Cedar Point mobile app.
There will be no limitations to ride capacity, but social distancing remains in place while waiting in line. Face coverings are recommended while riding rides.
Guests aged 10 years and older are required to wear face coverings while indoors, unless actively eating and drinking.
If you have not yet purchased your Season Pass, please do so on the Season Pass page. Season Passes will not be available for purchase at park entrance gates.
If you have not yet purchased your single day ticket, you may do so on the Cedar Point Daily Tickets page or our Cedar Point Shores Daily Tickets page. Any ticket purchased from these pages includes your reservation.
Any guest who purchased a ticket prior to April 26, 2021 will not need to make a reservation to visit Cedar Point.
Guests staying at a Cedar Point Resort receive Guaranteed Entry to Cedar Point for their entire stay– no advance reservation is required.
You can read the full guide here.
45 Incredible Cedar Point Tips!
Now that we have all of that good stuff out of the way, let's get to the top strategies you must use on your trip to this incredible Sandusky theme park.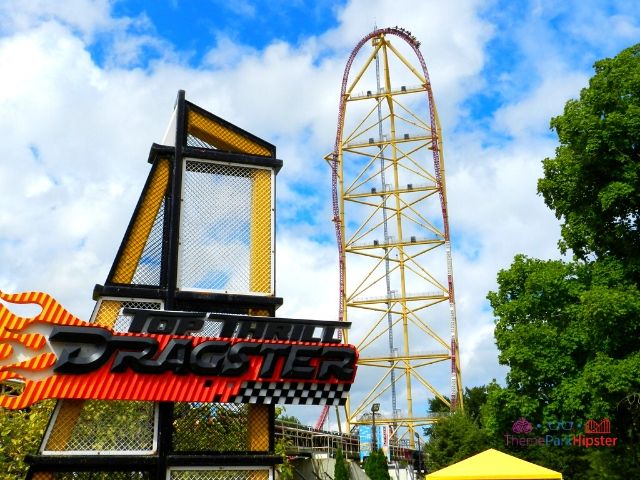 1. Research Your Trip
As with any great park trip, research on the latest attractions, shows, events, and policy updates are a great way to know how to tackle your trip.
Research at such an epic amusement park such as Cedar Point lets you know how to map out and plan your day.
It also gives you insight on park traditions, history, and possible secret activities to enjoy that may not be known to everyone.
2. Have the Cedar Point Location and Address Handy
Cedar Point's address is 1 Cedar Point Dr, Sandusky, OH 44870.
3. Review the Cedar Point Calendar
Always go over the Cedar Point calendar before you purchase your tickets. The hours vary especially in the fall.
You can take a look at the calendar here.
What day does Cedar Point open in 2021?
Cedar Point will open on Friday, May 14, 2021!
4. Know Cedar Point Hours
Cedar Point usually opens at 10:00 a.m. and closes at 10:00 p.m. in the summer months.
However, during the fall the park hours and days change dramatically so always check the park's website or mobile app before your visit.
Read: 7 Reasons You'll Love Rougarou Cedar Point
5. Plan Your Day at Cedar Point
This is one of the top tips for anyone going to Cedar Point!
The park is 364 acres with more than 150 rides, shows, and attractions.
You may not be able to see it all, but getting a game plan together will make your trip much more enjoyable.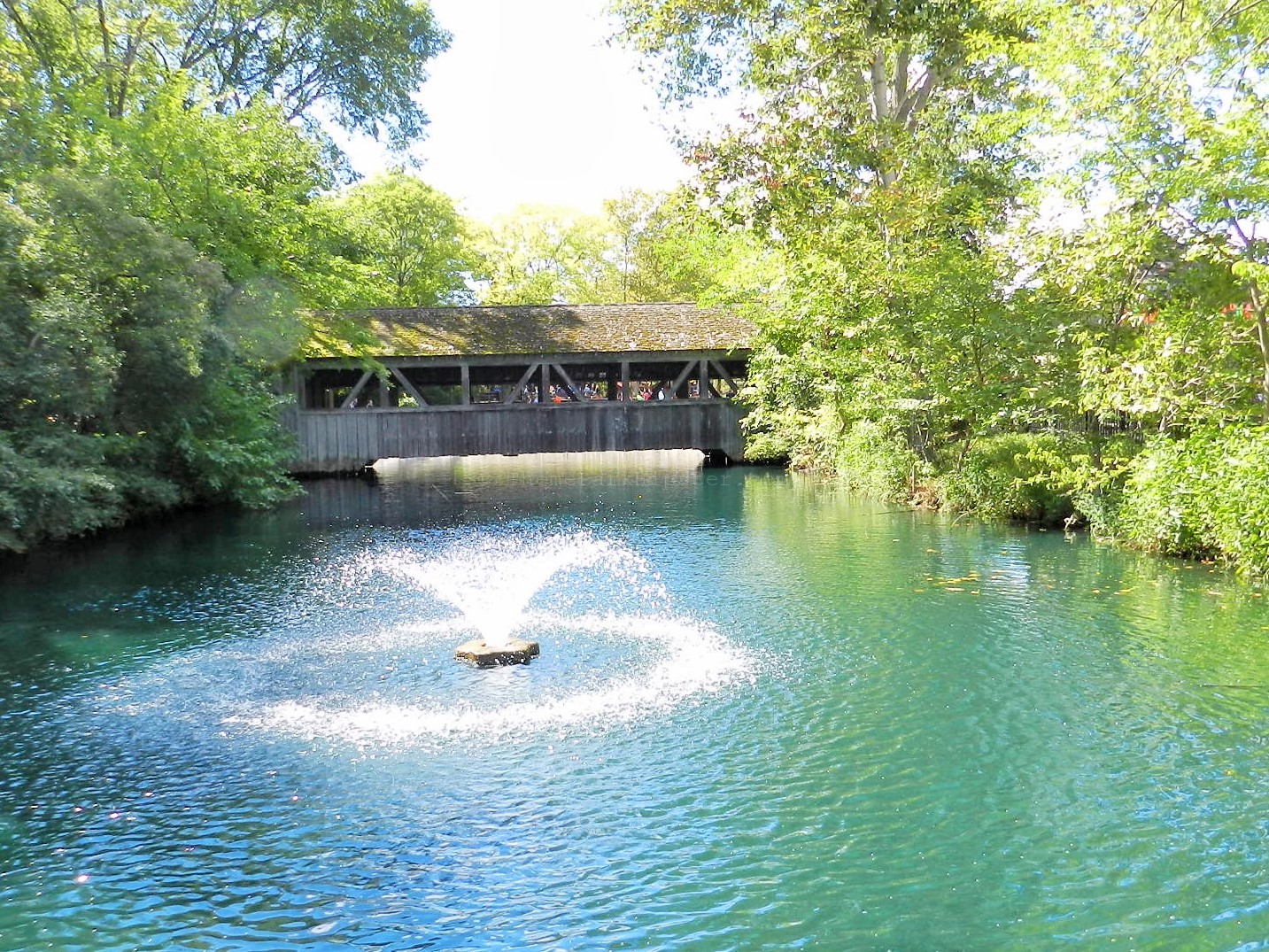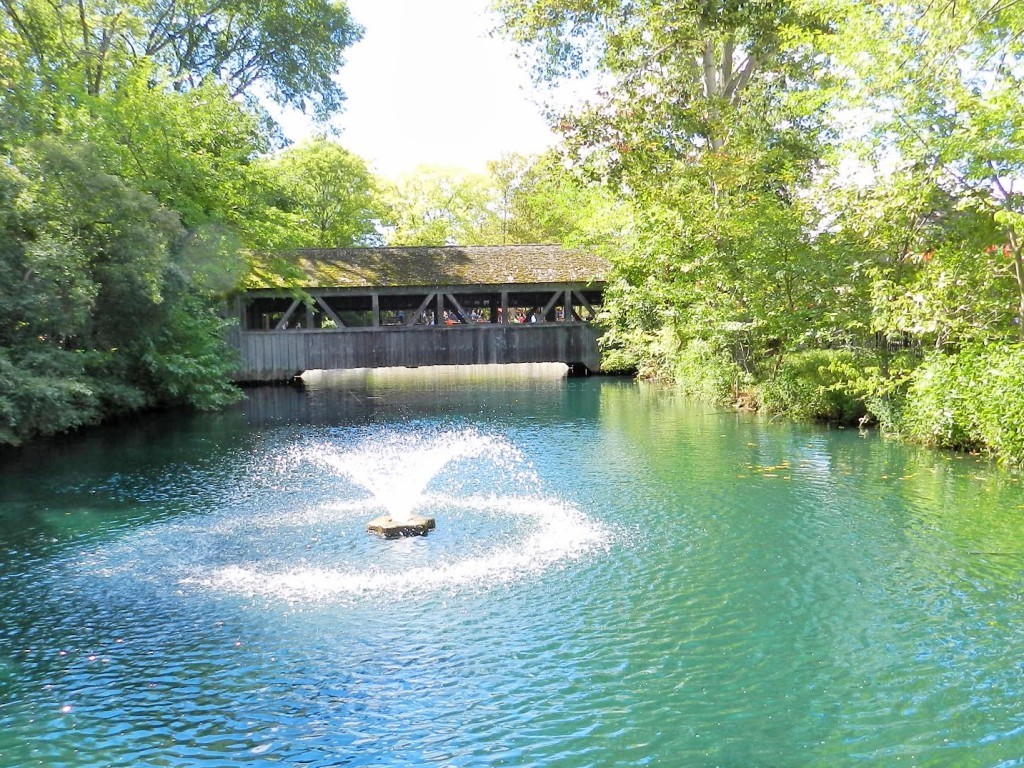 Plans such as, where to start in the park, which rides to attack first, and what time you should try to get there are just a few examples on what to think about.
You should also list out which rides are the most important and start there.
Be sure to print out the map from the official website to know which path to take around the park in order to maximize your day.
Theme Park Hacks at Your Finger Tips. Plan your next vacation with the latest tips and tricks on the ThemeParkHipster App. Download Today!
6. Check the Weather in Sandusky, Ohio Before Your Trip
Before you head out to Cedar Point, be sure to check the weather. Don't be like me and assume September will be cold.
Average Cedar Point Weather
May High 68° / Low 54°
June 78° / 64°
July 83° / 70°
August 80° / 68°
September 73° / 61°
October 61° / 49°
*Weather information from NOAA.
7. Prepare for the Heat
Don't be like me and think that Sandusky, Ohio has perfect cool weather all summer long.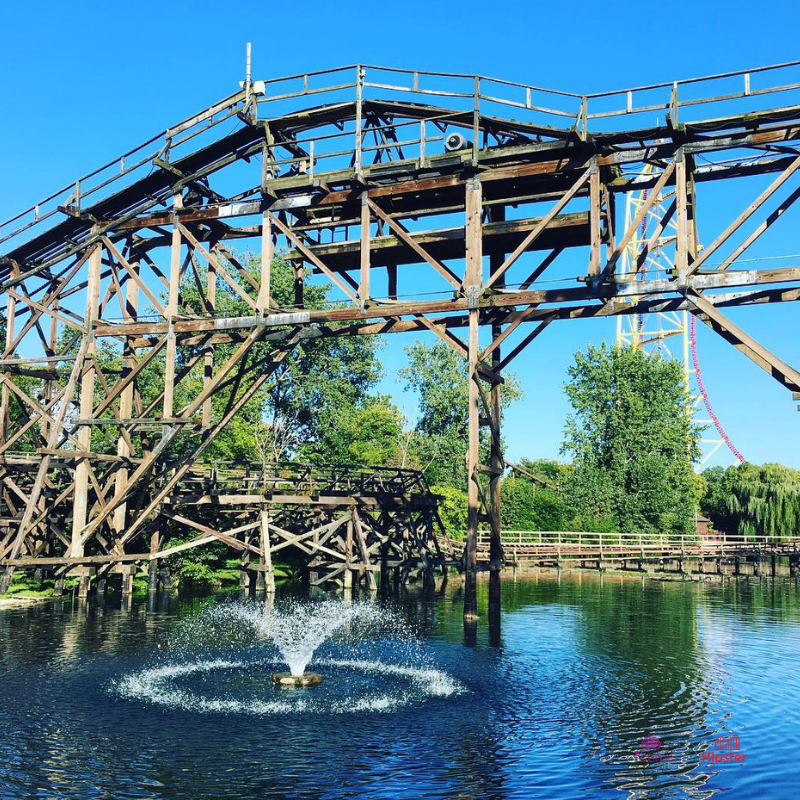 In fact, I went to Cedar Point last September and packed all my winter clothes thinking the average temperature would be 60 degrees.
…hey I'm a Floridian and anything under 63 degrees is cold to me.
Come to find out, it was averaging 87 degrees with suffocating humidity. I was sad thinking that I'd escape the Florida heat for a brief week.
A way to combat the high temperatures is to attend a show much later in the day when the heat is at its peak. While watching a Cedar Point show such as, Lusty Lil's French Revue, you'll be able to re-energize yourself in the luxury of an air conditioned building.
It's important to know the signs of heat-related illnesses.
Heat stroke
This is the most serious heat-related illness. It happens when your body builds up heat and can't cool down.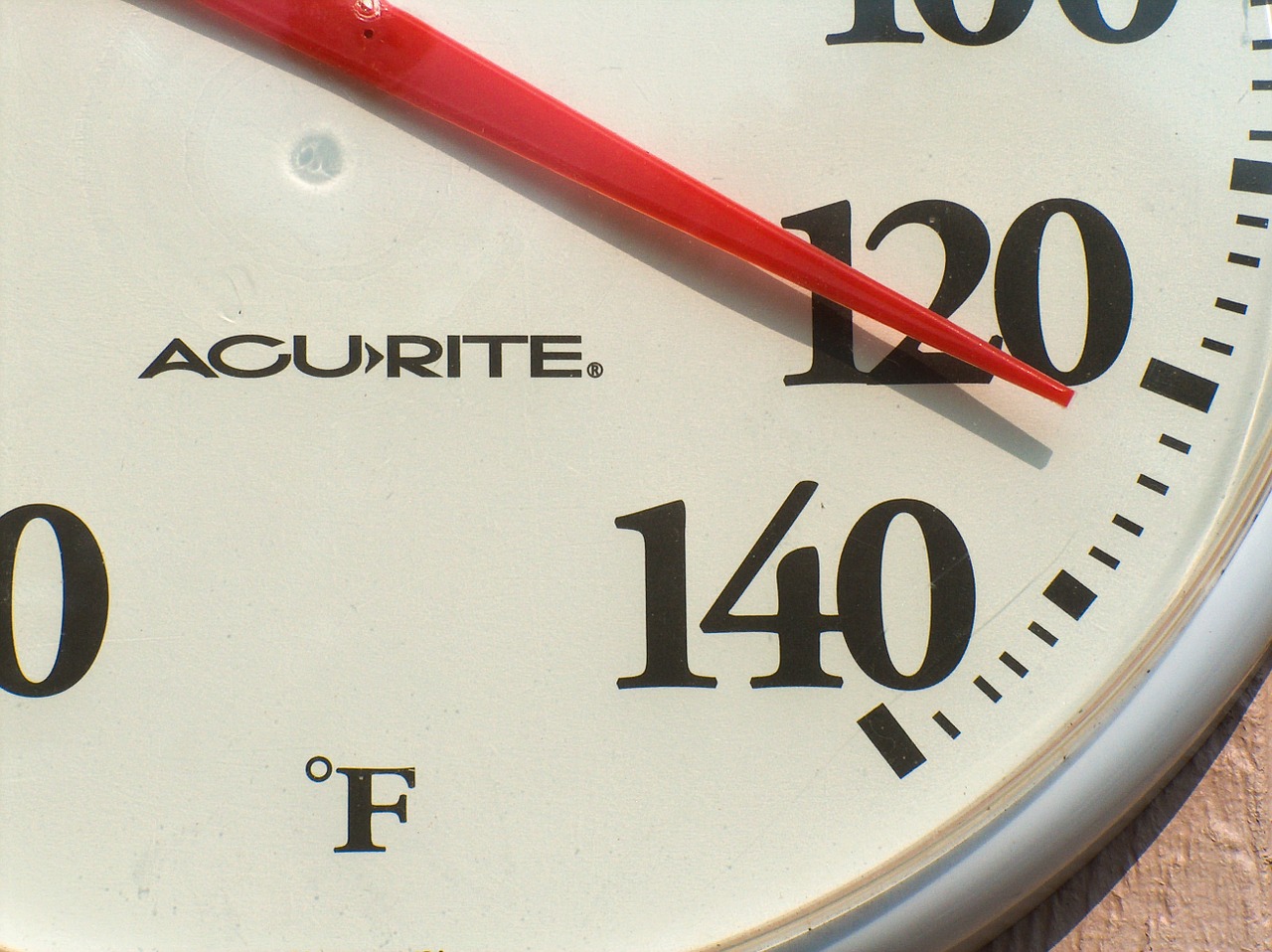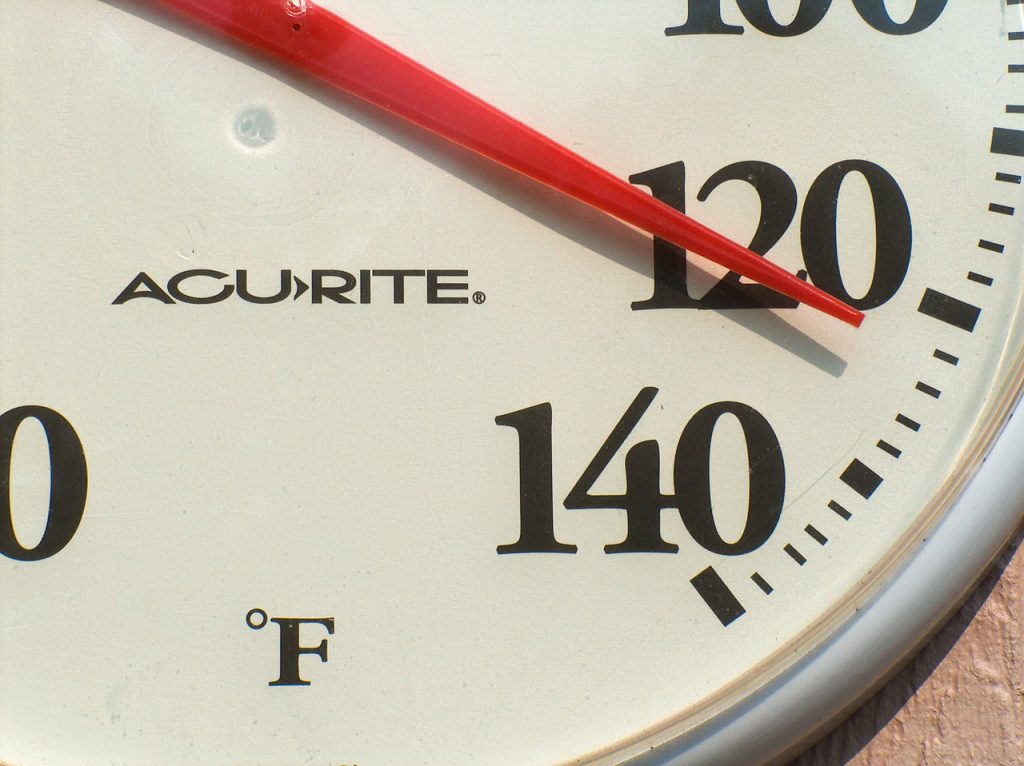 HEAT STROKE IS A MEDICAL EMERGENCY.
The symptoms include:
Confusion
Fainting
Seizures
Extremely high body temperature
Hot, dry skin or profuse sweating
Heat exhaustion
This is when your body loses too much water and salt through sweating. Symptoms include:
Headache
Nausea
Vomiting
Dizziness
Weakness
Thirst
Heavy sweating
Cold, damp skin that's slimy to the touch
Irritable or confused
Weak pulse
Heat fatigue, heat cramps, and heat rash are less serious, but are also signs of over exposure to heat.
Save $25 off Adult single day gate admission to Knott's Berry Farm!
8. Avoid Alcohol on Hot Days
Alcohol can dehydrate and cause heat illnesses to occur.
9. Review the Cedar Point Map Before Your Trip
Be sure to go over the park map below prior to your day.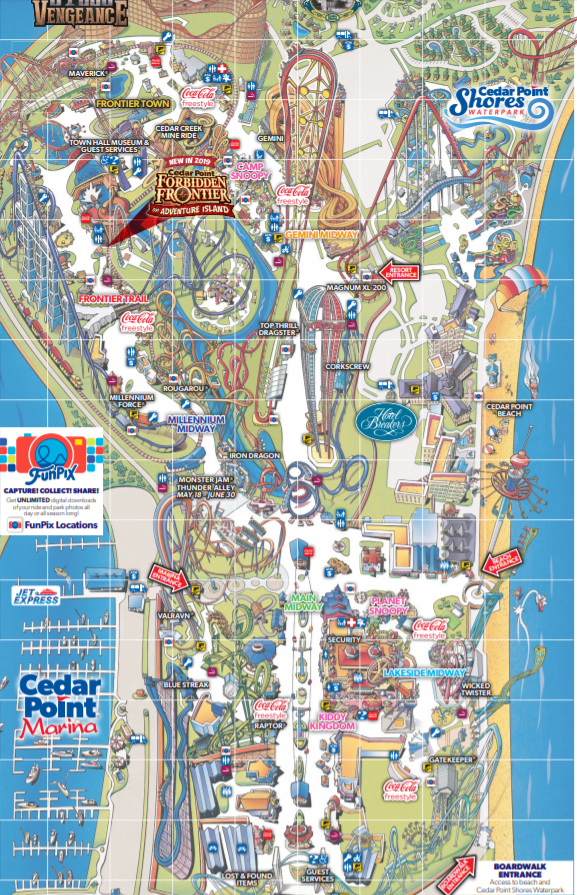 10. Start Early
This tip is especially important if you will be at Cedar Point for only one day. Starting early goes for any major theme park or event in the world.
An early start not only allows you to be able to fully enjoy the park, it will allow you to feel less pressure and you will be able to jump quickly between each attraction.
Nothing's worse than finally be able to go to the most amazing amusement park in the world and feeling rushed and disappointed.
That's why planning out your day and starting early can help ease any unwanted incidents that may occur.
Hipster Power Tip: You will get to enter the park early by either staying at one of Cedar Point's hotels or purchasing a Platinum Pass.
11. Remember Your Parking Space
If you park in the Cedar Point parking lot, please take a picture of your parking area. It will make it super easy to find your car after a long and exhausting day at the park.
How much does it cost to park at Cedar Point?
Parking at Cedar Point is $20.00 for each vehicle, or $30.00 for preferred parking (prices subject change at anytime).
Can you leave Cedar Point parking lot and come back the same day?
Yes you can, as long as you have your parking receipt handy.
12. Purchase Tickets Online
There are special perks to purchasing tickets online.
For one, you will be able to skip the long, drawn out ticket queue and head right away into the gates for your pretty wild experience.
Secondly, Cedar Point offers many discounts for advance ticket purchasers.
How much does a Cedar Point ticket cost?
Tickets for the 2021 season are now available for prices as low as $45 (pre-season sale) for a single day ticket depending on peak days vs. non-peak days.
Prices are subject to change.
Read: 7 Amazing Valravn Cedar Point World Records You Must Know
13. Know the Best Days to Visit Cedar Point
In order to avoid the large crowds, I recommend visiting Cedar Point on Mondays, Tuesdays, and Wednesdays. These days are the least busy at Cedar Point during the summer months.
Hipster Power Tip: Cedar Point peak hours are between 11 a.m. and 4 p.m., so try to go on off peak hours if you can.
14. Go in the Fall
Most theme park enthusiasts know how obsessive we can be about park hopping in the colorful fall season.
Not only is the weather perfectly enjoyable across the United States, the season also brings about low crowds.
During my first visit to Cedar Point I was lucky enough to attend an awesome Bloggers Con at the perfect time of the year.
The energy all around the park was magical and the breeze from Lake Erie gave a refreshingly, chilly perk while atop Cedar Point's sky high thrills.
15. Dress for the Season
Whether you plan on going in the summertime or the fall portion of the park season, it is important for you to dress comfortably for either one.
During the hotter months, light clothing with comfortable shoes, sunglasses and a hat is recommended to battle the bright sunshine.
In the cooler months, jeans with a light sweater or jacket will do just fine in the battle between you and the chilly Lake Erie winds.
Read: 21 Top Theme Park Packing List Items
16. Map Out Your Dining Plan
There are so many dining options at Cedar Point that it can get quite overwhelming. What makes Cedar Point different from some of the Florida based theme parks, it that their food offerings are usually from nationally known brands.
Could you imagine eating Chick-fil-A inside the Magic Kingdom?
How magical would that be?
Cedar Point Food and Dining Locations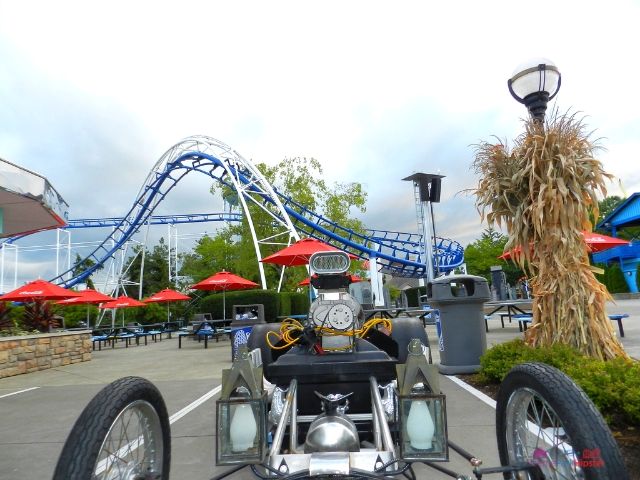 Main Midway
Auntie Anne's® – Fresh Made Pretzels
BackBeatQue – Barbecue options
Bayou Refreshments – Sugary treats
Buckaroo's Burritos – Build-Your-Own Burritos
Burger Patio – Cheeseburger Basket, Veggie Burger Basket, Waffle Fries, Fried Shrimp Basket
Chickie's & Pete's® – Cheese Steaks, Crab Fries, Pizza, Beer
Coca-Cola® Oasis – Chicken Tenders Basket, Pizza, Pretzels
Coasters Drive-In Restaurant – Cheeseburgers, Chicken Tenders, Grilled Chicken Sandwiches, Chicken Caesar Salads, Onion Rings, French Fries, Milkshakes, Malts
Corral – Chicken Tenders Basket, Walking Taco, Hot Dog-On-A-Stick
Dive In – Brats, beer and pretzels
Engine House Custard – Frozen Custard Cones, Specialty Buckeye Bites, Soft Serve Ice Cream
Mr. Potato Fresh Cut Fries – Chili/Cheese Fries, Garlic Fries, Mini Corn Dogs
Johnny Rockets® – Specialty Burgers, Milkshakes, Fries, Chicken Breast Sandwiches
Kiddieland Refreshments – Fountain Soft Drinks
Melt Bar & Grill – Classic American cuisine (ThemeParkHipster Recommended)
Miss Keat's Smokehouse – Brews and barbeque
Midway Market – Buffet Serving American, Italian, & Mexican Food Items, Salad Bar, Soups, Desserts
Panda Express – Asian cuisine
Pink's™ – Specialty Hot Dogs, Burgers, Onion Rings, Seasoned French Fries
Sky Ride Refreshments – Specialty Roots Sandwiches, Specialty Macaroni & Cheese Bowls, Bacon Chili Cheese Fries, Philly Steak Sandwich
Starbucks® – Specialty Brewed Coffee | Pastries
Subway® – Fresh Made Sub Sandwiches
Sweets & Treats – Elephant Ears, Taffy, Fudge, Cotton Candy, Popcorn, Pretzels, ICEE®
Toft's Ice Cream Parlor – Hand-Dipped Cones, Shakes, Sundaes, Fresh Fruit Smoothies
Lakeside Midway
Lakeside Express – Cheeseburger Basket, Pizza, Cheese-On-A-Stick, Perch Sandwich Basket, Hot Dog-On-A-Stick, Draft Beer
Melt Bar & Grilled – Gourmet Grilled Cheese Sandwiches, Hand Cut French Fries, Fountain Soft Drinks, Specialty Cocktails
Potato – Fresh Cut Fries, Chili Cheese Fries, Garlic Fries, Mini Corn
Yogurt Plus – Make Your Own Yogurt Sundaes
Gemini Midway
Grandstand Refreshments – Hot Dog Basket, Nachos, Beer
Happy Friar Fresh Cut Fries – Chili/Cheese Fries, Garlic Fries, Hot Dog or Cheese-On-A-Stick, Mini Corn Dogs
High Energy Station – Energy Drinks, Ice Cream Novelties, Popcorn, Cotton, Candy
Pretzel Fillers – Stuffed Pretzels, Pretzels
Yogurt Plus – Make Your Own Frozen Yogurt Sundaes
Millennium Midway
Coasters Drive-In Cheeseburger Basket, Coasters Classic Basket, Chicken Tenders Basket, Milkshakes, Malts, Grilled Chicken Sandwich Basket
Auntie Anne's® /Cinnabon® – Fresh Made Pretzels, Cinnamon Rolls, Coffee
Dive In – Bratwurst, Pretzels, Bosco Sticks, Draft Beer
Dragon's Inn – Chicken Tenders Basket, Hot Dog Basket, Cheese Sticks Basket, Hot Dog-On-A-Stick Basket
Panda Express® – Gourmet Chinese Food, Egg Rolls, Lo Mein, Rice, Orange Chicken
J.'s Provisions – Chicken Ranch Wraps, Macaroni & Cheese, Funnel Cake Sundaes, Ice Cream, Caramel Apple Wedges
Red Garter Saloon – Pulled Pork Sandwiches, Ham & Turkey Sandwiches, Hotdogs, Macho Nachos, Chicken Caesar Wraps, Popcorn, Draft Beers, Malt Beverages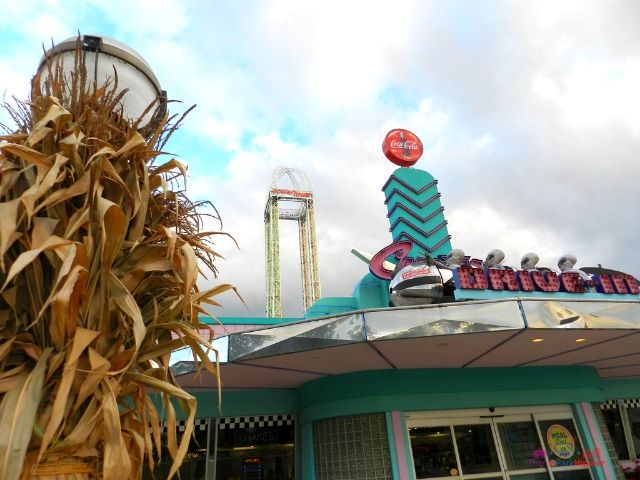 Frontiertown
Coca-Cola® Fountains & Floats – Hand Scooped & Soft Serve Ice Cream Cones, Shakes, Sundaes
Chick–fil-A – Chicken Sandwiches, Chicken Nuggets, Waffle Fries, Lemonade, Milkshakes
Engine House Custard – Frozen Custard Cones, Fresh Fruit Smoothies
Miss Keat's Smokehouse – Smoked Brisket, Wings & Sausage, Chopped Pork, Coleslaw, Mac & Cheese, Potato Wedges, Baked Beans, Salad
Last Chance Saloon – Macho Nachos, Pulled Pork Sandwich, Nachos, Southwest Hot Dog Platter, Popcorn, Peanuts, Moonshine, Draft Beer
Round Up – Maverick (Bacon Cheeseburger) Basket, Chicken Tenders Basket, Cheeseburger Basket, Bacon Chili Cheese Fries
Sidewinder Sue's – Specialty Sidewinder Fries, Nachos
Stockade Refreshments – Grilled Chicken Sandwich Basket, Macho Nachos, Walking Taco, Chicken Tenders Basket, Veggie Burger Basket, Cheeseburger Basket, Pretzel, Elephant Ears, Cotton Candy
Wagon Wheel Pizza – Cedar Point's Fresh Hand-Crafted Pizza by the Slice, Breadsticks
Frontier Trail
Trail Tavern – Craft Beer, Specialty Wines, Moonshine
Frontier Foldovers – Specialty Foldover Sandwichers, Turkey Legs, Chicken Tenders, French Fries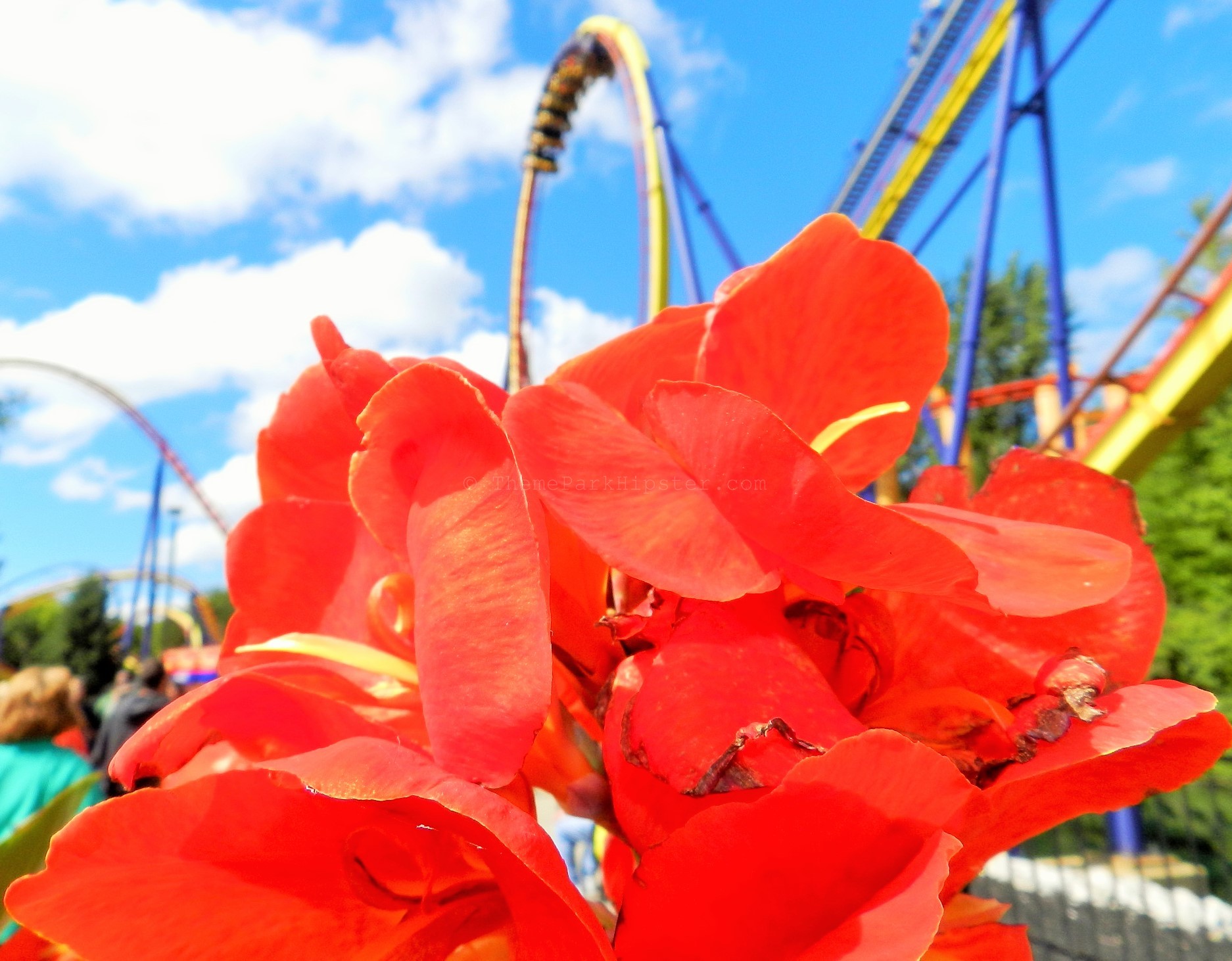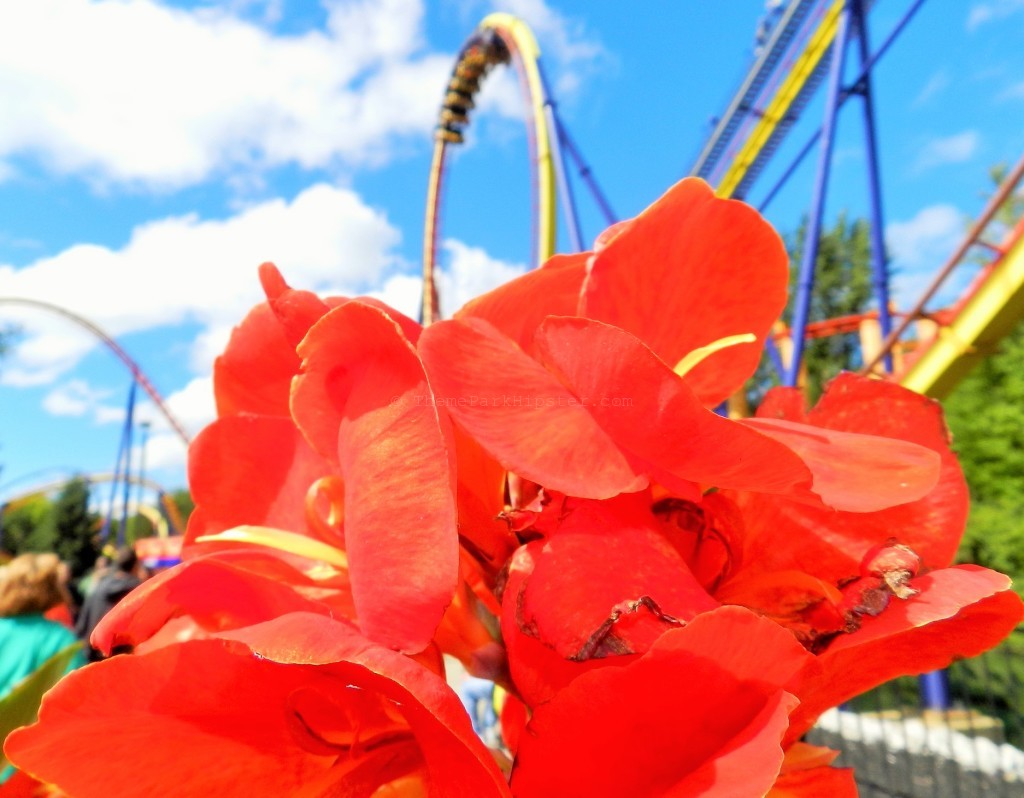 Cedar Point Shores Waterpark®
Beaches & Cream – Funnel Cakes, Hard Scooped Ice Cream, Soft Serve Ice Cream
Crystal Rock Café – Brisket Sandwiches, Fried Shrimp Basket, Fresh Pressed Pizza, Specialty Salads, Pulled Pork Sandwiches, Bratwurst, Hand Breaded Chicken Tenders & Sandwiches
Dockside Grill – Cheeseburger Basket, Chicken Tenders Basket, Grilled Chicken Sandwich Basket, Hot Dog Basket, Custard, ICEE®
Mufflehead's Beach Bar – Specialty Cocktails, Beer
Schooner's Bayside Bar – Macho Nachos, Breaded Cheese Sticks, Pretzels, Fountain Soft Drinks, Wine, Full-Service Bar
Subway® – Fresh Made Sandwiches
*Dining locations and options subject to change.
Read: 5 Reasons You Should Visit Margaritaville Cleveland
17. Take Advantage of the Cedar Point Dining Plan
The Cedar Point Dining Plan allows you to save money by buying a plan that allows you to eat for one set cost.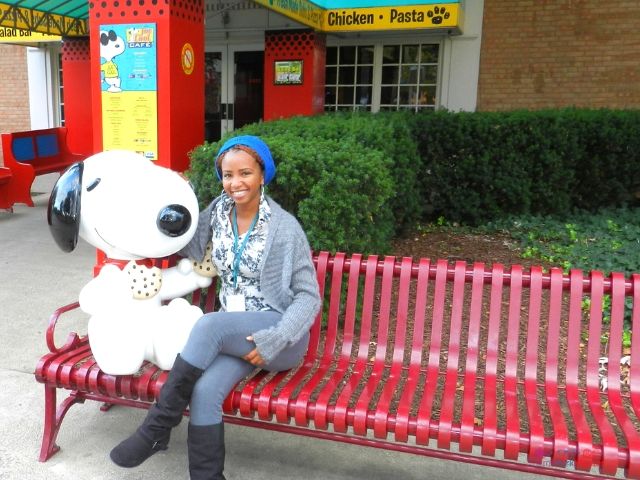 There are currently two main Dining Plan options at Cedar Point for a one day visit:
An All Season Dining Plan – allows you to eat all day for a monthly cost of $25
All Day Dining Plan – allows you to eat all day for one affordable price for $31.99 (plus tax)
Is the Cedar Point Dining Plan worth it?
Absolutely! As you know, theme park food is pricey. This plan can help you keep your budget under control.
Plus, you'll have fun tasting all of the delicious treats at Cedar Point.
Hipster Power Tip: There's a 90-minute interval time between your meals.
18. Split Meals
If the dining plan is not your type of thing, consider making a food budget and splitting the cost with your friends.
You'll save money which will allow you to concentrate more on riding the world's best roller coasters.
19. Eat at Pink's
If you're familiar with the famous Hollywood hotdog franchise, then you'll be super happy to know that Cedar Point has one!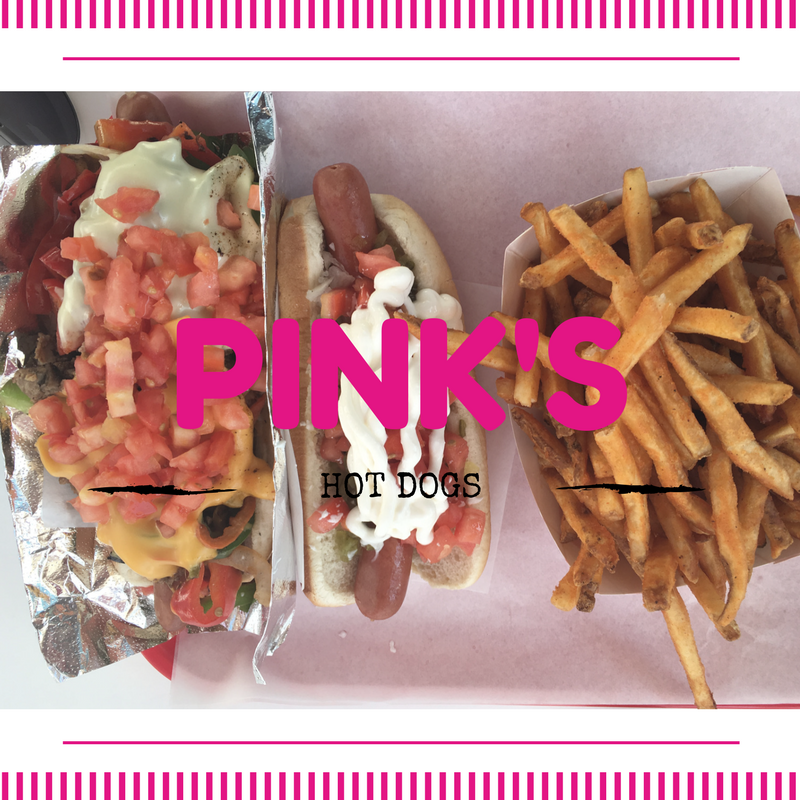 I looove Pink's hotdogs. However, I always have a hard time deciding which hotdog to try.
They're all so delicious and put together in such a creative way.
20. Spend More than a Day at Cedar Point
Cedar Point is not as massive in size as some of the popular Florida theme parks, but it makes up for it in the number of thrilling attractions and shows to experience.
Can you do Cedar Point in one day?
You can if you are intense about your game plan and possibly have the Cedar Point Fast Lane Pass.
However, there's so much to see and do inside of top American theme park, that you'll need at least two days.
Cedar Point Day One Itinerary:
Ride Steel Vengeance
Conquer Maverick
Hop on the Gemini
Ride Magnum XL-200
Conquer Cedar Creek Mine Ride
Ride the Skyhawk
Hop on the Wave Swinger
Get wet on Snake River Falls
Enjoy Antique Cars
Have Lunch at Miss Keat's Smokehouse
Explore Frontiertown
Visit Town Hall Museum
Ride Thunder Canyon
Conquer Pipe Scream
Ride the Corkscrew
Experience the Power Tower
Have a Snack
Watch a show in Frontiertown
Redo any rides you missed in Frontiertown or Gemini Midway
Relax and take last minute photos
As you can see, on day one we're focusing on the top half of the park: Frontiertown and Gemini Midway.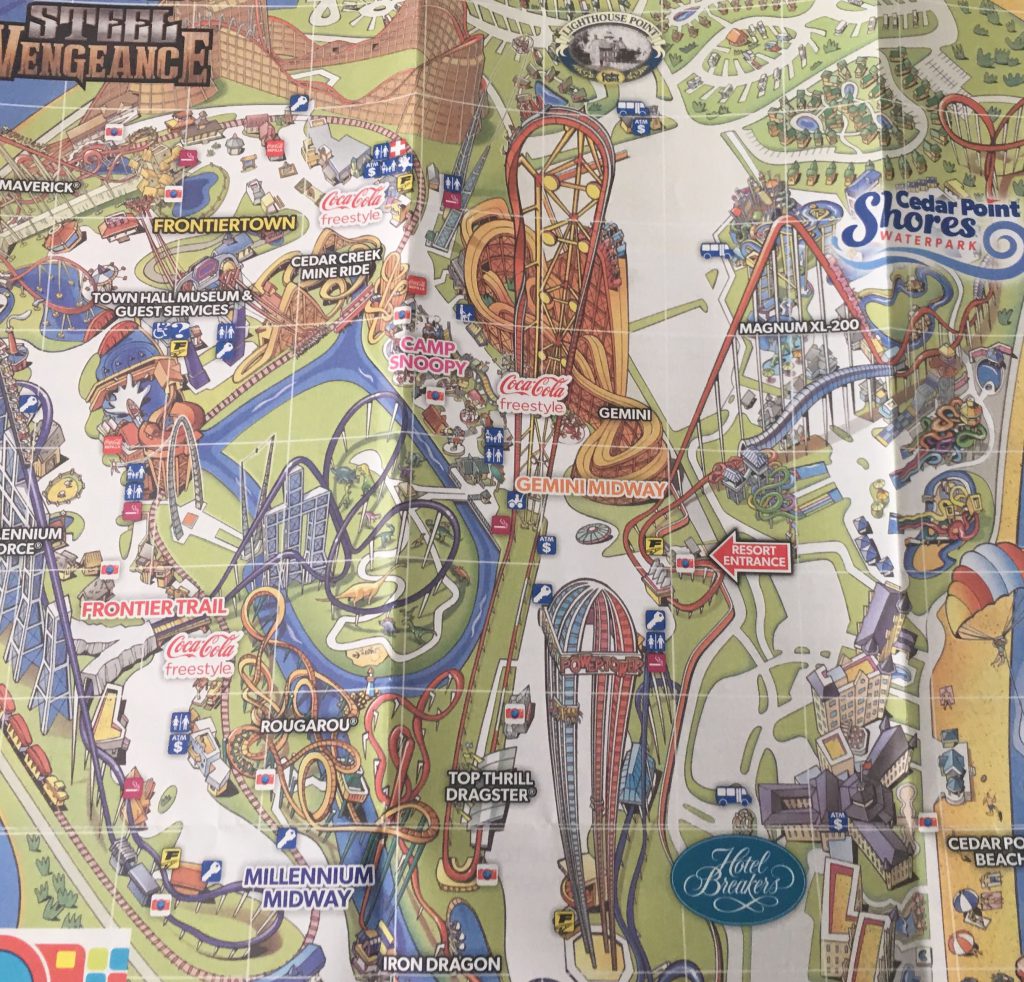 In order to make the most of your time and money, I recommend staying on site at Breakers Hotel.
This will allow you to get early park access and help you conquer many of the must do rides before Cedar Point opens.
Day Two Cedar Point Itinerary:
Ride Gatekeeper
Conquer Valravn
Ride Raptor
Hop on Rougarou
Experience the Iron Dragon
Ride Blue Streak
Conquer maXair
Enjoy the WindSeeker
Scream your head off on Wicked Twister
Have Lunch at Melt Bar & Grill
Watch a Show in Main Midway
Ride Sky Ride
Grab a snack
CP&LE Railroad and tour the beautiful Cedar Point theme park
Get off train and redo any of your favorite rides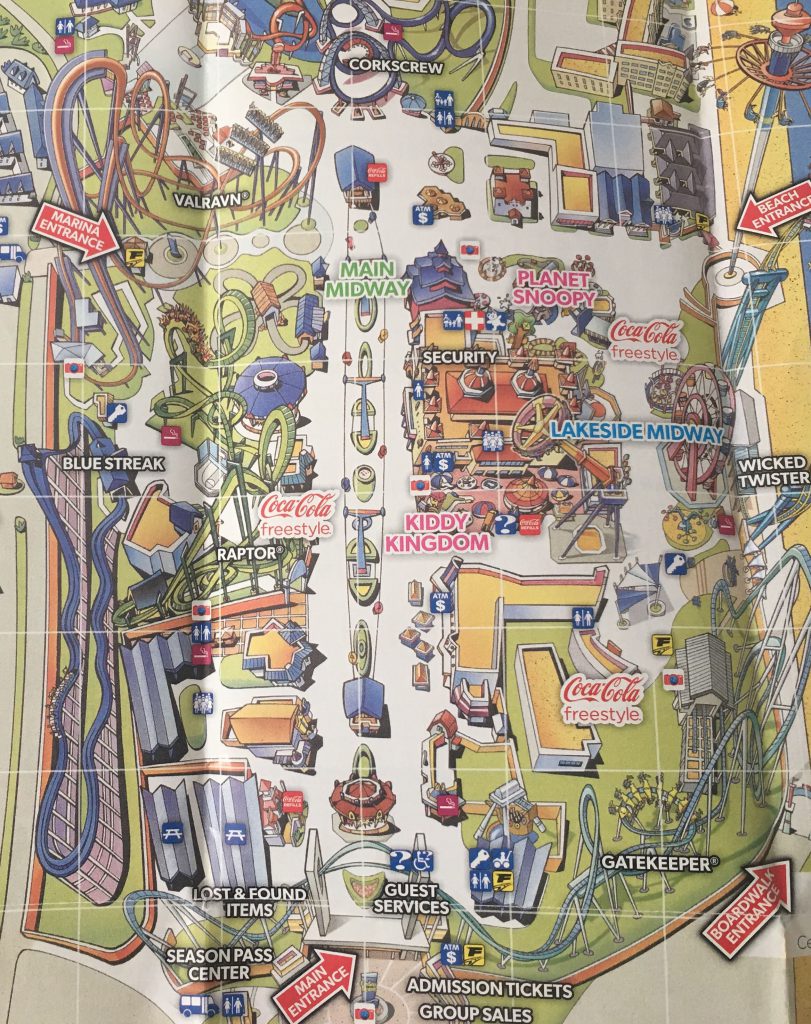 As you can see, on day two we're focusing on the bottom half of the park: Lakeside Midway, Main Midway, and Millennium Midway.
21. Take a Break at Hotel Breakers or the Beach
One thing I liked about the Cedar Point property was the variety of restaurants and scenic rest stops in and outside of the park.
You will find many popular franchises such as Famous Dave's, TGI Fridays, Chick-fil-A, and many more!
The coolest thing is the ability to grab your lunch and head out to the majestic shore of Lake Erie where you can spend your park break relaxing next to one of America's most naturally beautiful lakes.
It gives you a stunning front view of the great lake in addition to an equally incredible view of the park's skyline.
22. Have Dinner at a Restaurant Inside Breakers Hotel
The Breakers Hotel has some of the top restaurant chains in America. I just love the classic, laidback feel of the resort.
Plus, stopping by there after a day of screaming my head off at Cedar Point is the perfect way to end the day.
Restaurants at Breakers Hotel
Perkins
TGI Fridays
TOMO Hibachi
I recommend making a reservation to TOMO Hibachi to cap off your day at Cedar Point.
Hipster Power Tip: Stop by Surf Lounge inside Breakers Hotel for some of the best cocktails on property!
Can you walk from Hotel Breakers to Cedar Point?
You sure can!
There are two park entrances that will land you directly into Cedar Point within a 5-minute walk. They are:
Resort Entrance (near Gemini Midway)
Beach Entrance (near Lakeside Midway)
23. Take Advantage of Hotel Perks
Along with early park entrance, you can enjoy some incredible perks at Hotel Breakers.
Perks such as:
Free Parking
Direct Beach Access
Free Wi-Fi
Water Park Early Access
24. Take Your Time and Discover the Park
I know you'll want to conquer every incredible roller coaster and thrill ride, but put some time in your Cedar Point itinerary to discover all the nooks and crannies of the park.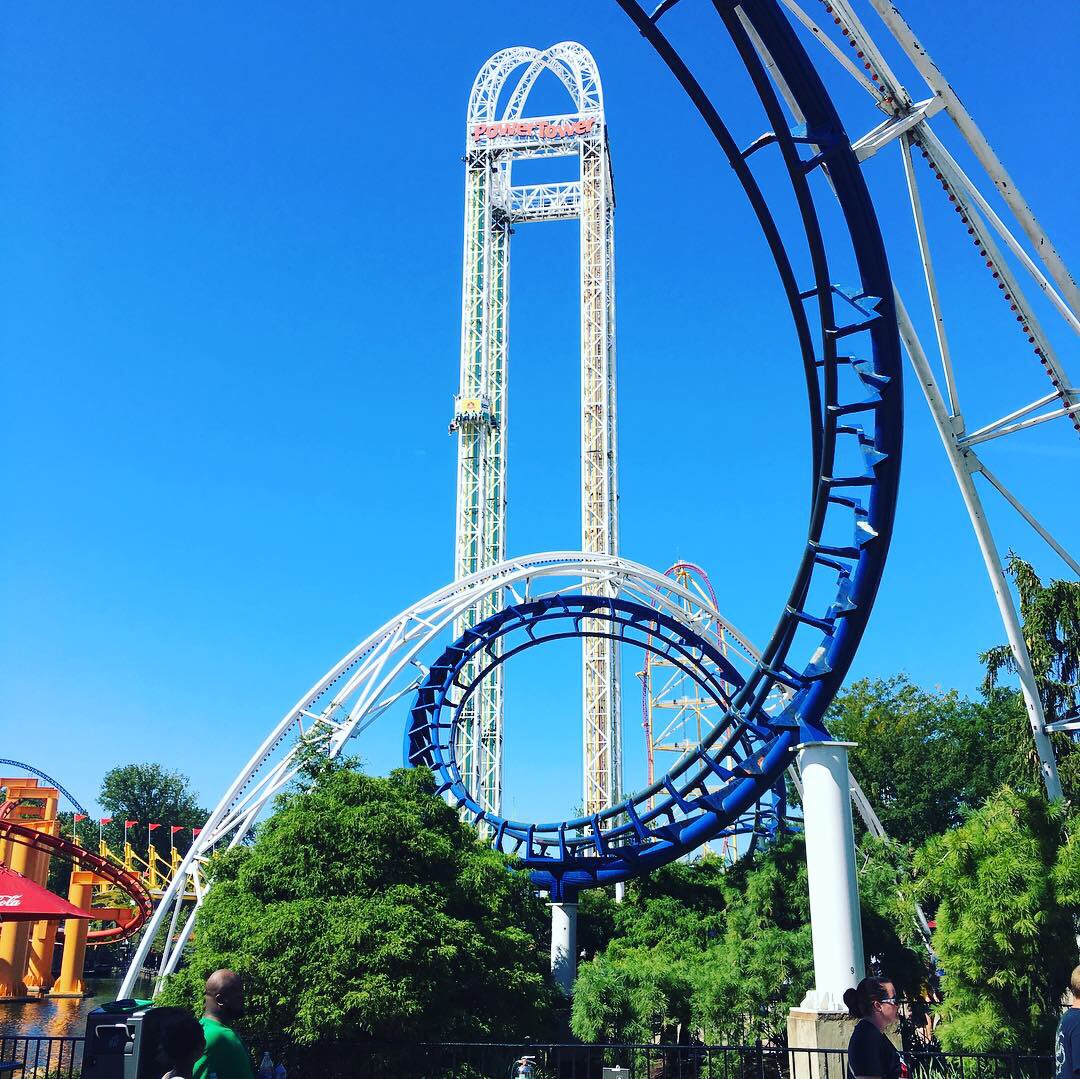 25. Explore the Sandusky Area
While on your Cedar Point trip, set aside a day to explore the unique city of Sandusky, Ohio and all of the top-notch attractions of Lake Eerie Shores and Islands.
You must visit Put-in-Bay, Ohio!
Put-in-Bay is a small Ohio town on South Bass Island in Lake Erie also known as the "Key West of the North!"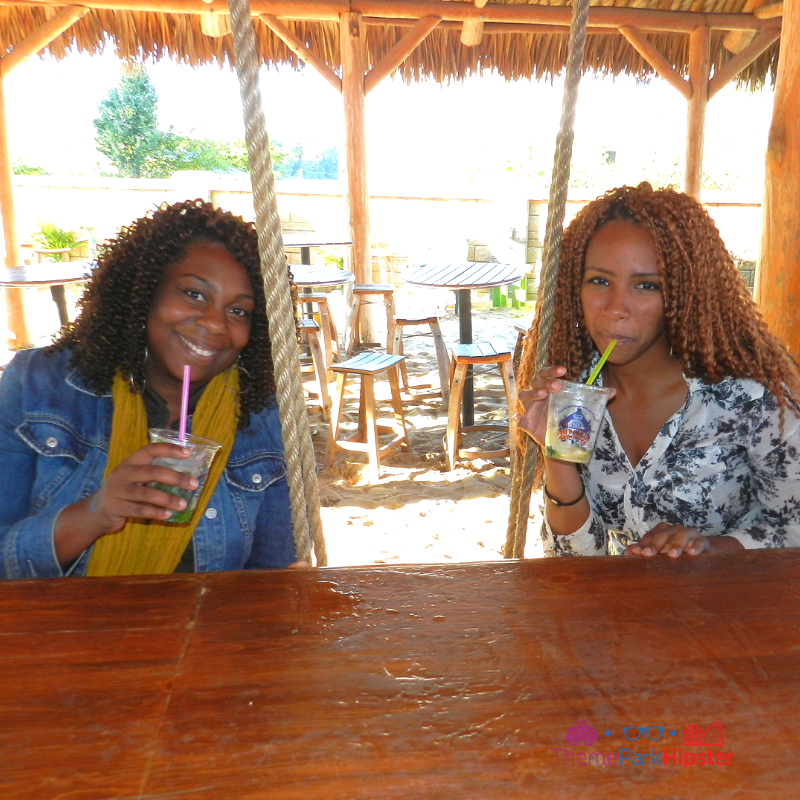 It's a short ferry ride from the mainland of Sandusky, Ohio and is one of my favorite places to visit in America.
What is there to do in Put in Bay Ohio?
Antique Car Museum
Crystal Cave
Heineman's Winery
Put-in-Bay Rolling Pub
Perry's Victory and International Peace Memorial
Lot's of topnotch dining and entertainment
26. Take Advantage of Cedar Point's Child Swap
Cedar Point has something for everyone from the Peanuts gang in Camp Snoopy to Antique Cars the whole family can enjoy together.
According to Cedar Point, the Parent Swap works like this: one parent waits in line to ride a height restricted coaster. After riding, they give their Parent Swap pass to the ride operator, and the other parent/guardian, who's been taking care of the little one(s), can walk up the exit to get right on the ride.
To participate in Parent Swap, you have to get an authorize slip from Guest Services (at the main gate), Town Hall Museum or Resort Entrance Gate (near Magnum).
Tips for Using Cedar Point Child Swap:
Have a designated point to meet back up
Parent Swaps passes are good for one day (the day of visit)
There's no time limit during the designated day on the Parent Swap Pass
27. Know Where the Family Care Centers Are
Cedar Point also offers two Family Care Centers, like Disney, that give you private restrooms, secluded nursing stations, quiet playrooms, ice cold water, changing rooms, medical facilities.
They are located in the Planet Snoopy area and between main gift shop and restaurant in Frontiertown.
You can locate them on the park map.
28. Know What to Pack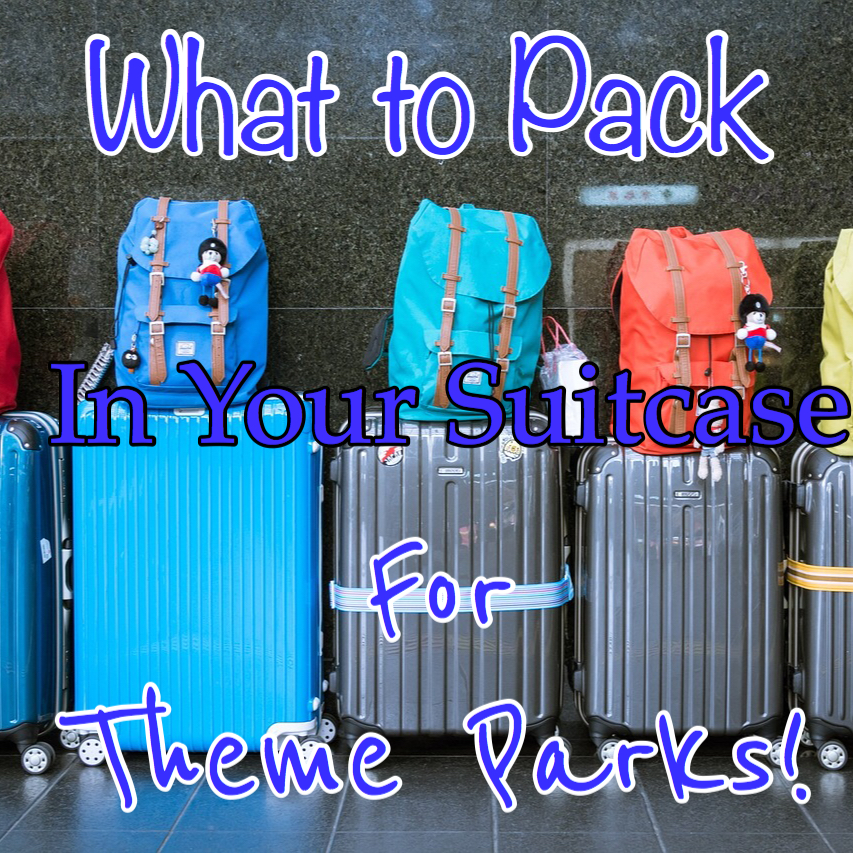 While preparing for your day at Cedar Point, you should know what basic items to bring with you.
Disposable Rain Ponchos or rain jackets
Tickets
Download ThemeParkHipster App
Water in a sealed bottle
Sunscreen
Small snacks
Hand sanitizer
Hand wipes
Downloaded Cedar Point Park Map
Sunglasses
Umbrella
Hat for sunny days
Portable Phone Charger
Personal Hygiene Products
Cash
29. Know What You Can Bring Inside Cedar Point
Before you pack your day bag, you should know what's allowed and what's not allowed at Cedar Point.
Per Cedar Point, you are not permitted to bring any food or drink items into the park.
Can you bring water into Cedar Point?
You can bring individual, unopened water bottles, as well as special diet/need items, may be brought into the park.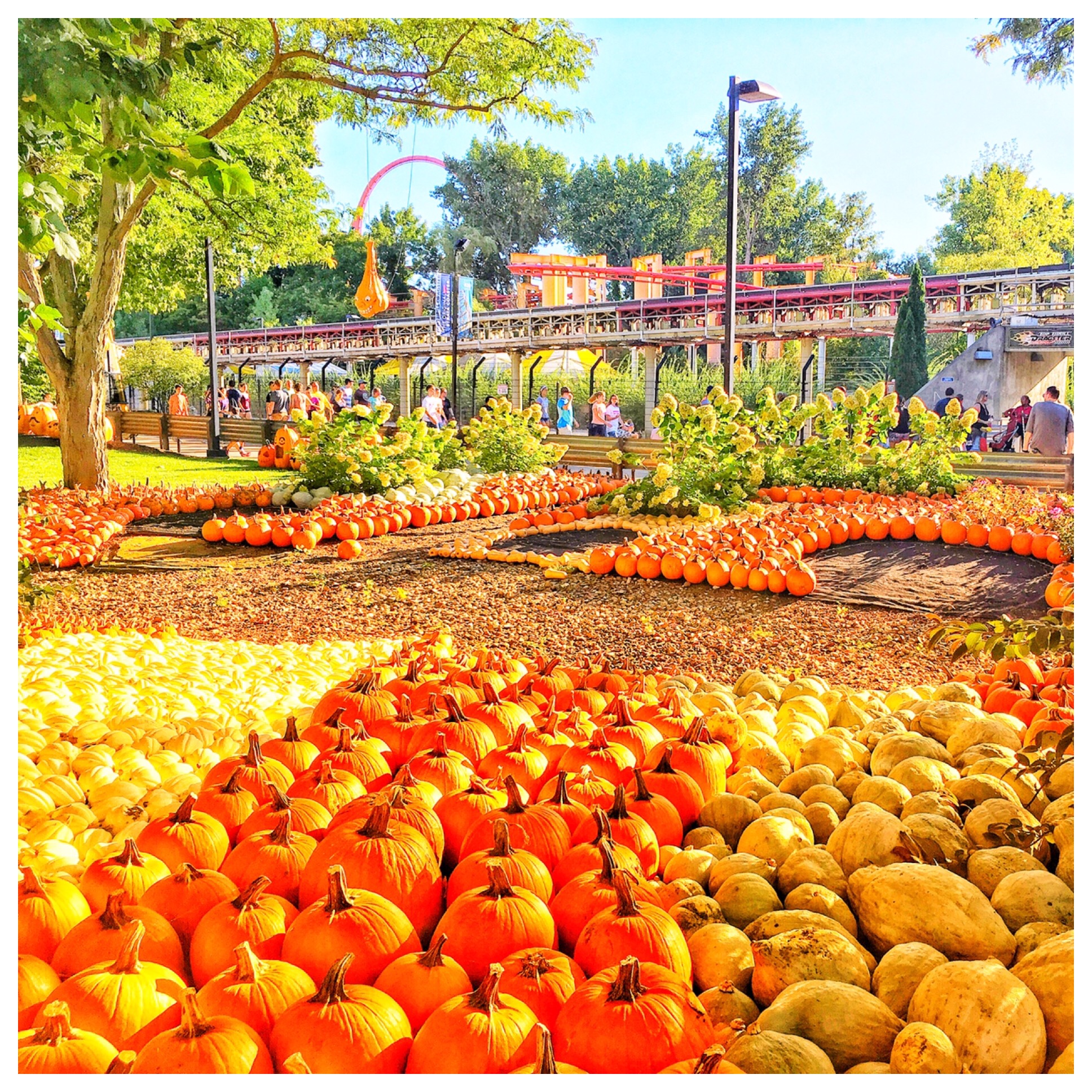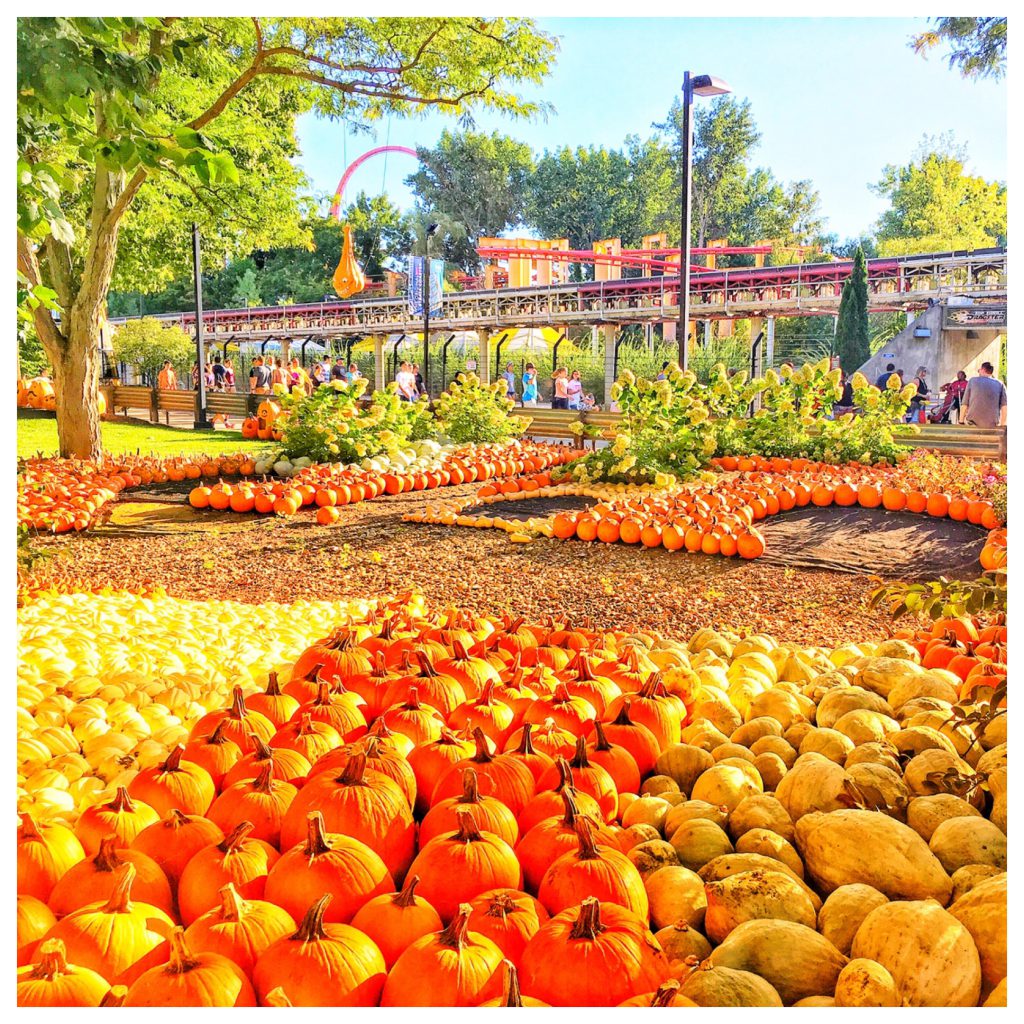 Beer, wine and liquor are also items that you can not bring into the park.
Listen: Play the Full Cedar Point Guide on Your Mobile Phone
30. Make Sure You Review the Loose Articles Policy
Cedar Point is extremely strict about their loose articles policy.
For safety reasons, purses, backpacks, beverage containers or any other loose articles may not be taken on the following rides:
Blue Streak
Cedar Creek Mine Ride
Cedar Downs
Corkscrew
GateKeeper
Gemini
Kite Eating Tree
Magnum XL-200
Maverick
maXair
Millennium Force
Power Tower
Delbert's Frontier Fling
Raptor
Rougarou
Skyhawk
SlingShot
Snoopy Bounce
Super Himalaya
Top Thrill Dragster
Valravn
Wave Swinger
Wicked Twister
Witches' Wheel
Woodstock Express
The Woodstock's Airmail
Can you wear fanny packs on rides at Cedar Point?
You can leave your cell phones or other small items in the cargo pockets or waist packs on select attractions.
Hipster Power Tip: Steel Vengeance does not allow loose articles of any kind including waist packs, purses, beverages, and backpacks. You cannot even bring them past the entrance.
Glasses must also be secured with an athletic strap on Valravn, GateKeeper, Maverick, maXair, Power Tower, Skyhawk, Steel Vengeance, Top Thrill Dragster and Wicked Twister.
You can read all of their ride policies here.
31. Ride the Train at Cedar Point
The CP&LE Railroad is a must do experience on your trip!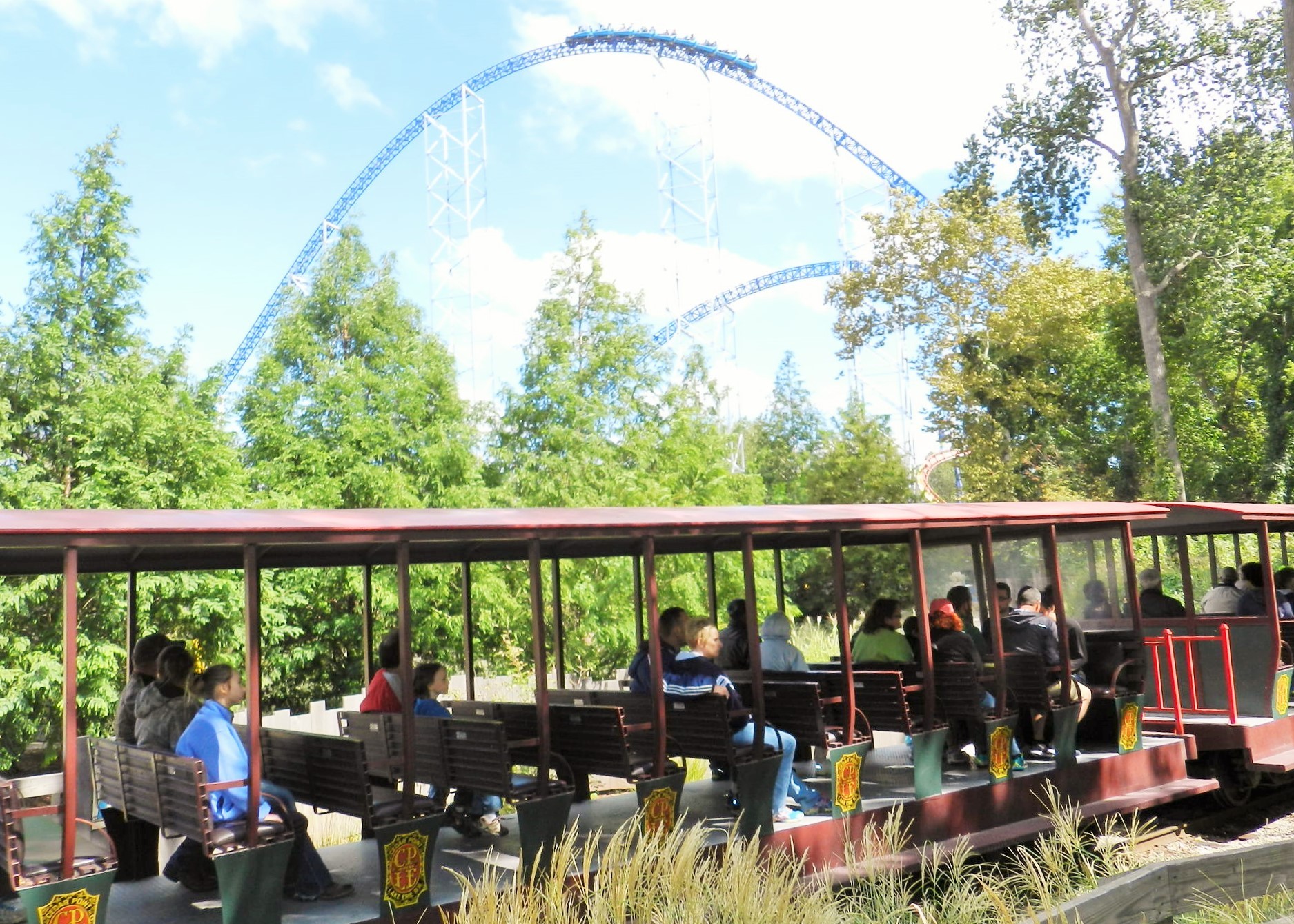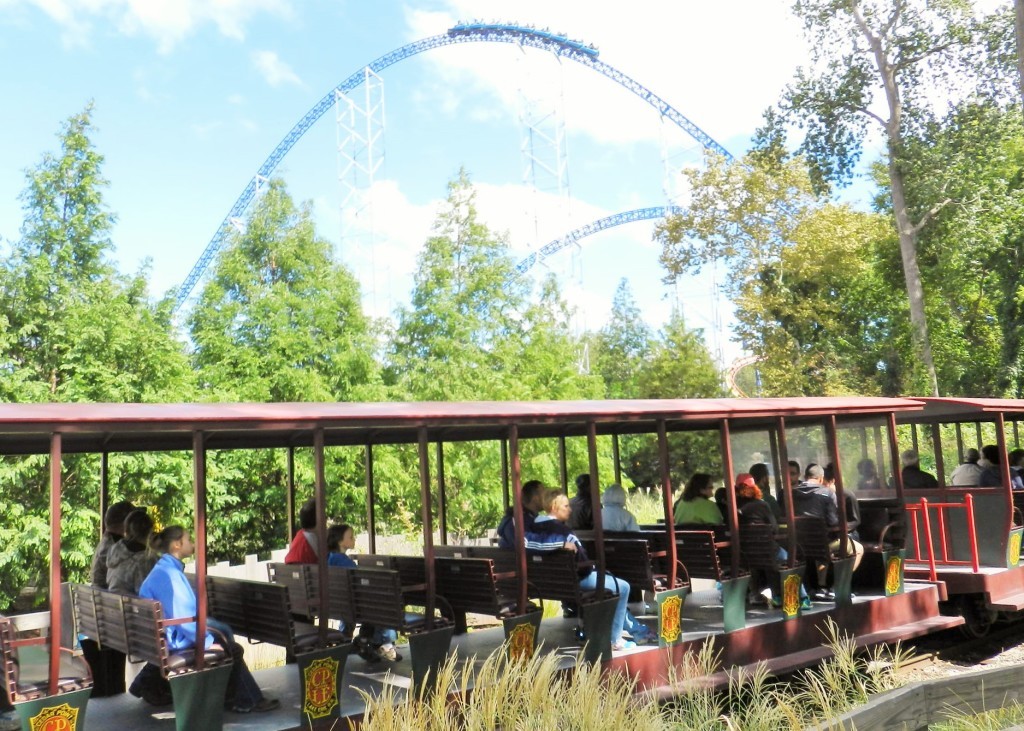 You'll be taken around Millennium Midway and Frontiertown with some amazing views of all Cedar Point attractions and scenery.
32. Take Lots of Photos
You're going to be at the Roller Coaster Capital of the World, so be sure to take all those epic shots. You'll want to have all these photos to remember your incredible time at the park.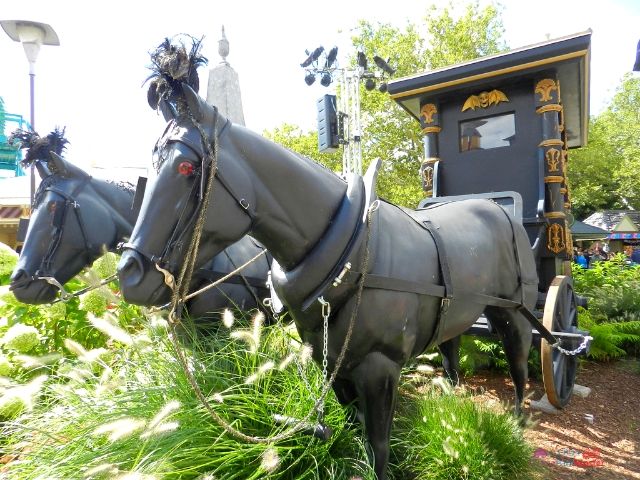 33. Attend Special Cedar Point Events
Since Cedar Point is only open from May until October, there aren't too many special events.
There is one major event that you must attend at Cedar Point called Halloweekends. It's a spine-tingling event that occurs in September and October.
It's no Halloween Horror Nights, but it's still a lot of fun.
More 2021 Cedar Point Festivals
34. Ride Millennium Force!
Cedar Point offers some of the world's most innovative roller coasters. If you make this thrilling journey to Sandusky, Ohio, then you must go for the big ones!
Make it somewhat of a day to knockout your daredevil bucket list items. It will definitely add some color to an already sensational day.
If you can only choose one coaster to feel as if you're not a "roller coaster chicken," then I recommend making Millennium Force your ultimate goal for the day.
I was at Cedar Point for an entire weekend. However, it wasn't until the very last day that I finally mustered up a bit of courage and finally conquered it!
I really had to talk myself into it.
I'm not much of a thrill rider any more (more of a theme park cocktail drinker and people watcher now), but I couldn't fly all the way from Florida and not do it.
I had to be daring and you should too!
35. Purchase Fast Lane Pass
I recommend this park feature if you have the extra money and if you are a true coaster fanboy or fangirl.
It will definitely help you get the most out of your day giving you ample time to enjoy Cedar Point in a magnificent way.
The Fast Lane Pass works by allowing you to bypass the regular lines on more than 20 rides and attractions including Millennium Force, Raptor, and more! It is only valid for the purchased day of admission.
Save $20 on a 3 Day Los Angeles GoCard and visit 30+ attractions, including Universal Studios Hollywood!
There are four rides that the regular Fast Lane does not cover are:
Gatekeeper
Valravn
Maverick
Steel Vengeance
Top Thrill Dragster
Hipster Power Tip: If it's a really busy day, then you will want to buy the Fast Lane Plus.
36. Use Side or Back Entrances
A cool tip I learned during my first visit was the ability to use the side entrances when entering the park.
The mentioned entrances will help you avoid the front gate rush and will you the ability to enter right next to the attractions you want to ride first.
The western entrance will get you the closest to Millennium Force, the second most popular ride at Cedar Point.
37. Don't Be Rude
Cedar Point is one of the nation's premiere theme parks, so be kind, have fun, and enjoy yourself.
Remember not to skip people in the line. That is a big no, no at this amusement park.
38. Do it Scared!
Yeah, I know record-breaking roller coasters may not be your thing, but push past any fear and try at least one on your trip.
I can remember my first trip to Cedar Point. Millennium Force and Top Thrill Dragster were my two rides I had to conquer and I was scared.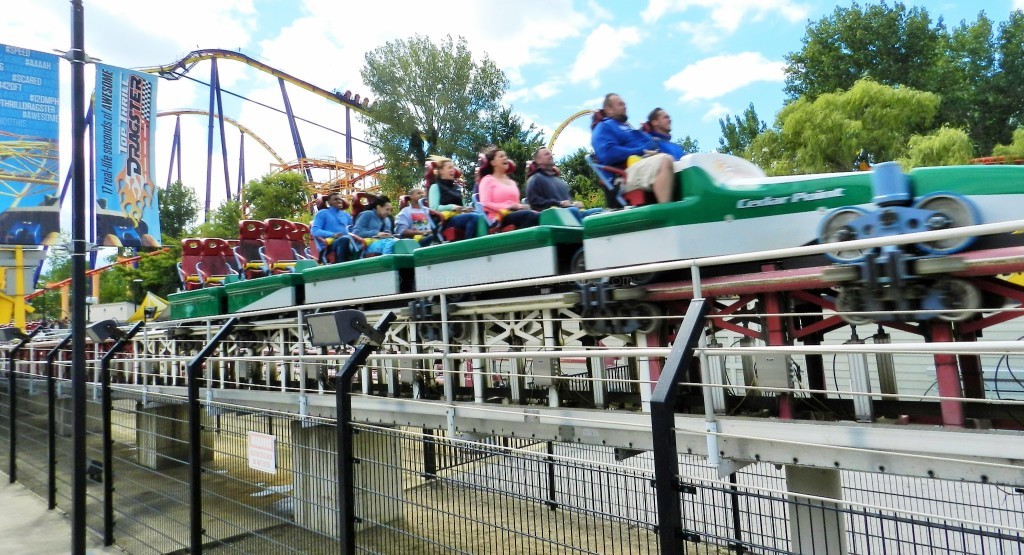 I've always loved roller coasters, but for some reason their coasters all seemed like Goliath standing in front of me and ready to take me down.
On my last day of the trip, I finally worked up enough courage to wait in line for Millennium Force. I can remember the feeling of constant nervousness as the train car eased up the hill.
Then the drop happened and after the initial drop of fear, I was in pure ecstasy!
Still there was Top Speed Dragster that I had to conquer…
…I wouldn't come face-to-face with it until four years later.
39. Conquer Cedar Point Dragster
Although I wasn't courageous enough to face Top Speed Dragster on my first trip, I was determined to ride it on my second trip to Cedar Point.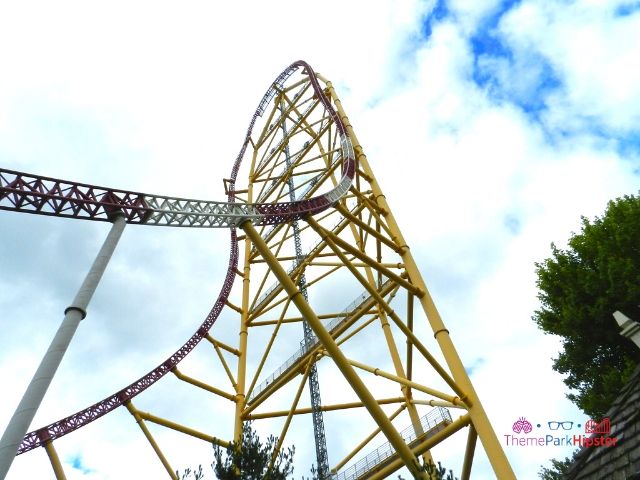 Again, I waited until the very last day of my trip to face this beast of a thrill.
I just had to do it!
No turning back!
As I approached my chair in the train, the ride attendant could tell I was scared beyond measure.
She quickly eased my mind and let me know I would be okay. It did help a little, but not enough to keep my hands from shaking as I held tightly on my lapbar.
Then it happened…
Zero to 120 m.p.h. (miles per hour) in 3.8 seconds.
The thrill was like no other.
Fast. Scary. Exhilarating.
Then it was over…
I'd officially conquered Top Speed Dragster and it made me realize how much fear paralyzes us in life.
Fear makes things real that aren't even there. There was no reason for me not to face this ride.
The only thing that was a stumbling block was my mind.
And that day I won the battle!
Read: Top Thrill Dragster and How to Conquer It Like a Pro!
40. Avoid Magnum XL 200
I feel bad telling you to avoid a ride, but this one was so rough. Usually I can take the light banging of roller coasters, but Magnum XL just hurt.
…and it hurt a lot!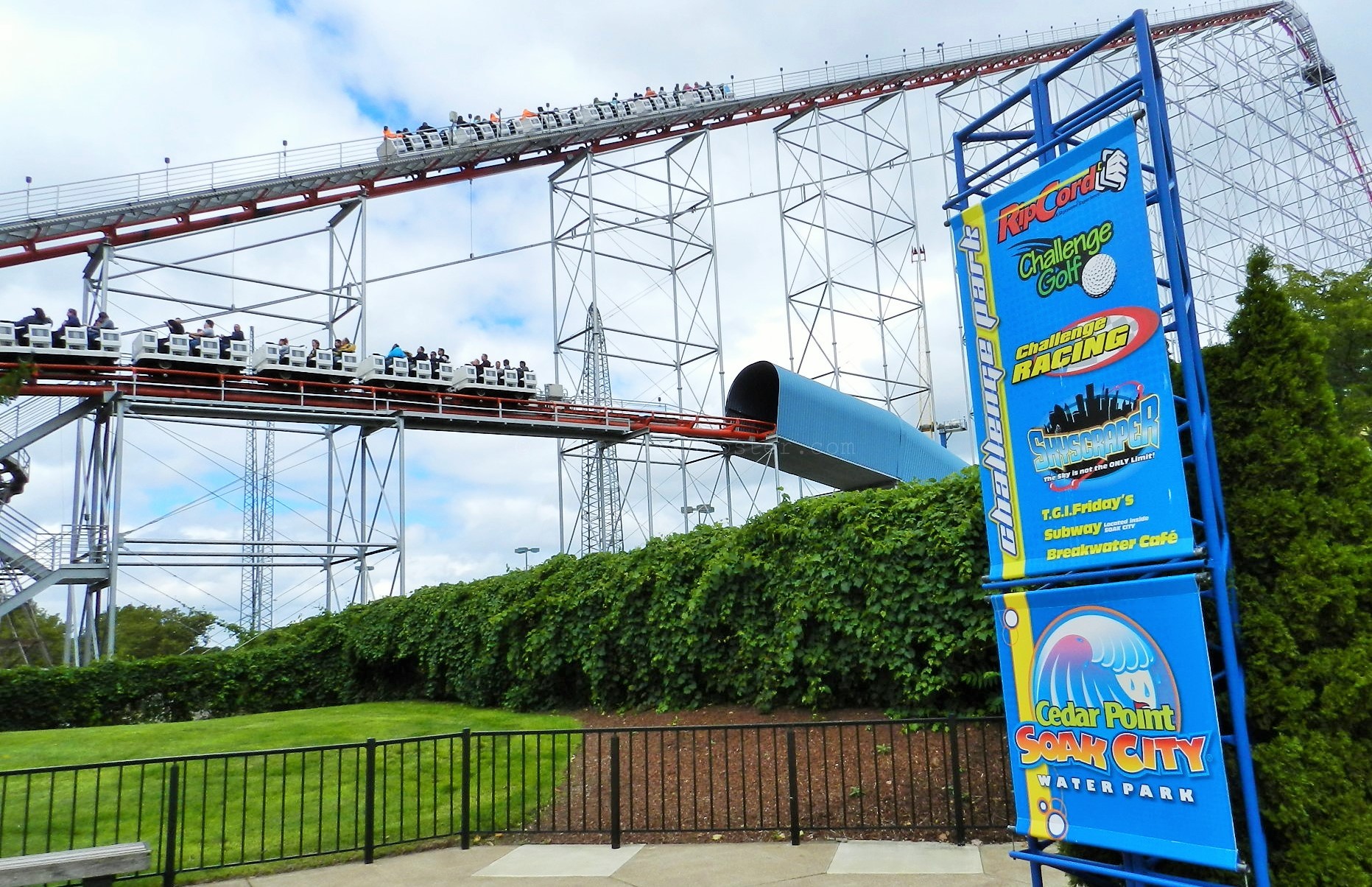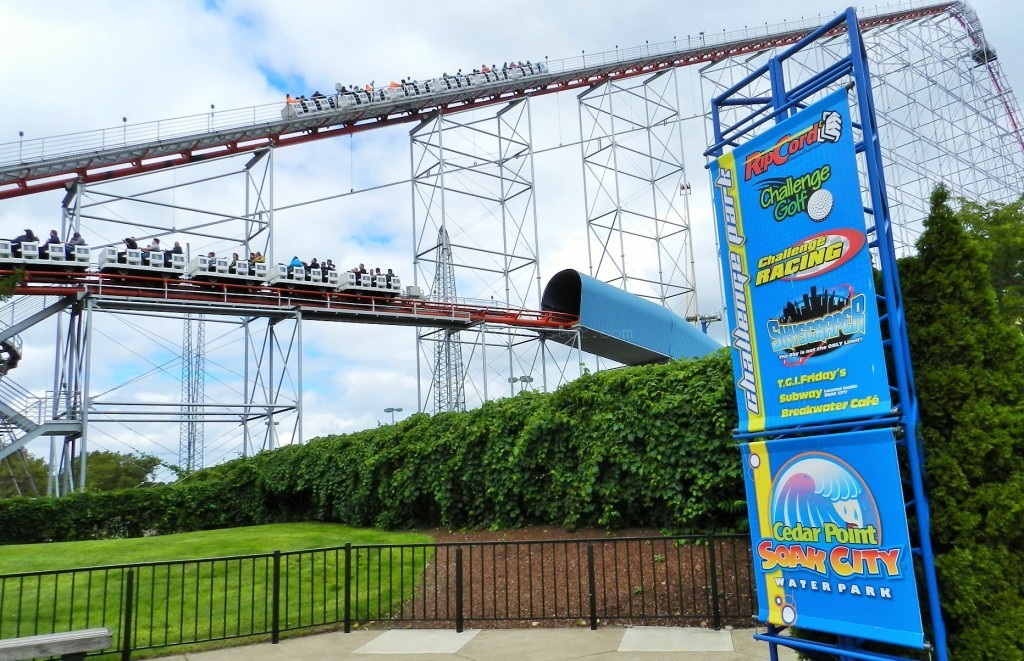 The thing I like about Magnum XL is that the track layout is amazing and the speed is awesome.
Overall, I know this roller coaster can be incredible. I just cannot deal with the pain I feel after it is over.
41. Ride Maverick at Night
I must say that this is an absolute must do!
If you're a roller coaster fanatic, then you must saddle up and ride crazily through the night on this wild adventure.
Maverick will take you through a "twisted horseshoe roll" and a 400-foot-long speed launch through a pitch black tunnel at a top speed of 70 mph!
42. Know What the Best Cedar Point Rides Are
Steel Vengeance (the newest ride at Cedar Point)
Maverick
Millennium Force
Top Thrill Dragster
Gatekeeper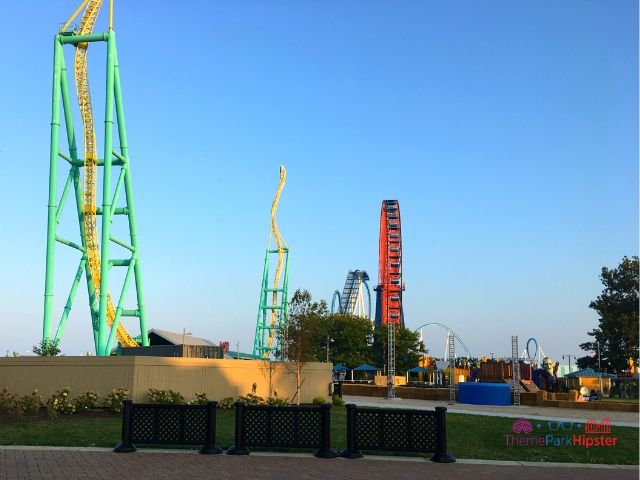 Does Cedar Point have water rides?
Yes. Cedar Point currently has two water rides:
Snake River Falls
Thunder Canyon
43. Know What You Can do Besides Roller Coasters
This park has something for everyone and if you're not ready for the roller coasters, they do have milder rides that I love to enjoy.
The train ride around the park is one of my favorite things to do. I also love riding in the antique car attractions that show the beautiful scenery of the park.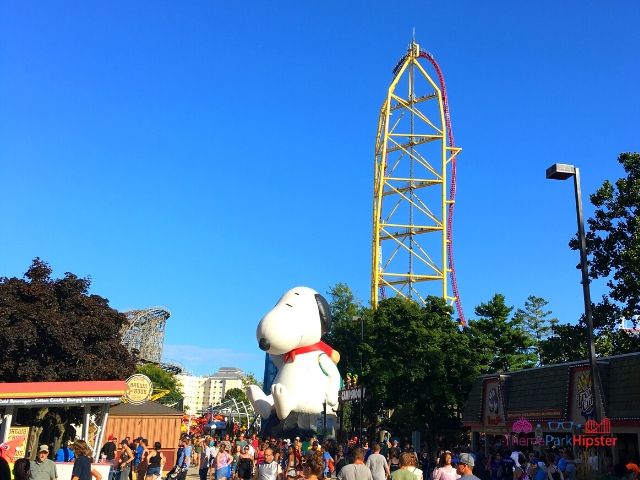 The Sky ride is a classic and gives epic aerial photo opportunities. Plus, it's kind of romantic!
Cedar Point has a few shows to do, but something I recommend that's outside the box is to do a dining and beverage tour.
This can be done by mapping out the various eateries and trying unique snacks at the top locations.
…kind of making it like your own Food & Wine Festival.
Don't forget to take a break and walk on the shore of Lake Eerie. It's breathtaking and an absolute must!
Unique Tours and Experiences to Do at Cedar Point
Segway Tour: Here you'll get to ride along the majestic Lake Eerie stopping at important Cedar Point landmarks to hear incredible stories of the rich history of this Sandusky location.
Boardwalk Cruiser Wine Tour: This fun adult-friendly experience allows you to enjoy your intoxicating beverage while being chauffeured alongside the boardwalk for incredible views of the Cedar Point Peninsula.
Forbidden Frontier on Adventure Island: This is a new land for you to discover, filled with adventure and mystery!
VIP Tour: If you want to see and do it all without the hassle of long lines, then you'll want to purchase a VIP Tour to be a Cedar Point Rockstar for the day!
Cedar Point Interactive Adventures: You can also participate in activities that allow you to mine for gems, learn the art of glassblowing and create your own candle.
These are just a few of my favorite unique ventures that you can do on your Cedar Point vacation. You can learn more about them here.
44. Buy Cedar Point Souvenirs at Local Stores or Online
Always check local stores like Target, that may have a selection of Cedar Point merchandise for a lower price.
You can also purchase souvenirs on sites like Etsy.
45. Prepare for Cedar Point Bugs
The little flying critters at Cedar Point are annoying! Plus, they're EVERYWHERE!
Hipster Power Tip: Be sure to look at the riders getting off any of the rides before you. You'll know how "buggy" the ride is if you see lots of people fanning and wiping their face.
You will notice them as it becomes nighttime especially if the weather is hot and humid.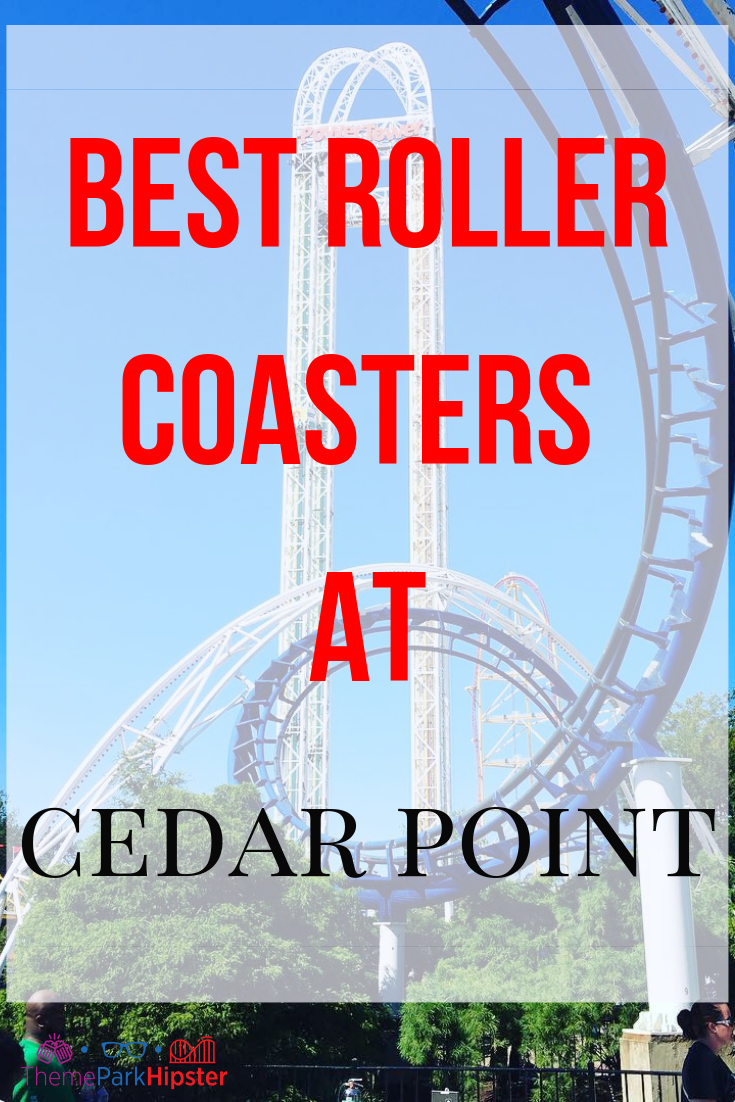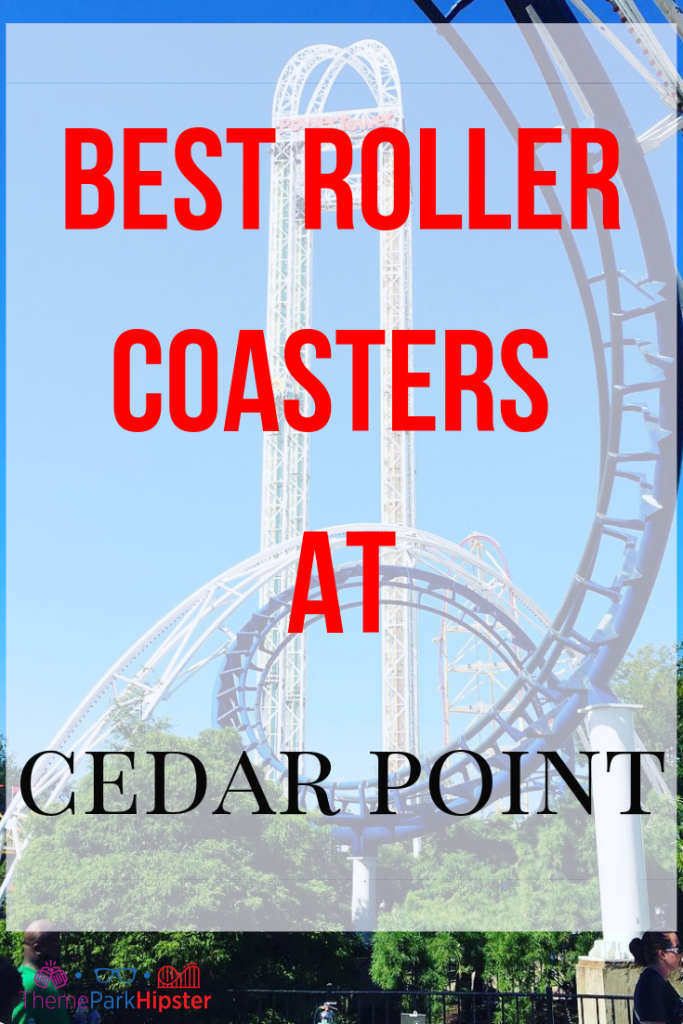 ---
Cedar Point Roller Coasters Ranked From Best to Worst
Steel Vengeance
Maverick
Millennium Force
Top Thrill Dragster
Valravn
Gatekeeper
Raptor
Magnum XL-200
Wicked Twister
Gemini
Blue Streak
Iron Dragon
Cedar Creek Mine Train
Corkscrew
Pipe Scream
Woodstock Express
Wilderness Run
Final Thoughts on Visiting Cedar Point for the First Time
If you're thinking about visiting Cedar Point during the 2021 season, then hit me up with a question or comment below.
Or you can just let me know what your favorite ride is below.
I'd love to answer any questions you all may have. If you have any tips please write them below.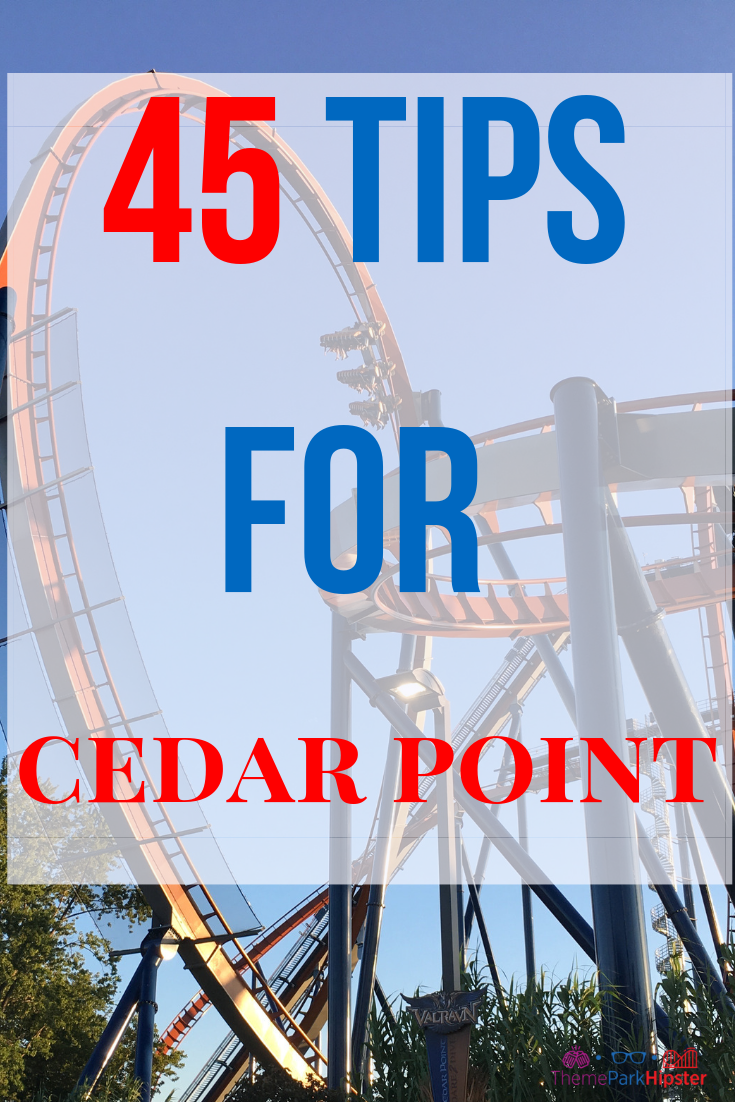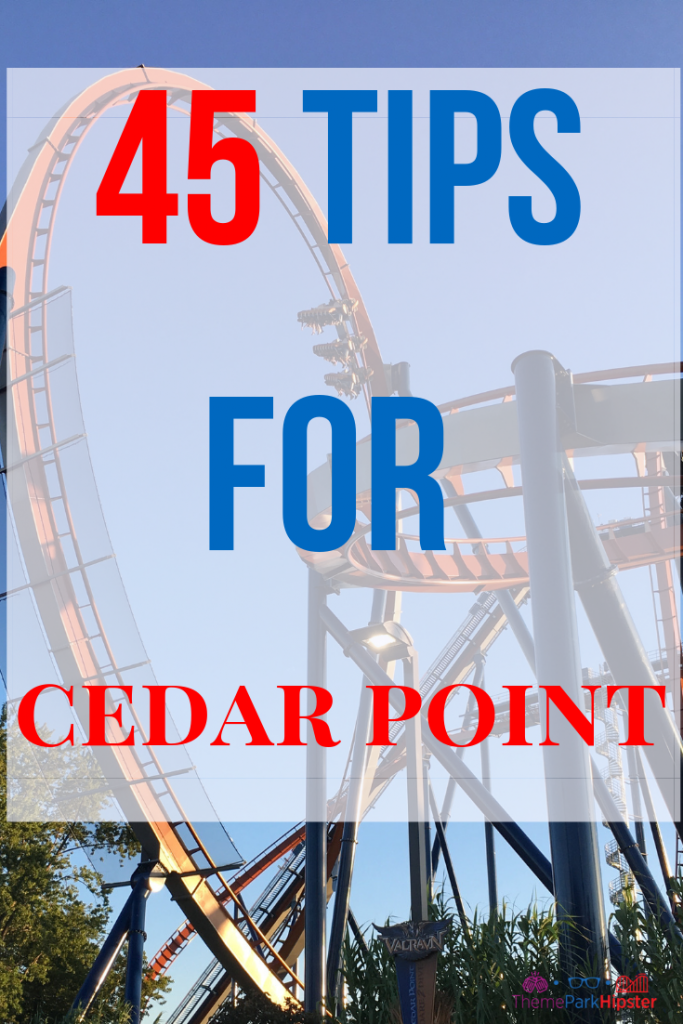 Until next time, Happy Park Hopping Hipsters!
NikkyJ
UP NEXT: 19 Survival Tips for Cedar Point HalloWeekends
(Original Article written in Fall of 2014/Updated April 27, 2021)