Are you a minimalist packing pro or do you need help creating the perfect checklist for your theme park vacation?
Don't worry, today we'll go through how to pack for your solo theme park trip and ways to keep your bag as light as possible.
So, if you don't know where to start, then this guide is just for you.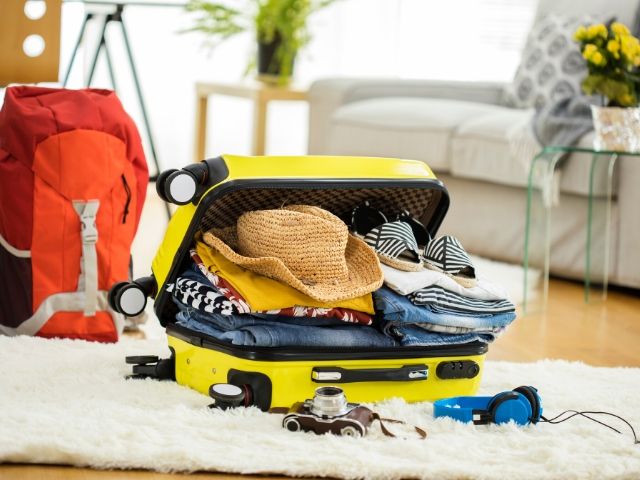 THIS POST MAY CONTAIN AFFILIATE LINKS. PLEASE READ MY DISCLOSURE FOR MORE INFO. Which means if you click on certain links, I may receive a small commission at no additional charge to you.
Listen to Podcast Episode 55 Below: What's in my Theme Park Bag (How to Pack for a Solo Trip)
Deciding to become a minimalist packer for my theme park trips started while I was young.
Many of the roller coasters at the park required riders to place things in lockers and I always felt like that step was one that I didn't want to take.
So, I would try to bring only the essentials I needed like my I.D., my debit card, and my phone.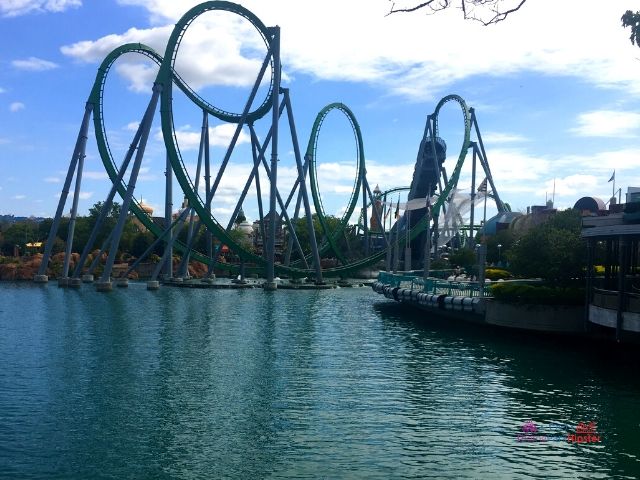 As I began to travel to places beyond theme parks, I took that same practice and would only take my backpack with me. Even for trips that were 7 days internationally.
Get Your 1-Day California Adventure Theme Park Tour here!
What Happened When I Starting Packing Light?
As a result of packing a little lighter for both my solo theme park trips and my regular destination vacations, I realized that I truly didn't need as much I as thought I did.
This made it easier for me to navigate quickly through places like an airport.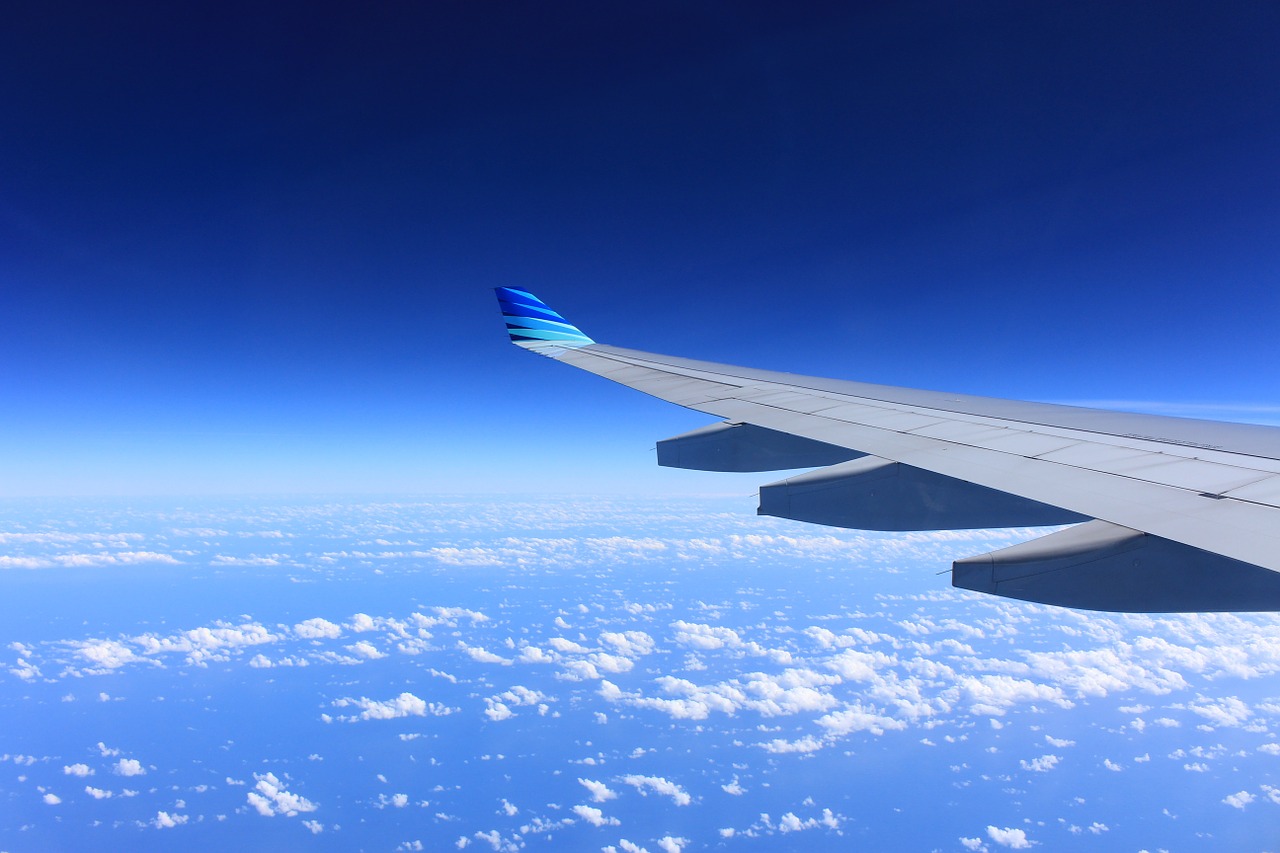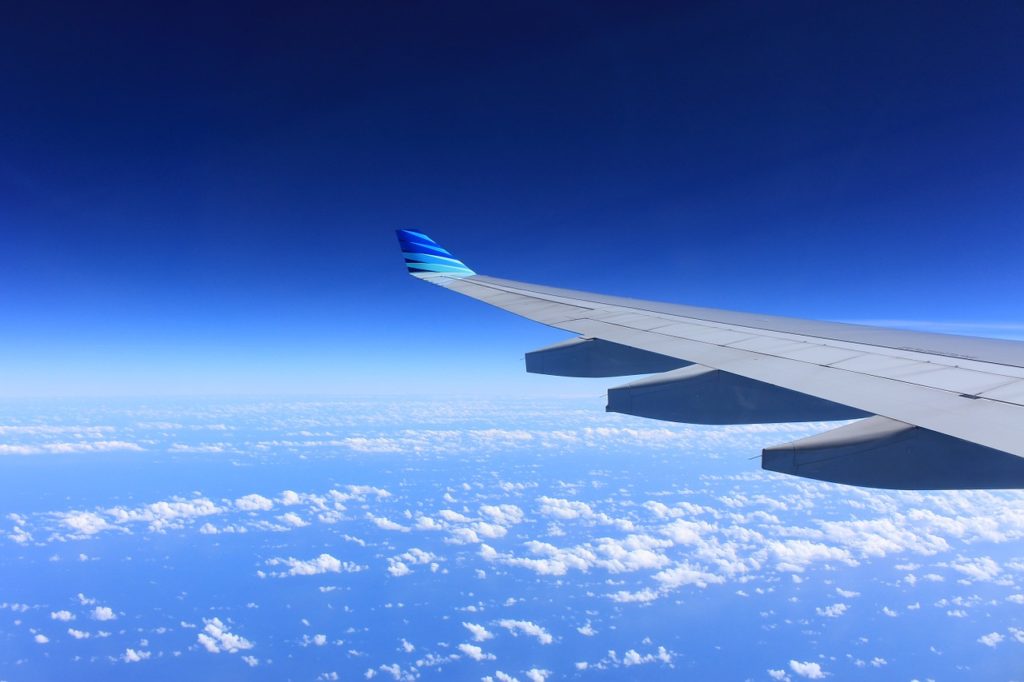 Plus, I always had room to bring a few theme park souvenirs back home with me without worry about buy another travel bag while on vacation.
Getting Started on Your Minimalist Packing List for Your Theme Park Vacation
There have been times in the past where I have over packed and I was miserable in dealing with all the luggage I had.
Many times, we all have a tendency to pack way too much stuff. Even for a short 3-day theme park trip.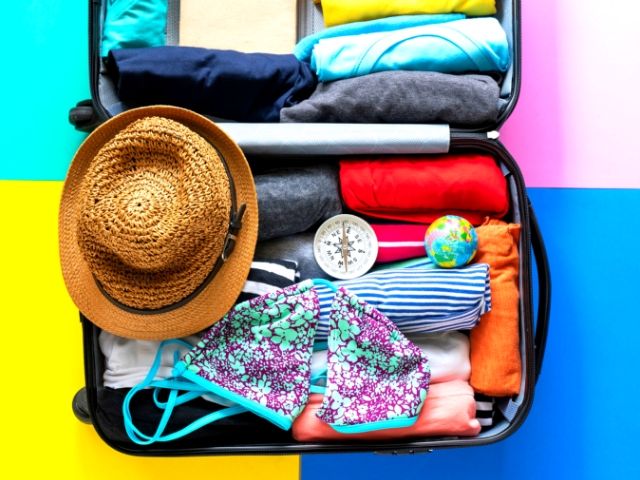 The thing with a minimalist packing list is that you have to discipline yourself on only the things you absolutely need. This is not as hard as you think.
It just may take a few tries to get it down packed.
Please keep in mind that you don't necessarily have to use this checklist for your solo trip. I created this guide for you to give you a starting point for your theme park adventure.
This packing list can easily be done with friends, but we're solo travelers and we want to know how to pack for our solo trip to help ease the anxiety.
It will also take one thing off of your to-do-list while you are preparing for your vacation.
ORDER NOW to secure your Orlando theme park ticket reservation in the parks! GET MY TICKETS.
Why Plan Your Theme Park Vacation Packing Checklist?
The first thing I like to do is to know which theme park I will be attending and what type of vacation do I plan on having?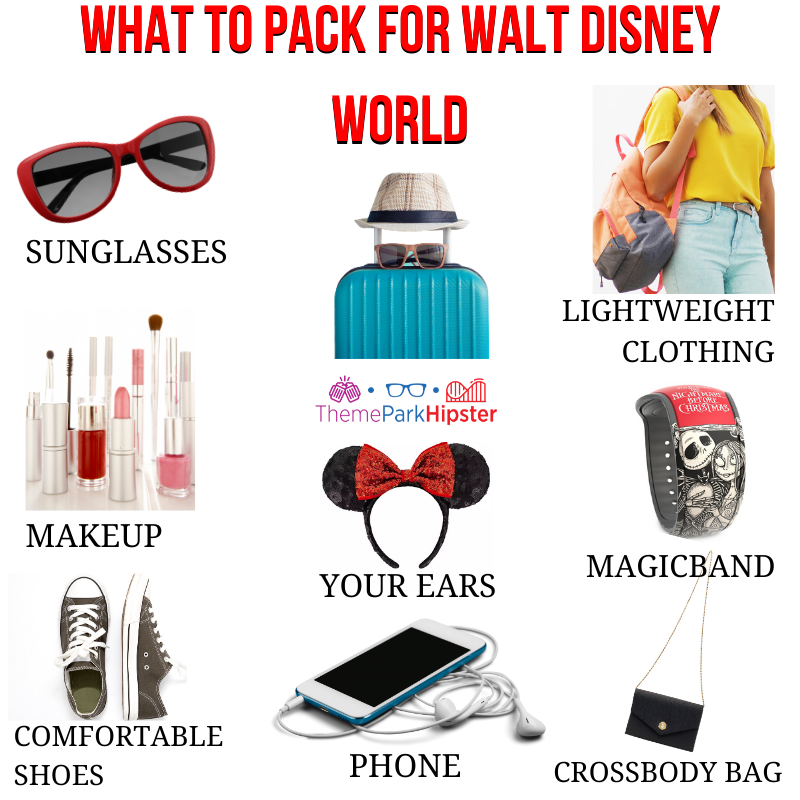 Will it be one filled with only trying different foods or will it be a trip that totally revolves around roller coasters?
In order to make this minimalist packing life work, you have to list out your basic necessities and be okay having only those types of items on your trip.
This is where you have to decide what's needed and what's wanted.
Not that you can't bring some "wants," you'll just have to assign a priority to the packing items that are not necessary.
Now this is the thing, I'm going to give you a list, but you can take out or leave whatever you feel is perfect for your solo trip.
Theme Park Hacks at Your Finger Tips. Plan your next vacation with the latest tips and tricks on the ThemeParkHipster App. Download Today!
8 Easy Tips for Your Minimalist Packing List
Bring only the toiletry and makeup items that are absolutely needed and place them in a small Ziploc bag
Carefully go over your packing list and remover non-essential items
Try not to pack big, bulky things like certain sneakers or shoes (recommend using this Under Armor sneaker that is like and easy to pack)
Have a dependable and durable backpack
Use items like your hat or shoes to place things like your underwear or socks in
Have a pill case to keep your small items like hair clips, jewelry, and other little things
Use the KonMari way to roll your clothes as minimally as possible in your bag
Wear the heaviest or bulkiest item while traveling like a pair of sneakers or coat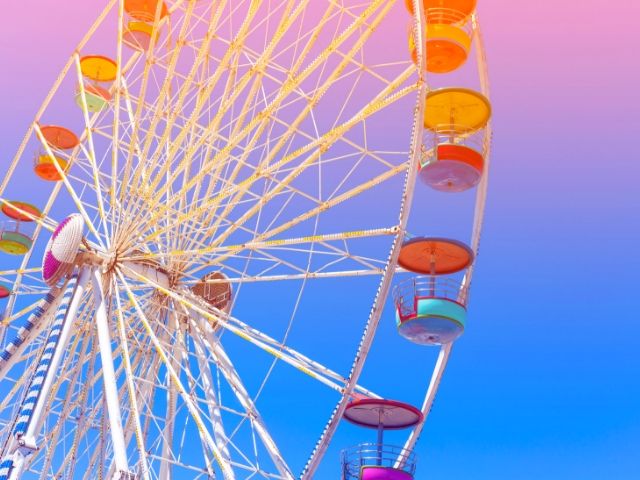 What to Pack in Your Travel Bag?
1 pair of black pants or 1 cute dress if you plan on going out on the town
3 shirts (UFP clothing for sunny places)
1 Drawstring bag, crossbody bag or fanny pack for your theme park days
1 Sweater or jacket for cooler months
Underwear (I overpack here because I rather have more than enough underwear)
1 Regular bra
2 Sports bras
3 Pairs of socks
1 Swim suit
3 Pair of shoes (one for the parks, one for nightlife, and one for chilling at the hotel or poolside)
Read: How to do Walt Disney World in 3 Days
What to Pack in Your Theme Park Bag?
A small umbrella (a must in Florida summers to block sun and rain)
Backup shirt (just in case I get too sweaty in a summertime)
Cell phone
Debit cards, cash, and I.D.
Hand sanitizers and hand wipes
Hat and sunglasses
Lip gloss
Portable charger for my phone
Sunscreen
Ziploc bags that are waterproof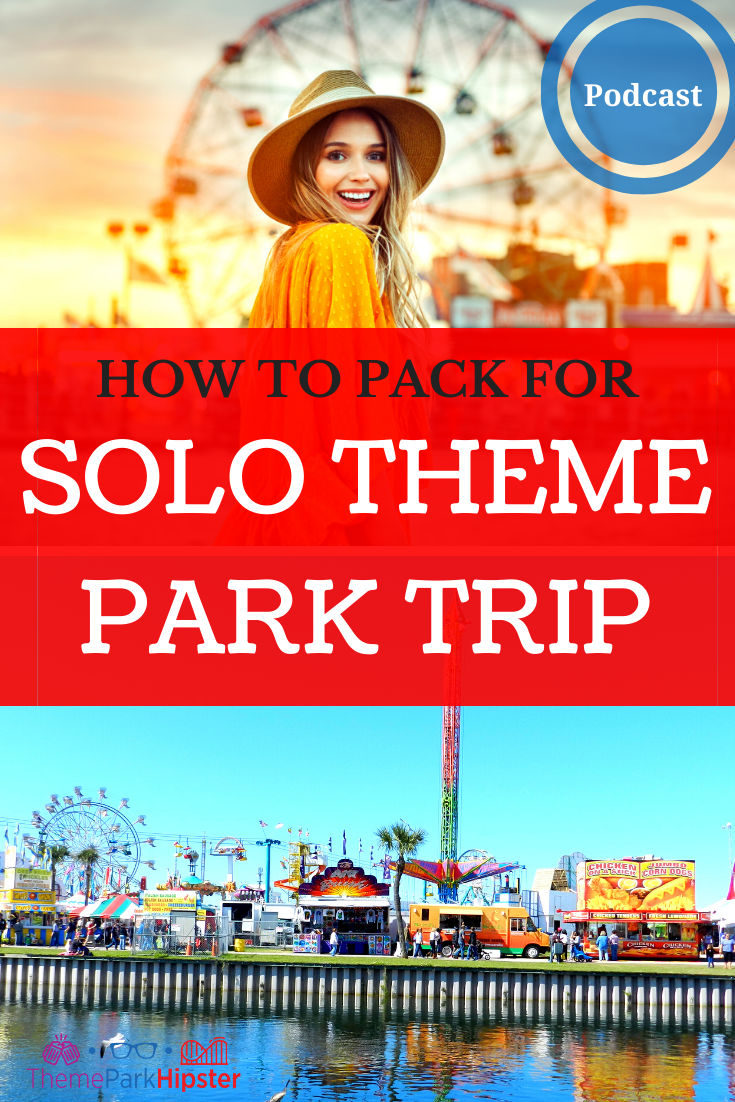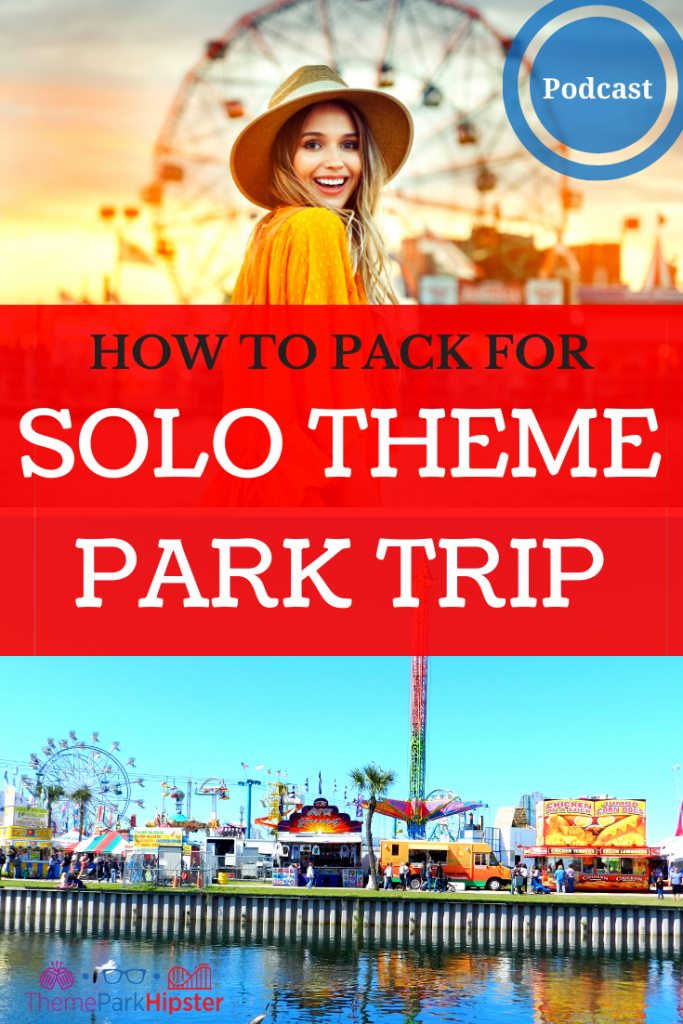 Thanks for Listening!
To share your thoughts:
To help out the show:
Leave an honest review on iTunes. Your ratings and reviews really help and I read each one.
Subscribe on iTunes.
Until next time, Happy Park Hopping Hipsters!
NikkyJ