Are you worried about traveling alone with anxiety?
One of the things we don't talk about in regard to traveling is dealing with anxiety and stress.
According to Nina Julia of CFAH, 27.3% of American adults suffer with anxiety disorders, with 3.94% affecting the worldwide population.
As a society, we still have a lot of work to do when it comes to mental health awareness and fighting the negative and incorrect stigmas of mental health illnesses.
But with all the hustle and bustle of preparing for travel, we think about how we can't wait to have a relaxing time.
Sometimes people, like me, have to think ahead about how to manage our anxiety in case something doesn't go as planned.
Today, I'm going to share seven ways to manage your anxiety while solo traveling!
And before we begin, I should note that I am not a medical professional and you should seek advice from your doctor before making any moves in regard to your health.
These are tips that have helped me manage my anxiety personally!
THIS POST MAY CONTAIN AFFILIATE LINKS. PLEASE READ MY DISCLOSURE FOR MORE INFO. Which means if you click on certain links, I may receive a small commission at no additional charge to you.
1. Know Your Triggers and Stressors
This first tip is extremely important, especially if you are aware that you suffer with an anxiety disorder.
You should know that this requires a bit of self-work and awareness, being honest with yourself.
A great way to do this is to keep a journal and write down when you recognize emotional changes and what could have possibly caused it.
It could be the time of day, something you saw online or read, a specific environment you're in or even a smell.
Also being mindful of the words and language you use when you are triggered gives you a sense of your emotional responses.
Why This is a Good Way to Deal with Anxiety when Traveling Alone
Being aware of these triggers will allow you to understand the effect it will have on you while traveling and to figure out the best way to respond in a healthier manner.
Recommended: The Solo Theme Park Traveler's Guide
2. Organize Your Day
This should come easy as when one travels, we generally have a good idea of what we are going to do.
But the more you do this in your everyday life, the easier and more natural it will become when it comes to traveling.
Doing things like having a planner, utilizing travel apps or websites and researching helps you to feel more at ease and that you know what to expect.
Many people, especially Disney fans, enjoy using their apps and the overall process and experience of vacation planning.
Why This is a Good Way to Deal with Anxiety when Traveling Alone
Going through the apps add to the anticipation and excitement of everything they are about to enjoy.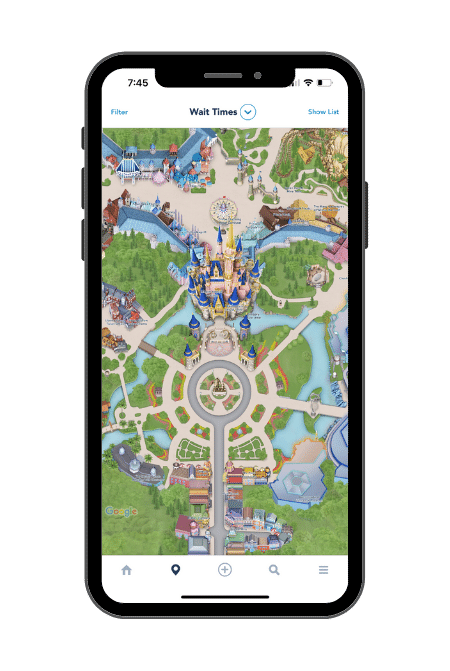 Try to research and plan things that you know will not trigger your anxiety, that will allow you to be safe and most importantly, will be enjoyable for you!
3. Avoid Alcohol
One of the big things some people look forward to is drinking and having a good time at a club or lounge with some locals.
But unfortunately, science has found that alcohol changes the level of serotonin and other neurotransmitters in the brain, which can worsen anxiety.
Alcohol induced anxiety can last between several hours to a full day, depending on the individual.
On top of that, you may feel even more anxious after it passes.
This is entirely up to your discretion as every person knows their cutoff and limit for consuming alcohol.
However, being as though you have done research, you truly don't know the safety of the areas you plan on visiting.
Why Avoiding Alcohol is a Good Way to Deal with Anxiety when Traveling Alone
Alcohol will impair your judgment and ability to reason, on top of the affects it will have on your anxiety issues.
All of this to say, it could easily trigger your anxiety and therefore its best to avoid it altogether.
4. Try Breathing Exercises
One of the tried-and-true methods of handling and managing anxiety, and one that is usually shared with by therapists, is practicing controlling your breathing.
Once of the symptoms of anxiety attacks start, they are fast with uncontrollable breathing.
So, the last thing you want to do is to have this happen while you're traveling solo.
Why This is a Good Way to Deal with Anxiety when Traveling Alone
The key to this is first being aware of your triggers and understanding your emotions when your anxiety arises.
The 4-7-8 Method
I highly recommend trying the 4-7-8 breathing exercise.
This breath-work is great for calming your body and mind and is great for helping you to fall asleep. This is great if you get a bit nervous sleeping in new places sometimes.
The 4-7-8 Breathing Method works as follows:
Inhale through your nose for four counts
Hold breath for seven counts
Exhale through your mouth for eight counts
The focus on the counting sequence allows your mind and body to steady itself and refocus on your situation.
5. Stay in Touch
Another thing that will certainly help when it comes to traveling solo is staying in touch with someone you trust!
For safety purposes and easing anxiety, staying in touch with someone and letting them know your whereabouts is always a smart move.
During your planning stage, make sure to let your trusted person know various important details like flight details, hotel and destinations that you plan on visiting.
Why This is a Good Way to Deal with Anxiety when Traveling Alone
This will make you feel as though you are not really alone.
Along with this, make a plan to check in with them at certain checkpoints or times during the days of your vacations to confirm your safety.
Even just to talk to them to bring some calm and familiarity to your mind.
Don't feel nervous or like a burden when doing this, as your mind may tell you this. A friend will reassure you that you are safe and that you will have the best time!
6. Minimize Screen Time (If Possible)
This one might be extremely difficult to manage, since most of the things we do when it comes to travel, depends upon using our phones.
From accessing your boarding pass for flights to paying for meals, our phones have become an essential tool to our everyday lives.
If you are planning your trips accordingly, you can try to plan aspects of certain destinations where you can put your phone on "do not disturb" for a certain period.
Why This is a Good Way to Deal with Anxiety when Traveling Alone
The constant checking increases the speed of your brain and thus can increase your anxiety.
This will allow you to enjoy the experiences that you came to see and do, and it will help you step away from the worries of the world for a period of time during your visit.
Obviously take time to take the occasional photo or video of your experience but remember to live in the moment!
7. Consider Supplements
Research shows that a wide range of supplements, including omega 3 fatty acids, vitamins and herbal remedies may relieve symptoms of anxiety.
Why This is a Good Way to Deal with Anxiety when Traveling Alone
By adding these to your daily health routine, it can help boost your mood, along with other health benefits.
Best Recommended Supplements for Anxiety
It is important to consult your doctor and research to confirm the safety of the supplements you may consider using. Here are just a few options and their stated benefits.
My Final Thoughts on Traveling Alone with Anxiety
Traveling can sometimes have its moments, especially when you are traveling solo.
Anxiety won't stop you from going out into the world and experiencing all the beauty that it has to offer you.
In the end, you are not alone with your anxiety and one of the biggest things is to accept that its okay.
Not every intrusive thought is the signal to a legitimate reason for worry.
Bearing this, along with these other tips in mind, be sure to check out our Facebook Group to get more advice on how to best solo travel!
Until next time, Happy Park Hopping Hipsters!
Recommended: The Solo Theme Park Traveler's Guide