Can you handle the five tallest roller coasters at Cedar Point?
Cedar Point, Ohio can be best described as an enterprise almost entirely focused on serving adrenaline junkies with the tallest, fastest and meanest rides on the planet.
Excluding a few kiddy rides put in place to allow parents to sneak away for a bit, you will not find another amusement park more well-equipped to satisfy all your thrill cravings.
The park has a total of 71 rides, 18 of which are high thrill roller coasters. It gives me a rush just thinking about it.
No wonder it is called the 'Roller Coaster Capital of the World'!
Also, if you didn't know– Cedar Point is also known for setting world records with its roller coasters across a multitude of criteria including height, speed, type of coaster, etc.
THIS POST MAY CONTAIN AFFILIATE LINKS. PLEASE READ MY DISCLOSURE FOR MORE INFO. Which means if you click on certain links, I may receive a small commission at no additional charge to you.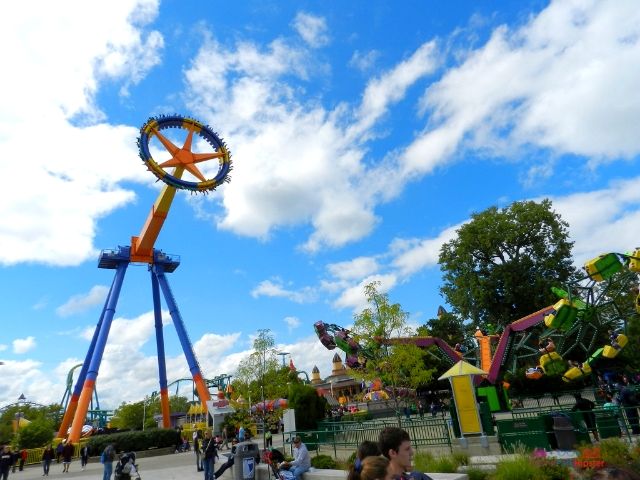 Experiencing the Best Roller Coasters at Cedar Point
In this article, however, we will be focusing on one of the most important criteria for roller coasters– how fast they can make you want to release all the contents in your stomach.
Just kidding, the criteria is height. I present to you the tallest and most dangerous roller coasters in Cedar point!
*Curtain falls*
1. Top Thrill Dragster (420 ft)
Minimum height requirement: 52"
Although it lasts for only 17 seconds, Top Thrill Dragster is definitely worth the hour-long (more during peak times) wait.
The layout of the ride is quite simple: you go straight up a whopping 420 feet in the air and then you come down from it… at 90 degrees..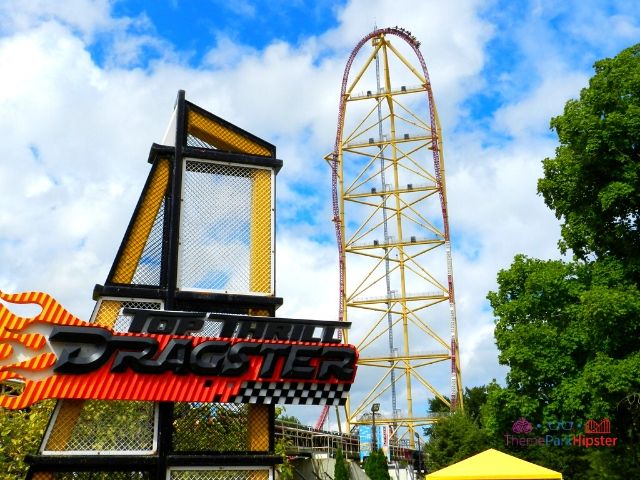 This simple up and down design had some embellishments added to it in the form of two 'twisties' as I like to call them.
Halfway through the incline, the car twists to one side and for a split second, you sit horizontally, only 420 feet in the air. The drop, scary as it already is, consists of another twisty where the car goes from being horizontal to vertical again.
This small twist can make your tummy go from your torso to your mouth in about 0.3 seconds flat.
How fast is Top Thrill Dragster?
The insane acceleration is also one of the many characteristics this ride boasts about. While you will see the lights counting down to go time, you can never anticipate the rush of going from 0 to 120 miles per hour.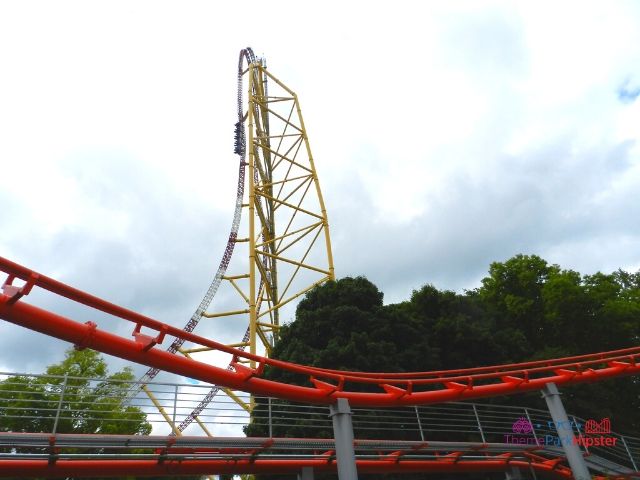 With more than enough points to satisfy anyone's thrill quota, Top Thrill Dragster should be at the top of your list too.
ORDER NOW to secure your theme park ticket reservation in the parks! GET MY TICKETS.
2. Millennium Force (310 ft)
Minimum height requirement: 48"
The Millennium Force was voted onto the list of the Best Steel Roller Coasters in the World. That alone sets the bar really high in terms of the expectations of Cedar Point thrill-seekers.
But if it is the thrill that you seek, don't worry! Millennium Force won't let you down.
At 310 feet tall, this gigantic monster of steel led to the coining of the term 'giga-coaster'.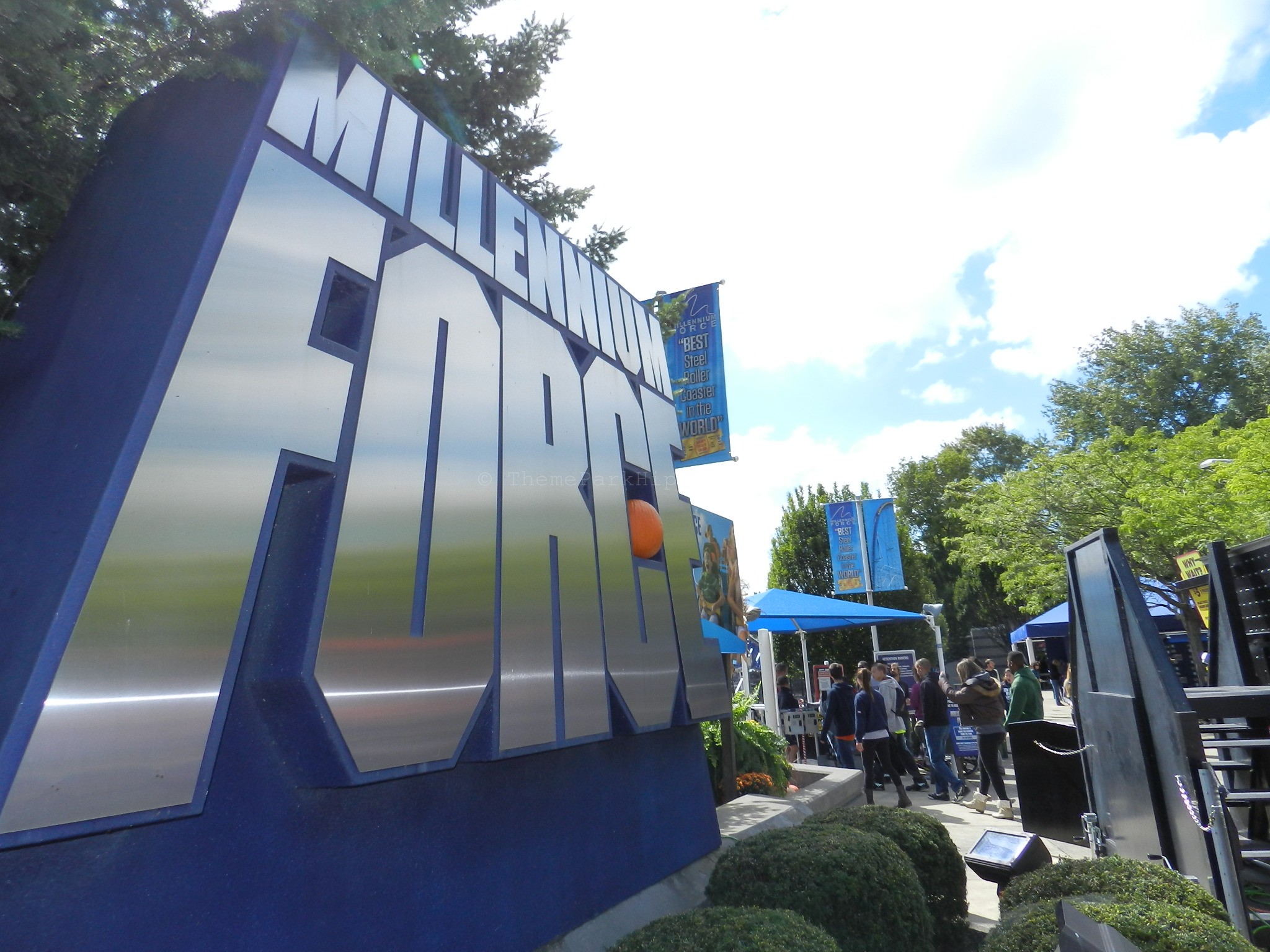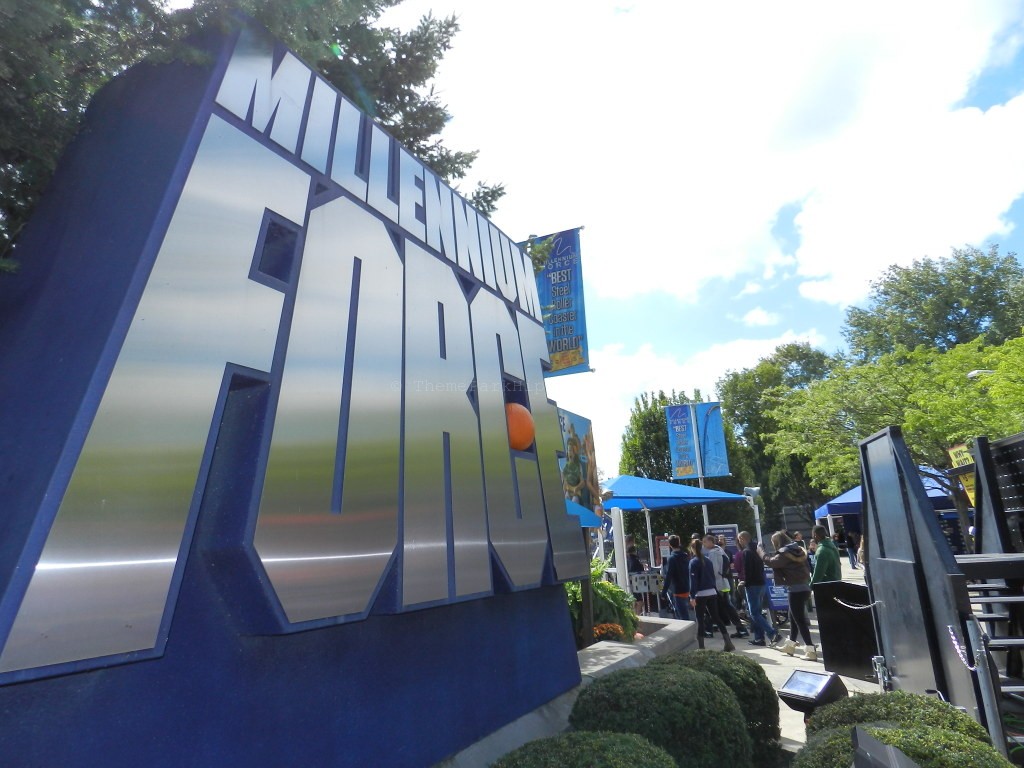 A force to be reckoned with, this ride broke at least four world records in terms of height, length of drop and speed.
If you are still with me on this, good. You have courage. And you will need all of it when riding this giga-coaster.
I guarantee that this will be the longest two minutes of your life. The ride wastes no time in taking you to up to the highest drop in an agonizingly slow pace.
When you are at the top, you will have half a second to say your prayers before you hurtle downwards at a steep 90 degrees angle. If at the time you dare open your eyes, you will have a breathtakingly (literally speaking) view of Lake Erie.
How fast is Millennium Force at Cedar Point?
As the roller coaster roars at 93 miles per hour along its serpentine path, you will encounter more drops than you can count.
Occasionally you will be plunged into the darkness of an underground tunnel before you emerge once again into the sunlight…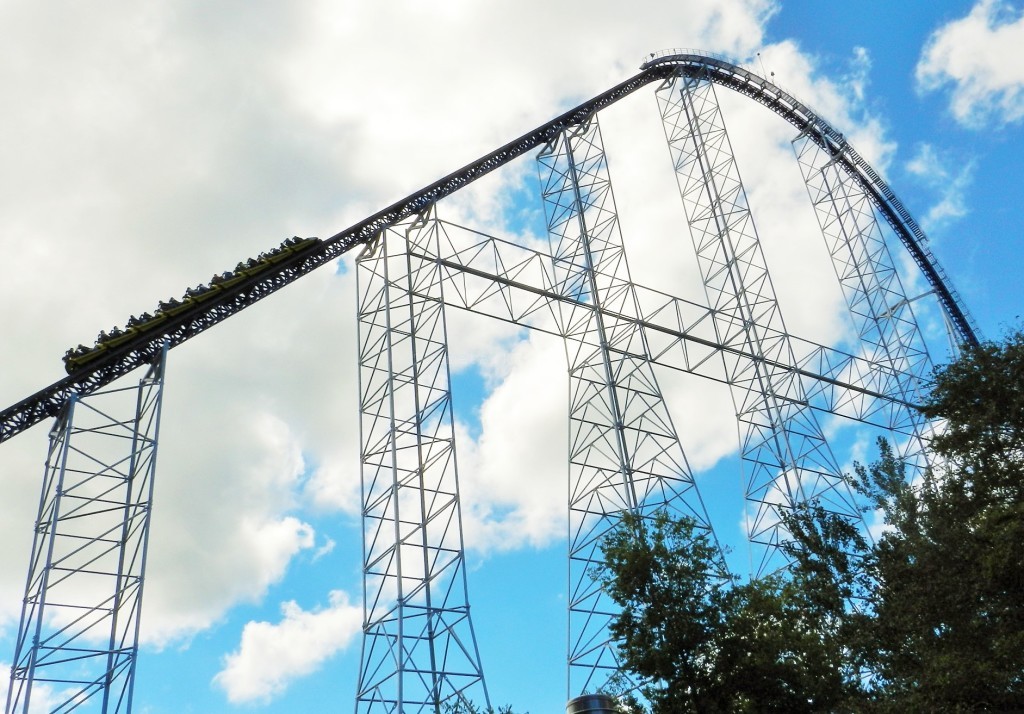 …And yet another stomach-lurching drop.
As you can see, this ride is not for the faint-hearted.
Millennium Force not only meets the expectations of all adrenaline junkies but it (without fail) also worms itself into your personal list of Best Roller Coaster in the world.
3. Valravn (223 ft)
Minimum height requirement: 52"
Not only is this a very familiar name to those who read my blog often, but it is also an all-time Cedar Point favorite. In the past, it has been named (cue the music) the tallest, longest and fastest dive roller coaster in the United States!
For this one, Cedar Point dreamt big, and then made sure it all came through. When it was revealed to the public in 2016, Valravan rightfully seized numerous world records for height, speed and length.
If there was a world record for setting world records, it would have seized that as well.
At 223 feet tall, this king among dive roller coasters takes no prisoners. It starts off with a bang and by that I mean a steep incline leading to (of course) a 90-degree drop.
Unlike the usual roller coasters, Valravan doesn't take you straight from the climb to the drop. Instead, it gives you a moment of rest at the top, allowing you to take in the ginormous 90-degree drop with a 180-degree view of Lake Erie.
After a few painful moments of waiting, you will hurtle to the bottom and then be thrown into a 270-degree inversion roll, followed by the OG Immelmann maneuver. Don't worry though, the fun is not over yet.
How fast in Valravn at Cedar Point?
At a speed of 75 miles per hour, you will encounter another stomach-lurching drop of 131 feet. This time you will not get to say your prayers before you go down, so I hope you had said it the first time.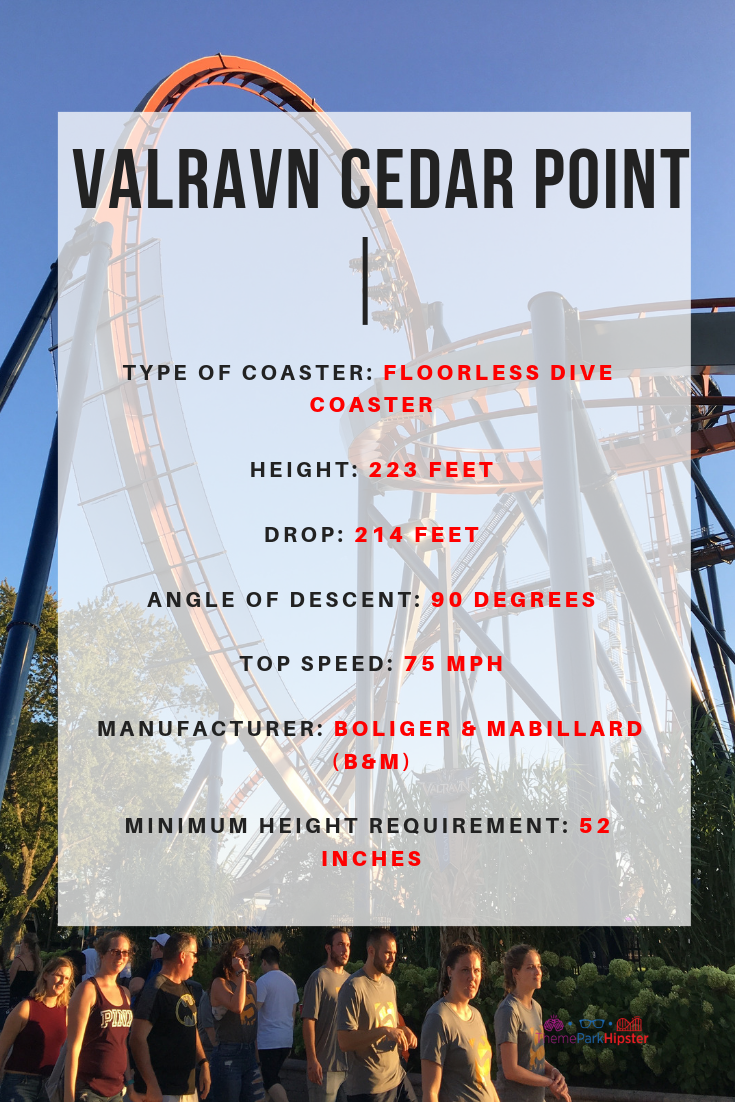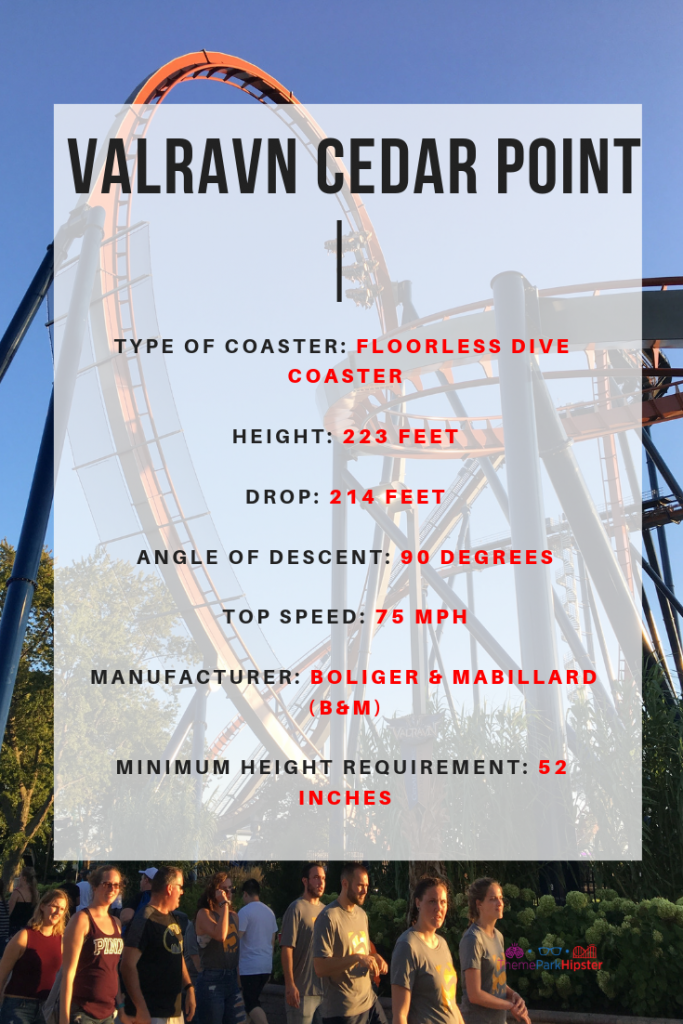 By the time, you regain control of your senses, you will be back where you began.
Congratulations, you braved the Valravn!
4. Wicked Twister (215 ft)
Minimum height requirement: 52"
The tagline for this roller coaster is 'Break the scream barrier'. That itself should clue you into what you are expecting from the Wicked Twister.
True to its name, the ride has two extremely twisted pieces of track rising on either side of it like the horns of the Devil himself. And only the bravest of the brave (or hopeless adrenaline junkies like me) venture into Hell's mouth voluntarily.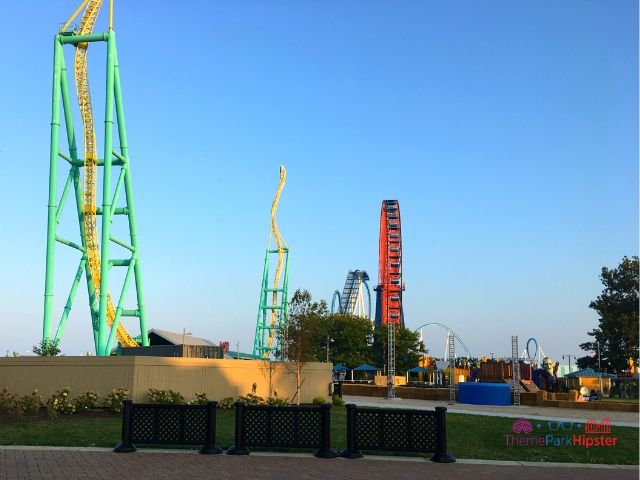 The idea behind it is as simple as can be: the train simply goes up and down the two horns until it has gained enough momentum to propel you to the top of each.
So yes, that means for half you the journey, you will be hurtling up 215 feet… backwards.
Did you not expect the twist? It's called the Wicked Twister for God's sake!
How fast is Wicked Twister at Cedar Point?
This ride reaches a speed of up to 72 mph. The track is 675 feet in length and most of it is up in the air. While many roller coasters have you screaming only at certain points, this one keeps you screaming throughout.
So yeah, if you get a ride on the Wicked Twister, thou shalt most certainly scream.
ORDER NOW to secure your theme park ticket reservation in the parks! GET MY TICKETS.
5. Magnum XL and Steel Vengeance (205 ft)
Minimum height requirement: 48" and 52" respectively
Tied in the last place are our last contenders– Magnum XL and Steel Vengeance. While they sound like a rapping duo, the two have hardly anything in common aside from a primal rush of octane.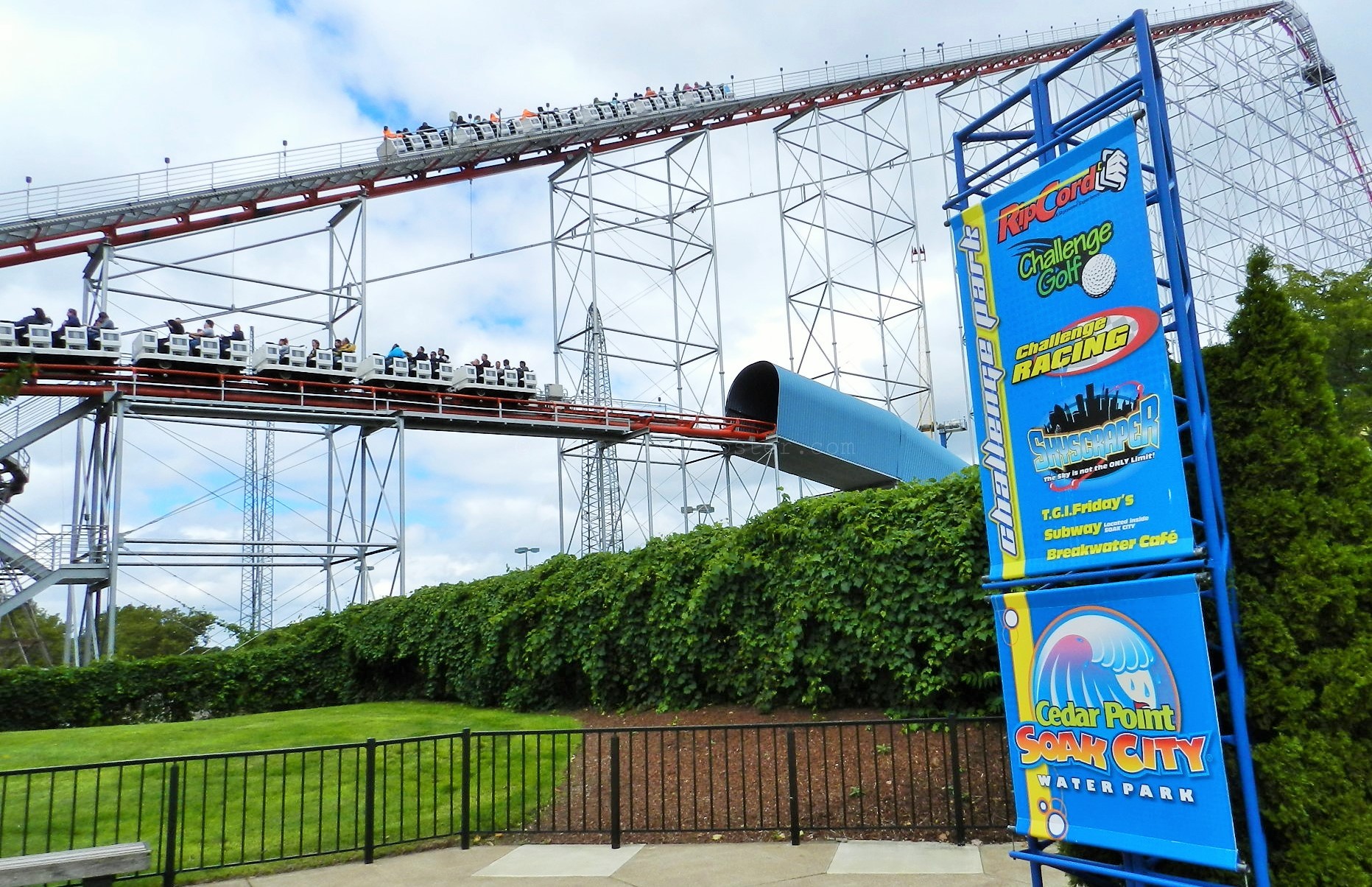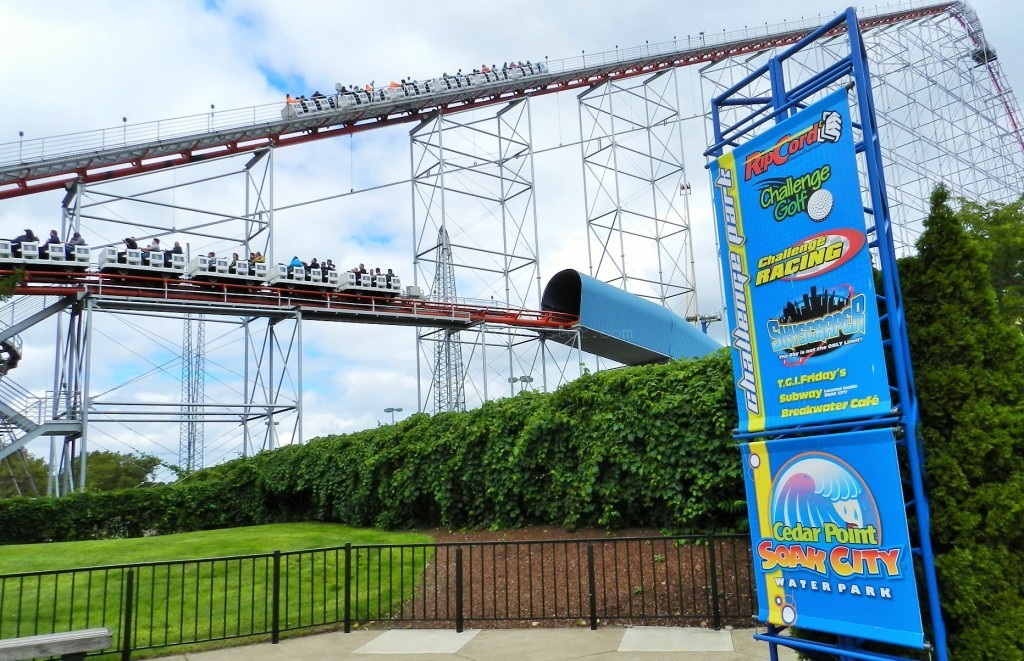 Magnum XL broke boundaries in 1989 when it was launched first. Till this day, it remains a classic example of everything a roller coaster could be. Not only was it the first hyper-coaster, but it was also the fastest and steepest complete-circuit coaster once.
If that does not add enough to its commendable list of achievements, Magnum XL was also awarded the American Coaster Enthusiasts (ACE) Roller Coaster Landmark.
How fast is Magnum XL at Cedar Point?
If you can get past the bumpy ride, you'll be treated to 72 mph of pure thrills!
One thing that sets it apart from the rest is its trademark 'pretzel turnaround' which is exactly as fun as it sounds. It also offers spectacular views from 205 feet up in the air.
Lake Erie, the Cedar Point skyline and even the Canadian coast will be laid out in front of you fro your eyes to feast on.
Steel Vengeance
Steel Vengeance, on the other hand, is a giant contraption that seems to have been sculpted by Vulcan (the God of the Forges) himself. It birthed a whole new appreciation and discovery of the Hyper-Hybrid roller coasters.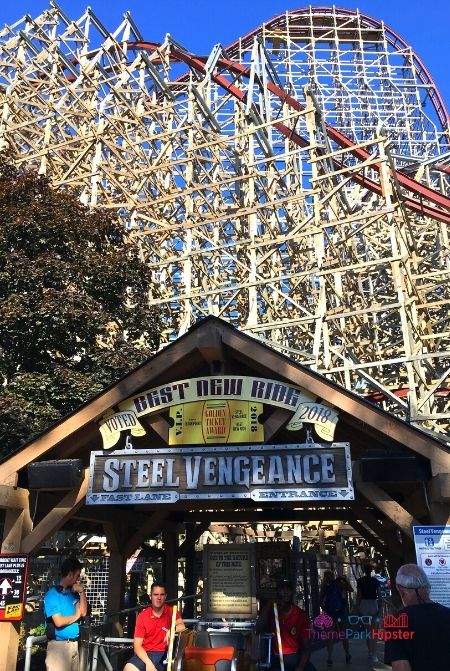 How fast is Steel Vengeance at Cedar Point?
You'll scream to the top of your lungs going at 74 mph on this mammoth of a roller coaster.
This roller coaster makes 2 minutes and 30 seconds seem like an eternity with Cedar Point's signature 90-degree drop, followed by more inversions, twists and rolls you can count. Steel Vengeance also consists of four (and I quote) "head-over-boots" inversions.
Let's just say that your Cedar Point visit is not complete without getting on these two bad boys.
Top Cedar Point Tips
Buy your tickets in advance online. Theme parks ensure that you stand in lines a lot. But you don't have to do that to buy the ticket as well.
Same goes for parking. Don't start your day with unnecessary stress, reserve your parking spot ahead of time.
Start at the back. While everyone gets on the first rides they see, you make your way to the back and get on the big rides first! Cut down on all those wait times!
Download the Cedar Point app to know the live wait times of different rides!
Prioritize. Know which rides you really want to get on, and if there's time left at the end of your day, go do the rest!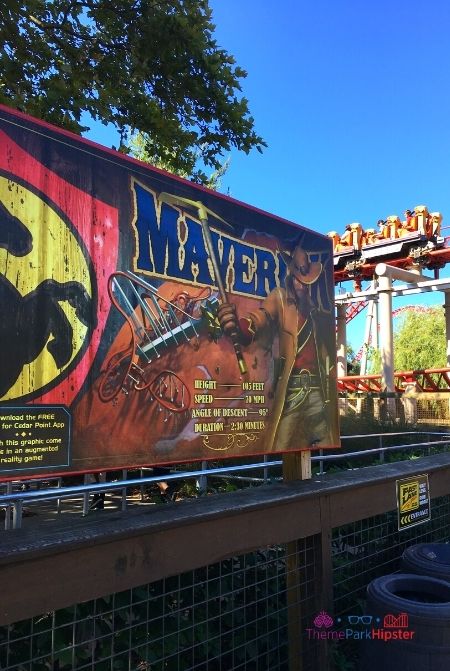 Read: 19 Survival Tips for Cedar Point HalloWeekends
Let's Wrap it Up…
Unless you have a medical condition that stops you from conquering these giants, nothing should hold you back from taking a spin on them. These are one-of-a-kind thrill rides, completely unlike anything else you would experience.
So strap yourself in tight. You are in for the ride of a lifetime!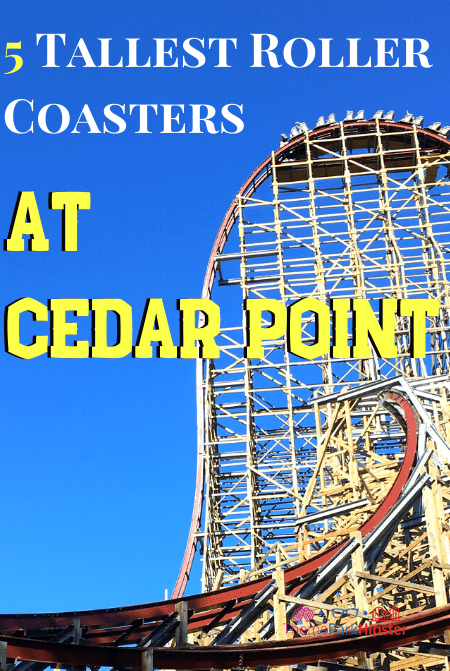 Which of the roller coasters at Cedar Point is your favorite? Let us know in the comments section below.
Until next time, Happy Park Hopping Hipsters!
UP NEXT: 45 Amazing First Timer Tips for Cedar Point (The Ultimate Guide)