Maverick at Cedar Point acts more like a bucking bronco than a coaster! It is full of twists, screws, launches, tunnels, and plenty of airtime!
But do you know the backstory of this wild ride? Well, giddy up, partner! I've got the inside scoop.
Introducing "Maverick!"
Let's saddle up and get into the history, theme, ride stats and ride layout along with some fun facts about the coaster!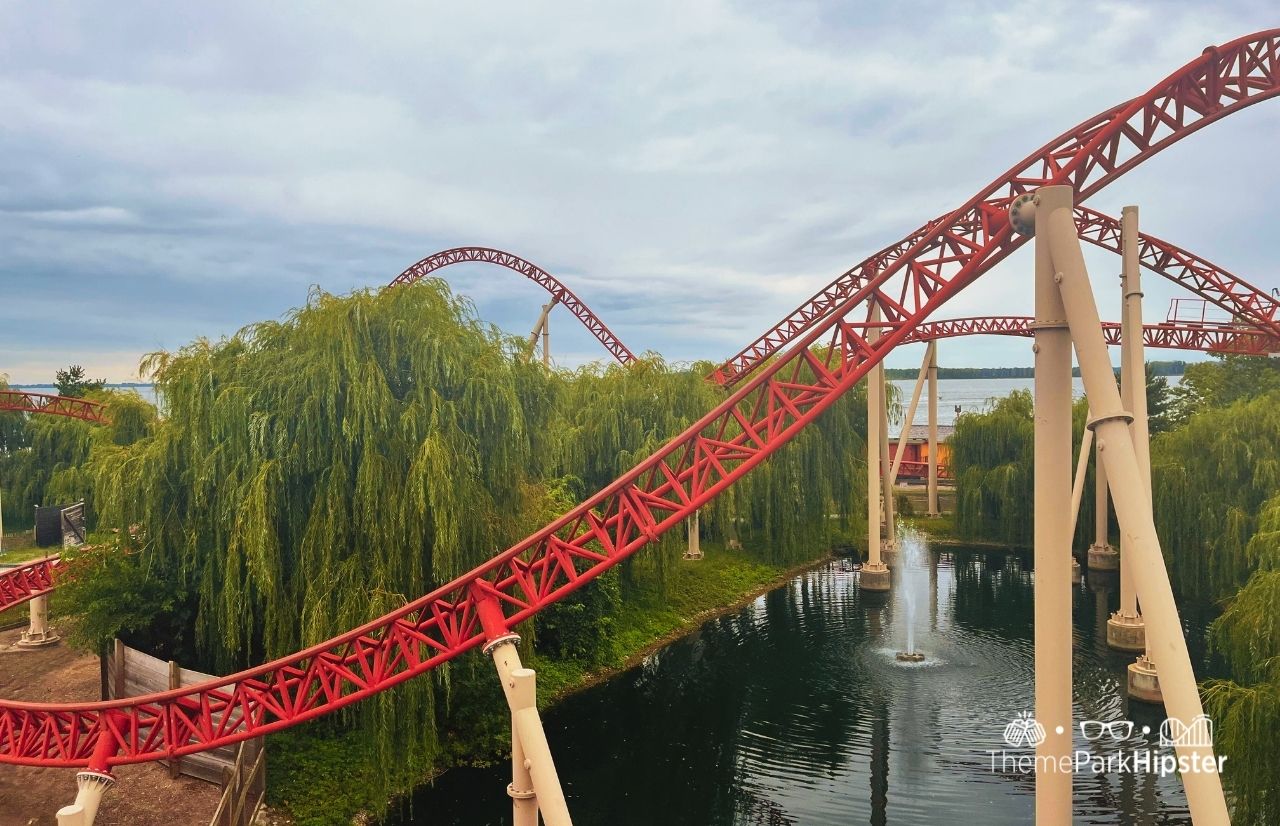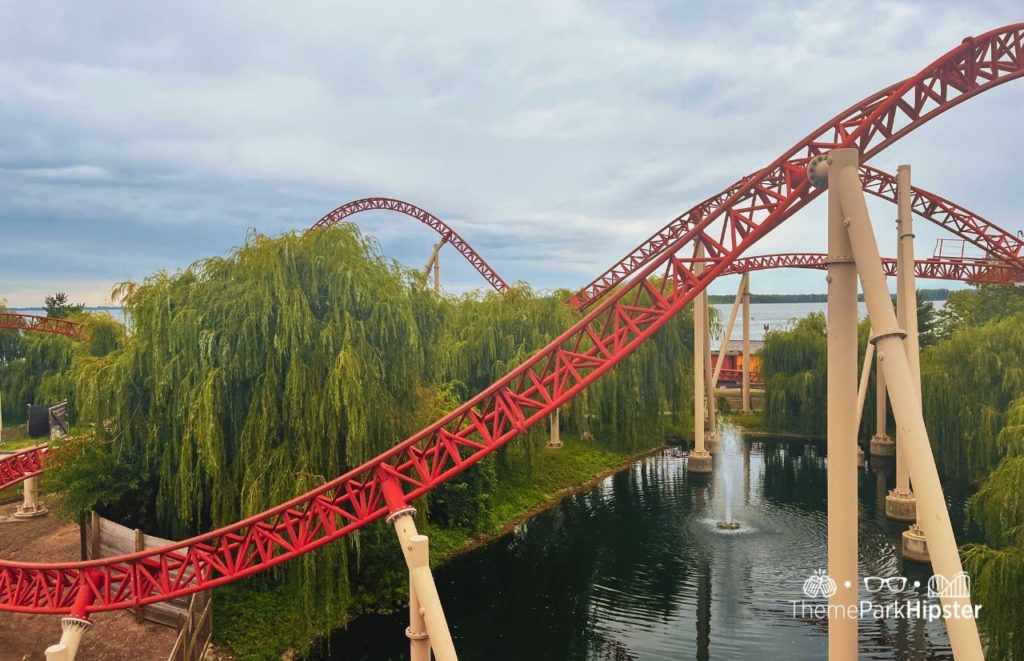 THIS POST MAY CONTAIN AFFILIATE LINKS. PLEASE READ MY DISCLOSURE FOR MORE INFO. Which means if you click on certain links, I may receive a small commission at no additional charge to you.
Why We Love Cedar Point
Cedar Point is known as the "America's Roller Coaster Capital." It is the the only amusement park in the world to boast five coasters above 200 feet.
It is also one of the top 20 amusement parks in the country, as well as being named "Best Amusement Park in the World" by Amusement today 16 years straight.
Not to mention, it features several buildings on the National Register of Historic places on top of being host to several specialty events throughout its operating season.
The park has earned its place in theme park entertainment history, for sure.
Among its sixteen astounding and record-breaking coasters is (while not one of the rides in the park to top 200 feet) a rodeo star in its own right!
Get deals up to 85% off for Sandusky, Ohio on Groupon TODAY!
History of Maverick at Cedar Point
In 1982, Cedar Point debuted a log flume ride in the park's Frontiertown named "White Water Landing."
The attraction was near Mean Streak, now Steel Vengeance, and the Cedar Point and Lake Erie Railroad and had an Appalachian River ride theme. Its tallest drop was 45 feet (ft) plummeting guests at 35 (miles per hour) MPH.
The Frontiertown section of the park is the western themed area dating back to 1967. It is home to several historical buildings dating back to settlement eras of the area.
This area of Frontiertown was given a makeover to coincide with the opening of Steel Vengeance's opening in 2018.
Making Way for the Future of the Maverick Roller Coaster
Time moved on and we fast forward to October 13, 2005 when Cedar Point announced that White Water Landing would permanently close to make way for something new and exciting!
The flume ride sent off its last riders on October 30, 2005 and the station and queue were kept for the upcoming attraction. The nearby pond was also home to the park's former Swan Boat ride.
Until September 2006, a little over a year later, it was known as "Project 2007." On September 7th, Maverick was announced.
Work began in February 2006 as concrete was poured, covering the Whiter Water landing's site.
The rack installment proceeded in August 2006 with it being topped off by the completion of the first lift hill in September.
By October 28th, almost a year after closing White Water Landing, the track installation was complete. Maverick was ready to ride, well for testing anyway.
Trouble in the Wild West
Not everything can go as planned. Maverick began testing in January 2007 was delayed four days before the attraction was scheduled to open to the public on May 8th.
It would be pushed back about a month, the park general manager stating early June.
This was due to a section of track that required to be replaced. Specifically, there were three 40 ft sections of track after the second launch that created a heartline roll.
It was causing excessive stress on the trains that may have caused terrible discomfort to riders because of the high G forces it caused.
About 9 days later, the problematic heartline roll was transformed into an S curve. Its installation was finished on May 24th.
Get YOUR Discount Cedar Point Tickets TODAY!
The Theme and Ride Layout of Maverick at Cedar Point
Unlike its predecessor, the theme of this coaster is more western themed to fit the aesthetic of Frontiertown.
The attraction utilizes western music to help immerse riders further into the theme of the ride and land.
There is an elevator shaft designed to look like a silo as well to add to the immersion. The trains of the attraction are steam era style with tiered seating.
Maverick Roller Coaster Trains
There are six 3 car trains that hold 12 each and they are named:
Bret
Brass
Brent
Gunmetal
Ben
Iron
Beau
Gold
Bart
Silver
Sam
Copper
Maverick's Special Loading System
What allows the ride to be so efficient is its dual loading station system, allowing two trains to load, dispatch and unload at the same time. It boasts soft vest style restraints for better guest comfort.
Guests are quickly lifted up to the top of a 105 foot hill and dropped at 100 feet at a wild 95 degree angle!
What to Expect on Maverick at Cedar Point
Through a series of numerous banked turns, you will be hitting 57 MPH before turning through a canyon and hitting a 74 foot airtime hill.
It gets wilder as you go into a twisted horseshoe roll featuring two back-to-back 360 corkscrew rolls with only a 180-degree banked turn in between them.
And once you think it's about to be over, it's not. For those who are familiar with VelociCoaster, you will love the special effects tunnel than will launch you 400 feet at 70 MPH beneath the loading station!
Exiting the tunnel you go swiftly up the hill, turn into a canyon into an S curve, the original home of the heartline roll, with water bombs going off as you enter the canyon!
After hitting several airtime hills and banked turns, your 2-and-a-half-minute journey aboard Maverick is complete.
Once you experience this coaster, you will understand its slogan, "The Old West was never this wild!"
Maverick at Cedar Point Ride Stats
Where does one begin when it comes to the ride stats of this attraction?
It is the 4th longest coaster at Cedar Point with a track length of 4,450 feet. Steel Vengeance holds that title with 5,740 feet of track.
Maverick holds the steepest drop of all the coasters with a 95-degree angle along with being the first to have that twisted horseshoe element.
It was notable for being engineer Werner Stengel's 500th coaster that he ever designed and is currently semi-retired.
It boasts two inversions and 2 LSM launches going 0-70 MPH in the tunnel!
This steel launch coaster is topped at 105 feet and unfortunately is one flaw is that it is affected by weather conditions since its a very fast attraction.
Lighting and/or rain will cause the ride to close as any steady rainfall can cause pain to riders if you are going 45 MPH or higher.
Upon opening it set the record for steepest coaster and cost $21 million to produce.
Overall Stats for this Cedar Point Roller Coaster
How Tall is Maverick at Cedar Point: 105 feet
Opening Date: May 26, 2007
How Fast is Maverick at Cedar Point: 70 miles per hour
Duration: 2 minutes and 30 seconds
How Long is Maverick at Cedar Point: 4,450 feet
My Final Thoughts of Maverick at Cedar Point
Maverick (while not one of the tallest coasters in the park) certainly packs a punch with its 0-70 in 3 second launch, twisted horseshoe roll, 95 degrees drop and adorable mascot.
The mascot is considered a wild horse but in Squishmallow form, his name is Midnight who is a tour guide of Frontiertown and besties with Stevie, the cactus sheriff of the small town.
The terra coaster is packed with hills and thrills, perfect for any wild broncos!
In recent years, it has consistently been in the Top 20 Steel Coaster List for Golden Ticket Awards since 2016.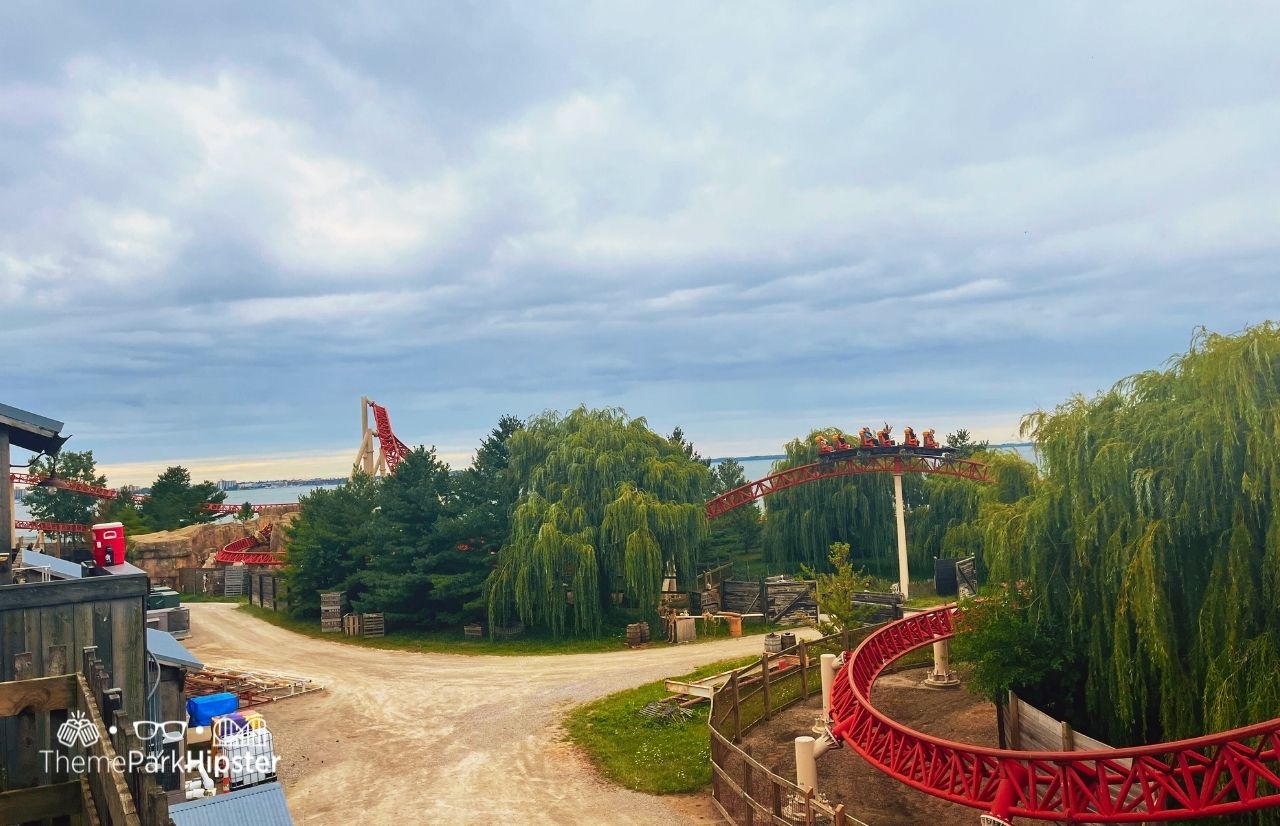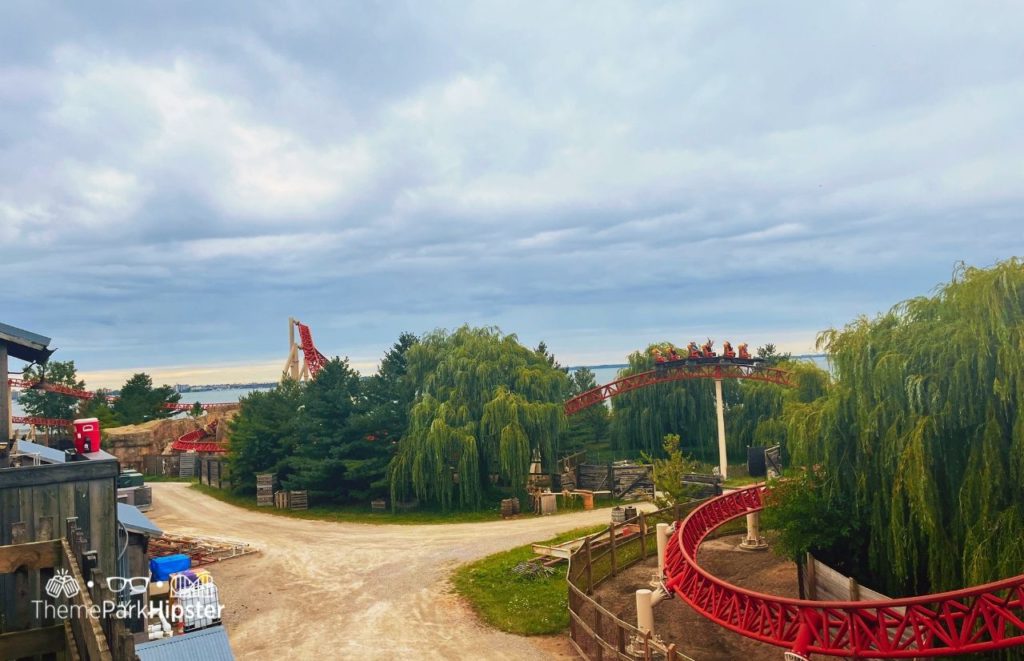 It won Best New Ride from Amusement today and Best New Attraction from NAPHA in 2007.
It is truly one of the most fun experiences I have had this year on a coaster since riding VelociCoaster last year! Its still a darn good time!
Let us know what is your favorite coaster at Cedar Point in our Facebook group!
Until next time, Happy Park Hopping Hipsters!
If you loved this article, then you'll enjoy these articles:
(Original Article Date: September 21, 2022/Updated by Editor on May 4, 2023)