Are you trying to figure out how to survive Cedar Point on the 4th of July this year?
Well, look no further!
As you may know, Cedar Point is one of the best places to enjoy Independence Day in Sandusky, Ohio.
Celebrating July 4th at Cedar Point is also so much fun; however, this is one of the most crowded days at the park!
I know this goes against all of my Cedar Point advice, but if you're trying to conquer this Ohio theme park for the Fourth of July, then I have 7 helpful tips to help you survive the day.
THIS POST MAY CONTAIN AFFILIATE LINKS. PLEASE READ MY DISCLOSURE FOR MORE INFO. Which means if you click on certain links, I may receive a small commission at no additional charge to you.
What to Know Before You Go to Cedar Point
Before I give you my Cedar Point tips, let's go over what to expect at the park.
If you're looking for a one-of-a-kind way to celebrate Independence Day, why not head over to Cedar Point?
It's the perfect place to get into the patriotic spirit and have some fun at the same time.
Honestly, if you've never been to this Ohio theme park before, I wouldn't suggest going on this specific day.
That's because it may be a bit too busy for you to see and do everything as a first-timer.
If you still plan on doing Cedar Point on July 4th, you may have a few questions.
Watch: The MOST UNDERRATED First Timer Tips for Cedar Point (Ultimate Guide)
Is Fourth of July busy at Cedar Point?
Cedar Point is definitely busy in July (and on Independence Day) as this is the time when students are out of school and when most families take their summer vacation.
Just a heads up – you might encounter some crazy long lines and wait times throughout the park.
Like, seriously, even lines for just using the bathroom! So make sure you're ready for that.
Now if you're someone who loves to travel alone (like me), listen up! I've got a great tip for you.
You'll want to avoid the huge crowds at Cedar Point during holidays like the fourth of July.
Avoiding July as a whole will allow you to have a better Cedar Point trip with shorter lines and less people to deal with.
The best times to visit Cedar Point are the middle of May, early June and late August.
Get YOUR Discount Cedar Point Tickets TODAY!
Is Cedar Point Crowded in July?
As I previously mentions, the month of July is one of the busiest times at Cedar Point. 
Not only are most kids out of school, you have to deal with one of the major holidays in America, which is Independence Day.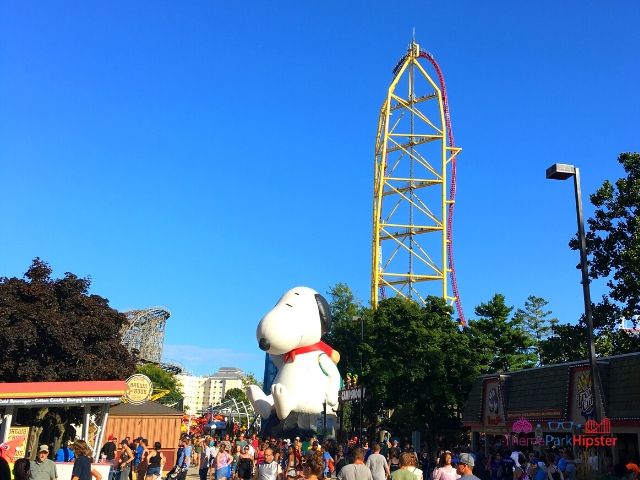 The park is also open much longer during July, but you still have to fight the crowds and the Ohio sun.
2023 Cedar Point July Events (Light Up the Point)
You'll be happy to know that Cedar Point does more for the holiday than having a 4th of July Fireworks Spectacular! 
This season you can live it up through the wonderful entertainment and festive treats.
For the Cedar Point Light Up the Point Celebration you can enjoy:
Fireworks Spectacular: starts at 10 p.m.
Summerbration! enjoy the amazing cast of entertainers along with outstanding visuals, fireworks, and incredible singing and dancing
Foodie Fun
Exclusive VIP packages: upgrade your day with the VIP Beach Viewing Experience for the fireworks show
July Days to Avoid at Cedar Point:
Independence Day (unless you don't mind the Cedar Point crowds)
The Weekends
What Should I Wear to Cedar Point in July?
For the month of July, you should wear lightweight clothing such as shorts, leggings, comfy shoes, a t-shirt, a hat, and sunglasses are all perfect for your trip.
Get deals up to 85% off for Sandusky, Ohio on Groupon TODAY!
7 Tips to Conquer Cedar Point 4th of July Crowds
Now that you know what to expect for the Light Up the Point Independence Day event at Cedar Point, let's go over a few tips to help you have an awesome adventure!
1. Map Out Your Day Before You Get to Cedar Point
If you want to make the most of your day at Cedar Point, it's smart to plan ahead. One easy way to do that is by downloading a map online or on your phone.
That way, you can make sure you hit all the must-do items while still enjoying your day.
So go ahead and map out your adventure and create an itinerary that works best for you!
2. Start Your Day Early
Independence Day at Cedar Point will be crowded and hot. 
If you do go to Cedar Point on the fourth of July, be warned – the crowd might annoy you a bit if you're not mentally prepared! 
And if you're there with a group, watch out – it could turn you all into a bunch of grumpy bears (trust me, it's happened to the best of us).
So, getting there right before the gates open is a must!
It is also very common to see Cedar Point reach full capacity on super busy days like Independence Day. 
I recommend staying in the park all day, because even if you leave for a break there's a chance you may not be able to get back in. 
Just double check with a Team Member of the park to see if you'll be able to get back in before you leave for a hotel break.
Check out my latest theme park adventures on Instagram TODAY!
3. Take Frequent Breaks on Indoor Attractions
Taking frequent breaks helps you beat the summer heat while enjoying the festivities at Cedar Point.
Indoor attractions are also a good way to take a break from the jam-packed streets in the park. 
And if it rains, you'll be in a covered area.
Cedar Point Indoor Attractions:
Coliseum Arcade
Funway Arcade
Come See About Me Musical Show
On Tap: Home Brew Musical Show
Hipster Power Tip: Don't forget to cool off on the water rides at Cedar Point. They're a quick way to easily feel refreshed.
4. Get a Cedar Point Fast Lane Before Your Arrival
If there's any day that requires a Cedar Point Fast Lane, it's the 4th of July at Cedar Point. 
As its name suggests, Cedar Point Fast Lane allows you to get on rides faster by skipping the regular queue for some of the most popular attractions at the park.
You're going to want to be strategic in your day by mixing top rides in with shows that have an indoor element. 
Like stated before, you're going to want ways to combat the Cedar Point heat.
5. Stay Hydrated
It's important to stay hydrated in the Ohio heat felt at Cedar Point. 
Avoid heat related illnesses such as, a heat stroke, heat exhaustion, heat cramps, and heat rash by having proper hydration.
The more your body sweats, the more fluid you need to replace. 
Listed below are some ways to stay hydrated at Cedar Point:
Drink before you feel thirsty
Keep a Water Bottle with You to Refill throughout the day
Monitor your water intake
Avoid dehydrating beverages such as, alcohol, coffee, and soda
Drink cool fluids
Eat food high in water (fruits and vegetables)
Hipster Power Tip: Remember the most significant amount of dangerous UVB rays occur between 10 a.m. and 4 p.m. So, keep sunscreen on hand!
6. Visit Cedar Point on July 3rd
You may not get to experience the same events taking place in the park on Fourth of July but you'll enjoy activities such as: 
Snoopy's Dog Days of Summer
Entertaining Summer Shows
The NEW Boardwalk
Live Music
Summer Treats
Another reason to go to Cedar Point on July 3rd is that you'll have a lesser crowd level than the 4th of July. 
This will allow you to be able to experience the park prior to the rush of the crowds and still be able to do something patriotic the next day at home.
7. Claim Your Fireworks Viewing Spot Early
You've survived the crowd and made it through the heat! 
Now you're ready for the Cedar Point Independence Day fireworks show.
I suggest finding your perfect spot in the park and camping out until the show starts. 
It's a great idea to get there at least an hour beforehand to secure your spot.
Just make sure you choose a spot with a clear view of the sky so that you won't miss any of the action.
Recommended: Top 10 Ways You Can Find CHEAP Cedar Point Tickets
My Final Thoughts for Cedar Point on the 4th of July
Have fun and know that it's going to be a super busy but fun day at Cedar Point. 
If you're the type of person who loves a lively atmosphere and can always keep a positive attitude, then you're going to have an amazing time on the 4th of July!
Do you think it's silly to go to Cedar Point on the 4th of July? Let us know in the comments section below.
Until next time, Happy Park Hopping Hipsters!
NikkyJ