Are you looking for the best places to find cheap Cedar Point tickets?
Well, look no further! I have the top recommendations for you.
Having just celebrated their 150 year anniversary last year, Cedar Point is the third oldest theme park in America – so it's no wonder why any Theme Park Hipster would love to travel here!
From boasting one of the biggest roller coasters in the world, to having rides that break 10 world records – Cedar Point isn't just a Theme Park Hipster's dream, it's a roller coaster junkie's dream!
So how can you get cheap Cedar Point tickets, so you can experience all this theme park thrill without breaking the bank?
Stick around – cuz I'm gonna go over LOTS of ways you can snag Cedar Point discount tickets, any time of the year!
THIS POST MAY CONTAIN AFFILIATE LINKS. PLEASE READ MY DISCLOSURE FOR MORE INFO. Which means if you click on certain links, I may receive a small commission at no additional charge to you.
How much are Cedar Point tickets, anyway?
If you're used to Orlando, FL theme park ticket prices, then Cedar Points' regularly priced tickets might shock you (in a good way)!
Why? Well, a single day adult admission ticket to Cedar Point costs just $45!  
And that's not even the price of Cedar Point discount tickets, that's what it will cost you at the gate, or online before savings!
Funday Bundle
Still love the thrill of a good deal, though? Then try Cedar Point's "Funday Bundle."
Again, this ticket option is technically not Cedar Point discount tickets, but it does save you money in the long run.  
That's because this official Cedar Point bundle includes park admission, parking, and all day dining for just $85! Not too shabby considering that parking itself costs $15.
Funday Bundle Max
And Cedar Point's final ticketing option? The Funday Bundle Max!
This $120 ticket has everything from the Funday Bundle, PLUS Single Day FunPix (i.e. a picture pass), Games Play N' Save Card (to enjoy amusement park style games), and premium all day dining!
Get deals up to 85% off for Sandusky, Ohio on Groupon TODAY!
Where to Find Cedar Point Discount Tickets?
Now that you know how much you can expect to pay at Cedar Point, let's go through a few places where you may find tickets for Cedar Point.
Please keep in mind that many of these options run special promotions at different times throughout the season, so it may not be available when you need your tickets.
So, if you see a good special, then scoop it up right away!
1. Groupon
As you probably already know, Groupon isn't just a place to find cheap Cedar Point tickets, it's got cheap EVERYTHING!
From hotel stays to theme park gear, and more. So it's always our first stop when we want to save money!
The only thing to keep in mind? Groupon is constantly updating what they have to offer. So even if you search up Cedar Point discount tickets today and nothing comes up, try again in a few days.  
Or, better yet, search up on Groupon "hotels in Sandusky, Ohio" to at least try and snag a cheap hotel for your stay, if cheap Cedar Point tickets aren't in stock at that time.
2. Viator
Owned by TripAdvisor, Viator has quickly become a very trustworthy company to book all different facets of your next daycation or vacation excursion!  
From tours to party buses to dinnertime cruises, this is definitely a website to have in your thrifty back pocket!
Just like Groupon, type "Sandusky, Ohio" into the site's search bar and cross your fingers that some cheap Cedar Point tickets are available.  
If not, try again in a few days, or simply enjoy perusing all the other fun tours and activities available during your Ohio visit!
3. AAA
Available right on the Cedar Point savings page, AAA discounts for Cedar Point discount tickets are constantly updating! Currently AAA members can save 10% on their Cedar Point hotel (as of May 2022).
Plus, did you know, you don't have to be a senior to enjoy AAA benefits? As long as you are 18 or older, you can join AAA, and enjoy all different types of savings all year round!
4. Cedar Point Website
You know that Cedar Point doesn't mind if you save money too, right? That's why they offer their own discounted Cedar Point tickets and offers to you right on their packages webpage.  
So even if all other savings options seem to be coming up dry, you know you always count on Cedar Point themselves to offer some kind of savings to their valued guests!
5. Military Member Discounts
Cedar Point proudly appreciates their veterans and they love to show their appreciation via a 10% discount for park hotels and discounted tickets, but keep in mind the savings fluctuate year round.  
6. Grocery Stores
Got a Kroger, Giant Eagle, or Drug Mart near you? Then make sure you check them out for cheap Cedar Point tickets or ticket bundles!
Ready to plan your theme park trip? Watch the best vacation planning tips on YouTube. Get started here!
7. Student Discounts
If you are a student of Ohio State University or The University of Michigan, then you're in luck!  Cedar Point discount tickets are available to you all year long with your student ID!
Another offer Cedar Point has for students? Discounted student and chaperone admission for school trips!
8. Undercover Tourist
If you're a Theme Park Hipster and you don't already know about this website, you're missing out!
From theme park planning tips to discounted park tickets and hotel stays – it's Undercover Tourist's mission to make your theme park visit as painless, and cheap, as possible!
And just so we're clear, Undercover Tourist goes wayyyyyy beyond Cedar Point discount tickets. Basically if you can name a theme park, they can find a discount!
9. Ares Travel
An authorized vacation package seller, when you book with Ares Travel, you can be confident you're booking with professionals!  
From discounted theme park tickets, to hotel stays, flights, rental cars, and more, visit Ares Travel or call (800) 434 – 7894 to check for cheap Cedar Point tickets.
Or, of course, if a trip to Sandusky, Ohio isn't in the cards for you anytime soon, check Ares Travel for discounted Orlando theme park tickets too!
10. Professional Organizations
If you're a part of a professional organization or travel club, always check to see if they have any theme park discounts.
Professions such as education, dentistry, pharmacy, legal and so much more are just a few examples of industries that have theme park deals.
Join the Conversation on the Solo Theme Park Traveler's Community on Facebook!
Cedar Point Ticket Prices and Options
Now that you know where you can find your tickets, let's go over the Cedar Point prices for each travel scenario.
1. Basic Gate Prices
As I mentioned earlier, a basic one day ticket to Cedar Point currently costs $45, whether bought in advance here or at the park gate.  
But Cedar Point offers many different ticket purchasing options too! Check them out below!
2. Vacation Packages
Cedar Point offers many flexible vacation packages that you can design to your liking.  Select your number of days, amount of people, and desired number of park tickets, and start shopping!
And while we will say these Cedar Point sponsored vacation packages are convenient – like a one stop theme park shop – they are definitely pricey!
So if saving money is the name of the game, you might be better off using one of our cheap Cedar Point tickets options above, and finding your own off-property hotel or AirBnB.
3. Cedar Point Season Pass
Similar to Universal Orlando, Cedar Point has different tiered season pass options.  
And while these aren't technically cheap Cedar Point tickets, they do save you lots of money in the long run, if you find yourself needing 2+ days of admission!
Summer Pass
The Summer Pass is the cheapest option at $99 and pays for itself in just 2 visits.  
Although of course, it is only valid from April through Labor Day, (September 5). The Summer Pass also entitles you to free parking all summer long.
SKIP THE LINE: Get YOUR Cedar Point Ticket TODAY!
Cedar Point Gold and Platinum Pass
For our year round Cedar Point lovers, the Gold or Platinum Pass is recommended.  
Both passes give unlimited entry to Cedar Point and Cedar Point Shores (their waterpark) year round, free parking, bring a friend discounts, in-park dining and merchandise discounts, and early access to the parks.
So where does the Platinum Pass edge out the Gold Pass? With the Platinum Pass, you can purchase Fast Lane Plus for the same price as Fast Lane, and admission and parking to all Cedar Fair Parks.
And what about the final cost of the Cedar Point Platinum or Gold Pass?
The Gold Pass will run you $135 (which pays for itself in 3 visits), and the Platinum Pass costs $230 (which pays for itself in 5 visits).
4. Pre-K Pass
For your little Theme Park Hipsters, aged 3 – 5, complimentary Pre – K Passes are available.  They come at no cost to you and allow for UNLIMITED park days to Cedar Point and their accompanying water park, Cedar Point Shores.
Do note though, no other perks come along with the Pre – K pass. Dining, a picture pass, or Fast Lane privileges still need to be purchased separately, at regular price.
What to Know Before You Go to Cedar Point
Let's go over a few of the most commonly asked questions when it comes to planning your Cedar Point vacation.
What other theme parks are there in Sandusky, Ohio?
If you're making the trip up to Sandusky, Ohio for Cedar Point, odds are you want to make your trip worthwhile – right?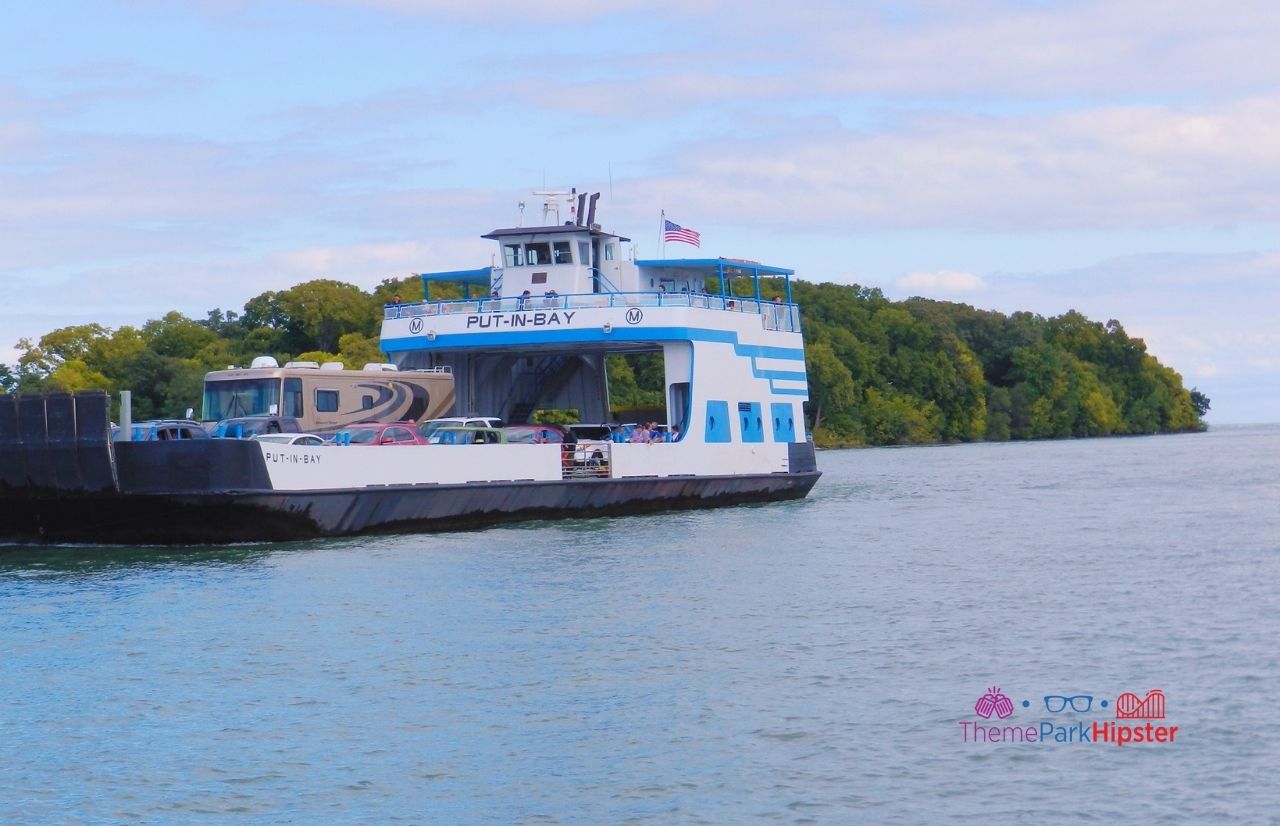 Luckily you certainly can as Sandusky, Ohio has more going for it than just Cedar Point!
Visitors also love the indoor Kalahari Waterparks, Great Wolf Lodge, Castaway Bay, and Skateworld!
How far is the Rock and Roll Hall of Fame from Cedar Point?
The Rock and Roll Hall of Fame is just an hour away from Cedar Point, so it makes for another great, memorable excursion!
And for just $30 per adult ticket, you can't go wrong visiting this famous American landmark!
What are the best rides in Cedar Point?
The best ride at Cedar Point is Steel Vengeance; however, there's a strong debate as to if Maverick should have that number one spot.
Built in 2017, the hybrid wooden and steel roller coaster, Steel Vengeance, breaks 15 world records all on its own!  
This 2 minute and 30 second coaster stands at 205 feet tall and reaches a top speed of 74 miles per hour!
Riders can't get enough of this "hybrid" coaster (its track is steel but the structure is wood) because you get the smooth ride steel coasters offer, with the novelty of a wooden coaster.
Curious to see all the records Cedar Point and its rides have broken? Check out the list here!
Can I bring food into Cedar Point?
Unlike Orlando theme parks, guests at Cedar Point are not allowed to bring in food.  
Only unopened bottled water is permitted into the park – unless guests have special dietary restrictions that require personal food items to be brought in.
Final Thoughts on Finding the Best Cedar Point Tickets
So – do you feel like you've got enough options to shop around for cheap Cedar Point tickets? I hope so!  
We did our best to find the most online places for you to snag Cedar Point discount tickets, so hopefully you can find savings anytime of the year!
So now you've got to let us know – have you been to Cedar Point before? If so, what was your favorite ride? How much did you pay for admission?
We can't wait to hear from all you Theme Park Hipsters below.
Until next time, Happy Park Hopping Hipsters!
About the Author
UP NEXT: 45 Amazing First Timer Tips for Cedar Point: Tickets, Rides and More!