Are you ready to conquer the best roller coasters at Cedar Point?
Located right off the Lake Erie peninsula, Cedar Point is the second oldest amusement park in the world after Lake Compounce.
The 152 year old park was crucial to the start of the infamous coaster wars of the 1990s by building Mangum XL-200.
Magnum XL-200 debuted in 1989 as the world's 1st hypercoaster breaking several records upon its opening and consistently making the Golden Ticket Awards' Top 50 Roller Coasters list every year to this very day.
Since then, Cedar Point adopted the nickname "Roller Coast", due to its 15 record-breaking coasters that followed Magnum and the fact that it's off Lake Erie.
With that being said, if you're a coaster enthusiast like myself, you are going straight to the very best that a theme park has to offer.
Cedar Point is no exception as the flagship for the Cedar Fair company, which boasts over 16 different parks under their umbrella.
Today, I am going to go over the 10 best Cedar Point roller coasters just for you!
THIS POST MAY CONTAIN AFFILIATE LINKS. PLEASE READ MY DISCLOSURE FOR MORE INFO. Which means if you click on certain links, I may receive a small commission at no additional charge to you.
1. Steel Vengeance
Another fantastic roller coaster that I have covered previously, Steel Vengeance is a true marvel and certainly deserving of its place on our list.
Steel Vengeance replaced Mean Streak, a wooden coaster that debuted in 1991 as the tallest wooden coaster in the world with the tallest drop height.
After 25 long years of service to Cedar Point, it was deemed time for it to depart, but not completely.
Cedar Point worked with RMC (Rocky Mountain Construction), known for transforming and creating wooden roller coasters into steel/ wooden hybrids and thus Steel Vengeance was born.
RMC managed to achieve this by using a good chunk of Mean Streak's original structure while combining it with RMC's signature steel I-box track design.
Why We Love This Cedar Point Roller Coaster
In May 2018, Steel Vengeance made its entrance breaking 10 records as the world's first hybrid hypercoaster.
The tallest point on Steel Vengeance reaches 205 feet with a drop height of 200 feet at a frightening 90 degree angle, along with the track being extended to 5,740 feet.
You will reach a top speed of 74 miles per hour while traveling along 4 inversions. The coaster boasts several airtime hills, zero G rolls and over-banked turns.
Steel Vengeance Breaking World Records
While some of the ten records have now been broken, at the time of writing this guide, it still holds the record for:
Most airtime on any roller coaster
The most inversions on a hybrid roller coaster
Longest hybrid roller coaster
Fastest airtime hill on a hybrid roller coaster
World's first hyper-hybrid coaster
With the exception of 2020, it has ranked the top three on Golden Ticket Awards Top Steel Coasters list since its debut.
Visitors usually rush to Frontiertown, located in the very back of the park, to make sure they can experience this coaster, who's backstory actually rivals Maverick as the best coaster in the land.
Stats for this Cedar Point Roller Coaster
Opening Date: May 5, 2018
Steel Vengeance Height: 205 feet
Top Speed of Steel Vengeance: 74 miles per hour
Duration: 2 minutes and 30 seconds
Current World Records: Most Amount of Airtime (30 seconds); Longest Roller Coaster (5,740 feet)
Get deals up to 85% off for Sandusky, Ohio on Groupon TODAY!
2. Maverick
Maverick galloped on the scene replacing the White-Water Landing flume ride on October 30, 2005.
Located in the park's Frontiertown, it was announced a year later that Maverick would replace the 1982 flume ride.
Why We Love This Cedar Point Roller Coaster
Maverick is the 4th longest roller coaster at Cedar Point and boasts the steepest drop of all the coasters with a 95-degree angle.
It doesn't skimp on the thrills either with its 2 inversions and 2 LSM launches pushing 0-70 MPH in the tunnel!
Maverick is also one of the first roller coasters to have a twisted horseshoe element. Maverick has several airtime hills, S curves and more that you can experience in two and a half minutes!
Stats for this Cedar Point Roller Coaster
Opening Date: May 26, 2007
Maverick's Height: 105 feet
Top Maverick Speed: 70 miles per hour
Duration: 2 minutes and 30 seconds
3. Millennium Force
Next is Millennium Force, another classic Cedar Point roller coaster that replaced the Giant Wheel attraction.
This Cedar Point roller coaster conception took five years, starting in 1996 with its official announcement taking place in July 1999.
It was said that it would be the tallest coaster in the world, which caused debate as to whether it was truly the tallest due to it competing with Superman: The Escape at Six Flags Magic Mountain.
However, it would ultimately come out on top taking 7 months and 120 construction workers to bring this coaster to fruition.
Millennium Force Breaking World Records
Like its namesake states, it opened in 2000 and broke six World Records upon its opening, including being the 1st giga coaster and 1st complete circuit coaster.
It is one of two giga coasters built by Intamin, the second being at Cedar Point's sister park, Kings Dominion. Millennium Force is the equally popular, Intimidator 305.
This Cedar Point roller coaster is notable for several features like:
three over-banked turns
two tunnels
four hills
its signature lift that is opposite the edge of Sandusky Bay (adding to its thrill factor)
Millennium Force also manages to drop at 300 feet at its highest, hitting top speed at 93 MPH.
Why We Love This Cedar Point Roller Coaster
Ringing in the new millennia, it decided to break 5 records globally and added to four more for Cedar Point as a whole.
It introduced magnetic brakes to coasters and has been consistently in the top three for Golden Ticket Awards top steel coasters yearly since its debut.
To this day, Millennium Force continues to have the longest lines in the park, with wait times up to four hours, but nevertheless, you will find the wait absolutely worth it.
Stats for this Cedar Point Roller Coaster
Opening Date: May 13, 2000
Top Millennium Force Height: 310 feet
Millennium Force Speed: 93 miles per hour
Duration: 2 minutes
Previous World Records: Tallest and Fastest Roller Coaster in the World; Ranked Amusement Today's #1 Steel Roller Coaster 10 years in a row
Ready to plan your theme park trip? Watch the best vacation planning tips on YouTube. Get started here!
4. Valravn
This B&M coaster was the very first dive coaster of the entire Cedar Fair entertainment company. It was also the 100th installation for the B&M company as a whole.
Plus, Valravn was the 10th dive roller coaster in the world to be built and the 3rd in the country.
Why We Love This Cedar Point Roller Coaster
In September 2015, Valravn was announced to be replacing Good Time Theatre Turnpike Cars.
Upon its construction, it was the first of its kind to feature the vest style restraint system, which can be found on another coaster on this list.
I would consider Valravn as a modest roller coaster in the sense that it doesn't make it known that it's an outstanding ride at Cedar Point.
It features a top height of 223 feet with a 214 foot drop at a 90 degree angle but not before it dangles you at the edge of the very top for several seconds just to freak you out briefly.
You will enjoy your ride along 3,145 feet of track, while hitting some inversions with an Immelmann turn and dive loops along the way at 75 MPH.
Valravn Breaking World Records
Upon its opening, Valravn at Cedar Point broke the record for:
Tallest, longest and fastest dive roller coaster
Highest and most inversions on a dive coaster
Longest drop on a dive roller coaster
It boosted some records for the park as a whole too. Personally, i find this is a coaster to see to believe and to experience yourself.
Stats for this Cedar Point Roller Coaster
Opening Date: May 7, 2016
Top Valravn Height: 223 feet
Valravn Top Speed: 75 miles per hour
Duration: 2 minutes and 23 seconds
Previous World Records: Tallest Dive Coaster; Fastest Dive Coaster; Longest Dive Coaster; Longest drop on a Dive Coaster; Most inversions on a Dive Coaster; Highest inversion on a Dive Coaster
5. Magnum XL-200
Magnum XL-200 continues to be in the Top 50 Steel Roller Coasters on the Golden Ticket Awards list.
It is credited as being the shifting factor in where Cedar Point was headed and that was to become a roller coaster park, which it is now beginning to slowly shift away from.
Magnum XL-200 is still heralded as one of the great roller coasters ever created.
Why We Love This Cedar Point Roller Coaster
The classic hyper coaster is known for its 205 feet height, but it should be noted that it actually has no inversions.
Nonetheless, you'll be hitting top speed of 72 MPH along over 5000 feet of track for 2 minutes exactly.
While there isn't much of the thrill to some, you will get plenty of airtime on the hills and plenty of gorgeous views.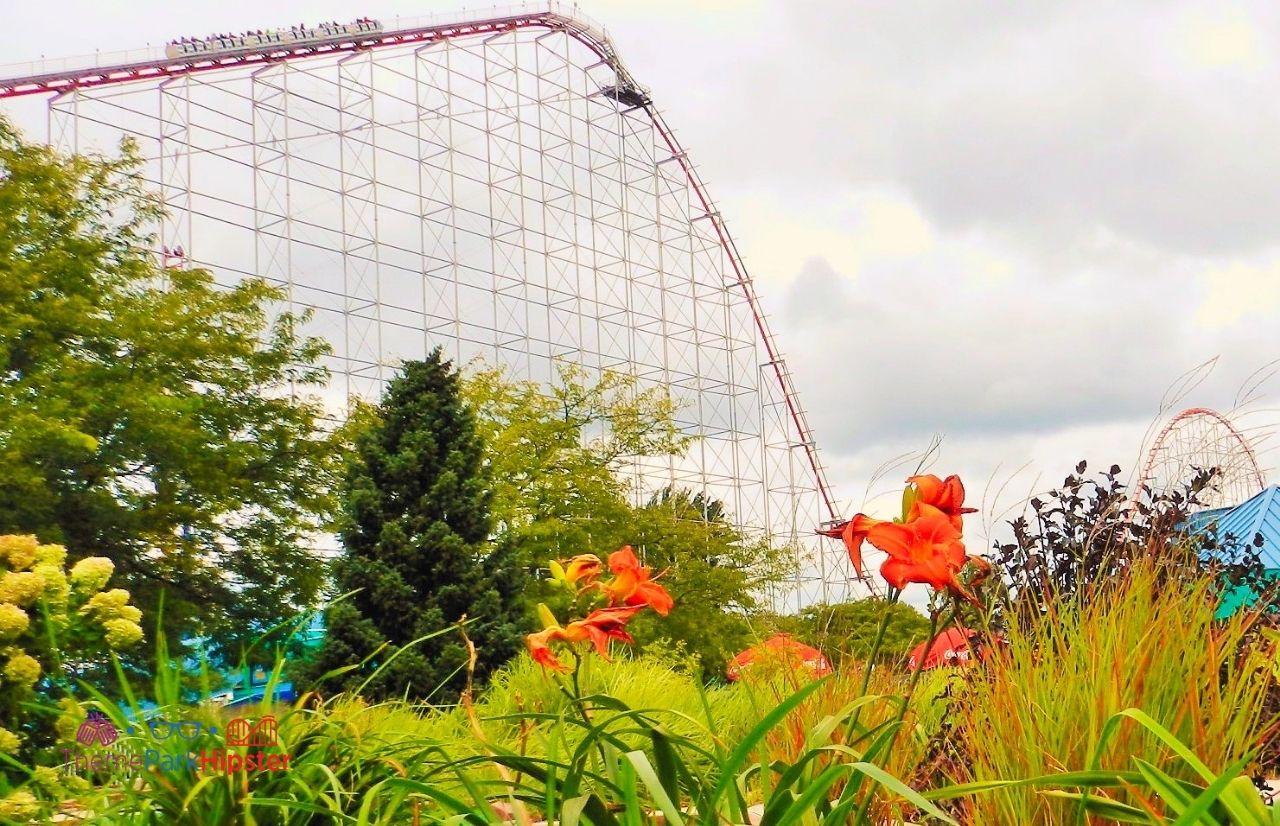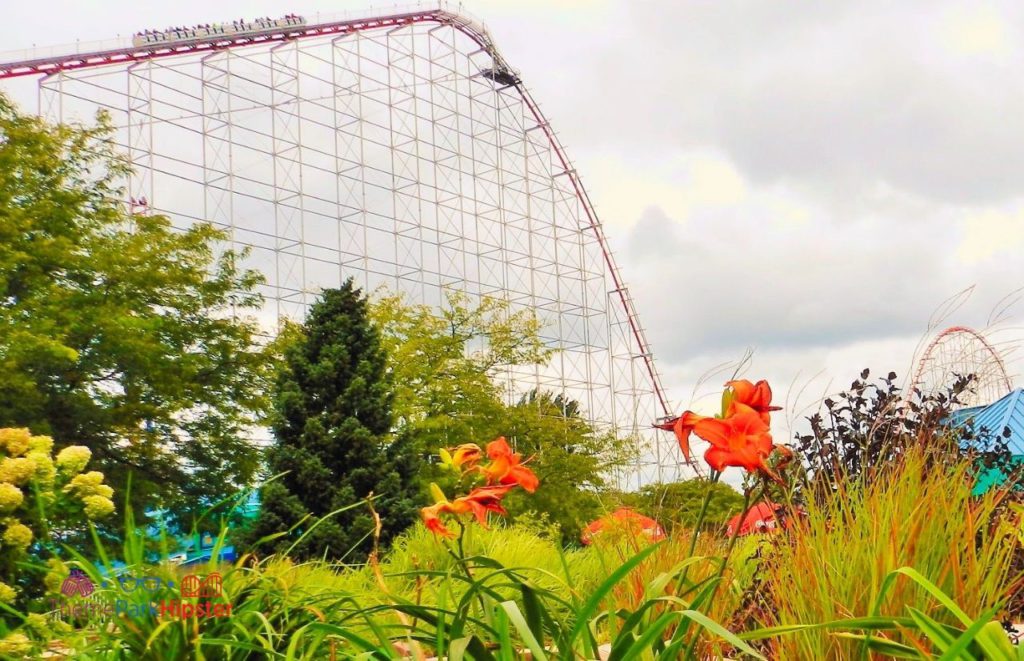 Needless to say, Magnum XL-200 is on the list for its historical impact and ultimately how fun it still is after being around for over 30 years.
Stats for this Cedar Point Roller Coaster
Opening Date: 1989
Top Magnum XL Height: 205 feet
Magnum XL Speed: 72 miles per hour
Duration: 2 minutes and 45 seconds
Previous World Records: World's First Hypercoaster (roller coaster exceeding 200 feet in height); Fastest Complete Circuit Roller Coaster in the World; Steepest Complete Circuit Roller Coaster in the World
6. Gatekeeper
Speaking of B&M (Bolliger & Mabillard) coasters, let's move on to Gatekeeper!
Gatekeeper is usually one of the first rides that guests rush to and that's because it's the very first roller coaster you see when you arrive to Cedar Point.
Entwine within the Park's entrance is the track in which the cars go through a pillar SIDEWAYS!
That is enough to give you a preview of what to expect from your Cedar Point Day.
Why We Love This Cedar Point Roller Coaster
This coaster replaced the infamous Disaster Transport attraction thankfully in 2013. To learn more about the predecessor for Gatekeeper, take a look at this video. Safe to say, Gatekeeper was a very welcome replacement.
The concept of Gatekeeper goes back as far as 2011 and was announced in Summer 2012, a month after Disaster Transport closed.
With approximately 100 construction workers, Gatekeeper managed to get completed within 8 months, with the final piece being put in place two weeks ahead of schedule!
A year later in May 2013, Gatekeeper unlocked its doors. To no one's surprise, Gatekeeper broke records but let's check out the stats first.
What to Expect on Gatekeeper at Cedar Point
Admittedly, Gatekeeper can be a bit intense for some. You are hitting speeds of almost 70 MPH across 4,164 feet of track which, unlike Raptor and Rougarou, had to have its track and support filled with sand to reduce noise at the entrance as guests come through.
The max height is 174 feet with its drop being 164 feet which might not seem like a lot compared to the other roller coasters in the park.
Let us take into consideration the fact that riders are hitting 6 inversions and 4 G forces while experiencing several moments of weightlessness and passing through two 100-foot keyhole elements placed at the park's entrance.
Gatekeeper Breaking World Records
With records, it broke quite a few, but amongst specifically wing coasters, it specifically made waves with hitting the most inversions on a wing coaster, beating the now defunct Volcano at Kings Dominion.
It no longer holds that title but it is still the longest, fastest and contains the longest drop.
While it hasn't topped lists, it is credited with helping the Cedar Fair company gain record revenue, attendance, distribution and stock pricing in 2013.
Gatekeeper also helped the park achieve its greatest opening day ever in the history of Cedar Point's existence.
Stats for this Cedar Point Roller Coaster
Opening Date: May 11, 2013
Top Gatekeeper Height: 170 feet
Gatekeeper Top Speed: 67 miles per hour
Duration: 2 minutes
Previous World Records: Highest Wing Coaster, Fastest Wing Coaster, Longest Wing Coaster, Tallest Drop for a Wing Coaster, Most Inversions on a Wing Coaster
7. Raptor
Raptor is another B&M roller coaster with a uniquely steel inverted design. Its layout is larger than other coasters similar to it. But we will get into that in a moment.
Raptor replaced the Mill Ride and Cedar Point got right to work with construction including relocating the Midway Carousel and Calypso to make room for the coaster, which boasts 3,790 feet of track.
Construction moved fairly quickly with the coaster being topped off in early 1994 and testing being completed in early March.
Cedar Point painted the coaster in dark and bright greens to add to its "Birds of Prey" theme. Raptor made its official debut in May 1994 for the new season.
Why We Love This Cedar Point Roller Coaster
Raptor is a high velocity, high altitude roller coaster so it won't run during rough weather conditions for safety reasons.
But with this, it also gives you a better understanding of what you are dealing with as far as this caliber of coaster.
You will experience several different loops and rolls like cobra rolls, corkscrews, six inversions, and zero G rolls.
The Raptor roller coaster concludes in a 1.5 revolution flat helix which allows for alot of g forces to be experienced but can also cause lightheadedness.
Stats for this Cedar Point Roller Coaster
Opening Date: May 7, 1994
Top Raptor Height: 137 feet
Raptor Top Speed: 57 miles per hour
Duration: 2 minutes and 15 seconds
Current World Records: One of the world's first inverted roller coasters
8. Rougarou
This particular roller coaster is not without its small controversy. To talk about Rougarou, we have to go back to why it exists in the first place.
This means going back to 1995, when Cedar Point announced their next coaster, a stand up coaster.
From Banshee to Mantis to Rougarou
It was stated to be the fastest, longest and tallest in the world and would be named "Banshee", or so it was originally planned.
There ended up being a public backlash against the name as "Banshee" is a female wailing ghost that signals the death of one's family member in Irish folklore. The name and logo were quickly changed to "Mantis."
At the end of the 1995 season, construction began with 20% of the track being over the water!
Mantis opened just in time for the 1996 season in May. It cruised riders for 18 years until 2014 when it was announced to be closing due to its rapidly growing reputation that it was a rough ride.
It was stated by Cedar Point that Mantis would be converted to a floorless roller coaster named after the legendary creature from French and New Orleans folklore, Rougarou.
Why We Love This Cedar Point Roller Coaster
The refurbishment was completed, and the coaster reopened in the 2015 season to guests. It got far better positive reviews than its predecessor due to the increased comfort with over the shoulder harnesses.
You will experience the first drop at 137 feet at a 52-degree angle. Plus, you will reach speeds of 60 MPH as you go into several loops, including a vertical loop almost immediately after the first drop.
As you journey close to 3 minutes along the 3,900 feet of track, you will experience 4 inversions. While Mantis broke records, as of today, Rougarou has not.
Stats for this Cedar Point Roller Coaster
Opening Date:
Top Gemini Height:
Gemini Top Speed:
Duration:
9. Gemini
Next on the list is the second oldest roller coaster in the park, Gemini, a wooden-steel racing coaster.
Gemini made its debut in 1978 as one of three coasters in the park during that time period.
Why We Love This Cedar Point Roller Coaster
It's a classic due to its dueling racing coaster style, which we all love! The steel hybrid uses a wooden support and steel track somewhat similar to how Rocky Mountain Construction's style.
Gemini has one of the park's big "people eaters" thanks to its dual loading stations, operating with two cars on each side.
What to Expect on Gemini
Both sides have the same stats with an 118-foot drop and top height of 125 feet.
You will take off going 60 MPH along 3,935 feet of track for about 3 minutes, getting tons of airtime and thrill with that 55-degree angle drop in the beginning.
While it was claimed in its marketing that it broke records, it actually did not.
Stats for this Cedar Point Roller Coaster
Opening Date: June 17, 1978
Top Gemini Height: 125 feet
Gemini Top Speed: 60 miles per hour
Duration: 2 minutes and 40 seconds
10. Blue Streak
Next up, is Blue Streak, the oldest roller coaster in the park!
Replacing Cyclone in the process of adding more coasters, in 1964 Blue Streak made its debut and was only one of three coasters during the time. As a historic wooden coaster, it is still fairly popular to this day!
Why We Love This Cedar Point Roller Coaster
Although Blue Streak is slightly underwhelming to this list as far as stats go, you will get plenty of airtime in true wooden coaster fashion.
Blue Streak reaches a top height of 78 feet and a drop height of 72 while maxing out at 40 MPH. In the coaster's defense, wooden coasters hitting that speed is thrill enough!
Just this year it was named a Coaster Landmark by ACE and has made the Golden Ticket Awards Top Wooden Coasters list yearly since 2001.
Stats for this Cedar Point Roller Coaster
Opening Date:
Top Gemini Height:
Gemini Top Speed:
Duration:
My Final Thoughts on the Best Cedar Point Roller Coasters
The Roller Coast of America has made its mark over the past few decades, and while there are so many things to experience as the park, we have gone over just ten of them!
The park features 15 total coasters, with a new one debuting in May 2023 as part of the park's Boardwalk expansion, as well as a reimagined Top Thrill Dragster.
Keep your calendar open for the upcoming season to experience these amazing coasters!
Have you experienced any of these Cedar Point roller coasters? Which one was your favorite? Share with us in the comments section below!
Until next time, Happy Park Hopping Hipsters!