Are you brave enough to challenge the Valravn at Cedar Point?
If you are, then I'm here to help you on the solo theme park adventure ahead.
For this journey, you may want to grab a friend to tag along with you on this epic roller coaster expedition.
As you make your way over to Valravn, be prepared to experience the power of the Danish folklore creature.
THIS POST MAY CONTAIN AFFILIATE LINKS. PLEASE READ MY DISCLOSURE FOR MORE INFO. Thank you!
Before you head to Cedar Point you may have a few questions about Valravn.
Where is Valravn in Cedar Point?
Valravn is located towards the front of the park. Once you make you way inside, you walk down the center pathway past Raptor on the left. After your short walk, you'll see Valravn to your left.
How tall is Valravn at Cedar Point?
Valravn is one of the tallest dive coaster in the world at 223 feet.
How much does it cost to go to Cedar Point?
Tickets for the season are now available for prices as low as $49.99 for a single day ticket depending on peak days vs. non-peak days.
Prices are subject to change.
7 Valravn Cedar Point Stats You Should Know
1 – Tallest Dive Coaster
Before we continue with the incredible stats of Valravn, you should probably know what a dive coaster is.
A Dive Coaster is simply a steel roller coaster that features a near-vertical drop at almost 90-degrees and gives you the sensation of free-falling.
This type of roller coaster was created and engineered by Bolliger & Mabillard (also known as B &M in the industry).
Valravn currently holds the title of being the tallest dive coaster in the world at 223 feet.
2 – Fastest Dive Coaster
As if dealing with the thought of diving into the depths aren't bad enough, now you have to do it at 75 mph.
Yep, that's right!
If you're a roller coaster fanatic, you're probably thinking that's not too bad and that Valravn's speed is the industry average…
…but remember, this is a dive coaster.
Everything about this type of ride revolves around how intense the dives are at each drop in the attraction. So, adding 75 mph to an already intense roller coaster only puts it to the insane level.
Remember: Sheikra at Busch Gardens in Tampa is a dive coaster with speeds reaching 70 mph.
3 – Longest Dive Coaster
Cedar Point's Valravn is the longest dive coaster in the world at 3,415 feet and it makes good use of the space inside the park.
If you haven't been to Cedar Point in a while, then you may be wondering what happened to the Good Times Theater (formerly the Cedar Point Theater) and the Turnpike Cars?
They were demolished to make room for Valravn.
Although the roller coaster is 3,415 feet long, it does not feel like a big annoyance in the center of the park. In fact, it adds to the "Roller Coaster Capital of The World" atmosphere that Cedar Point is known to have.
4 – Most Inversions on a Dive Coaster
Valravn has three inversions, making it the only dive coaster in the world to have that many.
Canada's Wonderland Theme Park will be opening its own dive coaster, Yukon Striker, which will have a total of four inversions!
5 – Longest Drop on a Dive Coaster
Not only do you have to be brave enough to dive 90-degrees into the depths of the earth on Valravn, you'll have to do it on the longest recorded drop at 214 feet.
And yes, I did say 214 feet!
Imagine your feet dangling 214 feet at the top of Valravn for what seems like hours, while you wait for the coaster car to finally break free…
But don't worry, I know you got this.
After all, if you can brave solo theme park hopping then you can do ANYTHING!
The lift hill is also on a 45-degree angle, which is much steeper than most coasters that average around a 30-degree angle.
6 – Highest Inversion on a Dive Coaster
Here's where it gets fun.
As mentioned earlier, there are three inversions on Valravn at Cedar Point. One of the most notable inversions is a 165-foot Immelmann Roll.
An Immelmann Roll is a half-loop that inverts coaster cars for a half twist and sends them in the reverse direction.
7 – Good Ride Length
Valravn lasts for 2 minutes and 23 seconds. I think this is plenty of time to take that deep dive and scream your head off.
---
What to Know Before Your Cedar Point Trip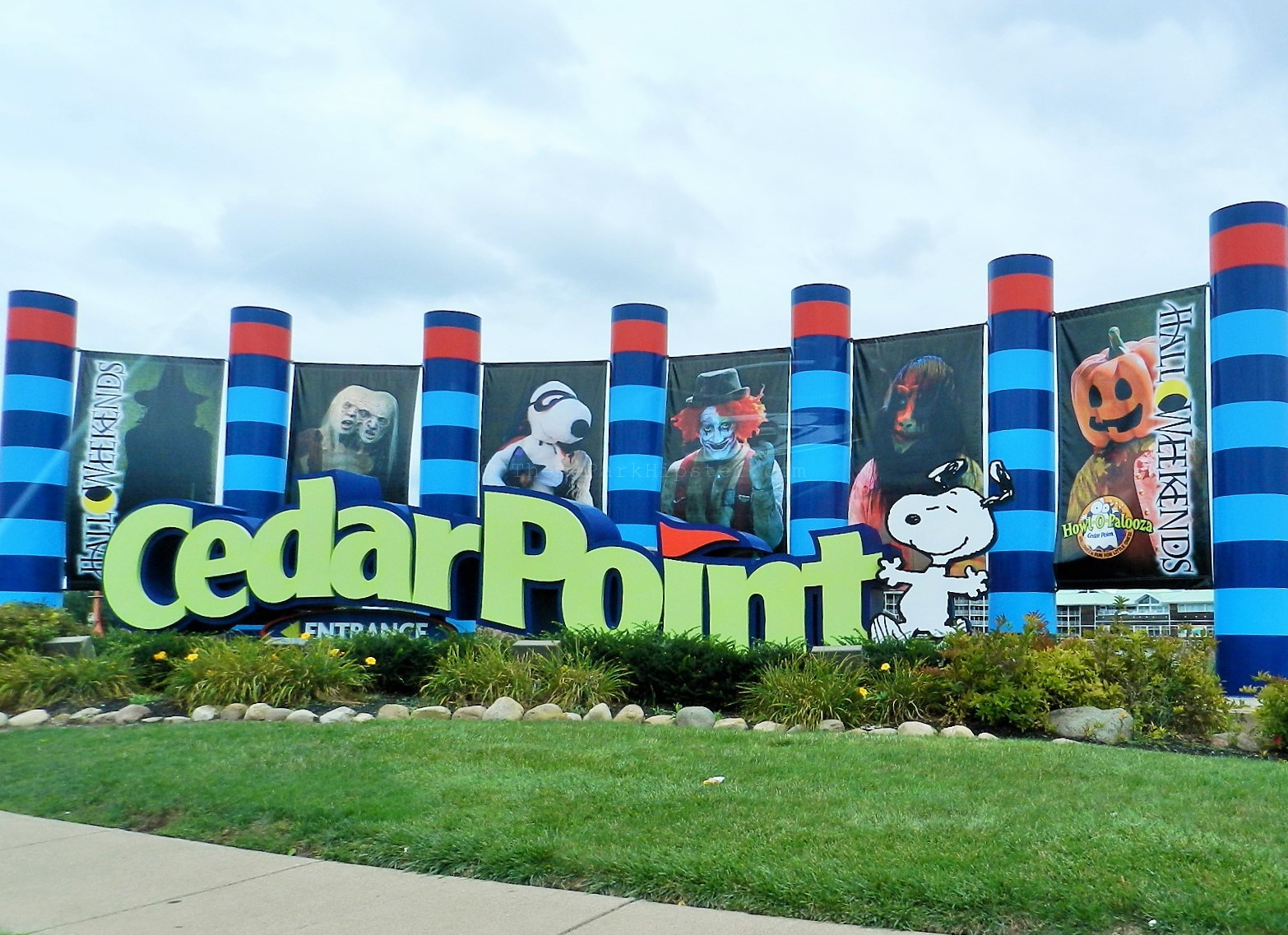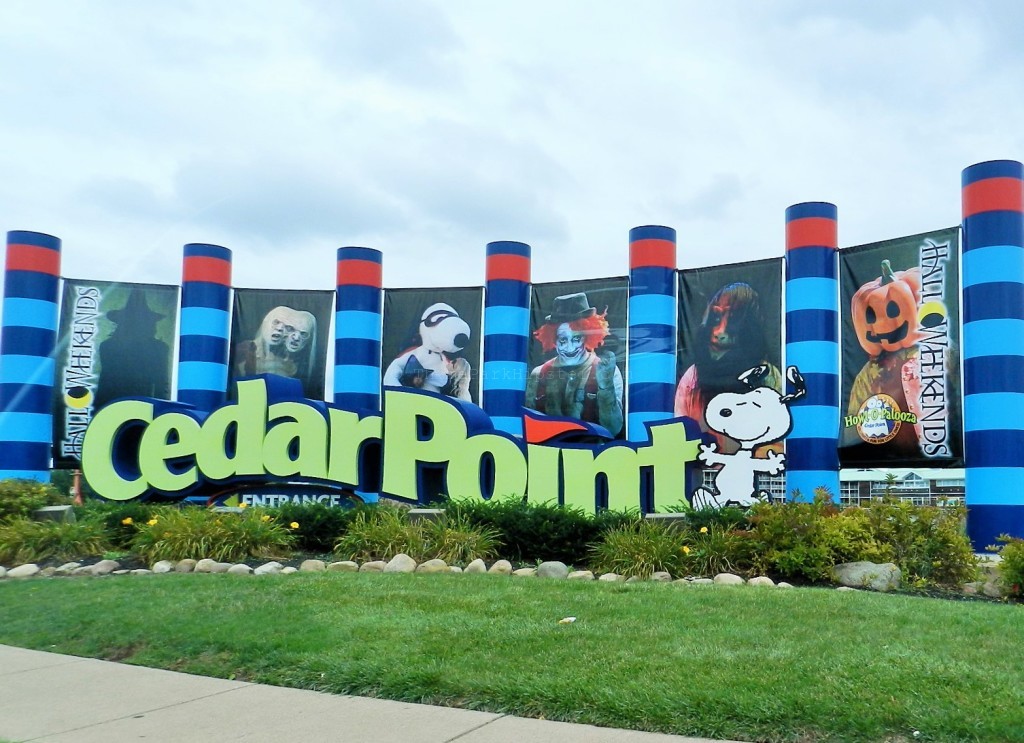 When thinking about making your solo trip to Cedar Point, you should know a few basic things to maximize your day.
Research Your Trip
As with any great park trip, research on the latest attractions, shows, events, and policy updates are a great way to know how to tackle your trip.
Research at such an epic amusement park such as Cedar Point lets you know how to map out and plan your day.
Have the Cedar Point Location and Address Handy
Cedar Point's address is 1 Cedar Point Dr, Sandusky, OH 44870.
Know Cedar Point Hours
Cedar Point usually opens at 10:00 a.m. and closes at 10:00 p.m. in the summer months.
However, during the fall the park hours and days change dramatically so always check the park's website or mobile app before your visit.
Review the Cedar Point Map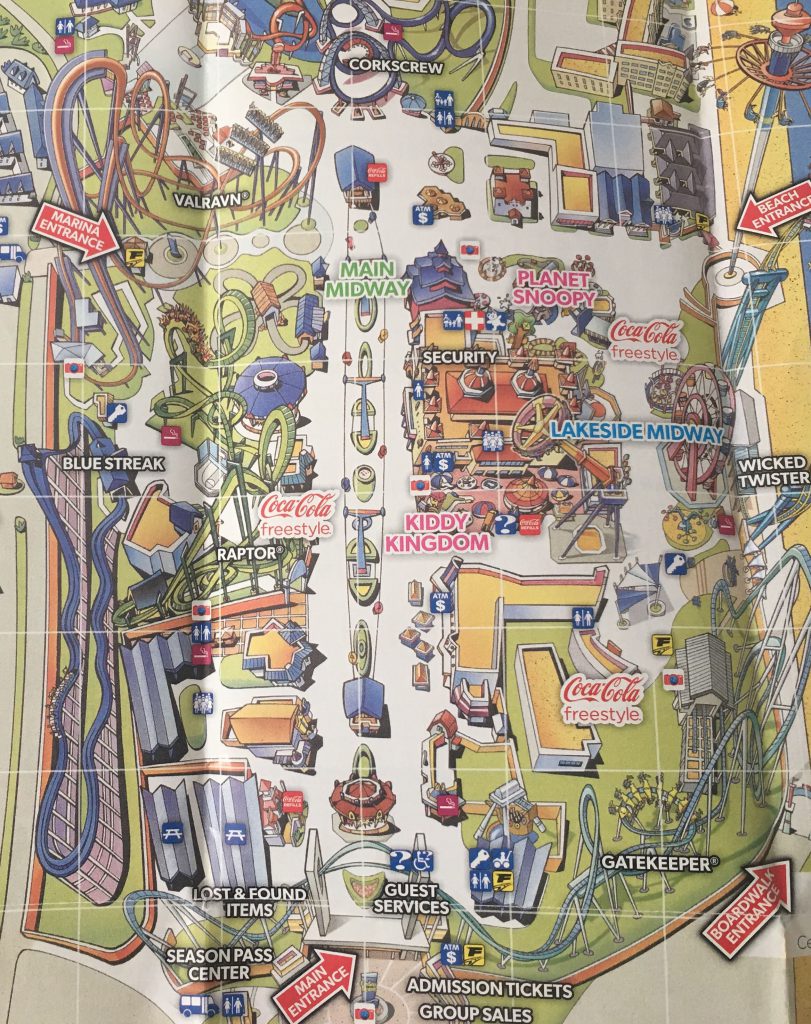 Remember to Start Early
This tip is especially important if you will be at Cedar Point for only one day.
Starting early goes for any major theme park or event in the world. An early start not only allows you to be able to fully enjoy the park, it will allow you to feel less pressure and you will be able to jump quickly between each attraction.
Know What the Best Cedar Point Rides & Roller Coasters
Steel Vengeance (the newest ride at Cedar Point)
Maverick
Millennium Force
Top Thrill Dragster
Gatekeeper
Do it Scared!
Yeah, I know record-breaking roller coasters may not be your thing, but push past any fear and try at least one on your trip.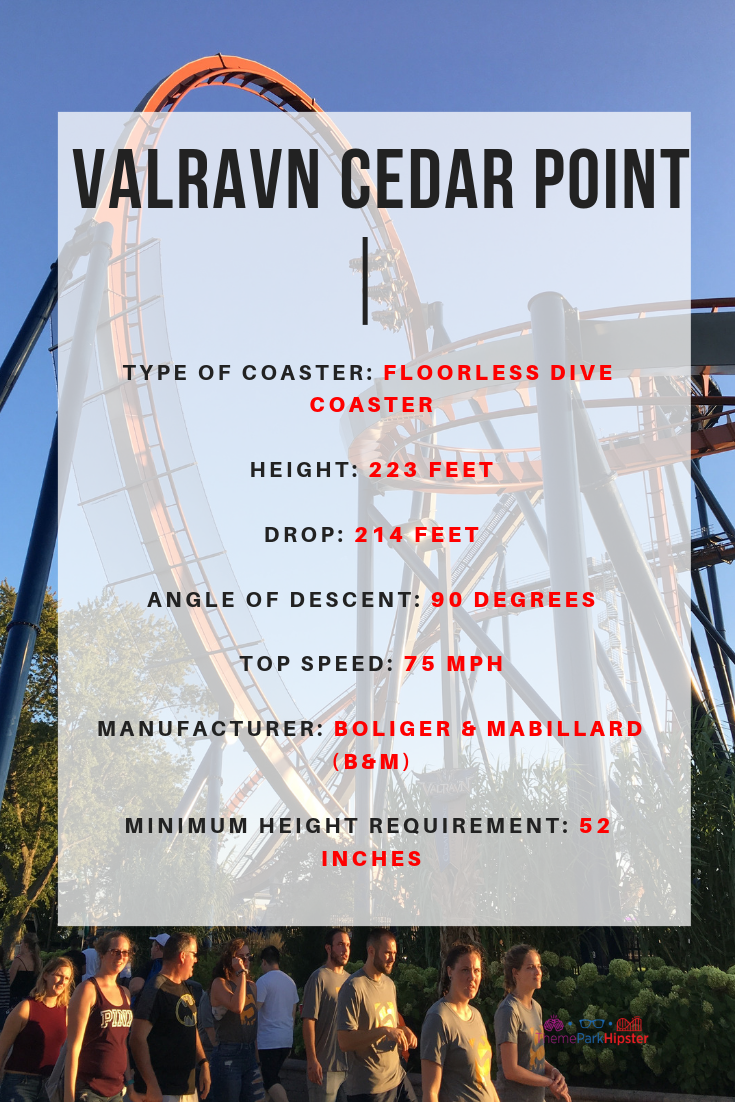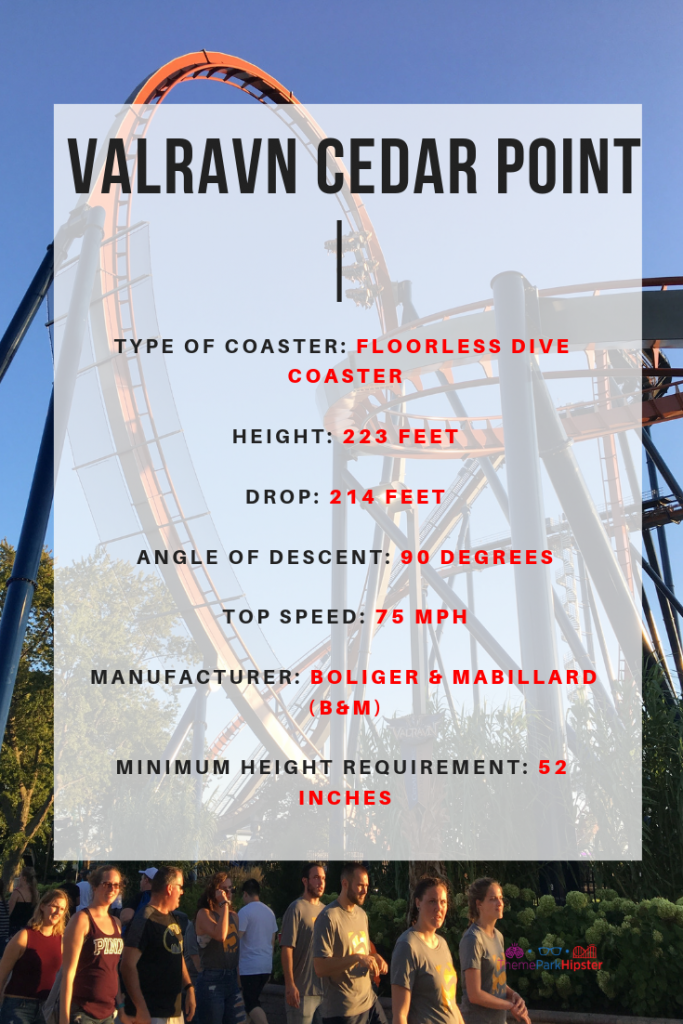 5 Pro Tips to Remember for Valravn
Use Cedar Point Fast Lane to skip the line. If not, expect to wait a LONG time (2 hours+) for the ride.
Get a locker or leave your personal items with someone you trust. Cedar Point does not allow you to bring anything on the ride. They are very serious about this policy, so just don't try it.
You can use the small cubby boxes inside Valravn's ride station to hold your sunglasses or shoes that may fly off.
Try to sit on the edge if you can in order to get the BEST views and the BEST ride experience.
Stay at an onsite hotel such as Hotel Breakers to get early park admission.
Cedar Point Tips (Ultimate Guide for First Timers - Episode 12)
Final Review of Valravn
Overall, Valravn at Cedar Point is a wonderful dive coaster and a perfect addition to the park. I do recommend that you experience it on your next trip to this Sandusky, Ohio theme park.
The rows for the coaster cars are long, as expected with a dive coaster vehicle, with only three rows and eight seats in each row.
This allows for twenty-four passengers per car.
The ride restraints are super comfortable which helps contribute to the overall ride experience.
I mostly admired the smoothness and the easy transitions through the inversions.
Yes, the 90-degree drop is terrifying, but you're at Cedar Point and to be quite honest, Valravn is the least of your worries while at this park.
So, when you get to the top of the ride, embrace the suspense and take in all the stunning views surrounding Cedar Point.
If you're thinking about visiting Cedar Point this season, then hit me up with a comment below. I'd love to answer any questions you may have.
You can go ahead and read 45 Cedar Point First Timers Tips here or if you're more of a podcast person, then you can listen to the tips here.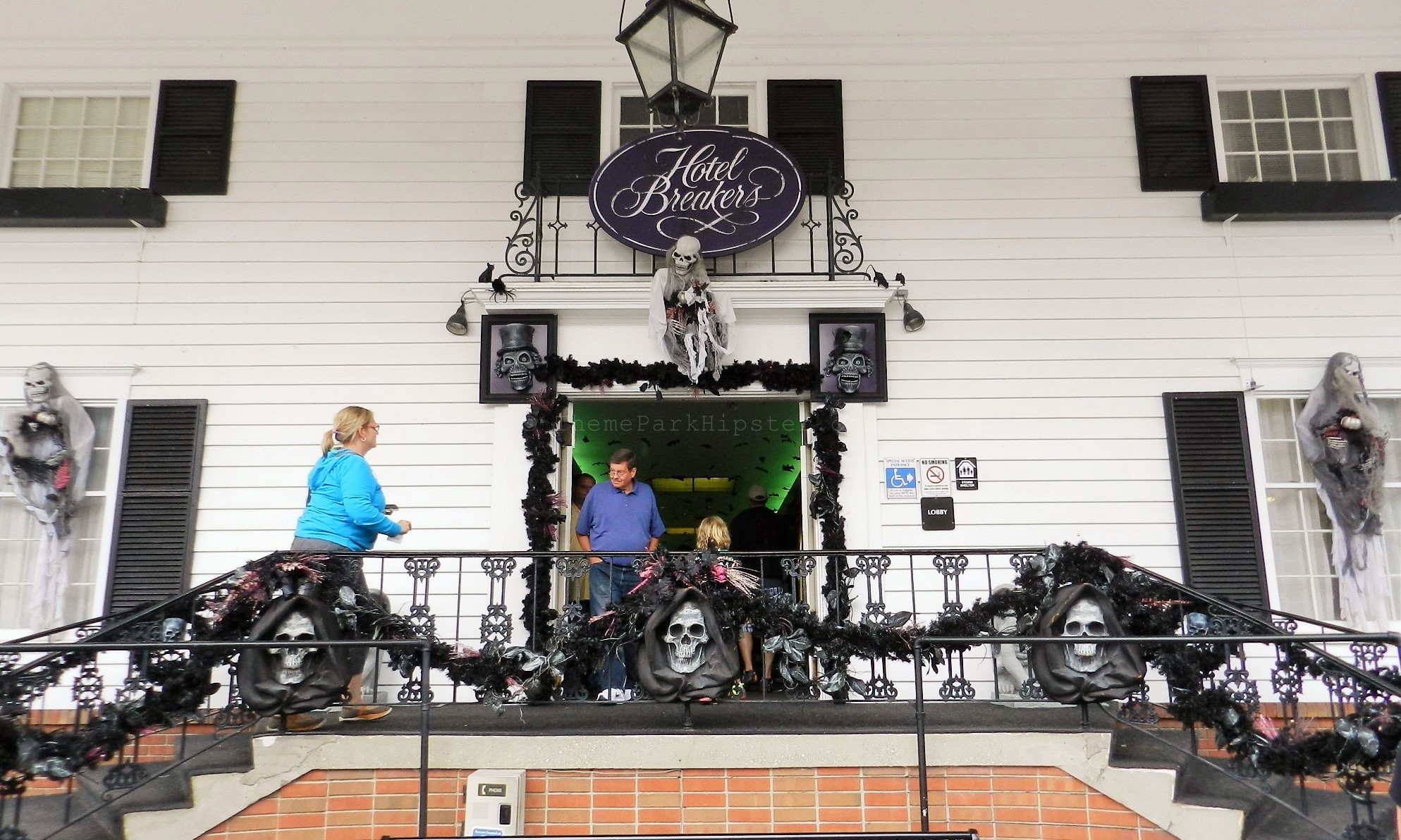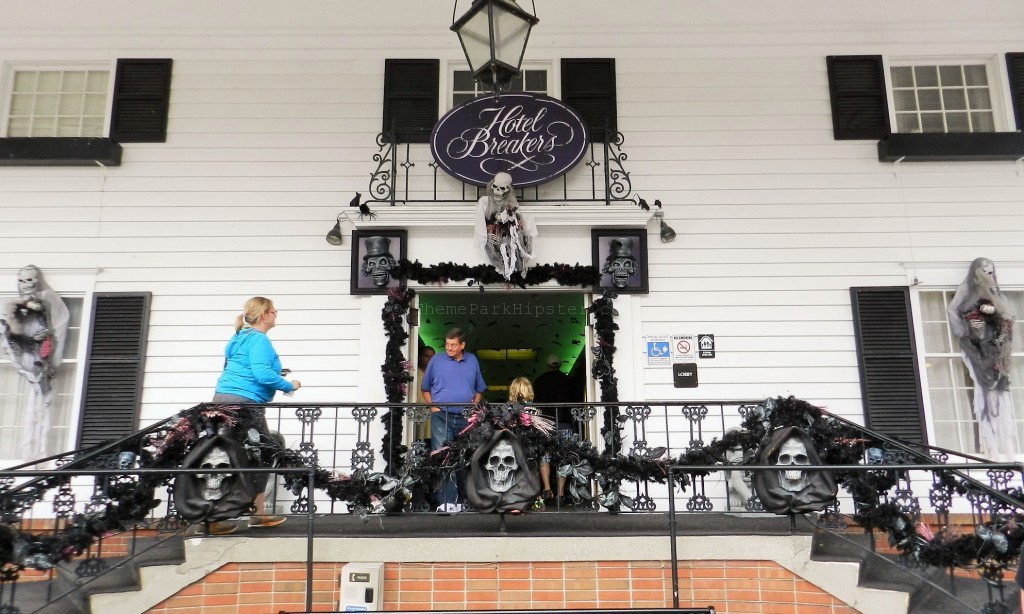 Book your next trip at Cedar Point's Hotel Breakers!
---
If you loved this article, then you'll enjoy these theme park guides.
Until next time, Happy Park Hopping Hipsters!
NikkyJ