Are you ready to conquer one of the nation's top floorless roller coaster rides? Then the Rougarou at Cedar Point experience is one that you must do!
It's no secret, Cedar Point continues to break all sorts of thrill ride records in the world.
So, it shouldn't come as a surprise to hear how much roller coaster enthusiasts love the scares, drops, twists, and speeds of Rougarou.
And just in case you need the Rougarou Cedar Point pronunciation, it sounds like this: roo-gah-roo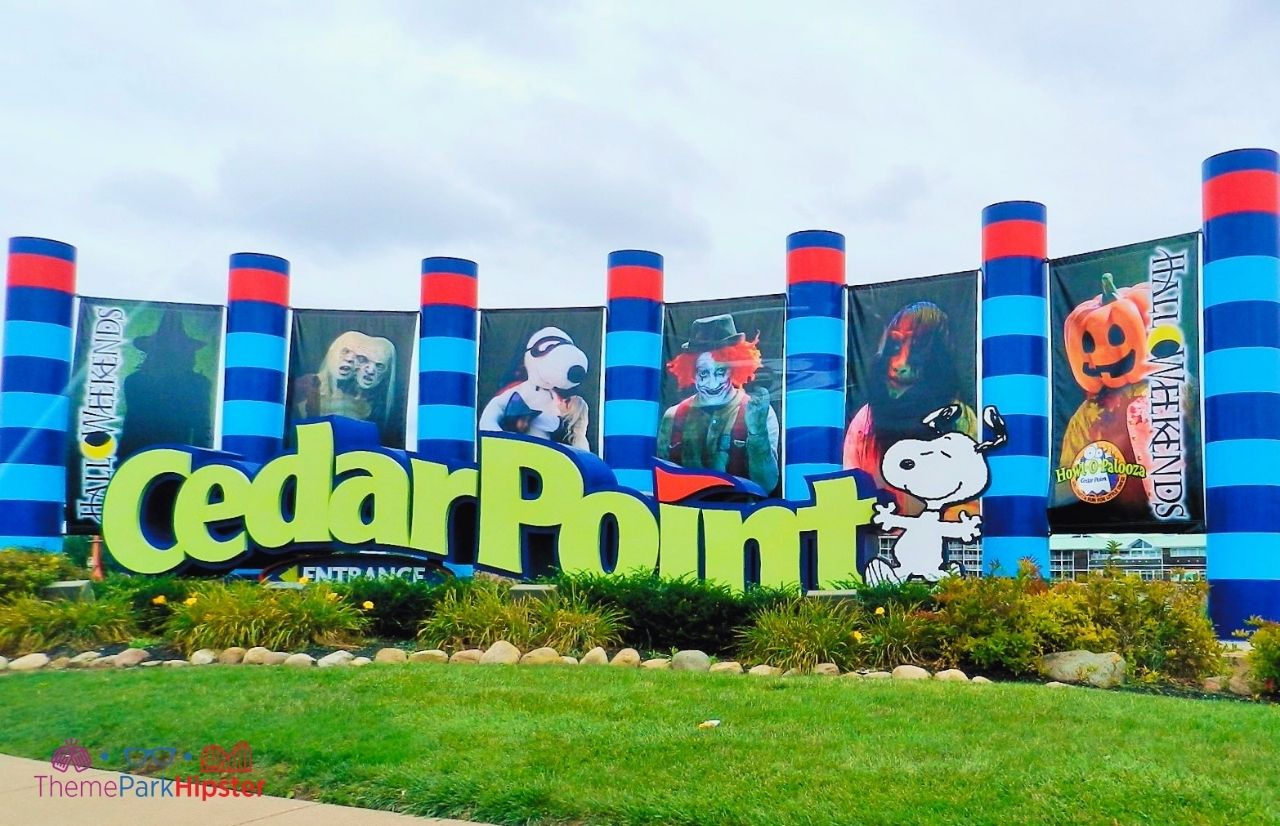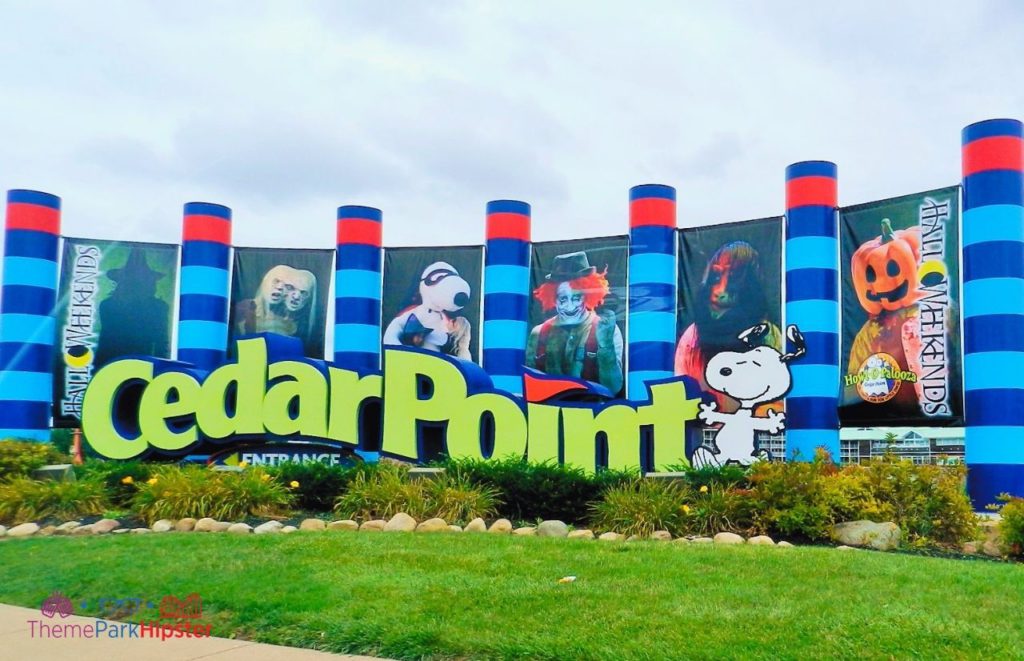 THIS POST MAY CONTAIN AFFILIATE LINKS. PLEASE READ MY DISCLOSURE FOR MORE INFO. Which means if you click on certain links, I may receive a small commission at no additional charge to you.
1. Incredible History of Rougarou at Cedar Point
The longest, fastest, and tallest stand-up roller coaster was announced on September 8, 1995 from Cedar Point.
The folks at Cedar Point stated that the ride would be named Banshee, an Irish mythical wailing ghost.
However, Mantis became the official name of the roller coaster.
Over 20 percent of Mantis was built over water with construction completed on January 9, 1996.
Cedar Point's Mantis did not open officially to the public until May 11, 1996.
Why did Cedar Point get rid of Mantis?
Throughout Mantis' lifespan, there were super fans and others who thought the stand-up roller coaster was too rough. Especially, near the head area.
Is Mantis still at Cedar Point?
In 2014, rumors began to spread that Cedar Point would be making a major announcement about Mantis.
Then it happened…
On September 2, 2014 Cedar Point made an official announcement that Mantis would close on October 19, 2014. It was later revealed that Mantis would be converted into a floorless roller coaster named Rougarou. This roller coaster would also be designed with a new train.
Cedar Point reopened the revitalized roller coaster as Rougarou on May 9, 2015.
Ready to plan your theme park trip? Watch the best vacation planning tips on YouTube. Get started here!
2. Unique and Fun Layout of Rougarou at Cedar Point
If you're like me, then you want to know what you'll be getting yourself into when experiencing this crazy roller coaster.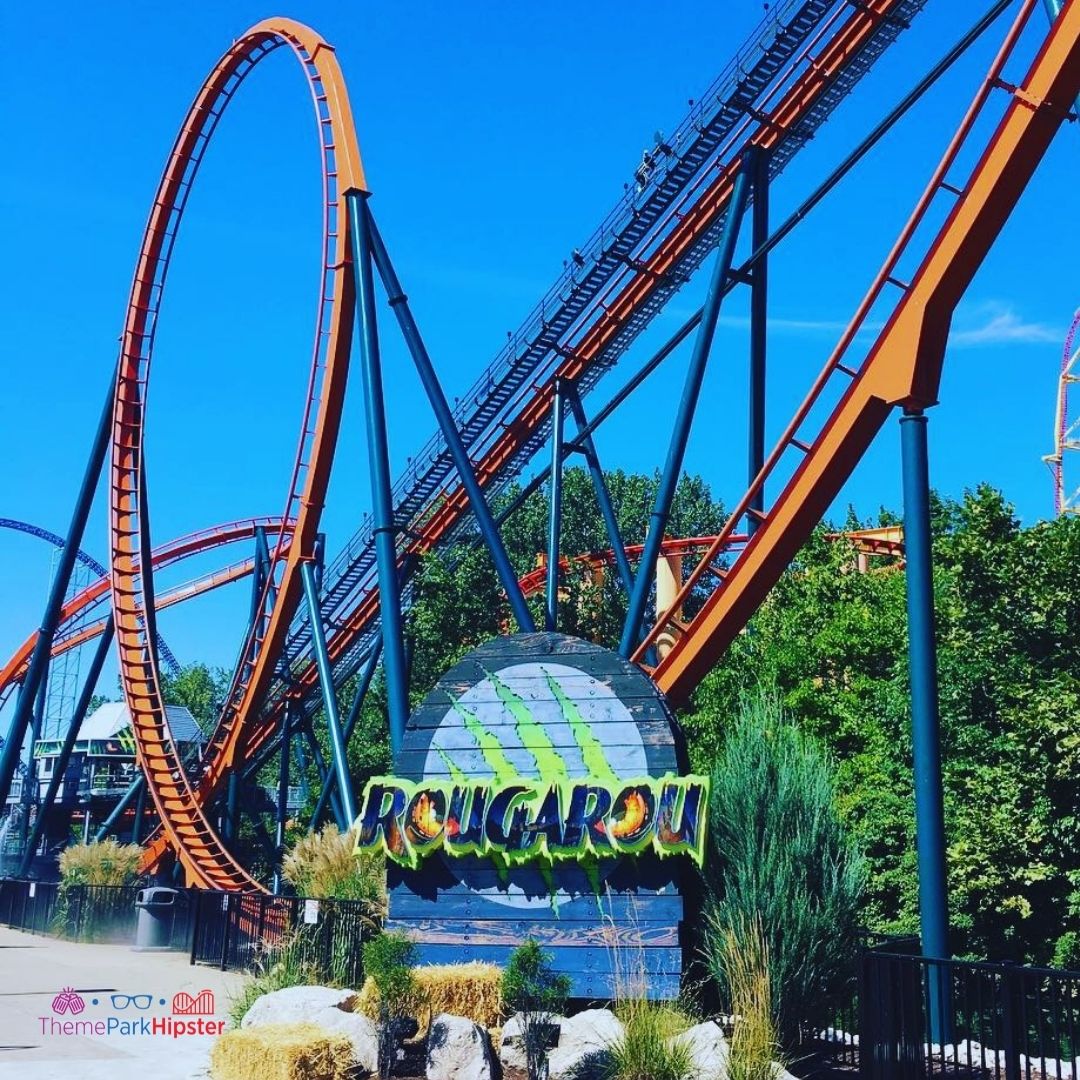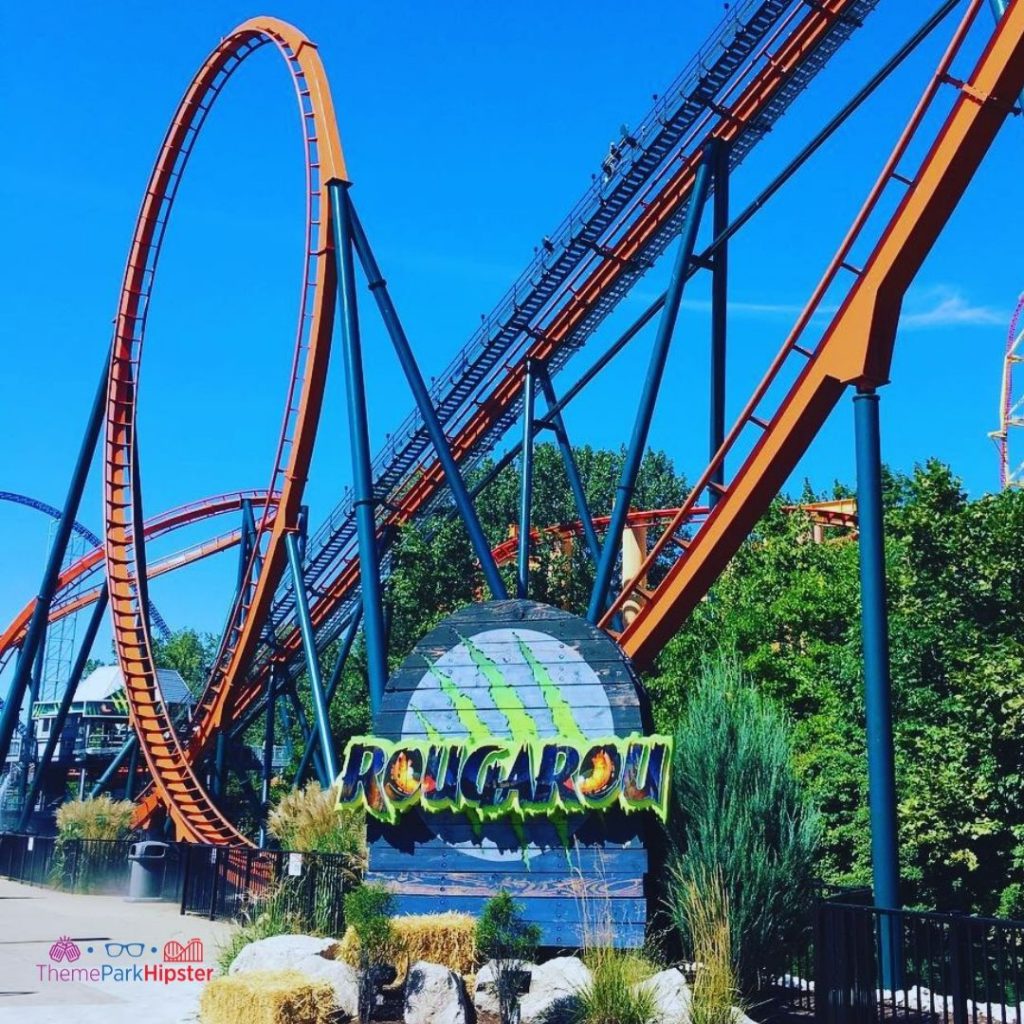 Let's go through the ride layout of Rougarou:
Train goes up the 145-foot lift hill chain giving you a nice view of Cedar Point
Once you're at the top you go through a little "pre-drop"
You then go into a 180 degree right turn right into the first "real" drop at 137 feet going 60 miles per hour
After the drop, you soar into the first of four inversions – 119-foot vertical loop
Then you go through a dive loop
The coaster train goes through a non-inverting, 360 degree turn over the station
You then enter an 83-foot incline loop
Once you go through the tilted loop, you enter the mid-course brake run
You then glide into a classic Corkscrew, with a twisty figure-eight turn
Once the roller coaster train enters the final brake run, you head back into the Rougarou station
There you have it. You have officially experienced Cedar Point's Rougarou!
3. New Train for Rougarou at Cedar Point
Swiss-design firm Bolliger & Mabillard created the floor-less trains for Rougarou. The trains replaced the previous stand-up ones with 32 seats per train. Each train has eight rows with four seats across.
Hipster Fun Fact: Bolliger & Mabillard also designed other Cedar Point rides such as Valravn, Raptor and GateKeeper.
4. Amazing Rougarou Cedar Point Roller Coaster Stats
Before you embark on this werewolf-inspired coaster, you should know a few little details about Rougarou.
Drop– 137 ft
Duration– 2:30
Rougarou Height– 145 ft
Number of Inversions– 4
Length– 3,900 ft
Rougarou Cedar Point Speed – 60 miles per hour (mph)
Vertical Angle– 52°
Rougarou also has a:
119-foott tall Loop
Block Brake
Chain Lift Hill
Classic Corkscrew
Dive Loop 103-foot tall
Inclined 83-foot tall Loop
Remember: Rougarou Cedar Point Height Requirement is between 54 inches and 78 inches.
5. Mysterious Folklore of Rougarou at Cedar Point
As if a terrifying roller coaster isn't bad enough. The Rougarou name comes from a legendary creature in French folklore comparable to the werewolf legends.
This creature is often described as having the head of a wolf and a human body.
The rougarou legend has been handed down for many generations down in the bayous of Louisiana.
It's been said that parents in this Cajun area would tell their kids the Rougarou would get them if they misbehaved.
Crazy right???
6. The Infamous Rougarou vs. Mantis Battle
As with many roller coaster and Cedar Point enthusiasts, there are quite a few debates as to whether the park should've changed Mantis to Rougarou.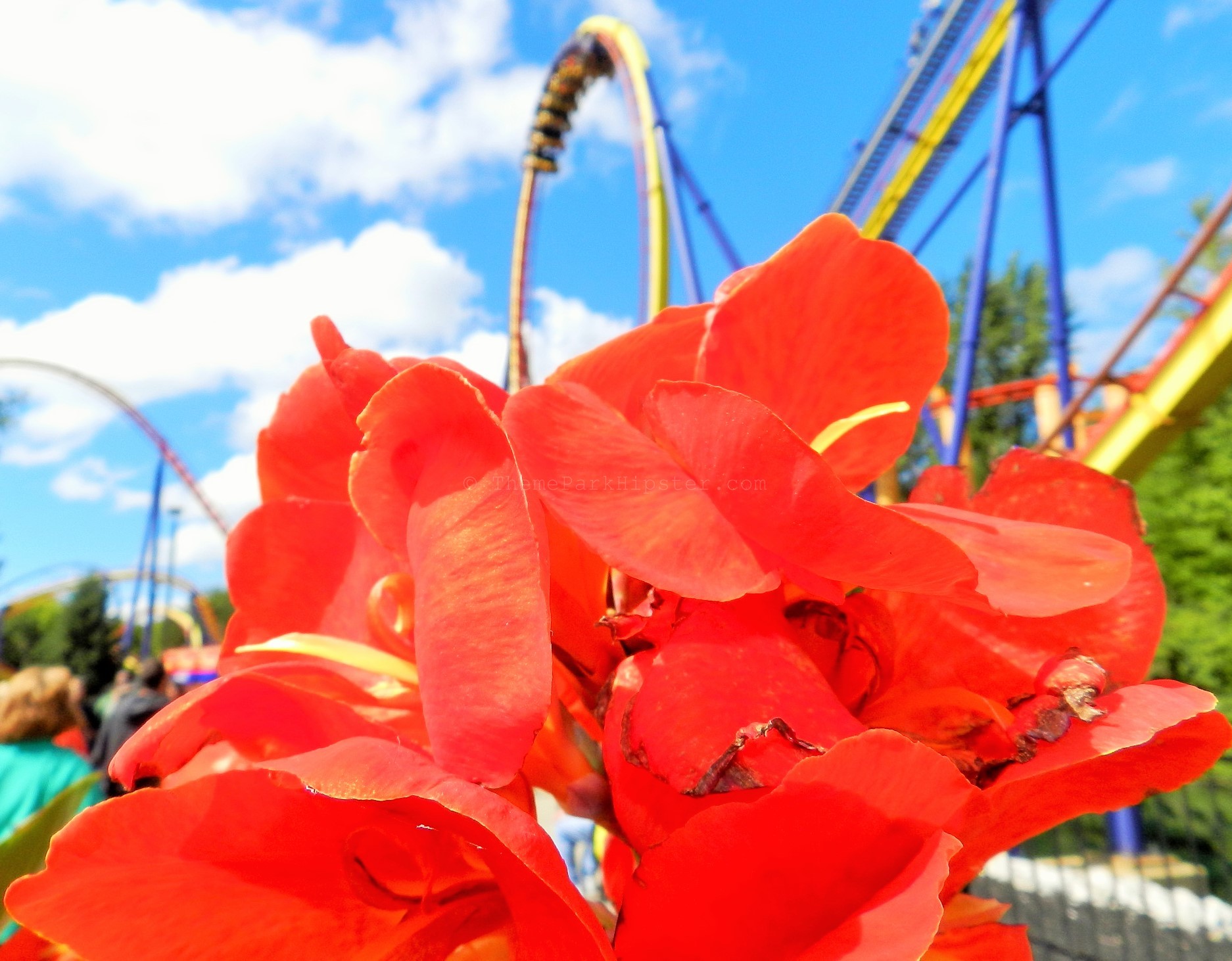 Personally, I enjoyed the Mantis roller coaster at Cedar Point because it was such a unique attraction.
However, I am always an advocate for keeping the park updated with fresh new rides that live up to the Cedar Point brand.
Whether you're a Rougarou fan or a Mantis die-hard, I thought it would be great to give you a comparison chart of the two roller coasters.
SMACKDOWN: Mantis vs. Rougarou
| | |
| --- | --- |
| Mantis Cedar Point | Rougarou Cedar Point |
| Stand-up Train | Floorless Coaster Train |
| Opened 1996 | Opened 2015 |
| Red and Yellow Color Scheme | Orange and Blue Color Scheme |
| Height 145 ft | Height 145 ft (44 m) |
| Drop 137 ft (42 m) | Drop 137 ft (42 m) |
| Speed 60 mph (97 km/h) | Speed 60 mph (97 km/h) |
| Number of Trains 2 | Number of trains 3 |
| Cars per Train 8 | Cars per train 8 |
| Seats per Car 4 | Seats per Car 4 |
| Restraints Shoulder Harness | Over-the-Shoulder Harness with Interlocking Seatbelt |
| Known to have severe headbanging | Less headbanging and not as popular among Cedar Point fans |
Fun Fact: Mantis had over 22 million rides since its debut.
7. My Honest Review of Rougarou at Cedar Point
Although Rougarou only features 4 inversions, you can feel and hear the powerful roar of the roller coaster as you immerse yourself in the attraction.
It's definitely not the fastest roller coaster at Cedar Point, but the additional ambiance and floorless train makes up for it.
The dive loop and the corkscrew are all classic additions that make Rougarou an enjoyable experience. If you love floorless roller coasters, then you enjoy doing it through an incline loop.
The ride was smooth to me, but there were a couple of moments where I could see the headbanging issue returning. Something most coaster fans hated about Mantis.
I personally like Rougarou more than Mantis, but Mantis was also not a bad ride to me.
What to Know Before Your Cedar Point Trip
When thinking about making your solo trip to Cedar Point, you should know a few basic things to maximize your day.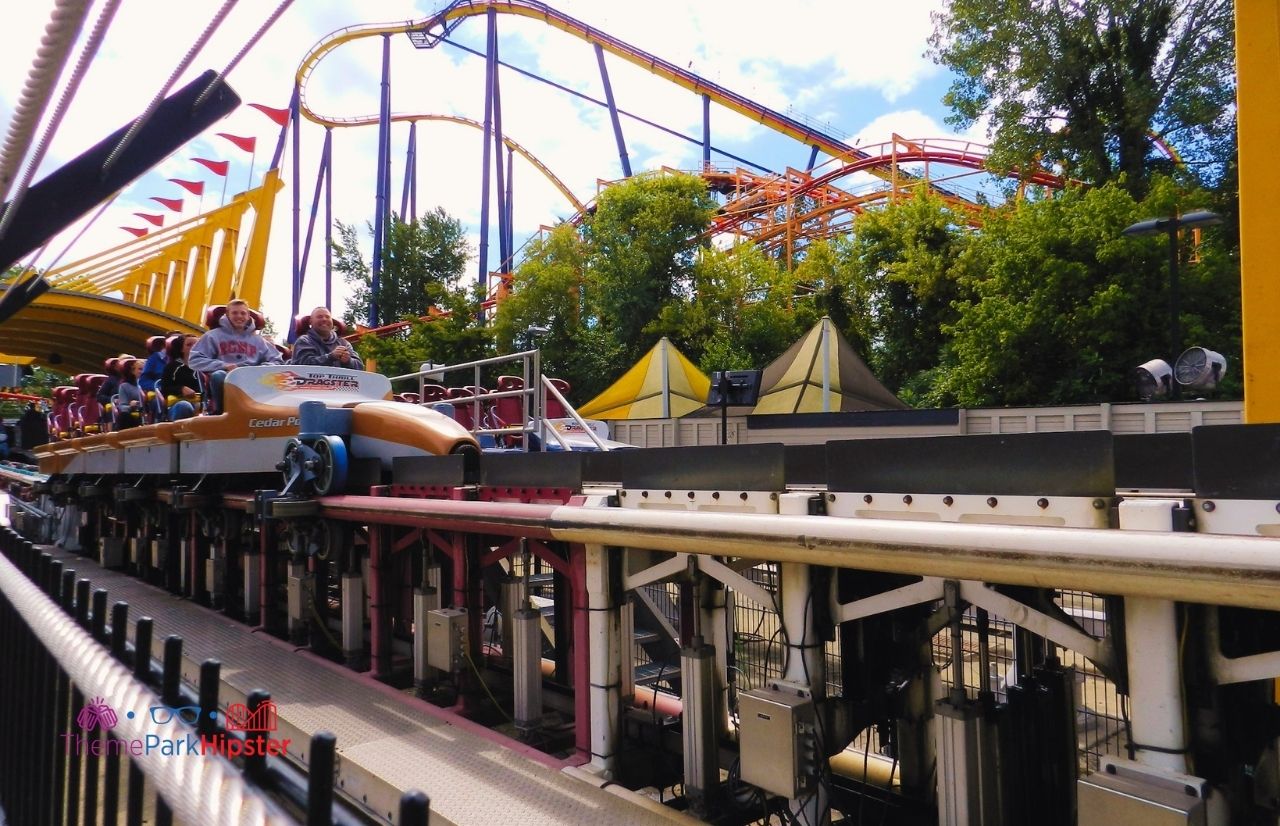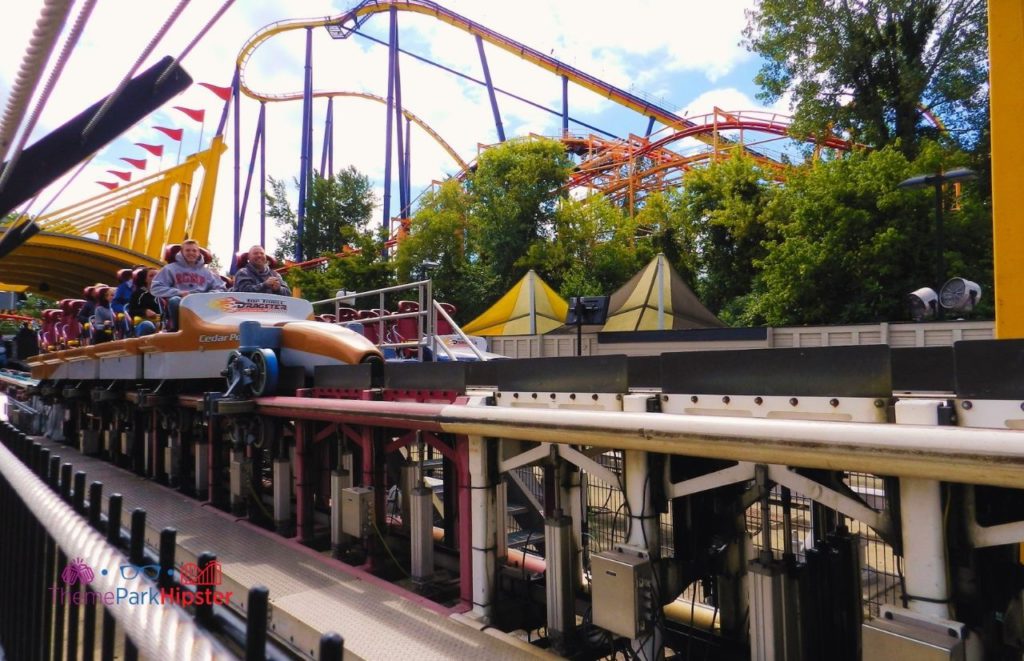 1. Research Your Trip
As with any great park trip, research on the latest attractions, shows, events, and policy updates are a great way to know how to tackle your trip.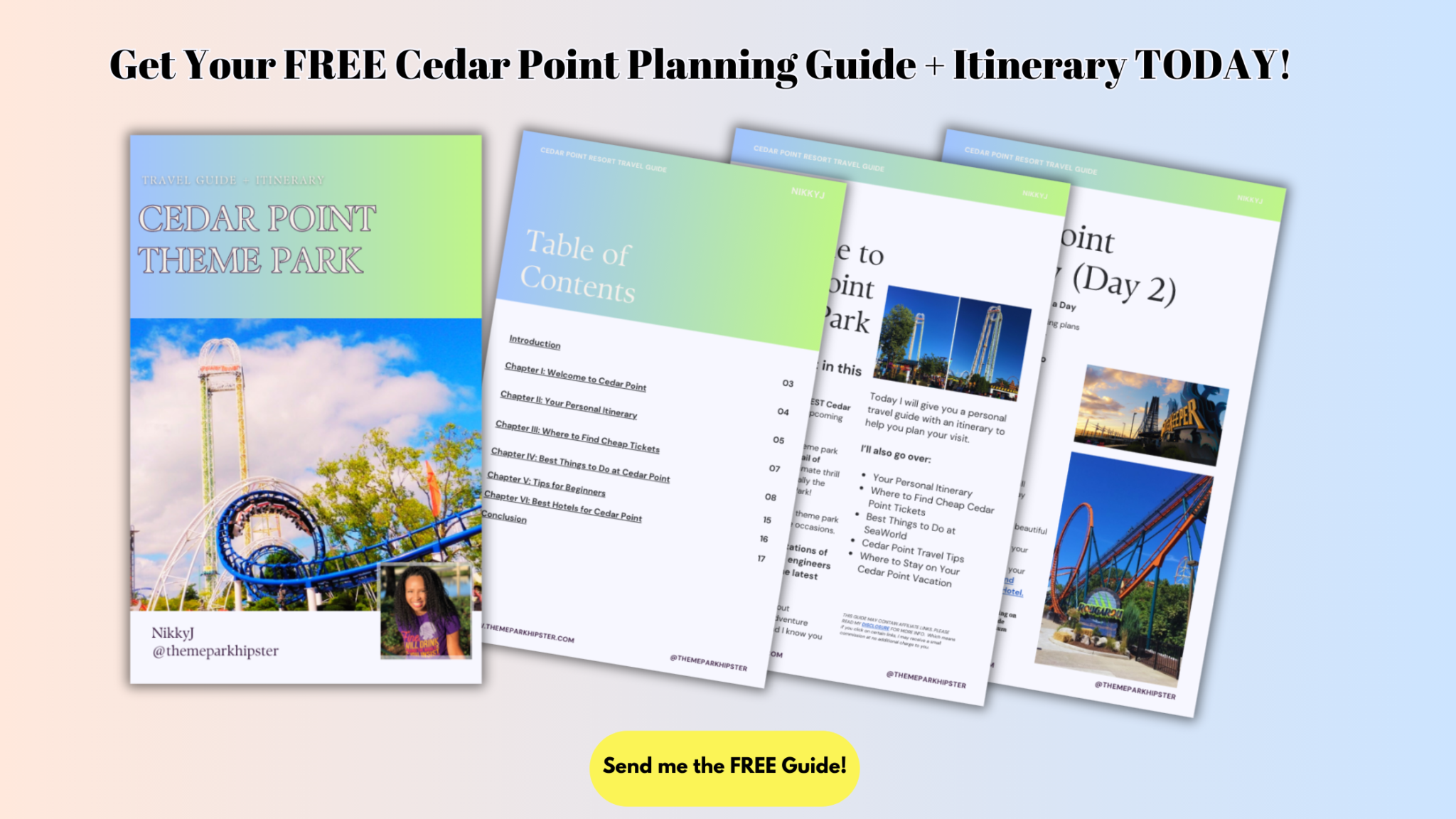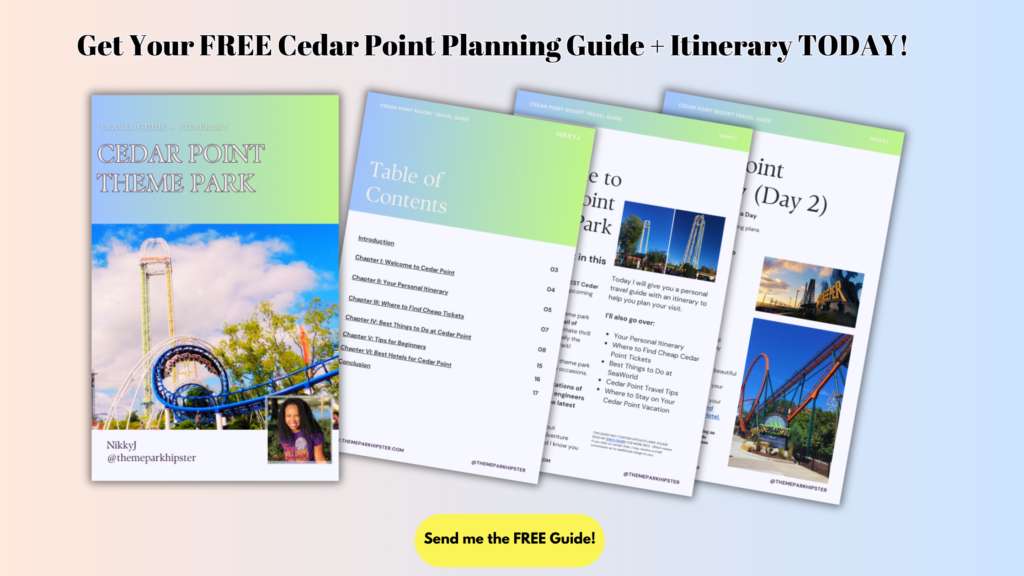 Research at such an epic amusement park such as Cedar Point lets you know how to map out and plan your day.
2. Have the Cedar Point Location and Address Handy
Cedar Point's address is 1 Cedar Point Dr, Sandusky, OH 44870.
3. Know Cedar Point Hours
Cedar Point usually opens at 10:00 a.m. and closes at 10:00 p.m. in the summer months.
However, during the fall the park hours and days change dramatically so always check the park's website or mobile app before your visit.
4. Review the Cedar Point Map
You'll will ALWAYS want to go over the map of any new theme park that you go to. It will give you a good idea of the park's layout and you'll be able to know where your must-do rides and attractions are!
5. Start Early
This tip is especially important if you will be at Cedar Point for only one day.
Starting early goes for any major theme park or event in the world.
An early start not only allows you to be able to fully enjoy the park, it will allow you to feel less pressure and you will be able to jump quickly between each attraction.
6. Know What the Best Cedar Point Rides & Roller Coasters
Recommended: The Solo Theme Park Traveler's Guide
7. Do it Scared!
Yeah, I know record-breaking roller coasters may not be your thing, but push past any fear and try at least one on your trip.
My Final Thoughts and Review on Rougarou at Cedar Point
The conversion of Mantis to Rougarou is definitely a welcomed change to Cedar Point.
I do recommend riding it on your next visit to Cedar Point, but don't wait any longer than 45 minutes for it.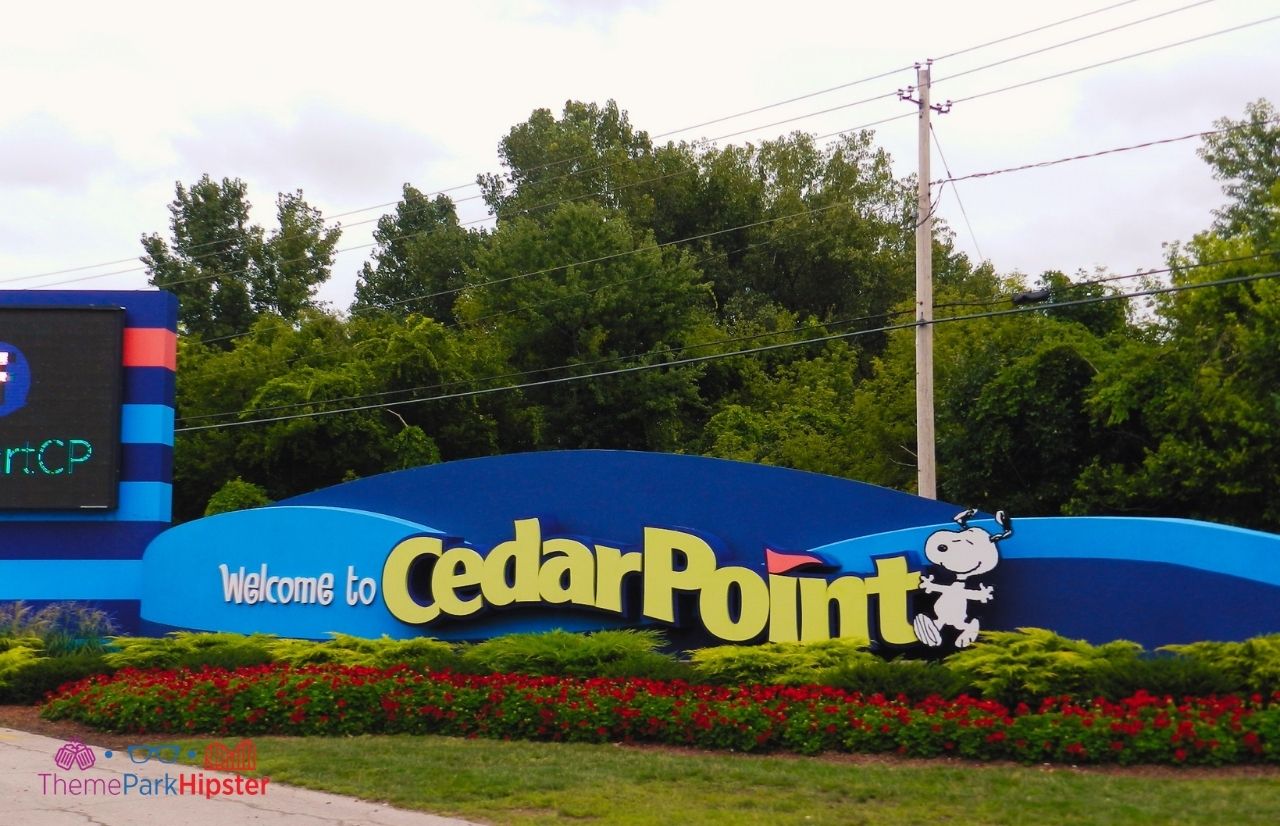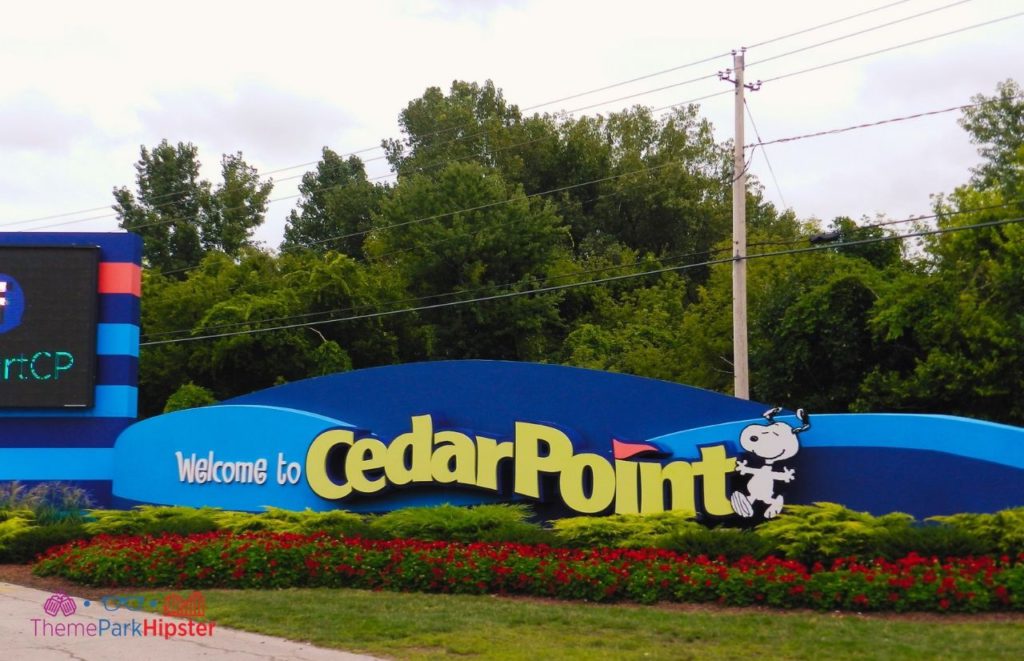 As you approach the attraction, be sure check out the lighting and fog effects all around the swamp waters inspired by the Louisiana folklore.
When you get to the top of the ride, embrace the suspense and take in all the stunning views surrounding Cedar Point.
Let me know in the comment section below which ride do you prefer: Rougarou or Mantis?
If you enjoyed this article, then you'll love these:
Book your next trip at Cedar Point's Hotel Breakers!
Until next time, Happy Park Hopping Hipsters!
NikkyJ
(Original Article Date April 7, 2019/Updated May 5, 2023)