You may be wondering, is Jurassic World VelociCoaster scary?
No need to worry because I'm going to give you the top 23 tips and secrets you must know before heading out to this Jurassic World inspired roller coaster.
And yeah… it's wild, it's crazy, but it's also FUN!
Before we get started.
I was invited by Universal Orlando Resort to explore their wonderful roller coaster. As always, the opinions I express in this article are my own. Enjoy!
THIS POST MAY CONTAIN AFFILIATE LINKS. PLEASE READ MY DISCLOSURE FOR MORE INFO. Which means if you click on certain links, I may receive a small commission at no additional charge to you.
1. VelociCoaster Stats
Before you grab your seat on VelociCoaster at Universal, you should know a few things that you can expect. Below are the stats for this ride:
Drop: 140 feet (43 m)
Duration: 1:15
VelociCoaster Height: 155 feet (47 m)
Inversions: 4
VelociCoaster Speed: 70 miles per hour
How Long is VelociCoaster: 4,700 feet (1,400 m) in length
Zero-G Stall
Does VelociCoaster go upside down?
Yep, it sure does! And it's not just some regular upside down version of other coasters.
This ride has you go upside down over water twisting and turning. You'll also go upside down for 100 feet while experiencing a zero-​gravity stall.
Get up to 25% off of your Universal Orlando Vacation with Groupon TODAY!
2. Get the Best Jurassic World VelociCoaster Seats
If you're a coaster enthusiast, then you already know that choosing the best row for your ride can make a big difference and you can expect that same adventure on VelociCoaster.
Riding in the front, in the middle or in the back will have you thinking that you have rode three different rides.
Front Row of VelociCoaster at Universal Orlando
The front row experience will make you feel as if you're really hightailing it through the jungles of a Pacific island at raptor speed.
You'll also feel the weightlessness more as you make your way through the over-the-top hills and swirly revolutions over the lagoon.
Middle Rows of VelociCoaster at Universal Orlando
The middle rows are still powerful, but they make it a lot easier to handle this Jurassic World inspired roller coaster in a much tamer way.
But if you want the real deal, then the back row is the way to go!
Back Row of VelociCoaster at Universal Orlando Resort
The back row is WILD!!! I mean it's ferociously disrespectful at how it whips you like you're a little doll through twists and turns going up to 70 miles per hour.
So, if you're a roller coaster pro, then do the back row. However, if you're a roller coaster novice, then do the middle row.
If you're a roller coaster purist, then do the front row.
Check out my latest theme park adventures on Instagram TODAY!
3. VelociCoaster Restraint…wait, no straps?!?
What adds to the intensity of the VelociCoaster ride vehicle is that you're held in only by a lap bar which makes you experience the true wildness of Universal's VelociCoaster.
Even with all the twists, turns, high-speed launches and the "mosasaurus roll" over the lagoon, you'll do it with only a lap bar!
4. Designers and Manufacturers of VelociCoaster at Islands of Adventure
Before you get on this unique roller coaster, you should know that it was designed by the Universal Orlando Creative Team and manufactured by Intamin.
A famous roller coaster manufacturer who has also built another specular ride such as Hagrid's Magical Creatures Motorbike Adventures.
This all-new species of roller coaster was also created in partnership with filmmakers from Universal Pictures and Amblin Entertainment who helped bring to life a new "Jurassic World" story told through an adrenaline filled attraction.
Ready to start planning your next Universal Orlando vacation? Listen to the latest podcast episode on Apple or on your non-Apple device now!
5. The Storyline of VelociCoaster
You'll be happy to know that the same cast from the movies – Chris Pratt, Bryce Dallas Howard and BD Wong – are reprising their roles as Owen Grady, Claire Dearing and Dr. Henry Wu.
You then learn that Dr. Wu has created a cutting-edge new coaster that has been claimed as the newest "carnivore expansion" at Jurassic World.
As you pass the stables of the raptors featuring Blue, Delta, Charlie and Echo, Claire Dearing comes in to put your nerves at ease and to let you know that this ride is okay for you to experience.
Unfortunately (or fortunately depending on how you view it), Owen Grady comes in and ruins your reassurance with one final warning.
But now it's too late… your high-speed chase is ready to begin on VelociCoaster at Jurassic World!
Ready to plan your theme park trip? Watch the best vacation planning tips on YouTube. Get started here!
6. Is VelociCoaster the Fastest Roller Coaster in Florida?
VelociCoaster is not the fastest roller coaster in Florida. Iron Gwazi at Busch Gardens Tampa is the fastest Florida roller coaster at 76 miles per hour!
That's followed by Mako in SeaWorld Orlando at 73 miles per hour.
At opening, VelociCoaster was dubbed as Florida's fastest and tallest launch coaster with 4,700 feet of track, including near-misses, a barrel roll right above the Islands of Adventure lagoon.
How fast is VelociCoaster?
There are high-speed launches with the fastest maxing out at 70 miles per hour in 2.4 seconds.
Plus, the famous "Top Hat," which will shoot you up 155 feet in the air straight into an 80-degree drop (Universal's steepest drop yet).
When to Buy Flights tool, Get the Lowest Fare at CheapAir.com!
7. VelociCoaster Single Rider Line
This line can cut your wait time in half and that's always a benefit of going to a theme park alone.
How does the Universal VelociCoaster Single Rider work?
Here on Universal's VelociCoaster, if you're with a group of people who don't want to ride the ride, you can leave them and experience this EPIC roller coaster SOLO!
Universal Orlando has also added a separate area for Single Riders to store belongings.
Once you leave the ride, you'll be signaled to pick up your items from a different location than the general one (which is a little ways pass the ride exit in the hallway leading out to the Jurassic Park Discovery Center).
Be aware that on busy days if the regular line is long, then there's a chance the Single Rider Line may be long as well.
The Single Rider Line will split up your party. The attraction attendants use Single Riders to fill in extra spots available on the rides.
Hipster Power Tip: If the line is greater than 30-minutes, then consider waiting in the regular queue for VelociCoaster. This is because the Single Rider Line can get congested and may not move as quickly as the regular queue. Plus, going through the regular queue is absolutely so much fun and worth walking though. If you choose the Single Rider Line, you will miss all the little details.
8. Explore the VelociCoaster Queue Line
Although it's tempting to go through the Single Rider Line, I recommend checking out the regular queue line for the full experience of the attraction.
The line sets the mood and helps you understand what's really happening in the storyline .
The VelociCoaster queue is divided into six areas:
Grand Entrance: You will see the sculptures of the four raptors in the center of the room awaiting your decent
Paddock: You'll see the crew get ready to hunt as the red flashing lights and intense coaster sounds begin to thunder with both the coaster and the raptors zooming across the window
Stables: Here you'll see the raptors in their stables with their mouths closed in a safety device so that you can get an upclose look with the raptor breathing heavily upon you
Lockers: After you discover all the little details, you'll be directed to store your items inside of a locker
Saftey Speech: This massive room shows Claire Dearing and Owen Grady going back and forth as only they can do while you get ready to finally board the roller coaster
Boarding Platform: This is your final stop where you'll officially conquer VelociCoaster
ORDER NOW to secure your Universal Studios theme park ticket! GET MY TICKETS.
9. Don't Miss the VelociCoaster Easter Eggs and Secrets
Throughout the queue you'll see hidden details and nods to the Jurassic Park and Jurassic World film franchises such as:
Asset Behavior Report: on a cilpboard next to water with notes to increase coaster speed
How the World Will End Book: you'll find this book written by Dr. Ian Malcolm who had a major role on the Jurassic Park films
Velociraptor Incentive Treats: You'' see this jar right before you enter the stables on a shelf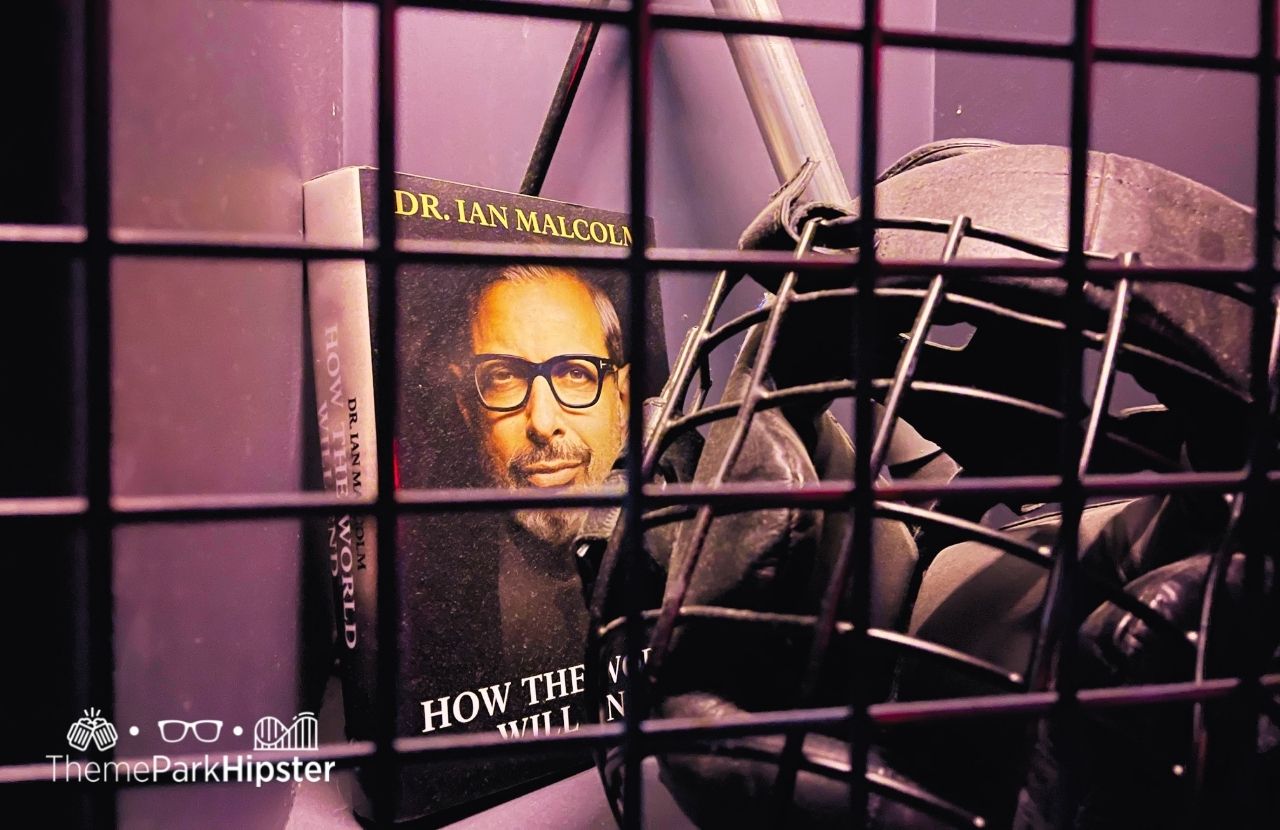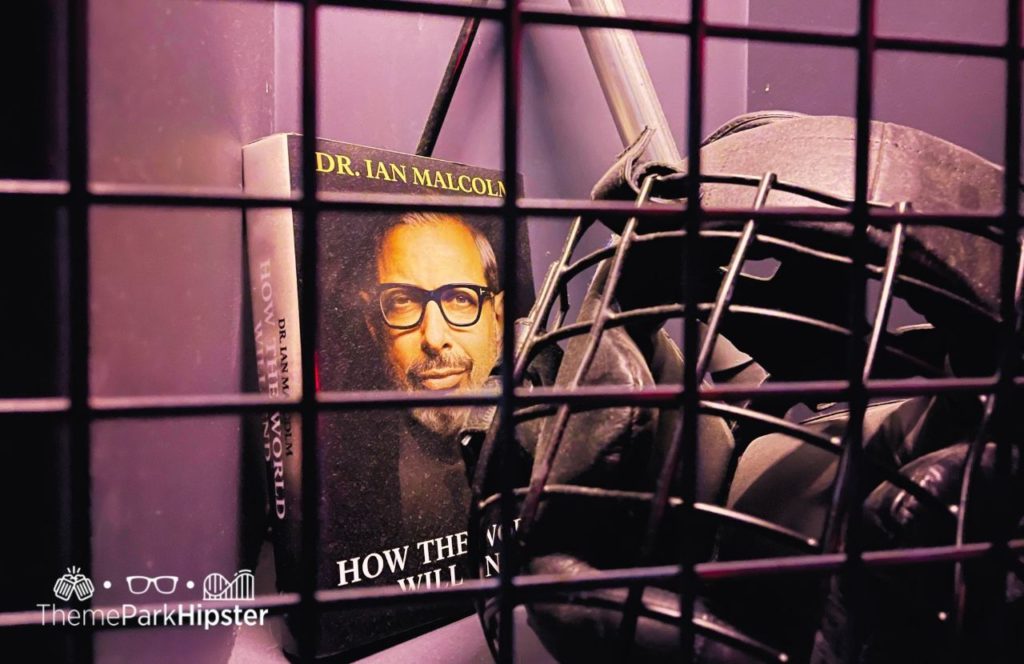 You can get more VelociCoaster Easter Eggs written by Alicia Stella on Orlando Park Stop.
10. VelociCoaster Lockers
Universal Orlando Resort has introduced a new locker system which is quite convenient and much easier.
How does the VelociCoaster lockers work?
The new locker setup works by allowing you to wait in 85 percent of the attraction with your items:
Once you get closer to the boarding station you're directed to place your items inside the free lockers
You scan your park ticket on a barcode in one of the locker stations and an empty locker will open up for you
After you place your things in there, you'll close the door and remember your locker number for retrieval
Once you have completed your journey with the raptors, you'll get all of your things from the lockers by scanning your ticket at a locker station
If you forget your locker number don't worry, just scan your ticket against any barcode and it will tell you what your locker number is
Take Note of Your Travel Bag Size
You'll also want to know that these lockers have a tight space and can only fit a small to medium size bag (if the bag isn't filled to the brim).
Plus, if you have a larger bag, then you'll have to use the lockers in the Discovery Center for a small fee.
If you're worried about this, don't be! There's a place outside of the queue that will allow you to see if your bag will fit in the inside locker area.
There's also a locker area right next to the boarding area for guests with any disabilities who are using the accessibility line.
Hipster Power Tip: Please remember to keep your ticket with you because this is the way you'll be able to get your items out of the locker.
11. You Will Go Through Medal Detectors on VelociCoaster
There are medal detectors located prior to the last leg of the queue line after you have placed all of your things inside of a locker.
This is to keep both  yourself and guests safe as you experience this new species of roller coaster.
12. Use the Child Swap Program and Wait in the Family Room
A true ThemeParkHipster will most likely have a time where little ones will be accompanying you on one of your trips.
Don't worry! You don't have to miss out on all the fun of this dinosaur themed roller coaster.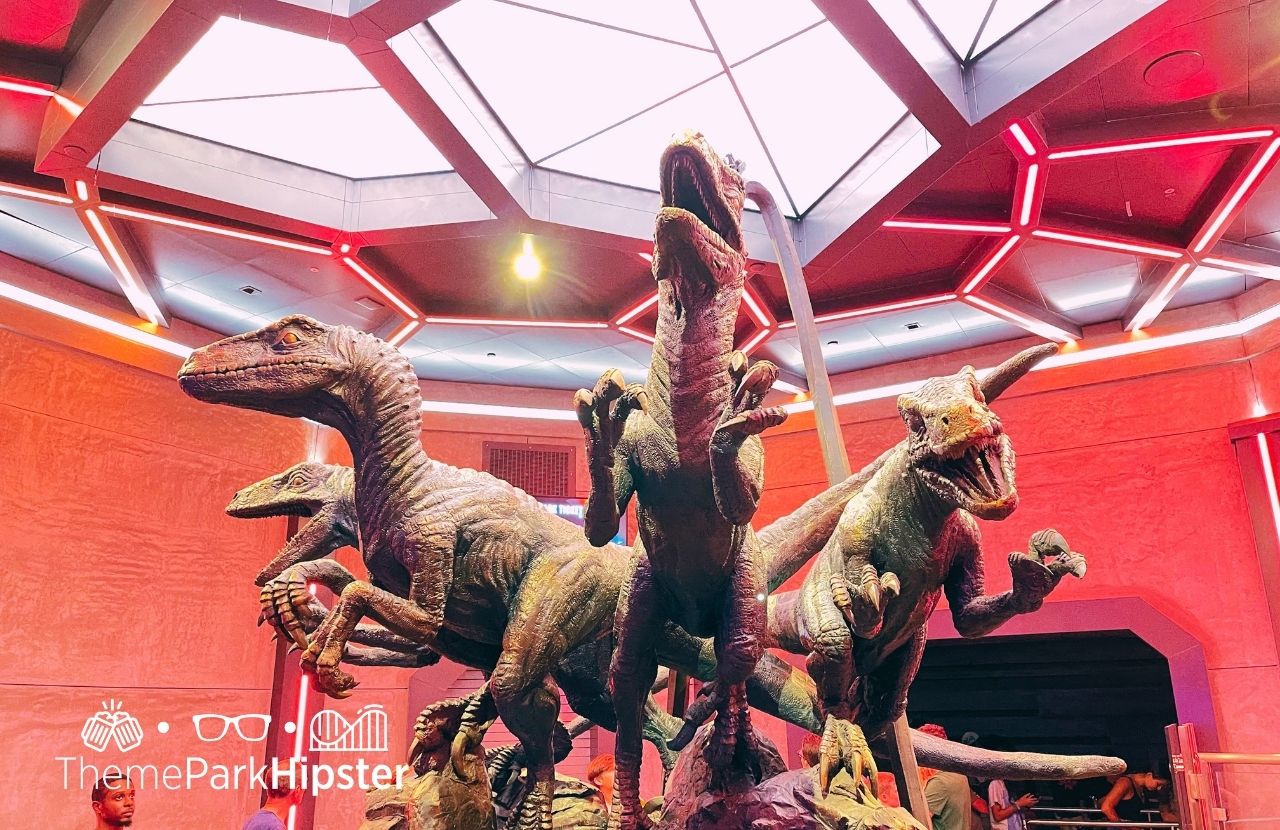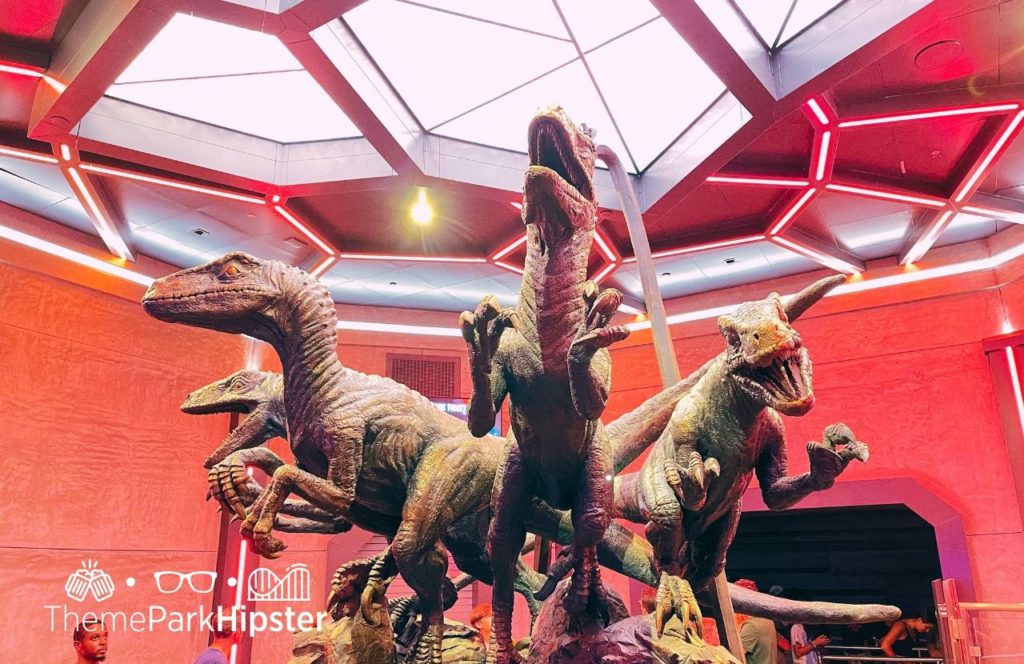 You and your theme park partner can take advantage of the Child Swap Program where you'll both be able to scream on the VelociCoaster, as the little ones wait to the side.
The Child Swap Program works by allowing one member of your party to wait in a designated area along with any children who are unable or unwilling to participate.
Once the rest of your group is off the ride, you trade places and take your seat on the ride while those who rode previously stay with the child(ren).
Ready to start planning your next Universal Orlando vacation? Listen to the latest podcast episode on Apple or on your non-Apple device now!
13. VelociCoaster Ride Height and Restrictions You Should Know
There is a height requirement for VelociCoaster. You have to be a minimum height of 51 inches tall to ride.
If you have any concerns as to whether you'll be able to fit in the coaster vehicle, Universal has some test seats at the entrance of the ride and inside the queue line.
These seats will signal green to let you know that you're good to go on the ride.
14. Get to Islands of Adventure Early
Out of all the Islands of Adventure tips, this one will save you time on your trip! Try to arrive one hour prior to the park before opening time.
If eligible for early park admission, then take advantage of the opportunity. 
Early park admission is available for Universal Orlando hotel guests and sometimes Annual Passholders.
Best Times to Visit Islands of Adventure
January
February
April
November
15. Does VelociCoaster have Express Pass?
You can now use your Universal Orlando Express Pass for VelociCoaster! This is great news because at the opening of the ride until 2023, this option wasn't available.
In the early days of this roller coaster, there was a Virtual Line option but that's not available at this moment. Only the Single Rider Line, Regular Queue, and the Express Pass Line.
The Universal Orlando app allows you to do so many things such as, setting VelociCoaster wait time alerts and placing food and drink orders from select restaurants when you're in the parks.
16. Jurassic World VelociCoaster Food
At the opening of this attraction, you could try so many of the delicious summer dishes in the Summer Tribute Store at Universal Studios Florida and throughout the park.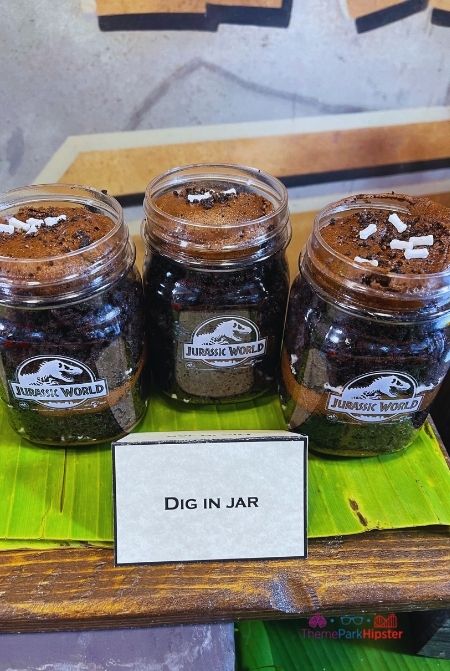 Next to VelociCoaster in Burger Digs, you'll be able to try the Casado Burger Platter for  $17.49.
This Jurassic World inspired burger includes:
Costa Rican inspired black angus patty
Sweet plantains
Avocado
Pork belly
Garlic mayonnaise on a raptor scored brioche bun
Although some of these options are not available at this time, you can still find a few throughout the Jurassic Park area of Islands of Adventure and in the new Jurassic Park 30th Anniversary Tribute Store.
Other Jurassic World Inspired Food at Islands of Adventure
Prehistoric Raptor Wings (Thunder Falls Terrace)
The Raptor Claw: White Claw, black cherry, curaçao, pineapple juice, garnished with cherry and mint (Backwater Bar)
Blue Churro
Dino Roar: Cherry Vodka, Triple Cec, Sour Mix, Sprite and Cranberry Juice (The Watering Hole)
Prehistoric Punch: Coconut Rum, Peach Schnapps, Cranberry Juice, Pineapple Juice and Sprite (The Watering Hole)
Predator Rocks: Coconut Rum, Melon Liquor, Blue Curacao, Sour Mix and Pineapple Juice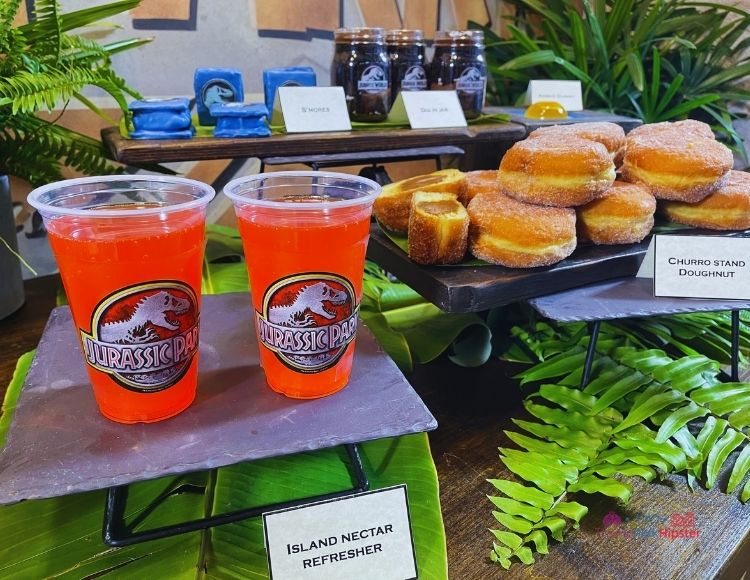 If you missed some of these items on the list, don't worry! Universal is always adjusting the menus at the park.
You can do a big favor for me and ask Universal to please bring the Churro Stand Doughnut back!!!
17. Ride VelociCoaster at Night
I must say that this is an absolute must do!
If you're a roller coaster fanatic, then you must saddle up and ride crazily through the night on this wild adventure.
VelociCoaster at Universal Orlando will take you through a "twisted mosasaurus roll" over the Islands of Adventure lagoon with a high-speed launch at 70 mph! That's just a few reasons to do this ride at night.
Hipster Power Tip: If you're worried about how intense the ride may be, then watch the VelociCoaster POV videos. They will give you an idea of what to expect on the ride and they'll get you excited for it too!
18. Secure Your Wigs
Ladies (and gents) please make sure that your wigs are tight because you don't want to be that person who starts the ride off looking one way, then returns looking like a whole new person all because you wig is GONE!
Hey, don't hate the messenger. Just trying to give you a few pointers after the famous #WigGate that has hit VelociCoaster already.
19. Take in the Epic Lagoon Views of Islands of Adventure
This addition to the park has really made that back area of Jurassic Park come to life.
The views are incredible, yet peaceful at the same time despite a roaring coaster zooming by with its victims.
20. Explore the Discovery Center
The "science center" like place is designed just like the Discovery Center on the original Jurassic Park film.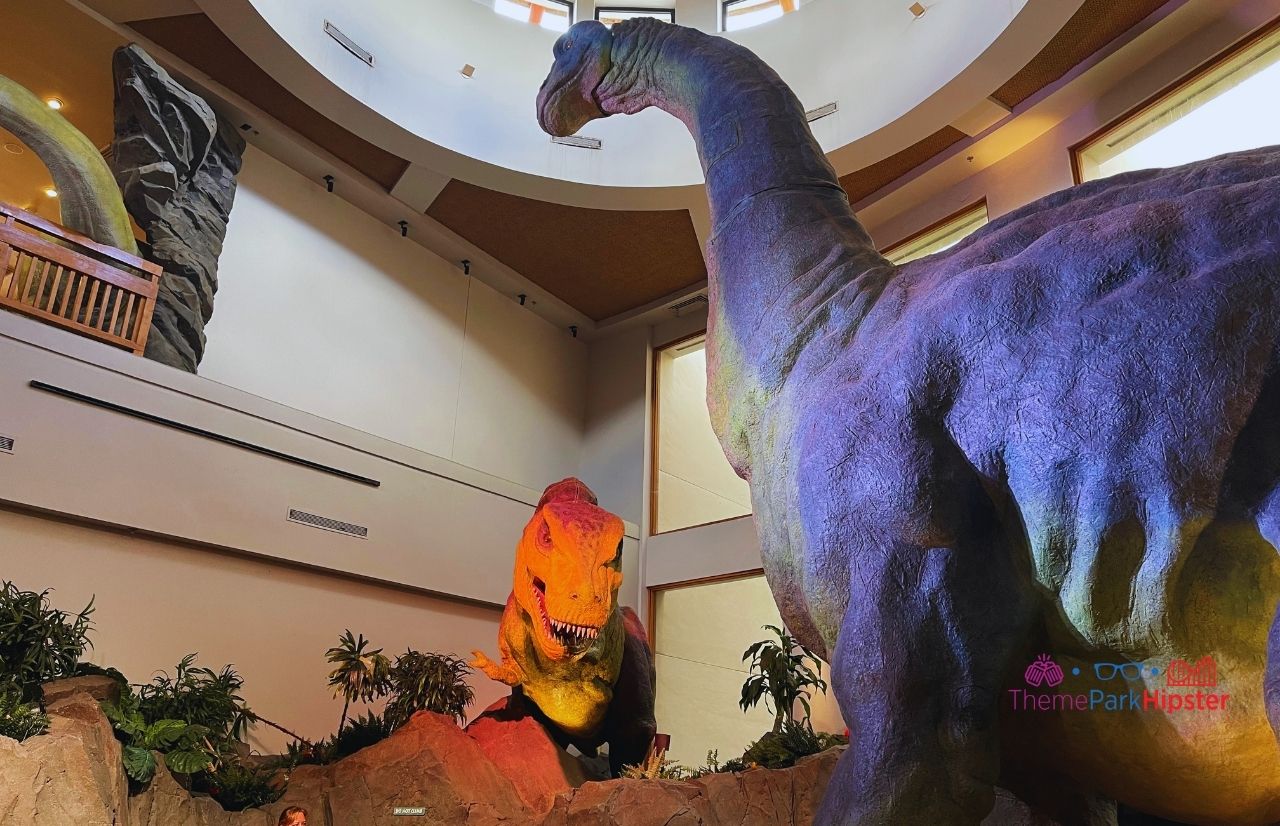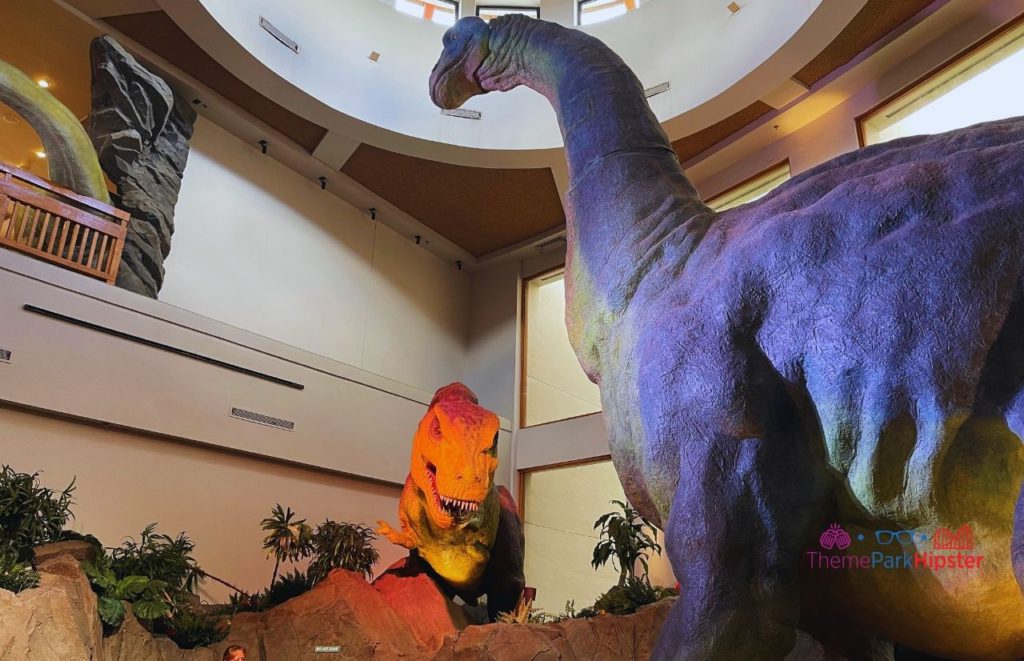 You get to see incubated dinosaur eggs and learn about DNA sequencing. It also houses a gift shop with the roller coaster merchandise.
Recommended: 1 Day in Orlando Itinerary: What Should I Do That's NOT Theme Parks?
21. Visit the Other Jurassic Park Attractions
There are other rides and attractions for you to explore in this part of Islands of Adventure such as:
Jurassic Park River Adventure
Pteranodon Flyers
22. Get a Photo with Blue in Jurassic World
This is a must do experience that I cannot emphasis enough!
If you can only do a few things at Islands of Adventure, then I highly recommend you adding the Raptor Encounter to your list.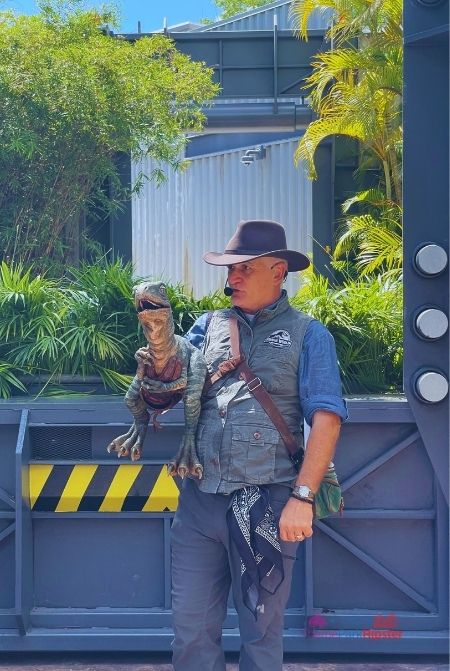 It is quite compelling because you have the ability to interact with "real" raptors while getting so much great information from the professional trainer.
Recommended: The Solo Theme Park Traveler's Guide
Enjoy Yourself and Just Have Fun on Jurassic World VelociCoaster!
Universal Creative Team has once again conjured up one of the most fantastic attractions in the world. It's pure, unadulterated fun with no intentions of being tamed for anyone.
And just when you think it's over, you realize that you have so much more track to cover on this coaster.
VelociCoaster has also brought in a new life to this area of Islands of Adventure and everyone should ride at least once if you're able to!
Jurassic World VelociCoaster opening date was on Thursday, June 10, 2021 and is now really for you to board. Will you take on the challenge? Let me know in the comments section below.
Until next time, Happy Park Hopping Hipsters!
(Original Article Date: June 11, 2021/Updated on July 10, 2023)