Are you on the hunt for an exciting way to save some cash while savoring copious amounts of scrumptious food at Islands of Adventure?
Look no further!
My selections all fall below $10 and offer a variety of meal deals that are sure to please any budget!
You can experience an exciting exploration into the land of sweet and savory tastes during this whirlwind tour!
THIS POST MAY CONTAIN AFFILIATE LINKS. PLEASE READ MY DISCLOSURE FOR MORE INFO. Which means if you click on certain links, I may receive a small commission at no additional charge to you.
#5 Moose & Goose Juice ($6)
Nestled in the serene Seuss Landing is Moose Juice, Goose Juice, where you can enjoy tantalizingly delicious drinks inspired by the famous author himself!
At just $6, your thirst will be quenched from the unforgiving Florida sun as you enjoy the sweet treats.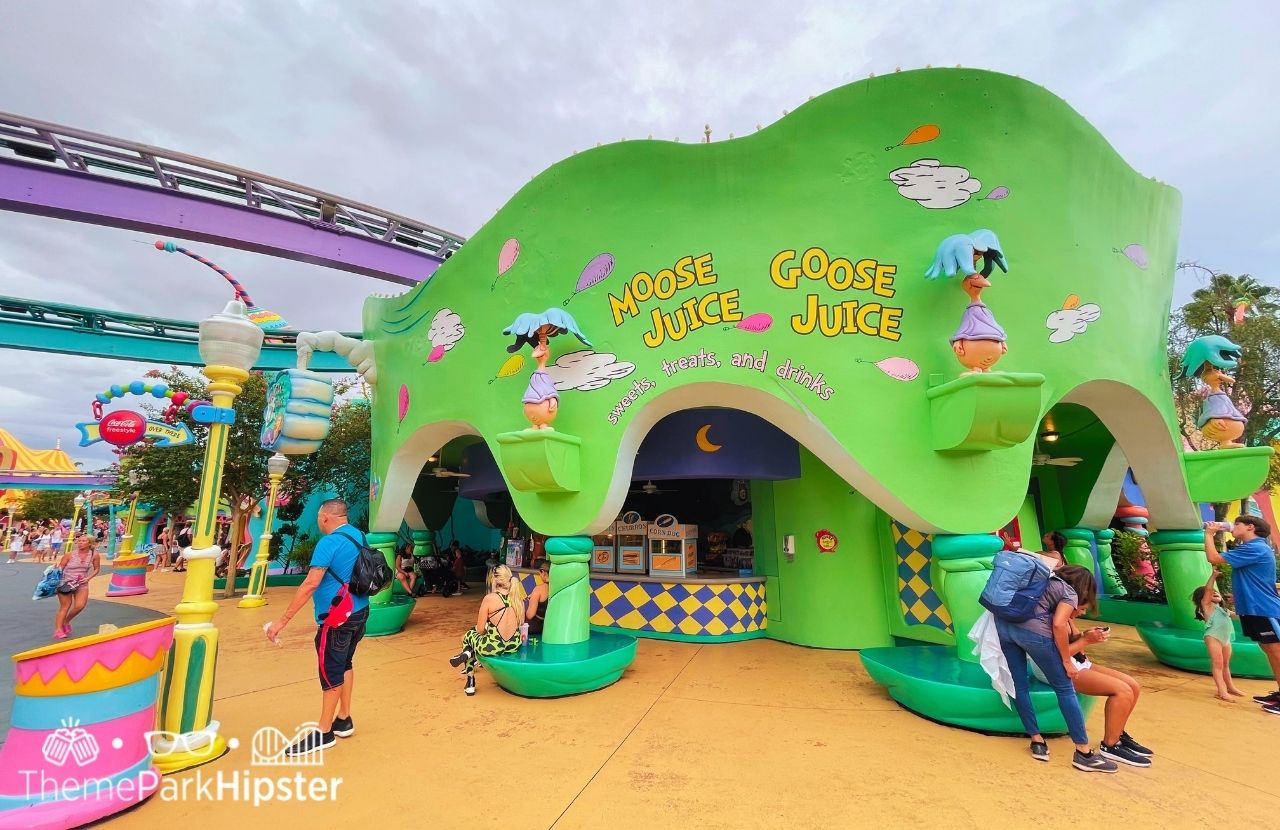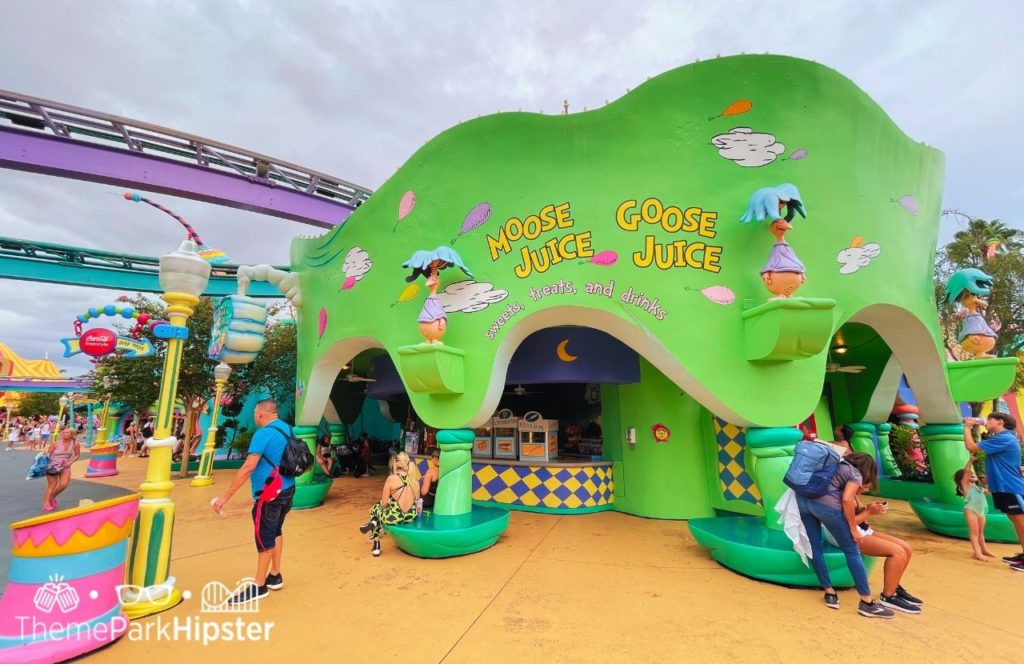 The refreshing Moose is an exuberant orange-tangerine concoction while its counterpart, the Goose, has a green apple sour flavor that will leave your taste buds refreshed and wanting more.
Get up to 25% off of your Universal Studios Tickets with Groupon TODAY!
#4 Brookie ($3.79)
The Brookie, a delectable treat from Universal's Islands of Adventure, is a snack that you have to try at least once!
What is a Brookie?
Just in case you're confused about this particular dessert, a Brookie is a delicious chocolate chip cookie baked within the velvety interior of a moist and fluffy brownie.
Making it some of the best food at Islands of Adventure.
The beloved Brookie can be spotted around the Universal Orlando Resort in various locations such as Big Thunder Terrace. Don't miss your chance to savor this delectable treat!
But wait, there's more!
If you desire to elevate the experience, then don't hesitate to visit Toothsome and get the incredible Brookie, Cookies and Cream sundae.
#3 Dole Whip ($3.99)
Did you know that, if you're craving a Dole Whip, there's no need to journey to Disney World? You can find it right here at Islands of Adventure.
The Dole Whip has captured the hearts of many Disney aficionados and has become more famous than the iconic Mickey Mouse's iconic ice-cream ears in popularity.
What is a Dole Whip?
The most popular Dole Whip is the pineapple-flavored soft-serve frozen dessert made from puree and reconstituted with water.
It is then frozen and served to Universal Orlando Resort guests.
You can grab your pineapple treat over at Wimpy's in Universal's Islands of Adventure.
Wimpy's is located in the Toon Lagoon section of the park right in front of Popeye & Bluto's Bilge-Rat Barges. 
This dining location also offers other savory dishes like burgers and curly fries.
Plus, this creamy, sugary refreshment is sure to also help you combat the Florida sun as you discover Islands of Adventure!
Are you planning a Universal Orlando vacation soon? Get the Universal Vacation Planning Guide for your next dream trip!
#2 Green Eggs and Ham Tots ($9.99)
While basking in the glow of Seuss Landing, make haste to Green Eggs and Ham Cafe for your chance to sample this famed dish from that memorable book. 
The eggs are GREEN (of course), fluffy, and seasoned well for a budget-friendly dish at Islands of Adventure.
Once you combine the slightly salty ham with the crunch of the tater tots and creamy cheese sauce, you'll be happy that I sent you here on your trip!
This is a great deal as it makes the list at $9.99 and is great because it's filling and can be a full meal for you to have on a solo Universal Orlando trip or for you to share with friends.
Making it some of the best food at Islands of Adventure.
#1 Butterbeer (Under $8)
If you're a member of the ThemeParkHipster family, then you know that the Harry Potter series has had a profound impact on my life.
The Harry Potter series is more than just a literary masterpiece or blockbuster cinematic experience- it's about the decisions we all have to make in order to guide us towards our ultimate destiny.
What Makes Butterbeer So Special?
If you've read the pages of Harry Potter and the Goblet of Fire, then you are undoubtedly aware that house-elf Dobby would frequently be enlisted to assist in sobering up his intoxicated friend, Winky.
Now it's your turn to try Butterbeer at Islands of Adventure. And don't worry, it's alcohol free.
What does Butterbeer taste like?
Now that you know why the Potter community is so in love with butterbeer, let's go over what's options are available inside Islands of Adventure all under $8:
Cold Butterbeer
Frozen Butterbeer
Hot Butterbeer (seasonal)
Butterbeer Potted Cream
Fudge Butterbeer
Butterbeer Soft Serve Ice-Cream
Where to find Butterbeer at Universal's Islands of Adventure in Hogsmeade?
You can find a Butterbeer offering of some sort inside the Wizarding World of Harry Potter Hogsmeade section of Islands of Adventure at:
Hog's Head Pub
Honeydukes
The Butterbeer street carts
Butterbeer is a must have treat and one of the best things to eat at Islands of Adventure for under $10.
Get up to 76% off of the Orlando attractions with Groupon TODAY!
My Final Thoughts on the Best Food at Islands of Adventure on a Budget
These are my absolute must-visit eateries for Universal's Islands of Adventure.
If you're wanting to dine on a budget, then be sure to check out my top tips and avoidable pitfalls at Islands of Adventure as well – they'll surely help!
Now it's your turn, what's one of your favorite things to eat at Universal that's great for people like us on a tight budget? Let me know in the comments section below.
Until next time, Happy Park Hopping Hipsters!
NikkyJ
WATCH NEXT: Top 5 BEST Food at Universal Studios UNDER $10!!! 🍟🍦🍻🍕