Are you looking for the best Valentine's Day Movies to watch on Disney Plus?
According to Sternberg's "3 Components of Love" theory, there are three specific types. They are Intimacy, Passion and Decision/ Commitment.
Love is something we all strive to have as human being and through Disney films, we can see every type of love.
Over time, we have been able to see ourselves in various characters in the hopes that we find the same happily ever after that they have achieved.
Whether it be Mickey and Minnie, Pongo and Perdita, Anna and Elsa or Seb and Carlos, Disney has been able to showcase all kinds of love over time.
Today, we will be sharing just a few of those films that showcase a different type of love for everyone.
THIS POST MAY CONTAIN AFFILIATE LINKS. PLEASE READ MY DISCLOSURE FOR MORE INFO. Which means if you click on certain links, I may receive a small commission at no additional charge to you.
1. Encanto (2021)
If you have been living under a rock, let me briefly tell you about Encanto.
Storyline of Encanto
Amongst a Colombian village lies a family, The Family Madrigal, with each member having a magical gift that is used to help their people.
They are led by their family Matriarch, Abuela, who brought the village and her family there. Only one member of the family was not bestowed a gift and that is Mirabel Madrigal.
Mirabel discovers that her family's magic, the source being from a mystical candle, is dying and she goes on a quest to save it.
Why I Chose This Valentine's Day Movie on Disney Plus
The film touches on family love. To start, Mirabel's journey is fueled from her love of her family, her people and wanting to make them proud.
Spoiler Alert: At the peak of the film, we learn the story of Abuela and how her love of her husband and his untimely loss, due to sacrificing himself to protect his people and his family, is what fueled the candle's magic.
It is truly love of family that saves the magic and that brings everyone back together in the end. Making it one of the best Valentine's Day movies on Disney Plus.
And if you don't believe love is what this film is about, read over the lyrics of "Dos Orguritas."
ORDER NOW to secure your Walt Disney World theme park ticket! GET MY TICKETS.
2. The Parent Trap (1961 & 1998)
Technically this is two films, but I'm counting them as one since it's the same story and one is a remake that is equally as good as the original in my opinion.
Storyline of The Parent Trap
Their parents divorced when they were infants and each one took a child to raise on their own, not letting on that their sibling exists.
They plot to set them up again by switching places, so they are forced to meet again but a problem arises when their dad gets engaged to a not so nice woman.
Why I Chose This Valentine's Day Movie on Disney Plus
They make you believe that love can be rekindled again, years later. The soundtrack helps to perfectly weave the tale of rediscovered love in the film.
I will say that Elaine Hendrix and Joanna Barnes, who play the gold-digging fiancée, steal the show and do an amazing job of making you root for the twins' plan to succeed.
Fun Fact: Joanna Barne, who plays Vicky in the 1961 version, returns to play Meredith's mother to Elaine in the 1998 version.
3. Love, Simon (2018)
Anther romantic comedy, based on the book "Simon vs the Homo," tells the tale of Simon, who is a closeted young man in high school.
Storyline of Love, Simon
He struggles to balance everything in his life including someone who is threatening to oust him to his classmates.
Among all of this, he is trying to figure out the identity of a classmate online who he has fallen in love with.
Why I Chose This Valentine's Day Movie on Disney Plus
The tagline of the film is "everyone deserves a great love story" and in this day and age where more people are coming out proudly and usually discovering this as a young age, this film was a very important example of representation.
The film is very heartwarming, hilarious, modern and boasts a high-quality cast. Frankly, a coming-of-age film like this was overdue.
It was so highly praised that a spinoff series, "Love, Victor" came out shortly after.
Explore Orlando with these discounted tours on Groupon TODAY!
4. Beauty and the Beast (1991)
This specific Disney animated film is considered greatly by many as one of the best films of the Disney Renaissance period and of all time.
Based on the 1756 fairytale, Beauty and the Beast follows the journey of a the most beautiful young woman of her French village who has her head in books rather than on other things.
Storyline of Beauty and the Beast
The town hunter and most handsome, narcissistic and misogynistic man is set on marrying her simply for her beauty, but she is not interested.
Her father gets lost in the dangerous woods on his way to a fair and gets trapped in beast's castle. She eventually finds him and trades places with him as a prisoner instead.
Belle discovers that all the objects in the castle are alive and servants to a cursed beast who must find true love and be loved in return, or they will be cursed forever in their forms.
Why I Chose This Valentine's Day Movie on Disney Plus
They are falling truly in love with one another, while the late Angela Lansbury sings the title song is by far one of the most romantic Disney songs ever created and more memorable.
The moral of the story is that beauty is found within and that it can be found beyond physical looks.
5. West Side Story (2021)
Storyline for the West Side Story
If you are familiar with the Shakespeare tale, which I'm sure you are, you are well versed with how the tale tragically ends.
There are slight differences but nonetheless the musical weaves perfectly a tragic love story while touching on social issues with amazingly crafted music and dance sequences.
Why I Chose This Valentine's Day Movie on Disney Plus
The film touches on young love and what happens when society and differences steps in between of one's happiness.
6. Lilo and Stitch
This film was such an underrated favorite. Allow me to step onto my soapbox briefly to state that they did the thing WAY before Frozen came onto the scene.
Lilo and Stitch unfortunately didn't get a lot of love when it first came out but has grown a ton of appreciation over time.
Storyline of Lilo and Stitch
However, Lilo acts out a bit and is ostracized by her peers due to not "being normal."
Along the way, Lilo teaches Stitch about "Ohana" and how to be good. Making it one of the best Valentine's Day movies on Disney Plus.
Why I Chose This Valentine's Day Movie on Disney Plus
This film beautifully showcases the love that Nani has for Lilo and her efforts to protect her.
It also touches wonderfully on the importance of love and family. But ultimately, it is a love letter to Hawaii and its culture and traditions.
7. Lady and the Tramp
Now we all know that this one simply HAD to be on this list!
This romantic musical animated 1955 film was the 15th created by Walt Disney Studios.
Storyline for Lady and the Tramp
Why I Chose This Valentine's Day Movie on Disney Plus
This film is only one of two animated films to appear of AFI'S 100 greatest love stories of all-time list, next to "Beauty and the Beast."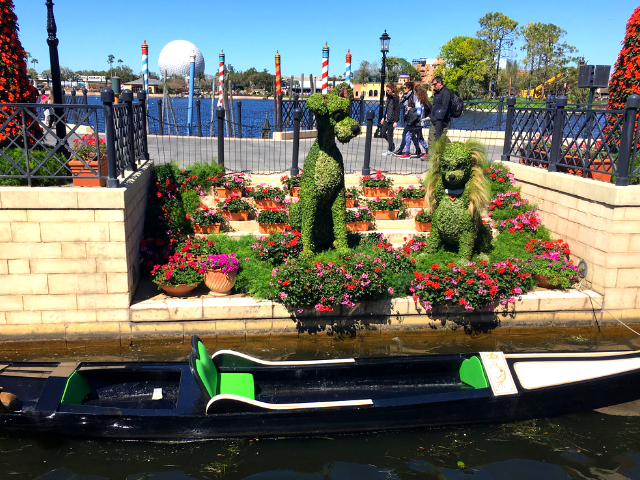 In fact, the spaghetti dinner scene is considered one of the most iconic and romantic scenes in American film history.
It goes to show that no matter where you come from, love will find a way. Making it one of the best Valentine's Day movies on Disney Plus.
Ready to make your trip out to Walt Disney World Resort, then get your no obligation, FREE Quote by filling out the form with The Park Prodigy by Clicking HERE!
My Final Thoughts on the Best Valentine's Day Movies on Disney Plus
Disney is one of the masters of romance whether it be family, friends, love for your country, young love, etc.
Spend your valentines day with your loved ones watching some of these films and be grateful for one another.
Did your favorite Disney Valentine's Day movie make the list? Share some more of your favorite romantic films below!