If you're here, you're probably wondering: What are the best movies to watch before going to Universal Studios and Islands of Adventure?
You've booked the Universal Hotel and bought your park tickets.
Now you got your ThemeParkHipster guide downloaded and researched everything there is to know about the food, rides and more. Heck you even splurged on an Express Pass!
Now there is really only one thing left to do.
Enter the movies…
Universal Orlando Resort is known for allowing its guests to step into some of its most famous and popular films and franchises through its attractions.
If you are a first time visitor, you would want to get a feel for what you're about to step into, look no further than the movies.
Today, I will be exploring some of the films that one could watch as they get ready to head to Universal Orlando Resort!
THIS POST MAY CONTAIN AFFILIATE LINKS. PLEASE READ MY DISCLOSURE FOR MORE INFO. Which means if you click on certain links, I may receive a small commission at no additional charge to you.
1. Shrek
Somebody once told me, that Shrek was one of the best animated films of all time!
But no seriously, despite Universal Orlando closing Shrek 4-D's untimely demise earlier this year, it continues to be one of the most beloved film franchises.
Might I add that the ogre is rescuing this princess for Lord Farquaad, ruler of Duloc, in exchange for clearing his home of unwanted fairytale creatures. I should also add that Lord Farquaad despises fairytale creatures?
Why We Recommend Watching This Movie Before Going to Universal Studios
This 2001 film has been beloved by adults and children alike, starring Michael Myers and Eddie Murphy, an excellent comedic duo.
The film is filled with jokes for adults and children. the film was praised for its cultural references, animation, memorable soundtrack, phenomenal voice acting and writing.
It earned several award nominations and was the fourth highest grossing film of its year, putting Dreamworks animation on the map as a competitor to Pixar.
In 2020, it was the first non-Disney film to be placed in the National Film Registry and has spawned several films, tv shows and video games. It is uncertain if there will be more representation for the film will be included in Universal Orlando.
However, currently you can meet Shrek, Fiona and Donkey at their brand-new meet and greet in Kidz zone next to Dreamworks Destination. You can watch Shrek on Peacock.
Get Your Universal Orlando Resort Tickets Today! CLICK HERE.
2. Transformers
In 2007, Michael Bay and Steven Spielberg presented upon the world a science fiction film based on the extremely popular toy franchise, Transformers.
Starring Shia Lebeouf as the lead along with Megan Fox and Peter Cullen and Hugo Weaving voicing Optimus Prime and Megatron.
It tells the story of a centuries old war between the Autobots, led by Optimus Prime, and the Decepticons, led by the villainous Megatron for the Allspark. These aliens can take the shape of everyday human machinery, but usually vehicles.
The Allspark found its way onto earth and the Autobots wish to use it to rebuild their home planet of Cybertron and end the war, while the decepticons wish to overtake earth and use it to give life to all the machinery on the planet.
Shia Lebeouf as Sam Whitnicky is caught in between these feuding aliens and teams up with Bumblebee, an autobot, to save the planet. Making it one of the best movies to watch before going to Universal Studios.
Why Transformers is One of the Best Movies to Watch for Universal Studios
It was nominated and won several awards that year, grossing $709.7 million at the box office. Its combination of CGI and live action was generally praised but its usage of cars and special effects were slightly criticized when it came to marketing.
Nonetheless, the film was very successful and dawned many toys and five sequels, with the sixth debuting in 2023.
The film's success gave birth to Transformers: The Ride 3D at the Universal Studios theme parks. It was the one of three and created by Universal Creative, Oceaneering International and Light and Magic.
Transformers: The Ride 3D replaced the Hercules and Xena attraction in June 2013.
It is a motion mounted platform-based attraction that utilizes 2,000 feet of track and screens as high as 60 feet to project 3D experiences and put you in the middle of the war between autobots and decepticons.
The attraction is located in Production Central near the lagoon and is about a four minute and thirty second experience overall.
You can't miss the giant Autobot at the front. Don't forget to meet Optimus Prime and Megatron right next to the attraction too! You can watch Transformers on HBOmax.
3. E.T: The Extra-Terrestrial
Almost every 80s and 90s child has taken the childhood mecca step of watching this film.
Another project touched by Steven Spielberg; it tells the tale of a young boy named Elliot who comes across an alien nicknamed E.T., for extraterrestrial, who was left behind on earth.
With assistance from friends and family, they help E.T to find his way back home. Making it one of the best movies to watch before going to Universal Studios.
The film featured an all-star cast but was noted for its young stars, Henry Thomas and Drew Barrymore.
This film recently celebrated its 40th anniversary on August 12, 2022 and during that time, has been considered a cultural phenomenon.
E.T: The Extra-Terrestrial film was added to the National Film Registry in 1994 and made $792.9 million at the box office.
Why We Recommend Watching This Movie Before Going to Universal Studios
Since its debut, the film has been called "heartwarming" and received universal acclaim by all.
It received many nominations and awards, most notably nine nominations at the 55th academy awards and going home with four, including best original score.
The suspended dark ride puts you in the seat of one of the most famous scenes of the film as you help E.T go home.
But it goes one step further, taking you to E.T's home world, the green planet, which was featured in the sequel novel.
A special part of the ride is E.T thanking riders for helping him at the end of the ride by name and the distinct forest smell in the queue.
It is a beloved attraction located in Kidzone at Universal Orlando and you can watch E.T on Peacock or rent it on Prime Video.
4. The Harry Potter Franchise
This next one on the list is a given. Universal Studios is known for its phenomenally accurate and successful Harry Potter lands.
Working with J.K. Rowling, they worked to truly bring the wizarding world to life in every sense. If you are a fan of the books or films, everything you could hope for will be here.
Which Harry Potter movie should I watch before going to Universal Studios?
But in particular when it comes to the franchise, I would personally recommend watching Harry Potter and the Deathly Hallows Part 1 and Deathly Hallows Part 2.
These are the final two films in the series where we watch Harry journey with his friends to defeat Voldemort and ultimately save the wizarding world.
These two films, essentially give you an overall idea of what entails the wizarding world and will help you to better understand the "Escape from Gringotts" attraction, which takes place around the Deathly Hallows films.
Making it one of the best movies to watch before going to Universal Studios and Islands of Adventure.
Other attractions include Hagrid's Magical Creatures Motorbike Adventure, which takes you through the forbidden forest.
There's also Harry Potter and the Forbidden Journey, which takes you through the famous Hogwarts Castle.
Now if you want to dive into the full lore of the story to fully enjoy and immerse yourself in Hogsmeade and Diagon Alley, I would make a fun time of watching all the films and maybe some behind the scenes specials on HBOmax.
5. Men in Black
Based loosely on the marvel comic, the 1997 film "Men in Black" is known as one of Will Smith's most commercial and famous roles.
We see the industrial light and magic team make a return as they helped with this, being praised for their makeup work and special effects, as well as winning and being nominated for several awards.
Men in Black stars Tommy Lee Jones as Agent K and Will Smith as Agent J.
In this film, Jones plays a seasoned agent training smith to become a new agent in a top-secret organization that supervises extraterrestrial life on earth, while hiding their existence from humans.
The film was praised overall for its comedy, soundtrack and effects making $589.3 million at the box office. Making it one of the best movies to watch before going to Universal Studios.
While not in the National Registry, it has made several AFI lists. It has spawned three sequels. The entire project was overseen by the Universal Creative Team.
Why Men In Black is One of the Best Movies to Watch for Universal Studios
Today, Men in Black Alien Attack is located in World Expo area of the park and beloved for its amazing queue and story.
It is one of the more popular attractions of the park to this very day and great fun if i do say so myself. A good tip, press the red button.
In a five-year process, Men in Black: Alien Attack would make its debut in April 2000. The attraction is an interactive shooter dark ride that allows riders to enter in what is disguised as a World's Fair, but actually the MiB Headquarters.
What to Expect on This Ride at Universal Studios
You will be recruited to test your skills and take down aliens throughout New York with laser guns, while racking up points!
At the time, it was the biggest dark ride ever built at a Universal Park with over 100 animatronics. Eighty of them were designed in house by Universal Creative.
The attraction received an award shortly after for its inception by the themed entertainment association for outstanding achievement.
6. Furious 7
If you make the unfortunate decision to experience Fast and Furious: Supercharged, then I would recommend you sit down and take a gander at Furious 7.
This is, as I'm sure you would imagine, the 7th installment in the Fast and Furious franchise.
This was the final film for Paul Walker, who played the role of Brian in almost every film in the franchise up until that point.
He passed away in 2013 in a tragic car accident and his brothers filled in to complete most of his filming for the role, which caused the film to be delayed until its 2015 release.
If you are familiar with the franchise, you may need a refresher to remember the characters. If you aren't, fortunately, you will really only have to watch the 7th installment.
The 7th film sees the family, and yes you will hear that word at least 20 times in the attraction, returning the United States to live out normal lives after being granted amnesty for their past wrong doings.
They run into trouble once a man named Deckard Shaw, a rouge assassin, comes after them to avenge his brother who is in a coma due to their actions.
Experiencing this Movie as a Ride at Universal Studios
The film was one of the most expensive ever made costing $250 million to produce but grossed over 1.5 billion globally. It was also praised for its absolutely astronomically impressive stunts, set pieces, cast performances and its tribute to Paul Walker.
The film mostly gained nominations and awards due to its tribute song to Walker, "See You Again" by Wiz Khalifa and Charlie Puth.
With that being said, the attraction does not live up to the film and in fact, the Universal Creative Senior Vice President stated in an IAAPA interview that the attraction was the biggest mistake of his career.
I will say that if you have never ridden it, to at least try it once as the queue is worth seeing!
There are amazing vehicles and props from the film within and a tribute to Paul. But most visitors will tell you to skip it.
I could honestly try to explain the ride to you, but to this day, I'm still very confused.
Hipster Power Tip: You can get a discount on your Universal Orlando Express Pass only on The Park Prodigy!
7. The Mummy
One of the most popular, if not the most popular attraction at Universal Studios is Revenge of the Mummy. But before we dive into that, let's talk about the movie!
This 1999 cult classic is a remake of one of the famous Universal Monster movies of the same name.
It starred Brendan Fraser in the lead role as Rick O'Connell, who travels to the city of the dead with Evelyn, a librarian, and Jonathan, her brother.
They end up accidentally awakening Imhotep, a cursed high priest with supernatural powers who had an affair with the pharaoh's mistress.
After they both kill the pharaoh once their secret is discovered, the mistress kills herself and Imhotep flees, believing he can resurrect her.
He is caught in the middle of the resurrection ritual and made to be buried alive with flesh eating beetles and locked in a sarcophagus.
It is a truly riveting film that was praised for its CGI, live action and stunning visual effects, brought to you again my Industrial Light and Magic.
Making it one of the best movies to watch before going to Universal Studios.
Why We Recommend Watching This Movie Before Going to Universal Studios
The film took years to make but made $416.4 million globally spawning two sequels, a prequel and an animated show.
While nominated for numerous awards, it only won two for Best Makeup and its original score by Jerry Goldsmith.
Its successful Universal Orlando attraction debuted in May 2004 replacing Kongfrontation.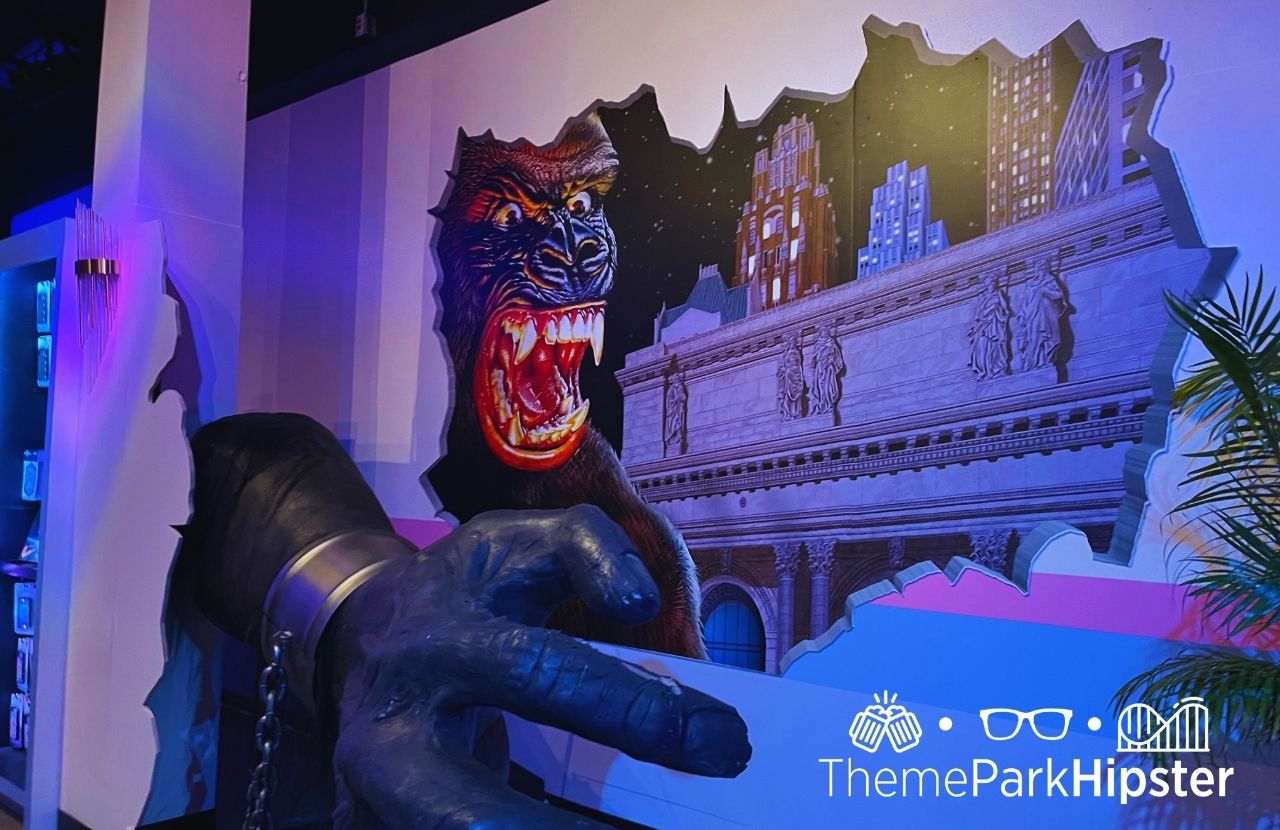 If you actually look up, you can still see some of the old attraction throughout the ride. You learn more about the attraction here.
Since 2011, it consistently won best indoor coaster yearly until 2019 when the category was retired due to its wins every year. After this, it was given legendary status by Golden Ticket Awards.
8. Jurassic Park & Jurassic World
The Jurassic Park franchise is absolutely synonymous with Universal Studios! Most likely if the first thing that comes to mind isn't Harry Potter, the runner up usually is Jurassic Park.
But in this case, Universal did a bomb job of bringing the immersive land to live for visitors.
Jurassic Park, based on the book of the same name by Michael Crichton, was another film creation by Steven Spielberg.
Storyline of Jurassic Park
The original film of the trilogy takes place on Isla Nublar, off the coast of Costa Rica where a wealthy businessman and his team of genetic scientists have created a wildlife park…filled with extinct dinosaurs.
The businessman, John Hammond, needs to reassure his investors and bring several experts and his grandchildren to do a test run of the park.
Due to some internal sabotage, the power for the entire island is shut down and the dinosaurs are running rampant. Now everyone is fighting to survive and escape the island.
Making it one of the best movies to watch before going to Universal Islands of Adventure.
Jurassic Park Makes History
The film itself was an absolute marvel at the time and the special effects still hold up almost 30 years later!
It was called one of the best blockbusters of all time, with critics praising the life like animatronics and special effects. The wonderful people from Industrial Light and Magic had hands on this project.
It even replaced E.T as one of Spielberg's best sequence works since Jaws. Fun to mention is that out of all the dinosaurs that were featured in the film, only two are actually from the Jurassic Period.
During its run, it grossed $1.046 billion at the box office, won more than twenty awards, including three academy awards, and was placed in the National Film Registry.
World of Jurassic Park: The Sequels
While this film has spawned five sequels, we will only be talking about one in this piece, and that's Jurassic World.
Released 22 years after Jurassic Park, it is the 4th sequel, set in the exact same setting as the original film.
We find that the idea by John Hammond was successfully brought to life and has been for several years since it opened to the public.
They have once again pushed the envelope too far as their latest genetic creation has escaped and is running amuck on the island. There is also double the chaos when there turns out to be a conspiracy within the staff.
Industrial Light and Magic returned for this project along with Legacy effects to help out with the animatronics.
It was a major success grossing $1.6 billion at the box office, becoming the highest grossing in the franchise, second highest grossing of 2015 and the third highest of all time, tied with The Avengers and Star Wars: The Force Awakens.
Why We Recommend Watching This Movie Before Going to Universal's Islands of Adventure
The film was considered an excellent sequel and reboot to the franchise as a summer blockbuster and was nominated for several awards, only winning four in total.
When it comes to the attractions it has inspired in Islands of Adventure, we can look no further than VelociCoaster and Jurassic Park River Adventure.
Jurassic Park River Adventure is a river-based attraction inspired by the original book that debuted in May 1999.
It is inspired by a scene that was not included in the film, where Dr. Grant and the children try to get back to the visitor center via boat.
Some elements of the film are included like the T-Rex, several dinosaurs, etc. It's a very popular attraction to beat the Florida humidity and heat.
This is because it has the ability to push 3,000 riders through per hour. It's also known for its 50 MPH (miles per hour) final drop.
Meanwhile, VelociCoaster is one of the crown jewels of roller coasters in Orlando and some consider one of the best in the country.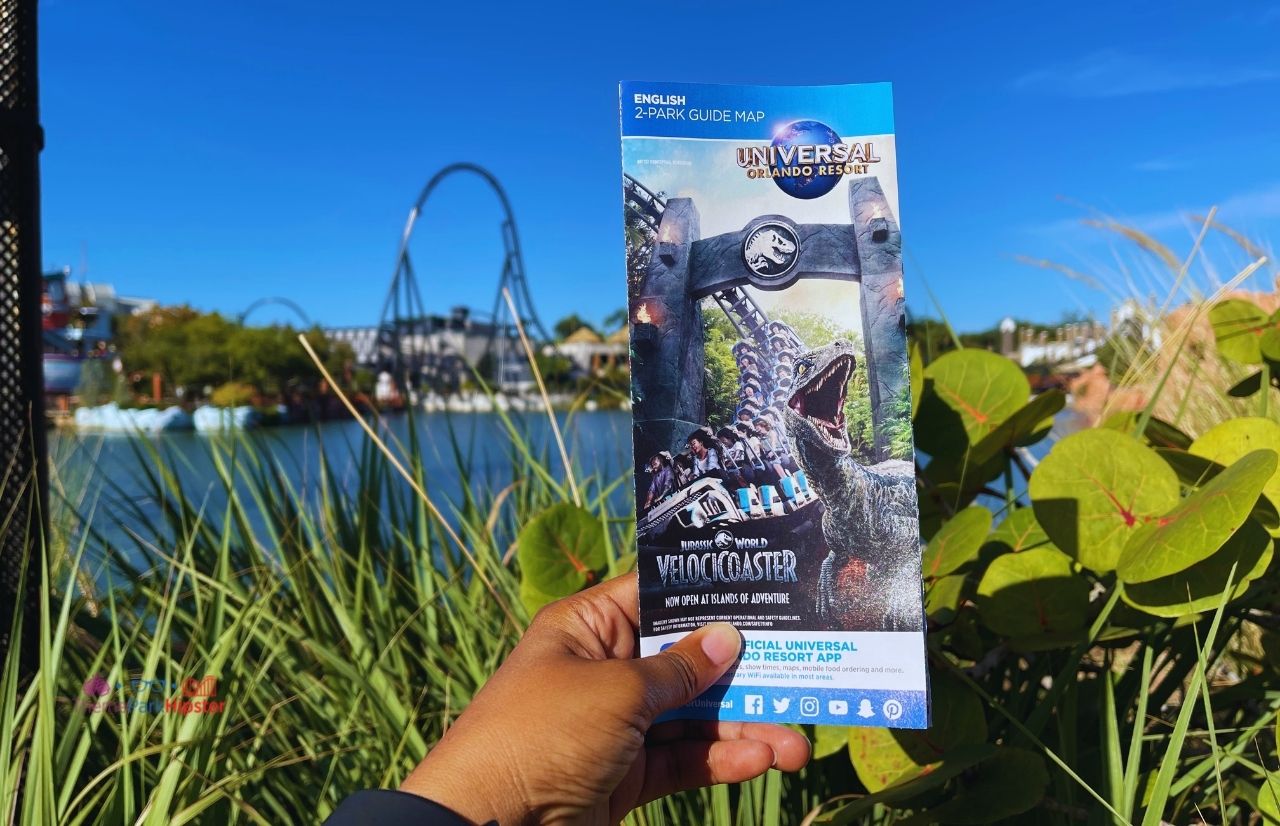 We touched base on what makes this attraction inspired by Jurassic World truly incredible in our other piece here.
Get up to 76% off of the Orlando attractions with Groupon TODAY!
9. Despicable Me
The Despicable Me franchise might be one of the most popular animated franchises after Shrek for the company and rightfully so! Making it one of the best movies to watch before going to Universal Studios.
It follows the original tale of a supervillain adopting a trio of orphaned girls. On top of being a parent, he is currently working on trying to steal a shrink ray from his mortal enemy in order to shrink the moon and steal it!
Despicable Me made its debut in summer 2010 and boasted a truly great cast with:
Steve Carell as supervillain Gru
JuIie Andrews as Mama Gru
Jason Segel as Vector
Miranda Cosgrove
Kirsten Wiig
Russel Brand
Danny Mcbride
Will Arnett
The film was praised for being very lighthearted, family friendly, adorable and with one critic even stating that it was similar to the Pixar style and not afraid to be silly or goofy.
Awards and Recognition of Despicable Me
It made $543.2 million at the box office and while nominated for many awards, it only won two for Favorite Animated Movie from the Nickelodeon Kids Choice Awards and Best Animated Film from the Women Films Critic Circle.
It had quite a bit of competition with Tangled, Toy Story 3 and How to Train Your Dragon around that time.
Nonetheless, it was popular enough to spawn two sequels with a 4th coming in 2024, a prequel and spinoff for the Minions of the film. Not to mention one of the first attractions you see when entering Universal Orlando.
Why We Recommend Watching This Movie Before Going to Universal Studios
You will see the Despicable Me Minion Mayhem attraction as you enter the park. It is usually packed as its a very popular family friendly computer simulator ride.
This Universal Studios Ride opened in the summer of 2012, just two years after the film made its successful debut.
It matches the atmosphere of the film in which it is silly, carefree, amusing and fun.
Guests find Gru attempting to turn humans into minions although Gru assures riders that despite previous errors, there is nothing to worry about. While the riders are being scanned, the orphans come in to help with the minion training.
The attraction itself is truly delightful and has won two awards for Best Animated Special Production and Outstanding Visual Effects in a Special Venue Project! Certainly, worth riding at least once!
10. Kong: Skull Island
I feel like I would be remiss if I did not mention the king of monsters on this list. Visitors would have to watch Kong: Skull Island to get a better idea of what they are about to walk into as far as its attraction.
Most frequent visitors know of Kongfrontation which was replaced by Revenge of the Mummy, who is on this list.
Kong: Skull Island is a reboot of the King Kong franchise and the second in the Legendary Pictures Monsterverse which features Godzilla as well.
This is also the 11th installment in the Kong franchise as a whole! This monster has been getting a paycheck frequently.
Storyline of Kong: Skull Island
The film debuted in March 2017 and was praised for its special effects, action sequences and performances from its cast!
The film is set in 1973, where a group of Vietnam soldiers and scientists who travel to an uncharted island to search for primeval creatures recently discovered nearby.
There they discover Kong, a giant ape who is the last of his kind, along with several other dangerously huge creatures that want to obviously have them for supper.
Particularly the performances of Samuel L. Jackson and John C Reily were amongst the biggest praises. Of course, Industrial Light and Magic had a hand in the creature design for the famous Kong.
The inspiration apparently came from Studio Ghibli's "Princess Mononoke" for his behavior and design as well as No Face from "Spirited Away", Cubone from "Pokemon "and the entire Neon Genesis Evangelion franchise.
Even the two-legged lizards from the original King Kong film were an inspiration for the Skullcrawler creatures in this film. Making it one of the best movies to watch before going to Universal Islands of Adventure.
Awards and Recognition of Kong: Skull Island
Globally, it grossed $398 million and is to date the highest grossing in the monsterverse.
Overall, it got positive reviews and was a big break for Brie Larson, in which shortly after she gained the role as Captain Marvel in the Marvel Cinematic Universe. While nominated for several awards, it did not win any.
Why Skull Island is One of the Best Movies to Watch for Universal Islands of Adventure
Skull Island: Reign of Kong gets direct inspiration from this film. Located in Islands of Adventure in its on-Skull Island area, it made its debut in July 2016.
It is a trackless 3D attraction created by Universal creative and Oceaneering International. The 6-minute ride places guests in a safari truck where they come across an expedition group getting ready to set up camp.
Throughout the queue, the locals and natives warn riders about the dangers and legend of kong.
Originally, team members dressed as locals would pop out in holes to scare guests, but this was removed after the pandemic and has not returned.
The leader of the expedition, Kate is taken by flying creatures and the group chases after her in order to save her.
Riders then go through various aspects of the island and come face-to-face with some of the terrifying creatures and Kong.
The attraction was praised for its visual effects, story and jaw-dropping animatronics! It is amongst the favorites when visiting Islands of Adventure.
Recommended: The Solo Theme Park Traveler's Guide
My Final Thoughts on the Best Movies to Watch for Universal Studios
Universal Pictures and its subsidiaries have been bringing out a plethora of memorable and jaw dropping films since its inception of 1912.
Among this list is just ten of the amazing products they have offered viewers and have managed to bring to life for its visitors in its spectacular Orlando based theme parks.
And this is just the beginning as work on its 4th park, Epic Universe, is being done as we speak!
While we don't know much about what will be inside or what Universal Pictures films will have attractions here, we do know that Universal Monsters and Super Nintendo World will get some love in the 750-acre park.
Epic Universe is scheduled to open in Summer 2025. Til then, you can enjoy their large library of films to prepare to enter the movies!
What's one of the best movies to watch before going to Universal Studios? Let us know in the comments section below.
Until next time, Happy Park Hopping Hipsters!
About the Author
UP NEXT: Doctor Doom's Fearfall at Universal: The Good, the Bad, and the Scary!