Are you looking for the best restaurants at Disneyland Resort for adults?
Now call me VERY biased, but I personally think that if I had to choose between eating Walt Disney World food for the rest of my life or Disneyland's, hands down I would choose Disneyland.
Disneyland Resort benefits from its diverse California surroundings and demographic.
It allows Cast Members to be able to experiment with food more and expand their menus to items that locals with colorful cultures will indulge.
This gives visitors a chance to try new and flavorful items as well.
Walt's park simply can't be beat, well until I get to Tokyo Disney resort.
And if you're a childless millennial like me or you're taking a break from your kids, you want to dine where the kids are at a minimum.
Today, I will answer that question and more as we discuss the 5 best Disneyland restaurants for adults, according to a Walt Disney World regular!
THIS POST MAY CONTAIN AFFILIATE LINKS. PLEASE READ MY DISCLOSURE FOR MORE INFO. Which means if you click on certain links, I may receive a small commission at no additional charge to you.
1. Lamplight Lounge
Nestled at the entrance to Pixar Pier at Disney California Adventure is Lamplight Lounge.
This restaurant was once home to Ariel's Grotto, a character dining experience that served up American, vegetarian and healthy food fares while guests could mingle with Disney Princesses.
Almost 4 years ago on January 8, 2018, Ariel's Grotto closed to make way for Lamplight Lounge, which opened almost 5 months later on June 23, 2018.
Why We Love this Disneyland Resort Restaurant
What makes Lamplight Lounge unique is its theme, sprawling views and gastropub cuisine along with their specialty cocktails.
You will be met at the front entrance and guided down a spiral staircase to the restaurant where you will see hints of Pixar animation along the way. Making it one of the best restaurants at Disneyland for adults!
Vibe of Lamplight Lounge
The theme is a nod and tribute to Pixar animation artists. Inside the restaurant, you can see pieces of Pixar history, concept art and more.
It truly celebrates the creativity of the Pixar artists, and it immerses you in the experience of what it would be like to dine in a place inspired by these talented animators.
Unlike Ariel's Grotto, you won't be meeting any characters here.
However, you will be prepared to send your tastebuds on a flavorful artistic experience as you look over their menu, which sometimes changes seasonally, where you will find American, Californian, vegetarian and healthy selections.
You will also find some items unique to Lamplight as well.
Best Food on the Menu at Lamplight Lounge
If I were to recommend some dishes, you simply must get the famous Lobster Nachos!
Lobster Nachos
Brunch Burger
It consists of Grilled Custom Burger Blend with American Cheese, One Egg-up, Hash Brown Patty, Roasted Green Chile, Lettuce, Caramelized Onions and Paprika Aïoli on a toasted Amish Bun with Fresh Fruit.
I opted for no green chile and it was still scrumptious!
Salmon PLT
For those with dietary restrictions, some friends mentioned that the Salmon PLT is an excellent option featuring:
Grilled Salmon with crispy Pancetta
Lettuce
Roasted Plum Tomato
Lemon-Bacon Aïoli on Toasted Focaccia
Mickey's Fun Wheel
Open Ocean with a Splash
Another delicious option is the "Open Ocean with a Splash" which boasts Bacardi Raspberry Rum, Bols Blue Curaçao, Liquid Alchemist Orgeat (Almond), Agave Nectar and fresh Lime Juice.
How much does it cost to eat at Lamplight Lounge?
Expect prices starting at $10 and as high as $35 for food but for what Lamplight offers, I find its worth it!
Do I need reservations for Lamplight Lounge?
If you really want to try this place, book it as early as possible! You can book 60 days in advance of your visit, and they do have mobile check in available.
If you're thinking about making a trip out to any of the parks at the Disneyland Resort in California, then be sure to get your tickets here!
2. Plaza Inn
This next one on my list is located on Main Street U.S.A. and has been a favorite of guests for generations.
It is considered a great place to start your day at Disneyland as its one of the original Disneyland landmarks, and one of Walt's favorite places to dine.
Making it one of the best restaurants at Disneyland for adults!
Vibe of Plaza Inn at Disneyland
It is themed in an extraordinary Victorian setting with Lillian Disney, Walt's wife, handpicking the 19th century interior furniture.
Most notable is the stunning stained-glass ceiling, marble foyer and gingerbread woodwork, which was saved from an old home in the historic St. James Park neighborhood in Los Angeles.
Why We Love this Disneyland Resort Restaurant
On top of that, you will be treated to a gorgeous view of the beautiful and iconic Sleeping Beauty castle.
Something to note is that while they do have breakfast, it is Character Dining which means being around children will be inevitable.
Personally, I am a big kid and love character dining so I can deal with being around children for that. Otherwise, try out Jolly Holiday Cafe for breakfast!
Best Food on the Menu at Plaza Inn
Now if you are going for lunch and dinner, there is no question you have to get the Plaza Inn's most famous dish, the fried chicken.
Fried Chicken and Pot Roast
Indulge in three pieces of Chicken, fried to a golden brown, seasoned with distinctive Herbs and Spices, served with Mashed Potatoes and Gravy, Buttermilk Biscuit and seasonal Vegetables.
I honestly have a difficult time choosing between the chicken and the delectable, melt in your mouth Pot Roast, that's slow roasted and served with Mashed Potatoes and Gravy, Buttermilk Biscuit, and seasonal Vegetables.
How much does it cost to eat at Plaza Inn?
You can expect an American style dining experience at Plaza Inn ranging from $15-$35.
Do I need reservations for Plaza Inn?
If you wish to do the coveted character dining breakfast experience, stay on top of booking your reservation 60 days in advance.
Save up to 65% off exploring the attractions in Los Angeles with Groupon TODAY!
3. Napa Rose
The first of two find dining experiences on our list, let's talk about Napa Rose at Disney's Grand Californian Resort and Spa.
Since the restaurant opened in 2002, it has received high praise, mainly due to Chef Andrew Sutton telling the story of the wine country through his food.
He continues to astound with fresh, innovative cuisine. Plus, he can even craft a tasting menu to your food preferences!
Now that is fine dining!
Why We Love this Disneyland Resort Restaurant
The restaurant honors California's distinct culinary flair and phenomenal wine makers as you are surrounded by the warmth of the state's natural beauty.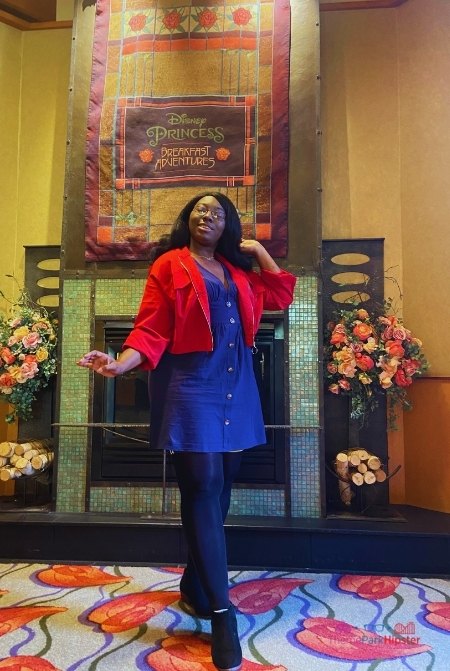 Because of its award-winning wine selections and delicious fares, you will want to block out 2 hours to fully experience the true marvel of this restaurant.
Disney Princess Breakfast at Napa Rose
As someone who has experienced character breakfast offerings in Walt Disney World (WDW), Disneyland and Disneyland Paris, the Disney Princess Breakfast in particular quickly rose to the top.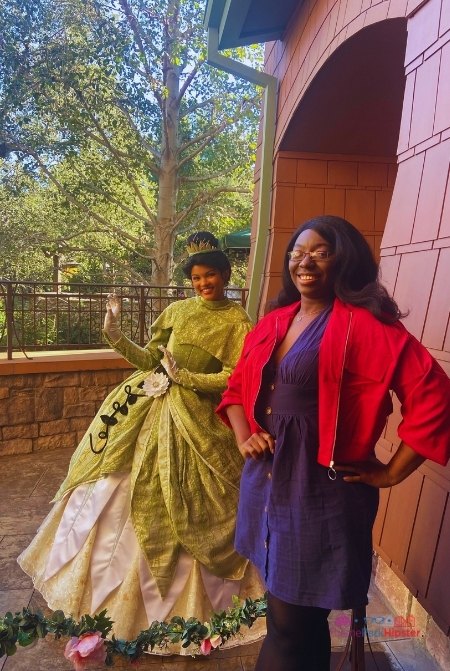 Vibe of Napa Rose at Disneyland Resort
Napa Rose is laidback but only to an extent as it has a dress code that you'll have to follow.
Napa Rose Dress Code
According to Disneyland Resort:
"Guests are requested to dress in a manner consistent with the restaurant's wine country ambience. Examples of appropriate dinner attire include dress pants, jeans in good condition, collared shirts, dress shorts, sweaters, blouses, dresses and lifestyle shoes. We kindly request no hats, swimwear, tank tops, cutoffs or distressed jeans."
Best Food on the Menu at Napa Rose
When it comes to the best dish, I can be classical when it comes to fine dining and I want the best of the meats available.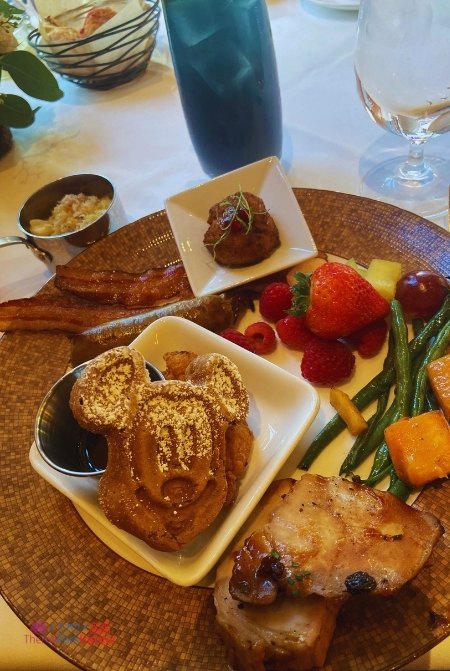 Grilled Prime Beef New York
The Grilled Prime Beef New York was simply indescribably good! You will want to try the Herb Gnocchi as well.
And I would be remiss if you did not indulge in one of the 300 different wine options on their extensive list.
Be sure to ask your server what wine pairs best with your dish of choice.
How much does it cost to eat at Napa Rose?
Dinner is from 5:30 -9 p.m., and you should expect to pay over $60 a person, dependent on what you get.
Parking at Napa Rose
Another tip is that guests dining at Napa Rose gets free parking for 5 hours at the hotel.
Beyond the 5 hours, you will be charged as follows:
Self-parking: $25 per vehicle for the first hour, plus $10 for each additional hour, with a maximum rate of $65
Valet parking: $35 per vehicle for the first hour, plus $10 for each additional hour, with a maximum rate of $105
Overall, this is a major "Treat yo self" dining experience perfect for special occasions.
Get Your Discounted Disneyland Tickets here!
4. Blue Bayou
Another classic and must do dining experience since its debut in 1967 is Blue Bayou Restaurant in New Orleans Square!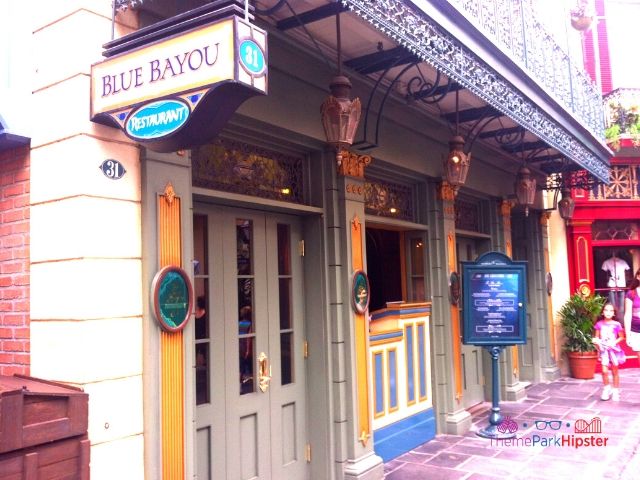 Although once Tiana's restaurant opens, it may have a run for its money!
Why We Love this Disneyland Resort Restaurant
You will be immersed in the heartland of The South with comforting evening bayou ambiance with the romantic glow of the lanterns overhead.
Vibe of Blue Bayou at Disneyland
It is well known for its location as you can see riders of "Pirates of the Caribbean" heading out to their adventure through the bayou.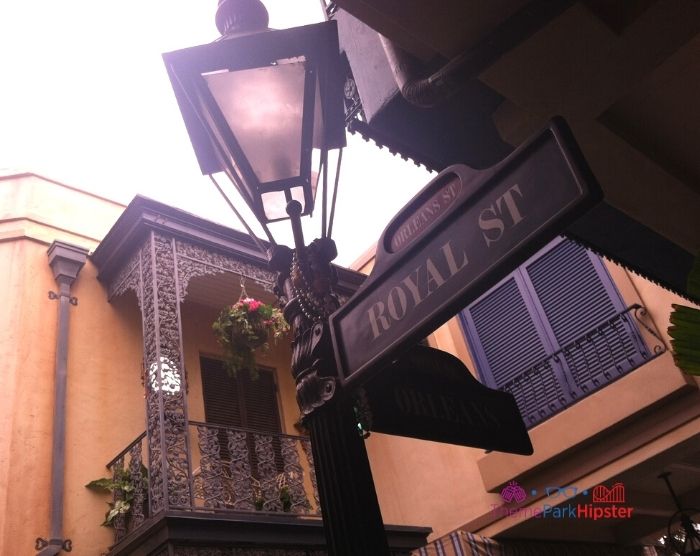 You will truly get the sense of eating near a bayou in New Orleans. Making it one of the best restaurants at Disneyland for adults!
The Blue Bayou is open for lunch and dinner, expect to be treated to some true Louisiana style cooking!
To start, lunch is from 11 a.m. -3:55 p.m. and dinner is 4 to 10 p.m.
Best Food on the Menu at Blue Bayou
As one would imagine, it's hard to choose what the best dishes are from this cajun-creole dining experience.
Monte Cristo
Most find the Monte Cristo, a Battered and Fried Turkey, Ham and Swiss Sandwich with a Market Fruit Salad and Seasonal Preserves, the go to dish that's $29.
Creole Roasted Chicken
Personally, I am more partial to the Creole Roasted Chicken with Andouille Sausage, Roasted Shrimp, Creole Rice and Creole Sauce which is $36.
Creme Brûlée
One thing I insist you try is the Creme Brûlée because quite frankly, I still dream of it!
Hurricane
And it would be worth trying their signature "Hurricane" cocktail featuring Bacardi Reserva Ocho Rum, Myer's Original Dark Rum, Simply Orange Juice, Passion Fruit Puree, Grenadine and Lime Juice, Luxardo Maraschino Cherry and Orange garnish.
You can even consider trying one of their wine tastings, ranging from $15-$23.
Upgrade Your Visit at Blue Bayou
Expect to pay $35-$60, not including the Fantasmic Dining Package that includes a tasty 3-course meal plus admission to a separate Fantasmic! viewing location that evening.
Pricing for the Fantasmic Dining Package is as follows:
Lunch: $89 per Guest (ages 10+); $35 per Guest (ages 3-9), tax and gratuity not included.
Dinner: $89 per Guest (ages 10+); $35 per Guest (ages 3-9), tax and gratuity not included.
Do I need reservations for Blue Bayou?
The good thing about Blue Bayou is that is does have a walk-up list if you are unable to snag a reservation 60 days in advance or miss out on the Fantasmic dining package.
5. Carthay Circle
Rounding out the list is our second and final fine dining establishment located at the crossroads of Buena Vista Street and Hollywood Boulevard, the iconic Carthay Circle restaurant.
Why We Love this Disneyland Resort Restaurant
Vibe of Carthay Circle at Disney California Adventure
Best Food on the Menu at Carthay Circle
Another fun fact is that Chef Andrew Sutton makes a second appearance on this list as the creator of Carthay Circle's SOCAL fare spotlights.
Spanish Yukon Potato Croquettes
The best dishes I can recommend is the Spanish Yukon Potato Croquettes with Manchego Cheese, Soria Chorizo and Roasted Garlic Aïolifor $18.
Butternut Squash Ravioli
Carthay Mai Tai
I was also rather fond of the Carthay Mai Tai but they do also serve Negronis. If you know, you know.
How much does it cost to eat at Carthay Circle?
To no one' surprise, expect to pay between $35-$60 for the experience.
Do I need reservations for Carthay Circle?
A big tip that you might find surprising to know is that Carthay Circle has a walk up list if you can't snag a reservation. However, the reservations go fast so be on top of it!
Is there at dress code for Carthay Circle at Disney?
There is no dress code, unlike Napa Rose, and I would try to get a table with a view on their open-air terrace.
Dinner is from 4-8 p.m. but if all else fails, try to grab a drink at the Carthay Circle Lounge!
Ready to plan your theme park trip? Watch the best vacation planning tips on YouTube. Get started here!
My Final Thoughts on the Best Restaurants at Disneyland for Adults
These Disneyland restaurants are coveted places to dine, whether its due to their park history, character dining access or its truly unique and award-winning fine dining experiences.
All of these are just five of the best restaurants at Disneyland for adults that the resort has to offer for dining.
Now it's your turn. Let me know if your favorite made the list in our Facebook Group!
Until next time, Happy Park Hopping Hipsters!