Are you trying to figure out how to dress for Dapper Day at Disney?
If you've ever wanted to be the picture of sophisticated grace at the Disney Parks but have never had an excuse to do it, let me introduce my vintage loving friends to Dapper Day!
Now is your chance to dress in a refined style with whimsical chic at the most Magical and Happiest Places on Earth.
As a solo traveler, it's already a bit daunting to go alone to the Disney Parks, but dressed up? Intimidating for sure!
But have no fear because as I always do, I am here to reassure you about why not only you should travel solo but do it with Dapper Day!
THIS POST MAY CONTAIN AFFILIATE LINKS. PLEASE READ MY DISCLOSURE FOR MORE INFO. Which means if you click on certain links, I may receive a small commission at no additional charge to you.
Here is what we will be covering today for Dapper Day at Disney:
What is Dapper Day?
When and Where is Disney Dapper Day?
How to Dress for Dapper Day?
Frequently Asked Questions
What is Dapper Day at Disney?
To start, let's discuss what is Dapper Day exactly?
Dapper Day is an organization of sorts founded by LA designer Justin J. with his team that includes model and creative director, Doris Mayday, Producer and Guest Relations Manager, Chloe Ferreira and Shop Manager, Whitney Vigil.
The organization was founded in 2011 and has their events in all sorts of destinations like museums and theme parks like Disneyland, Walt Disney World and Disneyland Paris resorts.
The event encourages you to step out in your Sunday best and are in fact, best known for their "Dapper Day Outing to the Parks" event and Dapper Day expo in Anaheim.
Plus, the best part is there is no specific time period, so you can come in any style you please that you define as "dapper."
These events are not affiliated with The Walt Disney Company, although they do work closely with them. The event does not schedule meetups.
You won't be alone in the fun and merriment. The meetups allow you to find other solo travelers like yourself to join in on the fun with.
Ultimately, the goal is to showcase you looking your best while showing off your own personal style and creativity.
Ready to make your trip out to Walt Disney World Resort, then get your no obligation, FREE Quote by filling out the form with The Park Prodigy by Clicking HERE!
When and Where Dapper Day at the Disney Parks?
Dapper Day has dates in the Fall and Spring at Disneyland, Walt Disney World and Disneyland Paris resorts yearly.
The dates are not always the same day and specifically for Walt Disney World, it is not always the same park.
As of this post, these are the following Dapper Day dates so you can get ready to join in and plan!
Disneyland Paris Resort: Spring Outing on Saturday, May 13, 2023
Walt Disney World Resort: Saturday and Sunday Holiday Outings on December 10th and 11th of 2022; Spring Outings on April 29th and April 30th of 2023; Fall Outings dates pending
Disneyland Resort: Dapper Day Expo at Disneyland Hotel on April 15th and 16th and November 11th and 12th of 2023; Spring Outing on April 16, 2022; Fall Outing on November 12th of 2023
How to Dress for Dapper Day at Disney World and Disneyland?
Now that we know what it is and when it is, now the big question is "What in the world are you going to wear?"
With this kind of event, you can be as creative and extra as you please! I'm wearing ballgowns myself this year.
What tends to be popular with visitors is the 1930s to 1960s eras. The most popular by far are the 1920s, 1930s and 1950s.
A lot of people find it fun to dress in these styles with Disney twists and inspirations, adding Disneybounding flair to their personal style. Some people really get into in and make their outfits by hand.
But if you're like me, you do not have the time or skills to craft and outfit by hand. So here are some shops that cater to every era's style for men and women alike!
AdoredVintage
This online shop caters to those who want timeless and feminine clothing inspired by vintage style. They have pieces for every season and are carefully curated with classic staples including florals.
They feature all sorts of apparels, accessories, jewelry, home Decor, books, stationary, tea and much more! And everything is fairly affordable and reasonably priced.
Modcloth
This shop has been around since 2002 and a favorite among Dapper Day visitors. Modcloth is notable for their commitment to size inclusion and diversity while being affordable. The products feature vibrant prints reminiscent of several eras that are high quality and versatile.
The styles they use are timeless and flattering on all body types and they commit to bringing innovative styles to their customers.
The company has worked with several other brands to bring a wide variety of clothing pieces, outerwear, shoes, accessories, specialty gifts, home decor and plus size items. They are notable for their seasonal pieces including Halloween and Christmas collections.
Amazon
Now we all use Amazon in our day to day life, so why not use it to find some amazing outfits for Dapper Day? Amazon has an excellent assortment of clothing as long as you know what exactly you are looking for.
If you choose to use this way to go, you will want to research before hand what style and era you want to get inspiration from. This way, you know exactly what you are looking for and won't have issues finding it.
Important to remember to keep an eye out on sizing and to read reviews. It's a good idea to do this when working with a new company through Amazon.
Finally, make sure it will reach you in enough time to try it on and to exchange for a different size in case you need to.
ShopDisney
Shopdisney has a Dress Shop collection inspired by some classic attractions, character and much more!
These dresses can be found in the parks and online. It ranges from dresses, jumpsuits and bags. They come in a variety of sizes but they are a bit on the pricey side at a price tag of $128 per piece before tax.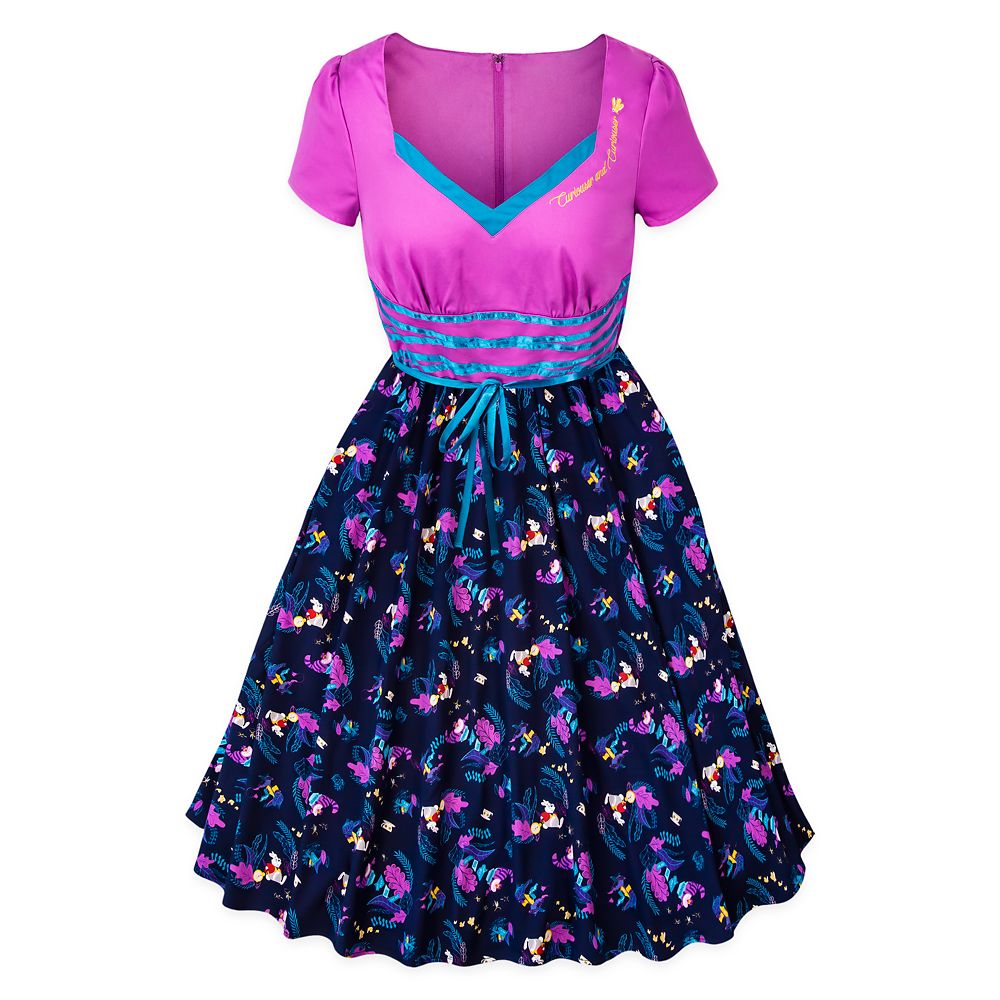 Bags are $44.99 before tax so if you are a Disney Vacation Club member or Annual Passholder, you may want to try your luck and use your discount at the parks to purchase for Dapper Day.
Not to mention, you have more luck with variety at the parks versus Shopdisney.com where it only has a select few.
Unique Vintage
By far, one of the most popular sites used by Dapper Day prospects is Unique Vintage. This shop has a location in Burbank, California as well as an online store. It opened in 2000 and quickly became one of Newsweek's Best online shops.
The business celebrates every body type while celebrating iconic fashions of the past in contemporary designs.
This vintage inspired fashions has something for everyone! The site has various collections, including a Disney specific one.
They carry all types of clothing pieces, dresses, flapper pieces, wedding outfits, shoes, accessories, plus size designs ,etc. Your imagination will soar with this privately owned, female owned business!
Dapper Day
Last but not least, Dapper Day themselves have various products and collections that they sell.
They have an amazing selection of vintage themed brooches and pins!
There's also shirts, dresses, ascots, bags, fans, bowties and anything you could imagine with whimsical themed Disney styles.
As of this year, they are celebrating 11 years of style with its organization.
Ready to plan your theme park trip? Watch the best vacation planning tips on YouTube. Get started here!
What to Know Before You Go to Dapper Day at Disney
Now that you know what it is and how to dress for it, let's go through a few of the most commonly asked questions that I receive.
Does this event break Disney's "No Costumes" policy?
This event encourages its participants dress up in great style of yesterday and so it is not a costumed event. Costumes for adults are only allowed during Disney's Halloween events.
Do I need to buy a ticket?
To enter the park, you will need to buy a theme park ticket for the park the event is taking place in or have an Annual Pass.
Disney Parks currently utilizes the Park Pass Reservation system, so you will need to have that as well.
For the Dapper Day expo, you will need to buy a ticket despite it taking place in Disneyland Hotel, which does not need a park ticket to enter.
ORDER NOW to secure your Walt Disney World theme park ticket! GET MY TICKETS.
Do I need to register to participate in Dapper Day?
No registration is required for the Disney Dapper Day event.
Are there any discounts available for Dapper Day at Disney?
Dapper Day has discounted hotel rates for the Disneyland Resort and Walt Disney World Resort as well as park passes, which depends on the season whether or not they are available.
Contact DLR.CONVENTION.GROUPS@DISNEY.COM to reserve for Disneyland resort or call 407-939-4686, Disney World's Group Reservations hotline to book!
Ready to make your trip out to Walt Disney World Resort, then get your no obligation, FREE Quote by filling out the form with The Park Prodigy by Clicking HERE!
Now You Know How to Dress for Dapper Day!
You officially have all you need to get started with your solo journey to the Disney Parks for Dapper Day!
My only piece of advice would be to get creative, have fun and look forward to connecting with awesome people.
As a stylish solo traveler, you certainly won't feel alone during this event.
My Final Thoughts on Dapper Day at Disney
Whether you dress like a flapper, like Walt himself or Gene Kelly, you should be ready to turn heads!
I would also suggest bringing a change of clothes if you don't think you can make it in your outfit the whole day. Florida heat and humidity is no joke.
Have a simply phenomenal time in your very best and put on your best smile because the paparazzi will be out!
Ready to head out to Dapper Day at Disney World or Disneyland? Join our Facebook Group to meet other solo travelers doing the same and let us know how you will dress for Dapper Day below!
Until next time, Happy Park Hopping Hipsters!
About the Author
UP NEXT: What is Dapper Day at Disney? (11 Tips to Make the Most of Your Day)
(Original Article Date: October 29, 2022/Updated by Editor on November 8, 2022)